Getting to Macau from Hong Kong by Ferry
Hong Kong to Macau Ferry Services
Getting to Macau from Hong Kong by ferry makes for an interesting daytrip option, as the islands are just 60 km apart. Located on the western side of the Pearl River Delta, Macau is known as the Las Vegas of Asia due to its luxurious casinos, hotels, and family-friendly attractions. Gambling really put Macau on the tourist map, but there are also many historical landmarks dating back to the 16th century, when the region was under Portuguese rule.
Ferries depart for Macau from Hong Kong's many piers throughout the day – some people choose to do a day trip, while others might spend a night or 2 to experience the city's expansive shopping districts, colonial architecture, and night-time entertainment. Read on for some helpful tips on Hong Kong ferry services to and from Macau.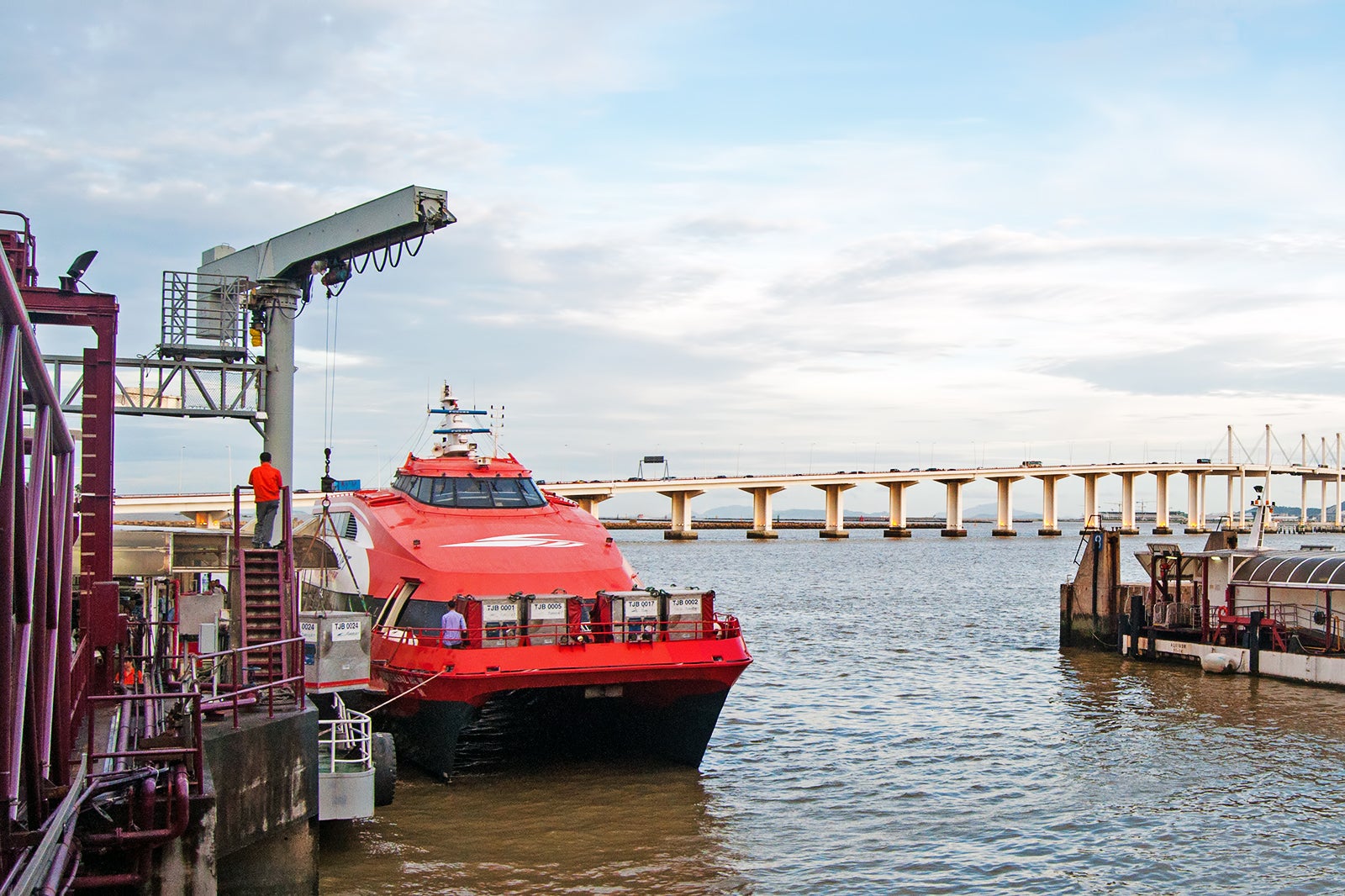 Hong Kong has 3 main ferry terminals, with several companies operating Hong Kong–Macau ferry services at different price points. TurboJet and Cotai Water Jet are the main companies operating high-speed ferries between Hong Kong and Macau.
Ferries depart for the Macau Outer Border Ferry Terminal from Shun Tak Center in Sheung Wan every 15 minutes, between 7am and midnight. Daytime economy fares are HK$171 on weekdays and HK$186 on weekends, while night-time fares cost around HK$211.
The Hong Kong China Ferry Terminal in Kowloon has ferries sailing between Hong Kong and Macau every day. TurboJet ferries depart every 1.5 hours from 7.30am to 6.30pm (until 9.30pm on Fridays and Saturdays), while Cotai Water Jet ferries depart hourly between 8.15am and 1.15pm.
The Hong Kong SkyPier at Hong Kong International Airport sail between Hong Kong and Macau every hour. Passengers need to have a same day arrival flight air ticket, a valid ferry ticket, passport, and, if applicable, a visa to use this ferry service to get to Macao. The ferry ticketing counter is located at Transfer Area E2.
photo by Meraj Chhaya (CC BY 2.0) modified
2
Ferry terminals in Macau
Macau is serviced by 2 ferry terminals, which are about 9 km away from each other.
The Outer Harbour Ferry Terminal (Macau Maritime Ferry Terminal) spans 3 floors – Arrivals is on the 1st floor and Departures is on the 2nd level. The 3rd floor is dedicated to dining and shopping, along with a passenger waiting area. Onsite facilities include a tourist information counter, travel agencies, luggage storage, and a mobile charging station.
The Macau Taipa Ferry Terminal is close to the famous Cotai Strip area and Macau International Airport. There are late-night ferry returns (after midnight) from this ferry terminal to Shun Tak Center in Sheung Wan.
photo by shankar s. (CC BY 2.0) modified
3
Helicopter from Hong Kong to Macau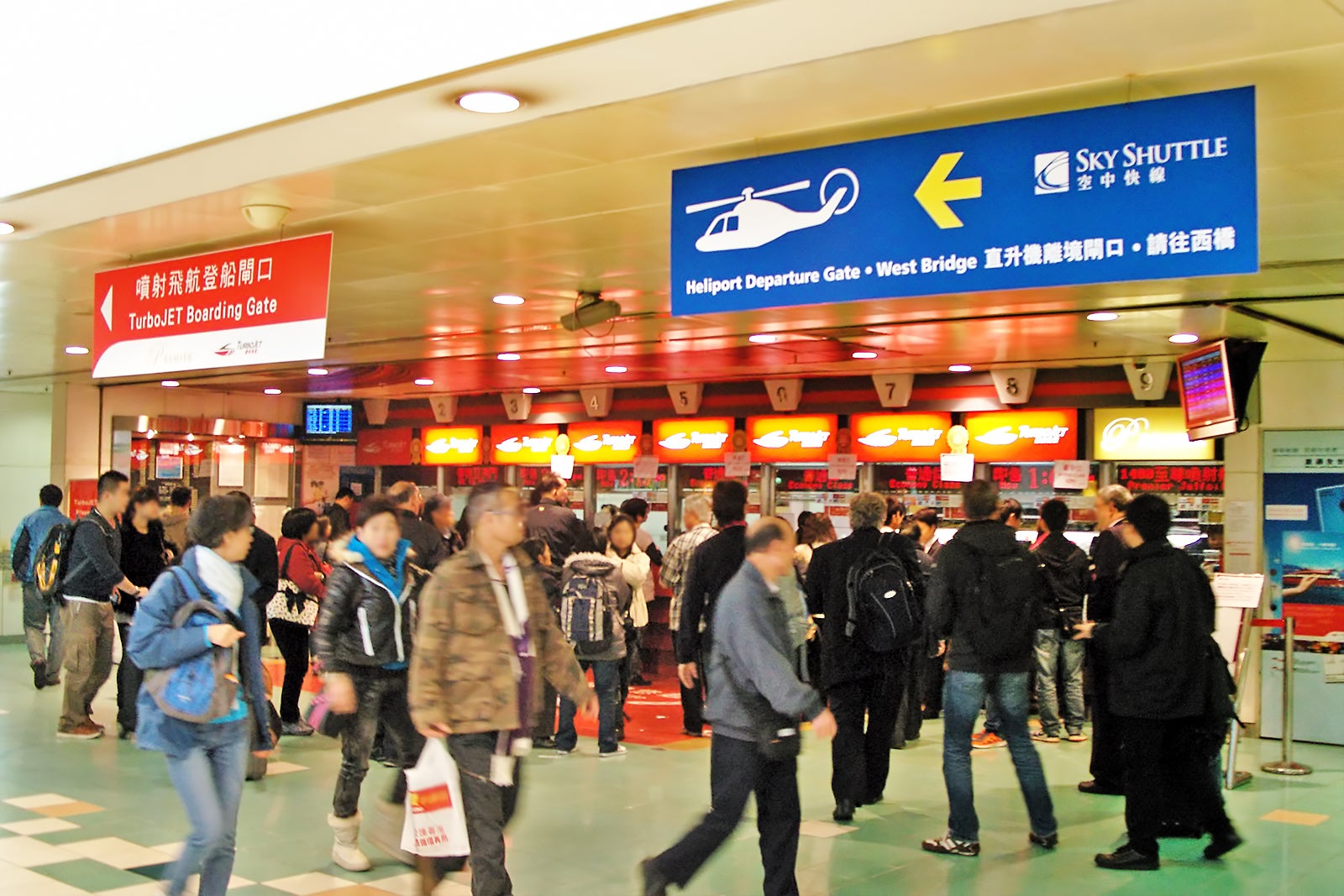 If you're severely pressed for time or want to enjoy something extra special, there's also the option of traveling between Hong Kong and Macau by helicopter. A one-way ride costs around HK$3,000 per passenger, and takes about 16 minutes.
photo by shankar s. (CC BY 2.0) modified
Back to top