8 Best Rooftop Bars in Hong Kong
Hong Kong's Most Popular Sky Bars
Hong Kong's rooftop bars grow in number and scope every year, with more stylish and glamorous venues opening to much fanfare. The world's finest chefs and mixologists are also brought in to try and offer something more than the rest – which is great news for us!
Lounging at a rooftop bar in Hong Kong is definitely one of the best ways to spend your evenings, soaking up the incredible cityscape while sipping on a cocktail in the cooling breeze. What's more, there are rooftop bars and restaurants to enjoy spread out all over the city, on both sides of Victoria Harbour, so you are never that far away from getting a privileged vantage point over Hong Kong.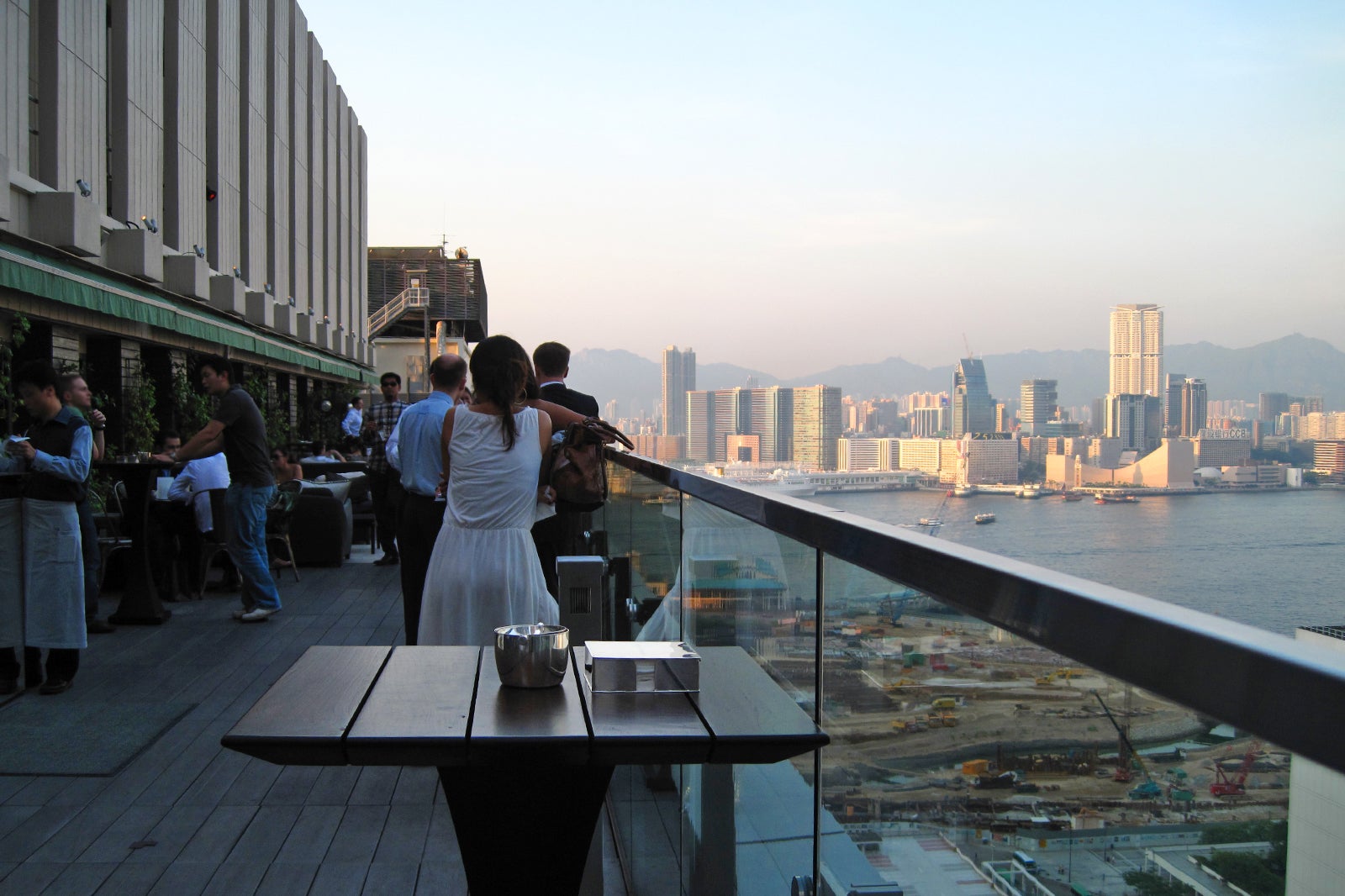 Sevva Hong Kong is a rooftop bar that gives you a sense of being in the city, rather than above it. Located on the 25th floor of Prince's Building, it features a cool design scheme that changes according to the season, along with several restaurants on site if you're feeling peckish. The signature cocktail menu also receives rave reviews with prices starting from HK$135 – must-tries include Chocolate Martini, Guava Mojito, and Sex-in-the-City Sangria.
Location: 25th Floor, Prince's Building, 10 Chater Road, Central, Hong Kong
Open: Monday–Wednesday from 12pm to midnight, Thursday–Friday from 12pm to 2am, Saturday from 11am to 2am (closed on Sundays)
Phone: +852 2537 1388
photo by H G (CC BY-SA 2.0) modified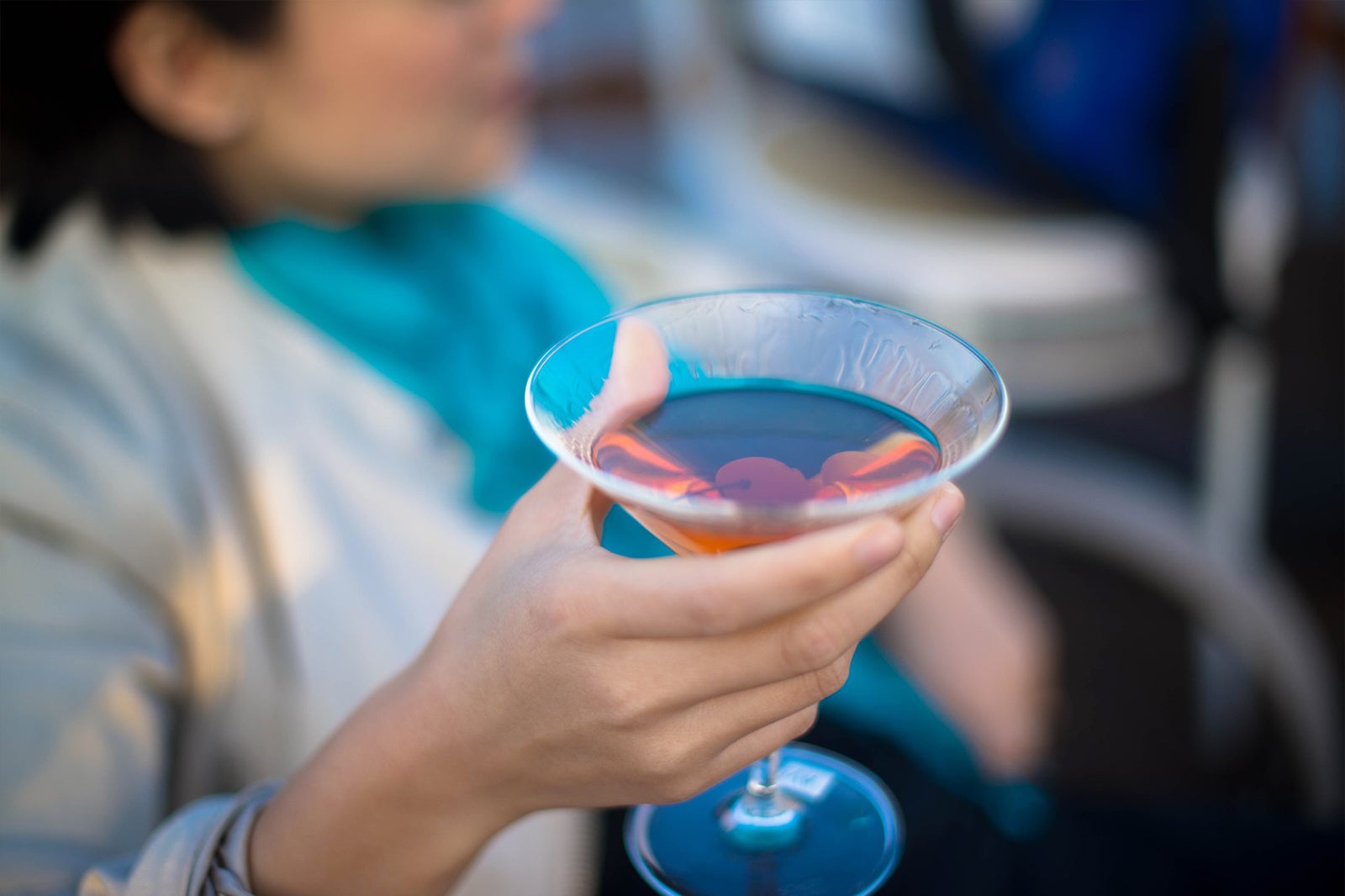 Eyebar's rooftop terrace, located on the 30th floor of iSquare, offers stunning views of Hong Kong Island. It's one of the best places to sit and watch the iconic Symphony of Lights, which takes place at 8pm.
While not as famous or as glamorous as some of its neighbours, Eyebar attracts a huge crowd of expats looking to enjoy the night, signature cocktails, and even grab some dinner at the next-door Nanhai No.1 restaurant.
Location: ISQUARE, 30/F, 63 Nathan Rd, Tsim Sha Tsui, Hong Kong
Open: Daily from 3pm to 1am
Phone: +852 2487 3988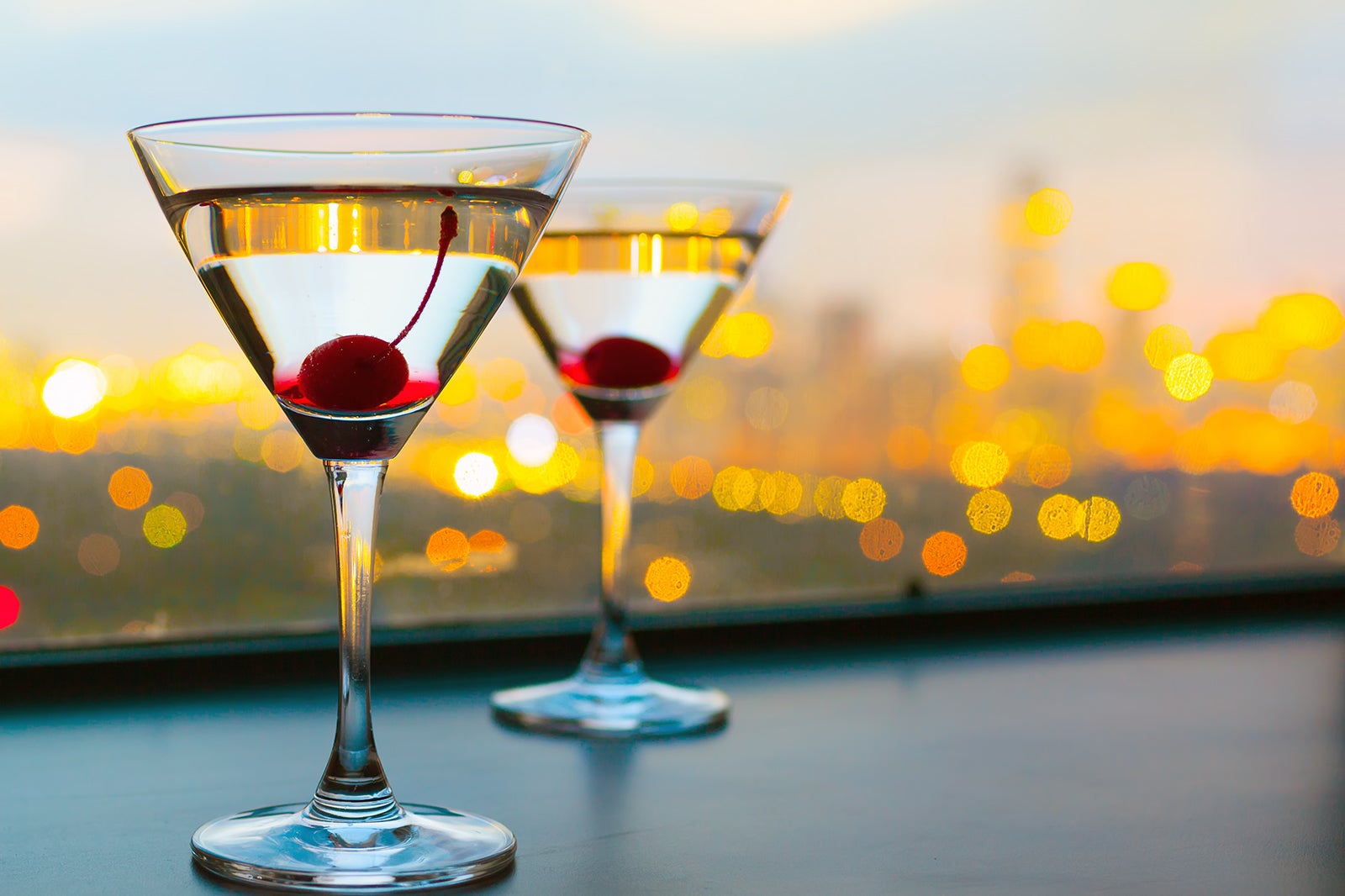 CÉ LA VI Hong Kong
Central (Lan Kwai Fong)
CÉ LA VI Hong Kong is styled after a tropical garden and is more of a party spot than most other rooftop bars in Hong Kong. Certainly, this is where local elites gather for a night of mixing and mingling.
If clubbing is not your thing, head there a little earlier for cocktails and house tunes during their Sundowner Sessions (weekdays from 4pm to 7pm). CÉ LA VI Hong Kong occupies the rooftop of California Tower, just north of Lan Kwai Fong on D'Aguilar Street.
Location: 25/F California Tower, 32 D'Aguilar Street, Central, Hong Kong
Open: Monday–Tuesday from 12pm to 1am, Wednesday–Thursday from 12pm to 3am, Friday–Saturday from 12pm to 4am, Sunday from 12pm to 12.30am
Phone: +852 3700 2300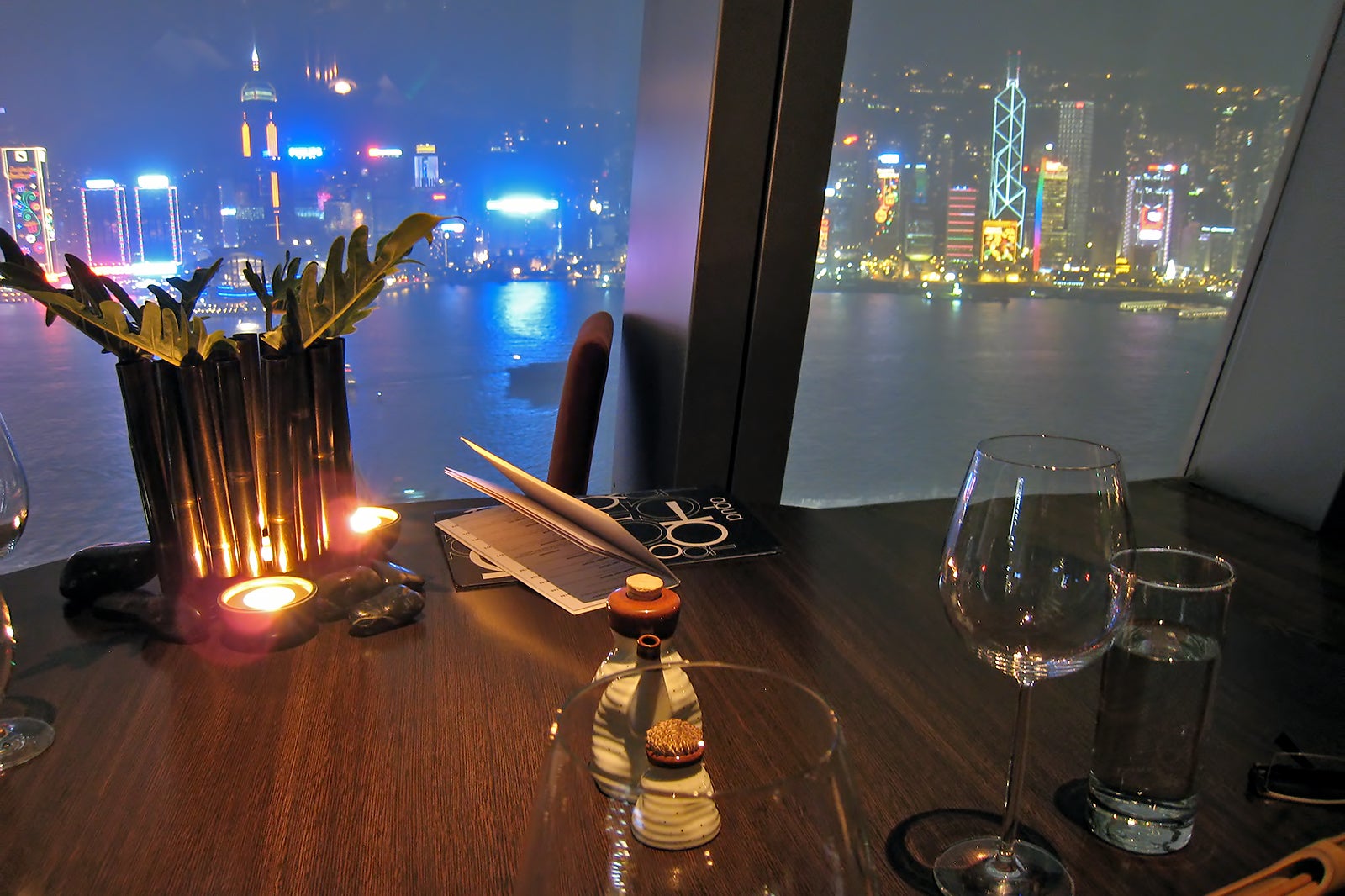 Aqua Hong Kong occupies the 29th and 30th floors of the One Peking building in Kowloon, giving you spectacular views of Hong Kong's harbor and skyline. Featuring a penthouse-inspired lounge and a classy restaurant downstairs, the bar's interior is decorated with chandeliers, brass fixtures, and custom-made leather seats.
Beers at Aqua Hong Kong start from HK$80, cocktails within the HK$100 to HK$150 range, and a minimum charge of around HK$500 per person for dining.
Location: 29 & 30F, One Peking, Tsim Sha Tsui, Kowloon, Hong Kong
Open: Daily from 12pm to 3pm and from 6pm to 11pm
Phone: +852 3427 2288
photo by Mark Pegrum (CC BY 2.0) modified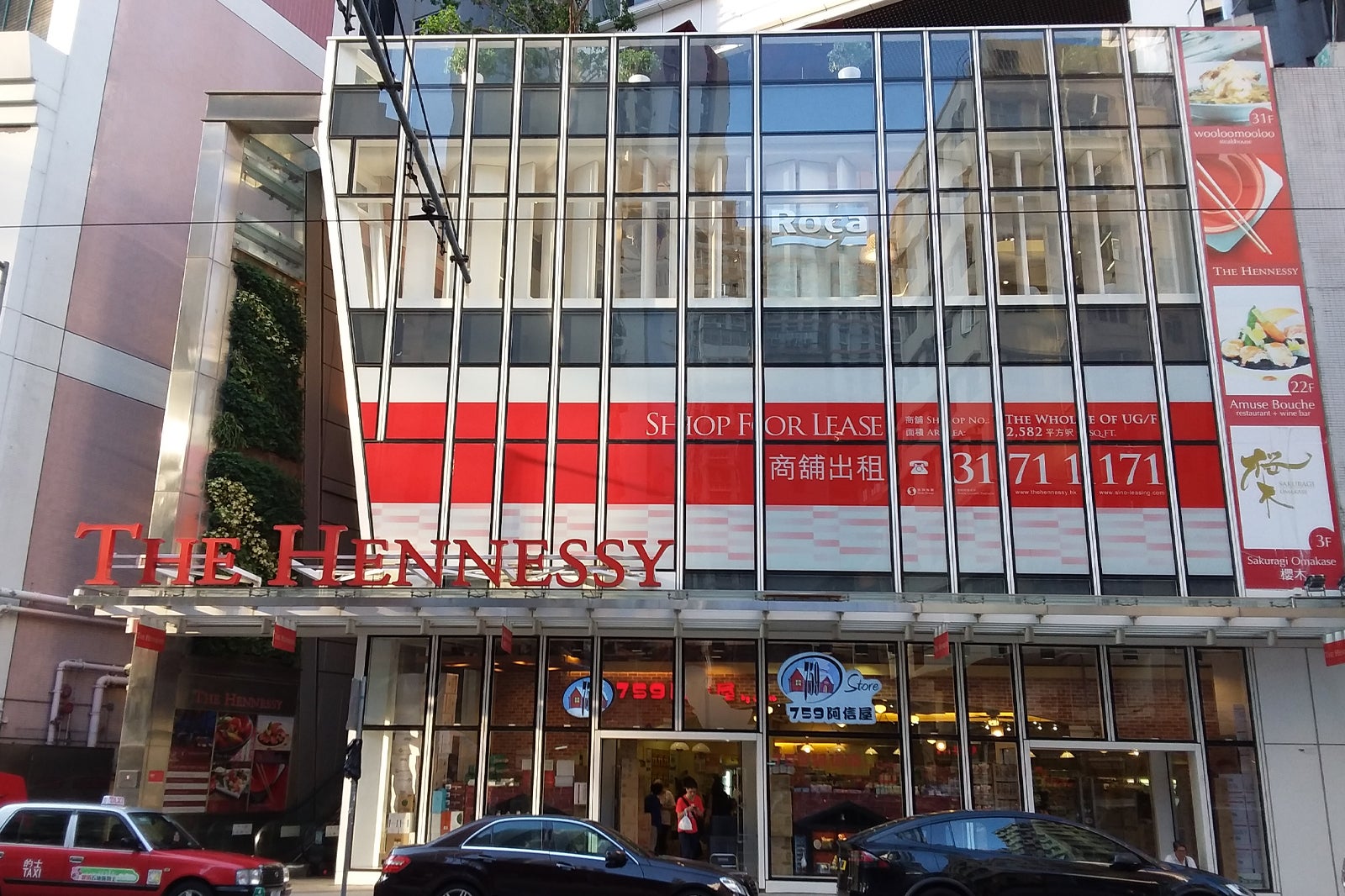 Wooloomooloo Steakhouse
Wan Chai
Wooloomooloo Steakhouse occupies the 31st floor and rooftop of The Hennessy, with a menu of succulent steaks and alcoholic beverages. The best time to visit is just before sunset when the Rooftop Lounge offers spectacular views of Victoria Harbour, Happy Valley Racecourse, and the Wan Chai district of Hong Kong. Wines by the glass start from HK$100, and cocktails cost around HK$115 to HK$150.
Location: 31/F & Rooftop, The Hennessy, 256 Hennessy Road, Wan Chai, Hong Kong
Open: Daily from 11.45am to late
Phone: +852 2893 6960
photo by Yatharleumshewo (CC BY-SA 4.0) modified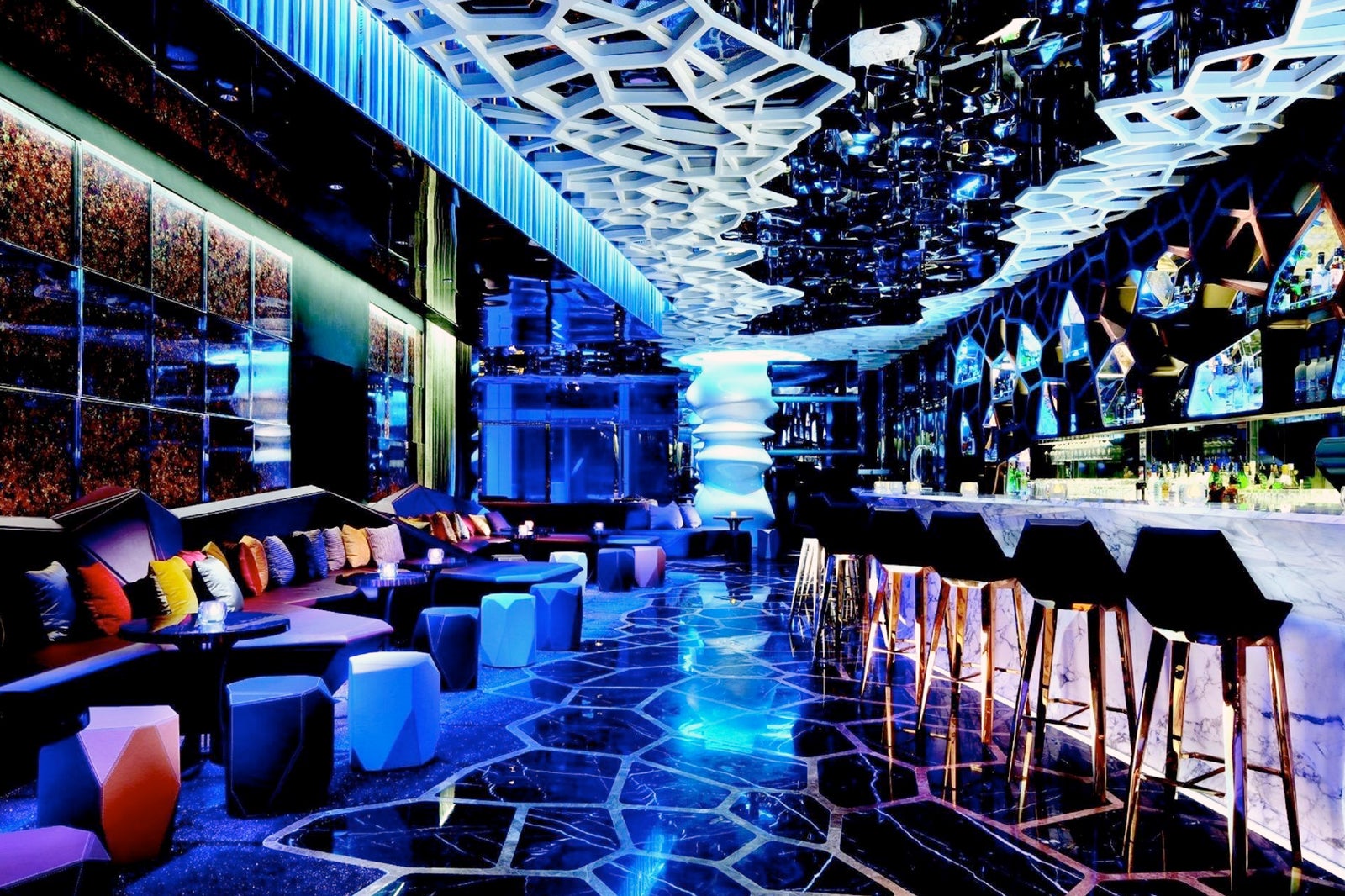 OZONE at The Ritz-Carlton Hong Kong
Kowloon
OZONE at The Ritz-Carlton Hong Kong stands 118 floors above ground, making it one of the city's tallest sky bars. With a very funky indoor area and a long thin outdoor terrace, most people head outside for the vertigo-inducing views (even though it's shielded by a thick pane of glass).
OZONE occupies the top floor of the ICC Tower in Kowloon, and just like the luxury hotel below, this elegant bar exudes an air of class and sophistication.
Location: The Ritz-Carlton, Level 118, International Commerce Ctr., 1 Austin Road West, Kowloon, Hong Kong
Open: Monday–Thursday from 5pm to 1am, Friday from 5pm to 2am, Saturday from 3pm to 2am, Sunday from 12pm to 12am
Phone: +852 2263 2270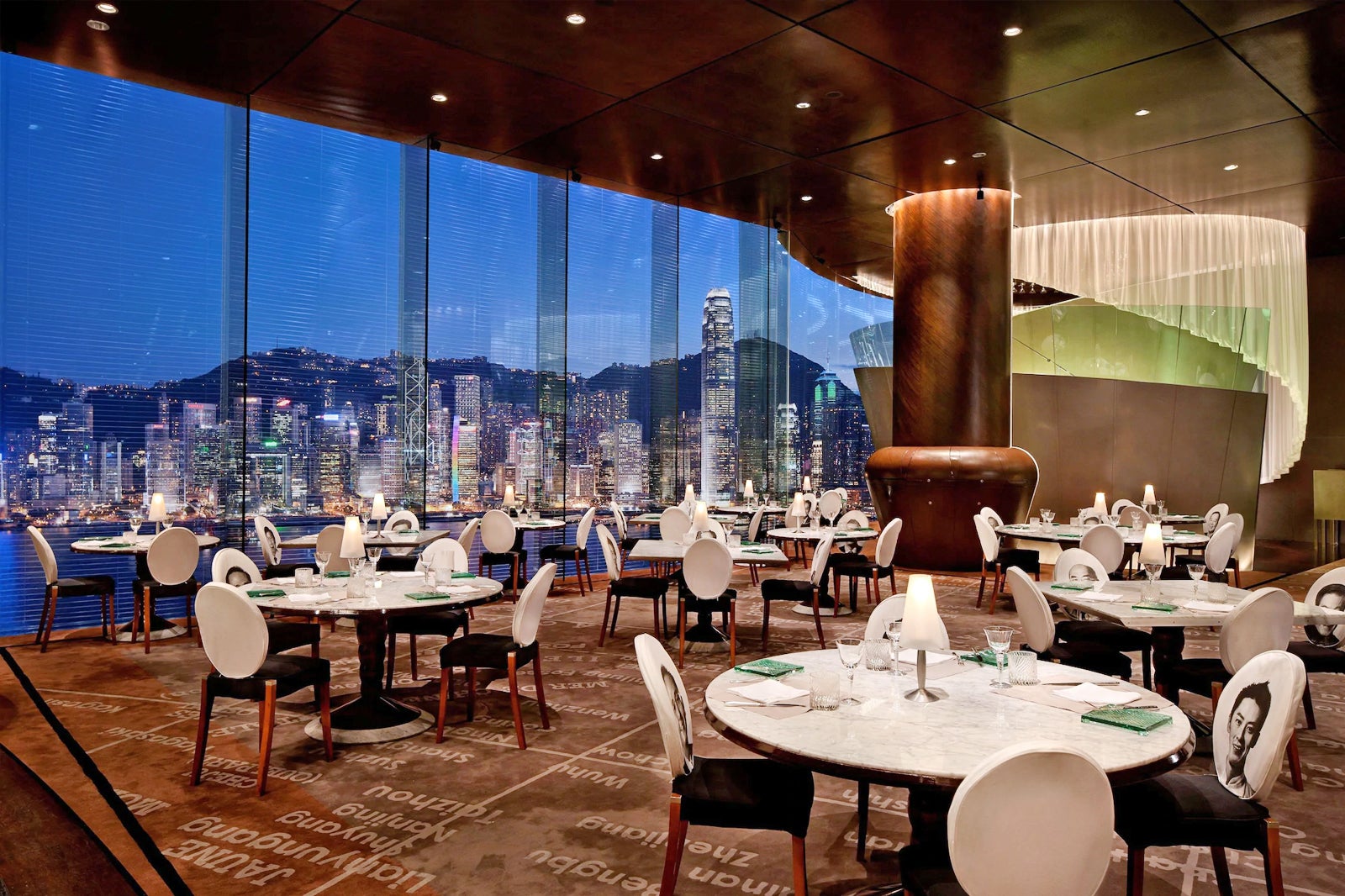 Felix, The Peninsula
Kowloon
Felix, located on the 25th floor of The Peninsula, boasts incredible views of Hong Kong Island across the bay. While it lacks an outdoor space, it attracts an upmarket crowd with its modern European cuisine by Chef de Cuisine Juan Gomez and cocktails by mixologist Marko Petrovic. Prices are a little on the high side, but you'll get to enjoy an exciting lineup of live music, DJs and special mixologist events at Felix.
Location: 28/F, The Peninsula Hong Kong, Salisbury Road Tsim Sha Tsui, Hong Kong
Open: Daily from 5.30pm to 1am
Phone: +852 2696 6778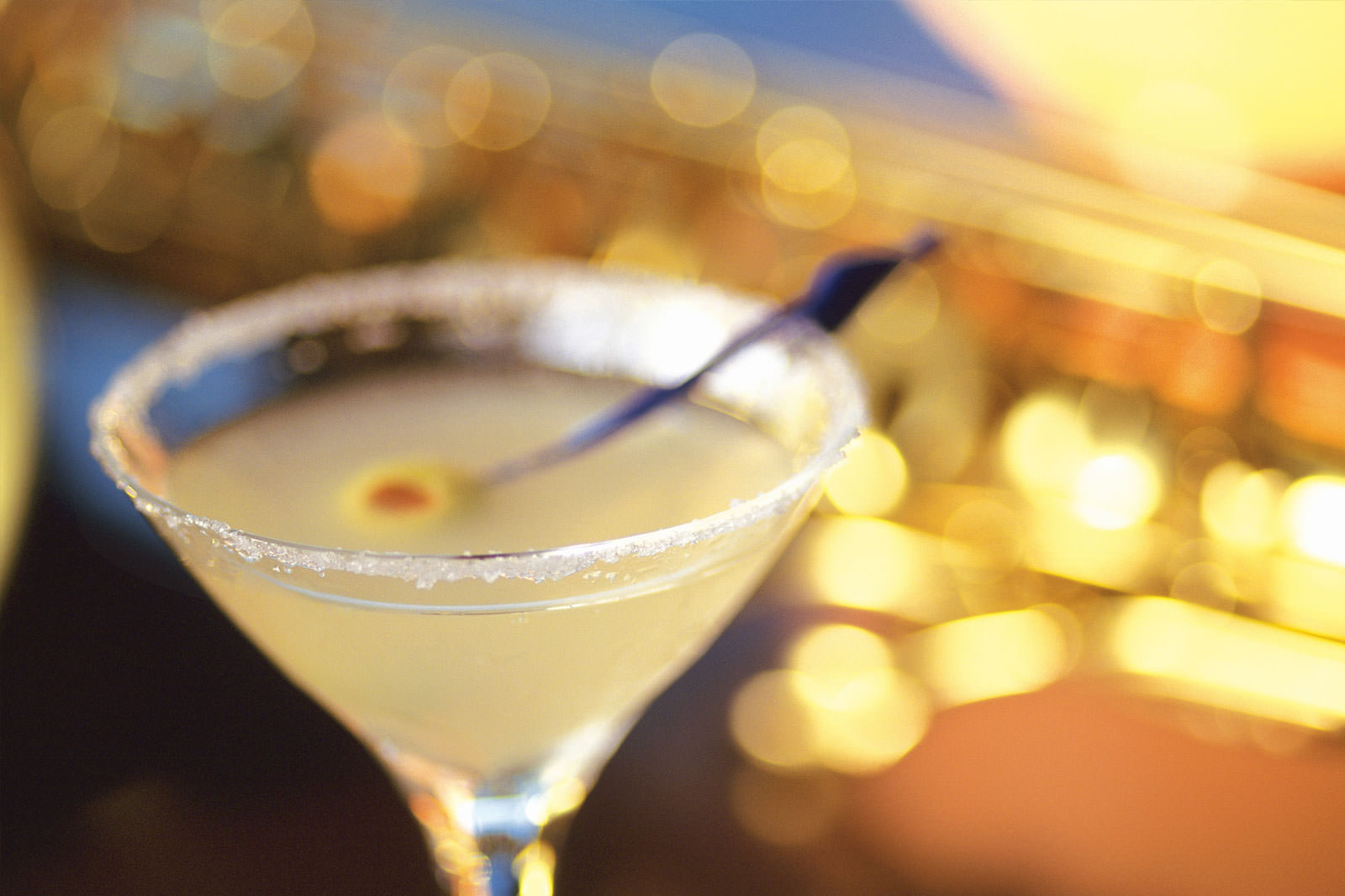 Sugar (Bar.Deck.Lounge) is where the after-work crowds gather for cocktails and international tapas in the Quarry Bay district of Hong Kong. The rooftop deck also has has a unique view of Victoria Harbour, thanks to its location on the eastern side of Hong Kong Island.
There's no getting away from the fact that this is out of downtown Hong Kong, but if you are looking for a new angle of the city, Sugar (Bar.Deck.Lounge) is a popular choice.
Location: 32/F, EAST, Hong Kong
Open: Monday–Thursday and Sunday from 5.30pm to 1am, Friday–Saturday from 5.30pm to 1.30am
Phone: +852 3968 3738