4 Best Outlet Stores in Hong Kong
Hong Kong's Most Popular Outlet Malls
Outlet stores in Hong Kong are often located outside the city center, where rent is often cheaper. Making your way to areas like Lantau Island and Kowloon is well worth the effort, as some of the city's best factory outlet malls and stores offer bargains of around 70% off the original prices.
If you have an eye for a bargain, then check out these great discount shopping spots in Hong Kong. It's always a good idea to arrive just when the malls open, as they can get rather busy around midday. Note that products on sale in Hong Kong's outlet stores are from previous seasons, but it shouldn't deter you from snagging up some designer brands.
Citygate Outlets
Lantau Island
Citygate Outlets is a year-round factory outlet mall on Lantau Island. It offers heavily discounted goods from over 80 international brands. Discounts at Citygate Outlets range from 30% to 70% off the original price. There are over 90 international brands on offer, including Guess, Armani Exchange, Juicy Couture and Calvin Klein.
Citygate Outlets is about a 10-minute drive from Hong Kong International Airport, making it a popular spot for tourists to enjoy some shopping prior to their flight.
Location: Novotel Citygate Hong Kong, 20 Tat Tung Rd, Lantau Island, Hong Kong
Open: Daily from 10am to 10pm
Phone: +852 2109 2933
photo by Mk2010 (CC BY-SA 4.0) modified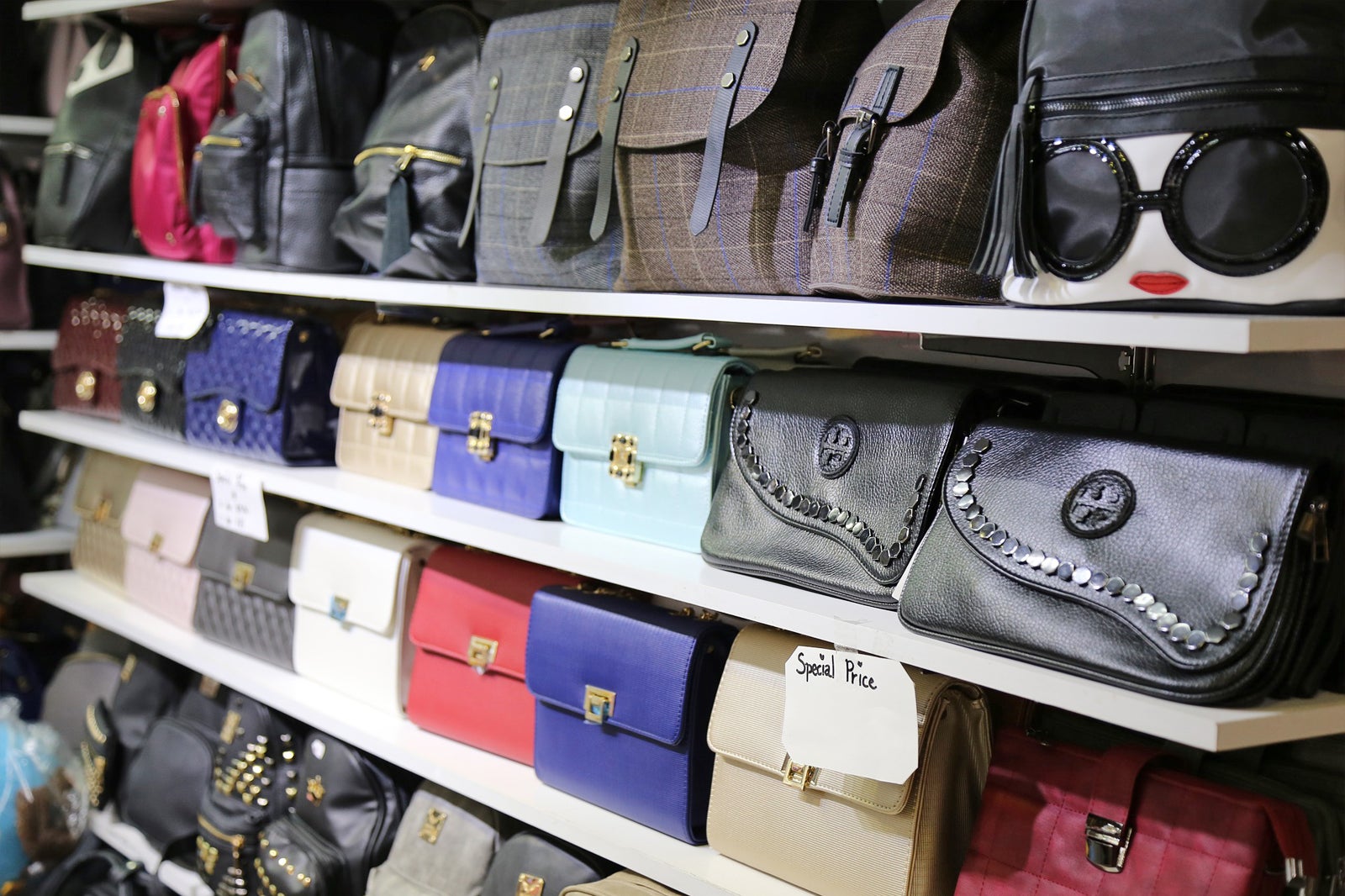 Horizon Plaza
Aberdeen (South Hong Kong Island)
You'll need several hours to fully cover the 25 floors of discount designer fashion at Horizon Plaza. The incredible range of outlet stores by high-end designer brands – Armani, Ralph Lauren, Paul Smith, Diesel and Lane Crawford – attracts shoppers looking for serious savings.
You can enjoy discounts from as little as 30% to as much as 80%, but the 'Clearance' rails are where you will find the biggest bargains. This factory outlet shopping mall is located in Ap Lei Chau, about 5 km south of The Peak Hong Kong.
Location: 2 Lee Wing Street, Ap Lei Chau, Hong Kong
Open: Daily from 10am to 8pm
Phone: +852 2554 9089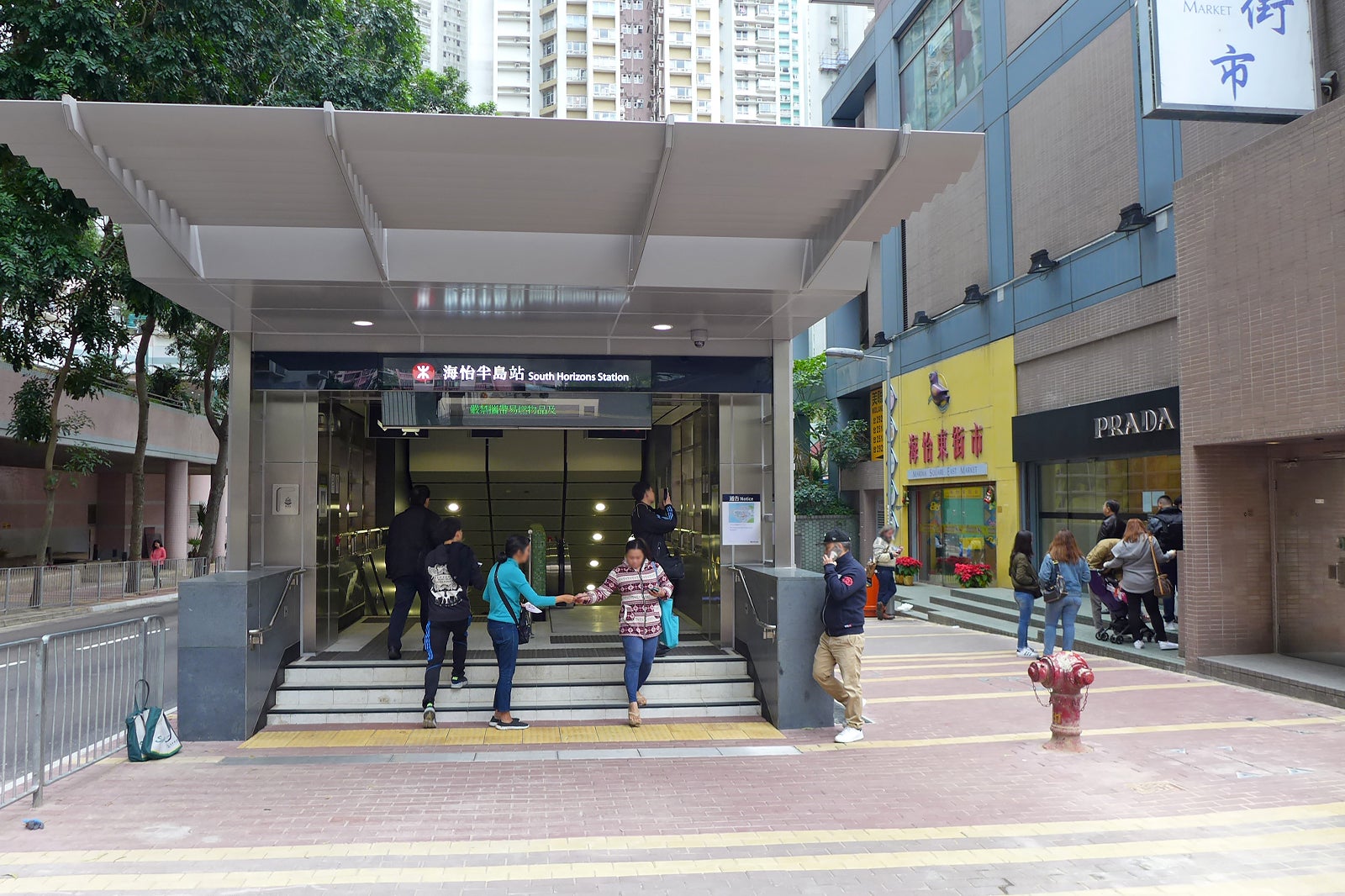 Prada Outlet Store
Aberdeen (South Hong Kong Island)
Prada Outlet Store Hong Kong offers discounts on handbags, clutch purses, and accessories of this upmarket brand and sister-brand Miu Miu. Many are about 50% cheaper than original prices, but this varies by item and season.
Prices for items such as belts and purses typically start from HK$2,000, while tote bags start from around HK$6,000 – you'll often receive a certificate of authenticity if you purchase items with minor defects. Most shoppers start queuing outside the Prada Outlet Store in the early morning in hopes of getting first choice of the newest stocks.
Location: 2/F, Marina Square, East Commercial Block, South Horizons, Ap Lei Chau, Aberdeen, Hong Kong
Open: Tuesday–Saturday from 10am to 6pm, Sunday from 12pm to 6pm (closed on Mondays)
photo by Wpcpey (CC BY-SA 4.0) modified
Kaiser Estate is one of the best factory outlet malls for sportswear in Hong Kong. You'll find familiar brands like Adidas, Reebok, New Balance, and Timberland at this Kowloon mall. Prices are around 30% to 50% cheaper, though products on sale here are usually off-season.
Note that most stores carry small sizes, so you may have a hard time finding shoes that are larger than US10. You'll also find many discount jewelers on its upper floors. Kaiser Estate Hong Kong is located in Kowloon, about 1.2km northeast of the Hung Hom MTR Station.
Location: 37-45 Man Yue St, Hok Yuen, Hong Kong
Open: Monday–Saturday from 9.30am to 7.30pm, Sunday from 10.30am to 7pm