Salt Lake City Travel Essentials
Useful Information to Help You Start Your Trip to Salt Lake City
Our Salt Lake City Travel Essentials lays out the essential information you need to help you plan your trip to one of the most popular destinations in Utah, USA. No matter how frequently you travel, some questions will always need answers: What's the weather like? How can I get from Salt Lake City International Airport to my hotel? What currency and type of plug do I need?
We have all these answers plus other basic info about the best time to go, getting there, getting around, and a few useful travel tips. You'll also learn about the most popular landmarks in Salt Lake City such as Temple Square, Utah State Capitol Building, and Salt Lake Temple. It's all compiled in this Salt Lake City Travel Essentials. After going through this short and easy-to-read guide, you'll be a little more prepared to start your trip to Salt Lake City.
1
When is the best time to travel to Salt Lake City?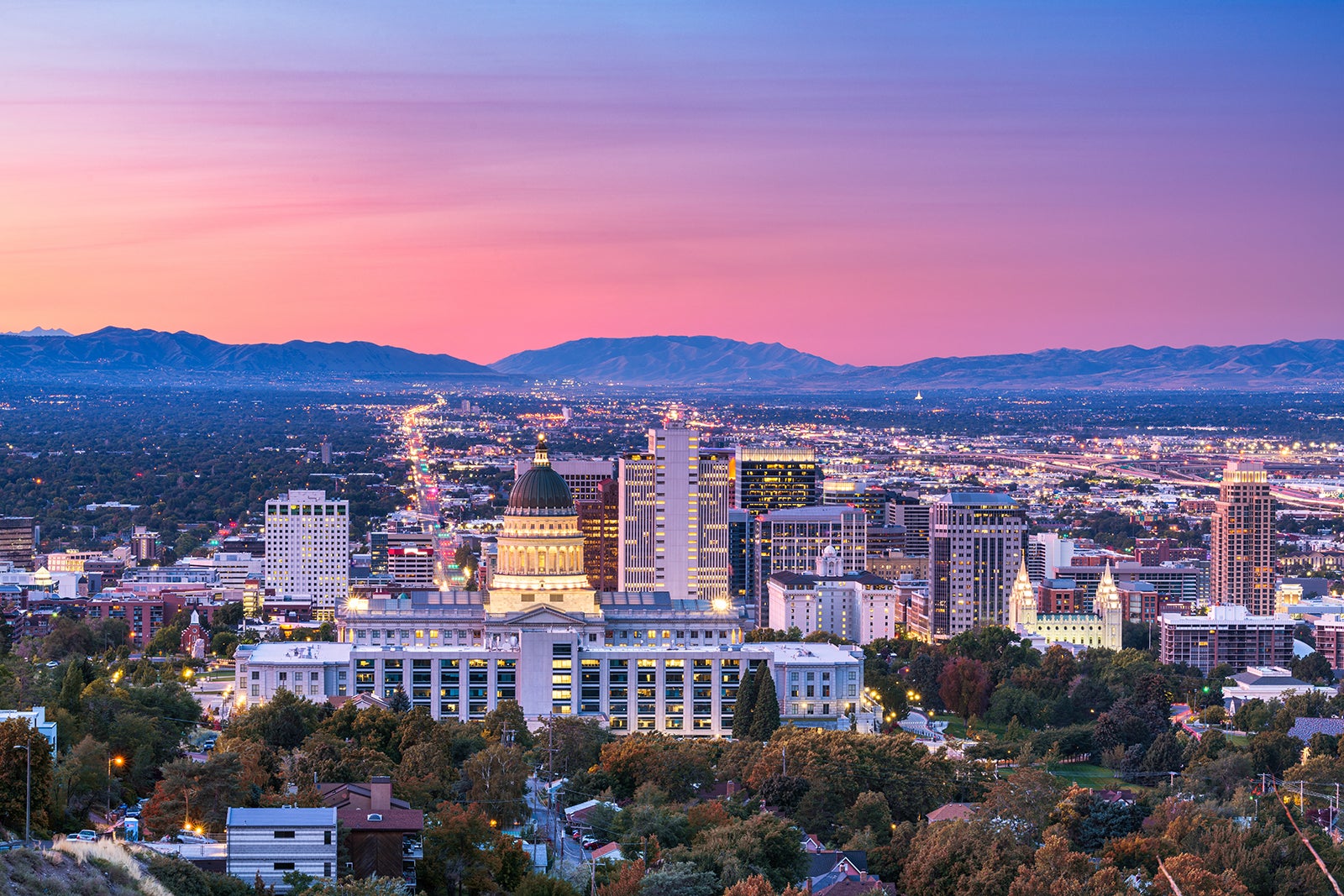 Salt Lake City has hot and dry summers (June–September), cold and snowy winters (November–February), and moderately wet transition periods in between. Temperatures vary between 23°F and 93°F throughout the year.
The highest rainfall occurs March-May. May is the wettest month with about 7 days of rain. Expect thunderstorms in the summer monsoon between July and September. Snowfall typically starts in October with peak snow in January.
July is the hottest month, with an average high of 93°F and a low of 67°F.
Salt Lake City is great to visit year-round. It experiences quite large swings in temperature, thanks to the low humidity and altitude of the city. Summer coincides with school break and offers plenty of outdoor activities to enjoy. Winter attracts skiers from all over to the slopes – often through spring in April. It's possible to ski on the slopes and golf at resorts in the warmer valley the same day. Fall, from September to December, features festivities as well as colorful canyon day hikes and scenic drives.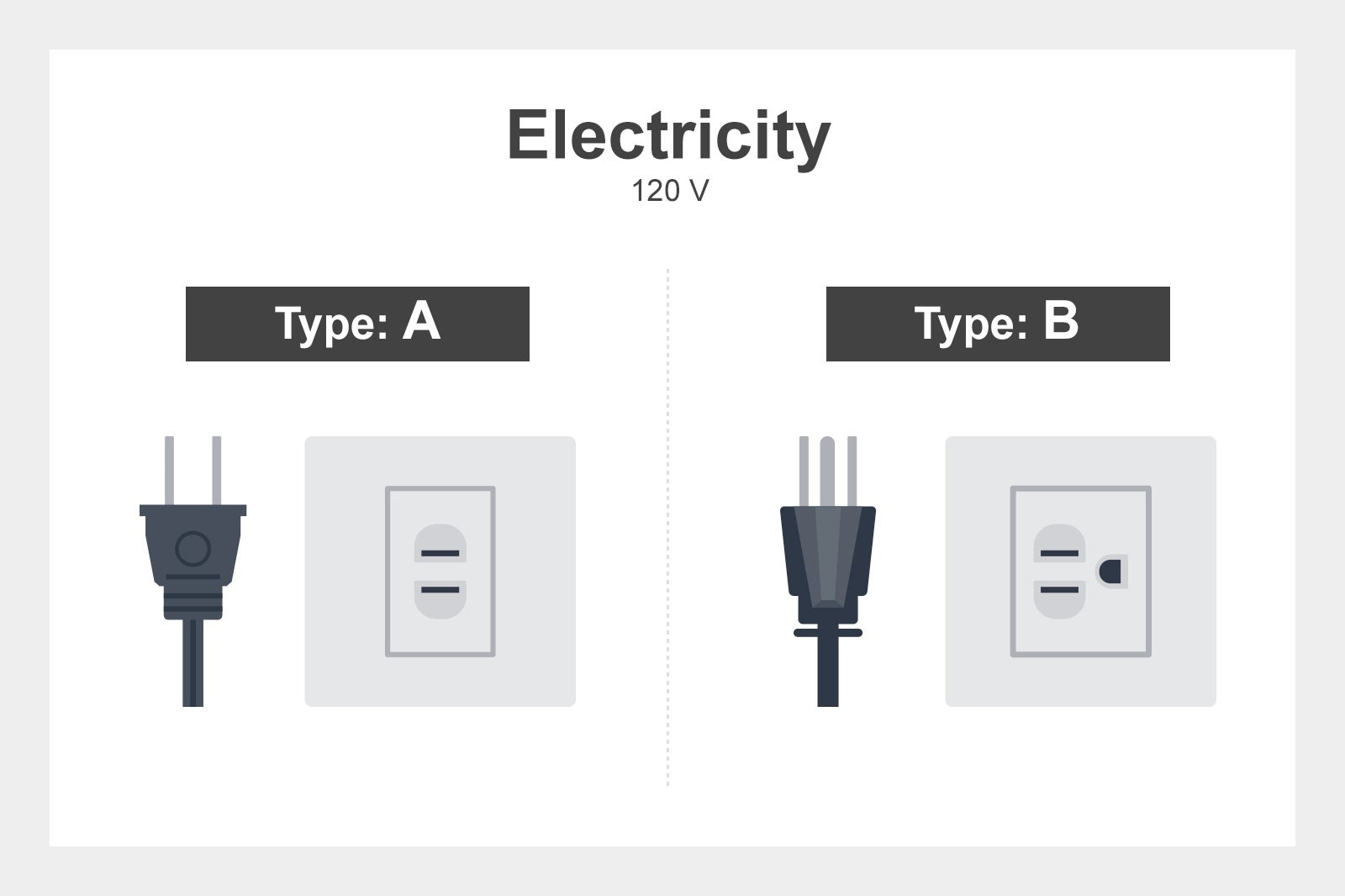 Plug type: A and B
Electricity: 120 V
Currency: United States Dollar (U.S.$)
International dialing code: +1 801
Emergency telephone number: 911
3
How to get to my hotel in Salt Lake City?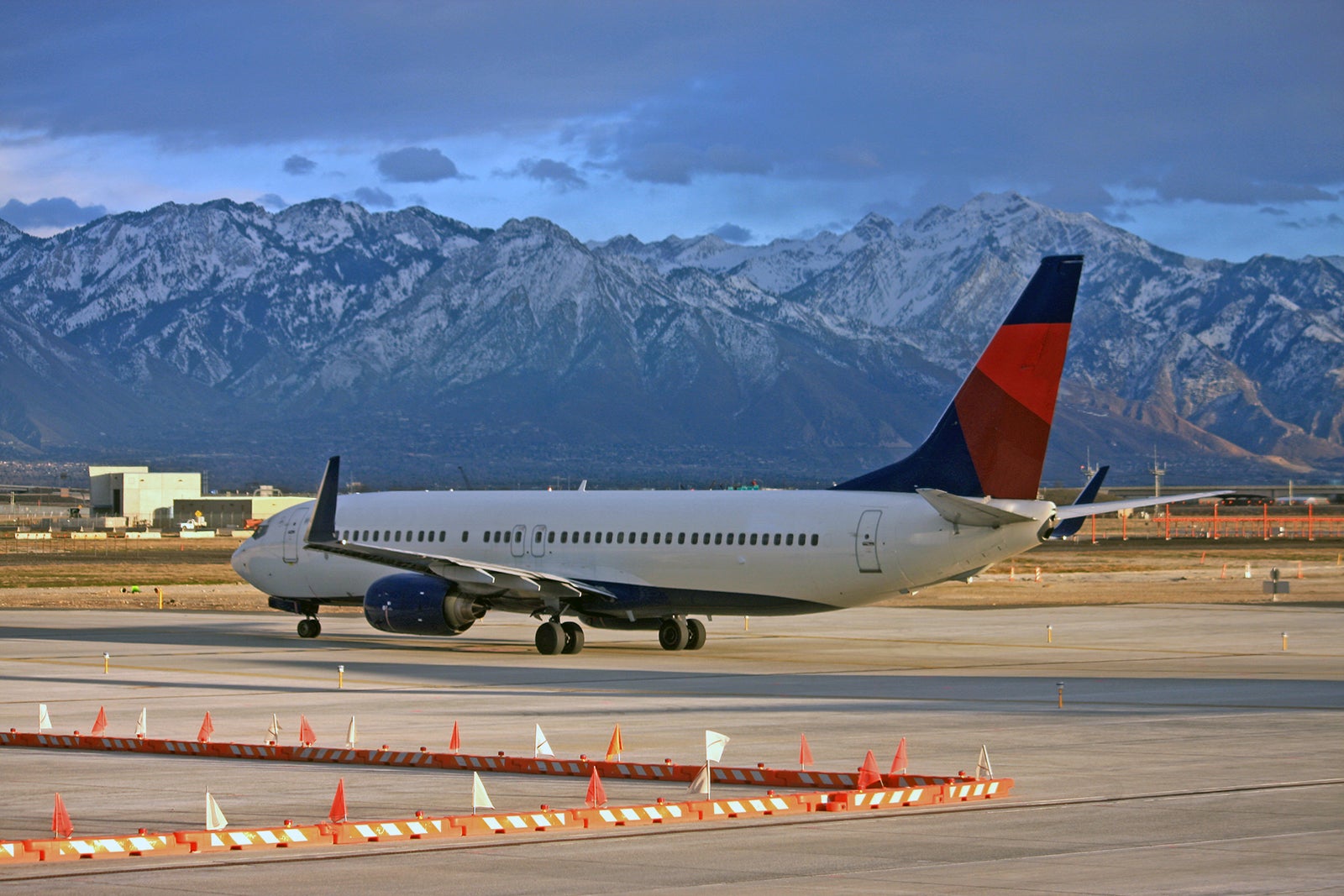 Salt Lake City International Airport is your main gateway to the city as well as to the Intermountain Region of Western United States. It serves domestic and international flights and is the main hub for Delta Air Lines. There are nonstop flights to and from Mexico and Canada as well as London, Paris, and Amsterdam.
Driving in, you can reach Salt Lake City along the east-west Interstate 80 intercontinental freeway, which runs from San Francisco and slices east through Salt Lake City, then Wyoming and to New Jersey. You can also get to the city by train or bus, with routes offered by different companies.
Salt Lake City International Airport (SLC)
Salt Lake City International Airport lies 7 miles west of the city, near downtown and just off of the Interstate 80 freeway. To reach downtown, you can take a shuttle or taxi cab which is a 10- to 15-minute ride.
You can prearrange for pickups using your hotel's shuttle services at the ground level of the terminal. You may also use the airport's onsite shuttle and taxi cab services: Alta Shuttle (+1 866-274-0225), Salt Lake Express Shuttle (+1 877-671-0095), or Yellow Cab (+1 801-521-2100).
For travelers with disabilities, accessible transportation services include Salt Lake Express Shuttle (+1 877-671-0095), Unity Executive Transportation (+1 385-535-3301), and Handi Vans (+1 801-281-8416).
If you're visiting Salt Lake City for skiing adventures and have gear with you, some taxi cabs and shuttles have racks and carriers and they can take you to ski resorts or other places around Salt Lake. ProTrans Transportation (+1 877-255-2631) is a good option that provides 4WD SUVs. Major automobile rentals have counters in the Gateway Center, next to the airport's parking garage.
Free Wi-Fi is available throughout the airport and you can order online ride-hailing services via their respective smartphone apps. Lyft and Uber are available at the airport – their designated pickup neighborhoods are in the central traffic lane on the ground level, outside the terminal.
The Green Line of the UTA TRAX light rail is a budget-friendly way to get to downtown from the Airport Station. It runs every 15 minutes on weekdays and every 20 minutes on the weekends. Other TRAX lines and the FrontRunner commuter rail can take you further to destinations in the surrounding region.
Salt Lake City Intermodal Hub
Salt Lake City Intermodal Hub, better known as Salt Lake Central Station, is the intermodal hub for the city. Located downtown on 340 600 W street, it serves the local FrontRunner commuter rail services which run between Ogden, Salt Lake, and Provo and at some points also connects with TRAX.
Amtrak stops at the western side of the station and is the only intercity passenger train to Salt Lake City. It's served by Amtrak's California Zephyr route which runs between Chicago and the San Francisco Bay Neighborhood. Besides Salt Lake City, the California Zephyr also has stops at Omaha, Denver, and Reno.
Salt Lake City Intermodal Hub also serves as an interchange for Greyhound buses. The stop is located on 300 South 600 West. It's also for journeying elsewhere such as Jackson, St George, Greenville, Topeka, Denver, and even Las Vegas. Other bus companies include Salt Lake Express and Mountain States Express. There's also a Greyhound bus station at SLC International Airport.
4
How to get around Salt Lake City?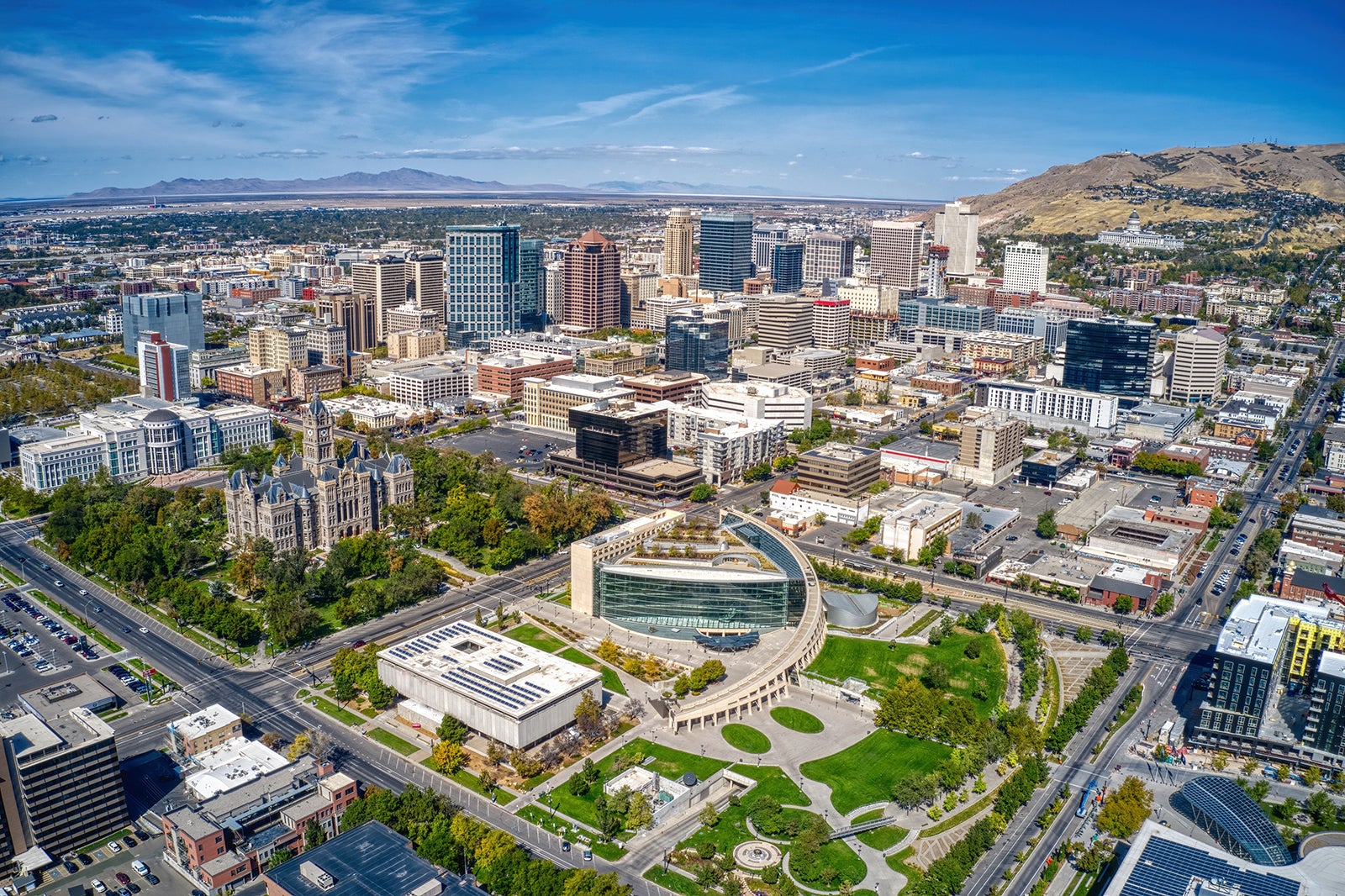 Travel tips
Salt Lake City has a precise east-to-west and north-to-south traffic grid, and it logically uses coordinates in its street names. Most of downtown is walkable, especially around Temple Square and it's most enjoyable outside the hot summer months. The city's sidewalks are pleasant, though getting from one point would often require long strolls. You can conveniently explore the city on 2 wheels using GREENbike, Salt Lake City's bike-sharing scheme.
Alternately, the city's public transportation system is a cost-effective way of getting around. The Utah Transit Authority has bus services that run throughout Salt Lake City and the Wasatch Front. You get to ride for free along fixed routes in the heart of downtown. For extra freedom, rent a sedan, an SUV, or 4WD to explore the rest of Wasatch Valley on your own.
How does the TRAX light rail work?
TRAX is the light rail system serving the city. It has 3 main lines serving the city and all of wider Salt Lake area. Take the Blue Line for stops at Salt Lake Central Station, the Arena, downtown Salt Lake City, South Salt Lake City, Murray, Sandy, and Draper.
The Red Line runs from the University of Utah to the southern downtown, Murray, Midvale, West Jordan, South Jordan, and Daybreak. The Green Line serves the airport, North Temple, downtown and its south as well as West Valley City.
FAREPAY cards are an easy way to pay for your rides on buses, TRAX and FrontRunner trains in Salt Lake City. You can buy one and top up their stored value at any UTA Customer Service Outlet. You can also simply buy a ticket from a vending machine at the station and get to the platform on time for the next train.
Taking a taxi cab
The main taxi cab companies in Salt Lake City are City Cab (+1 801-363-5550), Ute Cab (+1 801-359-7788), and Yellow Cab (+1 801-521-5027). It might be hard to hail one on the street – you'd often need to call ahead and arrange for one. They're easier to find in front of hotels and at venues during major events.
Uber and Lyft are the main ride-hailing apps used in Salt Lake City. Their rates are slightly cheaper than standard taxicabs.
Renting a automobile in Salt Lake City
Renting a automobile and driving on your own is a great way for getting around Salt Lake City, especially if you want the freedom of travel and plan to visit outlying attractions in Wasatch Valley. There are plenty of metered street-side parking stalls downtown. They're enforced from 8 am to 6 pm on workdays and are free for the first 2 hours on Saturdays and all day on Sundays and vacations.
Besides being available at their counters at Salt Lake City International Airport, among the automobile rental companies with offices throughout the city are Avis (+1 801-359-2177), Enterprise (+1 801-534-1888), and Budget (+1 801-322-5582), to name a few.
Cycling around Salt Lake City with GREENBike
Cycling around Salt Lake City is pleasant in favorable weather. There are great cycling trails around the city, and you can find downloadable cycling route maps online to decide which nearest paths you can take. You can also get free print copies from local bike shops throughout Salt Lake County.
GREENbike (+1 801-333-1110) is Salt Lake City's bike-sharing scheme, with 47 bike stations spread throughout the city. You can take any bike from any solar-powered station and for as many times as you like for a small membership fee.
GREENbike offers single-day, 4-day, and annual passes. To ride, you simply download, register, and use the BCycle App on your smartphone. Simply go up to a station and follow the instructions on its touchscreen menu. Select a dock number and unlock it to ride. You can return the bike to any other docking station within the city.
Popular bike trails include the paved40-mile Jordan River Parkway Trail, the short but pleasant Liberty Park Trail, the 1.2-mile City Creek Canyon trail, and the McClelland Trail that follows the route of the Jordan and Salt Lake City Canal.
You can rent a bike from notable bike rentals such as Trek Bicycle Salt Lake City Downtown (+1 801-746-8366), Salt Lake Ebikes (+1 801-997-0002), Pedego Electric Bikes Salt Lake City (+1 801-341-2202), and Guthrie Bicycle Co (+1 801-484-0404).
5
What are the main annual events in Salt Lake City?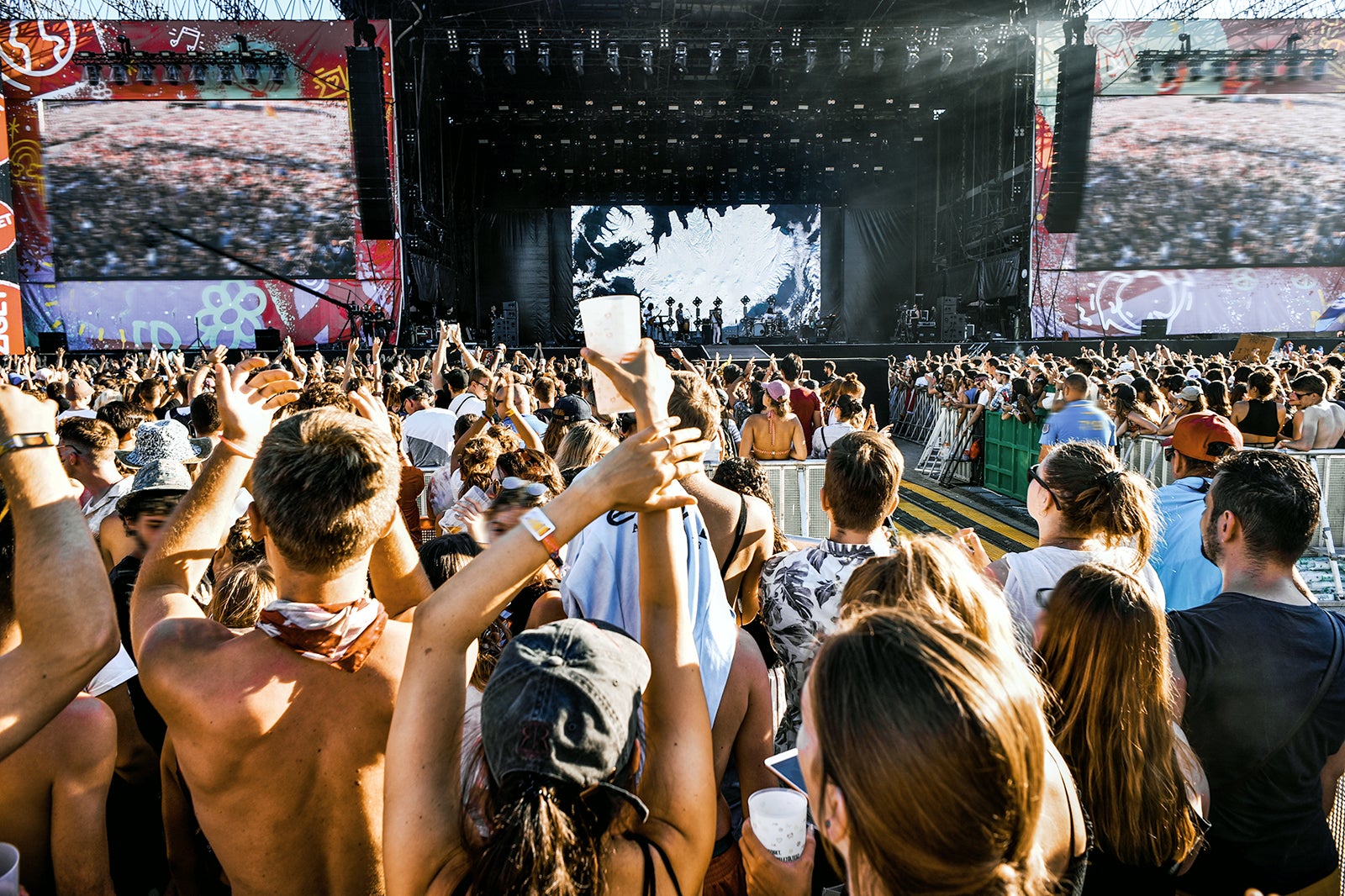 Sundance Movie Festival
January-February
One of the largest independent movie festivals in the United States that takes place each January.
Where: Park City and Sundance Resort
Utah Arts Festival
June
The largest outdoor multidisciplinary art festival in Utah that showcases hundreds of visual, music, movie, and performing arts. It kicks off the summer in Utah.
Where: Library Square
Utah State Fair
September
An annual state highlighting Utah's agricultural history with fair rides and traditional fair food. It's held for 11 days in the historic fair park in Salt Lake City on the first Thursday after Labor Day.
Where: Utah State Fairpark
6
What are the main landmarks in Salt Lake City?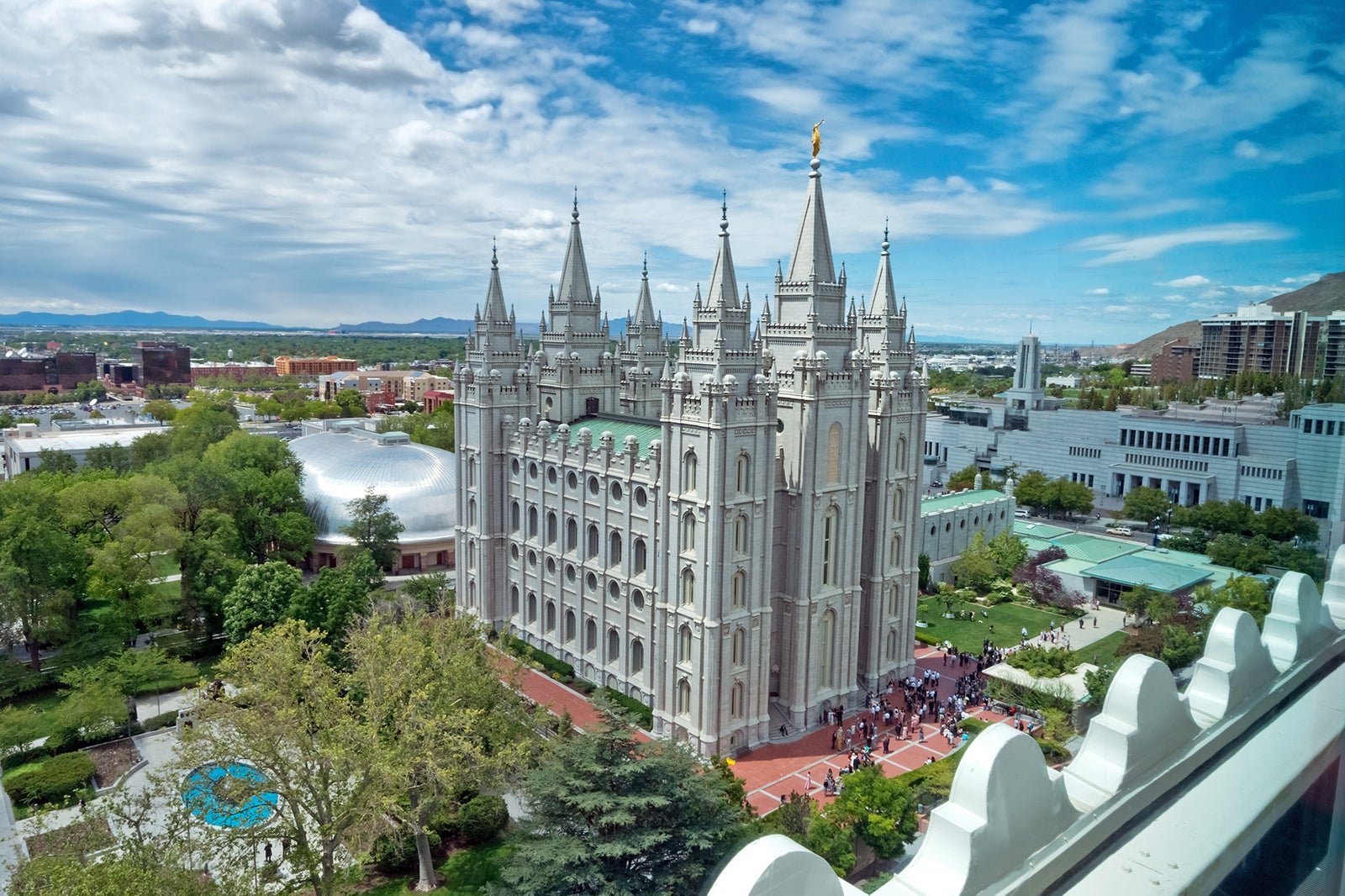 Temple Square
A 10-acre plaza in the center of Salt Lake City, home to Salt Lake Temple and owned by The Church of Jesus Christ of Latter-day Saints Utah.
Utah State Capitol Building
A prominent landmark and the state of Utah's house of government, which stands majestically on State Street in the heart of Salt Lake City.
This Is The Place Heritage Park
A state park with a 1917 Mormon monument and a Native American heritage village that was built around 1959. It also features train rides and a petting zoo.
Natural History Museum of Utah
A museum with exhibits showcasing the history of Utah and the Intermountain West. These range from archeological finds relating to the First Peoples to paleontological finds and dinosaur fossils.
Back to top