15 Romantic Ideas for a Honeymoon in Myrtle Beach
What to Do on a Couples' Trip to Myrtle Beach
Myrtle Beach offers a wide range of romantic activities for couples on their honeymoon or special getaway. In the city, you can enjoy shopping, dining and romantic strolls on not only the beaches but also the wooden boardwalk over its natural salt marsh. Couples can even enjoy a day trip to a historic river town or a moonlit kayak tour.
The list of romantic experiences a couple can have in Myrtle Beach is incredibly diverse. From horseback and helicopter rides to relaxing spa treatments and sunset cruises, there's plenty of ideas to make your honeymoon a truly memorable one.
1
The Grand Strand
Take a long walk on this lively strip of sandy beaches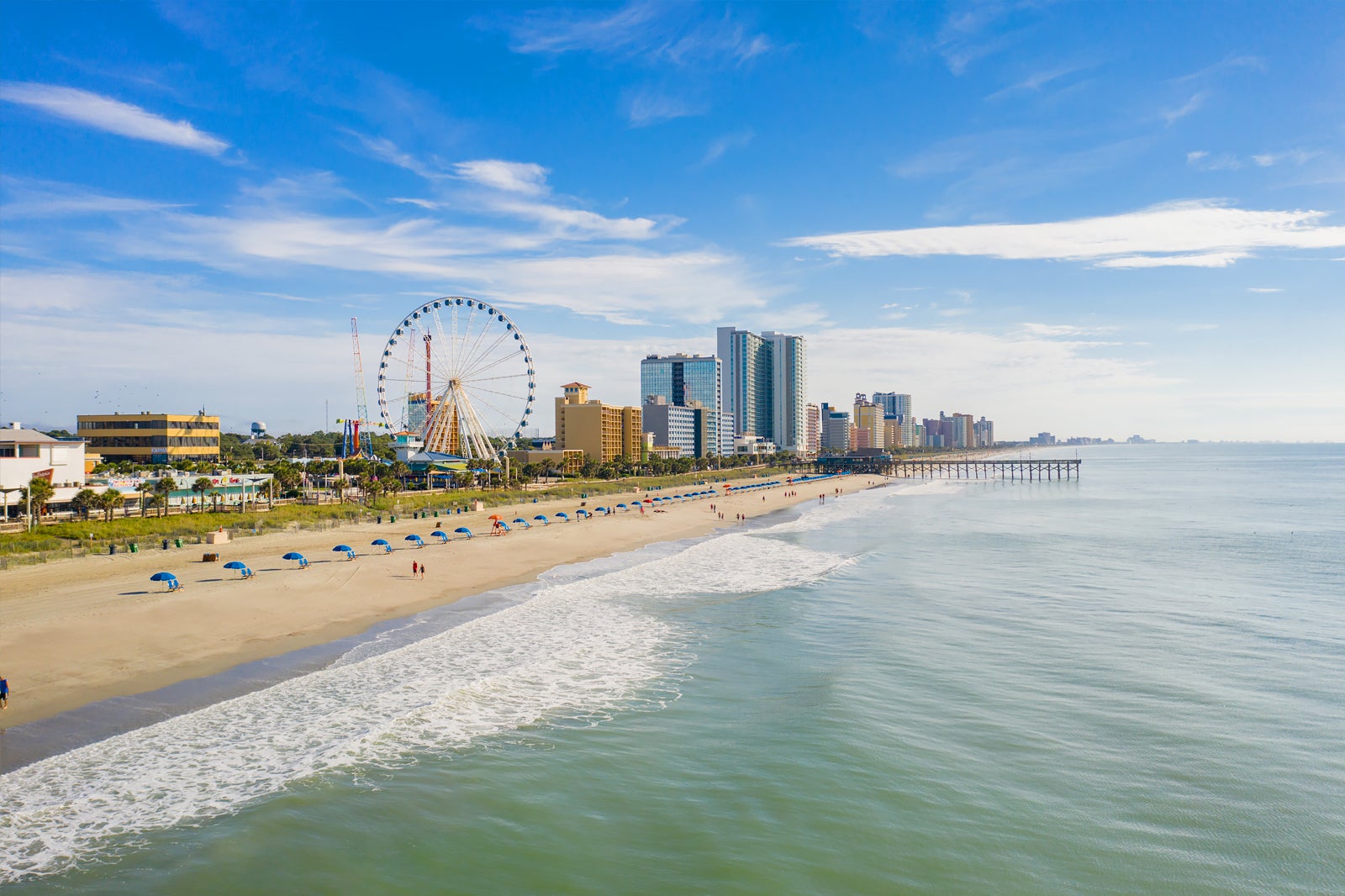 The Grand Strand is a coastal strip that boasts 97 km of sandy beaches. Alongside the highly developed beaches are several attractions including amusement parks, an aquarium, and an IMAX theater.
Though it sees a large number of visitors in the summer, you can still head to a couple of quieter beaches to escape the crowd. Spend the day at Little River on the Intracoastal Waterway, an unspoiled and laid-back dune beach, or other peacefully undeveloped beaches like Pawleys Island or Litchfield Beach, both about a 45-minute drive from the start of the coastline. On your way back in the evening, drop by one of the Grand Strand's many restaurants along the coast for a romantic seaside dinner.
Location: Myrtle Beach, SC 29572, USA
2
Atalaya Castle
Have a courtyard picnic among shining animal sculptures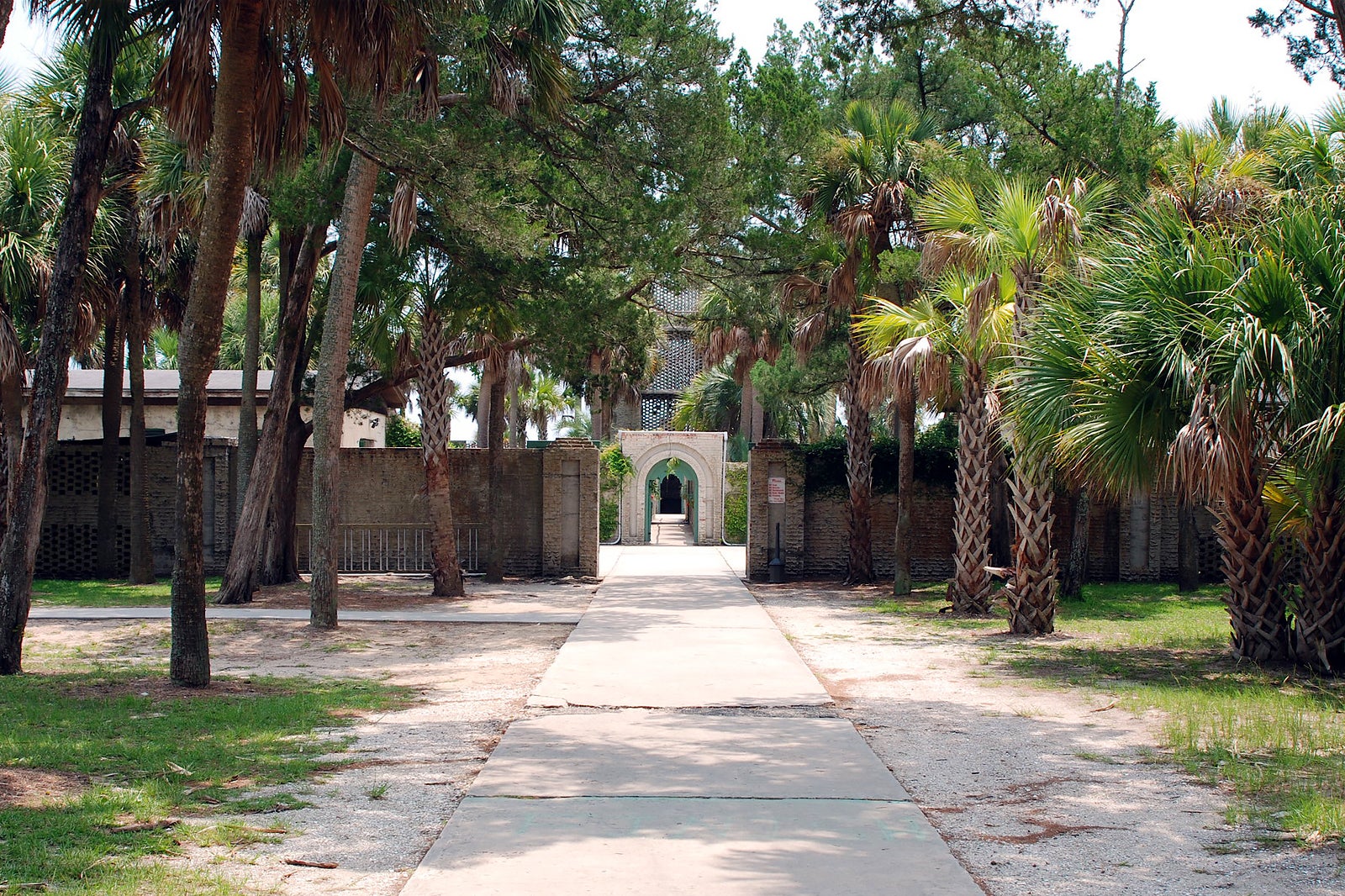 Atalaya Castle, located within Huntington Beach State Park, was the former winter refuge of Anna Hyatt Huntington and her husband Archer. Anna was a prominent American sculptor and the home was built by her wealthy husband in 1931.
Surrounded by a serene courtyard and rows of palm trees, the historical castle consists of a bear pen, doghouses, stables, as well as studios where Anna created her life-sized sculptures of animals, her favorite subject. Though the courtyard is a popular venue for weddings and events, you can also have a picnic there when it's not in use. Self-guided tours of Atalaya Castle are available daily.
Location: Atalaya Rd, Murrells Inlet, SC 29576, USA
Open: Daily from 6 am to 10 pm
photo by mattmangum (CC BY 2.0) modified
3
The Murrells Inlet Marsh Walk
A scenic spot for food, beverages and an evening walk as the sun sets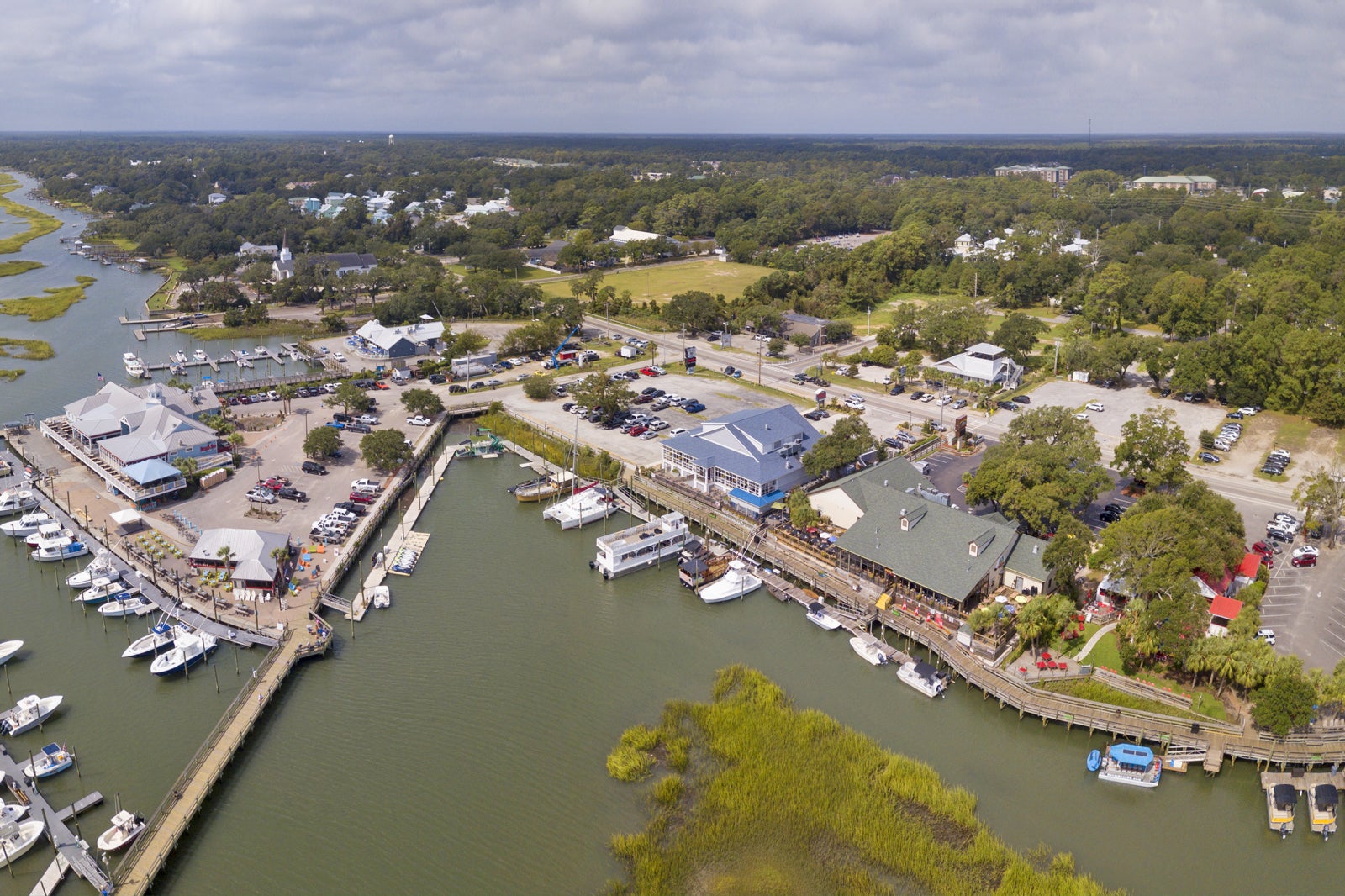 The Marsh Walk in the historic fishing village of Murrells Inlet is a half-mile boardwalk with picturesque salt marsh views on one side and a selection of seafood restaurants on the other. In the afternoon, you can go wildlife viewing and birdwatching on the pier or fishing and crabbing on the dock. Banana boating and jet skiing are popular daytime activities for adventurous couples.
At dusk, the Marsh Walk comes alive as crowds gather for food, beverages, and socializing. Among the lively conversations and laughter, you can take in a view of the stunning sunset over the water on your evening walk. Hungry? Tuck into fresh seafood at one of the restaurants with live music playing nightly.
Location: 4025 Hwy 17 Business, Murrells Inlet, SC 29576, USA
Open: Daily from 5.30 am to midnight
4
Historic Downtown Conway
Take a day trip to this historic river town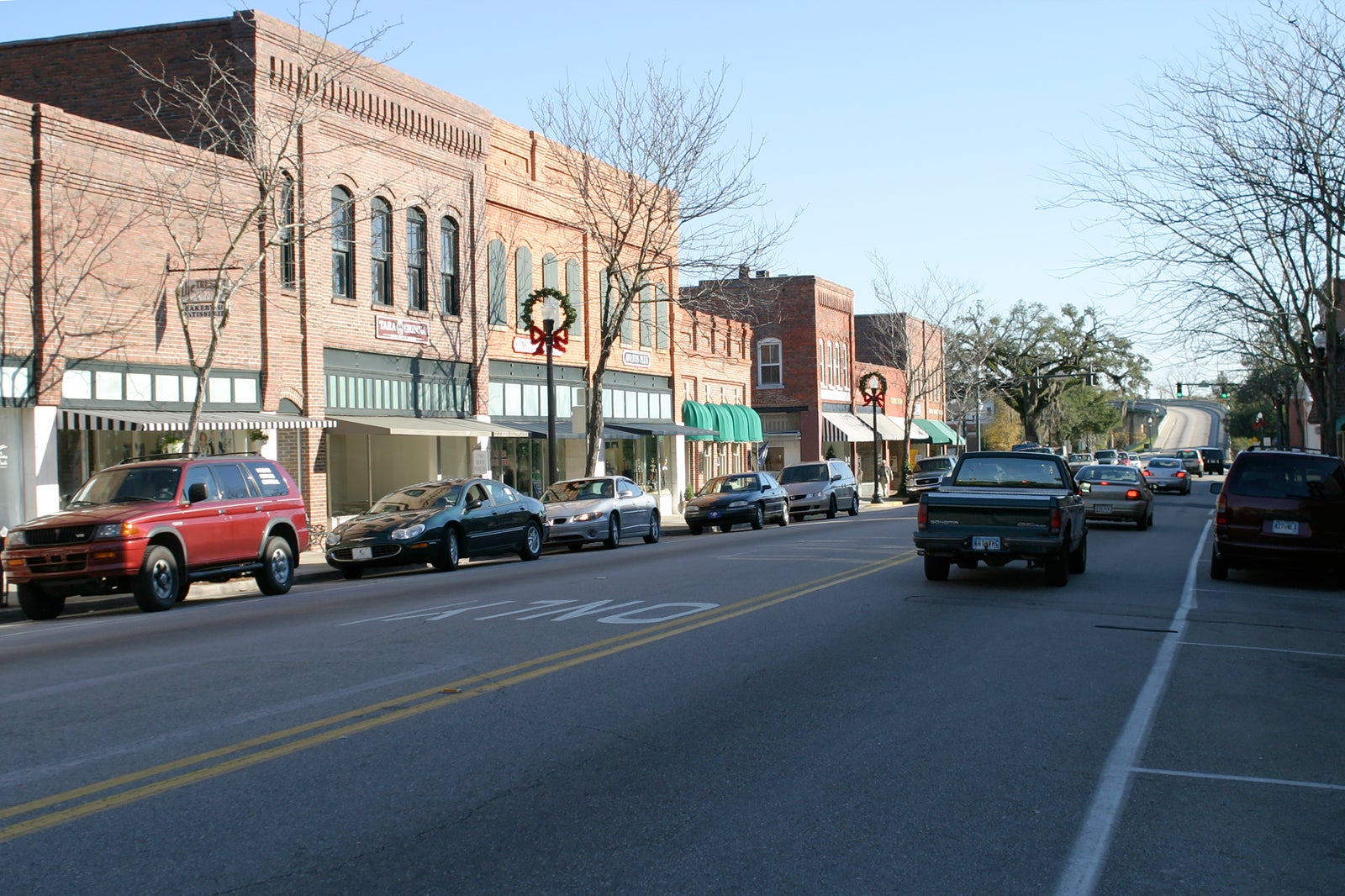 Downtown Conway, just a 30-minute drive from The Grand Strand, is a river town rich with American and natural history. Founded in 1734, Conway gives you a glimpse into its past with historical markers peppered all over town. The best way to explore the area is by foot as the main attractions are clustered in each direction.
Main Street is the best starting point for your self-guided tour, and it's also where you'll find unique boutiques, restaurants, and the decades-old Theater of the Republic. Head to Ocean Fish Market for fresh seafood from the coast before strolling down the Riverwalk. Many festivals take place in Conway throughout the year so check one out if your visit happens to coincide with one.
Location: 500 Main St, Conway, SC 29526, USA
Phone: +1 843-248-6260
photo by Pollinator (CC BY-SA 3.0) modified
5
Couples' spa treatment
Unwind together with an ultimate relaxation treatment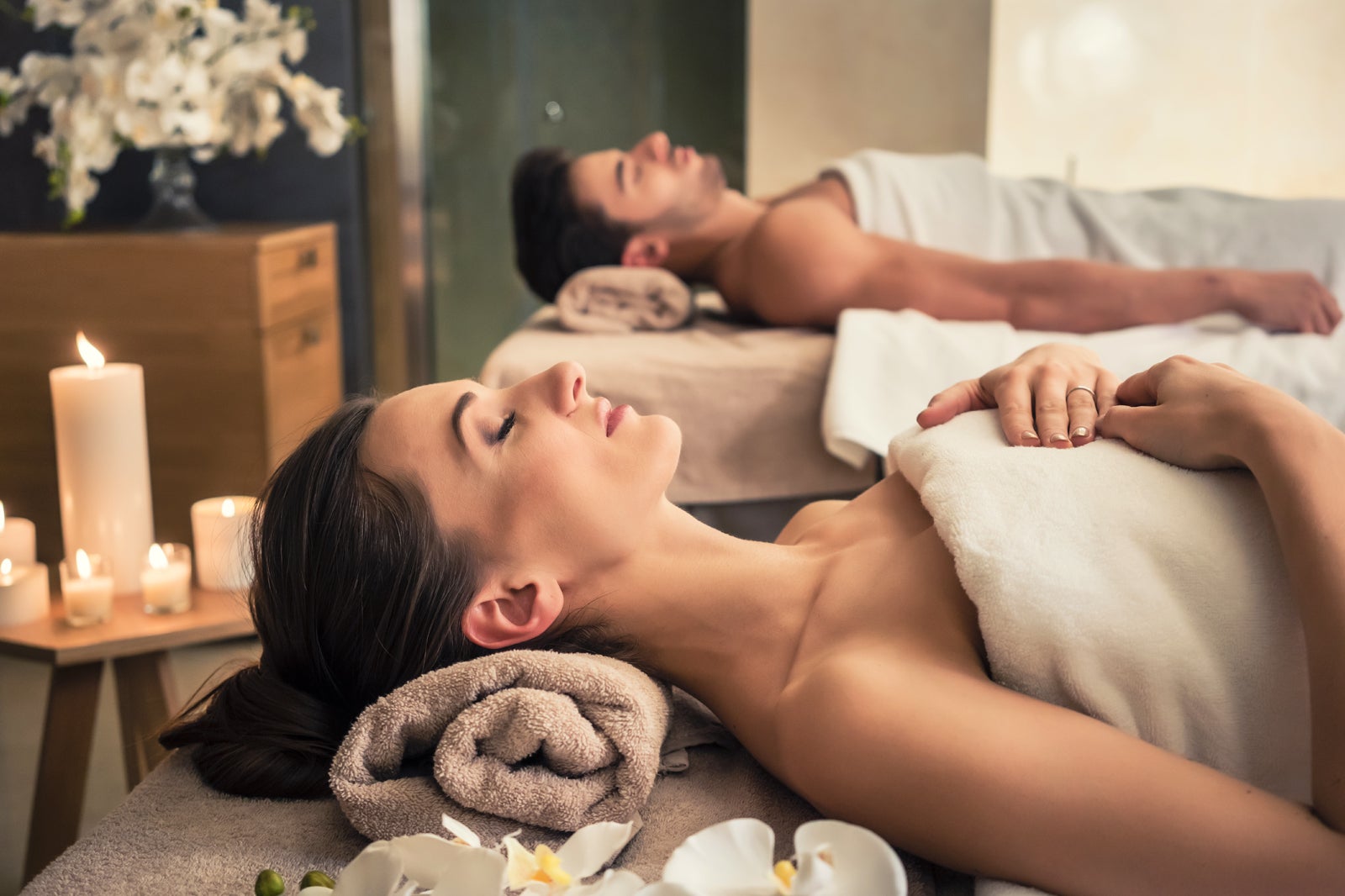 Myrtle Beach is home to many spas that can loosen up the knots in your body and relieve tension. Since you're on a couples' vacation, why not enjoy some pampering together?
Majestic Massage & Day Spa, Celestial Spa On Cloud 9, and Tao Asian Massage Therapy are just a few spas that offer couples' massage and facial treatments in a soothing ambience. Popular body treatments on offer include deep tissue massage and prenatal massage. Experience healing and rejuvenation as a couple, and you'll leave feeling much better than when you walked in.
6
Sunset cruise
Set sail and celebrate your time together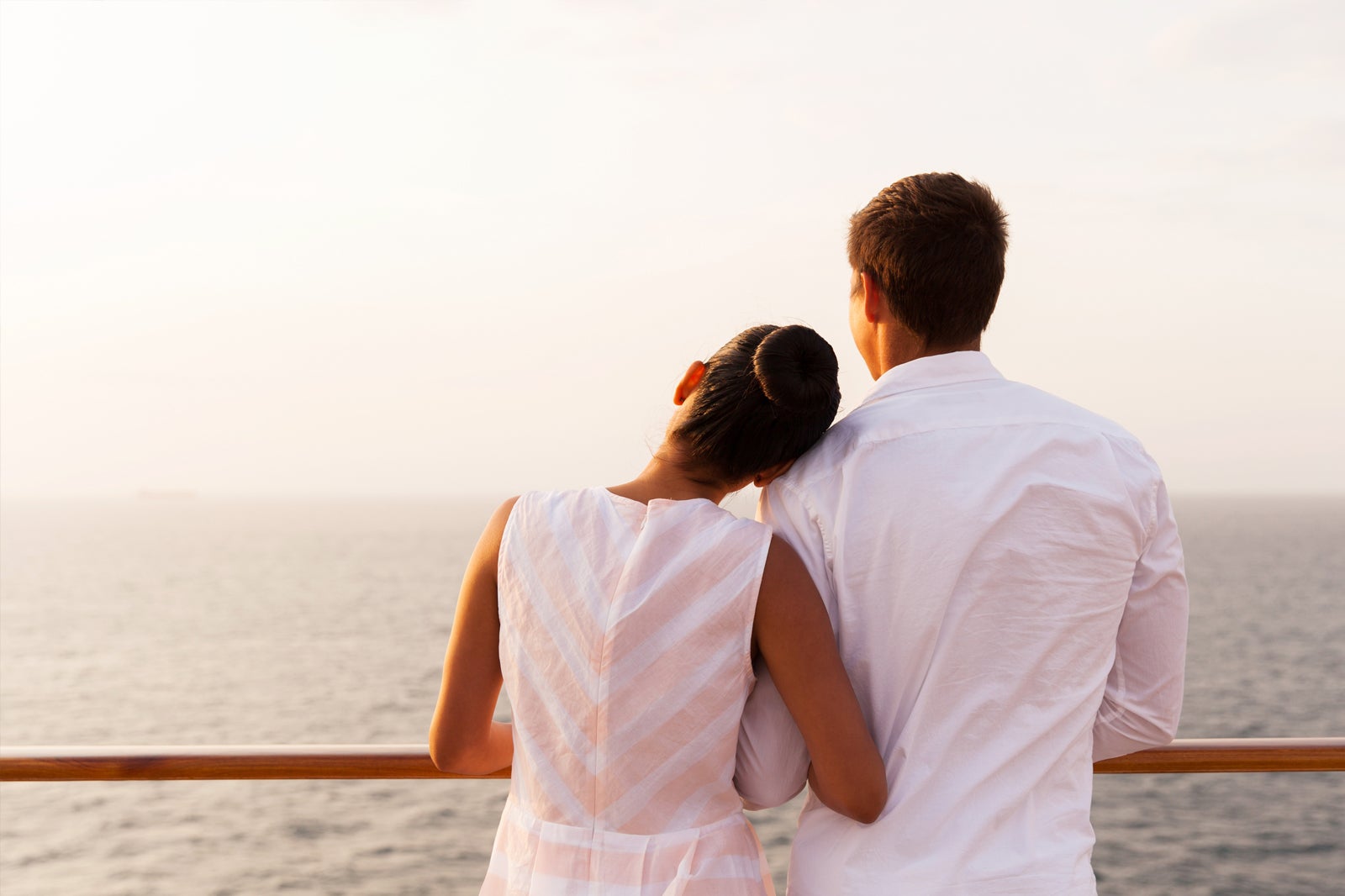 If you're looking to spend a peaceful quiet time together off Myrtle Beach, book a Sunset Couples Cruise on Enchanted Sailing Charters, the largest chartered sailboat in the area. You can either join a non-private cruise with 2 other couples or opt for a private cruise just for you and your significant other.
Other couples' cruises include an Anniversary Cruise and Engagement Dinner Cruise. Taking you through Little River Inlet, the cruise passes by the scenic Dunn Sound and the unspoilt Waties Island and Bird Island. As the sun sets, the boat sets sail into the Atlantic to give you a gorgeous view over the coastline. All couples' cruises run from 5 pm to 8 pm.
Location: 4495 Baker St, Little River, SC 29566, USA
Phone: +1 803-237-6627
7
Sunset horseback riding
Saddle up for the romantic ride of a lifetime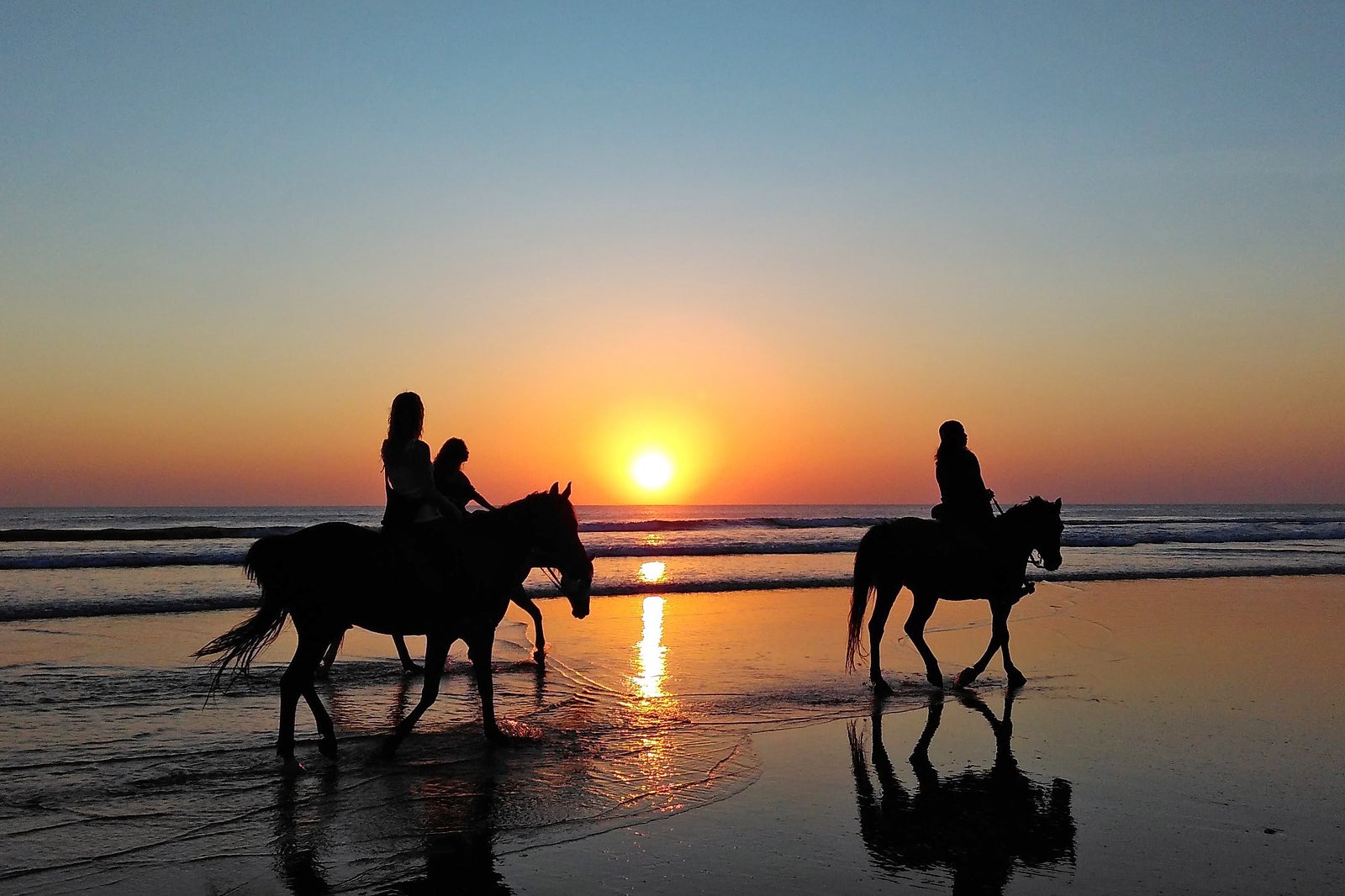 Horseback riding is a classic scene of a romance novel or movie and your couples' trip in Myrtle Beach won't be complete without this experience. Book a romantic oceanfront horseback ride for 2 during sunset on Waites Island where horseback riding is available all year-round or stay on the Grand Strand, which offers beach rides run from November to February.
Horseback tours are offered by Inlet Point Plantation and Horseback Riding of Myrtle Beach. Prior riding experience is not necessary as your ride will be led by experienced guides with well-trained horses.
8
Myrtle Beach helicopter adventures
Get a bird's-eye view of the Grand Strand
For a thrilling ride in the sky, go on a helicopter adventure over Myrtle Beach. On this ride, you'll see Myrtle Beach from a different perspective.
Helicopter Adventures is a tour operator offering 2 options – a 5-minute helicopter ride and one that takes you along the entire stretch of beaches for about 5 minutes. As you fly over the Grand Strand, you'll get a bird's eye view of the attractions and beaches that will make this experience an unforgettable one. Other higher-priced, longer distance rides are also available.
Location: 1860 21st Ave N, Myrtle Beach, SC 29577, USA
Open: Daily from 9.30 am to 6 pm
Phone: +1 800-359-4386
9
Sunset full-moon kayak tour
An outdoorsy activity for sporty couples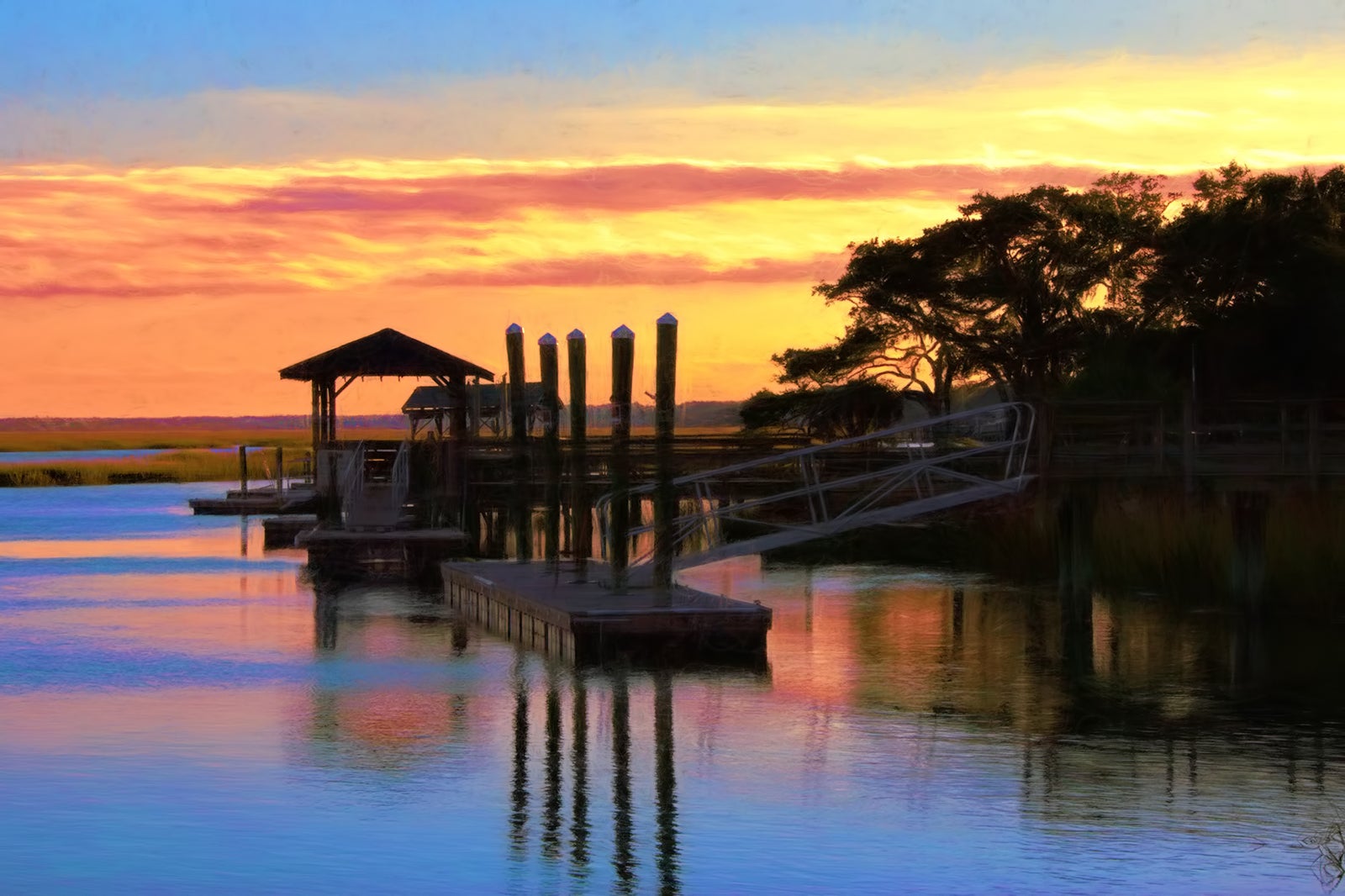 Go on a Myrtle Beach sunset full-moon kayak tour if you're looking for an outdoorsy yet romantic activity during your vacation. One of the most popular operators for such tours in Myrtle Beach is Black River Outdoors.
On this 4-hour guided tour, you'll paddle out near the Murrells Inlet jetty in the late afternoon and take a nice beach stroll toward the jetty. There, you'll watch the full moon rise over the ocean on one side, and the sunset over the mainland on the other. When night falls, you'll paddle back to shore through the salt marsh lit by the moon and artificial lights on each boat.
Location: Myrtle Beach, SC, USA
Open: Daily from 7 am to 9 pm
Phone: +1 843-546-4840
10
Myrtle Beach dinner theaters
Enjoy live entertainment and a great feast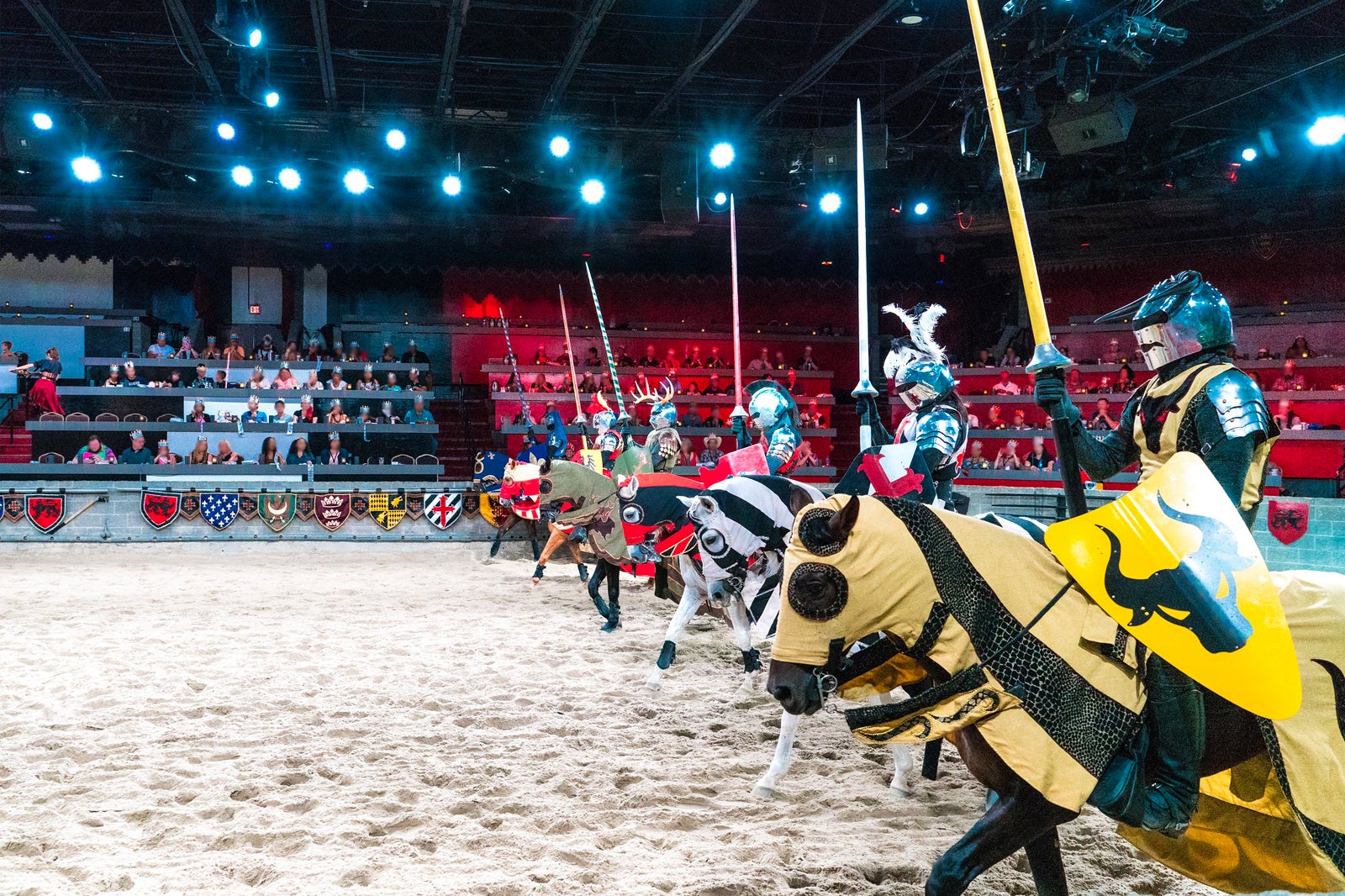 Dinner theaters in Myrtle Beach offer a unique experience to remember. After all, good food and entertainment go hand-in-hand as a couple does. The themed dinner theaters are designed to take its patrons to another world.
At Medieval Times, you'll witness theatrics of epic battles from your ringside seats as you tuck into a 4-course feast. For a Hawaiian Luau experience, head to Polynesian Fire where you'll enjoy traditional Polynesian dances, live music performances and fire knife shows along with an all-you-can-eat-buffet.
photo by Sergey Galyonkin (CC BY-SA 2.0) modified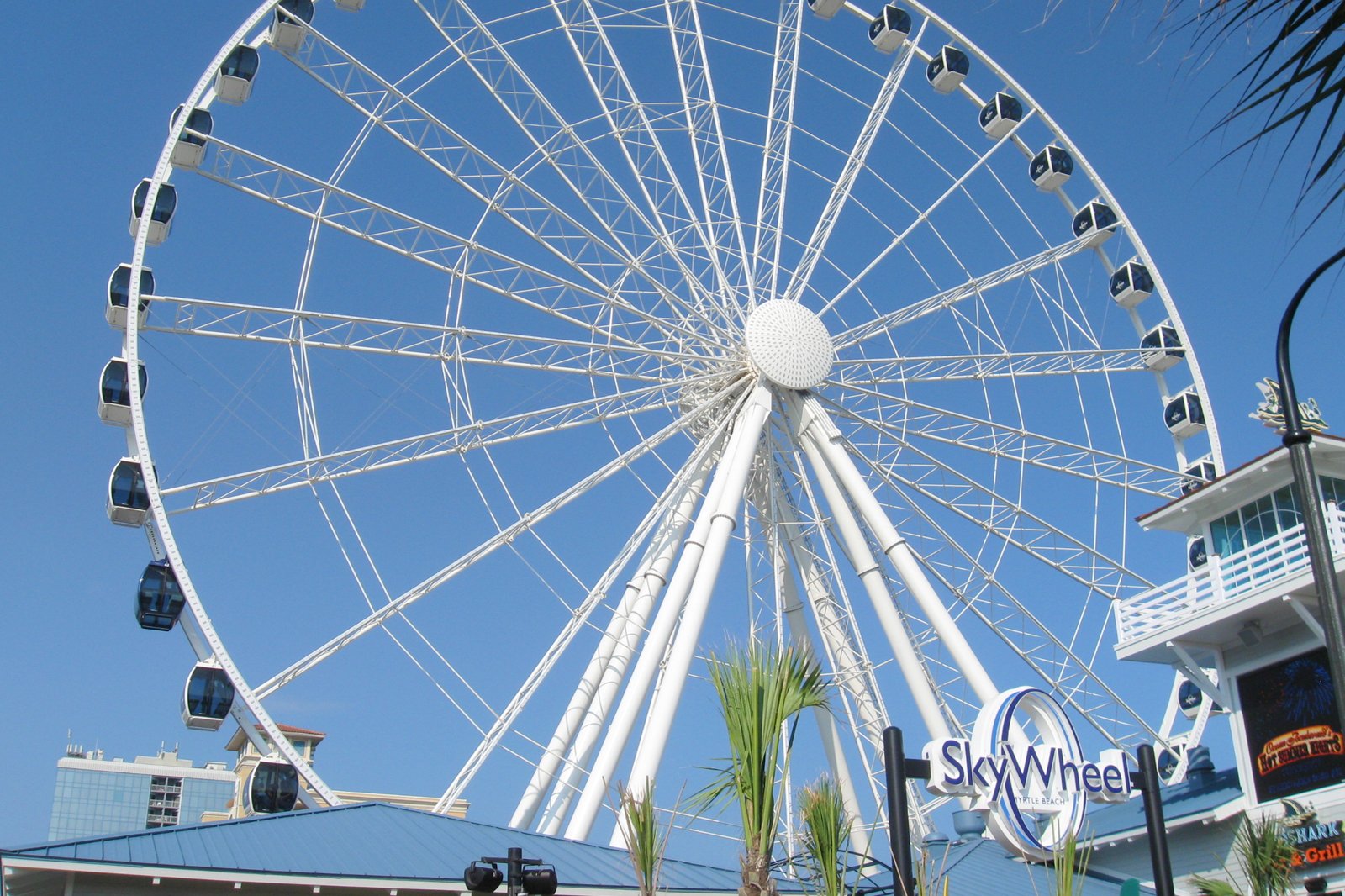 At 20 storeys high, the SkyWheel is a hard-to-miss landmark along the Myrtle Beach boardwalk. Climb into one of the gondolas and enjoy a 20-minute spin with panoramic views over the city and sea.
The gondolas are enclosed and climate-controlled so you can ride in comfort any time of year, rain or shine. Tickets are available at the entrance, or you could avoid the queues by booking online in advance. Splurge for the VIP gondola with its glass floor for some added vertigo-inducing excitement.
Location: 1110 North Ocean Blvd, Myrtle Beach, South Carolina, USA
Open: Daily from 11 am to 9 pm
Phone: +1 843 839 9200
12
Barefoot Landing
Go for a stroll around a lakeside retail village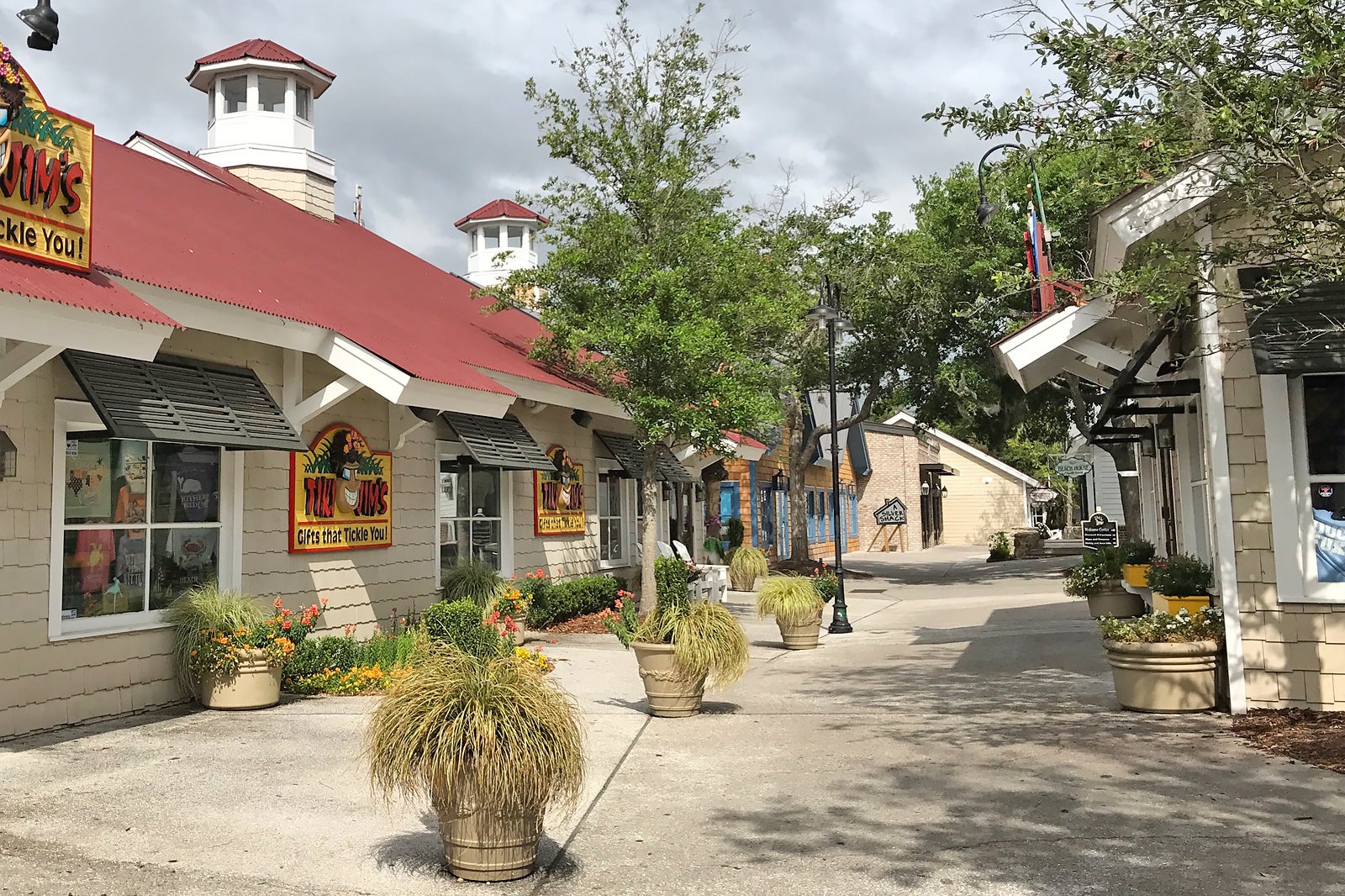 Barefoot Landing, where Prices Swamp Run meets the Intracoastal Waterway, is a village that provides one of Myrtle Beach's most atmospheric shopping venues. Enjoy the sunshine while visiting brand name retail shops and local boutiques beside the lake. Dozens of stores line the waterfront where you'll find stylish apparel, wine, sunglasses, jewelry, beachwear, spices, and much more. The lakeside setting offers a relaxing change of pace from the beach.
The scenic pathways and bridges make this one of the most delightful neighborhoods of Myrtle Beach and live music often fills the airwaves while you shop. If you get hungry, there's a multitude of restaurants serving Mexican, Australian, Cajun, and other culinary offerings.
Location: 4898 Hwy 17 S, North Myrtle Beach, SC 29582, USA
Open: Daily at 10 am, closing time varies between 5 pm and 11 pm
Phone: +1 843-272-8349
photo by Forsaken Fotos (CC BY 2.0) modified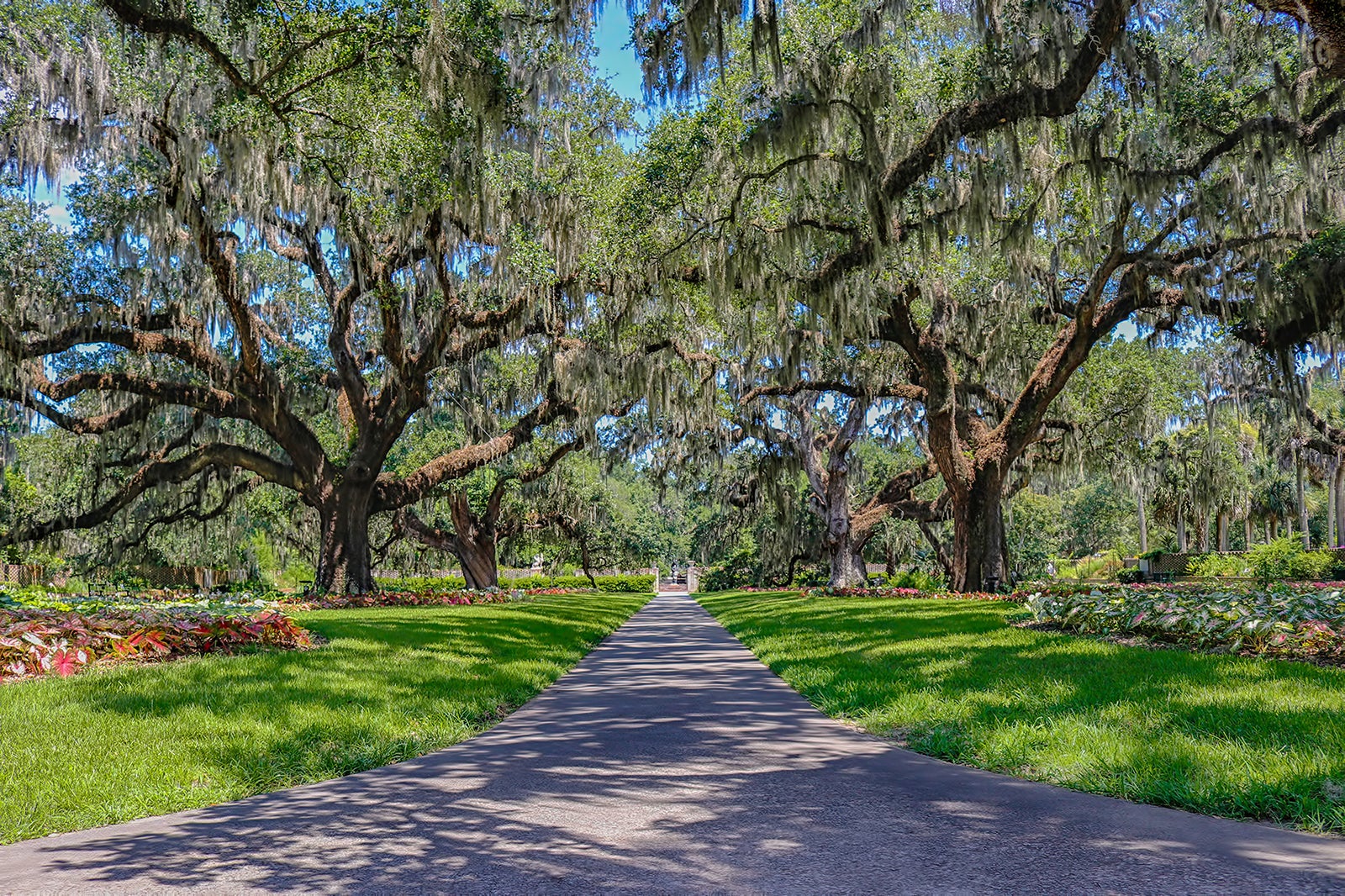 Covering more than 9,000 acres, Brookgreen Gardens offer a serene retreat with flower-laden manicured gardens, figurative sculptures by American artists, reflecting pools and fountains. Wander through the Live Oak alley in the shade of the big moss-laden trees planted in the 1700s.
Take a guided tour to learn about the history of this former rice plantation and the Gullah African slaves who toiled there, or simply walk the scenic trails on your own. Through the summer months the gardens are host to several music and theatre performances. Admission is around $14, with discounts for children and seniors.
Location: 1931 Brookgreen Drive, Murrells Inlet, South Carolina, USA
Open: Daily from 9.30 am to 5 pm
Phone: +1 843 235 6000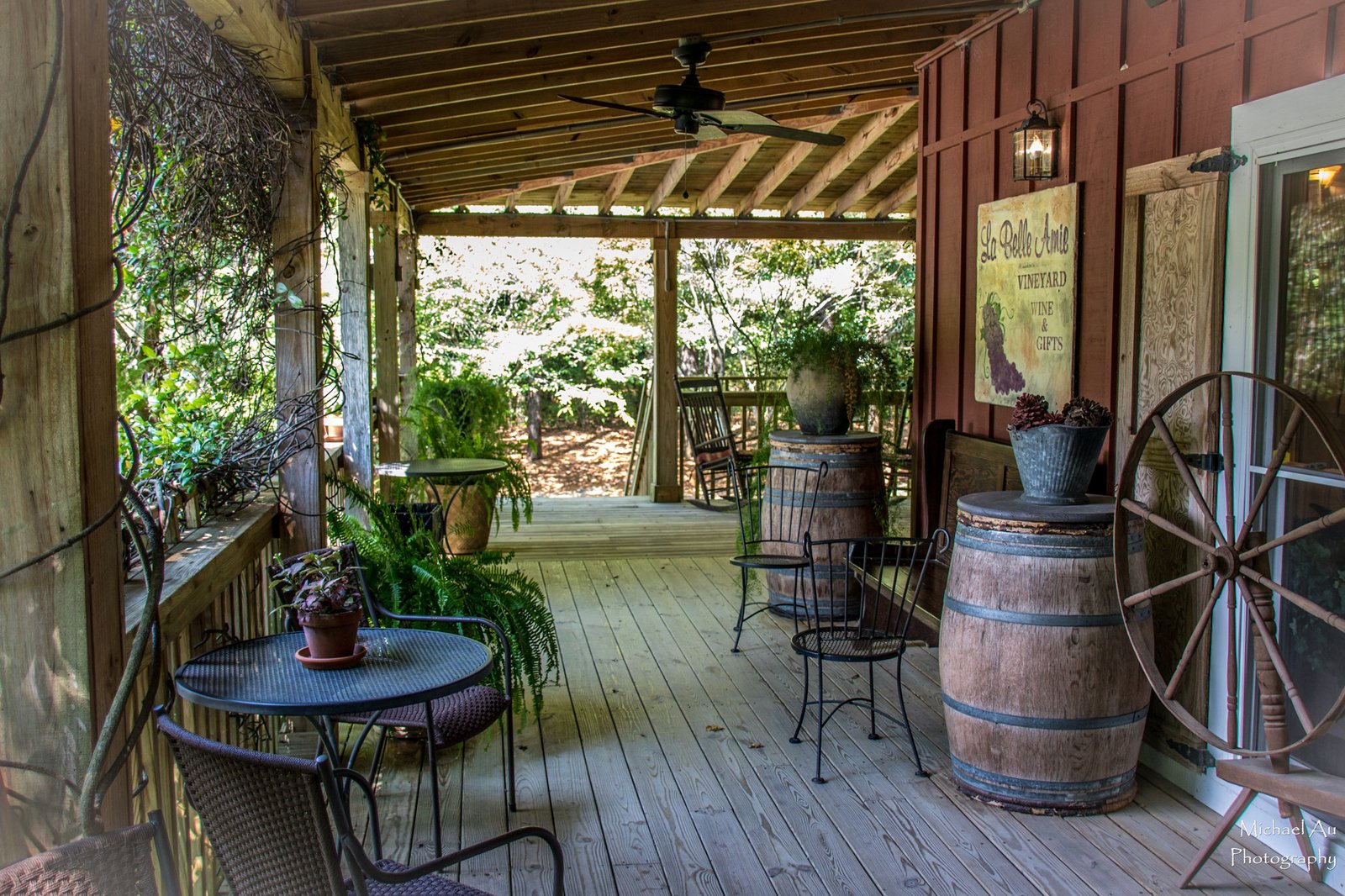 This tobacco plantation-turned-vineyard has a 200-year history and some quality wines to try in a tasting session. As you sip and savor the wines, you'll be told the stories of the Bellamy family and their winemaking techniques, passed down from ancestors from the south of France.
Hear about how the winery was launched with high hopes and nearly lost to hurricanes. Check in advance for happenings here, with regular bonfire events in winter and music festivals through the summer. You'll save a few dollars on the admission fee by bringing two items to donate to local food banks.
Location: 1120 St Joseph Road, Little River, South Carolina, USA
Open: Tuesday–Saturday from 10 am to 5 pm
Phone: +1 843 399 9463
photo by Michael Au (CC BY 2.0) modified
15
The Market Common
Browse the storefront shops
The Market Common is a lifestyle center in Myrtle Beach that's home to upscale clothing, beauty and jewelry stores, as well as some top-rated restaurants. To get there, simply head north from Myrtle Beach State Park, a wide wooded green space speckled with campgrounds that leads down to a quiet stretch of sandy beach.
Many prefer The Market Common to the 'touristy' ambiences of Myrtle Beach's coastal area and there's more than just numerous shops and restaurants to explore. Entertainment options include a movie theater, park-like settings that families with kids can enjoy, as well as a live theater company.
Location: 4017 Deville St, Myrtle Beach, SC 29577, USA
Open: Monday–Thursday from 10 am to 7 pm, Friday–Saturday from 10 am to 8 pm, Sunday from midday to 6 pm
Phone: +1 843-839-3500
Back to top