10 Things to Do in Sarajevo in a Day
What is Sarajevo Most Famous For?
Sarajevo may be compact in size but it's a place where culture and history come together in a huge way. It's a city where Austro-Hungarian and Ottoman influences meet as one, where ornate towers peek out from underneath a rustic backdrop, and where abundant nature meets a thriving culture. While the city has endured tragedy and hardship, it's this past life that's helped to create the current Sarajevan landscape.
Something Sarajevans may not be so well known for is their dark, sarcastic sense of humor. From a giant beef monument erected in 2007 (in homage to the expired food they received from the United Nations during the Bosnian War) to the scribbled inscriptions mocking the Serbian invaders when they tried to reclaim the city, the city has a whole host of stories to tell.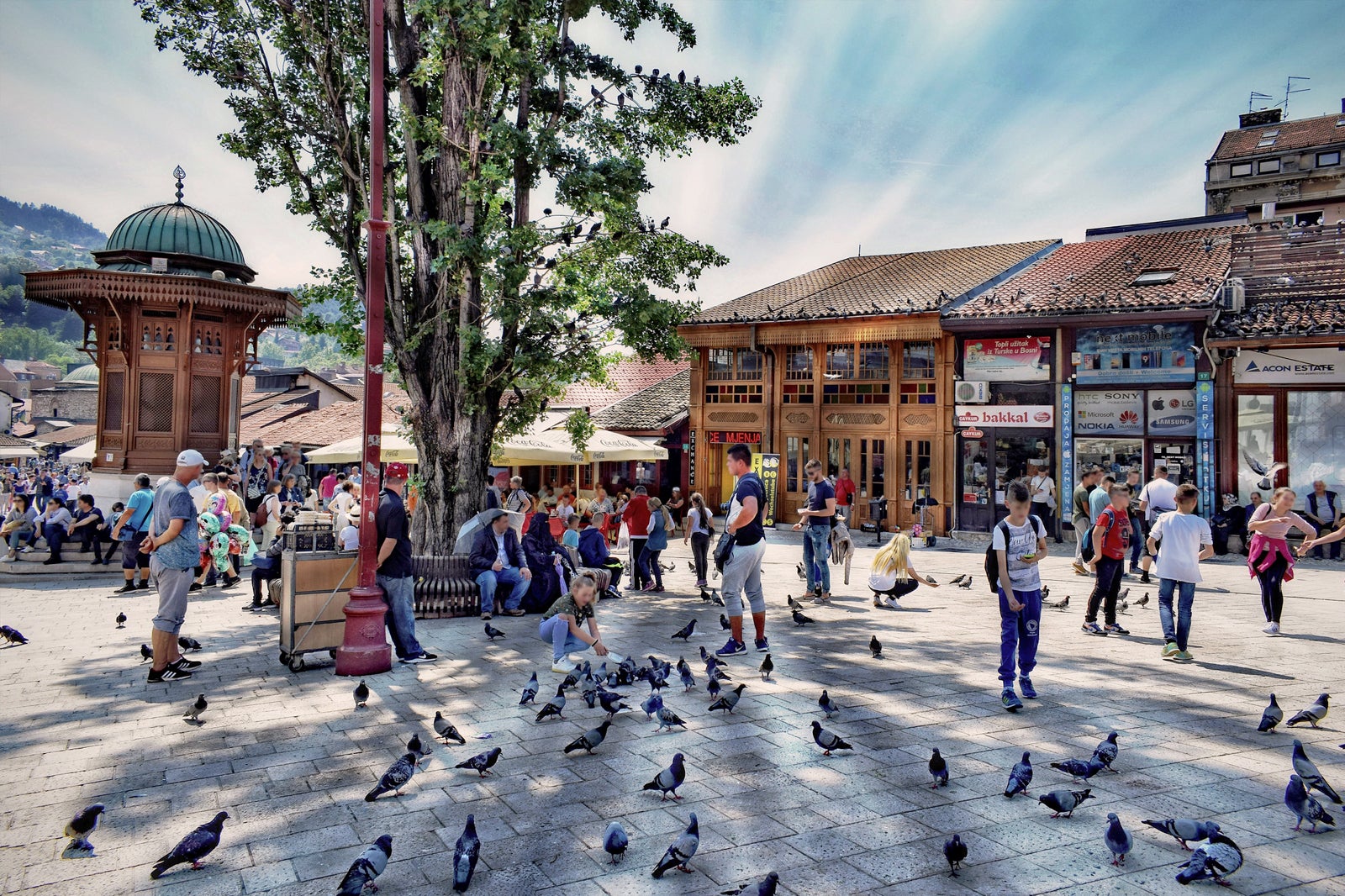 Start the day at Baščaršija
Wake up with a stroll around the old bazaar
As Sarajevo's historical and cultural center, the 15th-century Bascarsija – otherwise known as Sarajevo's Old Town – is the perfect place to stretch your legs, grab a hot cup of Bosnian coffee and soak up the slow-paced Sarajevan way of life.
Check out the must-see Gazi Husrev-beg Mosque, with its beautifully maintained courtyard. The nearby clock tower is the only public clock in the world that keeps lunar time "à la Turk" to indicate the times for the daily prayers. On days where the sun is shining bright, pull up a seat at the Ministry of Ćejf and bask in its welcoming warmth as you get a glimpse of local life on the cobbled streets of this historic Old Town.
Location: Baščaršija, Sarajevo 71000, Bosnia and Herzegovina
Shoppers
History
Photo
Budget
photo by Jocelyn Erskine-Kellie (CC BY-SA 2.0) modified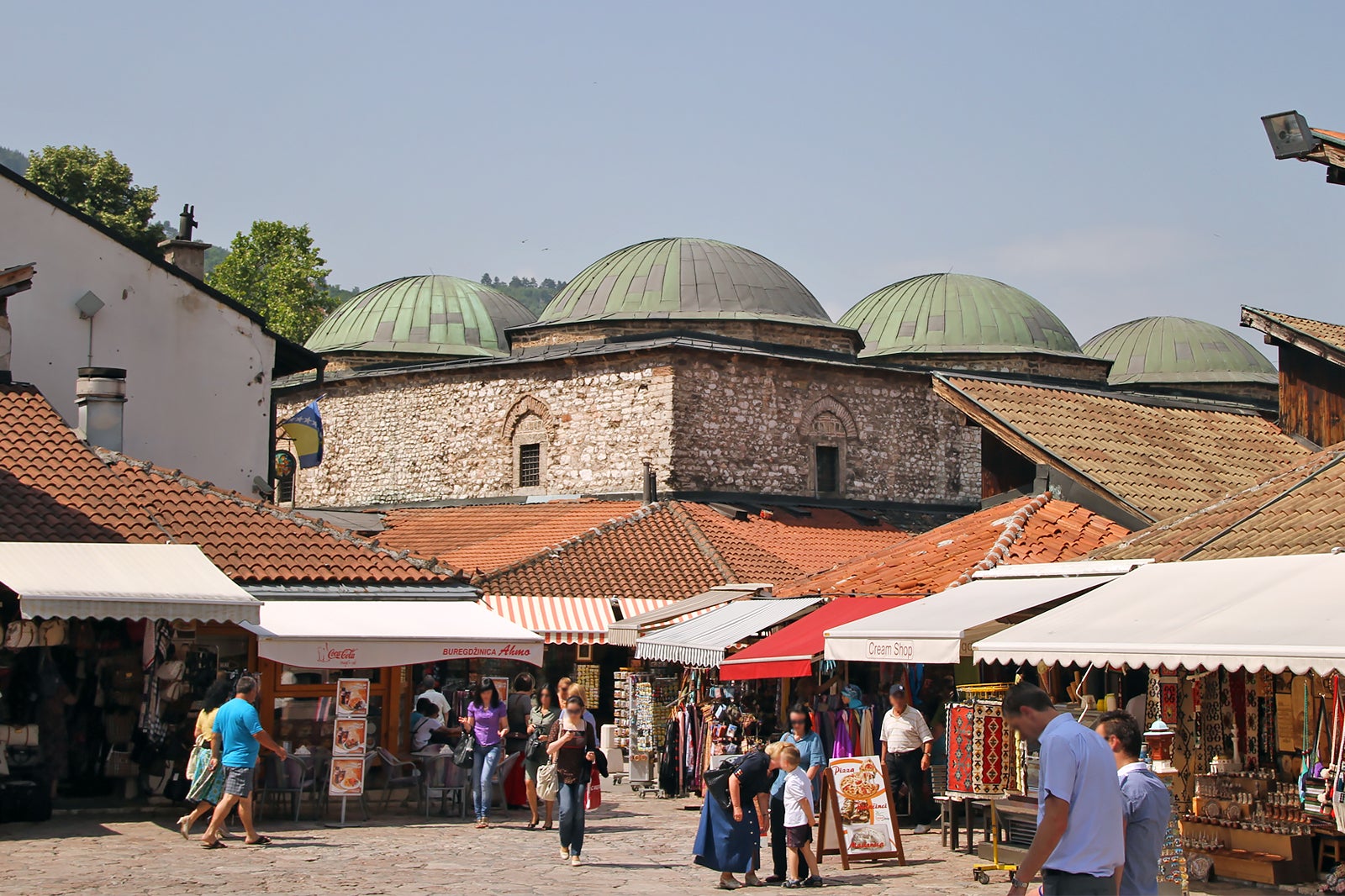 Must-See: Brusa Bezistan
It tells a tale of Sarajevo's history
If you're looking for an impressive Sarajevan sight that'll tell you a tale of past and modern-day life, step foot inside the remarkable Brusa Bezistan. It may be compact in size, but this memorable museum is packed full of hidden historical gems. As you wander through its richly-decorated rooms, you'll find colorful clothing, ancient artifacts once used in everyday Sarajevan life, and a whole world of fine texts to indulge in. Best of all, you can work your way around this mini-museum in roughly 20-45 minutes.
Tucked away, hidden even from the inner-city locals, you may struggle to find the entrance at first. Once you locate its Ottoman-esque architecture, it'll only cost you 3 marks to uncover the historic periods of this interesting capital city, from the Stone Age era right up until Austro-Hungarian times. It's a real treat for hardcore history-lovers.
Location: Abadžiluk 10, Sarajevo 71000, Bosnia and Herzegovina
Open: Monday–Saturday from 10am to 4pm, Sundays from 10am to 3pm
Phone: +387 (0)33 239-590
photo by Bjoertvedt (CC BY-SA 3.0) modified
Climb to the top of the Avaz Twist Tower
And watch the city unfold below
Sharing the Sarajevo skyline with other impressive towering structures such as Bosmal City Center and the UNITIC Business Center, the Avaz Twist Tower is the place to go if you want a true 360-degree view of the city. Standing proud at 142 meters, grab a super speedy lift up to the observation deck on the 36th floor. Just 2 marks is all you need for this memorable open-air experience.
After witnessing the entire city below as well as the surrounding rolling hills, take a seat in the inviting sky bar on the 35th floor. Whether you're grabbing a coffee by day or sipping on cocktails by night, this is the best spot in all of Sarajevo, and a sign of the city that Sarajevo has become.
Location: Tešanjska 24A, Sarajevo 71000, Bosnia and Herzegovina
Open: Daily from 7am to 11pm
Phone: +387 (0)33 281-350
photo by Milan Suvajac (CC BY-SA 4.0) modified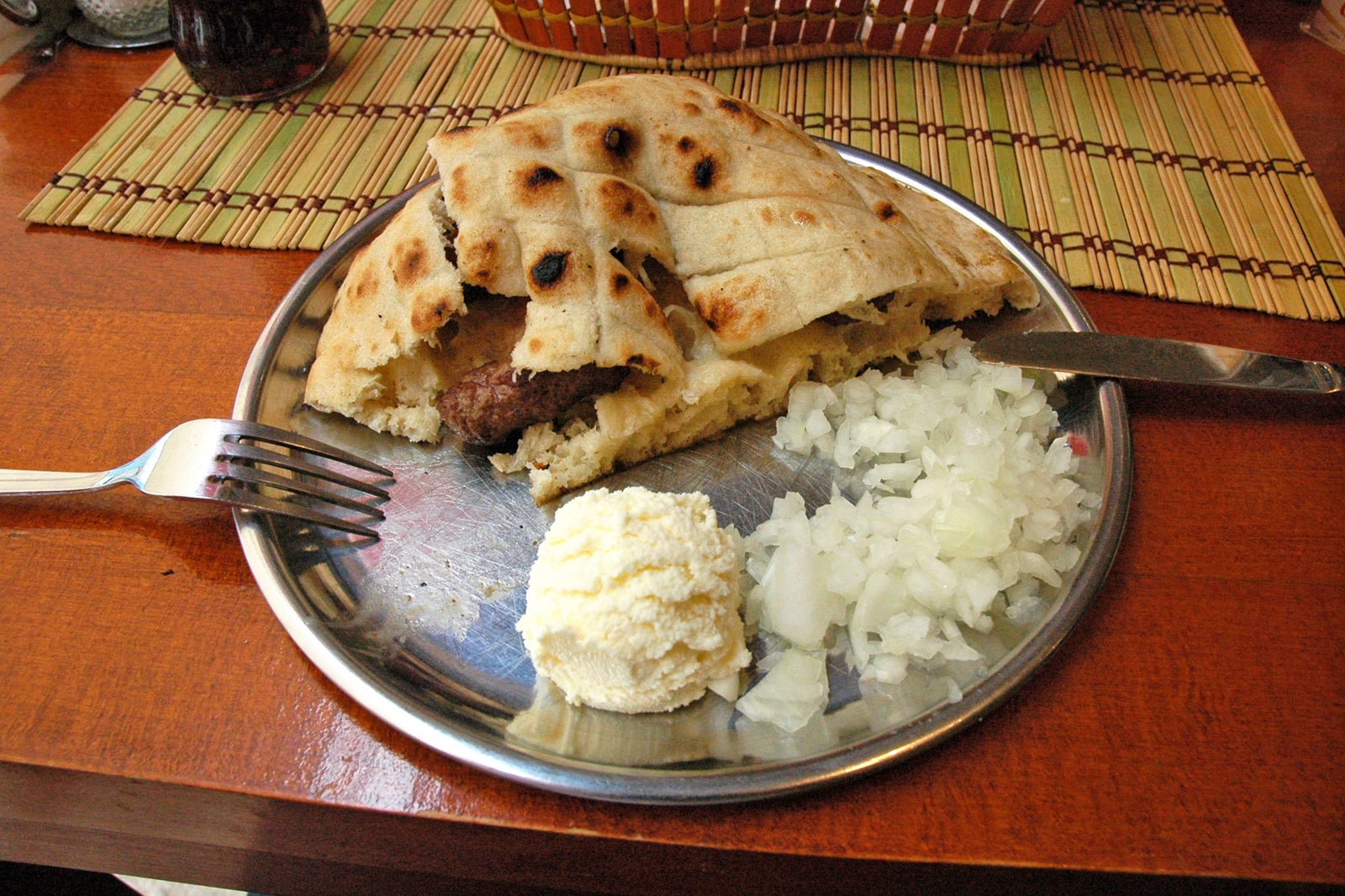 Eat Ćevapi
So much more than just a sausage
The cuisine in this colorful capital city is a divine blend of Austrian, Hungarian, Turkish and Italian cooking. But to partake in the most popular Sarajevan dish, you'll want to savor the flavors of Ćevapi. As the Balkan counterpart to the classic American burger, picture a melting pot of minced beef and lamb meat whizzed together with garlic, onion and a smattering of spice, deposited into a small but indulgent dumpling.
Cheap but never compromising on flavor, these slightly spicy finger-sized sausages pack quite the punch. Want to chow down on the best Ćevapi Sarajevo has to offer? There's a whole host of Serbian minced meat bars dotted around Sarajevo but for the best of this Balkan treat, head to Cevabdzinica Zeljo in the Old Town for affordable plates of these juicy grilled-meat parcels, served with warm flatbread and a hefty side of creamy kajmak for authentic al fresco dining.
Location: Cevabdzinica Zeljo, Kundurdžiluk 19, Sarajevo 71000, Bosnia and Herzegovina
Open: Daily from 8am-10pm
Phone: +387 (0)33 441-200
photo by János Korom Dr. (CC BY-SA 2.0) modified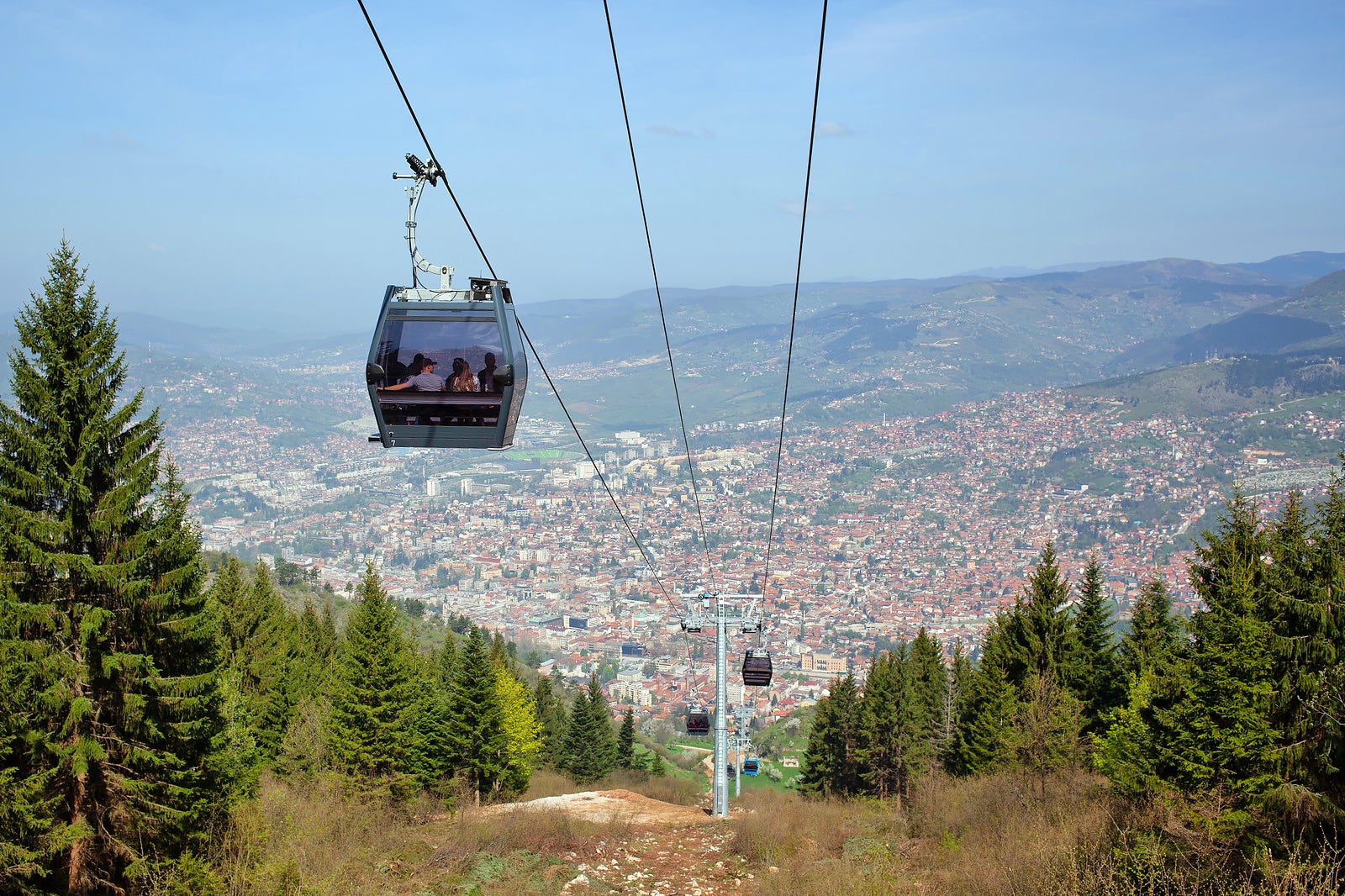 Hike up Mount Trebević
And check out Sarajevo's abandoned Olympic bobsled track
Grab your smartphone and take to the many twists and turns of Mount Trebević's beautiful hiking trail. Starting from the Grbavica via Vraca neighborhood, a walk of this magnitude can be tricky to navigate but it's totally doable, as long as you've got the right coordinates. Or if you'd rather zipper your way to some scenic views, you can jump on 1 of the 32 gondolas that run from the heart of Sarajevo all the way to the top. Covering over 2 km, a return ticket on these colorful cable cars will set you back just 20 marks.
While on Trebević's almighty top, nature lovers can rejoice with a stroll along the forest trails of the Brus excursion site while history buffs can get their fill of ancient architecture at the Čolina Kapa observatory. And no trip to Trebević would be complete without a visit to the abandoned bobsled track from when Sarajevo hosted the Winter Olympics back in 1984. A little creepy but a whole lotta cool, this graffiti-speckled sight is now a walking museum.
Couples
History
Photo
Adventure
Unusual
photo by Tom Page (CC BY-SA 2.0) modified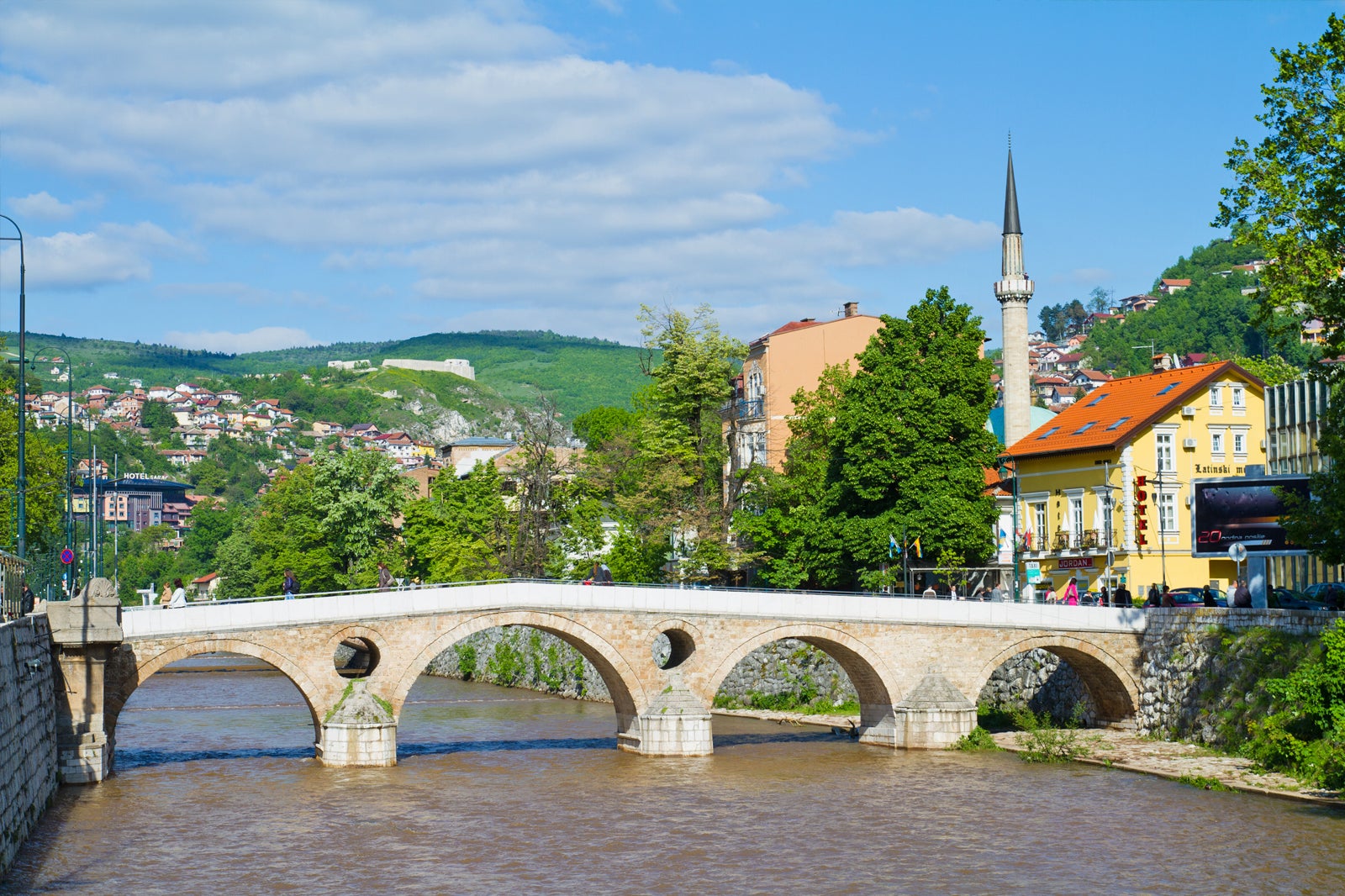 Must-See: Latin Bridge
The most famous crossing point of the River Miljacka
With a whole lot of history flowing from its watery depths, Sarajevo's ancient Latin Bridge tells a story of an important historical event. It was here, in 1914, that 18-year-old schoolboy Gavrilo Princip shot and killed the Archduke of Austria-Este, Franz Ferdinand and his wife Sophie, Duchess of Hohenberg.
Built by the Ottoman Empire in the 1550s and sitting firmly above the Miljacka River, as you wander across this small but powerful bridge, make your way to the museum on the street corner overlooking the bridge. Here, you'll find the plaque detailing the spot where Ferdinand and Sophie were executed. There's something to be said for standing in the exact place where the shots that started World War I were fired – a place where history was changed forever.
Location: BA, Obala Kulina bana bb, Sarajevo 71000, Bosnia and Herzegovina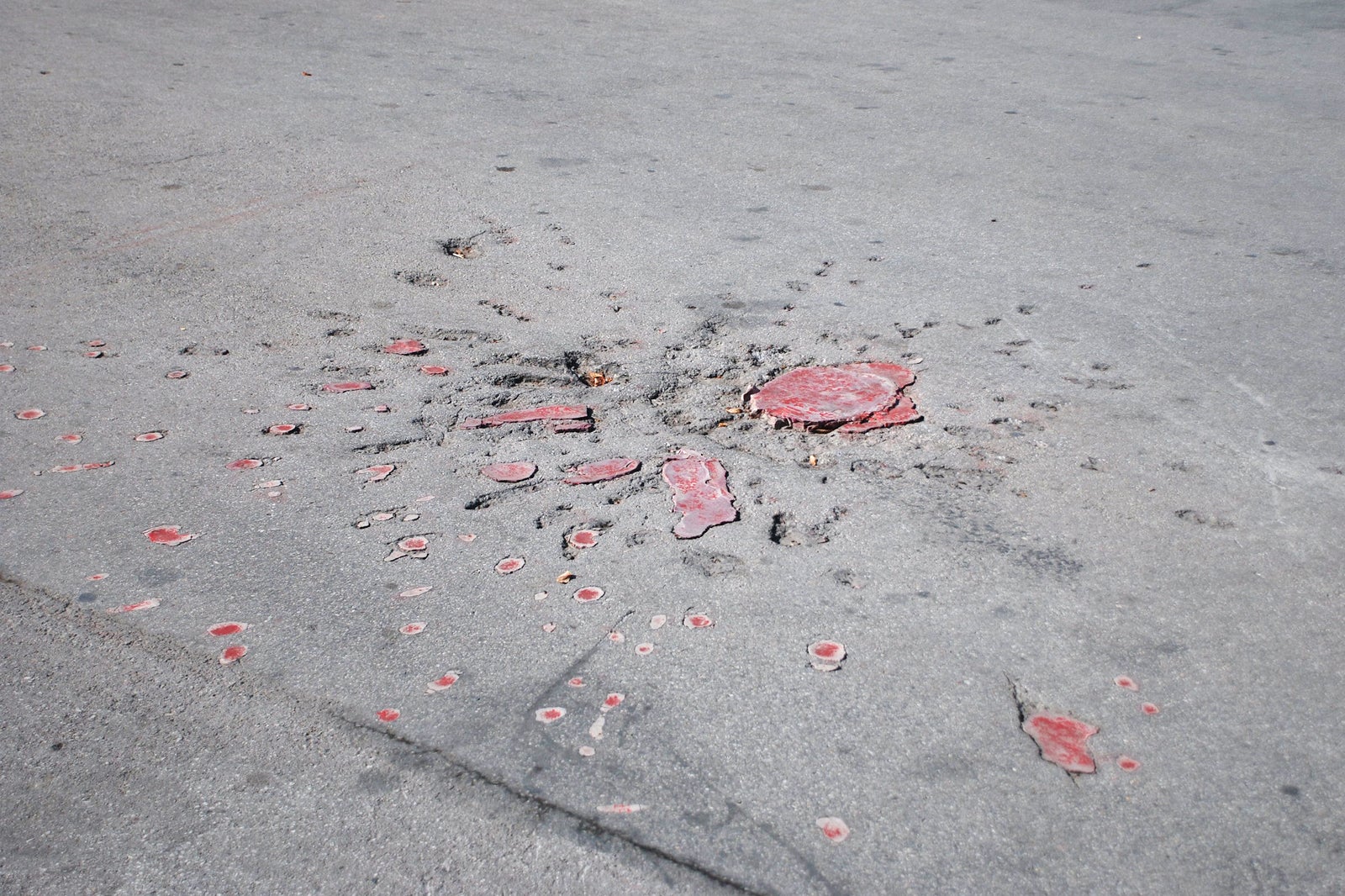 See the Sarajevo Roses
A moving tribute to the Siege of Sarajevo
The Siege of Sarajevo from April 1992 to February 1996 was an immensely traumatic experience for the city and its people. For nearly 4 years, everyday life consisted of running a gauntlet of sniper fire and artillery. The city was repeatedly hit by an average of around 300 shells each and every day.
When the war was eventually over, the scars that were left behind were filled in with red resin, marking the casualties who suffered at each spot. Reminiscent of flowers, they were dubbed the Sarajevo Roses by the city's residents. It's a moving tribute and one which will teach its visitors to tread ever more respectfully.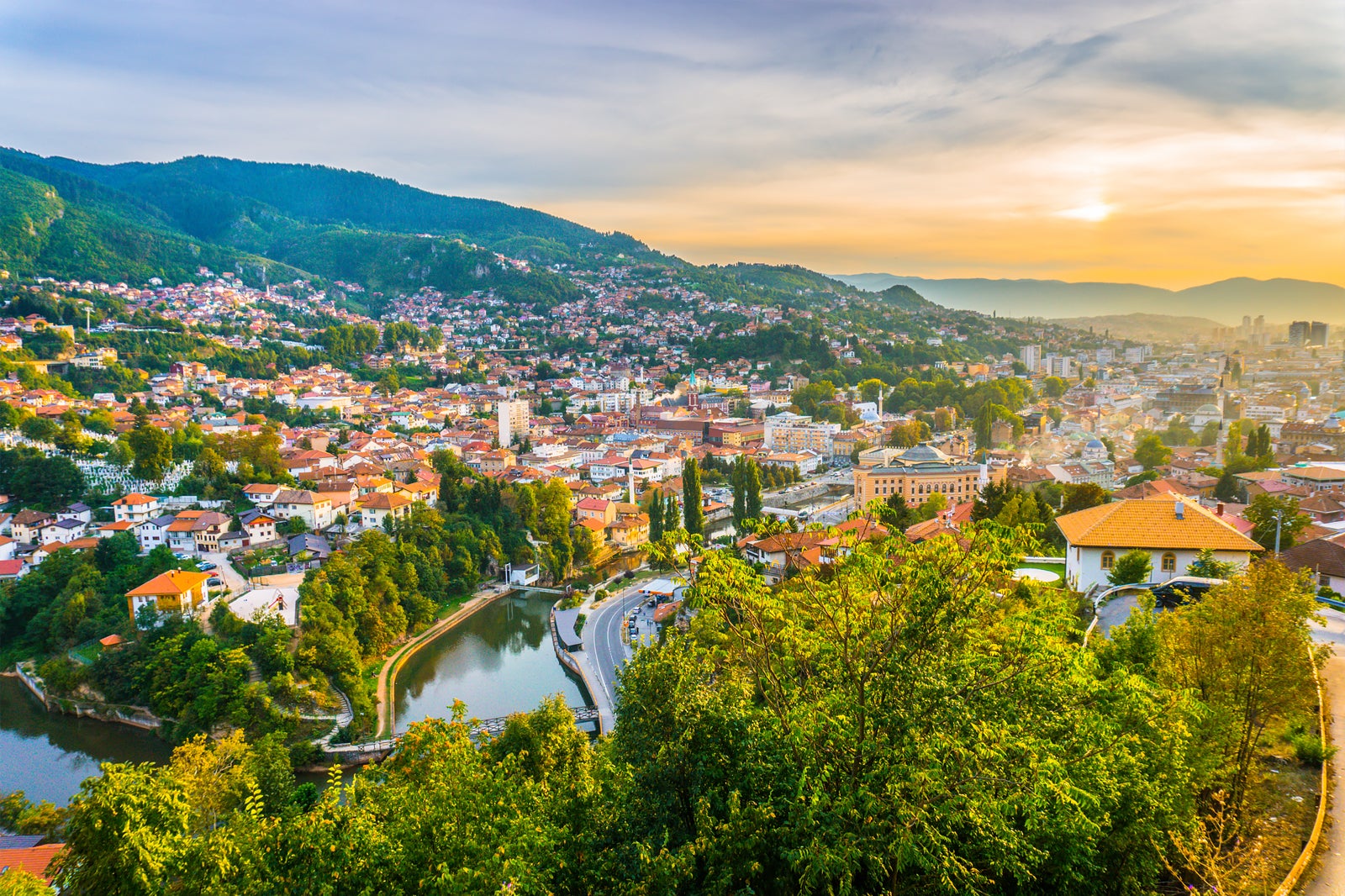 Enjoy the sunset from the Yellow Fortress
The sweeping views will be well worth the walk
Sitting beautifully at the entrance of the "Walled City of Vratnik", the Yellow Fortress is a popular place for both locals and tourists alike to take in panoramic views of the city. Once an essential defense point for Austro-Hungarian troops, the fortress has been damaged and rebuilt a number of times but remains a strong feature of the city.
Just a 15-minute walk from Baščaršija, you can get striking views of City Hall and the slow-paced Sarajevan downtown in one shot. You'll also spot rows of gleaming white crosses that stretch for acres into the distance, marking those who lost their lives in the Bosnian War. While it may be a little distance to climb, catching a Sarajevan sunset from these crumbling walls is an unforgettable experience.
Location: Jekovac, Sarajevo 71000, Bosnia and Herzegovina
Open: Daily from 8am to 12am
Take a seat in the tiny To Be Or Not To Be restaurant
Small on space but big on flavor
Located right in the middle of the Old Town and on a blissfully quiet street, the quirky To Be Or Not To Be serves up freshly cooked dishes, as well as friendly service and superb value for money. With just a few tables sitting outside for a slice of ambient al fresco Sarajevan dining and even fewer tables set up inside, the cozy setting of this tiny restaurant creates an intimate atmosphere.
To Be Or Not To Be isn't a place full of fancy proportions, but it doesn't pretend to be. Imagine you've been invited over to your friend's house for dinner, where homecooked favorites are the order of the day. Try the octopus salad or the chilli-chocolate steak for something a little different. Or if you're feeling brave, ask the server for a recommendation and watch as this impressive 1-woman kitchen creates something that will really hit the spot. Given the limited seating, reservations are strongly recommended.
Location: Čizmedžiluk 14, Sarajevo 71000, Bosnia and Herzegovina
Phone: +387 (0)33 233-265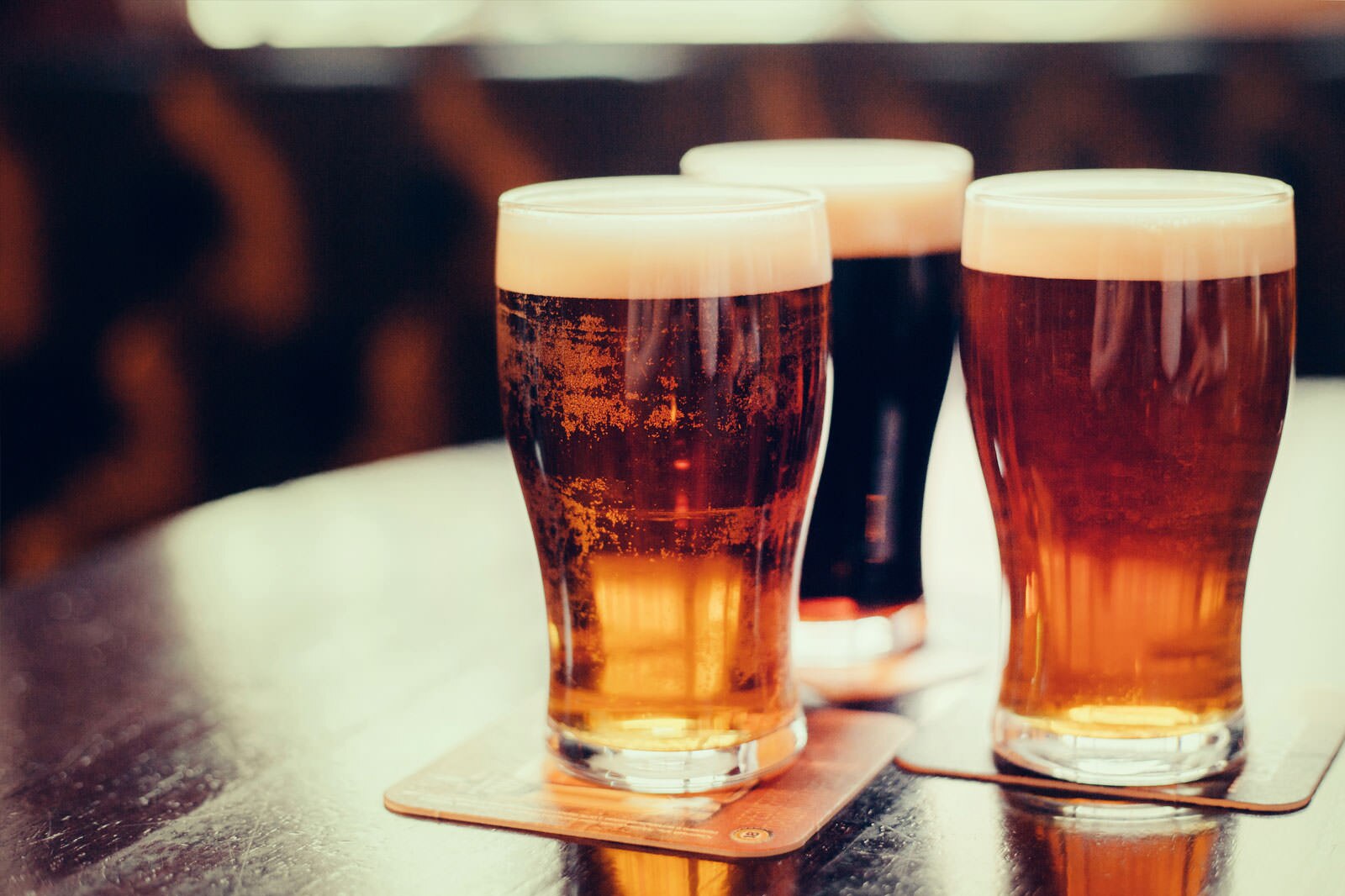 End the day clubbing in the Old Town
Enjoy the modern nightlife in the historic streets
The Old Town of Sarajevo is well-known for its ancient architecture, but it's also pretty happening when it comes to its nightlife. From the Middle Eastern décor of café-cum-bar Baghdad – which is packed out by locals at the weekend – to the lively nightclub that is Sloga, there's a whole host of entertaining going-out options to suit drinkers, dancers and conversationalists alike.
If you're looking for a more chilled out but equally authentic experience, head to Halvat – a low-key bar set within an authentic old house. Full of Ottoman-inspired furnishings, this intriguing venue serves up a range of cocktails and local spirits as well as offering its guests the inviting tradition of shisha.