10 Best Things to Do in Doha
What is Doha Most Famous For?
Doha is a thriving city of some 2 million that offers an intriguing mix of modern wonders and ancient traditions to explore. The sparkling skyline that greets new arrivals to the Qatari capital forms a vivid display of the country's vast oil wealth that has transformed Doha from a modest fishing and pearl diving town to a cosmopolitan metropolis.
Hot, sunny days are all but guaranteed in this desert city, making its air-conditioned museums, malls and entertainment venues appealing places to escape into by day. Those who do venture outside will find beautiful beaches in and around the city, as well as endless sands of rolling dunes to navigate. Here are a few more ideas on things to do in Doha.
What are the best things to do in Doha?
Imam Muhammad Ibn Abd Al Wahhab Mosque
A striking place with a great view of the city
Dazzling both inside and out, the Imam Muhammad Ibn Abd Al Wahhab Mosque is a spectacular structure, deserving of the title of Qatar's national mosque. Built to reflect the older, more traditional homes in Qatar, everywhere you look you'll be met with classic Islamic architecture and design features, from the bright white walls to the carpets at your feet.
You'll find it difficult not to be blown away by the view of the West Bay skyline, so make sure to pack your camera for shots of impressive skyscrapers standing magnificently in the distance. Note that this is an active place of worship, though, so dress appropriately.
Location: Al Muhandiseen St, Doha, Qatar
Phone: +974 4470 0000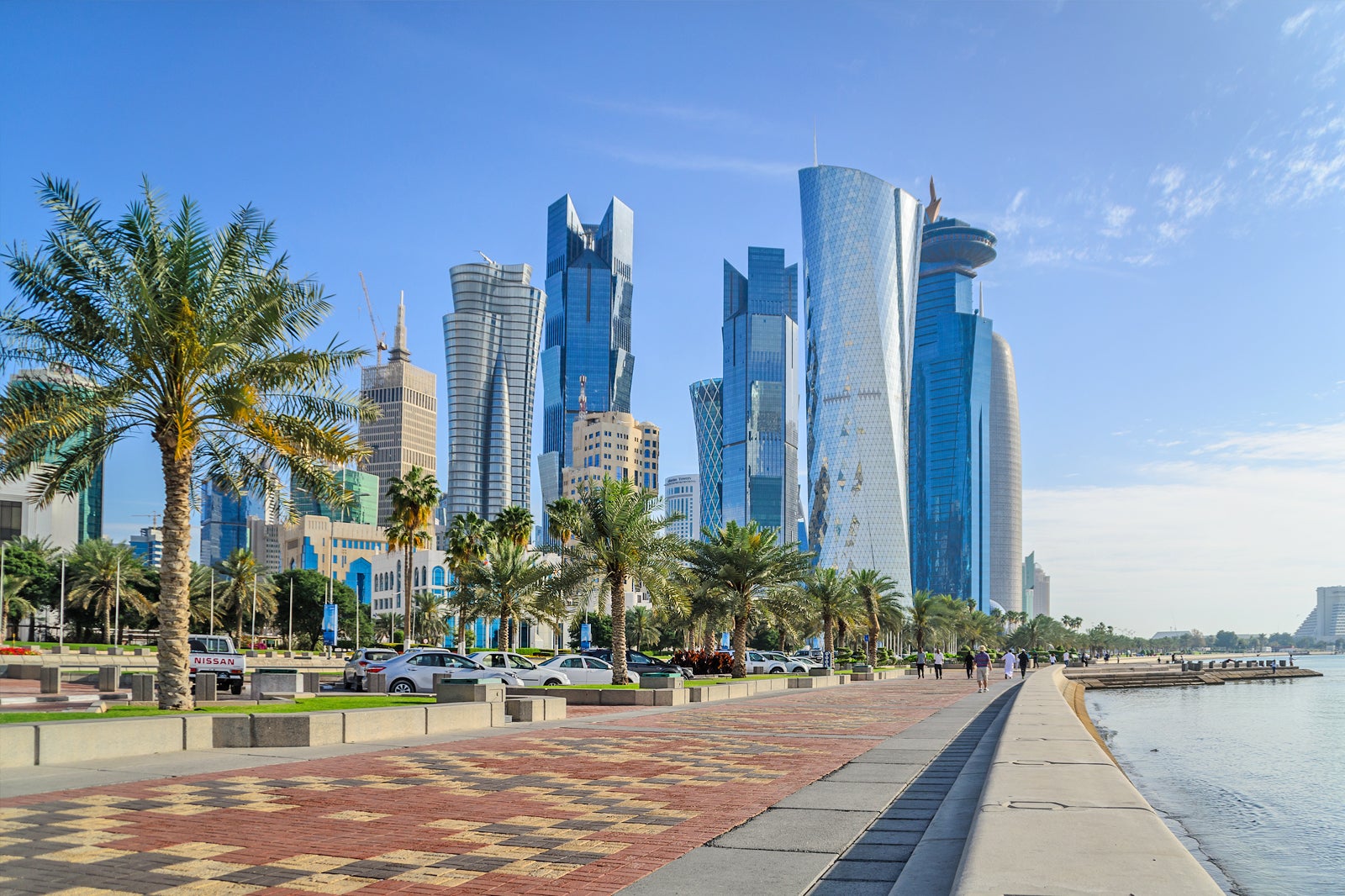 La Corniche
Take a waterfront walk or go for a jog on the running track
La Corniche is a lovely seafront promenade extending for 7 km along Doha Bay. Offering great views of the water and city skyline, this wide pedestrian walkway is a popular gathering spot for local families and travelers alike.
Stroll La Corniche at dawn to watch the golden rays reflecting against the central business district's high-rise towers, or explore during the bustling evening hours and look out at traditional wooden dhows bobbing in the bay. There are plenty of cafés and restaurants along the way where you can relax while taking in the views.
Location: Al Corniche St, Doha, Qatar
Couples
Families
Photo
Budget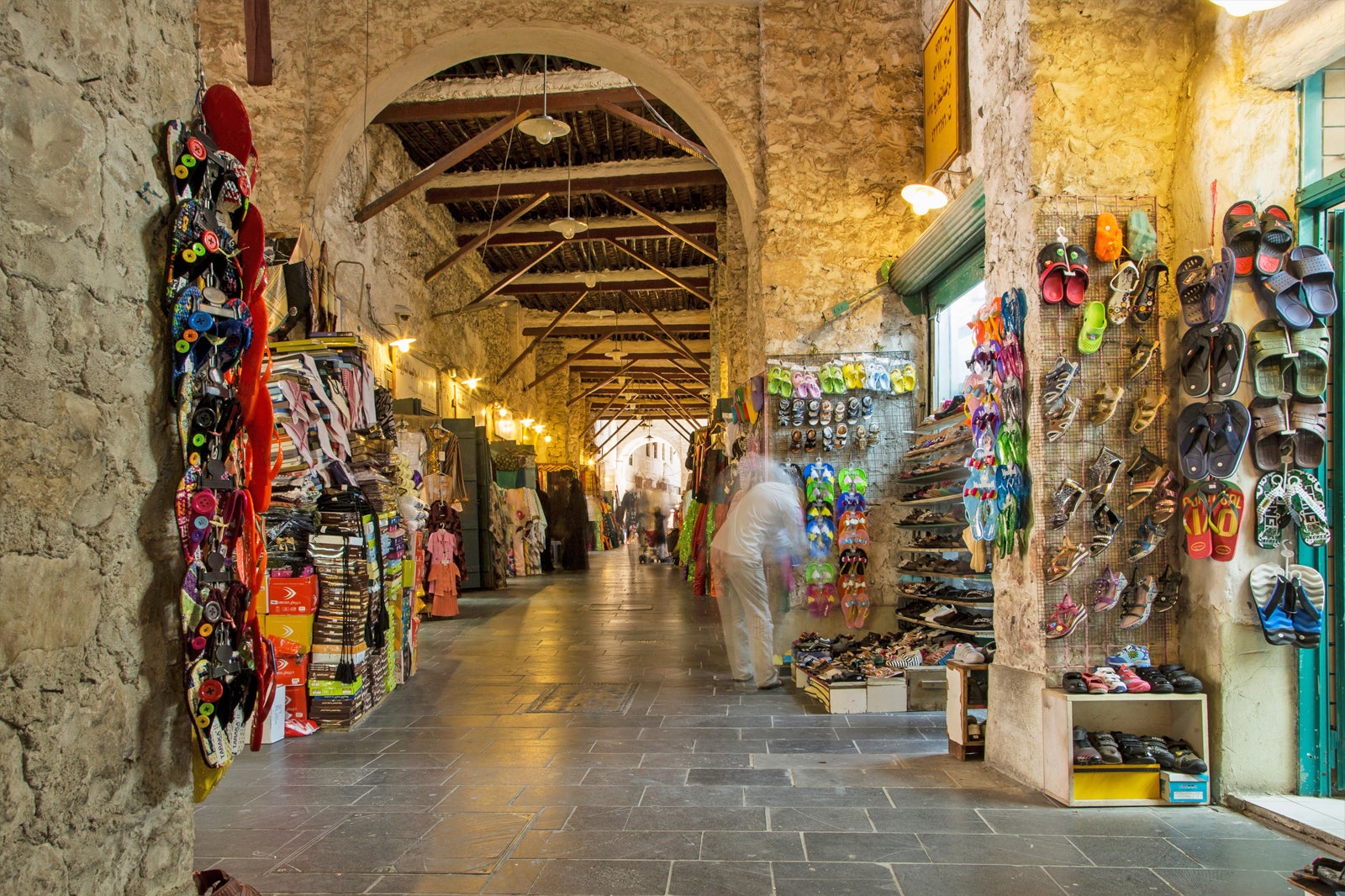 Souq Waqif Market
Expect to haggle in this busy shopping labyrinth
Spread over 4 blocks near the Corniche, Souq Waqif is a lively centuries-old market that once served as a trading hub for the Bedouin looking to buy and sell camels and more. Those not in the market for a camel will find plenty of other eye-catching goods to buy from gold jewelry to colorful fabrics and even Aladdin-style bronze lamps.
Be sure to go with an empty stomach to allow for some grazing at the local food stalls that set up nearby or stop for a coffee or tea break and watch the market's hustle and bustle.
Location: Al Souq Street, Doha, Qatar
Phone: +974 5551 9254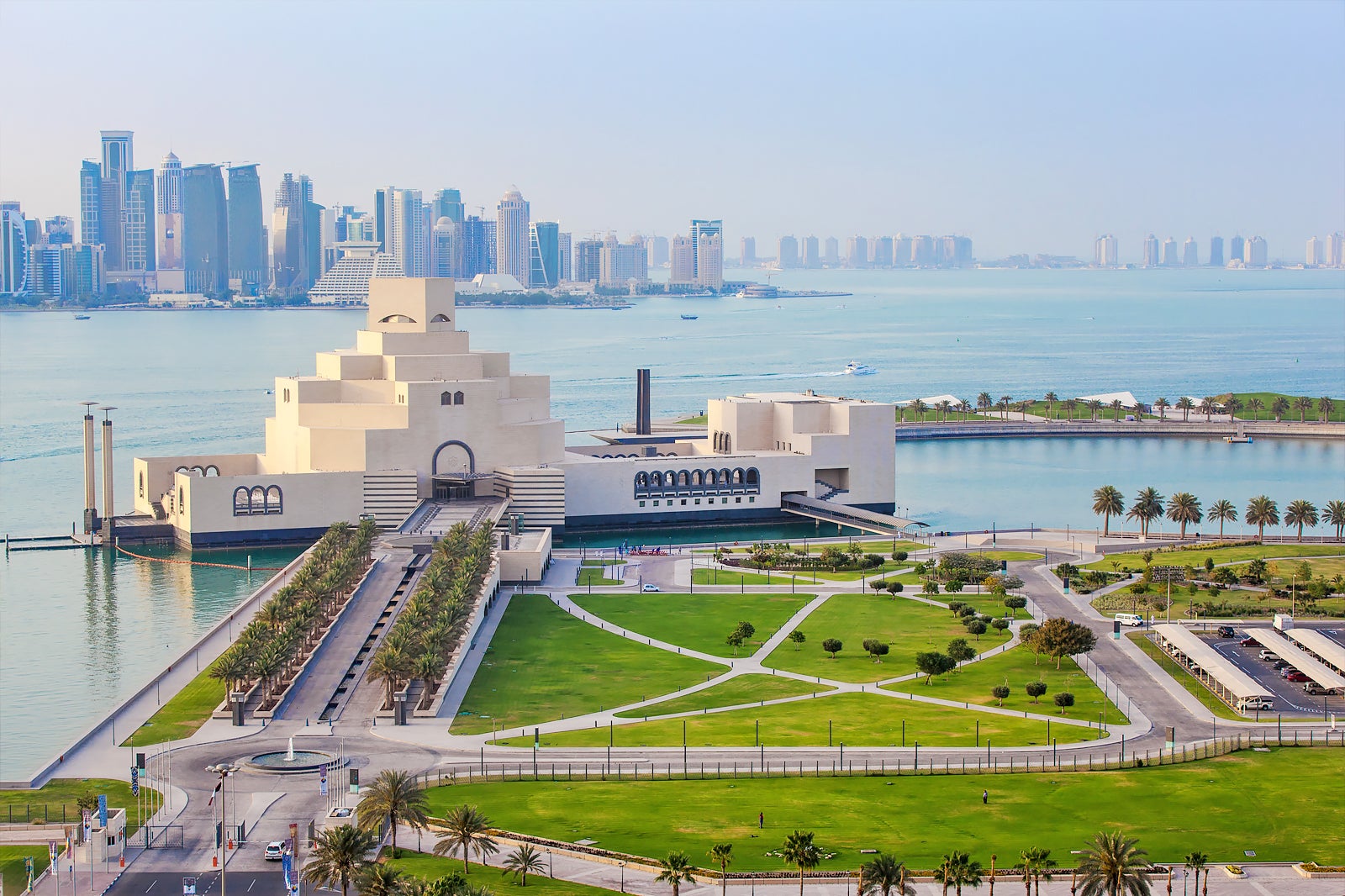 Museum of Islamic Art
Designed by revered architect I.M. Pei
With its stunning architecture and huge collection of art and artifacts, the Museum of Islamic Art is one of the best things to do in Doha and one of the city's most celebrated sights. Set along the Corniche promenade on Doha Bay, the museum houses collections of ceramics, manuscripts, metalworks, textiles and other fine art pieces of the Islamic world from 14 centuries ago to modern times.
Visitors could easily spend several hours here, with restaurants on-site and free chamber music concerts in the Atrium once a month. The museum also offers free guided tours every Thursday and Saturday at 2pm in English and Arabic. Admission is around 50 riyals, while kids under 16 have free entry.
Location: South of Doha Corniche, Doha, Qatar
Open: Saturday–Thursday from 9 am to 7 pm, Fridays from 1.30 pm to 7 pm
Phone: +974 4422 4444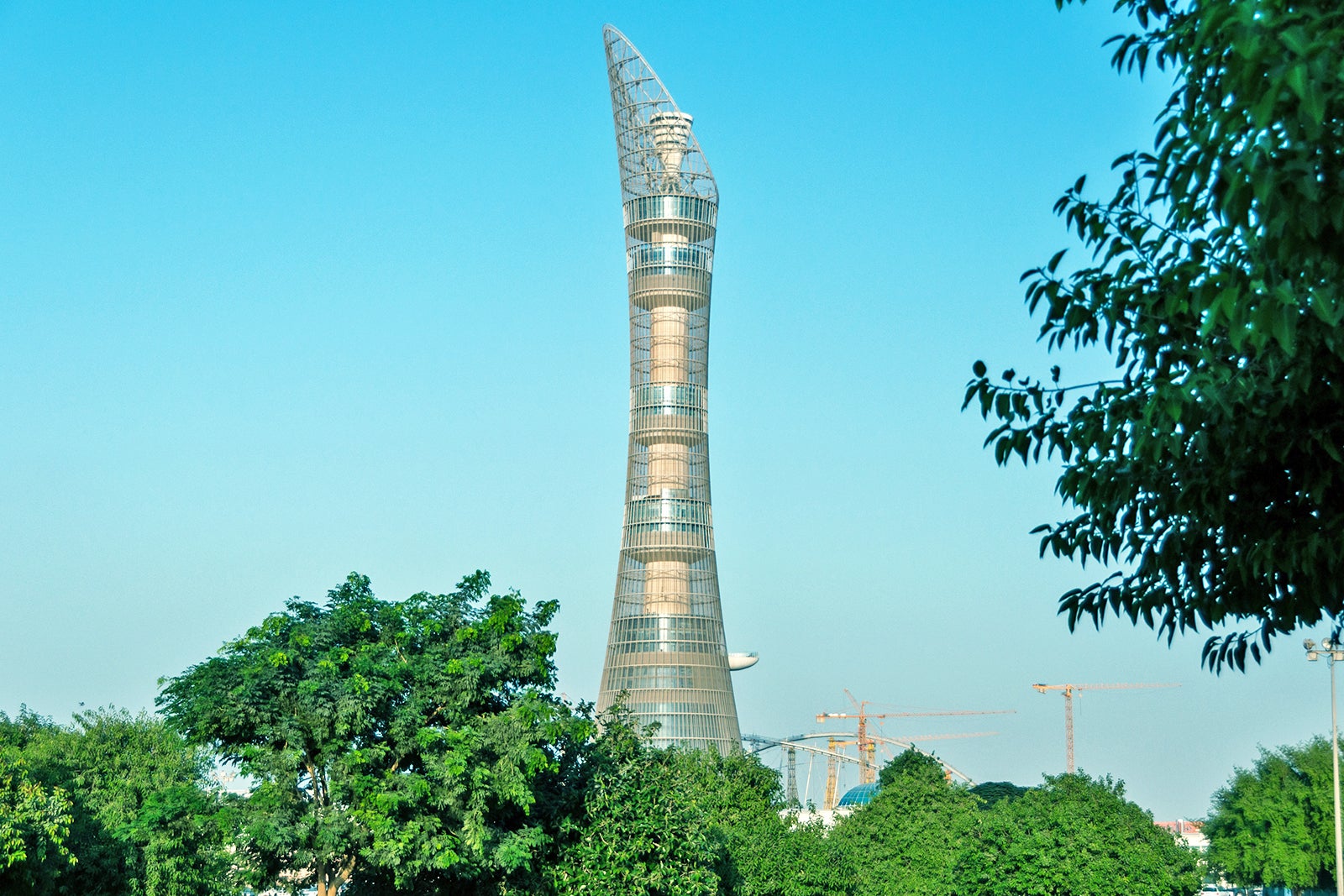 The Torch tower
Built for the Asian Games in 2006
Doha's tallest building, also known as Aspire Tower, is now a luxury hotel and meeting space called The Torch Doha. The best way to enjoy the glittering city views from this 300-meter-tall skyscraper is to dine in the hotel's revolving Three Sixty restaurant.
Another way is to go for a sky-high spa treatment in the health club and get access to the gym and cantilevered swimming pool, which offers superb views from the 19th floor. The Torch is found in the city's Aspire Zone next to Doha's top sports facilities and malls.
Location: Al Waab Street, Doha 23833, Qatar
Phone: +974 4446 5600
Couples
Photo
Food
Nightlife
Luxury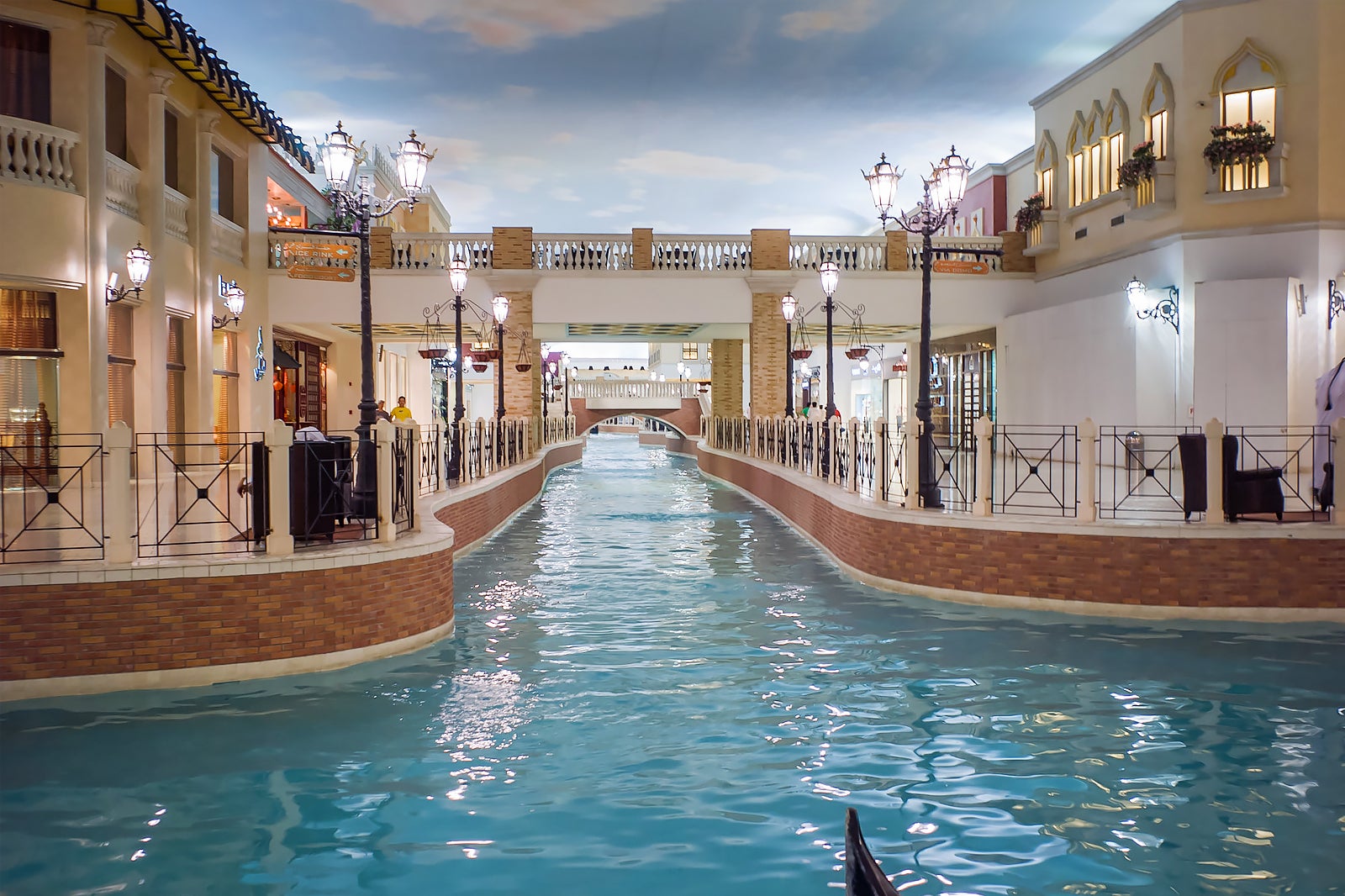 Villaggio Mall
There's even an Olympic-sized ice rink
Shoppers stepping into Villaggio Mall might think they've taken a sudden magic carpet ride to Italy, with its Venetian-inspired canals and gondola rides. Everything is inside and air-conditioned, so there's no need to worry about wilting in the desert heat while browsing for the latest fashions, enjoying some lunch or catching an amusement park ride at Gondolania Theme Park.
The mall is home to several luxury brands including Louis Vuitton, Christian Dior and Gucci, but there are also budget-friendly shops to check out if you lack a sultan's fortune.
Location: Al Waab St, Doha, Qatar
Phone: +974 4422 7400
Couples
Families
Shoppers
Luxury
photo by Lars Plougmann (CC BY-SA 2.0) modified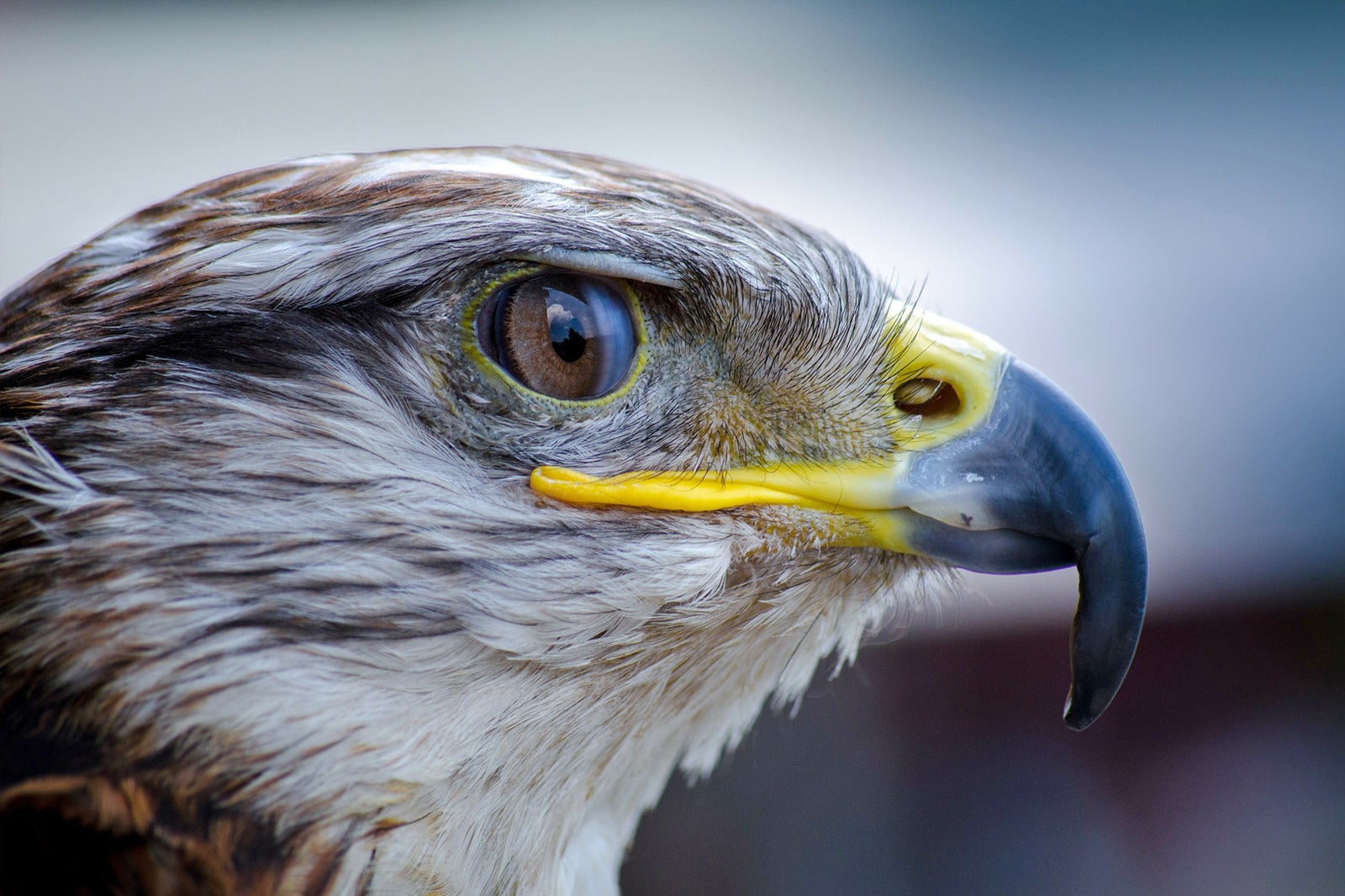 Falcon Souq
Ancient Bedouin hunting technique
While modern Qatar has little practical need for falconry, the tradition of keeping and training these magnificent birds lives on and is recognized by UNESCO as a culturally important practice. It's not an unusual sight to see men and boys proudly carrying their prized falcon on their arm as they stroll through the city streets and markets.
The Falcon Souq, found adjacent to Souq Waqif Market, offers an engaging peek into the world of falconry. See shops selling all sorts of falcon-keeping paraphernalia or visit its monthly auction, where the more coveted birds could fetch tens of thousands of dollars.
Location: Al Souq Street, Doha, Qatar
Open: Saturday–Thursday from 7 am to 6 pm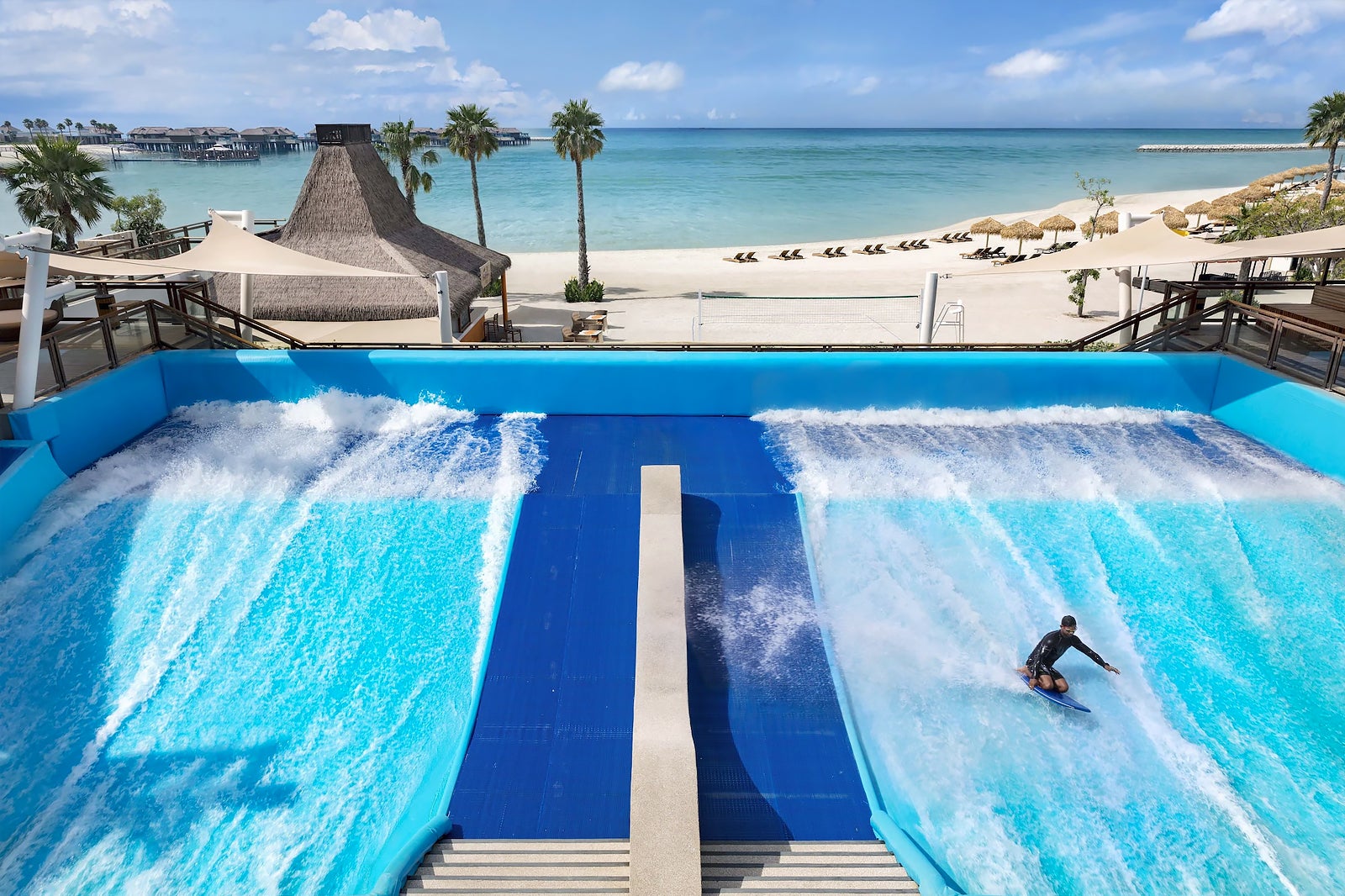 Banana Island
Just a 25-minute boat ride from downtown Doha
Those in search of some beach time can hop aboard a luxury catamaran at the dock near the Museum of Islamic Art and head out to Banana Island. Expect to enjoy a day of lounging by the pools, kayaking, banana boat rides, waterslides and a bunch more water sports and fun activities for the family.
Operated by the Banana Island Resort Doha by Anantara, day passes to the island are available for about 350 riyals and include boat transfer, pool and beach access, and credit to spend at the resort restaurants and leisure activities.
Location: Banana Island Resort Doha by Anantara, Doha, Qatar
Open: Daily from 8 am to 7 pm
Phone: +974 4040 5050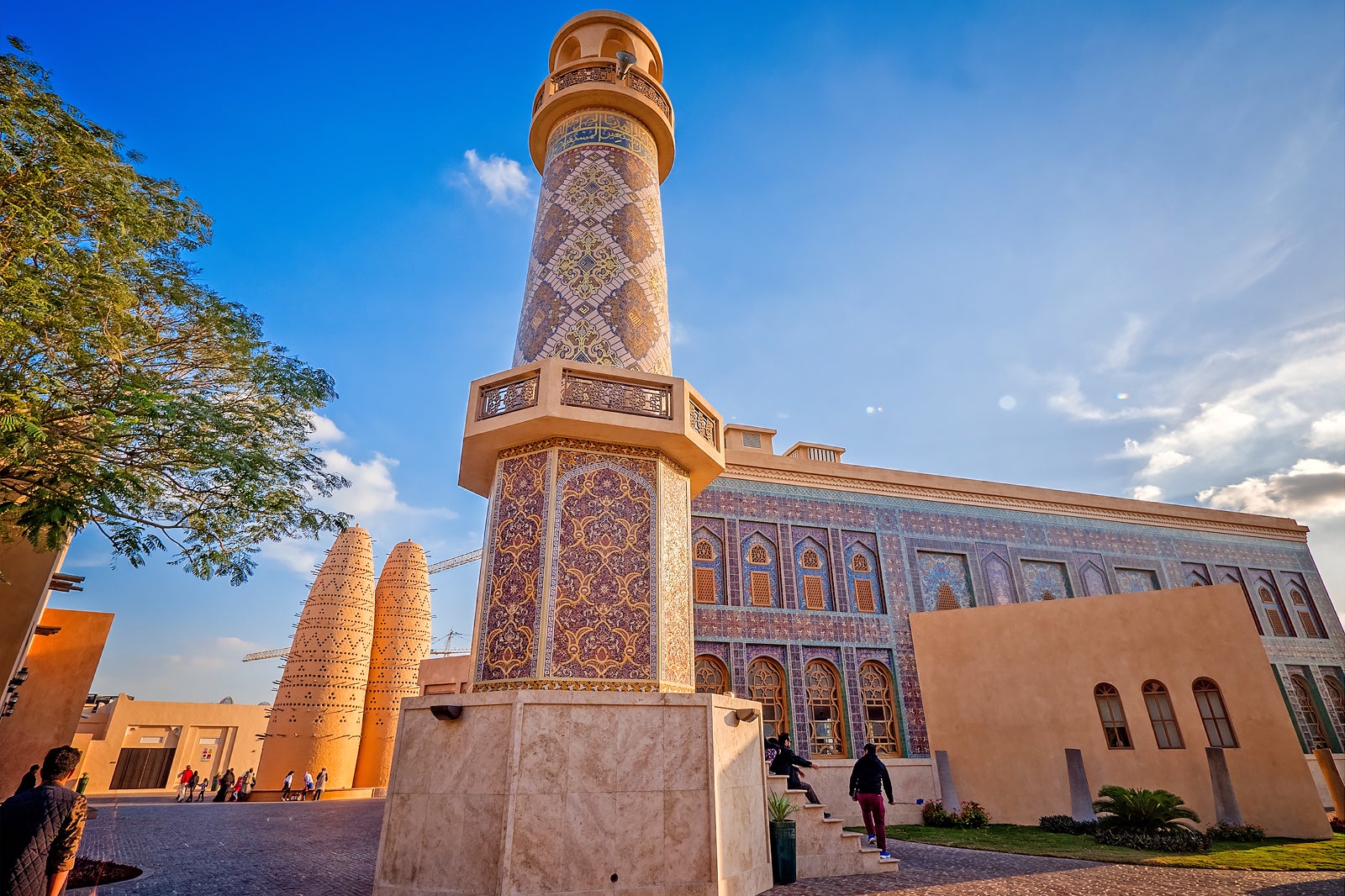 Discover local traditions at Katara Cultural Village
Qatar's hub for culture and creativity
With its grand Greco-Roman amphitheater and numerous performances and festivals year-round, Doha's Katara Cultural Village is a 1-stop destination for arts and culture. Katara was built on reclaimed land near The Pearl and designed in a way to hark back to traditional life with its maze of alleyways and Pigeon Towers.
Visitors could spend a full day here exploring the shops and galleries, dining at the cafés and restaurants or relaxing on the beach. The best time to go is in the cooler evening hours when food stalls and market vendors set up along the promenade.
Location: Lusail Expy, Doha, Qatar
Phone: +974 4408 0000
Families
Shoppers
History
Photo
Food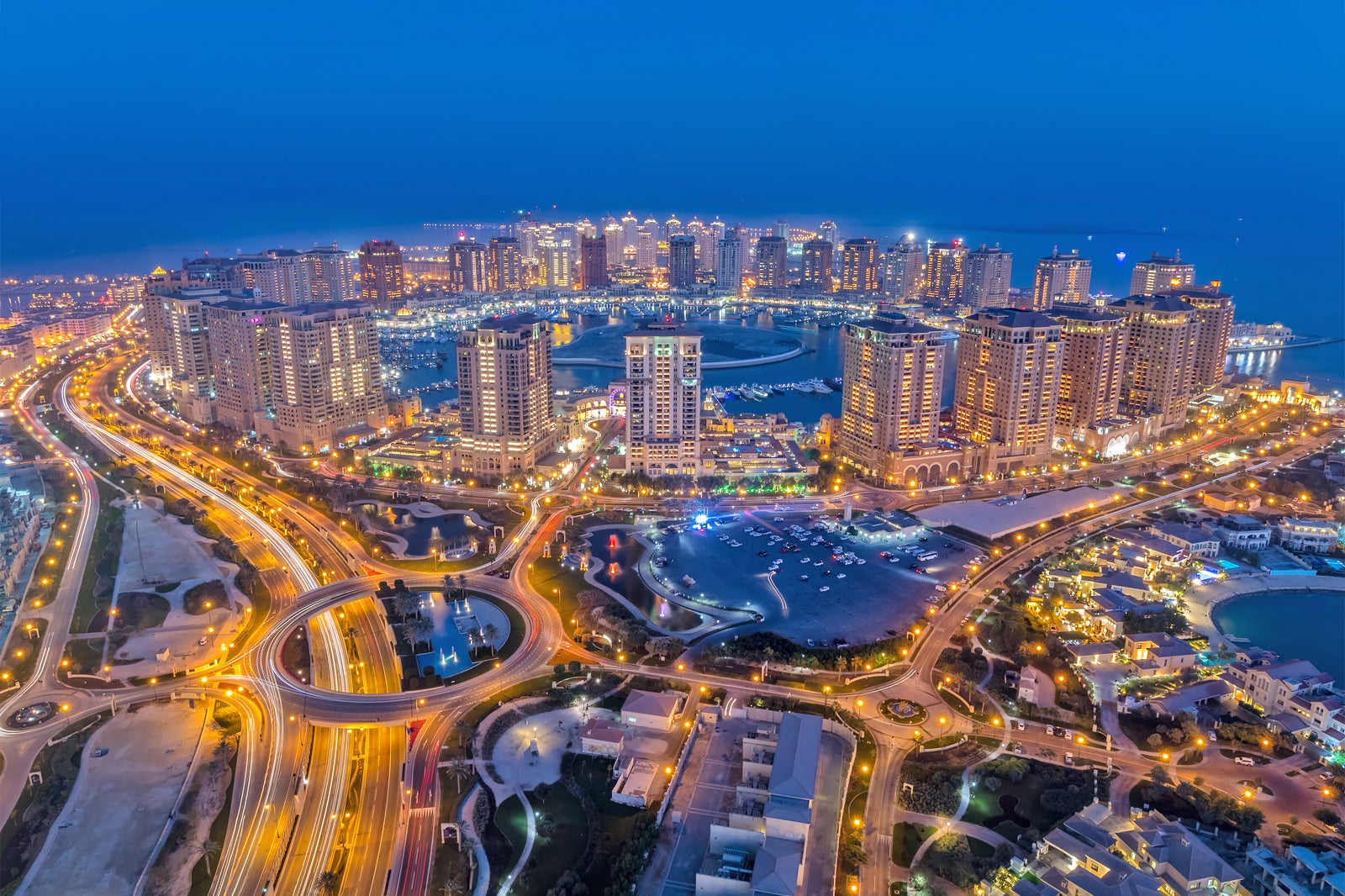 The Pearl
Built on a former pearl diving site
Set on a manmade island of 4 sq km, The Pearl is a modern district with a great choice of sports, entertainment and shopping venues to explore. Many come here just to check out the snazzy yachts at the marina or enjoy some water sports at one of the beaches.
For the kids – and thrill-seeking adults – there's Megapolis, a lively indoor fun park with a bowling alley, escape room and arcade games. The dining scene here offers a tasty variety, from artisanal sweet treats to indulge in at Alison Nelson's Chocolate Bar to the Andalusian-style meals fit for royalty at Yasmine Palace.
Location: Pearl Blvd, Doha, Qatar
Couples
Families
Shoppers
Luxury