10 Best Theme Parks in Qatar
Where to Take Your Family for Thrills in Qatar
Fun-filled theme parks in Qatar have emerged following the country's rapid developments and now boasts a bounty of family-friendly options to choose from. In addition to the old-time favorites, Doha's cutting-edge amusement parks come as part of a concerted effort to provide heaps of fun options for visiting families.
If you're planning a family trip to Qatar and fancy a day out at a theme park, you've got ample opportunity to entertain the kids. From indoor snow centres to the clank and rumble of rollercoasters and everything in between, we've listed the best Qatari theme parks below.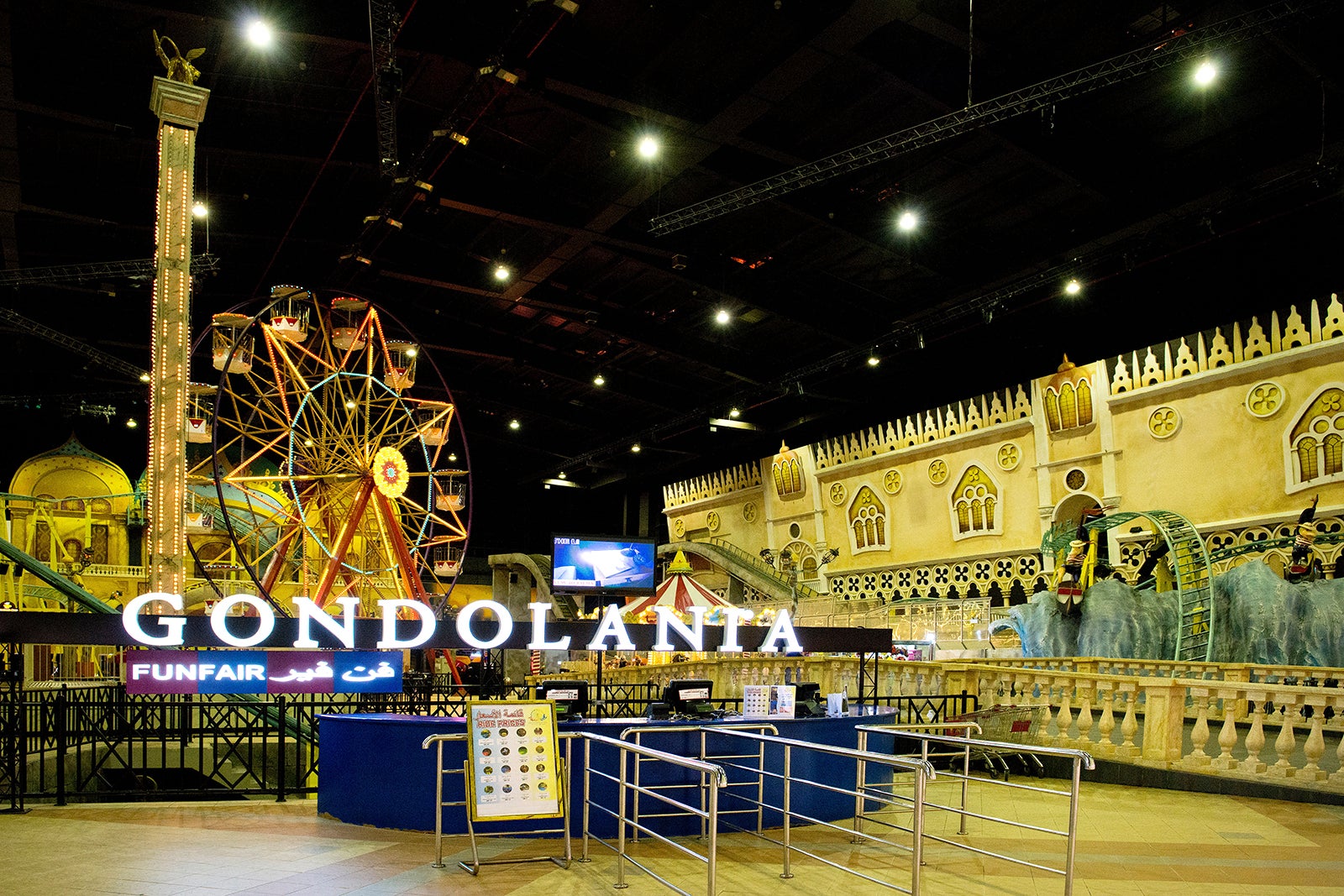 Gondolania
A taste of Europe in the Middle East
The enormous Gondolania resides within the air-conditioned Villaggio Mall, ensuring you can enjoy its wholesome entertainment any time of day. Its namesake is a cute Venetian-style gondola ride through an artificial canal – it's a slice of old-world Italy right here in the Middle East.
Toddler-friendly attractions include a Ferris wheel, a dino land, and bumper cars, while older kids and adults can instead seek out adrenaline rushes on the roller coaster, flume ride, and drop tower. An array of tasty food options as well as a 4D movie theater, 10-pin bowling, ice skating, and laser tag games insure there's something for everyone at Gondolania.
Location: Villaggio Mall, Aspire Park Rd, Doha, Qatar
Open: Saturday–Thursday from 9am to 11pm, Fridays from 9am to 12am
Phone: +974 4403 9800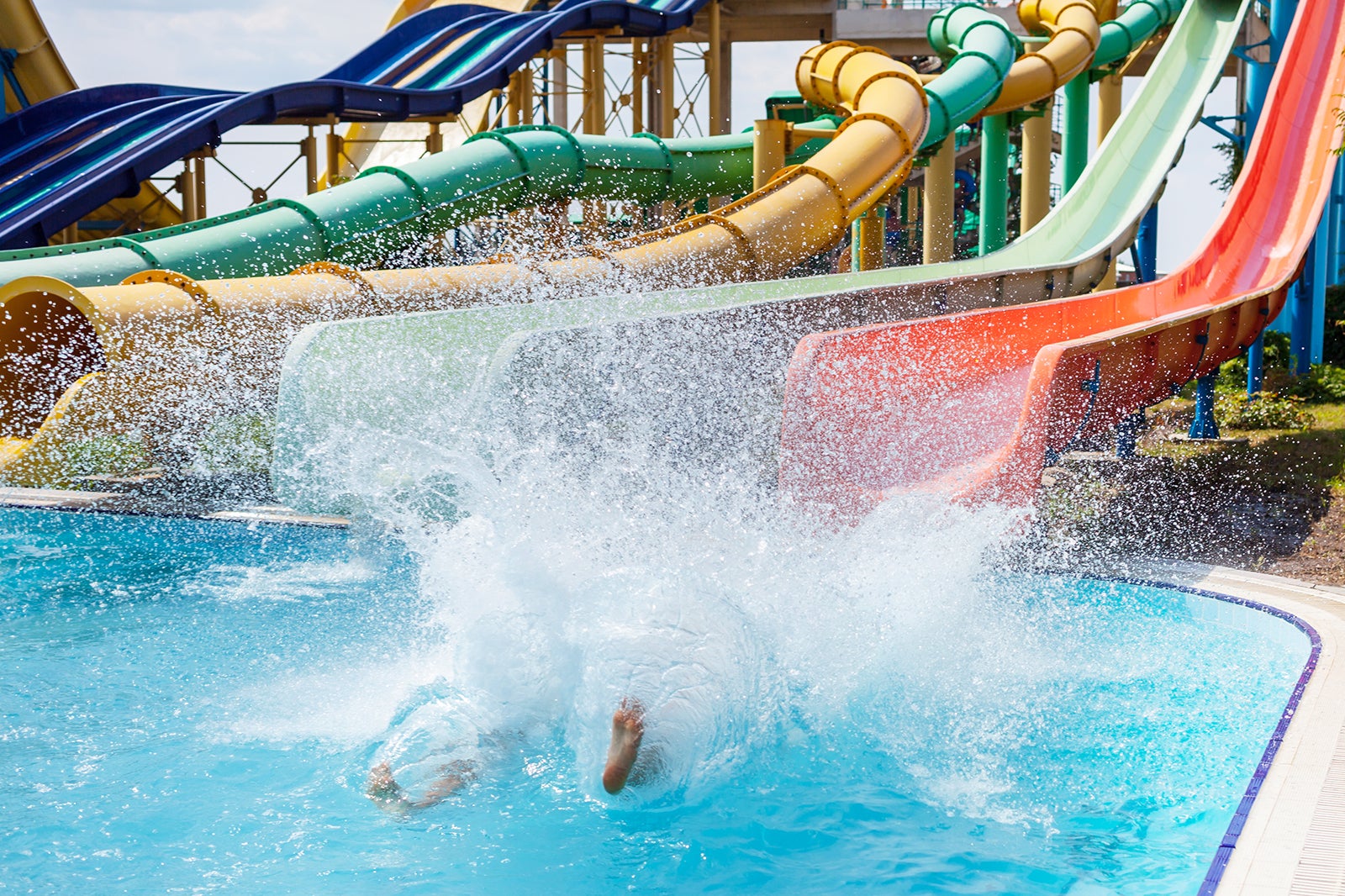 Aqua Park Qatar
Beat the heat at this action-packed water park
Aqua Park Qatar is an excellent place in Doha to escape the Qatari heat. And given the arid climate is famed for being unbearably hot, this refreshing manmade oasis is a welcoming sight.
The waterpark, about as big as 5 soccer fields, can accommodate up to 3,000 people at a time. Special days and hours are allocated for women and families. Inside the grounds, adrenaline-pumping rides and aquatic attractions are on offer to tempt the bold – a massive wave pool, tube slides, speed lines, and stingray surfing, just to name a few. Tamer options include an African village, bumper boat driving, a lazy river, a lagoon pool, and Pirate Bay.
Location: Salwa Road Exit 29 Abu Nakhla, Doha, Qatar
Open: Monday–Thursday from 1pm to 10pm, Friday–Saturday from 10am to 10pm (closed on Sundays)
Phone: +974 4490 5878
Virtuocity
Qatar's gaming mecca
As the region's first dedicated gaming hub, Virtuocity attracts droves of Doha's growing gaming community. The centerpiece is its futuristic Coliseum Arena, where the country's best e-sports gladiators clash head to head in a furious showdown of precision and skill. Over 200 high-spec PCs allow us mere mortals to entertain ourselves between tournaments, featuring pay-per-hour packages to suit hardcore and casual gamers alike.
For a real-world challenge, gather your friends and head to the Enigma Escape Room. Here, your puzzle-solving prowess will be pushed to the limit in this exciting 60-minute game. Full-motion racing simulators are another appealing option at Virtuocity.
Location: Doha Festival City, Umm Salal Muhammed, Qatar
Open: Sunday–Wednesday from 10am to 10pm, Thursday from 10am to 11pm, Friday from 12pm to 11pm, Saturday from 9am to 10pm
Phone: +974 4042 0444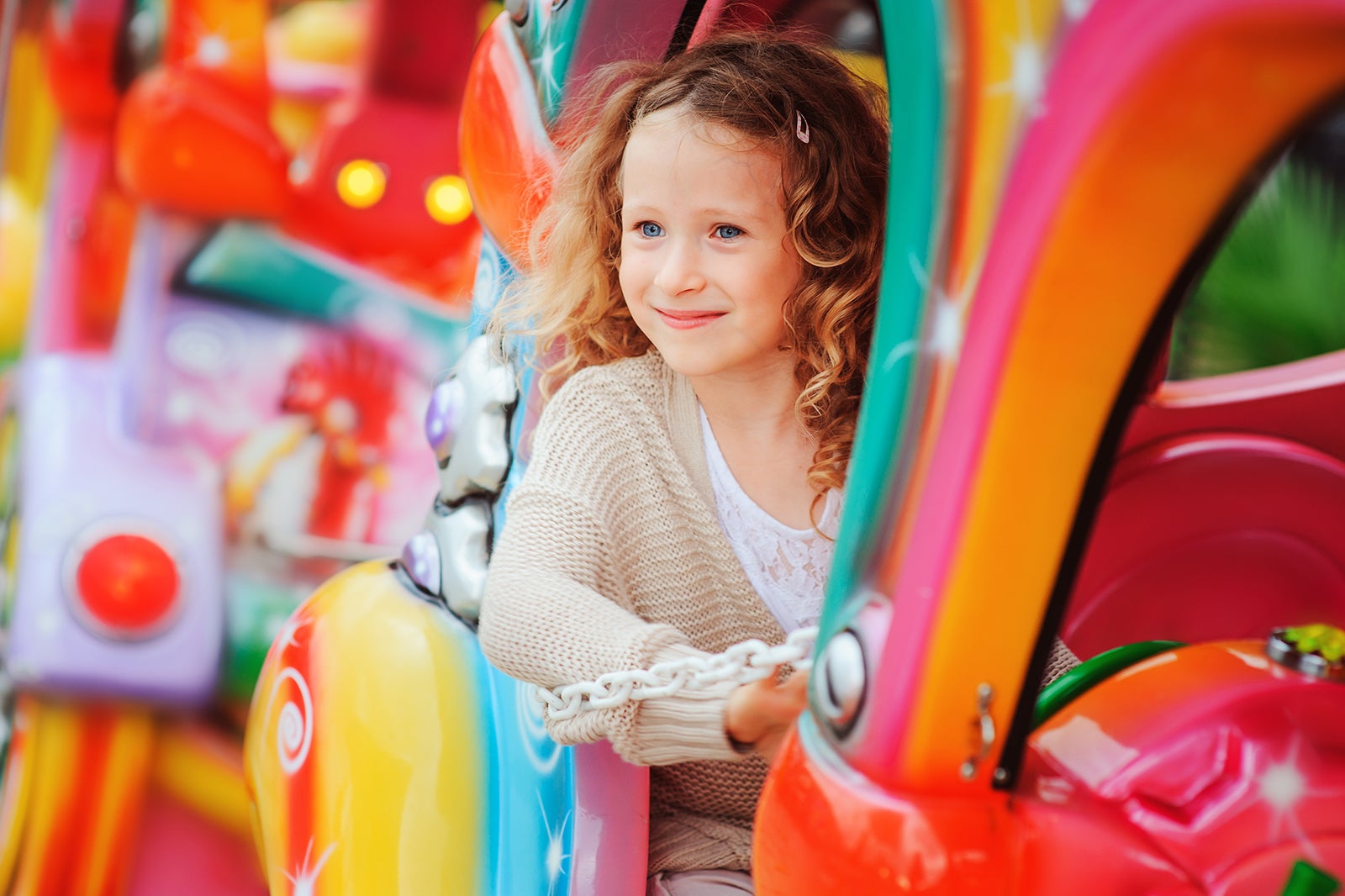 Jungle Zone
Welcome to the jungle
Jungle Zone in Hyatt Plaza, Doha, is an action-packed, jungle-themed fun park with a multitude of exciting activities. The entire indoor area has been immaculately decorated to mimic a dense rainforest, complete with animated animals and exotic plants. Adrenaline-inducing rides include the Splash Falls, the Funcano Rollercoaster, and Candy Bouncers, while old favorites like bumper boats, a racetrack, and carnival games attract a younger crowd.
Party rooms with distinct Amazon and tropical themes are the perfect place to host a memorable children's birthday party. Tailor-made live entertainment such as face-painting, magic shows, and acrobatic or juggling acts can be arranged on request to spice up your private event.
Location: Al Waab St, Doha, Qatar
Open: Sunday–Wednesday from 9am to 10pm, Thursday from 9am to 1am, Friday from 1pm to 1am, Saturday 9am to 11pm
Phone: +974 4499 9699
Circus Land
A circus-style fun park in Doha
Circus Land is an old-time Doha favorite that hasn't lost its fun-filled allure. The expansive circus-themed amusement park has plenty of rides for kids of all ages, including a merry-go-round, a Red Baron ride, bumper cars, trampolines, and an inflatable slide, just to name a few.
The 4-storey soft play area is the perfect spot to let the kids safely clown around, while a selection of video games and simulators entertain for adults. A large food court full of well-known international chains ensures everyone is well-fed, and there's a high-tech Movie theater Land if you'd rather relax with a flick.
Location: Landmark Mall Al Markhiya St, Qatar
Open: Daily from 9am to 10pm
Phone: +974 4487 6111
Angry Birds World
An Angry Birds fan's dream come true
Angry Birds World is a must for fans of the global gaming sensation. The franchise has captivated the imagination of young and adults since the original puzzle game was released back in 2009, and then further rose to fame with the release of 2 blockbuster Hollywood films.
The theme park encapsulates the magic of this zany cartoon fantasy world through a series of exciting rides and 'edutainment' activities. No less than 35 rides reside within the expansive grounds about the size of a soccer field, which features both indoor and outdoor play areas as well as plenty of retail and food outlets.
Location: Doha Festival City, Umm Salal Muhammed, Qatar
Open: Saturday–Wednesday from 10am to 10pm, Thursday–Friday from 10am to midnight (closed on Sundays)
Phone: +974 4042 0444
Snow Dunes
An Arabian winter wonderland
Snow Dunes is the very first indoor snow center in Qatar. Of course, snow isn't native to the Middle East, so the entire complex (roughly the size of a soccer field) is cooled below freezing point, with 17 state-of-the-art snow guns pumping out the fluffy stuff. The result? An Arabian winter wonderland that's stacks of fun for the whole family.
Though it mightn't compete with Whistler, Snow Dunes offers oodles of downhill fun with speeds exceeding 50 km/h on the dune dash slides. There's no real skiing available, but the little ones can have fun with carousels, slides, and toboggans.
Location: Doha Festival City, Umm Salal Muhammed, Qatar
Open: Saturday–Wednesday from 10am to 10pm, Thursday from 10am to midnight, Friday from 1pm to midnight (closed on Sundays)
Phone: +974 4042 0444
KidZania
Fun-filled real-world education for the kids
KidZania, as the name implies, is a theme park aimed specifically at children (in this case, between 4 and 14). Unlike its many competitors in Doha, Kidzania isn't about adrenaline-inducing thrills. This novel amusement park seeks to educate children on the adult world.
Kids can partake in up to 60 educational and engaging activities regarding all sorts of real-world professions, from doctors to firefighters, and everything in between. The little ones will even learn to take charge of their finances by cashing cheques, opening a bank account, depositing and withdrawing funds, and spending savings on a special prize. While all this in-depth learning is going on, the grownups can relax outside with a coffee and free Wi-Fi.
Location: Aspire Park, Doha, Qatar
Open: Monday–Friday from 2pm to 10pm, Saturday from 10am to 10pm (closed on Sundays)
Phone: 974 4482 6222
Bounce Inc
Hop, skip, and bounce your way to happiness
Bounce Inc is a global phenomenon that's taken the world by storm, and the franchise has finally found its way to Qatar. Unlike other theme parks in Doha, Bounce Inc focuses on healthy living and is a hit among young adults. But that's not to say the kids won't love it because the center boasts loads of child-friendly activities like the Big Bag and interconnected free-jump trampolines.
Slam dunk challenges, high-performance trampolines, run up rebound walls, and cliff jump platforms offer ample excitement for active adults. Treat yourself to a taste of the parkour lifestyle without the extreme risk.
Location: 2nd floor, Tawar Mall Doha, Al Markhiya Street, Al Duhail South, Doha, Qatar
Open: Saturday–Thursday from 10am to 10pm, Friday from 10am to 12am (closed on Sundays)
Phone: +974 4408 6500
Baladna Park
A farmyard fun land
Baladna Park in Qatar is a hit among local families, thanks to its child-friendly rides and farmyard appeal. One of the largest dairies and livestock farms in the entire Middle East, Baladna provides the little ones with a chance to see the production process first hand. A high-tech rotary milking parlor shows precisely how it's all done, while an attached petting zoo lets the kids meet their favorite farmyard animal.
The outside grounds adopt a festive atmosphere when they open for the cooler months. Downhill mountain bike tracks and ziplining courses tempt the brave, while a leafy garden gives parents a relaxing spot to chill. Meanwhile, a rotating roster of cultural and musical events takes place on the main stage.
Location: Baladna Farm, Qatar
Open: Tuesday–Thursday from 2pm to 8pm, Friday from 12pm to 8pm, Saturday–Monday from 10am to 8pm
Phone: +974 4035 8833