10 Best Natural Sights Around Amsterdam
Escape to Amsterdam's Most Beautiful Landscapes
Amsterdam is one of the most beautiful cities in Europe, and the locals will certainly agree with that sentiment, but you'll find much more than stunning architectural features here. This city is also home to impressive natural sights that showcase plenty of vibrant greenery.
The natural sights in Amsterdam have much to offer whether you're looking for outdoor adventure or relaxing serenity. With numerous parks and gardens, you can base your entire vacation around seeing the area's top natural sights. Take a look at the most picturesque destinations in town that showcase vibrant greenery and more.
Vondelpark is a massive park encompassing 120 acres of land with plenty of green space and activities that the whole family can enjoy. You'll find quite a few walking paths along with serene ponds that are perfect for strolls and bike rides.
This park is also home to an outdoor open-air theater and a playground for your little ones to run around in. Additionally, you'll find some intricately crafted statues here along with several food service facilities, so you won't even have to leave the park to find a bite to eat.
Read more
Location: Vondelpark, Amsterdam, Netherlands
Open: 24/7
2
Amsterdam canals
Explore the 3 main waterways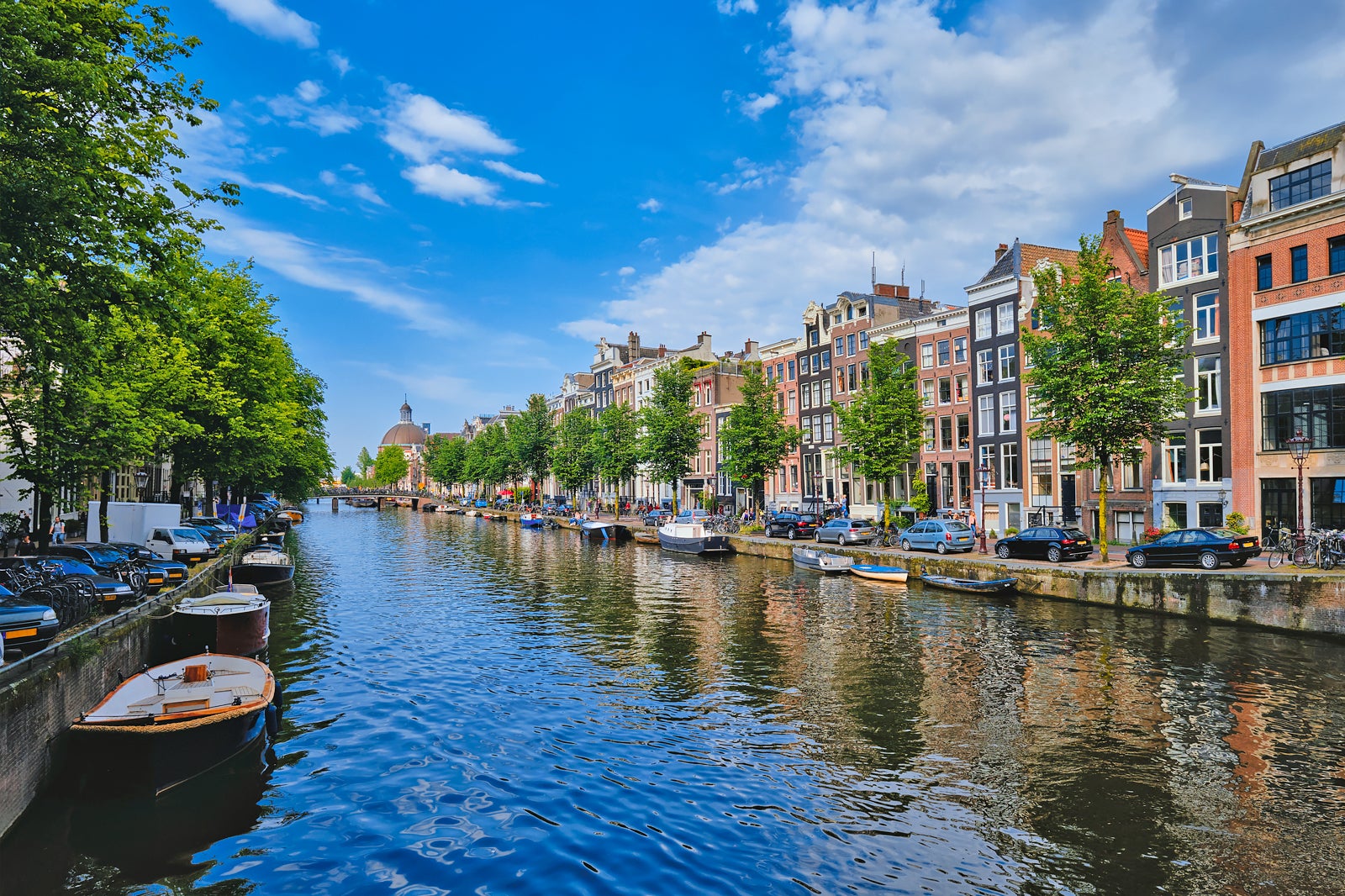 Couples
Families
Photo
Budget
History
The Amsterdam canals are among the most iconic aspects of the entire city being classified as a UNESCO World Heritage Site. When you visit, you can enjoy the well-maintained walking paths along the sides, or you can venture directly through the water with a chartered boat tour.
The canals have a lot of history dating back to the 17th century during the Dutch Golden Age. This history is maintained today, as you'll find a variety of historical buildings along their sides. Additionally, you may want to check out the numerous bridges that cross them for scenic views without having to enter the water in a boat.
Hortus Botanicus is one of the oldest botanical gardens in the world offering a rich history and vibrant greenery within the Plantage District. This garden was first established all the way back in 1638 as an herb garden, and it has since opened to everyone interested in vibrant flora.
When you visit these gardens, you'll find a variety of native plants in addition to more exotic species. Some are endangered and rare, like the fascinating Persian Ironwood tree, which is listed as critically endangered.
Read more
Location: Plantage Middenlaan 2a, 1018 DD Amsterdam, Netherlands
Open: Monday–Wednesday and Friday–Saturday from 10 am to 5 pm, Thursday and Sunday from 10 am to 9 pm
Phone: +31 20 625 9021
Amstelpark is a lovely park most widely known for its fascinating labyrinth, serene atmosphere, lush greenery and calm waters. The labyrinth inside can be compelling for adults and children alike to explore, but that's just the beginning of what this park has to offer.
When you visit, you can explore a wide variety of other attractions as well including a mini-golf park and the iconic rhododendron valley. In this section of the park, you'll find about 139 species of rhododendrons in bloom during the springtime.
Read more
Location: Arent Janszoon Ernststraat 1, 1083 GA Amsterdam, Netherlands
Open: 24/7
Phone: +31 20 644 4216
Rijksmuseum Gardens are a collection of several different garden styles that are well-maintained and arranged to maximize their aesthetic appeal. The flora here consists of vibrant greenery and colorful blooming flowers depending on the time of year you visit.
In addition to the plants here, you'll also find several walking paths and the fully restored van Logteren gazebo where you can grab a drink. Don't forget to check out the water maze as well, which is a must-visit if you have children with you.
Read more
Location: Museumstraat 1, 1071 XX Amsterdam, Netherlands
Open: Daily from 9 am to 6 pm
Phone: +31 20 674 7000
Amsterdamse Bos is a popular landscape park that spans 1,000 hectares of space making it massive in scope and packed full of fun things to do. The park's aesthetic beauty is easy enough to appreciate thanks to the wide-open spaces and well-maintained walking and cycling paths.
When you visit this park, you'll find several activities available including several sports neighborhoods. The ponds and streams are open for swimmers, and you can even find a sand beach within the park. Don't forget to check out the open-air theater as well.
Read more
Location: 1182 DA Amstelveen, Netherlands
Open: 24/7
Westerpark is a popular park named after the neighbourhood it's located in that was integrated into the verdant space around Westergasfabriek gasworks. With the former gas facility in the area, you'll find quite a few special attractions here like avant-garde businesses and restaurants.
The park itself is packed with stunning beauty including a massive central water feature with vibrant green fields around it. Several impressive works of art have been implemented into the park as well including some that are only visible during certain seasons.
Read more
Location: Haarlemmerweg 4, 1013 RW Amsterdam, Netherlands
Open: 24/7
8
Keukenhof Gardens
See blooming tulips
The Keukenhof Gardens are home to a wide array of tulips that showcase vibrant colors with 800 different kinds of tulips in the spring. Keep in mind that this is a seasonal garden, so you'll have to visit between the end of March and mid-May to see it in all its glory.
More than 7 million bulbs are planted here each autumn to ensure they're blooming by the time spring comes. In addition to the flowers themselves, you'll see several inspirational gardens and flower shows too.
Location: Stationsweg 166A, 2161 AM Lisse, Netherlands
9
Amstelland Green Neighborhood
Take it easy by the Amstel River
Amstelland Green Neighborhood is a popular destination for travelers looking to relax by the river among vibrant greenery and quiet quaint surroundings. While the Amstelland area is quite large, the green area is the area that juts into Amsterdam's south side.
Visiting this area will make you feel as if you've crossed over into rural countryside, but you're never more than a 15-minute cycle from the city centre. You'll find plenty of walking paths and quiet serenity within making it a popular escape from the city's hustle and bustle.
10
Strandzuid
Enjoy a waterfront oasis
Strandzuid is a relaxing beach area created in the middle of the city where you can relax by the water without having to actually travel to a distant coast. It's located by Beatrix Park with stunning views into the vibrant greenery and the shining waters here.
One of the best aspects of this area is that there's a quality restaurant on site. You can grab something to eat or get a drink at the outdoor bar to make your trip more relaxing than ever. Plus, the Balinese look houses can be positively unique compared to most of what you'll find in town.
Location: Europaplein 22, 1078 GZ Amsterdam, Netherlands
Back to top