10 Best Things to Do in Dusseldorf
What is Dusseldorf Most Famous For?
Dusseldorf does a great job of blending tradition with a razor-sharp postmodernity. It's the fashion capital of Germany and is renowned for its arts and music. The city has raised many seminal artists, none more so than Kraftwerk, the electronic music pioneers.
Dusseldorf, with its old traditions and thriving creative scene, doesn't get the plaudits it deserves. The medieval squares and modern art pieces make this regional capital an immensely interesting and idiosyncratic place to explore. Thanks to a fantastic public transportation network of trams and trains, exploring this compact city is a breeze.
What are the best things to do in Dusseldorf?
1
Rhine Tower
Lean against the glass panels of the Rheinturm and soak up the stunning view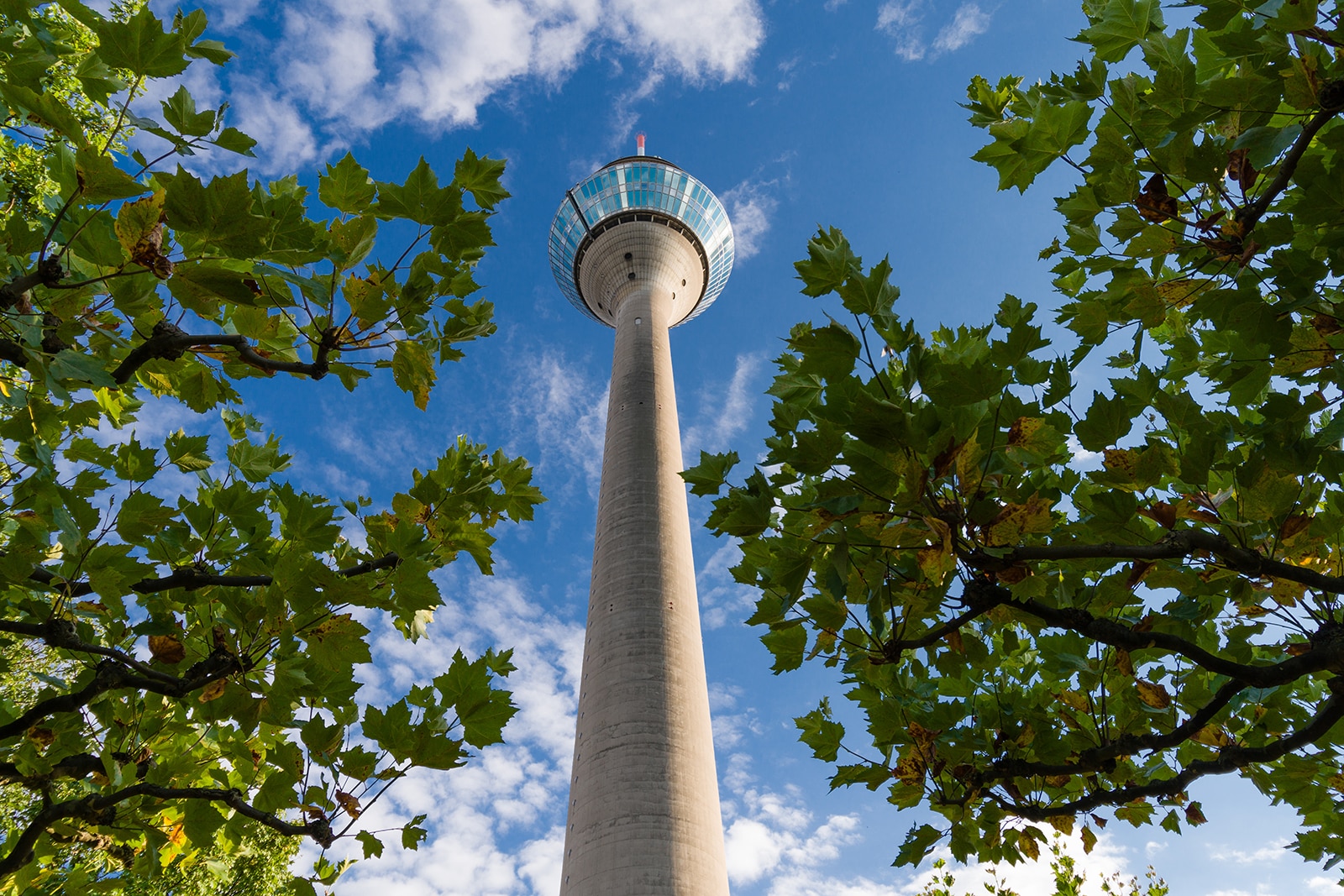 Couples
Families
Photo
Food
Luxury
At 240 meters, the Rheinturm is the best viewpoint in the city, as well as Dusseldorf's tallest tower. The observation deck revolves slowly, so you can sit back with a coffee and enjoy the slowly changing view.
If you're feeling adventurous, you can lean again the slanting glass panels from the observation deck and look down on the whole city. You can visit throughout the day or night, but for the most impressive views you should aim for dusk.
Location: Stromstraße 20, 40221 Düsseldorf, Germany
Open: Daily from 10 am to midnight (1 am on weekends)
2
The Rhine Promenade
Walk the Rheinuferpromenade from the Parliament building down to the docks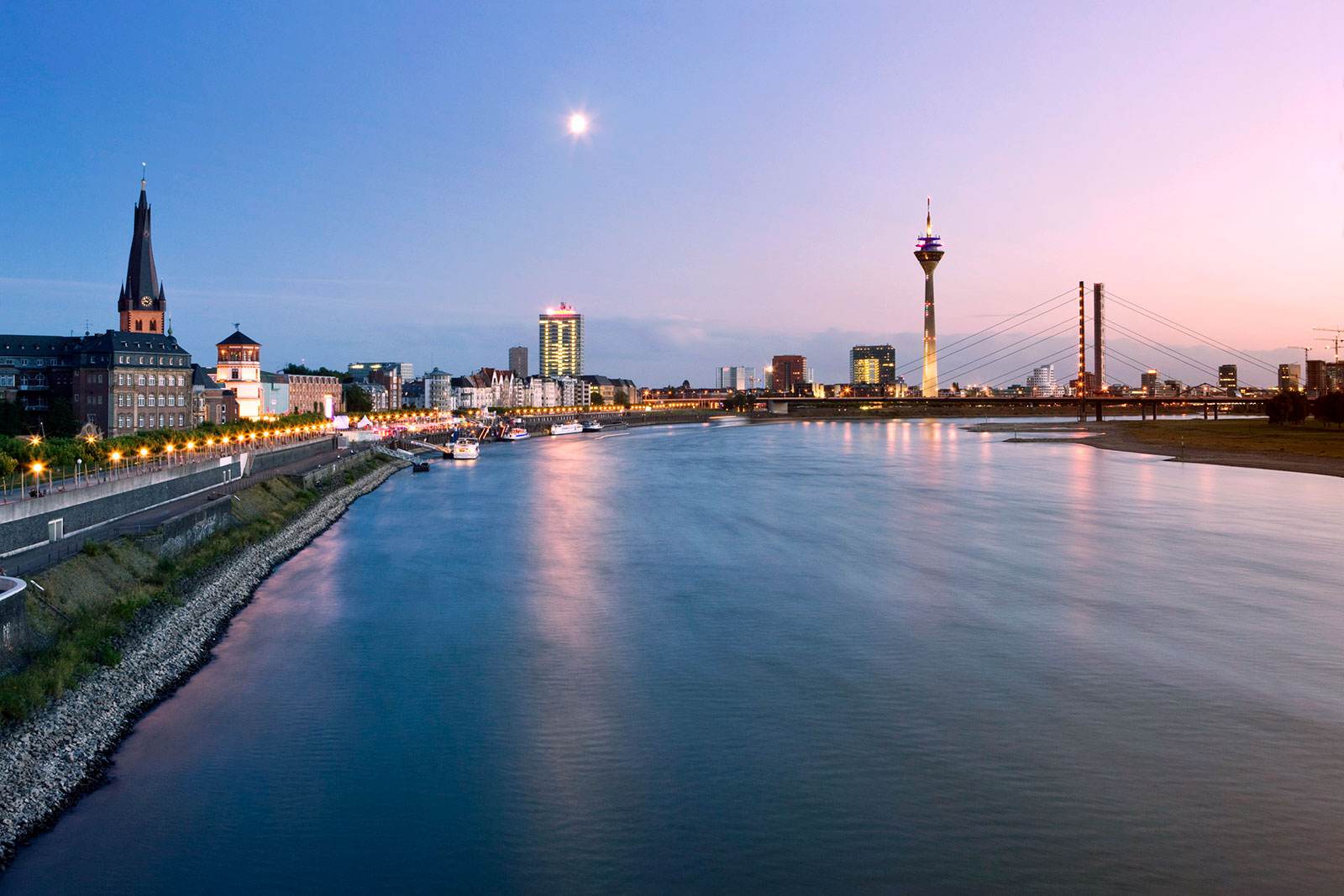 Couples
Families
Photo
Budget
Popular with cyclists, groups of friends lazing on the grass, and anybody out for a stroll, you will find a warm communal vibe along this pedestrianized riverside walk. The whole route is lined with popular landmarks including St. Lambertus church and Burgplatz, with the iconic Schlossturm tower. If you fancy a break, you're never more than a few minutes from the next bar or coffee shop.
In the summertime, you should consider a boat trip down the Rhine River. The 45-minute cruise has several operators leaving from Burgplatz pier, some with optional free-flow booze options.
Location: Between Burgplatz and Apollo Platz, 40213 Düsseldorf, Germany
Phone: +49 (0)211 172020
3
Burgplatz
See many famous landmarks in one public square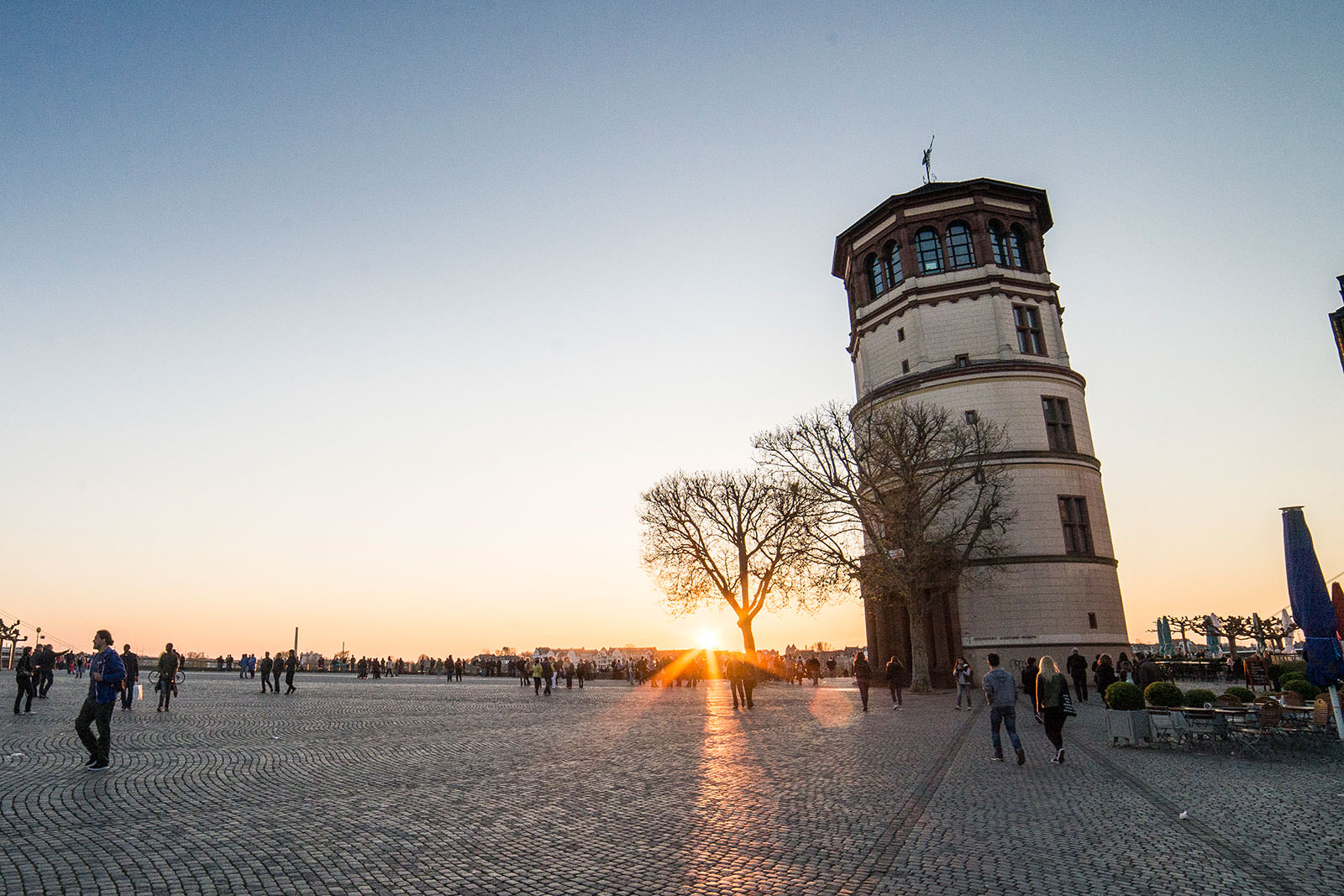 Nightlife
Couples
Families
History
Photo
This central square on the bank of the Rhine contains many of Dusseldorf's finest sights. You'll find the Cartwheeler's Fountain, Schifffahrtsmuseum in Schlossturm Tower, and the Riesenrad am Rhein Ferris wheel, as well as a lively, bustling atmosphere. Around the festive season, Burgplatz hosts a charming Christmas Market with thousands of shops and snack vendors. All lit up in lights, it's a magical sight.
Location: Burgpl., 40213 Düsseldorf, Germany
4
Koenigsallee
Get the latest designer gear on Dusseldorf's best shopping street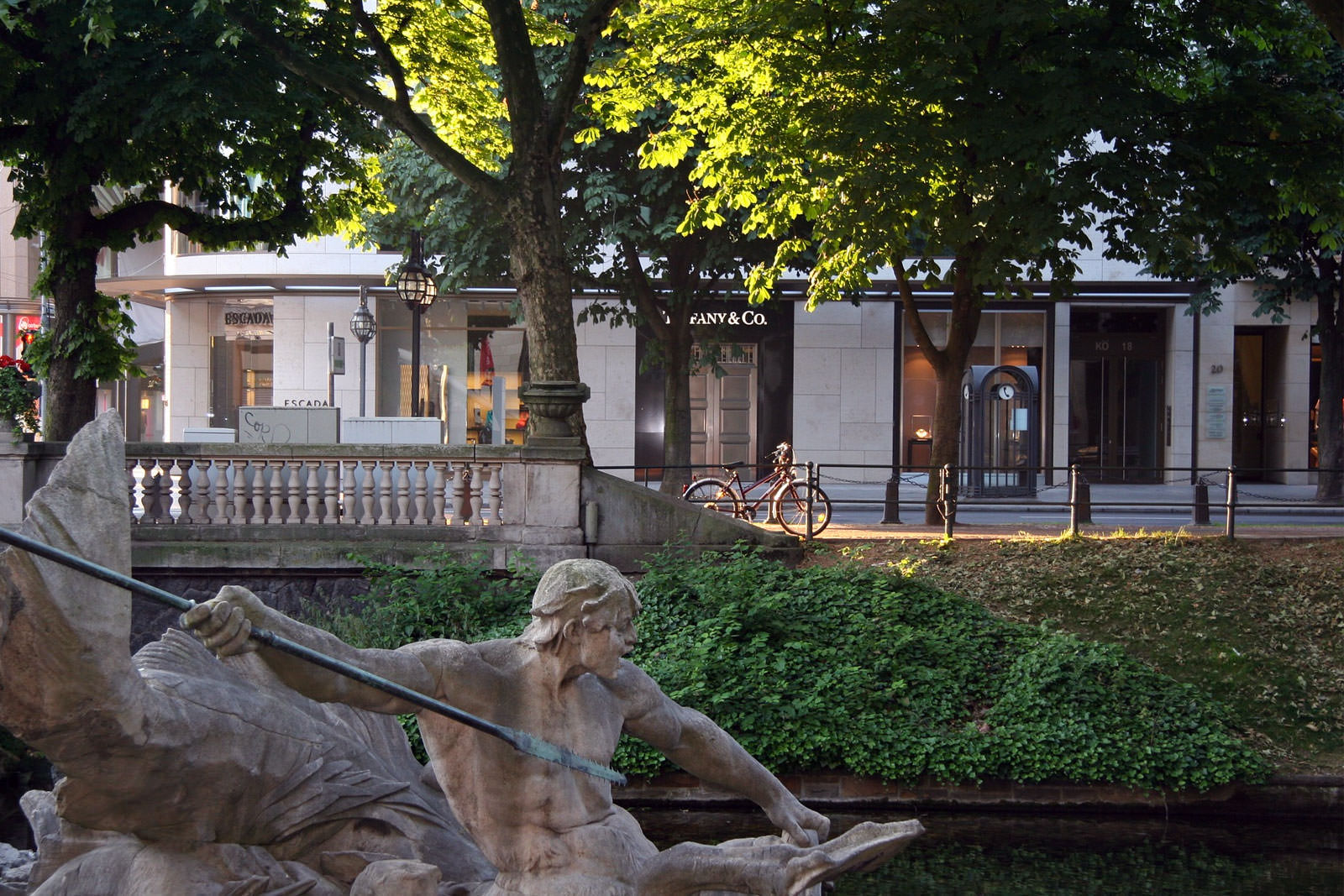 Couples
Shoppers
Luxury
Group
Dusseldorf is a hotbed of fashion. Germany's finest fashion schools are found here, and the locals follow the latest trends like nowhere else in the country. The best place to shop in the city is Koenigsallee, locally known as "the Kö". It's also home to many of the city's 5-star hotels.
You'll find Europe's finest brands all have boutiques here, lined up against a tree-lined canal through the center of town. For the biggest concertation of shops, head to Galeria mall.
5
Kunstsammlung Nordrhein-Westfalen Museum
Check out the finest modern art exhibits in Dusseldorf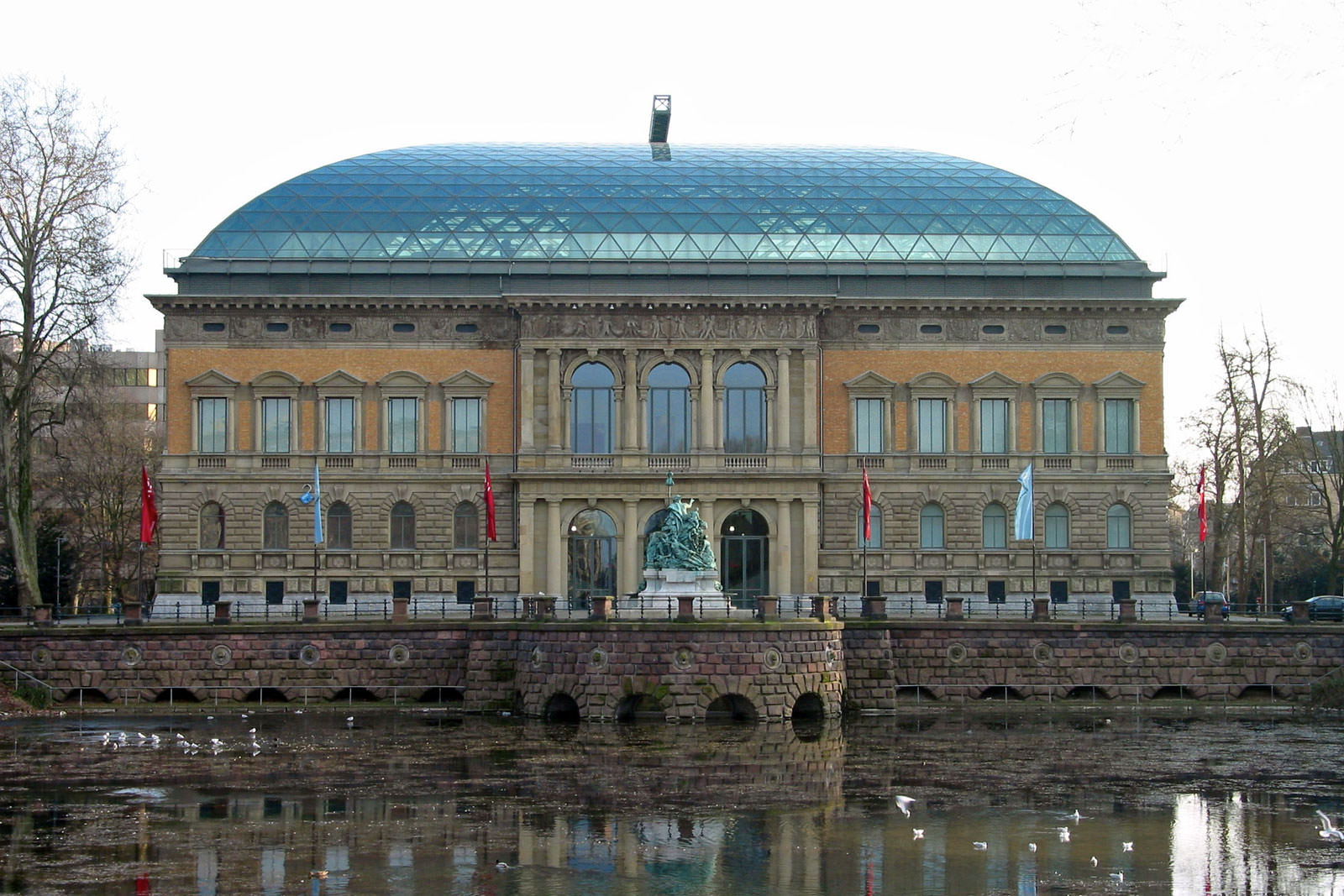 This is the best modern art gallery and museum in the city. In fact, it's so large they have split the museum into 2 sections – K20 and K21. Located around 3 km from each other, both sections of the art museum are easy to reach by public transportation, and the museum provides a free minibus shuttle between them.
The collection of German art is very impressive, with sections covering sculpture, installations and other media. Renowned international artists are also represented, like Picasso and Kandinsky. If you only have time for one, pick K21 Ständehaus modern art gallery for its wider array of exhibits. Unusually, one of the city's best bars, Pardo Bar, is connected to the K21 museum. Remember that all museums in Germany are closed on Mondays.
Location: Ständehausstraße 1, 40217 Düsseldorf, Germany
Open: Tuesday – Sunday from 10 am to 6 pm
Phone: +49 (0)211 8381204
photo by Alice Wiegand (CC BY-SA 3.0) modified
6
Carlsplatz Markt
Shop for souvenirs, flowers, and artisanal meats and cheese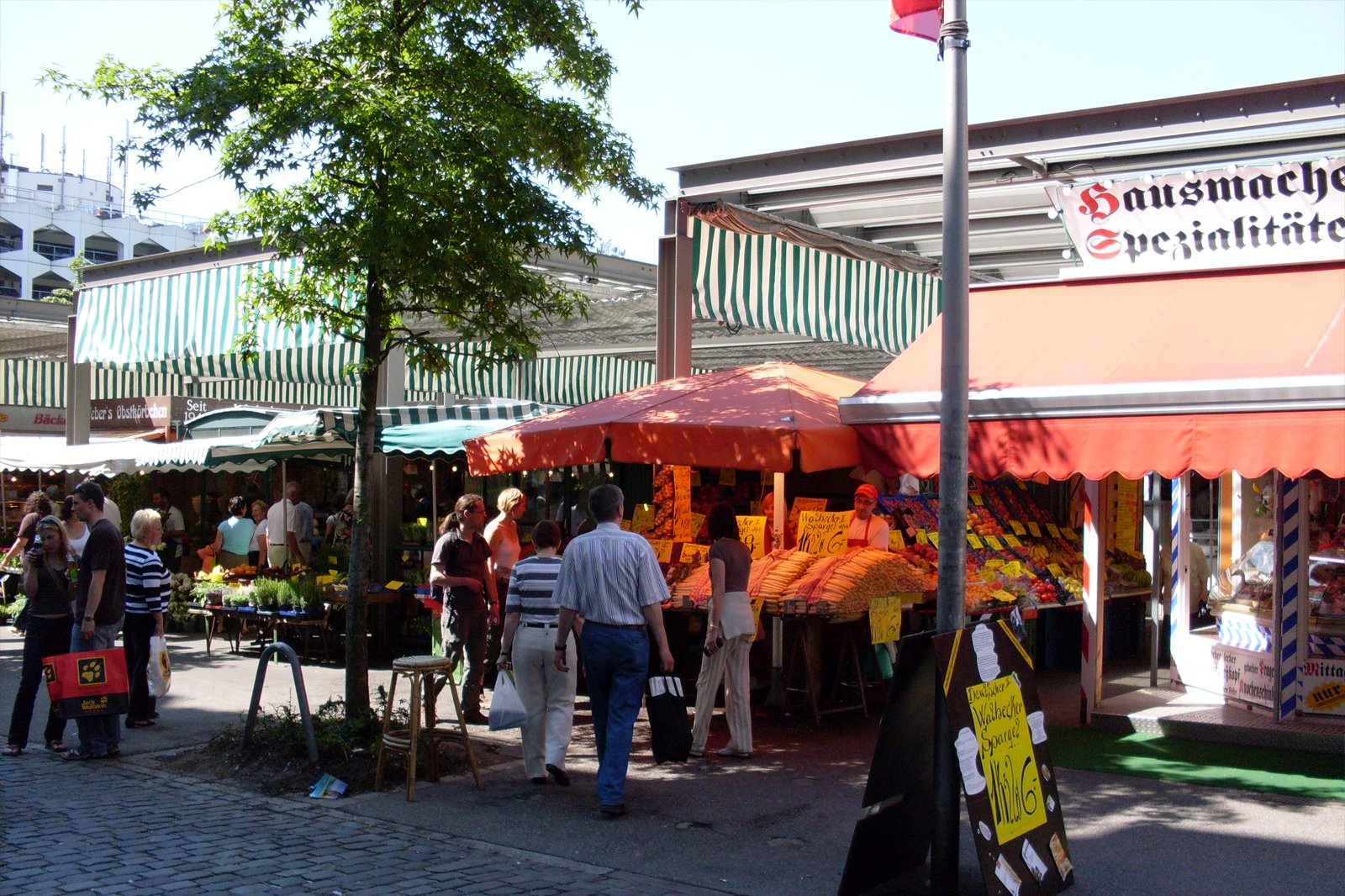 Couples
Shoppers
Food
Budget
This market is noteworthy for how calm and orderly it is. It's definitely a German market. You'll find plenty of souvenirs on offer, but it's the range of fruits and flowers that usually catches the attention. You can buy some bread and cheese to take away or have your meal cooked for you.
It's best to plan your visit around lunchtime as there's a food court within the market that serves some fantastic dishes like falafel, steak sandwiches and handmade pasta.
Location: Carlspl. 1, 40213 Düsseldorf, Germany
Open: Monday – Saturday from 8 am to 6 pm (closed on Sundays)
Phone: +49 (0)211 8800356
photo by Marek Gehrmann (CC BY-SA 2.0) modified
7
Nordpark
Enjoy manicured gardens and stylish water fountains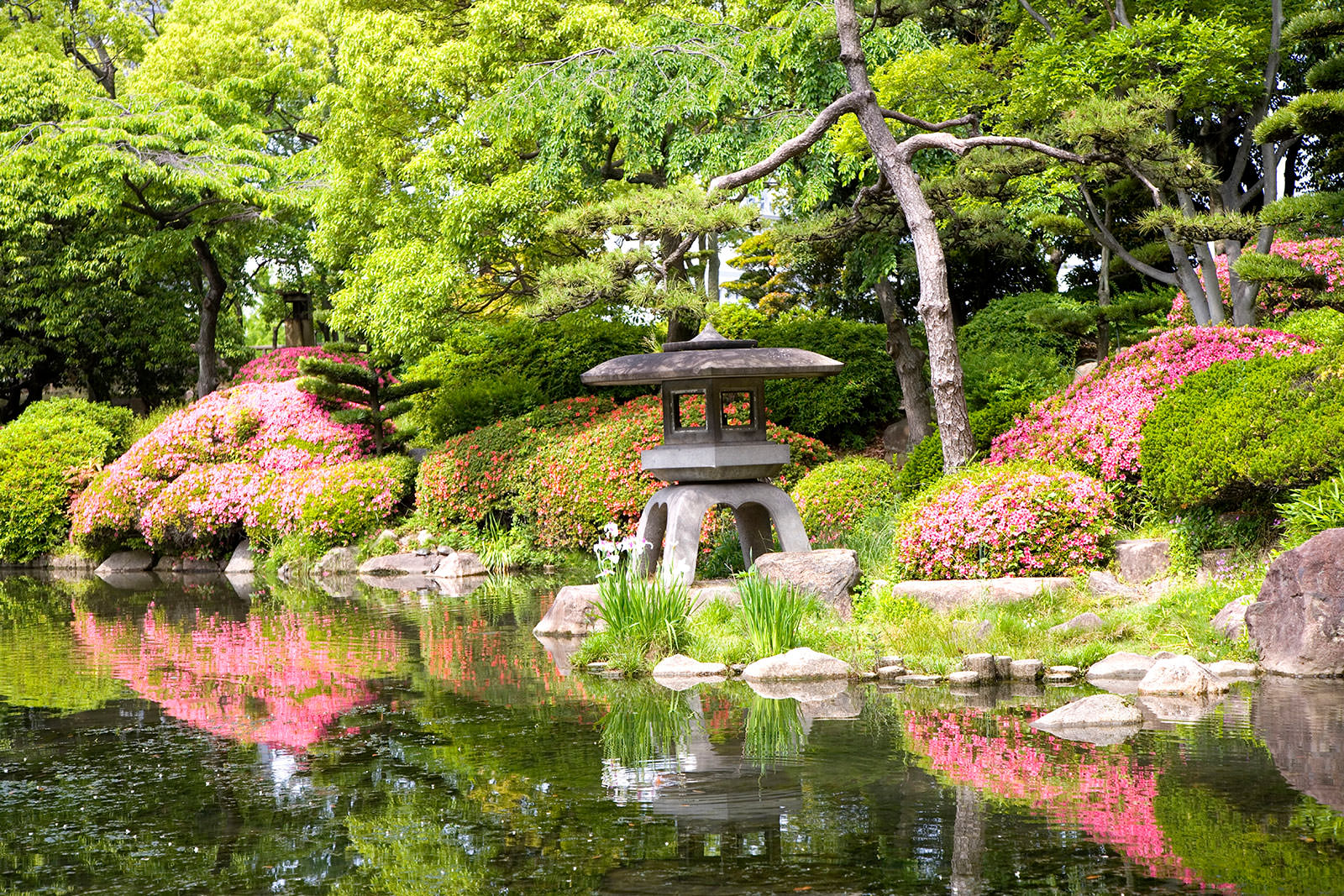 Dusseldorf's 90-acre North Park is a little removed from downtown, and while it's certainly not as busy as other green spaces in the city, it is the most interesting. Take the Metro to Nordpark/Aquazoo and you're directly at the entrance. There's a wealth of flowers and fountains to enjoy. Within the park grounds, you'll find a church, a zoology museum, and interesting statues lining the pathways.
Don't miss the Japanese garden connected to Nordpark. This manicured garden was created by the Japanese expats who live in the area.
Location: Kaiserswerther Str., 40474 Düsseldorf, Germany
Phone: +49 (0)211 433634
8
Flingern
Take a walk around a local neighborhood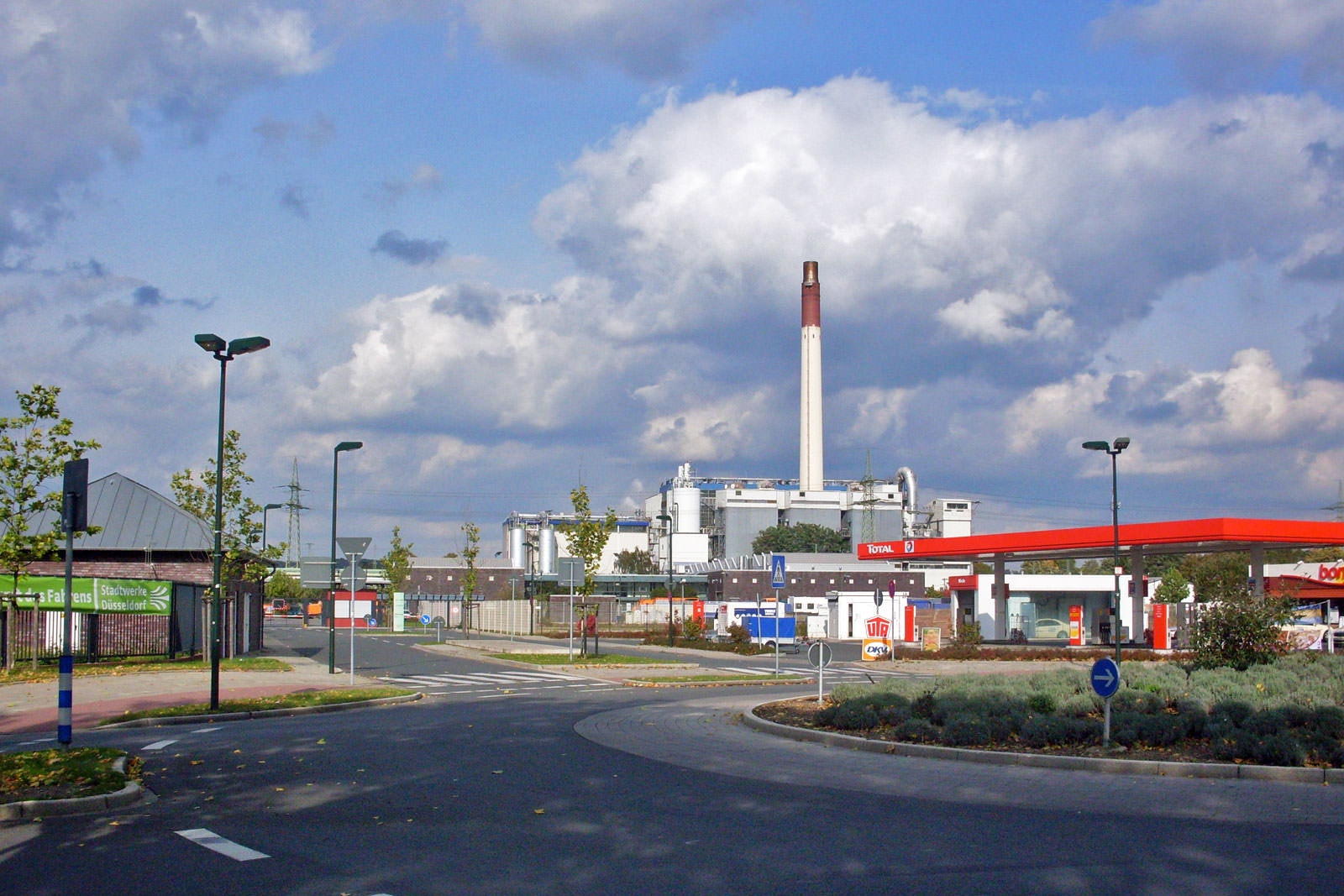 Flingern is an up-and-coming district in Dusseldorf that has plenty of quirky boutiques and a scattering of urban street art. There's a hive of activity around Flingern S-Bahn station. Head down Birkenstraße and check out the unique fashion jewelry shops and local cafés on most street corners.
This district lacks the remarkable landmarks found in Altstadt, but that's part of the charm. This is a genuine residential part of the city, just a few stops on the metro from downtown.
photo by Marek Gehrmann (CC BY-SA 3.0) modified
9
Altstadt's bars and pubs
Explore the Old Town, one bar at a time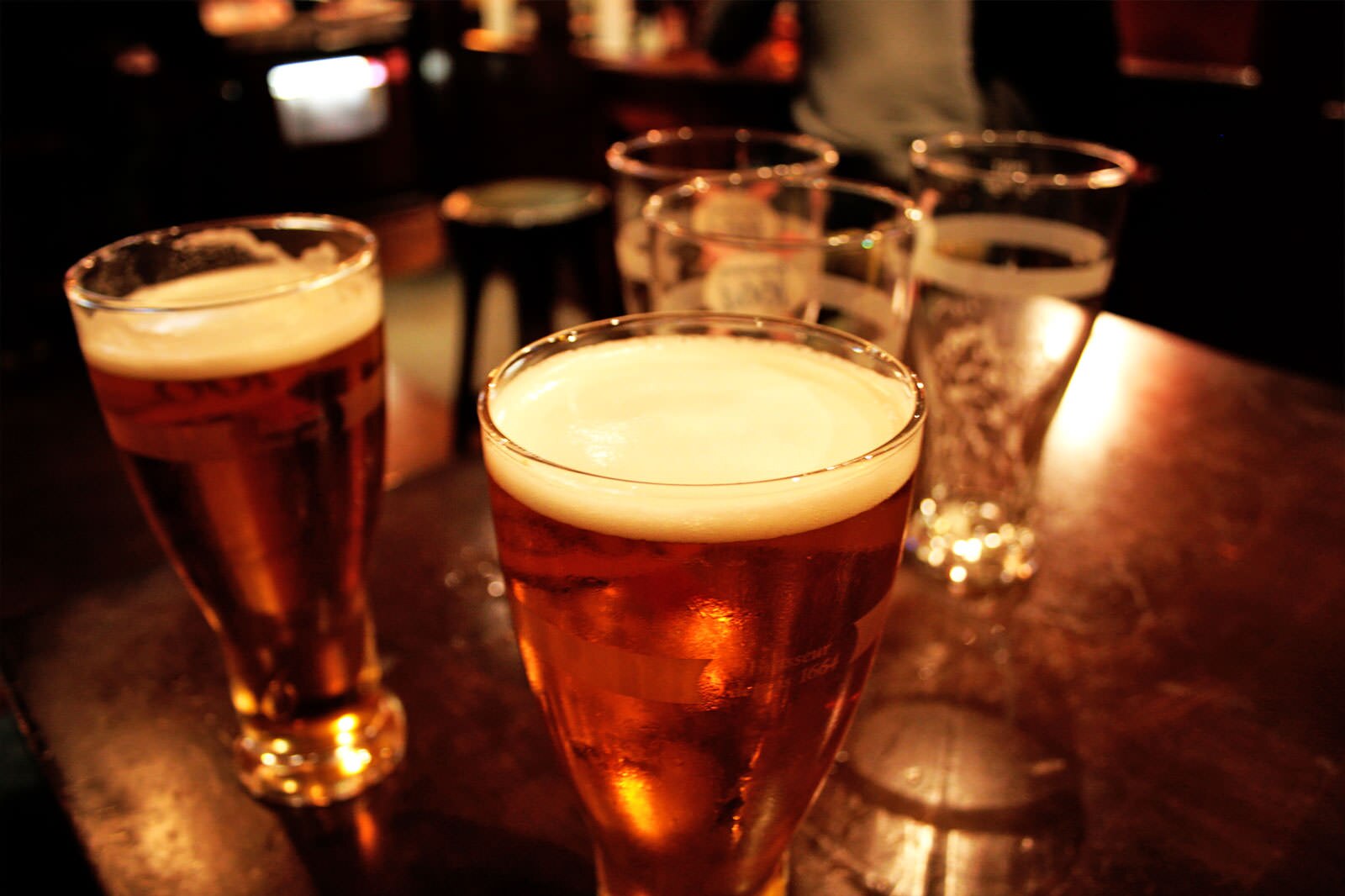 Dusseldorf's Altstadt is the best place in the city for enjoying Germany's bar culture. Around 260 bars and pubs line the narrow, cobblestone streets. Take the tram or Metro to Heinrich-Heine-Allee and walk down Bolkerstraße to find a dizzying selection of venues. It's been labeled by some as 'the longest bar in the world'.
If you're enjoying the best of Germany's beer culture, you must sample some of Dusseldorf's native altbier. Served in small glasses, it's a unique, refreshing ale that is sometimes brewed in-house. Check out Zum Uerige – it's a classic Dusseldorf brewhouse.
Location: Berger Str. 1, 40213 Düsseldorf, Germany
Open: Daily from 10 am to midnight
Phone: +49 (0)211 866990
10
Sauerbraten
Try a Dusseldorf-style pot roast of beef and mustard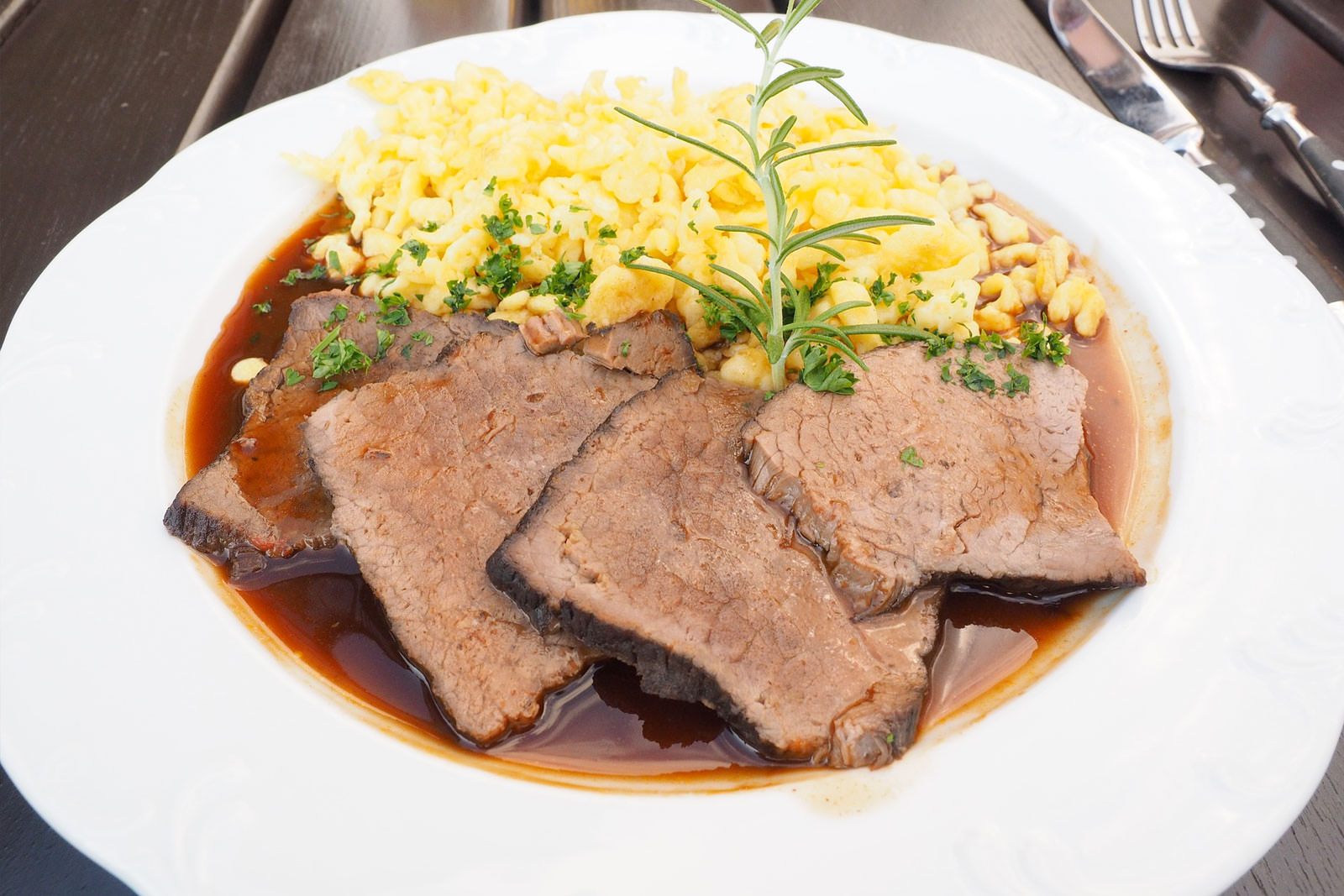 Sauerbraten is a classic local dish from the Rhineland region. It's a pot roast made from a choice of meat (but usually roast beef) marinated in Dusseldorf's famed mustard. Served with potatos and sauerkraut, it's a hearty meal that combines the classic salty and sour flavors of German cuisine to maximum effect.
You will find it on menus throughout the city, but Brauerei Schumacher does a very popular version of this classic local dish. It's easy to find, within walking distance of Oststraße metro station.
Location: Oststraße 123, 40210 Düsseldorf, Germany
Open: 10 am to midnight (1 am on weekends)
Phone: +49 (0)211 8289020
Back to top