10 Best Things to Do in Oslo
What is Oslo Most Famous For?
Oslo is the capital of Norway and occupies a southern headland in the Oslofjord where skiing hills meet picturesque waterfronts. You'll find centuries-old bits of Viking history peppering the watersides, particularly on the Bygdøy peninsula. This is home to most of Oslo's many intriguing museums, including the special Viking Ship Museum.
In Downtown Oslo, you're treated to hip walking streets, hip neighborhoods, and lush green spaces such as Frogner Park. Go further north, and you'll find one of the world's oldest ski museums. It sits under a ski jump that offers panoramic views over the city and fjord. Plan your trip to Norway's capital with this compilation of great things to do in Oslo.
What are the best things to do in Oslo?
1
Start the day at Karl Johans gate
Sightsee along Oslo's main boulevard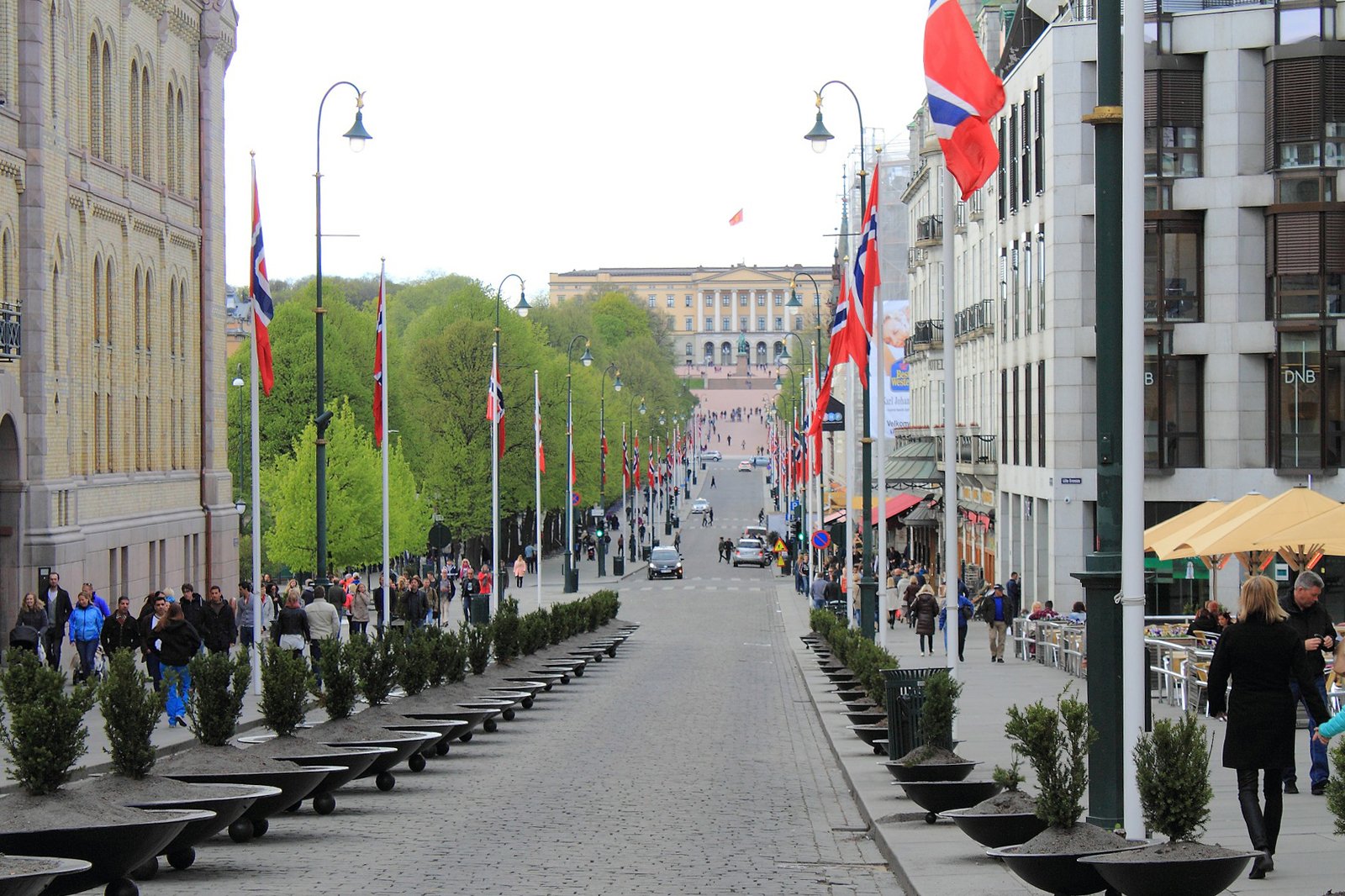 Firstly, gate means "street" in Norwegian. The main street in Oslo's city center is Karl Johans gate, which offers pleasant walks right out of the Oslo Sentralstasjon central station. A small square here lets you soak up Oslo's city vibes for the first time. Eastward, you can walk along Karl Johans gate, passing cafés and restaurants, bars and nightclubs, and boutique stores and malls. If you feel peckish, enjoy flavors from around the world with Indian, Vietnamese, and Chinese restaurants available – most offering great street views.
Location: Karl Johans gate, 0159 Oslo, Norway
See nearby properties
2
Must-See: Viking Ship Museum
Travel back to the great Viking era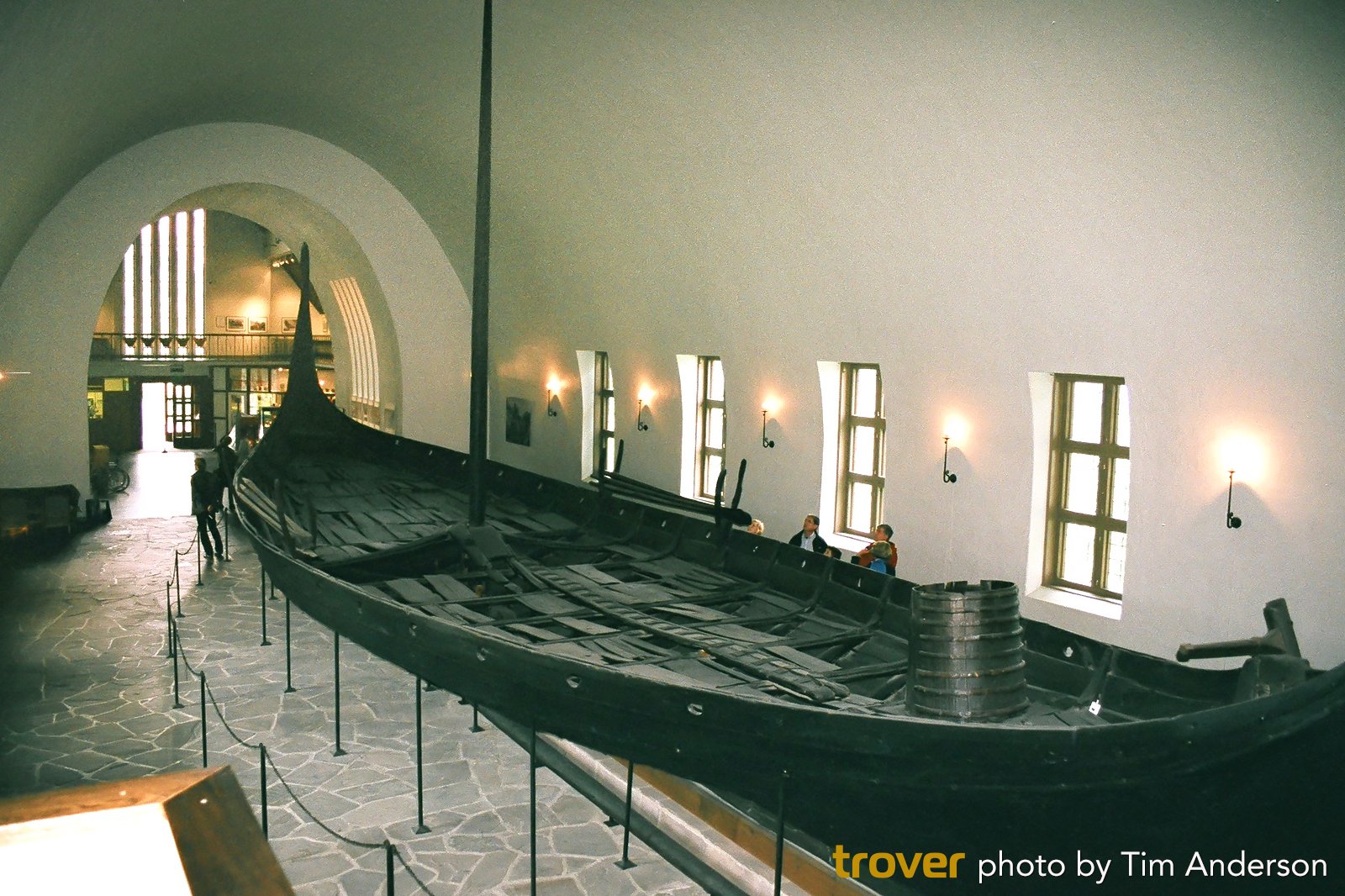 You can learn about the great Nordic seafarers at the Viking Ship Museum on Oslo's museum-filled Bygdøy peninsula. This museum is part of the Museum of Cultural History of the University of Oslo, which means you get to see the 2 museums for a single ticket (around 100 kr per person). Inside the ship museum, you'll find some of the nation's finest Viking treasures and well-preserved ships exhumed from famous sites such as Tønsberg and the Borre mound cemetery in Vestfold.
Location: Huk Aveny 35, 0287 Oslo, Norway
Open: Hours vary by season
Phone: +47 22 13 52 80
See nearby properties
3
Explore Grünerløkka
Discover one of Oslo's coolest neighborhoods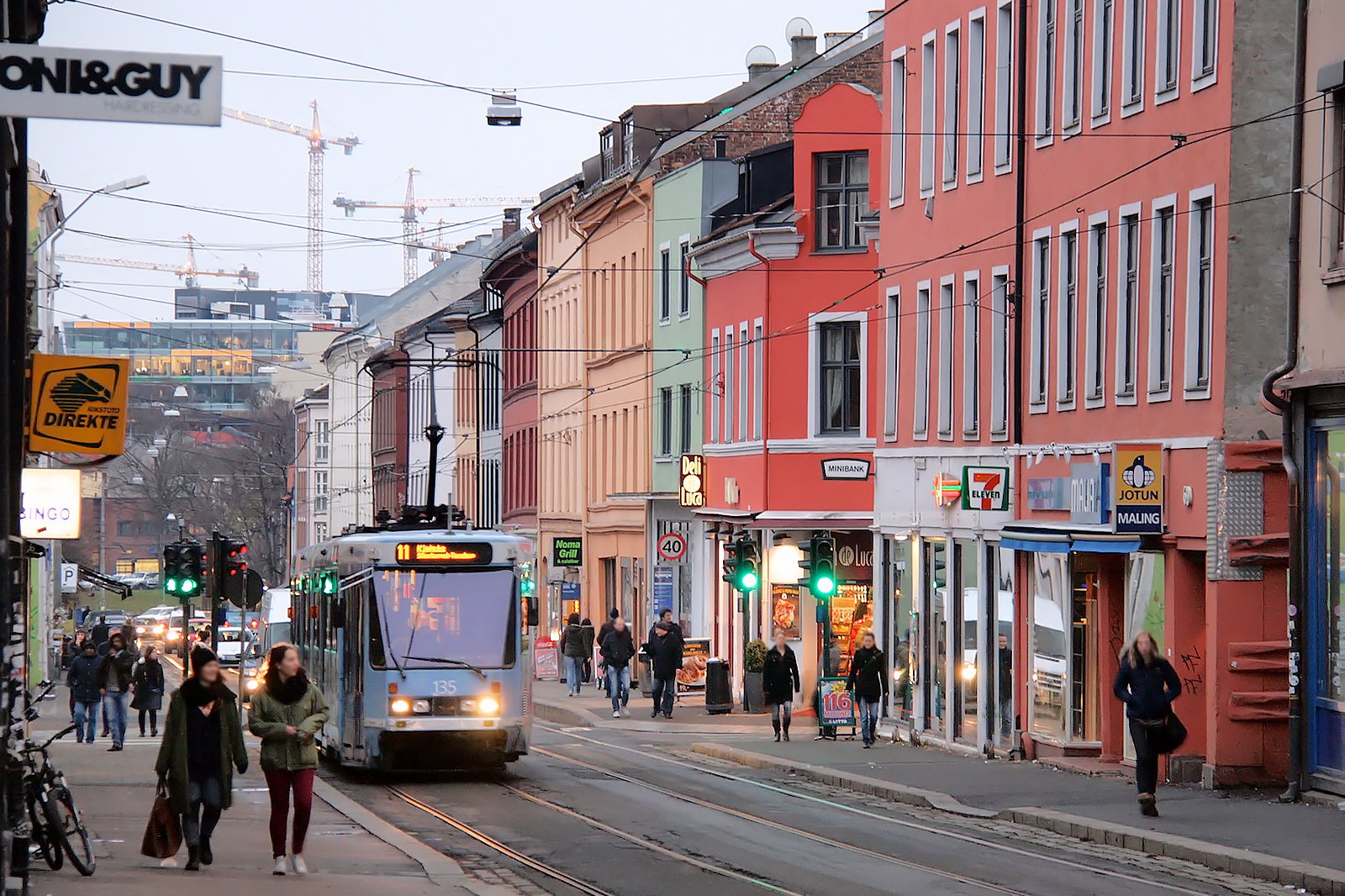 Couples
Budget
Shoppers
Food
Nightlife
A brief drive north of Oslo's city hub leads you to Grünerløkka. It's considered Oslo's trendiest neighborhood, with streets adorned with graffiti art and lined with some of the city's most stylish bars and clubs, as well as hip fashion boutiques selling one-off designs and vintage fashion pieces. On many weekends, mini squares in Grünerløkka come to life with weekend markets where you can hunt for unique gifts while sampling local snacks. You can follow walking trails that lead you past parks where cool concerts are sometimes held.
Location: Olaf Ryes Plass, 0552 Oslo, Norway
See nearby properties
photo by Jorge Franganillo (CC BY 3.0) modified
4
Must-See: Gustav Vigeland Sculpture Park
An arty park within lush surroundings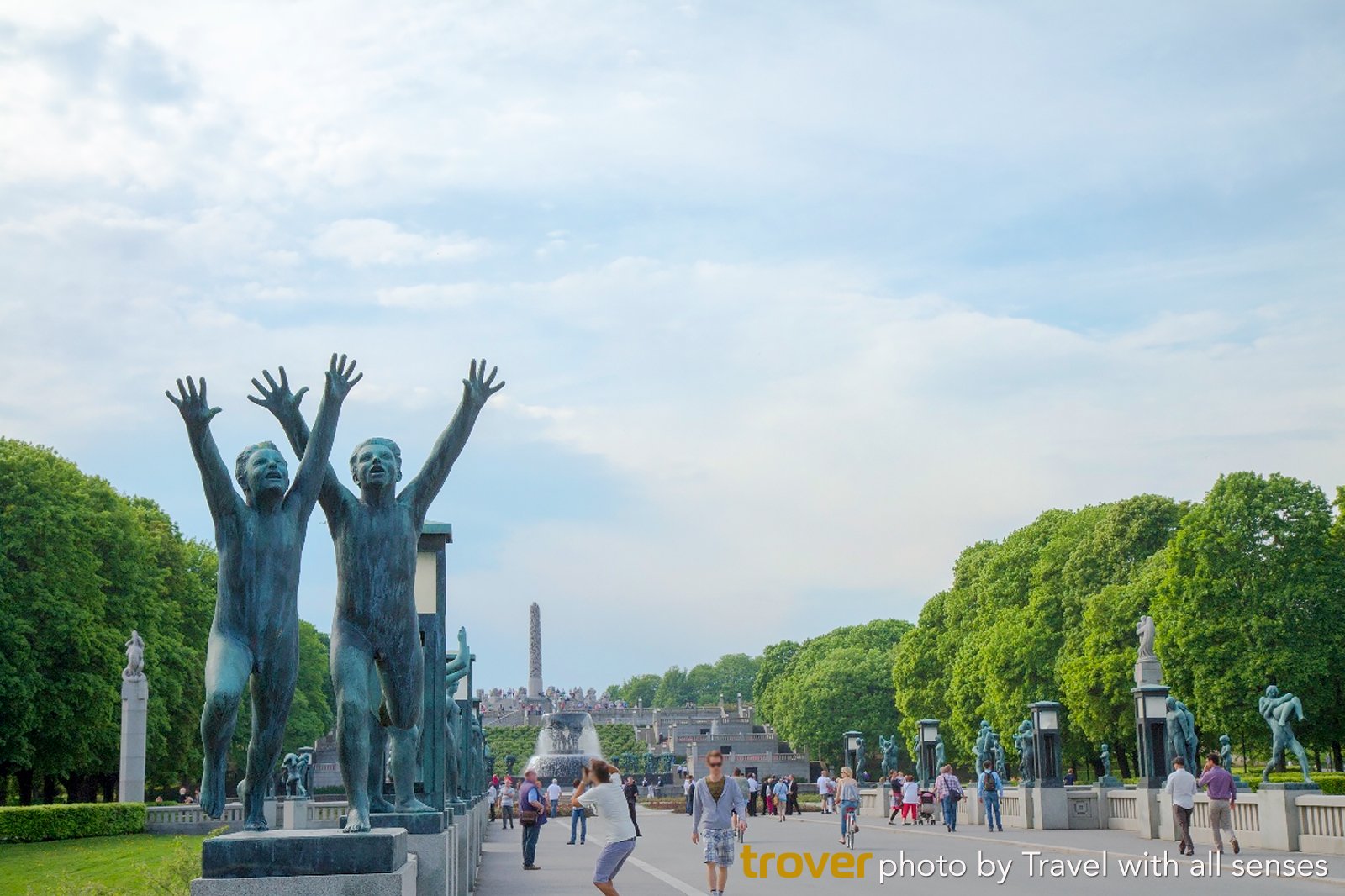 Couples
Budget
History
Photo
The area at the center of the vast Frogner Park in Oslo features the Vigelandsanlegget, or Vigeland installation. It has an array of granite and bronze sculptures designed by the late Gustav Vigeland. You can walk the 100-meter bridge, which connects the main gate and the park's fountain, while admiring the 58 sculptures and the towering monolith. Try spotting one of the most famous sculptures, the Sinnataggen or 'Angry Boy'. Even the children's playground has bronze statues depicting kids in playful poses.
Location: Nobels gate 32, 0268 Oslo, Norway
Open: Tuesday – Sunday from 12 pm to 4 pm (closed on Mondays)
Phone: +47 23 49 37 00
See nearby properties
5
Discover Norwegian history at Norsk Folkemuseum
See how Nordic life was in the 13th century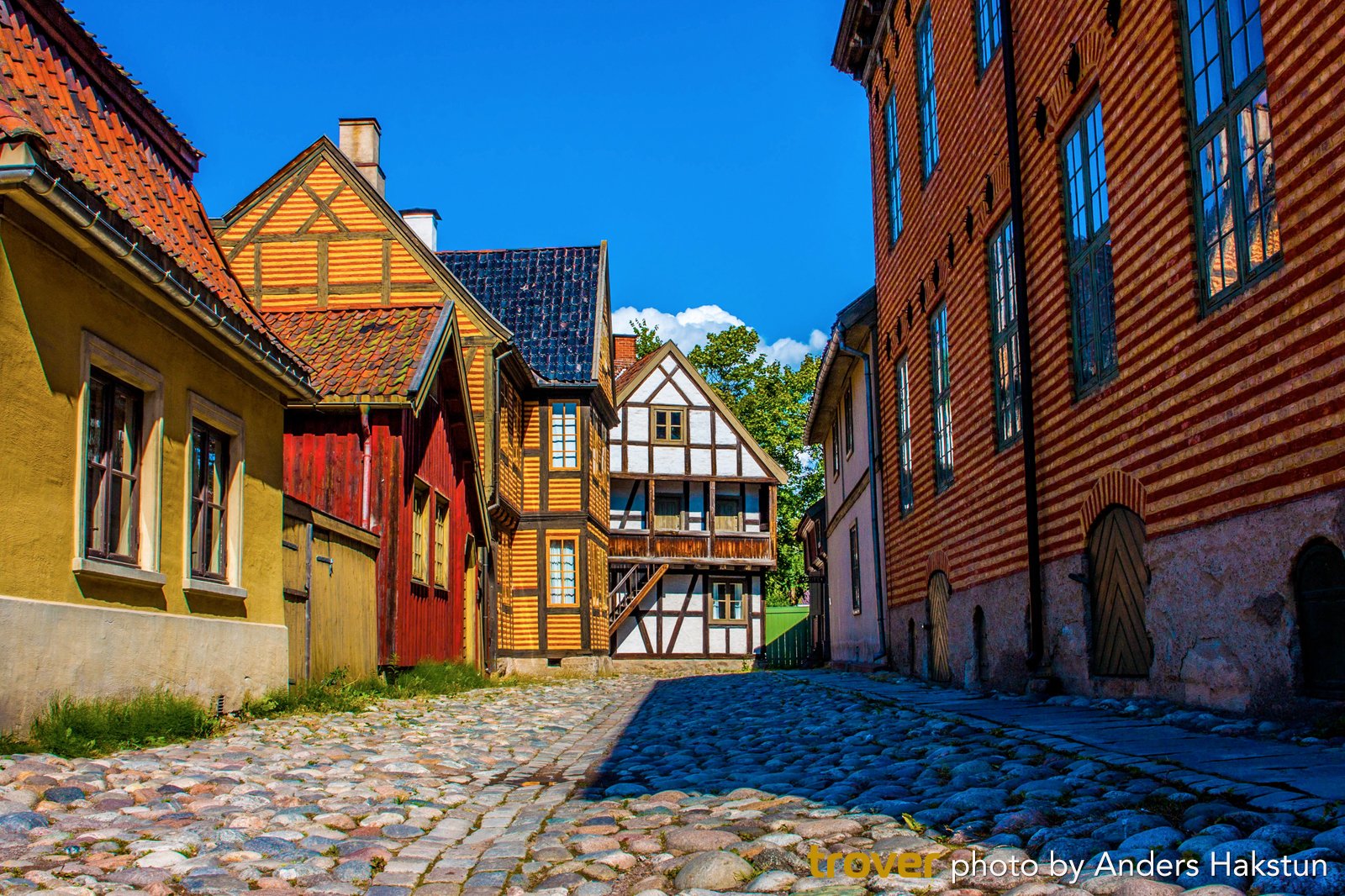 You can enjoy pleasant strolls past farmstead log houses and historical buildings at this open-air museum in Bygdøy, around 15 minutes' drive west of Downtown Oslo. Norsk Folkemuseum or Norwegian Museum of Cultural History, is among of the oldest of its kind. It has over 100 traditional houses preserved from various areas in Norway, some with live demos by staff in period clothing. Others feature a variety of exhibits with handicrafts, weapons, and children's toys from the past on show.
Location: Museumsveien 10, 0287 Oslo, Norway
Open: Mid-May – mid-September: Daily from 10 am to 6 pm, mid-September – mid-May: Daily from 11 am to 3 pm
Phone: +47 22 12 37 00
See nearby properties
6
Must-See: Akershus Fortress
Capture one of Oslo's most charming sights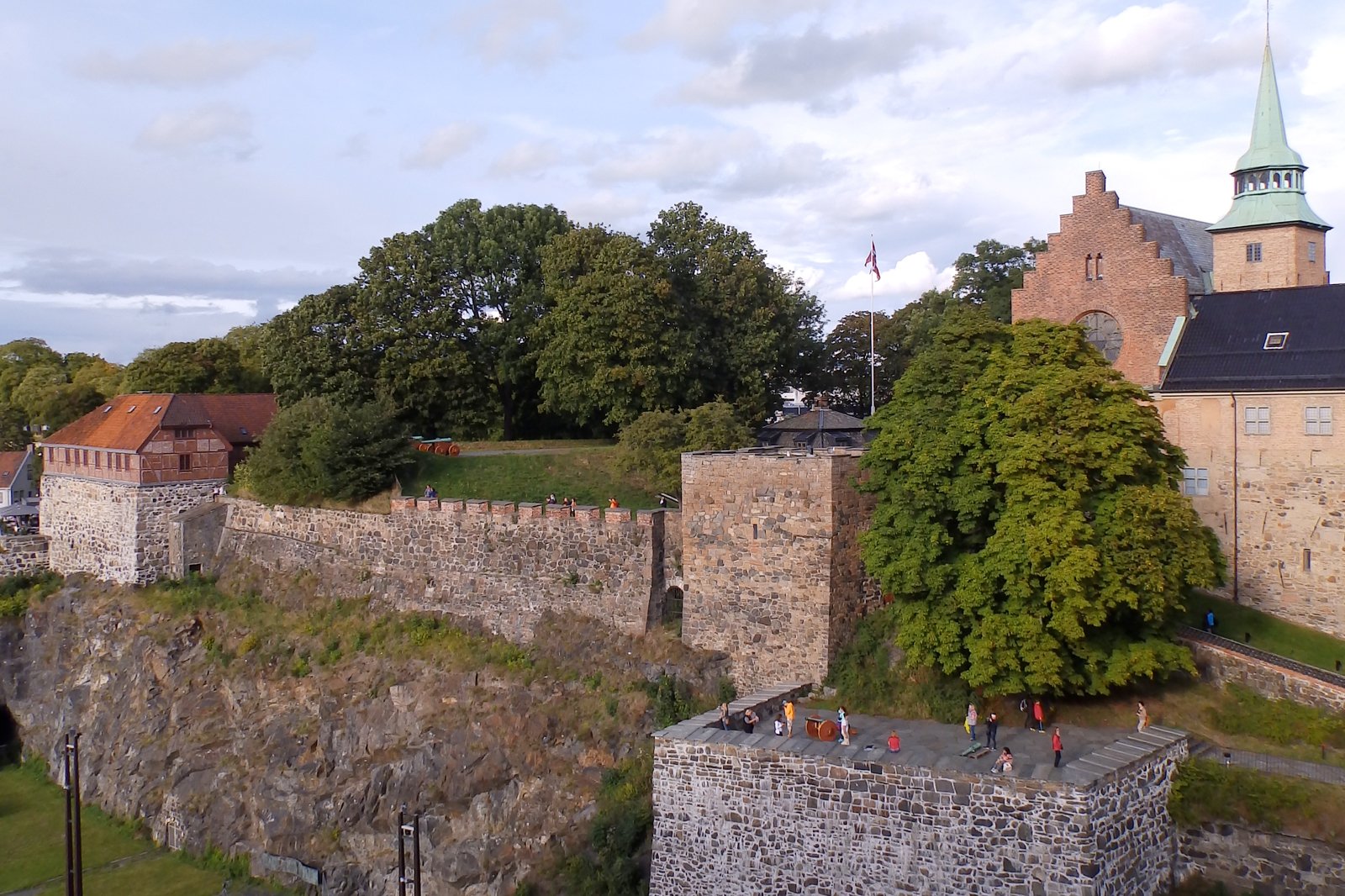 This medieval castle dates to the early 14th century, during the rule of Haakon V of Norway. At various points in history, it was used as a military outpost and a prison. Nevertheless, it's a charming sight to behold, set on a headland overlooking Oslo Harbour on the southern waterside. In the summer, you can go on guided tours inside the fortress and explore its church, courtyards, armouries and royal halls. Other nearby historical sites include the Norway Resistance Museum and the Norwegian Armed Forces Museum.
Location: Akershusstranda, 0150 Oslo, Norway
Open: Daily from 6 am to 9 pm
Phone: +47 23 09 39 17
See nearby properties
photo by M(e)ister Eiskalt (CC BY-SA 4.0) modified
7
Bargain hunt at Vestkanttorvet flea market
Find sought-after antiques
If you visit Oslo's Frogner Park between March and December, you'll most likely be able to browse the Vestkanttorvet flea market. It is usually held in a tree-lined parking lot a few minutes' stroll east from the park, on Saturdays. The flea market often features around 100 different stalls that sell everything from paintings and sculptures to china and Norwegian enamel jewelry items. Stands selling local snacks and drinks, including must-try Norwegian waffles with jam, add to the pleasant atmosphere.
Location: Professor Dahls gate, 0260 Oslo, Norway
Open: March – December: Saturdays from 9 am to 5 pm
Phone: +47 481 54 738
8
Enjoy panoramas from Holmenkollen Ski Museum & Tower
Find skiing history under Oslo's famous ski jump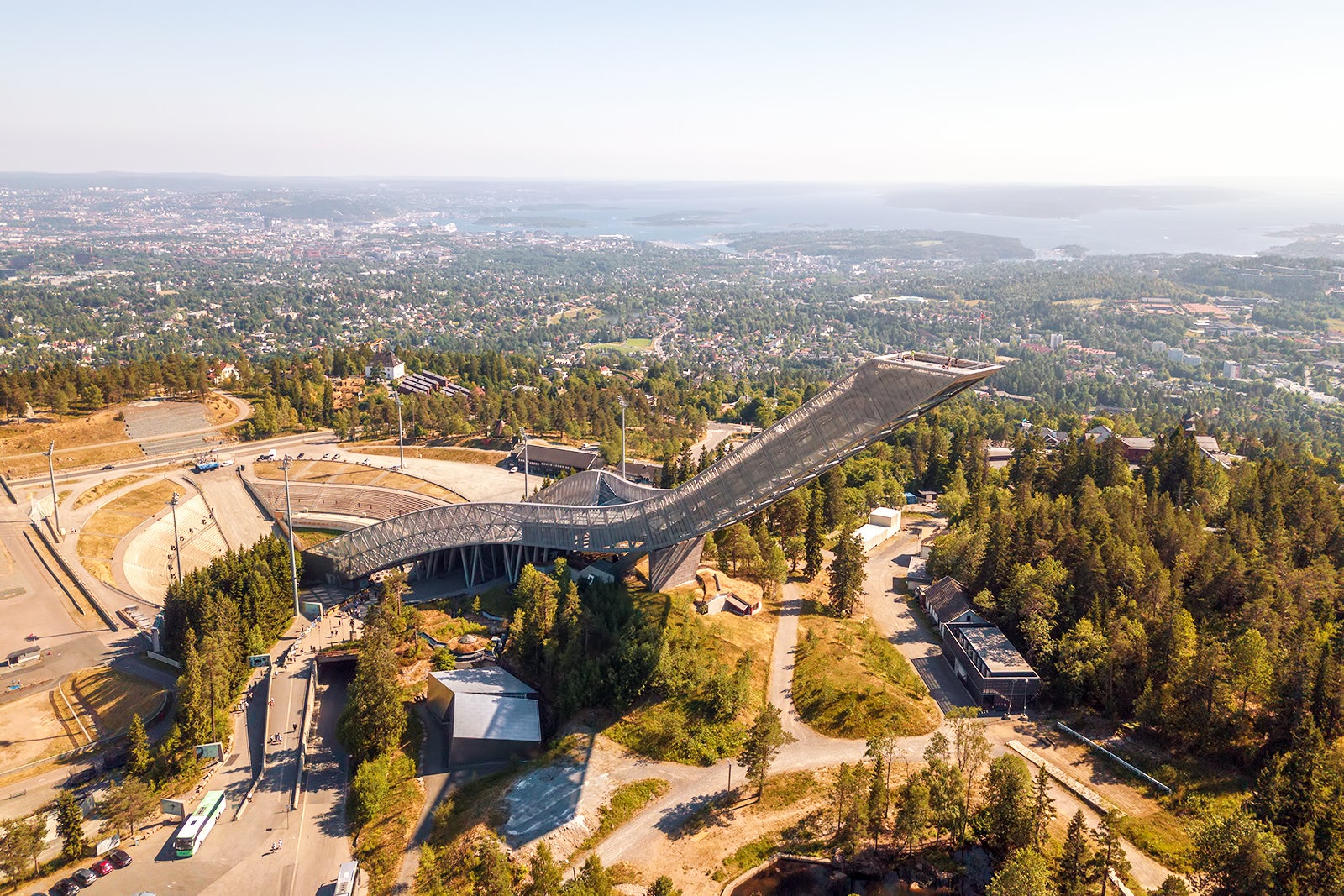 This famous ski jump hill is around 30 minutes' drive north from Downtown Oslo, and is home to one of the world's oldest ski museums. The Holmenkollen Ski Museum holds a collection of exhibits that showcase centuries of skiing history, together with artifacts from various polar expeditions. The best part of the visit to Holmenkollen is getting up to its observation deck at the top of the jump tower. It offers great views of Oslo and the fjords, especially on clear days.
Location: Kongeveien 5, 0787 Oslo, Norway
Open: Daily from 10 am to 5 pm
Phone: +47 916 71 947
See nearby properties
9
Eat røkt laks
Acquire a taste for smoked Norwegian salmon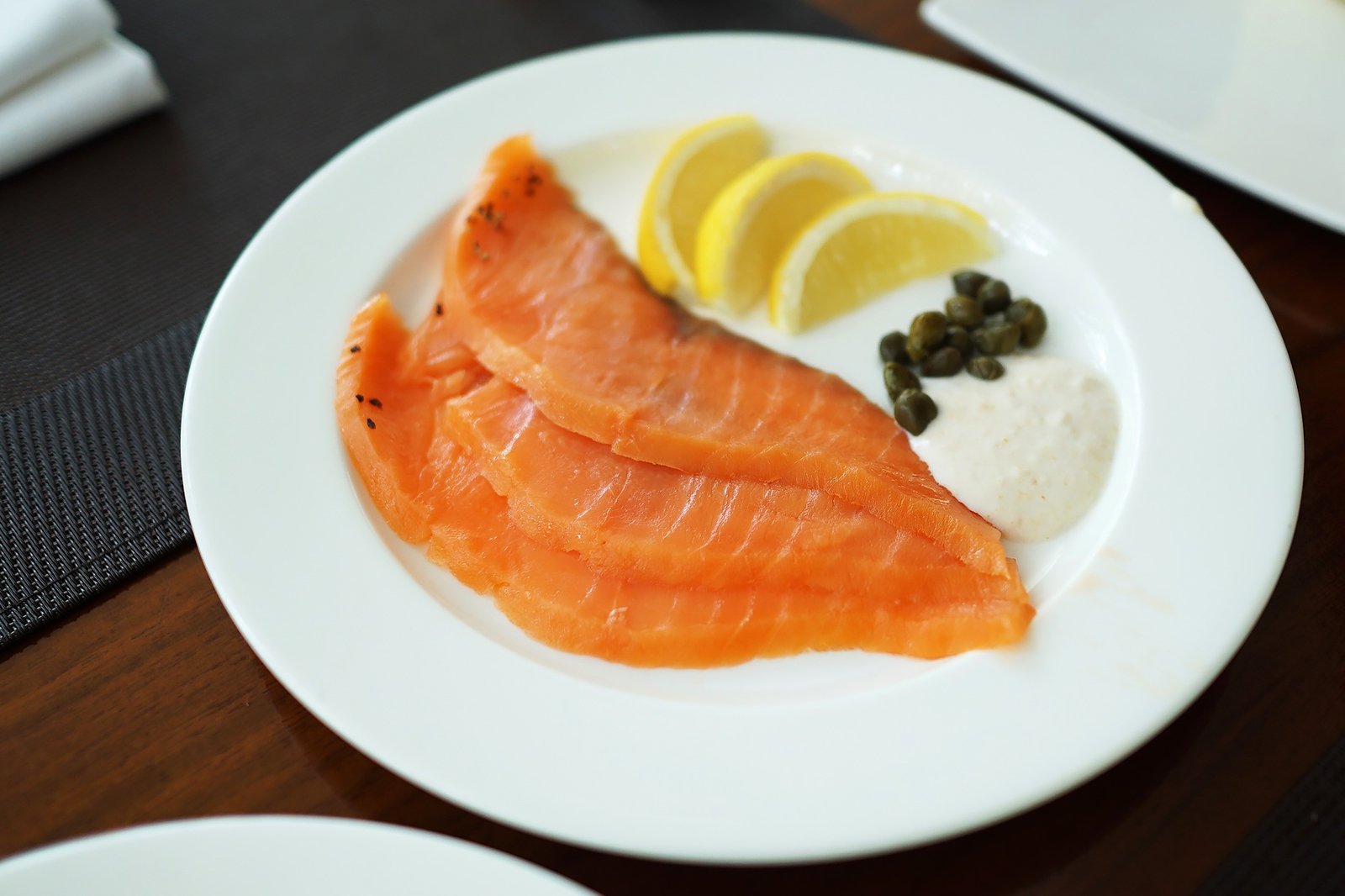 You can't consider your Oslo experience complete without trying out Norwegian salmon and the city's salmon-based traditional dishes. One of the most typical salmon preparations is røkt laks (meaning 'smoked salmon'), which really packs in the salmon's flavors. Norwegians have been smoking fish and meats for centuries, as a way of preserving and storing food over the winter months. Nowadays, the unique flavor can be easily found in delis and grocery stores. You can also find a cured version of salmon, prepared with dill and salt, called røkt orret.
10
End the day watching opera at the Oslo Opera House
Walk along the ski slope-inspired roof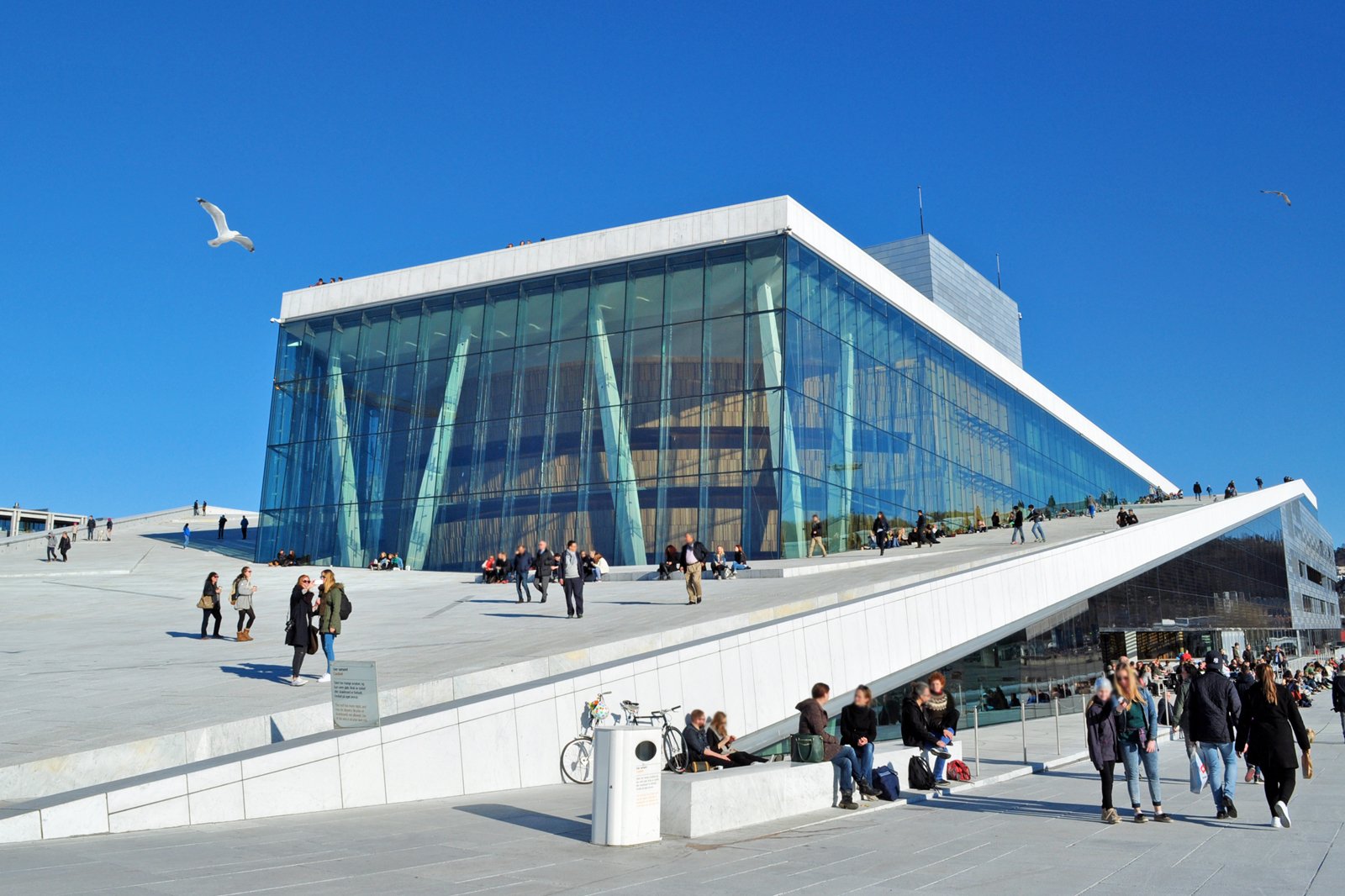 With its bold, contemporary design inspired by the sloping ski hills of Norway, the Oslo Opera House is a striking landmark overlooking the harbor. The opera house is home to the Norwegian National Opera and Ballet, though other orchestras and ballets often visit this remarkable setting. Even if you don't watch a show, the snow-white slanting roof that seemingly flows down into the waterfront is irresistible, and you can walk along it and enjoy afternoon waterfront views. This roof even serves as a venue for concerts.
Location: Kirsten Flagstads Plass 1, 0150 Oslo, Norway
Open: Monday – Saturday from 10 am to 4 pm, Sundays from 11.30 am to 4 pm
Phone: +47 21 42 21 21
See nearby properties
photo by Beata May (CC BY-SA 4.0) modified