10 Best Things to Do in Ischia
What is Ischia Most Famous For?
Our guide to the best things to do in Ischia can help you discover the island's most scenic sights. You can reach Ischia within an hour's transfer by ferry or hydrofoil from the port of Pozzuoli near Naples, southern Italy. Upon docking, you're welcomed by the modern capital of Ischia Porto, with its harbor-facing bars and restaurants. Just a 10-minute drive east, you'll reach the historical seaside town of Ischia Ponte, home to a dramatic volcanic islet with a medieval castle on its hilltop.
Part of the Campanian Archipelago, Ischia is one of the most picturesque islands in the Bay of Naples. Besides offering exotic sceneries with flowing hills and rocky beaches, it's famous for thermal spas and natural springs. Read on to discover the best of Ischia during your holiday.
What are the best things to do in Ischia?
1
Piazza Antica Reggia
Ischia's port town neighborhood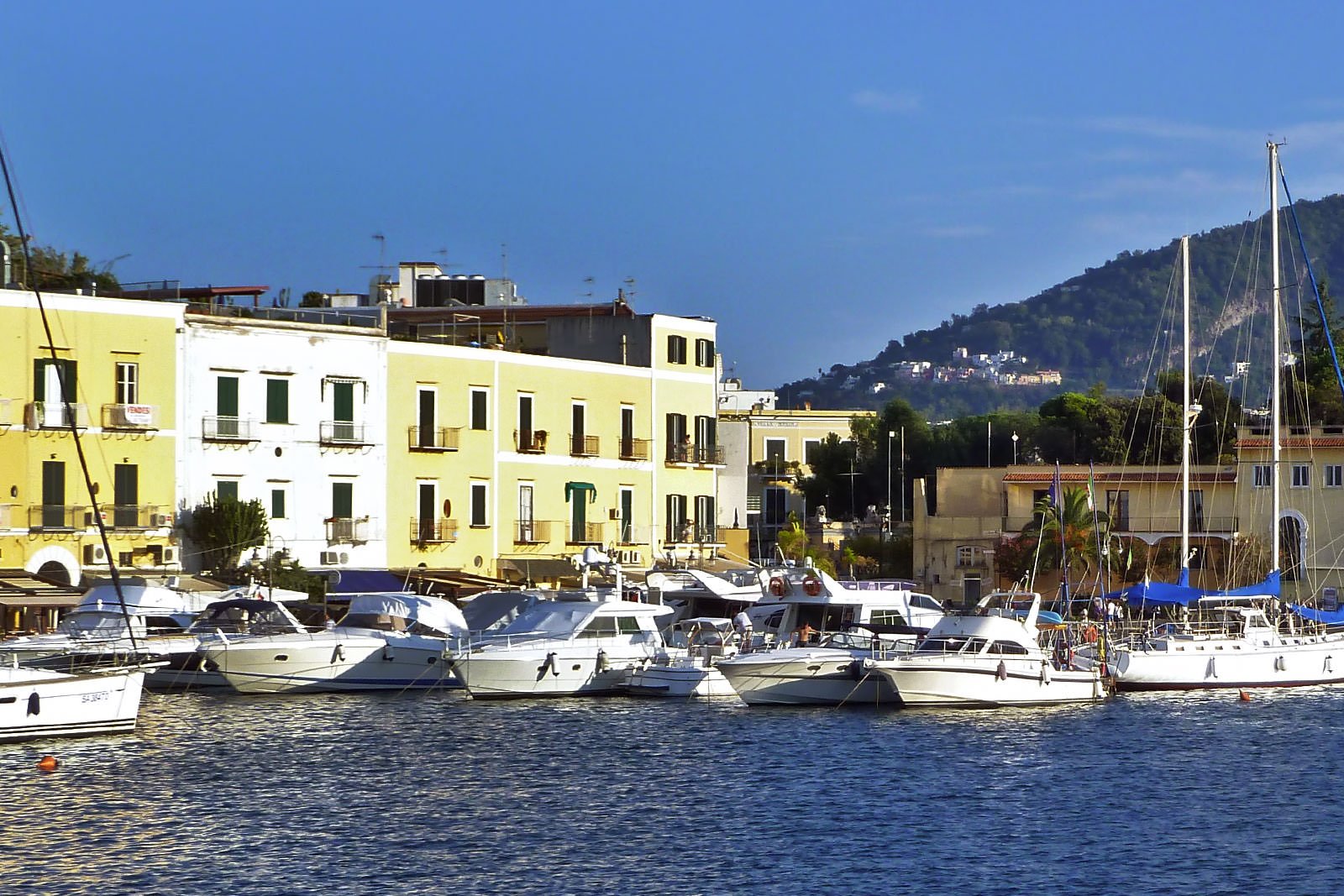 At the docks, the busy port town greets you with shops, bars, cafés and parked taxis along Banchina Olimpica and Via Iasolino. Choose from the many terraces for coffee or gelato with the view. Your journeys in Ischia start from the compass rose-styled roundabout at the junction of Via Porto and Via Iasolino. The sidewalks are narrow and it can get busy with whizzing scooters, so take care. Take Via Osservatorio past the Palazzo Reale di Ischia (Royal Palace of Ischia) for a quiet, tree-shaded walk.
Location: Via Iasolino, Ischia Porto, Ischia, Italy
Open: 24 hours
photo by Abxbay (CC BY-SA 4.0) modified
2
Castello Aragonese
A monumental islet to feast your eyes on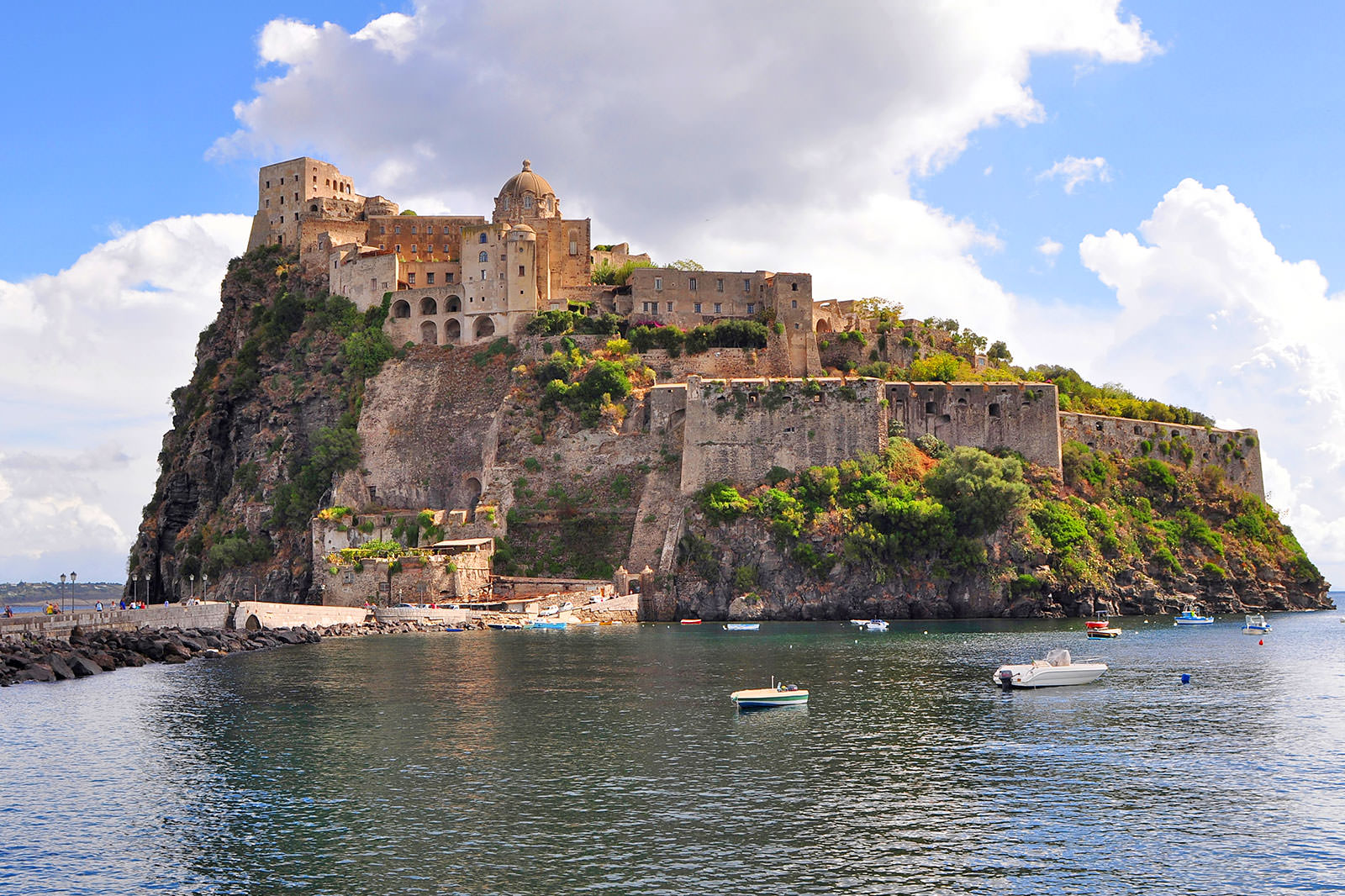 This islet on Ischia's beautiful east coast has the medieval castle of Aragonese as the icing on the cake. From the port, it's a half-hour walk past hotels, pizzerias and the lush Pineta Mirtina Park (or a 7-minute drive). Crossing the causeway to the islet is a visual treat, and there's a lift that you can take to the castle's main area. If you're fit, a network of carved stone paths and tunnels leads you to many different spots on the islet to explore. Tickets to the castle are around €10, with guided tours available.
Location: Via Pontile Aragonese, Ischia, Italy
Open: Daily from 9 am to 4 pm (winter) and from 9 am to 8 pm (summer)
Phone: +39 (0)81 992834
3
Chiaia Beach
Considered Ischia's best beach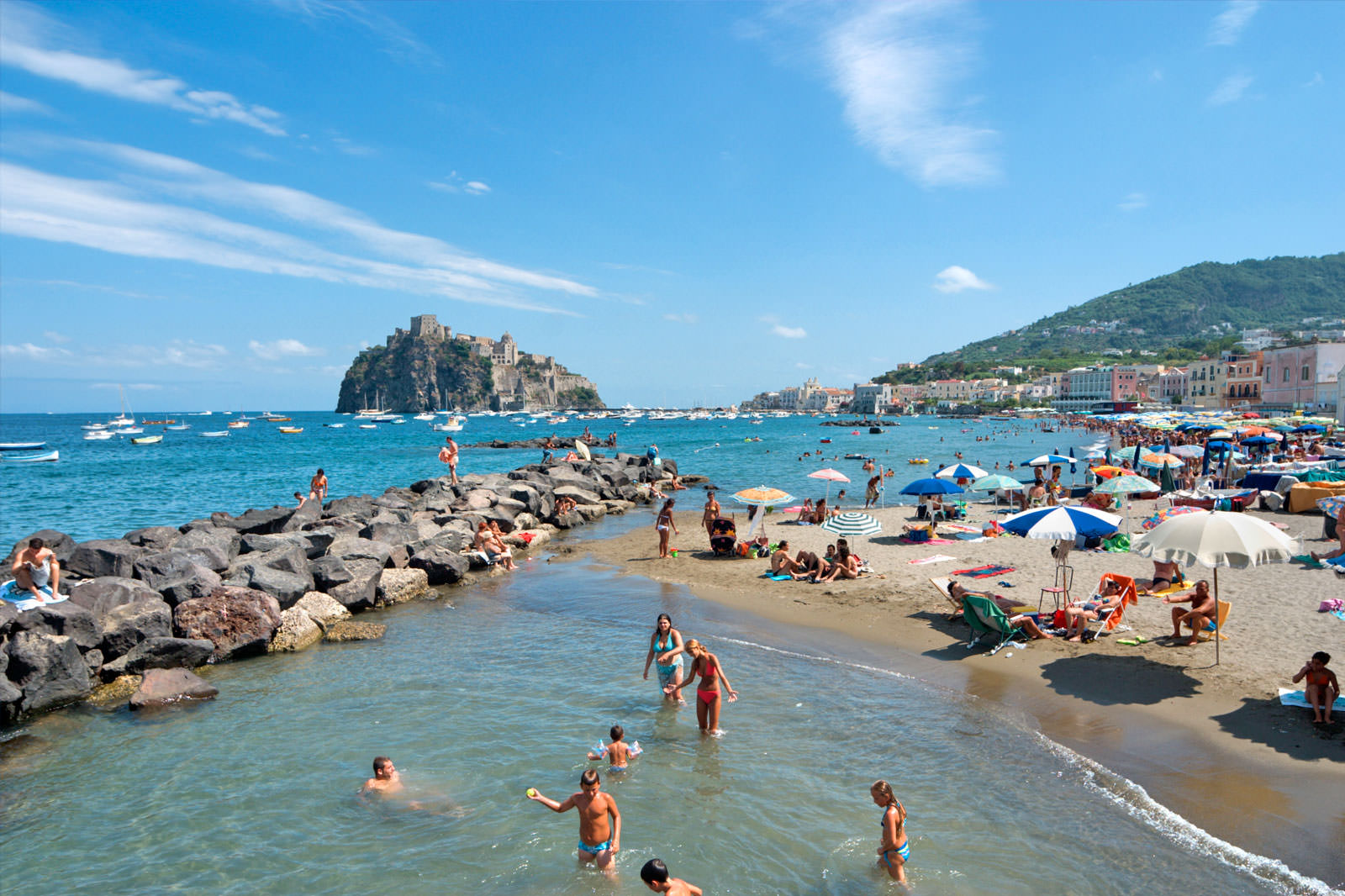 The west-facing Spiaggia della Chiaia (Chiaia Beach) is Ischia's widest coastal stretch, and is a great spot to head to for fun in the sun and to take in Ischia's glorious sunsets. The kids can splash in the calm Tyrrhenian waters, while mum and dad take advantage of the parasols and sun loungers laid out neatly along the coast. Most of the beach's midsection is divided into different zones that are managed by beach bars, such as the Chalet Nonna Carmela, who rent out their sun loungers and facilities (from €22). The wide northern end is mostly free, though.
Location: Via Spinesante, Forio, Italy
Open: 24 hours
4
Sant'Angelo Fishing Village
See the amazing thermal fumaroles!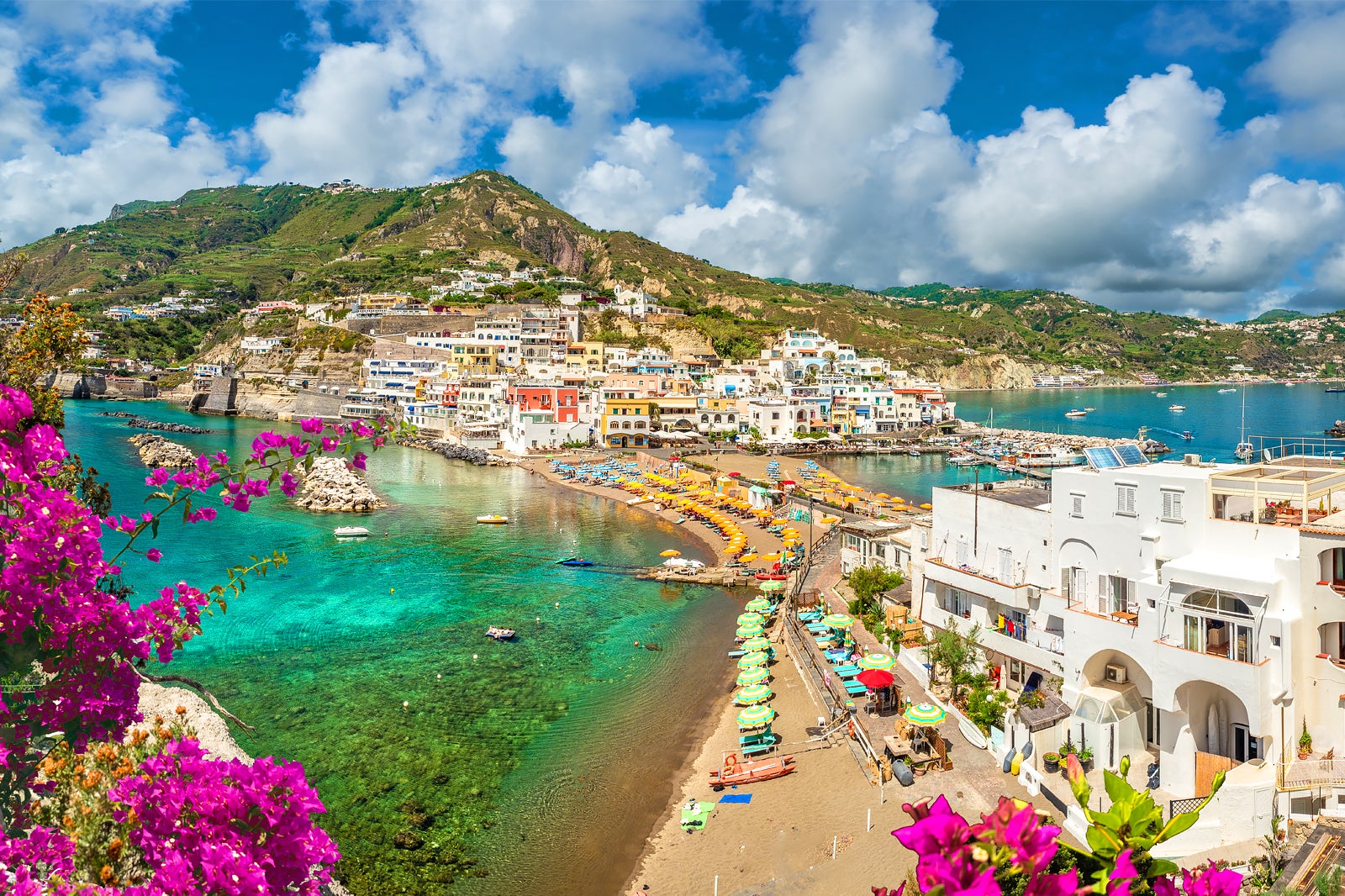 On the island's southern end, the idyllic coastal village of Sant'Angelo is connected to its main commune of Serrara Fontana by the narrow beach strip of Spiaggia di Sant'Angelo. Here, you can bask on the sand or on sun loungers, and there are plenty of bars and shops at both ends of the narrow causeway. A few minutes' walk northeast is the unique Fumarole Beach, where the sand is geothermally heated – great for a natural spa treatment. It's the best area to head to for a good variety of thermal parks and luxury spas.
Location: Sant'Angelo, Serrara Fontana, Ischia, Italy
Open: 24 hours
5
Giardini la Mortella
See one of Italy's most beautiful hillside parks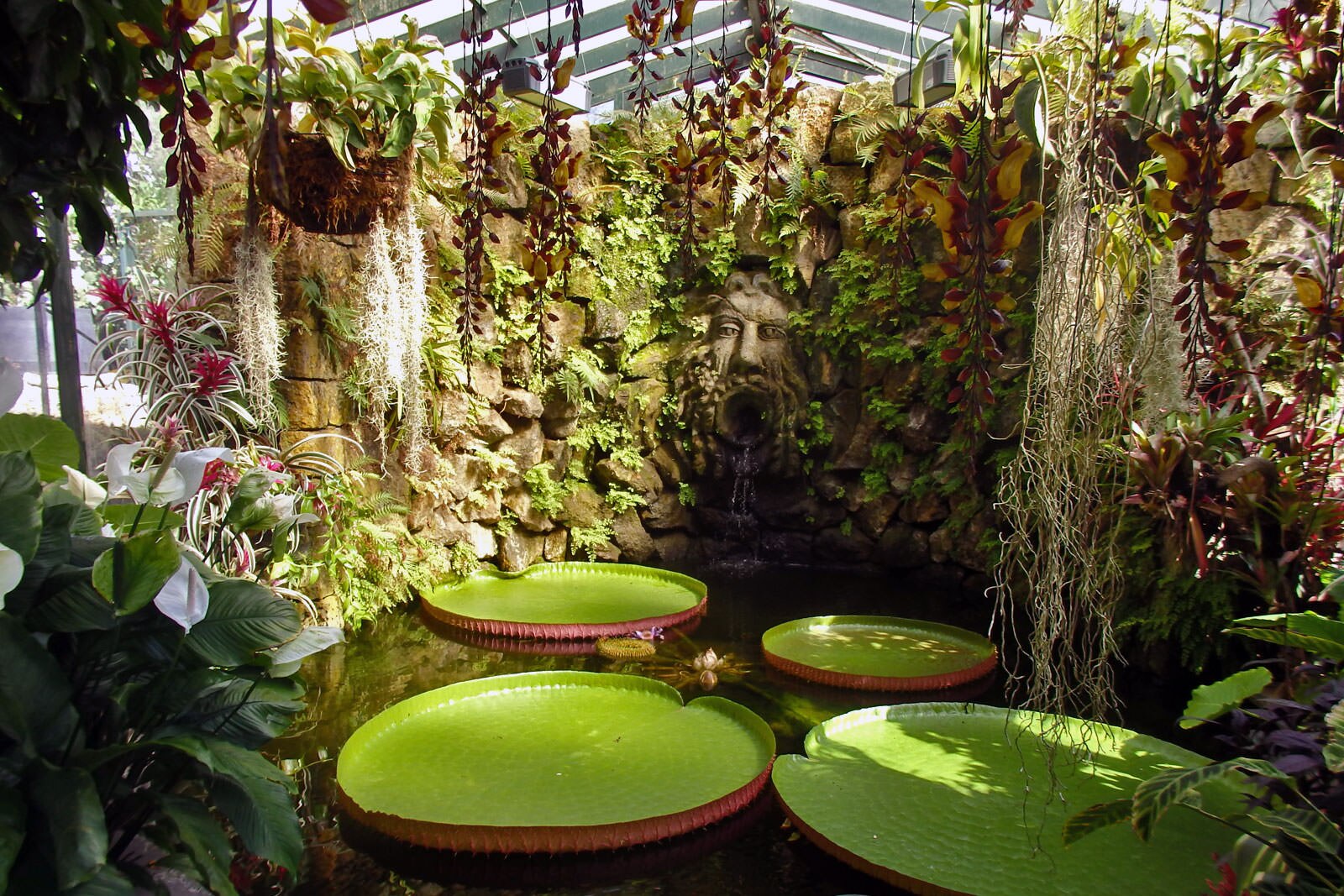 This vast and beautiful private garden in the hills of Forio, on the north-western point of Ischia, blooms with a mix of tropical and Mediterranean plants. For around €12, you can freely roam the leafy pathways spanning the 2 hectares of valleys and hillsides, with charming water features in between. Head up to the upper gardens for scenic bay views. There's a museum dedicated to classical composer Sir William Walton (whose wife built the gardens) and a Greek theatre that hosts classical and tribute concerts, as well as summertime events.
Location: Via Francesco Calise Operaio Foriano, 45, Ischia, Italy
Open: (March - October) Tuesday, Thursday, Saturday and Sunday from 9 am to 7 pm
Phone: +39 (0)81 986220
photo by Nemo bis (CC BY-SA 3.0) modified
6
Cartaromana Beach
Relax on a quiet beach near the busy town center
A small beach just off the main town of Ischia Point, Cartaromana Beach (La Spiaggia e la Baia di Cartaromana) offers natural hot springs, amazing sunrises and a tremendous view of the Aragonese Castle. This quiet beach also has rocky shores, pebbled sand and fauna-rich seafloors. There are plenty of excellent and reasonably priced restaurants nearby, while the waters brim with archeological finds.
You can get to Cartaromana Beach by walking, driving a car or riding a taxi boat. The boat is naturally faster, while the hike from Ischia Ponte takes about 45 minutes to an hour. The scenic view would be worth the climb, especially since the beach also offers wide spaces for rest. For cars, the closest parking area is a 20-minute walk from the beach.
Location: Via Cartaromana, 80077 Ischia NA, Italy
7
Chiesa del Soccorso
A small but scenic landmark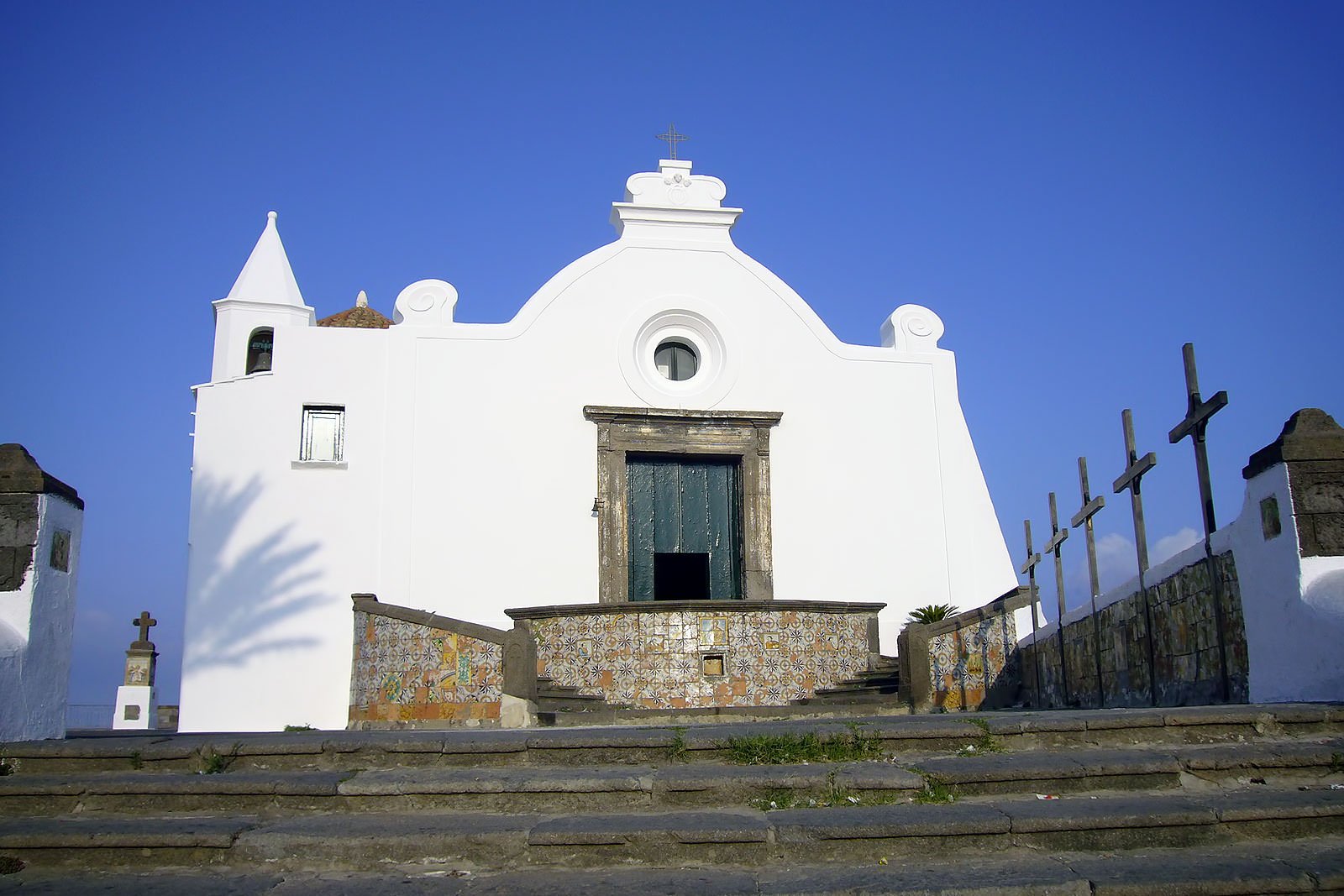 Though small and humble, Chiesa del Soccorso is one of Ischia's most scenic landmarks overlooking the Tyrrhenian, thanks to its setting. This all-white 14th-century Augustinian church was restored in the 18th century, and is about 10 minutes' drive southwest to Ischia's westernmost tip from Giardini la Mortella. It's set on top of a reinforced cliff point, and the view can be magical at both sunrise and sunset. Walk up to the church from the equally charming Piazzale Del Soccorso, which is home to a few other historical buildings, including the Municipio townhall.
Location: Via del Soccorso, Forio, Ischia, Italy
photo by Lalupa (CC BY-SA 3.0) modified
8
Monte Epomeo
Lunch with a view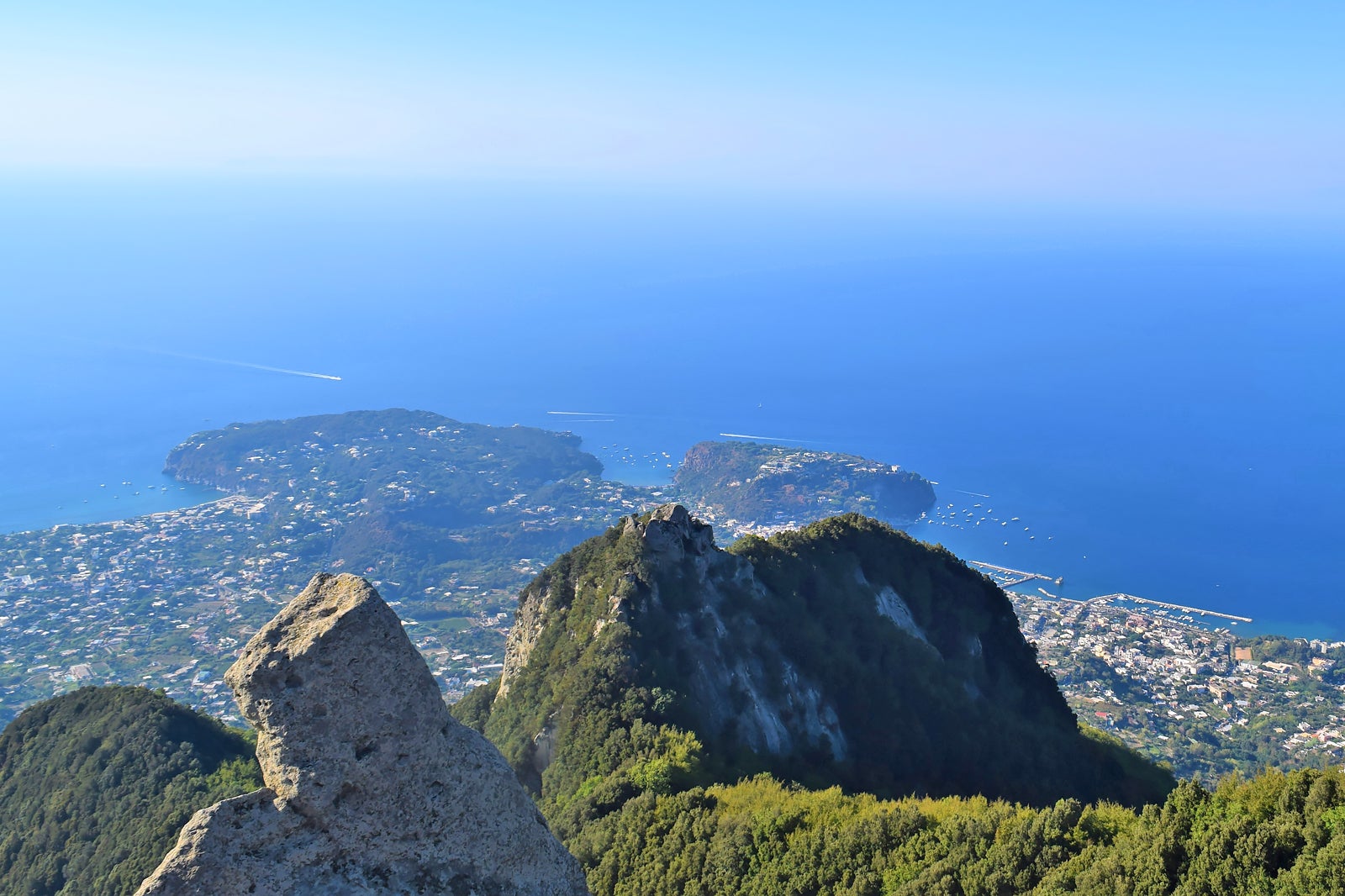 Couples
Food
Photo
Adventure
Climbing Monte Epomeo is almost certainly obligatory, especially if completing a physical challenge is a tantalizing prospect for you and your partner. The highest peak on Ischia rises almost 800 meters high. You'll be surrounded by lush mountainside greenery and beautiful vineyards as you make the journey to the top. Reaching the rocky summit will afford you brilliant views over Capri, Procida and the Gulf of Naples.
To reward your efforts, stop and enjoy a meal overlooking Ischia from La Grotta da Fiore. Dug into the mountain, the restaurant boasts one of the most incredible pieces of real estate on the island. Refuel and catch your breath with fresh tomato bruschetta, or treat yourself to a decadent dessert to replace all those calories you burnt on the way up.
Location: Via Epomeo, 21, 80070 Serrara Fontana NA, Italy
Open: February–November: Daily from 9 am to 6 pm (closed December–January)
9
Lacco Ameno
Explore the surroundings before settling onto the beach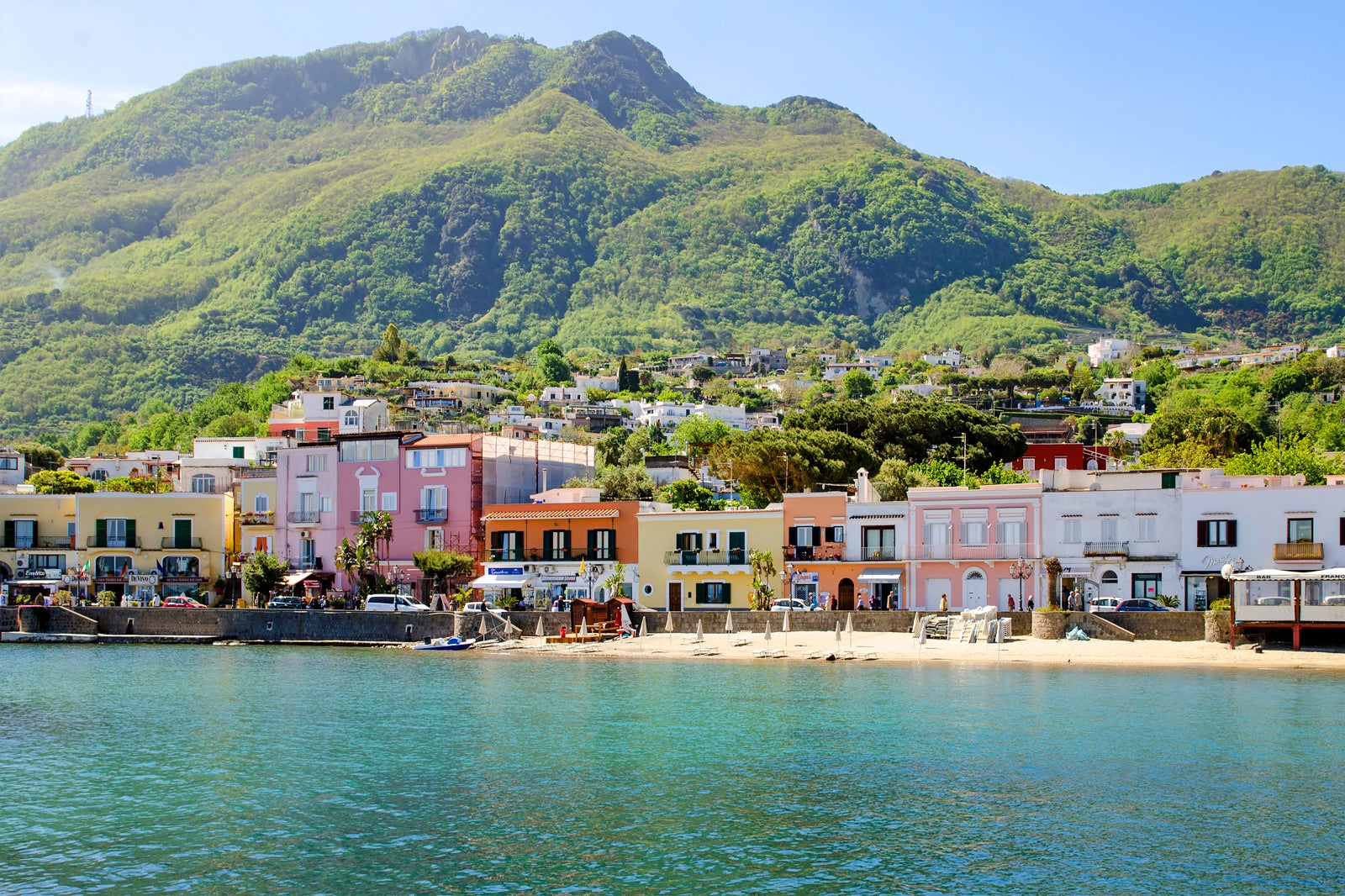 Couples
History
Photo
Budget
Lacco Ameno is a beautiful area of Ischia and is believed to be one of the first Greek settlements in Italy. The area has a rich history with a number of necropolises discovered in the surrounding region. Lacco Ameno is the smallest of Ischia's 6 towns, but also the prettiest. Nestled between hillsides are several beaches and a small bay, all of which are great for having a relaxing dip in the shallow waters.
As you make your way down to the seafront, explore the picturesque marina that hosts from small fishing boats to mega yachts. Continue to San Montano, the most popular beach with a naturally enclosed bay. Il Fungo Beach is also worth a visit, named after the mushroom-shaped rock just in front of it.
Location: Lacco Ameno, 80076 Metropolitan City of Naples, Italy
10
Ischia's thermal parks
Naturally heated pools to soak in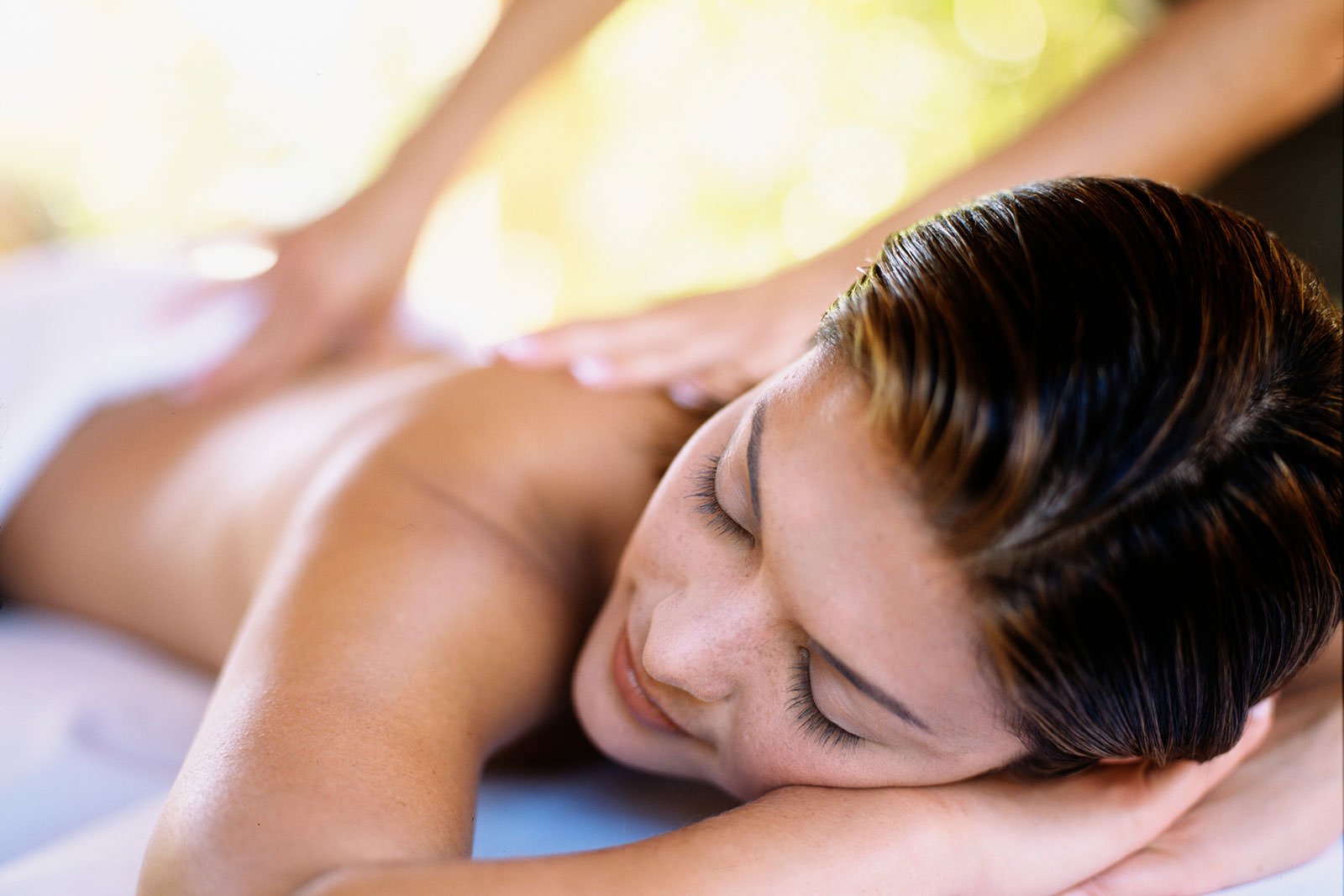 You can enjoy a soothing spa treatment at many thermal spas that dot Ischia's coast. Sant'Angelo and its Fumarole Beach has plenty of choices, some of which are luxurious and upscale. These include the Spa Aphrodite Apollon and the Romantica Resort & Spa, among others. Up in the northeast and around Forio, popular thermal gardens include Poseidon and Negombo. If you're pressed for time, the closest to Ischia Porto is the Castiglione thermal park with its 10 naturally heated pools.
Back to top