Hotels in Evian-les-Bains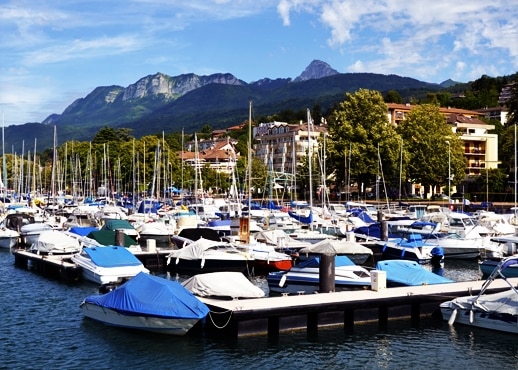 Search & Compare Evian-les-Bains Hotels
Find out more about Evian-les-Bains
Best hotels in Evian-les-Bains
How to Find the Best Evian-les-Bains Hotels with Hotels.com

Evian-les-Bains is a famous spa town in the French Alps, its name synonymous with fashionable spring water since the early 1800s. It enjoys a spectacular mountain setting on the shores of Lake Leman. The town enjoyed its heyday in the 19th century and the graceful architecture evokes the atmosphere of that period. Evian will appeal to travelers attracted by Alpine scenery, the tranquil spa ambiance, and stylish surroundings. Use the expertise and experience of online accommodation specialist Hotels.com to find Evian-les-Bains hotels, whatever your preferences or budget category. Book your Evian-les-Bains accommodation in advance using the quick and easy Hotels.com reservation system and look forward to an invigorating break in the mountains.

What's Evian-les-Bains Like?

The discovery of the natural springs in the 19th century made Evian-les-Bains into a fashionable mountain resort. The first spa baths were built in 1824 and the architecture of the town is a delight. Highlights include the Cachat pump room, once the center of social life in the spa, with its striking tiled cupola and curved window, decorated in the Art Nouveau style. The lakeside Palais Lumiere is another early 19th-century former spa building with an ornate interior, stained glass, a square tower, and glass dome. The casino and theater are stylish examples of 19th-century design. The streets of the old town are attractive, lined with high-end stores, and cafes offering lake views. In summer, a funicular climbs the slope between the pump room and the lakeside. The fountain next to the marina offers a spectacular choreographed music and light show during the summer months. Boat trips on the lake visit the Swiss towns of Lausanne, Montreux, Vevey and Chillon. Evian-les-Bains hotels offer the ideal base for exploring the Alpine region around the lake.

Tips for Getting Along with Locals in Evian-les-Bains

English-speaking visitors have been taking the waters at Evian-les-Bains since the 19th century, but it's still worth trying out a few French phrases in cafes and restaurants. In the town's day spas English is widely spoken, so you don't need to learn the French word for hydrotherapy. Evian has always been a chic resort so it's worth changing out of the Alpine hiking outfit into something a little more formal when dining out if you want to fit in with the elegant French vacationers. Get all the information you require to choose your ideal Evian-les-Bains place to stay from the Hotels.com site. Certified guest reviews provide honest assessments of Evian-les-Bains hotels, while our site's multiple photos and sample room layouts offer a clear impression of the amenities and facilities provided.