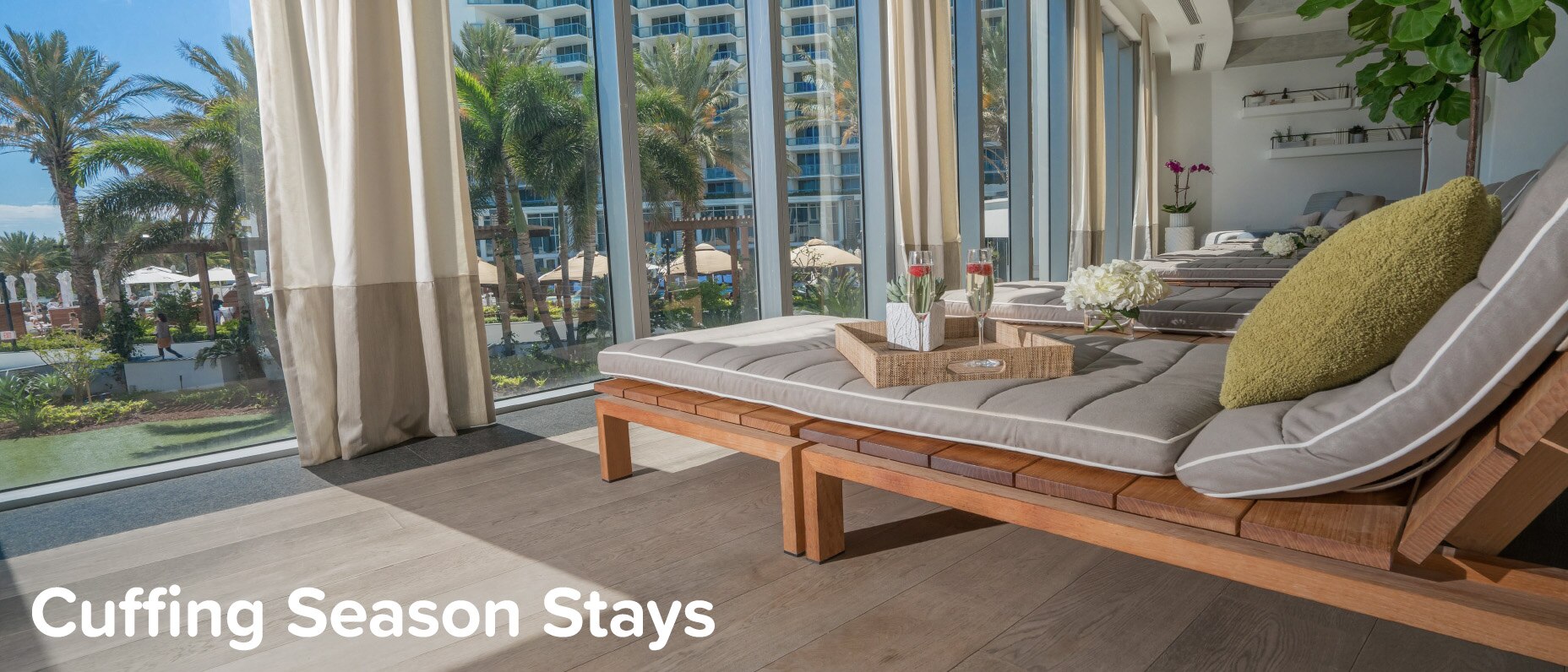 Nick and Vanessa Lachey are sending couples to their Perfect Somewhere.
Fall has arrived, which marks two things: sweater weather and the kickoff to cuffing season - that time of the year when people partner up for the cold winter months. 
That's why Hotels.com and Love is Blind hosts Nick and Vanessa Lachey are launching Cuffing Season Stays. These are weekends away at a dream hotel to help the dating public find out if they're compatible with their new someone. We're sending the couples to VIP hotels in top American cities that cater to different types of people. So whether you're a partygoer who looks for nonstop nightlife or a luxury lover with an appreciation for the finer things, you can find out whether your perfect someone matches your perfect somewhere.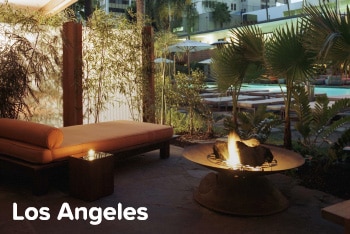 Power Couples
The famous Hollywood Roosevelt on the Hollywood Walk of Fame is where vintage glamour meets modern luxury. Catch a concert, make a splash at the pool, or try out the LA food scene.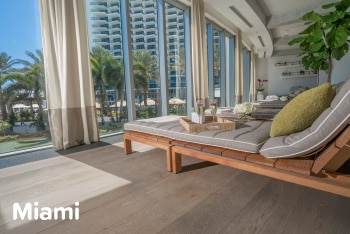 Luxury Lovers
Take a break at the 5-star Nobu Hotel in Miami Beach. Enjoy the hotel's full-service spa, four pools, two restaurants, and private beach.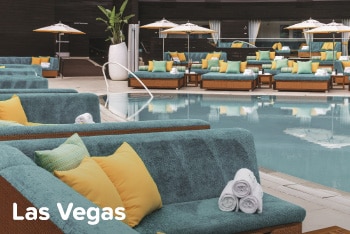 Partygoers
Go all out at the world-renowned ARIA Resort and Casino on the Vegas Strip. Known for its casino, nightclub, 13 restaurants and pool scene.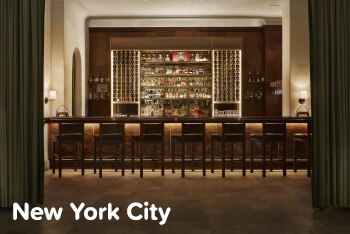 Have-it-all Types
Stay at the 5-star Refinery Hotel in the heart of Manhattan. Sights like the Empire State Building, Times Square, Broadway, and world-class shopping and restaurants are all a short walk away.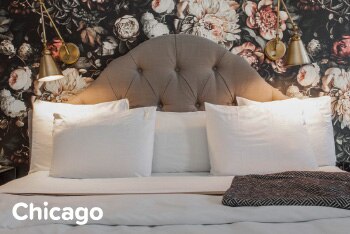 Cool Connoisseurs
Skip the Loop and stay at the boutique Wicker Park Inn on Chicago's Northwest side. Explore the local restaurant scene and shops, or catch the El train to downtown attractions.
Win Two Weekend Trips Worth up to $5K  
Hotels.com and the Lacheys are sending new couples to their Perfect Somewhere to put their relationship skills to the test this fall. Couples who've been dating for 6 months or less can enter a sweepstakes to win $2,500 in Hotels.com gift cards by submitting a photo together and sharing the top three activities they'd most like to try with their partner on vacation.
As part of the prize package, Nick and Vanessa will personally match five winning couples with their perfect Hotels.com Cuffing Season Stay. Winners will also be upgraded to Hotels.com Rewards Gold status, so even if they don't stay together, they can walk away as friends (with benefits from Hotels.com).  
And because everyone loves a cuffing season success story, if the winning couples stay together through Valentine's Day 2023 – and provide photographic evidence – Hotels.com will double their prize with another $2,500 in Hotels.com gift cards.  
Sign you and your partner up below from now until November 10, 2022 at 11:59 p.m. CT. Selected couples will be notified by November 25, 2022. Must be 21+ to enter, check out the full terms below.
Terms and Conditions for the Hotels.com "Cuffing Season" Sweepstakes (the "Sweepstakes")
No Purchase Necessary. A Purchase Will Not Increase Your Chances of Winning. By entering the Sweepstakes, you agree to be bound by these terms and conditions (these "Terms and Conditions").
The information you provide will only be used for the administration of this Sweepstakes and in accordance with Hotels.com's privacy policy (see below).
The Sponsor of this Sweepstakes is com, L.P., a Texas limited partnership having its registered office at 5400 LBJ Freeway, Suite 500, Dallas, TX 75240 ("Hotels.com").
Participants must be at least 21 years old at the time of entry, legally resident within the United States and are a Hotels.com Rewards member. If you are not a member, you must become one before your entry can be included in the prize draw. Membership is free. To become a member, visit https://www.hotels.com/hotel-rewards-pillar/hotelscomrewards.html and accept the Hotels.com Rewards terms and conditions. See https://www.hotels.com/customer_care/terms_conditions.html for complete terms. Employees and agents of Hotels.com or any of its subsidiary or affiliated companies and their immediate families and members of their households, and anyone otherwise connected with operation or fulfilment of the Sweepstakes are not eligible to take part. Hotels.com reserves the right to require participants to prove that they are eligible to enter the Sweepstakes.  If a winner is found to be ineligible, Hotels.com reserves the right to award the prize to another participant and to require the return of any prize already awarded.

The Sweepstakes commences at 12:01AM Central Time ("CT") on October 24, 2022 and all entries must be received by 11:59PM CT on the closing date of November 10, 2022.

To enter the Sweepstakes, you must fill out entry form by visiting hotels.com/CuffingSeason to provide your full name, email address, phone number, date of birth, Hotels.com Rewards member ID, your partner's full name, , share the top 3 things you would like to do on holiday with your partner and submit a photo of you and your partner (Image files up to 5GB are accepted in the following formats: JPEG, PNG, GIF, BMP, TIFF, and RAW), (an "Entry"). Entries received by any other means will not be accepted: only those sent by the official method will be accepted and will be taken into account in the Sweepstakes. 
Check this box to declare that you and your partner have been together for 6 months or LESS.  The use of an agency or any automated system to enter is strictly prohibited, and Sponsor reserves the right to disqualify any entries received through such methods, as determined by Sponsor, in its sole discretion. By entering, you indicate your full agreement to these Terms and Conditions and Sponsor's decisions regarding the Sweepstakes, which are final and binding. Winning a prize is contingent upon fulfilling all requirements in these Terms and Conditions.
IMPORTANT NOTE: Standard text messaging, data and/or other rates apply to participants who submit an Entry via a wireless mobile device. Wireless service providers may charge for airtime and/or data in relation to each standard text message sent and received. Please contact your service provider for pricing and service plan information and rates before mobile device participation.
Limit: Each entrant may upload one (1) Entry per person during the Entry Period.  Entries received from any person in excess of the stated limit will be void. Entries generated by script, macro or other automated means are void.  If requested, entrant will sign any documentation that may be required for Sponsor or its designees to make use of the non-exclusive rights entrant is granting to use the Submission.  Released Parties (as defined below) are not responsible for lost, late, stolen, damaged, incomplete, invalid, un-intelligible, garbled, delayed or misdirected Entries, all of which will be void.
By submitting an Entry, you agree that your Entry conforms to the Entry Guidelines and Content Restrictions as defined below. Entries will not be acknowledged.  In the event of a dispute as to the entrant of any Entry, the authorized account holder of the email address used to register for an account will be deemed to be the registrant for the purposes of entry to the Sweepstakes. The "authorized account holder" is the natural person assigned an email address by an Internet access provider, online service provider or other organization responsible for assigning email addresses for the domain associated with the submitted address. A potential winner may be required to show proof of being the authorized account holder. Sponsor cannot accurately predict the number of Entries which will be made to the Sweepstakes. The Terms of Service and Privacy Policy of the Website also apply to this Promotion. When you enter, you are providing information to Sponsor.  No purchase necessary.
Entry Guidelines and Content Restrictions: An Entry must meet the following guidelines: (a) the Entry must comply with these Terms and Conditions. Sponsor reserves the right to delete or disregard Entries that are inappropriate or that do not comply with the foregoing; and (b) the Entry must additionally comply with the following restrictions ("Content Restrictions"): (i) is original to him/her; (ii) does not violate any law, statute, ordinance or regulation; (iii) the Entry must not contain material that violates or infringes another person's rights, including but not limited to privacy, publicity or intellectual property rights, or infringe on any rights and/or interests of any third party; (iv) the Entry must not contain material that is hateful, tortious, defamatory, slanderous or libelous toward any person living or deceased, or otherwise infringe upon any person's personal or proprietary rights; (v) the Entry must not contain material that is obscene, sexually explicit or pornographic or promote bigotry, racism, hatred or harm against any group or individual or promote discrimination based on race, sex, religion, nationality, disability, sexual orientation or age, or that is designed to annoy or harass; (vi) the Entry must not make any references to alcoholic beverages, tobacco, drug paraphernalia, firearms, or any depiction or representation thereof; (vii) the uploaded submission must not contain any virus, Trojans, hacks, spyware or malicious code of any type; (viii) the Entry must be suitable for audiences of all ages and be consistent with Sponsor's reputation in the marketplace, including its reputation for quality and integrity; and (ix) the uploaded submission must not contain material that is unlawful, in violation of or contrary to the laws or regulations in any state where Entry is created.
Failure of any Entry to comply with the above Entry Guidelines and Content Restrictions, as determined by Sponsor in its sole discretion, may result in the deletion of the Entry and disqualification from the Sweepstakes. No Entry will be returned. Sponsor shall have the right to delete, edit, adapt and publish any or all of the Entries, and may use them in any media without attribution or compensation to the Entrant, his/her successors or assigns, or any other entity. As more fully explained in Section 6 below, SUBMITTING AN ENTRY IN THIS SWEEPSTAKES CONSTITUTES A GRANT OF AN IRREVOCABLE, ROYALTY-FREE WORLDWIDE LICENSE TO SPONSOR AND ITS AFFILIATES TO REPRODUCE AND DISPLAY THE UPLOADED ENTRY, OR ANY DERIVATIVE THEREOF, IN ALL MEDIA NOW KNOWN OR HEREAFTER DEVISED, INCLUDING, WITHOUT LIMITATION, THE INTERNET, IN PERPETUITY. Sponsor is not responsible for lost, late, incomplete, invalid, unintelligible or misdirected Entries. Such Entries are void and will be disqualified. Sponsor is not responsible for inability to connect to any website including but not limited to the Website. Sponsor is not responsible for inability to upload the Entry. Sponsor, in its sole discretion, may feature any submission submitted in this Sweepstakes at any time during, or after, the Entry Period on any related websites, in any promotional materials, whether related or unrelated to the Sweepstakes, and at any other location, whether physical or online, that Sponsor, in its sole discretion, deems appropriate for the operation and promotion of this Sweepstakes.
By entering the Sweepstakes and submitting an Entry, each entrant: (i) grants to the Sponsor, in perpetuity, a non-exclusive license to publish, display, reproduce, modify, edit or otherwise use his/her Entry (and each component thereof), in whole or in part, for advertising or promoting the Sweepstakes or for any other reason; (ii) waives all moral rights in and to his/her Entry (and each component thereof) in favor of the Sponsor; and (iii) agrees to release and hold harmless the Released Parties from and against any and all claims, damages, liabilities, costs, and expenses arising from use of his/her Entry (or any component thereof), including, without limitation, any claim based on publicity rights, defamation, invasion of privacy, copyright infringement, trademark infringement or any other intellectual property related or other cause of action whatsoever. For greater certainty and the avoidance of any doubt, the Sponsor reserves the right, in its sole and absolute discretion and at any time, to disqualify any Entry (or any component thereof) if a complaint is received with respect to the Entry, or for any other reason.  If such an action is necessary at any point during or after the Sweepstakes, then the Sponsor reserves the right, in its sole discretion, to take whatever action it deems necessary based on the circumstances – including, without limitation, disqualifying the Entry and/or the associated entrant.   

There are (5) prizes across all entries to be won. Each prize will consist of a com gift card worth $2,500 (the "Prize"). Each person in the couple will also receive Gold status for one (1) year. To confirm, only the winner whose name is drawn will receive the gift card, not both members of the couple. Five winners will be selected randomly and given one will receive the Prize.  
Sponsor will contact the five winners on or about February 14, 2023 to confirm they are still with their partner. If a winner confirms, by submitting a second picture showing them and their partner, such winner will receive another Hotels.com gift card valued at $2,500.  Each prize has a total Approximate Retail Value ("ARV") of up to $5,000 (total ARV of all prizes is up to $25,000).
Any difference between the indicated ARV and the actual value will not be credited.  The Prize may only be used by the winner. An identity document may be requested in order to verify the identity of the winner.  A winner is responsible for paying any withholding taxes and income taxes, if any, and any other costs and expenses not listed herein as being provided. In the event that a withholding tax on the Prize (or a portion thereof) is required by law, the winner authorizes Hotels.com to make the required deductions from the prize amount. The Prize is as described. It is also non-transferable and non-exchangeable. Hotels.com will not replace any lost or stolen Prize, in whole or in part. The winner may not transfer, assign, replace, or exchange the Prize for cash, except at the sole discretion of Hotels.com, which reserves the right to replace the Prize (or any part thereof) with a Prize of equivalent or greater value. By entering the Sweepstakes, entrants agree that the prize will be awarded "as is", and that Hotels.com, its subsidiaries or affiliates make no warranties or representations of any kind with respect to the Prize.  The use of the Hotels.com is subject to the General Terms and Conditions of Use, see [https://www.hotels.com/page/giftcards/ for more information.
The winners of the Sweepstakes will be the first five (5) names chosen at random from all complete, eligible, properly submitted entries received before the end of the applicable closing date.

The winners will be notified no later than 15 business days after the Sweepstakes end date via the email address provided on entry to the Sweepstakes. A winner may be required to submit valid identification before receiving their prize.  The prize will be sent to the winner by email provided by the winner in advance.  If any e-mail(s) to a winner are returned as undeliverable or a winner does not claim the prize within 72 hours, Hotels.com reserves the right to conduct a further random draw to award their prize to another participant.

In the event that the operation, security, or administration of the Sweepstakes is impaired in any way, Sponsor may, in its sole discretion, either: (a) suspend the Sweepstakes to address the impairment and then resume the Sweepstakes; or (b) award the prizes according to the criteria set forth above from among the eligible entries received up to the time of the impairment. Sponsor reserves the right, in its sole discretion, to disqualify and seek damages from any individual who tampers with the operation of the Sweepstakes, violates these Terms and Conditions, or acts in a disruptive or unsportsmanlike manner. Sponsor's failure to enforce any term of these Terms and Conditions shall not constitute a waiver of that provision. Proof of sending any communication to Sponsor by mail shall not be deemed proof of receipt of that communication by Sponsor. The Sweepstakes is subject to federal, provincial, state, and local laws and regulations and is void where prohibited.

Release and Limitations of Liability: Except where prohibited, by entering, you agree to release and hold harmless Sponsor, their parent, subsidiaries, affiliates, and each of their respective officers, directors, employees, and agents (the "Released Parties") from and against any claim or cause of action arising out of participation in the Sweepstakes or receipt or use of any prize, including, but not limited to: (a) unauthorized human intervention in the Sweepstakes; (b) technical errors related to computers, servers, providers, or telephone or network lines; (c) printing errors; (d) lost, late, postage-due, misdirected, or undeliverable mail; (e) errors in the administration of the Sweepstakes or the processing of entries; or (f) injury or damage to persons or property which may be caused, directly or indirectly, in whole or in part, from entrant's participation in the Sweepstakes or receipt or use of any prize. You further agree that in any cause of action, in no event shall the Released Parties be liable for attorney's fees. You waive the right to claim any damages whatsoever, including, but not limited to, punitive, consequential, direct, or indirect damages.

Collection and Use of Your Personal Information: Hotels.com may collect and process your personal information directly or through our agents or contractors. We will use your personal information as necessary in order to conduct and manage the Sweepstakes, and where we have a lawful basis to do so, to send marketing communications to you. We may disclose your personal information to our related companies, agents, and contractors to assist in conducting and managing this offer, communicating with you, or storing data. This may include disclosures to organizations outside the United States.
Please see our Privacy Statement  for more information about how we process your personal information and how you can exercise your rights:  https://www.hotels.com/customer_care/privacy.html?pos=HCOM_US&locale=en_US
Except where prohibited, you agree that any and all disputes, claims, and causes of action arising out of, or connected with, the Sweepstakes or any prize awarded shall be resolved individually, without resort to any form of class action, and exclusively by the appropriate court located in Texas. All issues and questions concerning the construction, validity, interpretation, and enforceability of these Terms and Conditions, your rights and obligations, or the rights and obligations of the Sponsor in connection with the Sweepstakes, shall be governed by, and construed in accordance with, the laws of Texas, without giving effect to any choice of law or conflict of law rules (whether of Texas or any other jurisdiction), which would cause the application of the laws of any jurisdiction other than Texas.

To request a winners list, send a self-addressed, stamped envelope to Administrator, com Cuffing Season Sweepstakes, 5400 LBJ Freeway Suite 500, Dallas, TX 75240. Requests must be received within four (4) weeks of the end of the Sweepstakes Period.