Hotels in Estoril, Portugal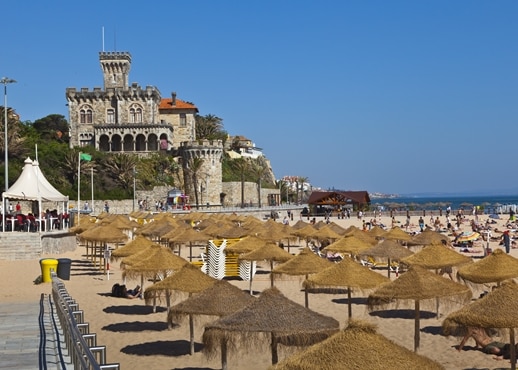 Search & Compare Estoril Hotels
Find out more about Estoril
Best hotels in Estoril
How to Find the Best Hotels in Estoril

The sunny Estoril coastline has maintained a 100 year history of tourism. The Estoril region marks one end of the Western European continent. Its temperate climate, situated close to sandy beaches and rugged cliffs make choosing hotels in Estoril an excellent option. It is located near to Lisbon, and also the neighbouring towns of Cascais and Sintra. Hotels.com is an online hotel reservations specialist, with over 30,000 destinations to choose from, you can trust Hotels.com to have the best Hotels in Estoril, Lisbon. You can see our hotels by reading the numerous positive reviews on the website.

Whats Estoril Like?

Estoril is a coastal area and a suburb of Lisbon. It is famous for its beaches, of which Tamariz is well known among many of the locals. Along both the Estoril cliffs and the beaches themselves, there is a diversity of wildlife. Sunbathing is a popular pursuit by most people in the Lisbon area, with all of the beaches on the Cascais line linked by a train connection between Cascais and Cais do Sodré in central Lisbon. Traveling by car from Estoril is convenient, with the Avenida Marginal following the train line. Cascais is also a coastal town worth visiting. It is known for its biodiversity and beaches along its cape. Guincho beach is known in particular for its surfing, as well as Carcavelos beach, a town neighbouring Estoril. From Estoril or Cascais you can easily visit Sintra, a UNESCO World Heritage village. Another highlight of the Estoril region itself is Cabo da Roca, a cape that marks the most westerly mainland point in Europe.

Tips for Getting Along with Locals in Estoril

As you would expect from such a destination the emphasis of life in this town is on relaxation; so a slow approach is always welcomed in Estoril. Fresh fish and seafood are popular dishes for Estoril locals, with the coastline only a short stroll away. Estoril is also renowned for the Casino Estoril, which has a long history and remains a major landmark in the area. Golf is also enjoyed on courses along the Estoril coast. While looking at hotels in Estoril, Lisbon with Hotels.com, you can be sure that Estoril will welcome you as a visitor with open arms. Other tips on Estoril and Lisbon can be found on Hotels.com where offer tips and guides to ensure you make the most out of your holiday. Hotels.com aids you in choosing the perfect holiday getaway with a simple booking system and a wide range of accommodations suited to your needs.