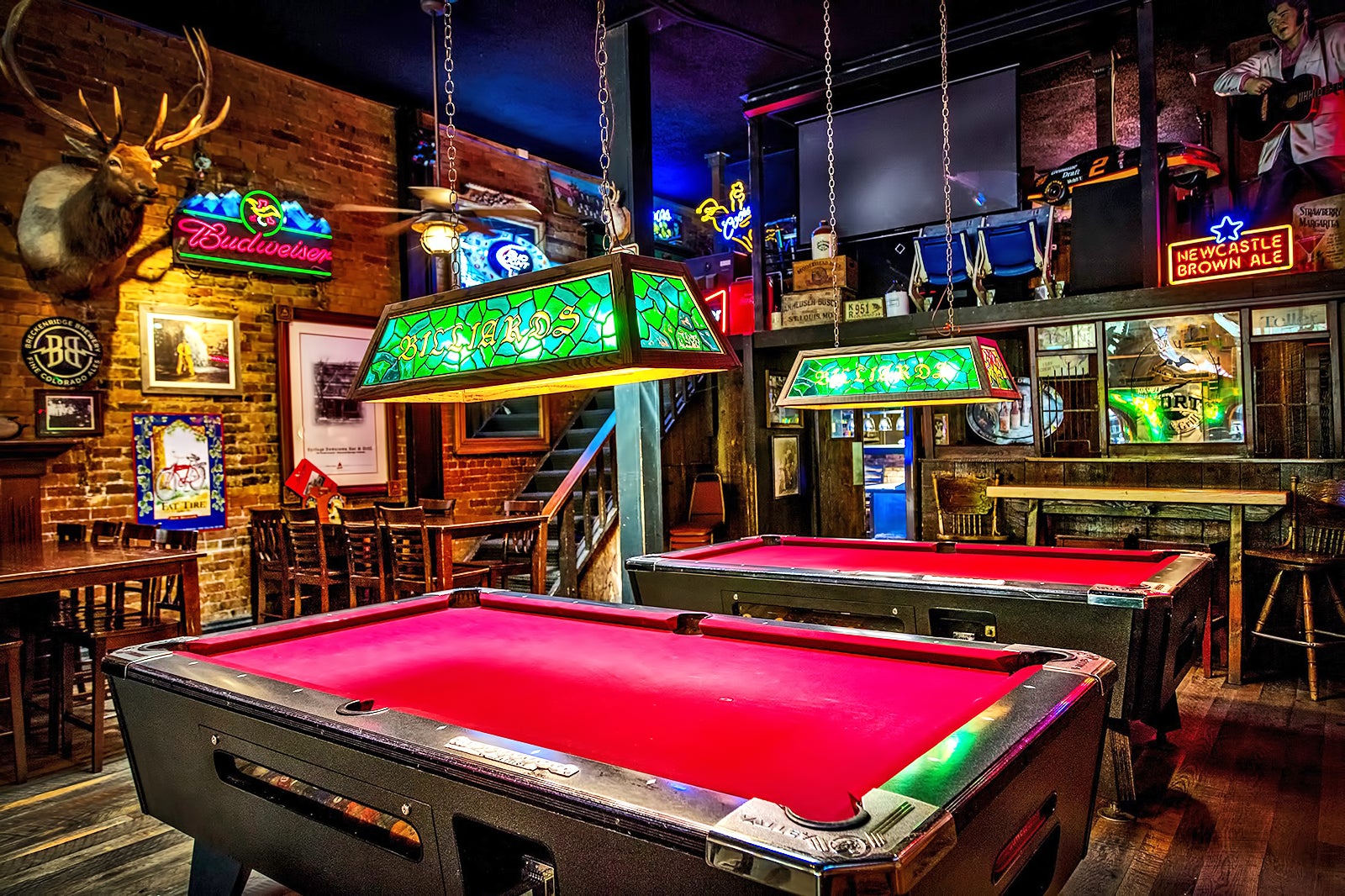 Wall Street Plaza is one of the go-to locations in Orlando's Downtown core for wall-to-wall bars, pubs and clubs. Many of these venues double up as laidback diners during the daytime, before the crowds arrive. Even though many of the bars here get packed-out with day-trippers, bachelor/bachelorette parties, and international visitors, Wall Street Plaza still offers a more 'local' experience compared to other nightlife areas in Orlando.
This entertainment complex promises a fun mix of laidback restaurants, lively bars, and all-out nightclubs, with 7 venues in total. This is also the epicenter of many a party in Downtown, with the outdoor square getting packed out for special events such as New Year's Eve, St. Patrick's Day, Halloween and a few local events such as RumFest, Florida Music Fest and City Skip Day. The road is closed-off to traffic every Friday and Saturday night from 9pm for their weekly 'Block Parties', with live DJs and no cover charge.
Wall Street Plaza Orlando - one of the highlights of 11 Best Things to Do in Downtown Orlando and 9 Best Nightlife Experiences in Downtown Orlando (Read all about Orlando here)
Where to eat, drink and party at Wall Street Plaza
Marketed as '7 Venues, 1 Location', you could easily start and finish your night without ever leaving Wall Street Plaza. Here is a breakdown of Wall Street's venues:
Wall Street Cantina – This Mexican restaurant and bar serves up everything you'd expect, which means fajitas, burritos, enchiladas and tacos. With cheesy Latin American-themed décor as bright as this, you'd feel silly drinking anything other than Corona or tequila ($3 a bottle or $4 a shot during happy hour from 4pm to 7pm). Small 'Canita-Ritas' are also $3 all day long.
The Hen House Bar – This tiny, no-frills bar goes big on the craft beers, rare liquor and snacks, though getting a seat on the weekend during Wall Street Plaza's popular Block Parties can be a challenge. Instead, you can just order at the bar and enjoy your brew outside, alfresco-style, with the rest of the crowd.
Hooch – Head to Hooch for their 4pm to 7pm happy hour and alfresco setting, with most of the seating being spread out over the outside square. Ask to try their weekly batch of moonshine, which includes Apple Pie and Lemonade varieties of the mysterious alcoholic mix.
The Monkey Bar – This is one of the more sophisticated venues at Orlando's Wall Street Plaza, with the drinks menu going big on the martinis. The upstairs area is a good place to escape the crowds, and can also be rented out for private parties.
Sideshow – This all-in-one venue has a menu of American comfort food, cheap cocktails from $6, live music, sports screens and plenty of seating options. Look out for their Sunday buffet running from 11am to 3pm, which at around $15 is an absolute bargain.
Waitiki – Another outdoor bar, expect the Pacific-themed cocktail menu here (comprising mostly rum-based Mai Tais and mojitos) to match the name. The food menu is mostly no-frills bar snacks and burgers, while groups should definitely order their signature Waitiki Fish Bowl; the perfect accompaniment to the reggae session in the evening.
Shine – Wall Street Plaza's main club, Shine is the sort of place you want to end the night at, rather than start it. They stay open until 2am Thursday to Sunday, with the sizeable venue boasting some cool, rustic/industrial décor with exposed brick walls, wooden floors and chunky metal lightbulbs hanging from the ceiling on thick chains.
Wall Street Plaza Orlando
Location: 25 Wall St, Orlando, FL 32801, USA
Phone: +1 407-849-0471
Back to top