10 Famous Film Locations in Miami
Visit Sights From the Big and Small Screen
Miami's beautiful scenery, historic buildings, and energetic atmosphere make it a top choice for many filmmakers when choosing film locations. Whether for a short scene with an iconic landmark in the background or films shot on-location to capture the magic and energy of the city, Miami has been featured in many films and television shows.
From thrilling action films to charming family comedies to quirky dramas, check out 10 famous film locations in Miami that you can visit on your trip.
1
Fontainebleau Miami Beach (Scarface and The Bodyguard)
Walk the footsteps of Tony Montana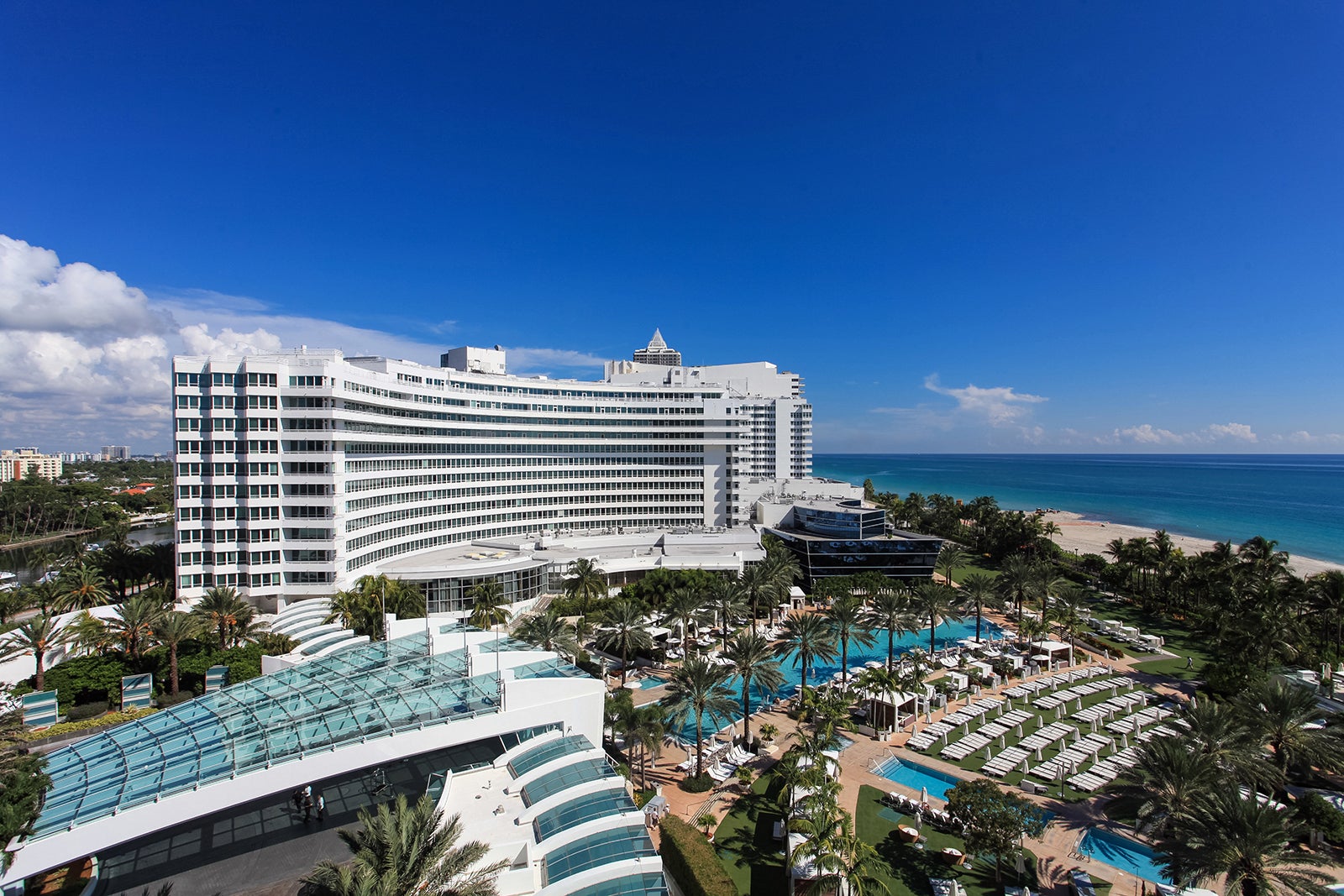 Fontainebleau Miami Beach is a luxurious resort on Ocean Drive that was featured in the iconic films "Scarface" (1983) and "The Bodyguard" (1992). The famous chainsaw scene in "Scarface" took place in the beloved hotel, and the main character, Tony Montana, uses a payphone in a scene with the resort in the background.
Located on the oceanfront east of city centre, Fontainebleau Miami provides a beautiful backdrop for film scenes and captures the energy and culture of the city. The pool area lent itself to a scene with Tony and his friend looking for women in "Scarface," but it's now a hot spot for day parties in the city.
Location: 4441 Collins Ave, Miami Beach, FL 33140, USA
Phone: +1 305-535-3283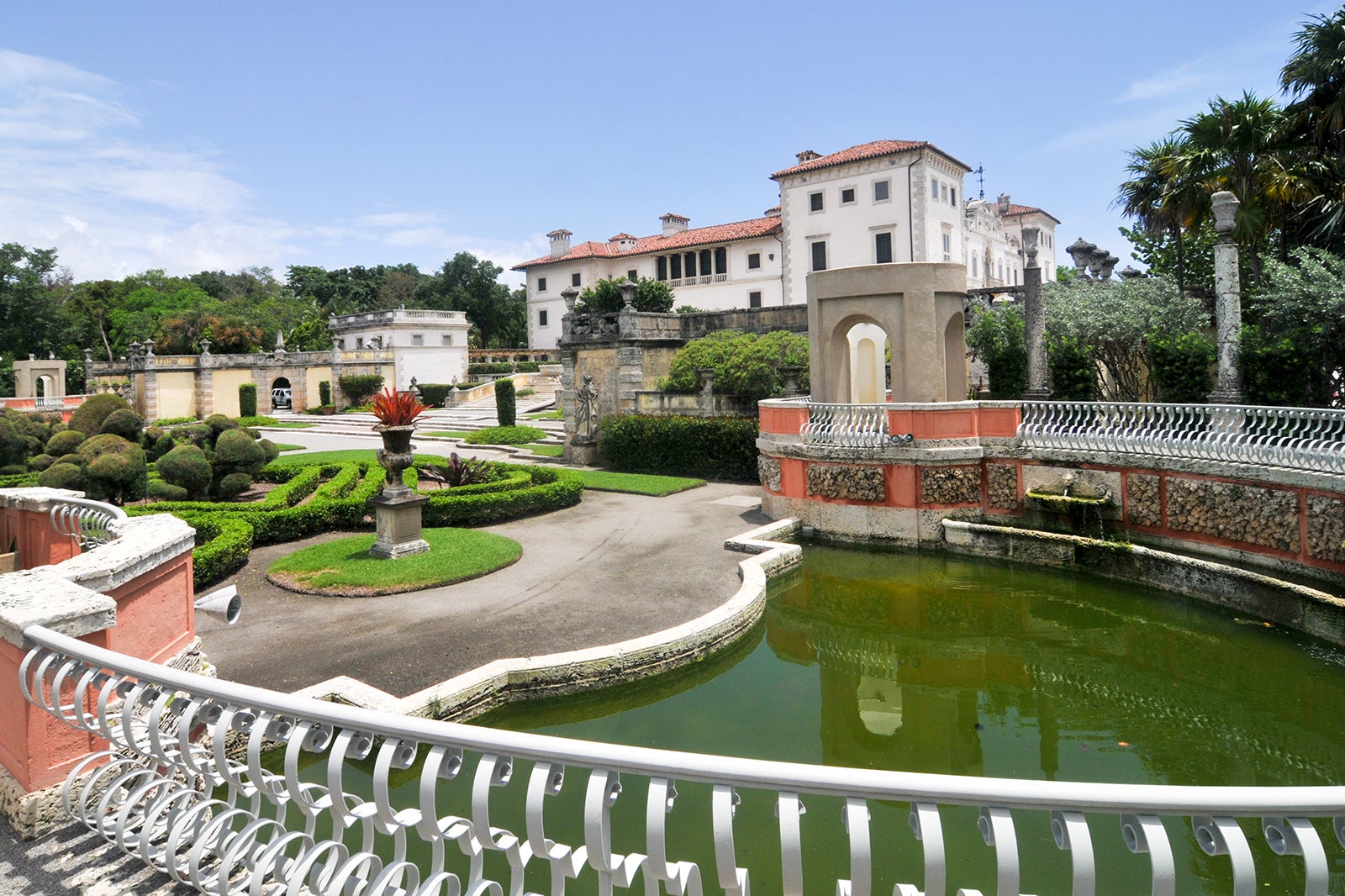 Vizcaya Museum and Gardens is the stunning European-style estate of James Deering that was used as Tapia's house in "Bad Boys II" (2003). The mansion was blown up in the film, but in reality, the filmmakers blew up a different mansion in the area. The other house scenes used the real-life Vizcaya estate. Several other Miami Beach landmarks were used in the film as well, such as City centre Miami, MacArthur Causeway, and the Mandarin Oriental.
The opulent villa and estate are located in the Coconut Grove area, east of city centre, and feature Italian-renaissance gardens, woodland areas, and historic outbuildings. Here, you can spot the setting for scenes in the film and appreciate the beauty of the 20th-century estate.
Read more
Location: 3251 S Miami Ave, Miami, FL 33129, USA
Open: Thursday–Monday from 9.30 am to 4.30 pm (closed Tuesday–Wednesday)
Phone: +1 305-250-9133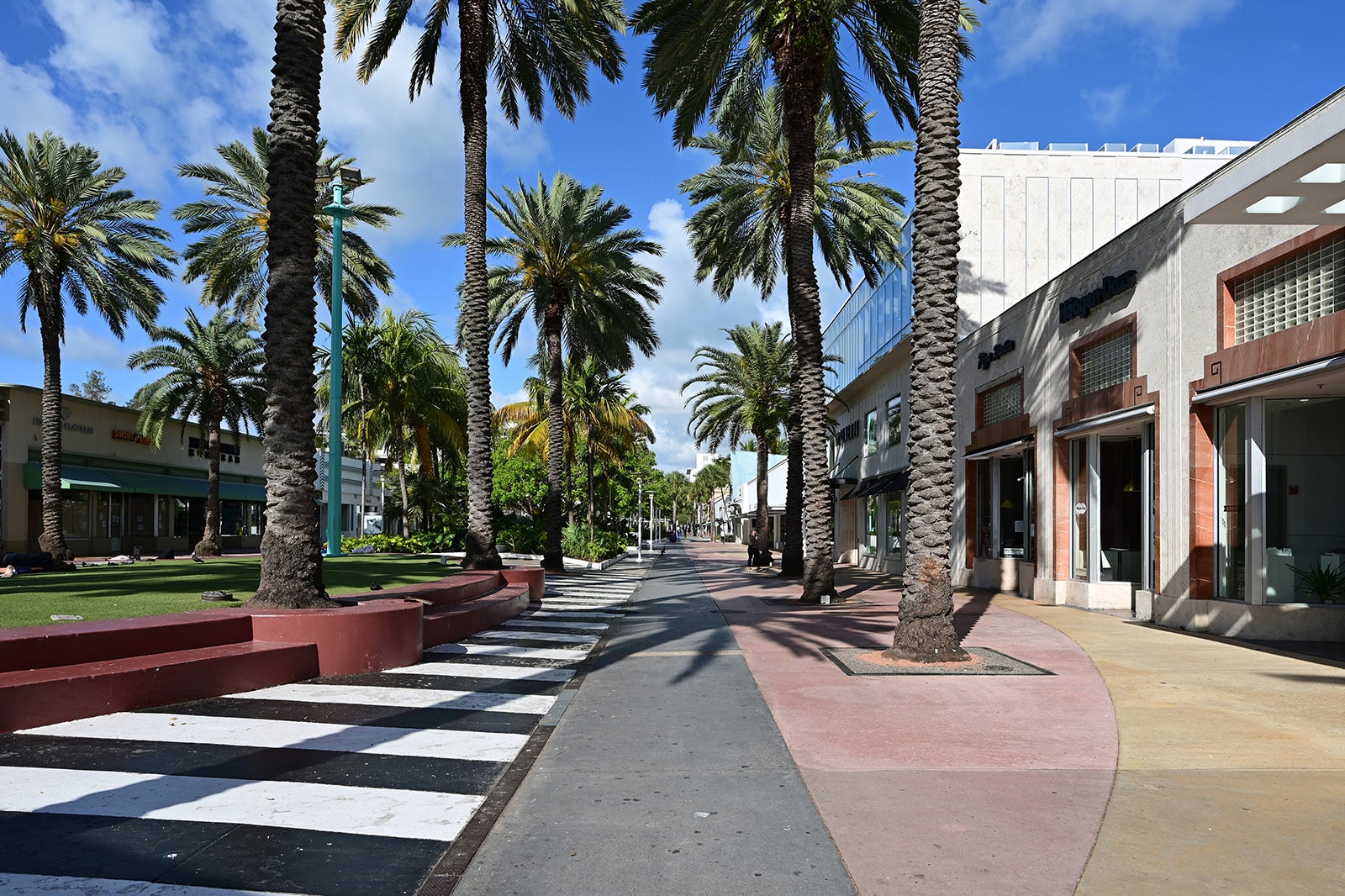 The Lincoln Road Mall is an open-air mall that was used for a scene with Robin Williams and Nathan Lane in "The Birdcage " (1996). While the entire film showcases the unique energy of the city, particularly the nightlife, the mall scene features a romantic walk between the 2 characters.
Located in Miami Beach, east of city centre, the Lincoln Road Mall is an iconic city attraction. The mall is pedestrianised and features shops, restaurants, and galleries on the bayfront. You'll also find historic performing arts venues, the Colony Theatre, and several nearby art galleries and studios.
Read more
Location: Lincoln Rd, Miami Beach, FL 33139, USA
Open: Sunday–Friday from 10 am to 11 pm, Saturday from 10.30 am to 11 pm
4
Versailles Restaurant (Chef)
Find inspiration at a Cuban restaurant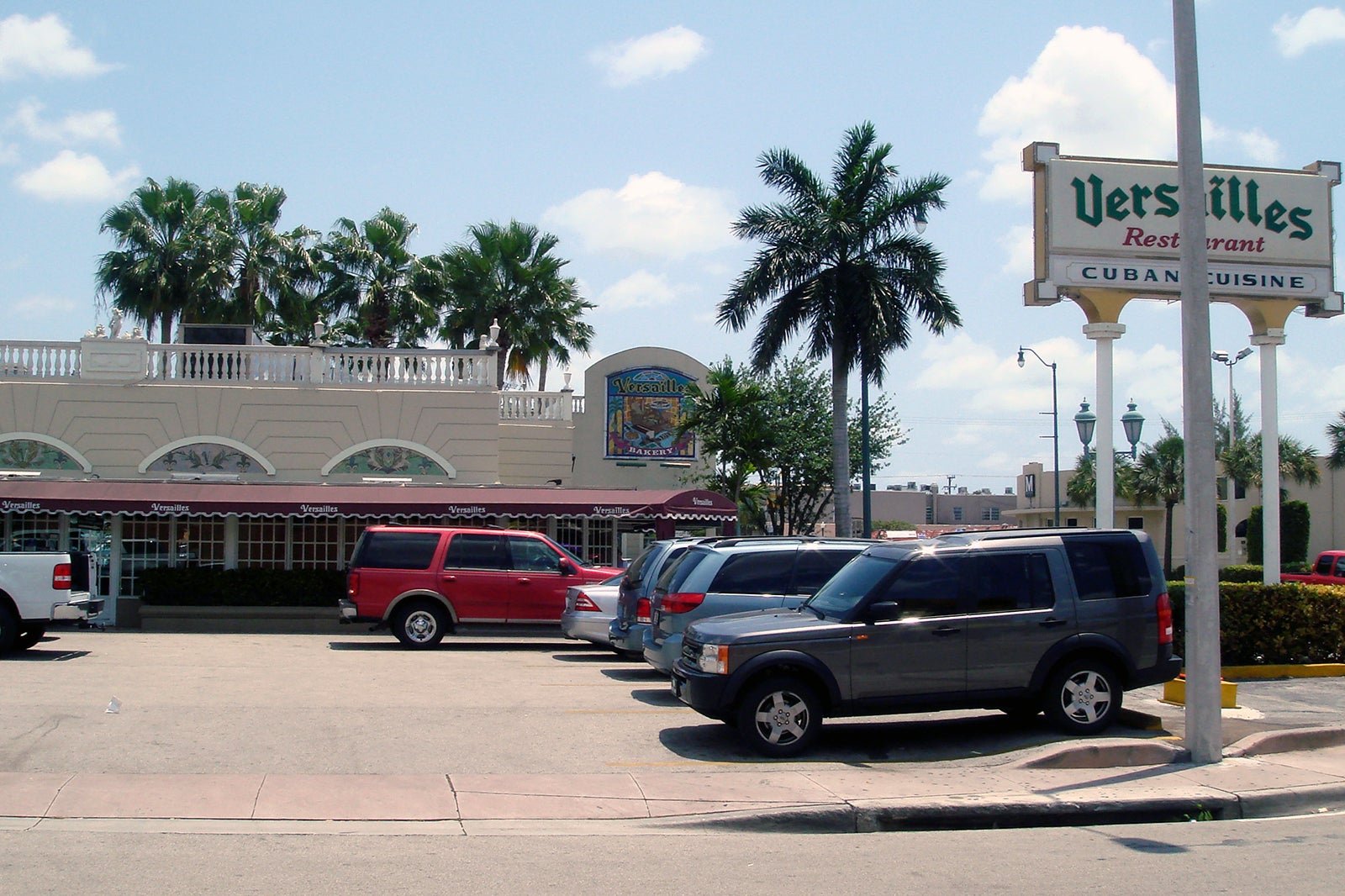 Versailles Restaurant is a Cuban restaurant hot spot in Little Havana that was used as a filming location for "Chef" (2014). In the film, Jon Favreau's character has a late-night Cuban sandwich at the restaurant that inspires him to move to Miami and start a food lorry.
Located about 10 minutes from city centre, Versailles Restaurant is a local hub for the city's Cuban population and a popular dining destination. With its strong local culture, the restaurant also serves as a political platform for anti-Castro Cuban exiles.
Location: 3555 SW 8th St, Miami, FL 33135, USA
Open: Tuesday–Thursday from 8 am to 11 pm, Friday–Saturday from 7 am to 11 pm, Sunday from 8 am to 11 pm, Monday from 7 am to 11 pm
Phone: +1 305-444-0240
photo by Bobak Ha'Eri (CC BY 3.0) modified
5
The streets of Miami (2 Fast 2 Furious)
Cruise the same streets as the famous film drivers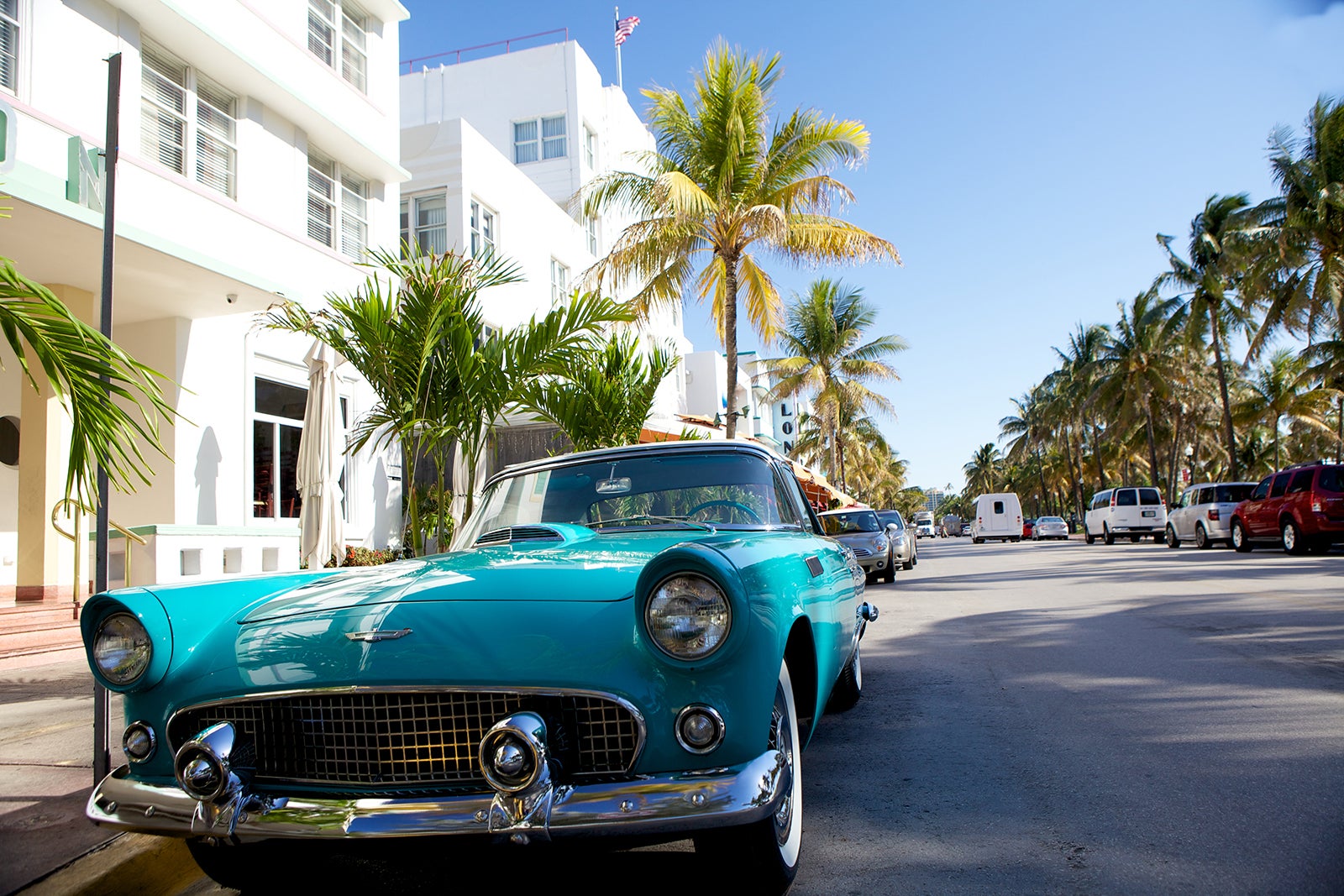 The streets of Miami and their palm trees and sunshine were used in several scenes in the car-race film "2 Fast 2 Furious" (2003). The car film, part of the "Fast & Furious" franchise, featured 2 drivers who go undercover to apprehend a drug lord and clean their criminal record.
Much of the film includes driving and racing scenes on the streets of Miami and other parts of South Florida. Some of the locations include Miami Beach, Seven Mile Bridge, and Homestead Air Base. The drug lord's mansion was also a real mansion in the Coral Gables area that was owned by Sylvester Stallone.
6
Matheson Hammock Park (There's Something About Mary)
Explore the park from a famous romantic comedy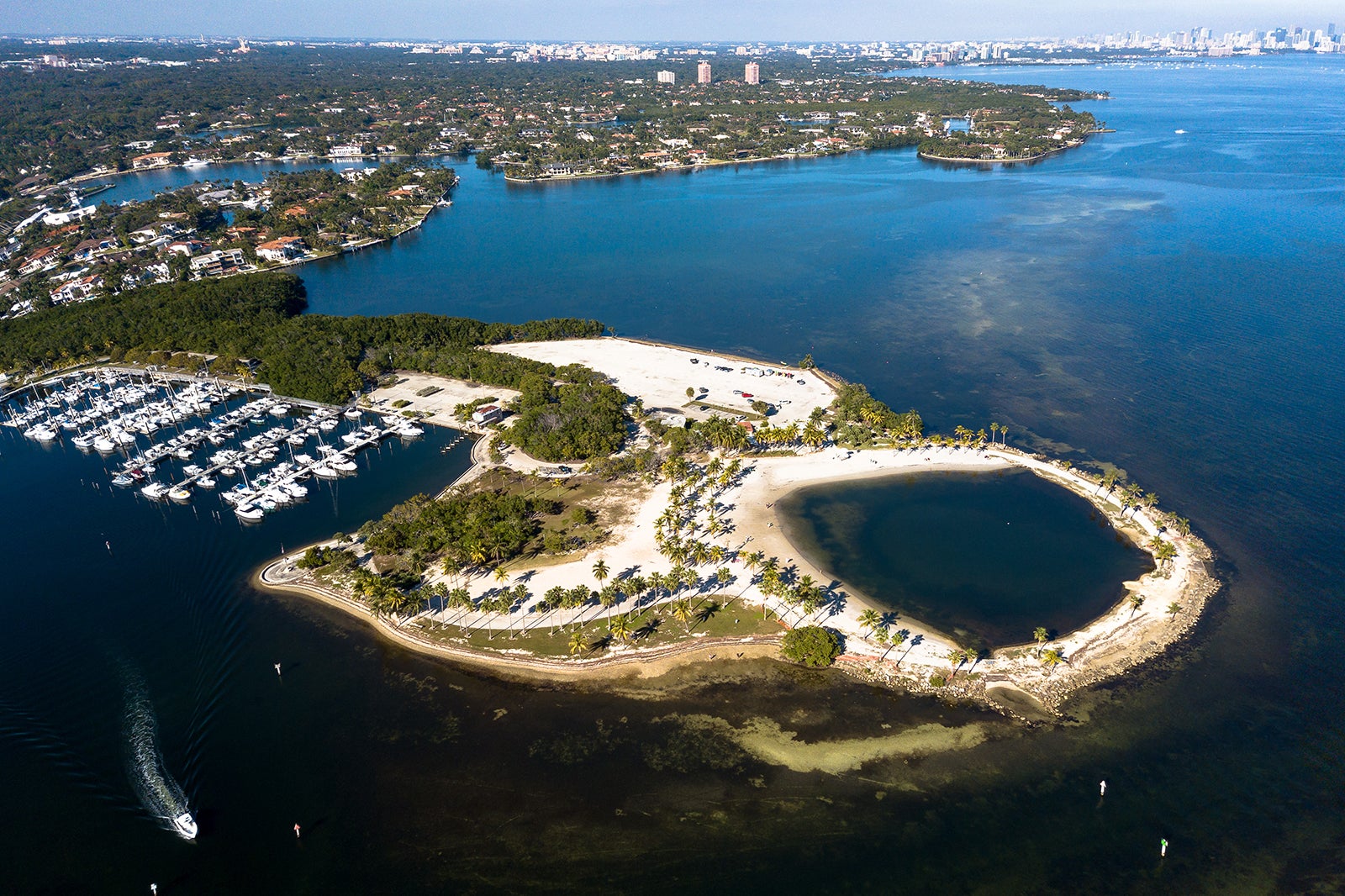 Matheson Hammock Park is a scenic park with a recreational pond and spectacular views of the bay that was used in "There's Something About Mary" (1998). In the film, Matheson Hammock Park is the setting for the famous scene in which Mary, played by Cameron Diaz, hands out hamburgers from her bag. It's also featured in the scene where she dines with friends at a local restaurant.
Located near Coral Gables, east of the city centre, Matheson Hammock Park boasts 630 acres with an artificial atoll pool, historic coral stone buildings, nature trails, and picnic pavilions. You'll also find boat launches, fishing shops, and other practical features for outdoor recreation.
Location: 9610 Old Cutler Road, Coral Gables, FL 33156, USA
Phone: +1 305-665-5475
7
Hard Rock Stadium (Marley & Me)
Watch live sports at a family-friendly destination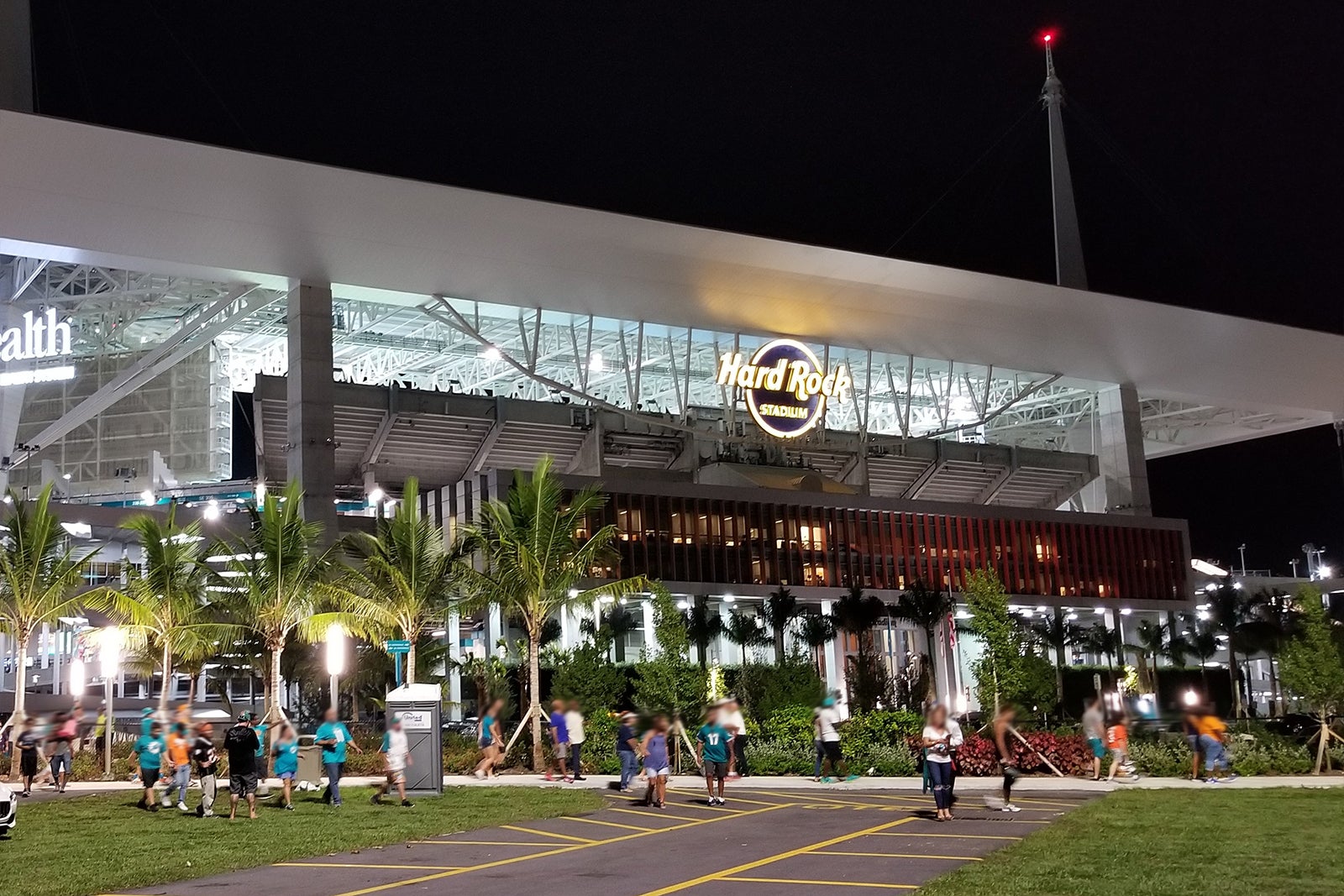 Hard Rock Stadium is a multi-purpose stadium and the home of the NFL's Miami Dolphins that was used in a scene in "Marley & Me" (2008). The family-friendly comedy focuses on a family's relationship with a dog, and the group visits the stadium on a family outing. Several other Miami locations were used in the film as well, such as a dog-training scene at Jose Marti Park and some restaurant scenes.
Located north of the city centre, the Hard Rock Stadium is used for several other teams, including the Miami Hurricanes football team and the MLB's Florida Marlins. The stadium also hosted several Super Bowls, World Series, and Pro Bowls, as well as the Orange Bowl.
Location: 347 Don Shula Dr, Miami Gardens, FL 33056, USA
Phone: +1 305-943-8000
photo by A.J. Lipp (CC BY-SA 4.0) modified
8
Seven Mile Bridge (True Lies)
See the famous bridge from a spy thriller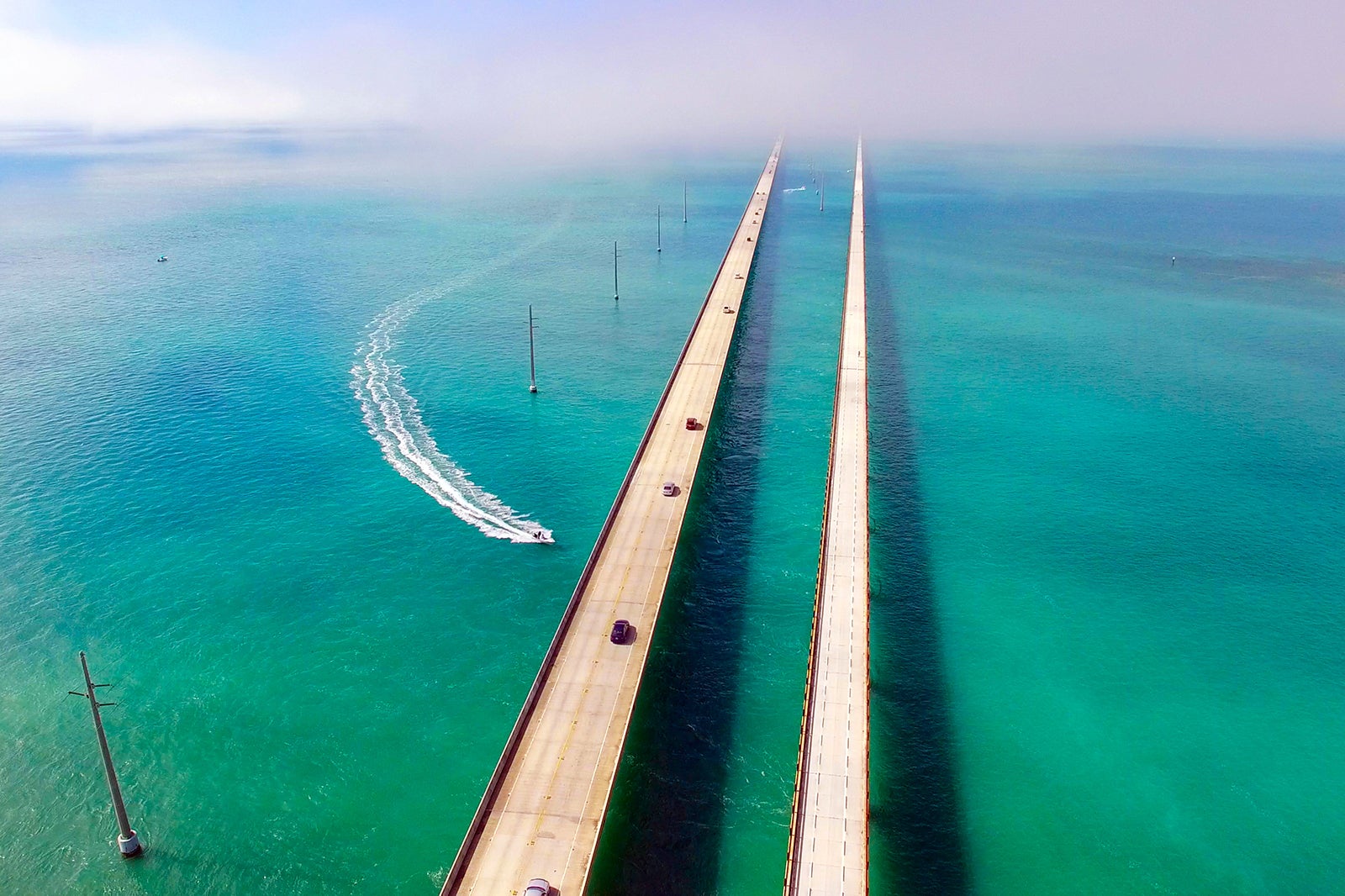 Seven Mile Bridge is a narrow bridge that travels to the Florida Keys and that was used in the action film "True Lies." The spy thriller starred Arnold Schwarzenegger and Jamie Lee Curtis and featured a daring bridge escape that led to the bridge being destroyed.
Fortunately, the real bridge is still standing and can be accessed south of city centre to get to the Florida Keys. The bridge's gorgeous views make it a lovely drive on its own, but you can consider taking a day trip to sightsee and lounge on the beach at one of the Keys.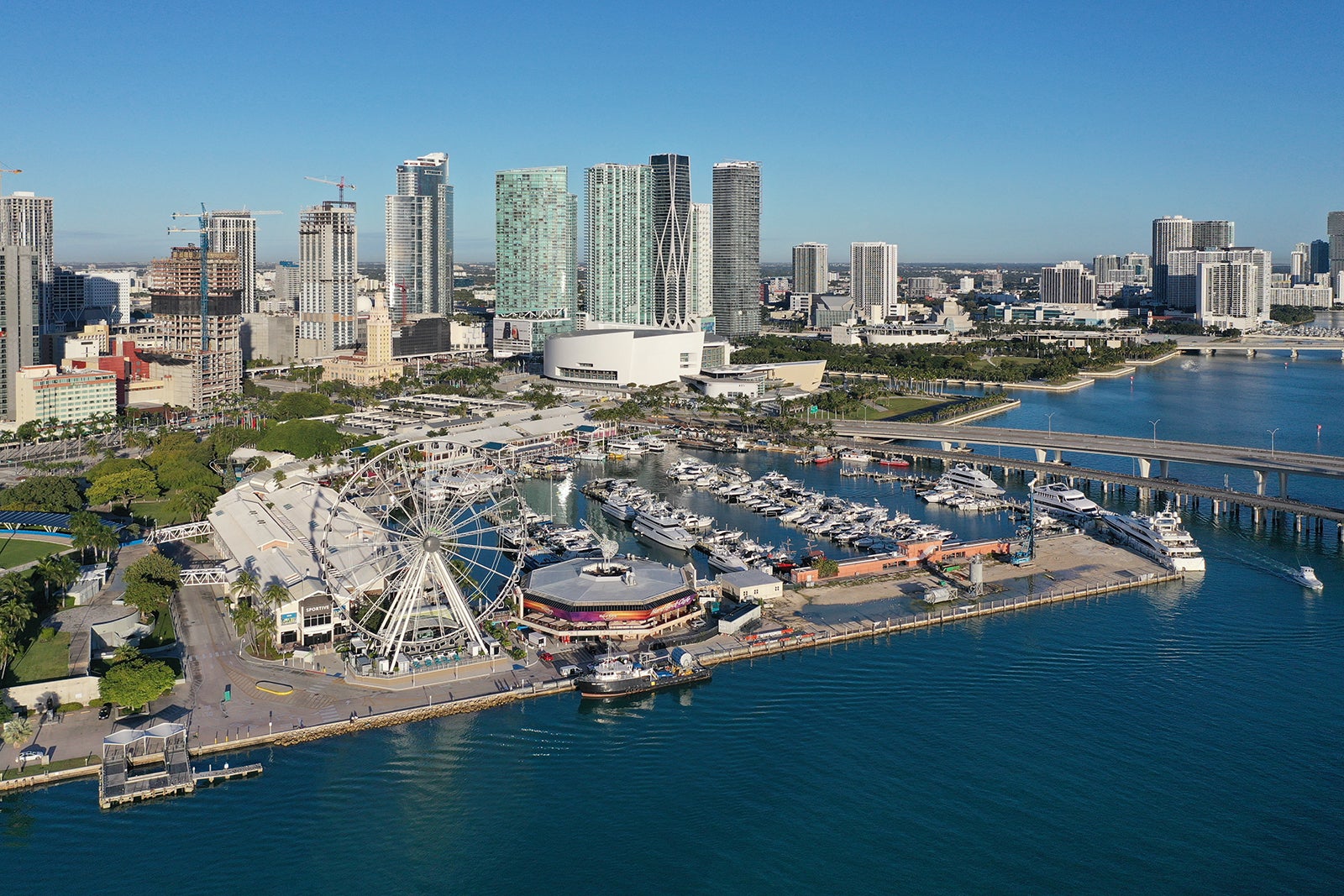 Bayside Marketplace is a 2-story open-air shopping centre that was featured in several episodes of the crime drama television series, "Miami Vice" (1984). The shopping centre is located in city centre Miami, close to the City of Miami marina.
Bayside Marketplace is one of the most-visited attractions in the city and features a variety of boutiques and shops, restaurants, bars, and events. You could also catch live-music events on the picturesque waterfront. Whether you visit to shop, eat, drink, or take a picture from a well-known "Miami Vice" filming location, the Bayside Marketplace is a must for your trip.
Read more
Location: 401 Biscayne Blvd, Miami, FL 33132, USA
Open: Monday–Friday from 10 am to 10 pm, Saturday from 10 am to 11 pm, Sunday from 11 am to 11 pm
Phone: +1 305-577-3344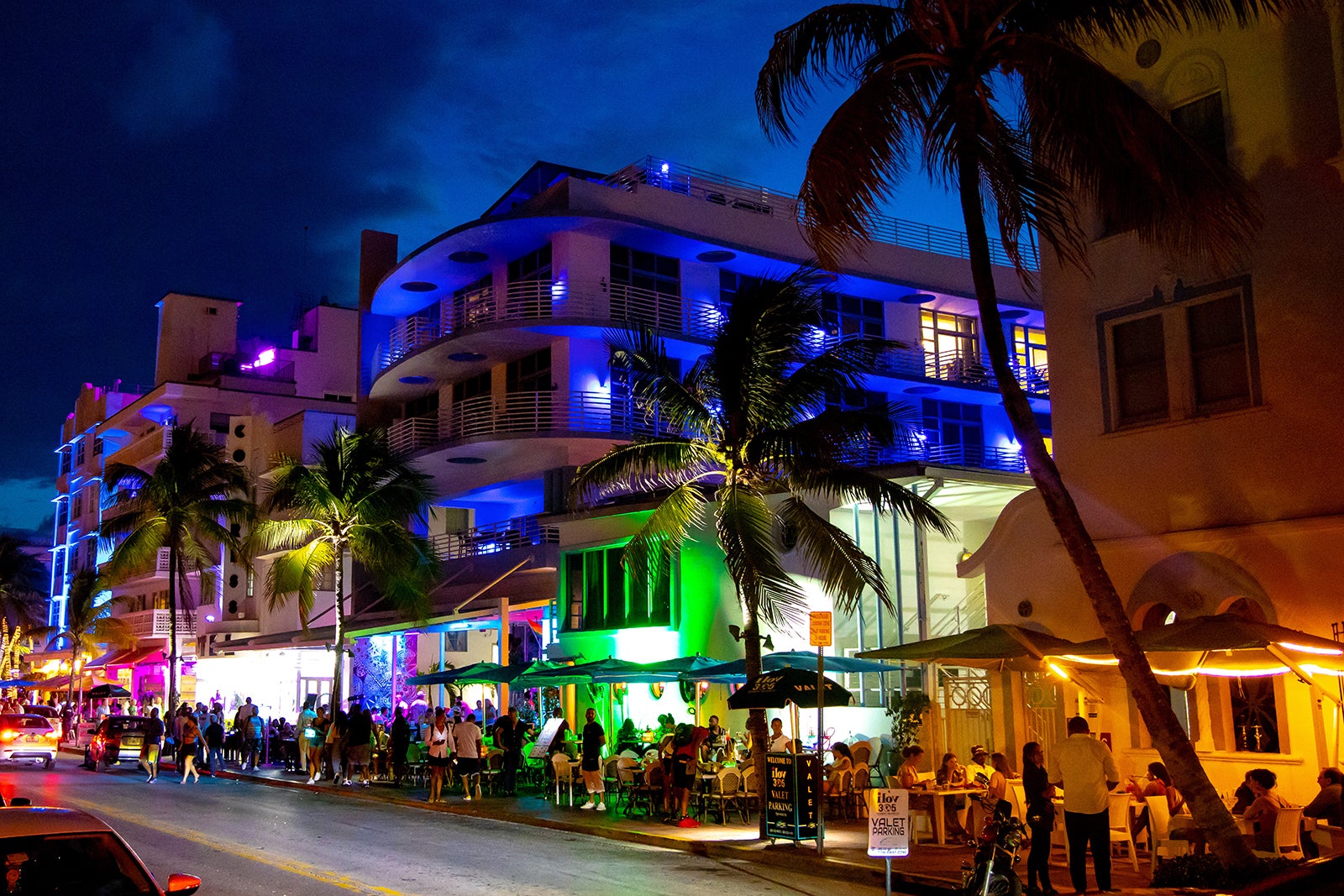 Ocean Drive is a picturesque street with palm trees and art deco buildings that was used in scenes in both "Step Up Revolution" (2012) and the first season of "Dexter" (2006). For the breakdance film, the dance sequences stopped traffic on the street and created a disturbance for the residents with the loud music.
Located east of city centre, Ocean Drive is a popular tourist destination to see historic architecture and take in the views of the coast from café terraces. Amongst the biggest draws for travellers—and filmmakers—are the pastel-hued art deco buildings.
Read more
Location: Miami Beach, FL 33139, USA
Back to top