Scottsdale Travel Essentials
Useful Information to Help You Start Your Trip to Scottsdale
Our Scottsdale Travel Essentials lays out the essential information you need to help you plan your trip to one of the most popular destinations in Arizona, USA. No matter how frequently you travel, some questions will always need answers: What's the weather like? How can I get from Phoenix Sky Harbor International Airport (PHX) to my hotel? What currency and type of plug do I need?
We have all these answers plus other basic info about the best time to go, getting there, getting around, and a few useful travel tips. You'll also learn about the most popular landmarks in Scottsdale such as Old Town Scottsdale, the Scottsdale's Museum of the West, and Taliesin West. It's all compiled in this Scottsdale Travel Essentials. After going through this short and easy-to-read guide, you'll be a little more prepared to start your trip to Scottsdale.
1
When is the best time to travel to Scottsdale?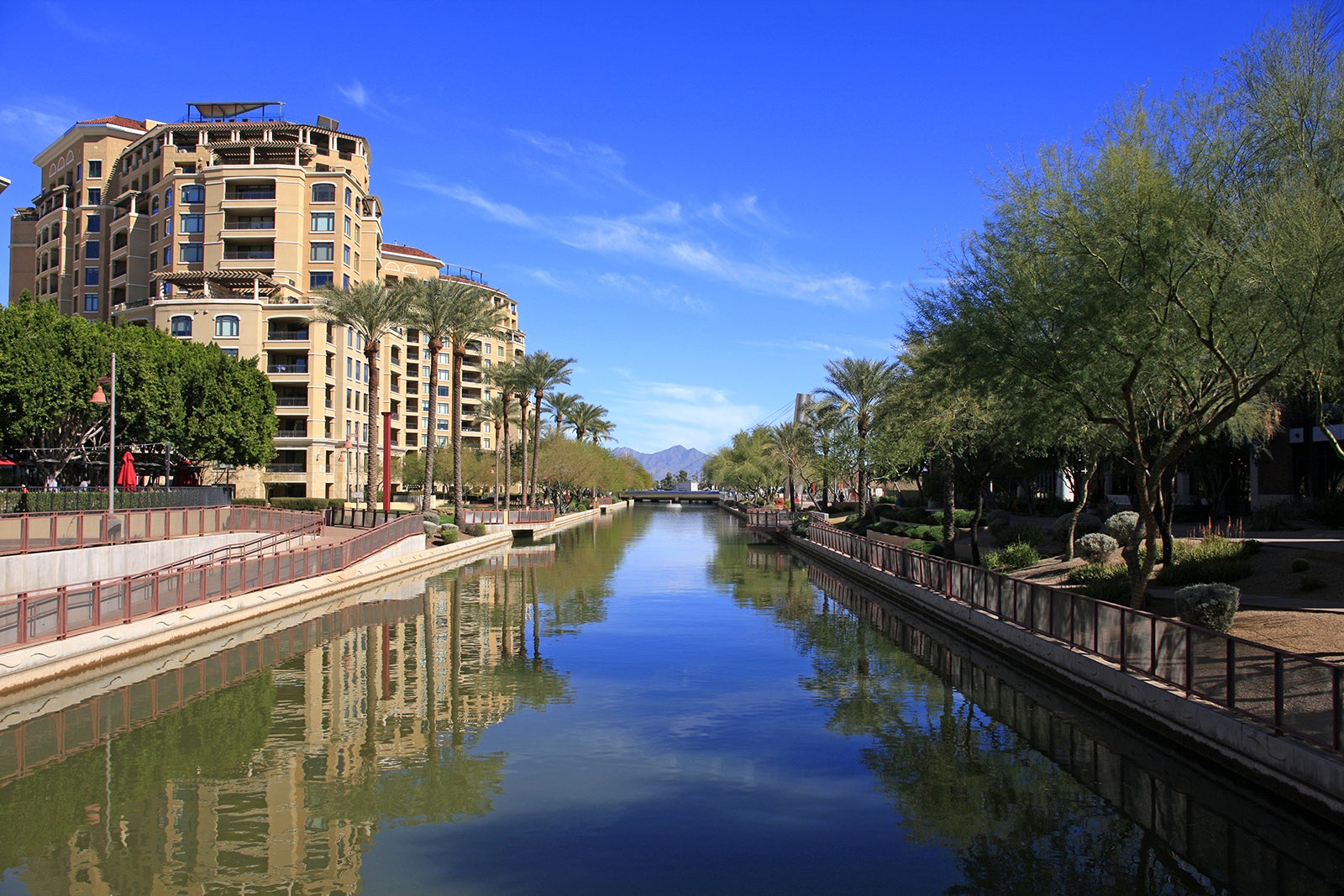 Scottsdale has an arid climate which brings warm winters and hot and dry summers. Average temperatures range from 53°F in winter to 90°F in summer. A record temperature of 122°F was recorded in June 1990.
Scottsdale lies in the northeastern part of the Sonoran desert and boasts an average number of 299 sunny days per year. Besides occasional rainfall – mostly in August – it only rains about 38 days a year in Scottsdale.
Though July is the hottest month in Scottsdale, be ready for hot to blazing temperatures in April–October. The peak season runs from November to May, when you can expect a more comfortable temperature but with thicker crowds and higher accommodations rates. It's best to book a few months ahead if you plan to visit Scottsdale at this time of the year.
The best times to visit Scottsdale are the March–May and October–November periods. The beginning and the end of the peak season usually offer better accommodations rates and great weather for enjoying outdoor activities in the superb nature surrounding Scottsdale.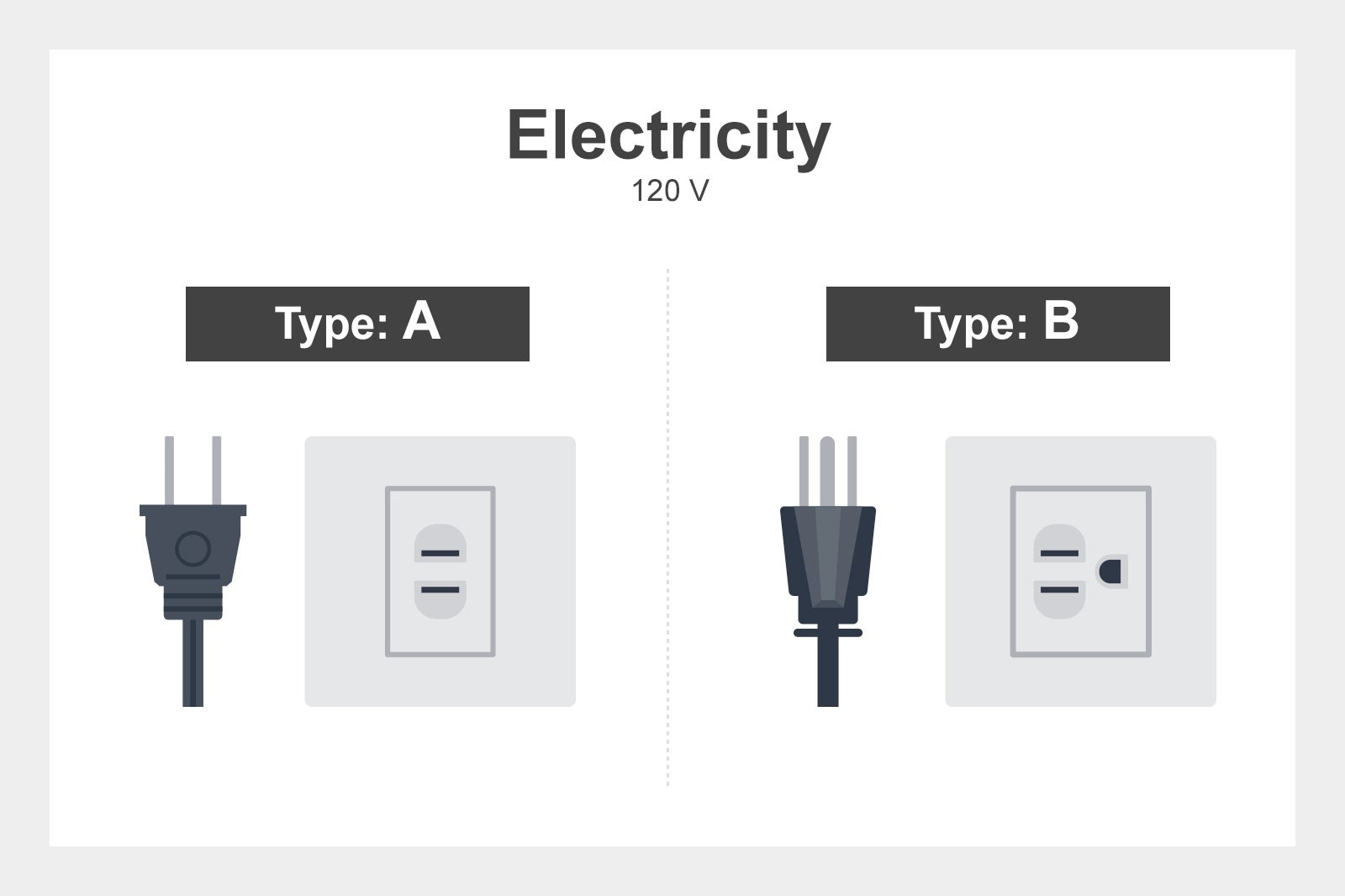 Plug type: A and B
Electricity: 120 V
Currency: United States Dollar (U.S.$)
International dialing code: +1 480
Emergency telephone number: 911
3
How to get to my hotel in Scottsdale?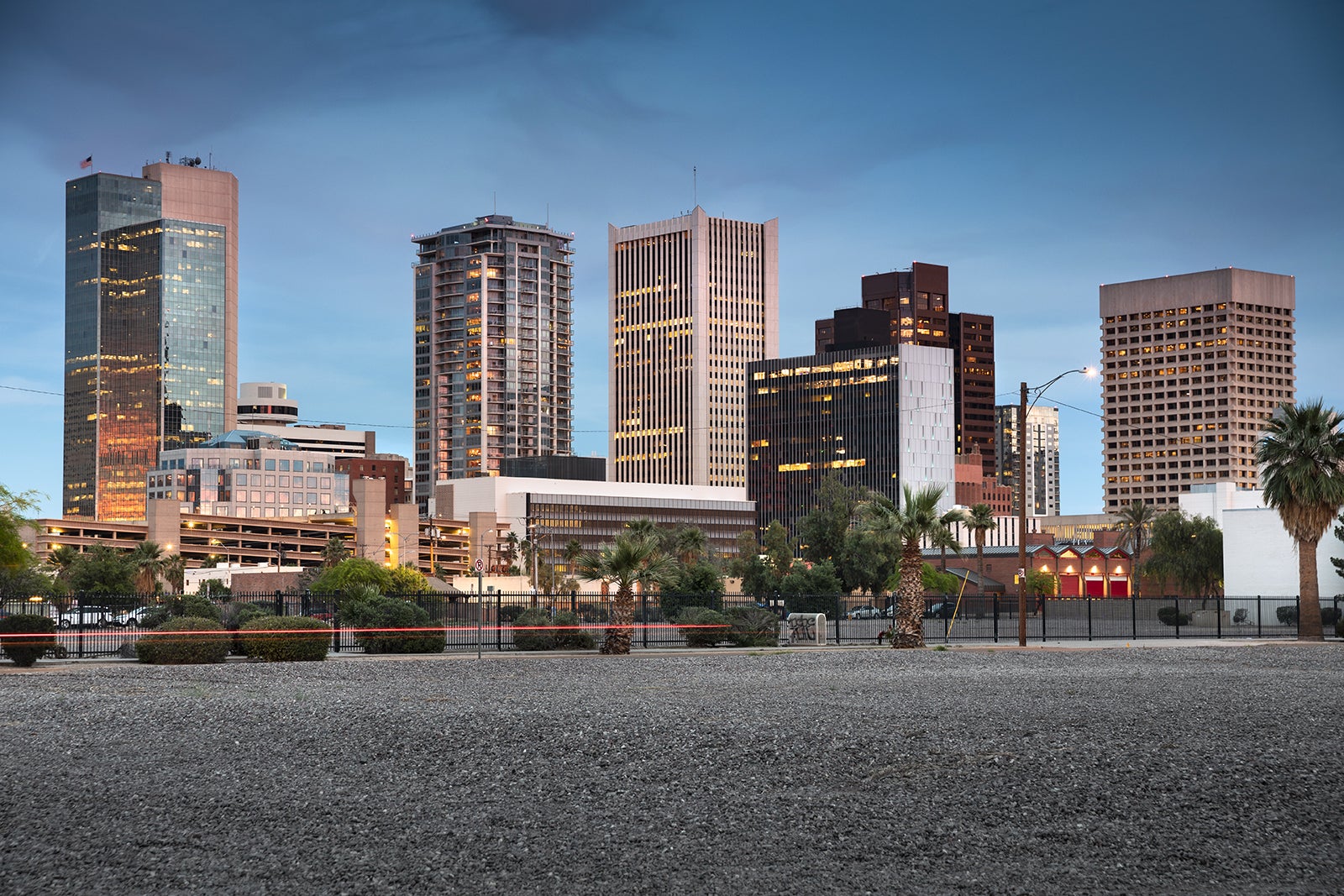 If you're getting to Scottsdale from abroad, Phoenix Sky Harbor International Airport (PHX) would be your main arrival hub to the Greater Phoenix Neighborhood to which Scottsdale belongs. It lies 10 miles southwest of Scottsdale. Scottsdale has a small airport, but it doesn't feature commercial flights.
Getting to Scottsdale by train is not a convenient option as there's no Amtrak railroad station nearby. The closest railroad station is in Tucson, over 100 miles away. If you travel on a budget, you can get to Phoenix by Greyhound bus, then to Scottsdale by public transportation.
Phoenix Sky Harbor International Airport (PHX)
Phoenix Sky Harbor International Airport (PHX) is one of the largest and busiest commercial airports in the U.S. and is the main airport serving Arizona. The airport has 3 runways and 2 terminals, curiously named Terminal 3 and Terminal 4 – they kept their original names after the closure of Terminals 1 and 2. The ride from the airport to Scottsdale usually takes around 20 minutes.
A good choice of ground transportation options is available for you to get to Scottsdale from PHX depending on your budget:
AAA/Yellow Cab, Mayflower Cab, and V.I.P. Taxi cab are the 3 companies under contract to pick passengers up at PHX. Their prices are regulated by the city.
Rideshare services – Uber and Lyft – operate at PHX.
You can find a large choice of automobile and shuttle services, as well as intercity/statewide shuttles, at the airport.
Valley Metro runs regular bus lines that serve Scottsdale.

The Rental Automobile Center is reachable by free shuttle at the curb on the baggage claim levels of each terminal. It's best to make a reservation as vehicles are limited for walk-in customers.
Getting to Scottsdale by Greyhound bus
Also known as Downtown Greyhound Station, Phoenix Bus Station is at 2115 East Buckeye Road, just west of the airport. It's not only served by Greyhound but also by FlixBus, Tufesa, and Express Arrow. From here, you can gain access to the same transfer options to Scottsdale as you'd find at the airport.
4
How to get around Scottsdale?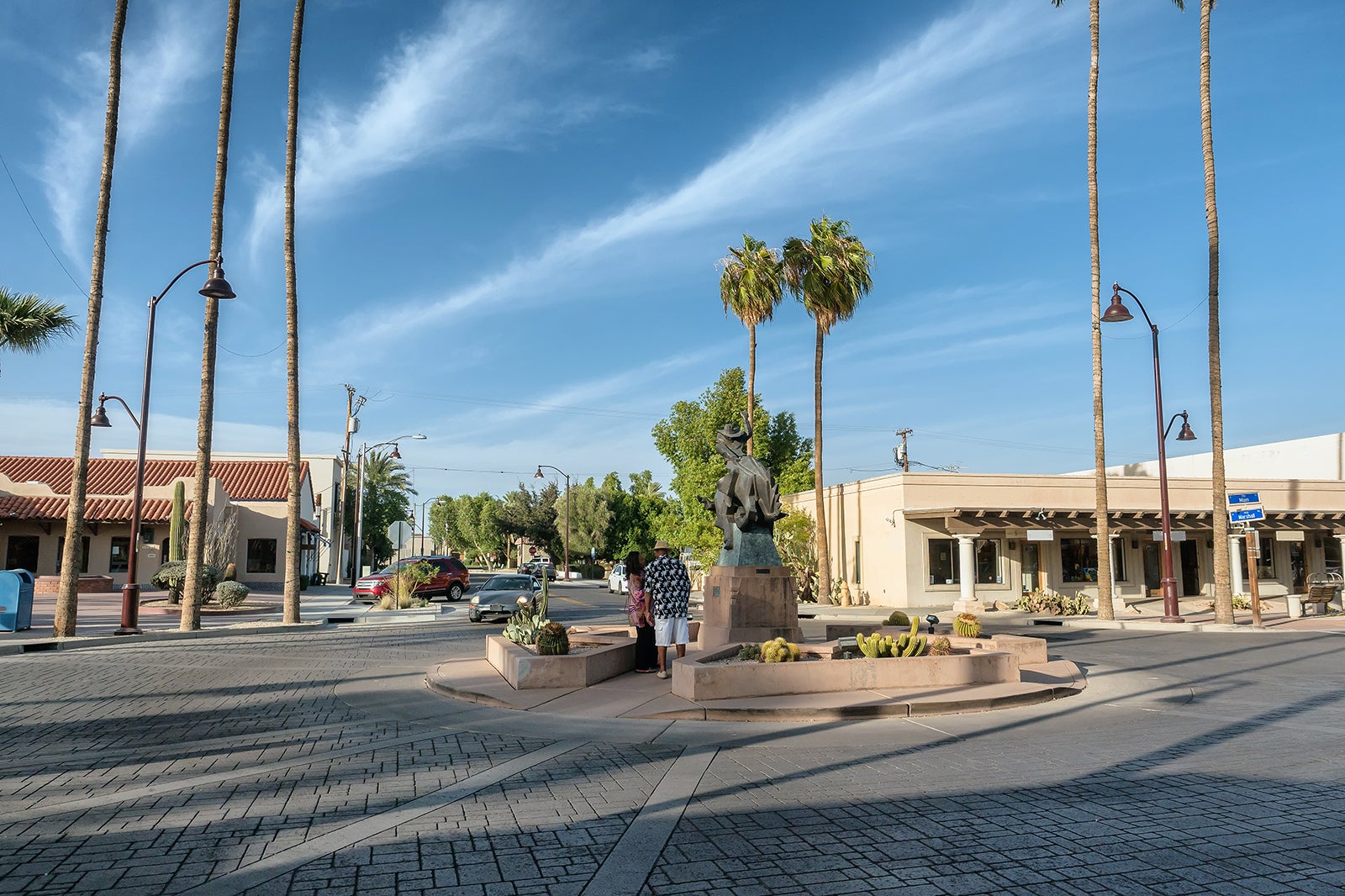 Travel tips
About a square mile in size, Downtown Scottsdale can easily be explored on foot. Settled around its attractive Old Town, it's home to landmarks and attractions such as the Scottsdale's Museum of the West, Robert Indiana's "Love" sculpture, and Fashion Square, just to name a few. You'll also find a tremendous choice of dining, shopping, and nightlife entertainment options. A free trolley is available for exploring Scottsdale city centre.
For longer distances, the most convenient option is a automobile or bike rental. Taxi cabs and more specifically rideshares are also popular. Valley Metro public transportation system serves the Greater Phoenix Neighborhood, but it's not the most suitable option for getting around Scottsdale.
Taking a taxi cab
From Scottsdale Cab Company (+1 480-577-1111) to Scottsdale Taxi cab (+1 480-994-4567) to Arizona Cab Company (+1 480-809-6933), and many more, Scottsdale offers plenty of choices for taxi cab services. Taxi cabs can also be flagged down on the street and are found lined in front of hotels and major tourist attractions. The usual tipping for taxi cabs is around 15-20% of the fare. Credit cards are accepted by most taxi cab drivers.
Uber and Lyft are the main ride-hailing apps used in Scottsdale. Their rates are slightly cheaper than standard taxicabs. They accept payments by credit card.
Traveling by public transportation
The Valley Metro Regional Public Transportation Authority runs a bus and light-rail network in and around Phoenix. Scottsdale is served and well covered by a dozen bus routes.
A very popular, free trolley service featuring 4 routes runs daily from 6 am to 7 pm. The trolley loops on the following routes: 68th/Camelback, Miller/Hayden, the Mustang, and the Old Town.
Various ticketing options are available. Budget-wise, it's best to purchase a day or multi-day pass. Tickets and passes can be purchased at many retailers around the city, including 7-Eleven and Circle K convenient stores. You can also purchase tickets online.
Renting a automobile or a motorbike in Scottsdale
In Arizona, foreigners can use their still-valid home country-issued driving license. Renting a automobile is a good option for getting around Scottsdale, especially if you plan to visit McDowell Mountain Regional Park, Lake Pleasant Regional Park, or other out-of-town attractions.
You can find automobile and motorcycle rental agencies in the city centre besides at the airport. Scottsdale is a car-friendly city – it hosts many parking lots, some of which are complimentary.
Is Scottsdale a bike-friendly city?
Hiring a bicycle is a cool way of getting around Scottsdale in winter. The city has been recognized as a Gold Level Bicycle Friendly Community by the League of American Bicyclists for 2011–2023. There are many off-road biking trails for all skill levels. You can easily find maps of Arizona's cycling trails on the internet.
You can hire a regular bike, an electric one, or a mountain bike at any of the multiple bike rental companies such as Bike Emporium (+1 480-991-5430), Pedego Electric Bikes Scottsdale (+1 480-994-4447), and Scottsdale Bike Co. (+1 480-945-3349), just to name a few.
5
What are the main annual events in Scottsdale?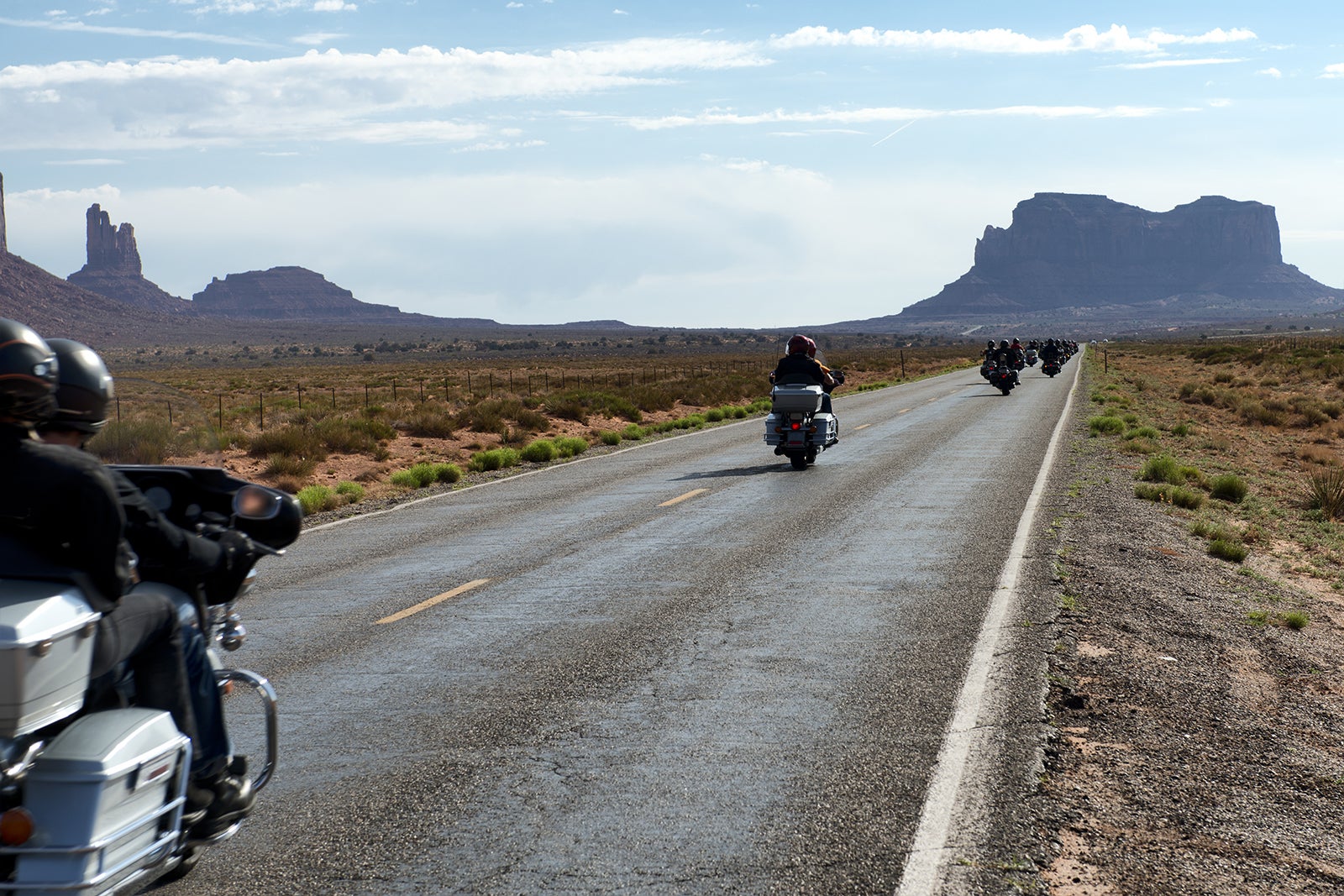 Arizona Bike Week
March
The Arizona Bike Week is a 5-day festive event dedicated to motorcycling. Whether you're a biker or not, from exhibitions to processions to blues/rock concerts, and more, it offers a glimpse of American pop culture.
Where: WestWorld of Scottsdale
Rodeo Scottsdale
March
Formerly known as Parada Del Sol Rodeo, Rodeo Scottsdale is a 4-day happening at which you'll enjoy all the classic events of a rodeo including bull riding, steer wrestling, bareback bronc riding, and more.
Where: WestWorld of Scottsdale
Scottsdale Arts Festival
March
Held since 1970, the Scottsdale Arts Festival is an art contest sanctioned by a jury. It features artists in mediums such as painting, sculpture, ceramics, photography, and more. Besides the art exhibitions, you'll find beverages and food stalls, as well as live music performances.
Where: Scottsdale Civic Center
6
What are the main landmarks in Scottsdale?
Old Town Scottsdale
Scottsdale Old Town dates back to 1894 and is lined with bars, shops, art galleries, and restaurants. It's a great place to experience the preserved charm of America's Wild West. Don't miss the Scottsdale cowboy at the corner of Scottsdale Road and Main Street.
Western Spirit: Scottsdale's Museum of the West
Learn about the rich history, culture, and heritage of Western America at Scottsdale's Museum of the West in the city's arts district. It's a great combination of both Western and Native American art through interactive events and a large collection of exhibits.
Taliesin West
Famous architect Frank Lloyd Wright fell in love with the Sonoran Desert and created Taliesin West as his winter home and architectural school. Located northeast of downtown Scottsdale, this 600-acre home and landmark is a designated UNESCO World Heritage site.
McCormick-Stillman Railroad Park
McCormick-Stillman Railroad Park is a 30-acre park dedicated to the history of the American railroad. Located 3 miles north of Scottsdale Old Town, this massive park offers activities for guests of all ages, including an interactive railroad museum, a short train ride, and a 1950s vintage carousel.
photo by Bernard Gagnon (CC BY-SA 3.0) modified
Back to top