10 Best Things to Do for Couples in Houston
Houston's Most Romantic Places
Houston can be as romantic as you want, with plenty of green urban spaces for quiet walks together, to remarkable landmarks where you can watch magical lightshows at sunset. Even though Houston is among the most populous cities in the United States, it surprisingly offers romantics a good set of intimate escapes.
The great outdoors feature among Houston's most romantic places, such as the Buffalo Bayou Park and the Houston Arboretum. Share memorable moments against some of the city's magnificent icons such as the Twilight Epiphany Skyspace or the great Waterwall at Williams Tower. An unforgettable dinner at a rotating rooftop restaurant might top it off. Here are some great romantic things to do in Houston to get you inspired.
1
Enjoy a sunset at the James Turrell Twilight Epiphany Skyspace
With mesmerizing light shows before dusk and dawn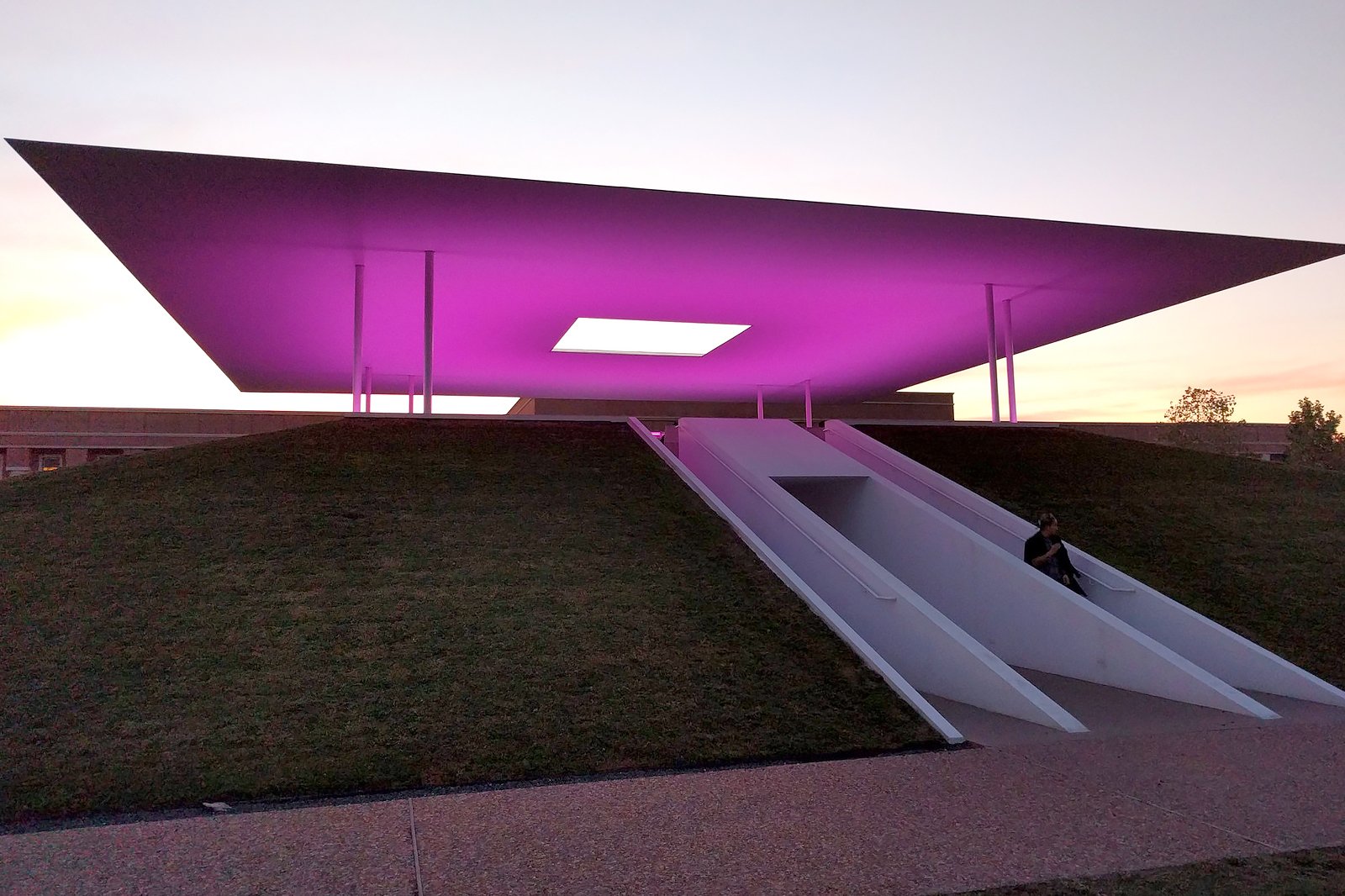 Find this magnificent Houston landmark next to the Shepherd School of Music on the Rice University campus. The James Turrell Twilight Epiphany Skyspace is an events pavilion that usually hosts musical performances, making good use of its well-designed acoustics. Music school students often play here on scheduled days, right after sunset. Before the sun goes down, you can enjoy a stunning LED light show that projects onto its ceiling and through a narrow aperture in its 72 sq ft roof.
Location: Suzanne Deal Booth Centennial Pavilion, Houston, TX 77005, USA
Open: Wednesday – Monday from 5 am to 10 pm (closed on Tuesdays)
Phone: +1 713-348-4758
photo by Drew Tarvin (CC BY 2.0) modified
2
Kiss at the Gerald D. Hines Waterwall Park
A sheer fountain perfect for dreamy backdrops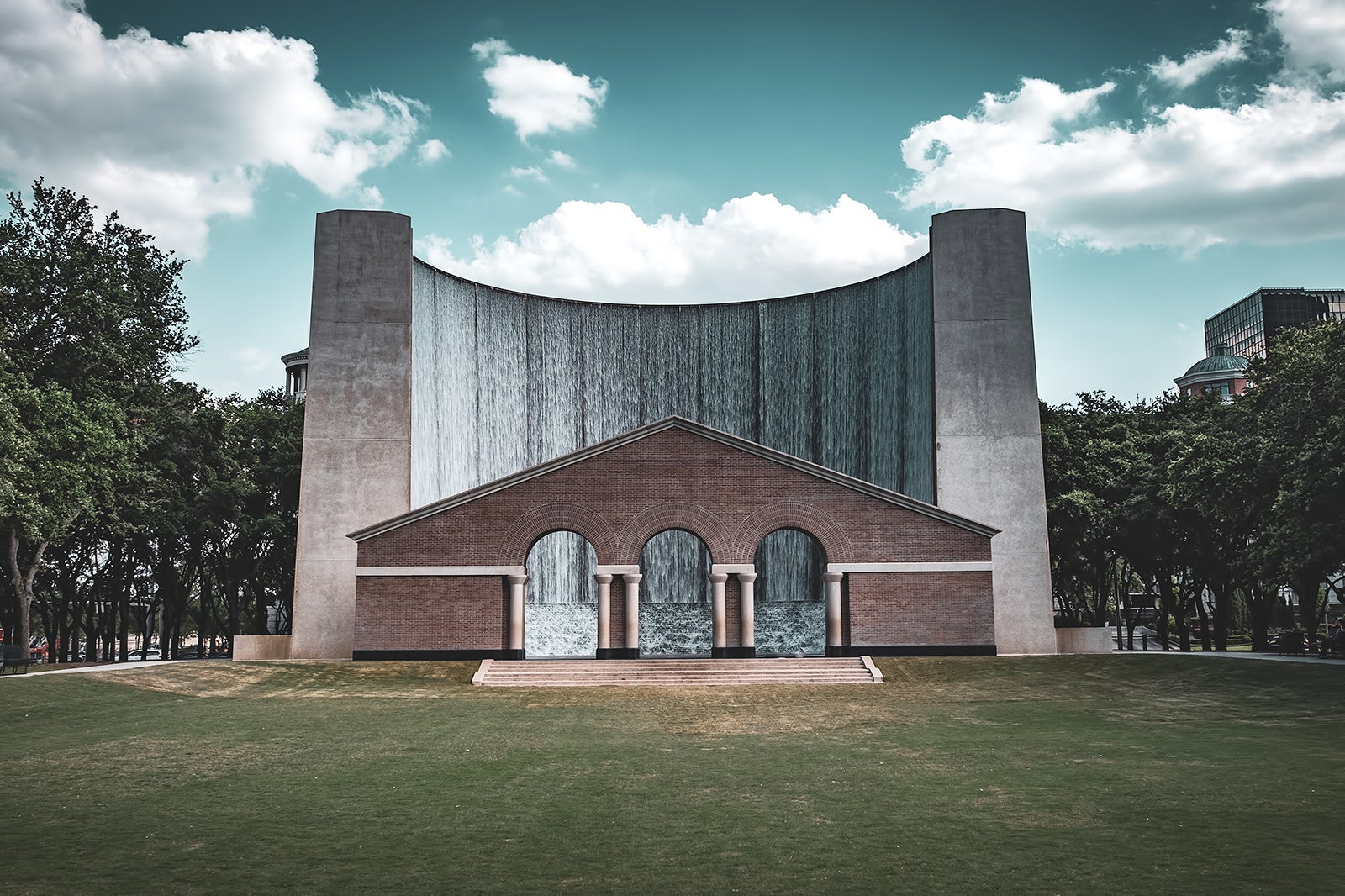 Make your way to the Williams Tower on Post Oak Boulevard for one of Houston's most impressive man-made structures. In front of the skyscraper is the 2.77-acre Waterwall Park Houston, which features lush green spaces with hundreds of oak trees and a magnificent 64-foot semi-circular fountain. The Waterwall fountain pours around 11,000 gallons of water each minute, and the cascading curtains formed by the structure's walls make it a dreamy backdrop for romantic moments and couple shots.
Location: 2800 Post Oak Blvd, Houston, TX 77056, USA
Open: Daily from 8 am to 9 pm
Phone: +1 713-850-8841
3
Hike through Houston Arboretum & Nature Center
Beautiful and tranquil walks among nature's artistry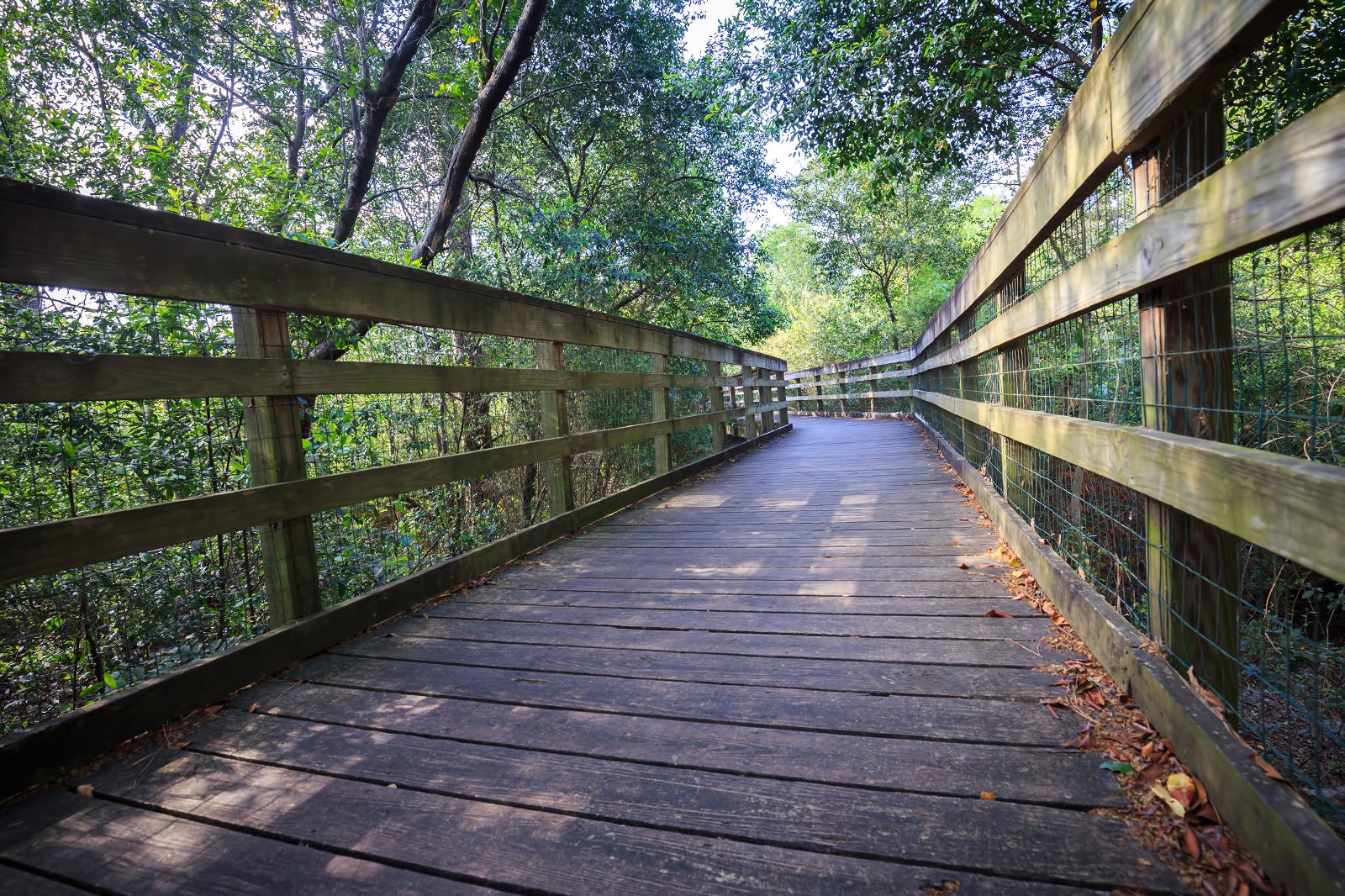 Couples
Families
Photo
Budget
As one of Houston's most beautiful green spaces, the Houston Arboretum & Nature Center offers pleasant hikes through beautiful pathways called "loops". Each loop passes a variety of nature exhibits, ranging from flowering plants to water habitats that teem with birds and aquatic life. Well-shaded sections and resting spots allow for quiet pauses to take in the views. Occasional sightings among the rare flora range from hummingbirds to armadillos. Programs available range from birdwatching to night hikes, complete with snacks and beverages.
Location: 4501 Woodway Dr, Houston, TX 77024, USA
Open: Daily from 7 am to 6.30 pm
Phone: +1 713-681-8433
4
Watch indie movies at AMC Houston 8
Screening the latest international and independent titles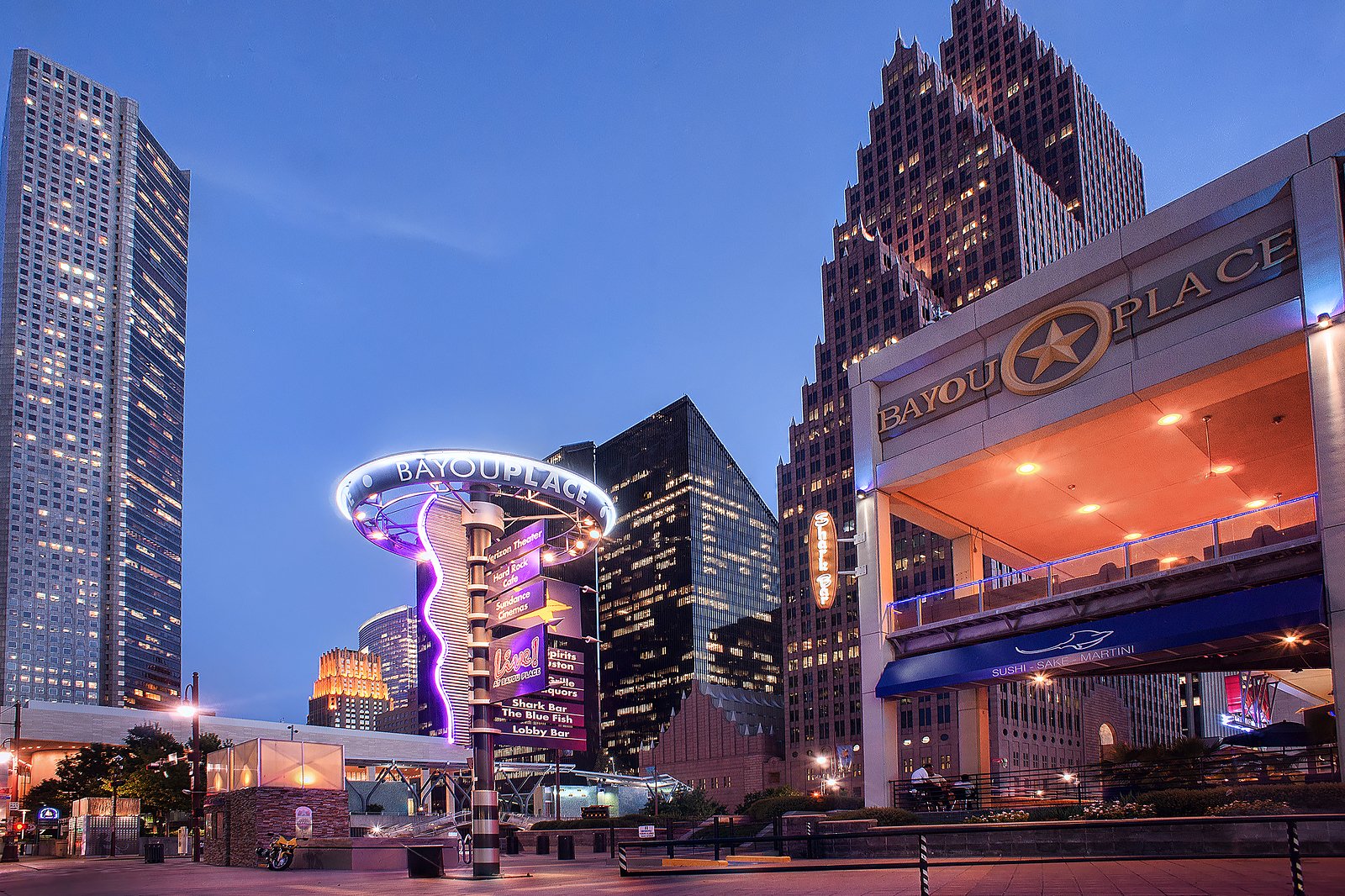 If you're looking for a movie date in Houston, the AMC Houston 8 is a good bet as it doesn't only regularly screen the latest Hollywood blockbusters, but also features intriguing indie movies with diverse stories. Through its special program, AMC Independent, the movie theater is committed to advancing indie films, as well as international titles that are quite diverse and engaging. Check ahead for up-and-coming titles and reserve your seats with AMC Dine-In services, adding cocktails, craft beer and quality cuisine to the experience.
Location: 510 Texas St, Houston, TX 77002, USA
Open: Independent films regularly screen from 7 pm
Phone: +1 713-223-3456
photo by Katie Haugland Bowen (CC BY 2.0) modified
5
Tandem bike through Buffalo Bayou Park
Ride at your own shared pace through Houston's vast park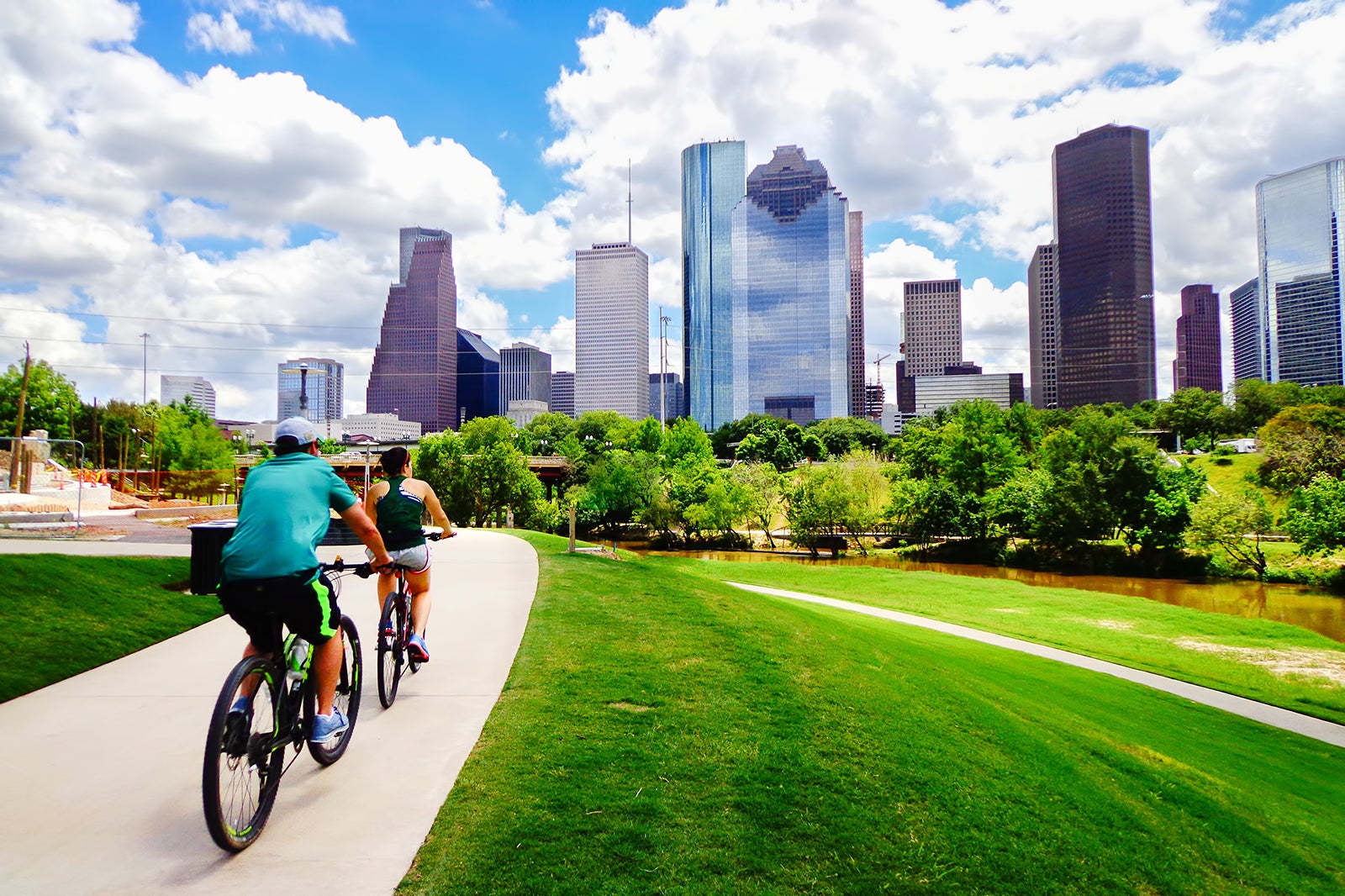 Couples
Photo
Budget
Adventure
A vast green space to explore in Houston, the Buffalo Bayou Park measures 160 acres and is filled with different features that make it great for all. As a couple, you can enjoy scenic walks along its pathways and bridges, or you can rent a tandem bike. Look out for places like the Bike Barn, which is right next to the Water Works and the Lee and Joe Jamail Skatepark bowls. Riding a bike in tandem enables you to enjoy sightseeing in the park more conveniently, and at your own shared pace.
Location: Buffalo Bayou Park, Houston, TX 77019, USA
Phone: +1 713-752-0314
6
Try a couples' spa treatment in Houston
Romantic pampering sessions for two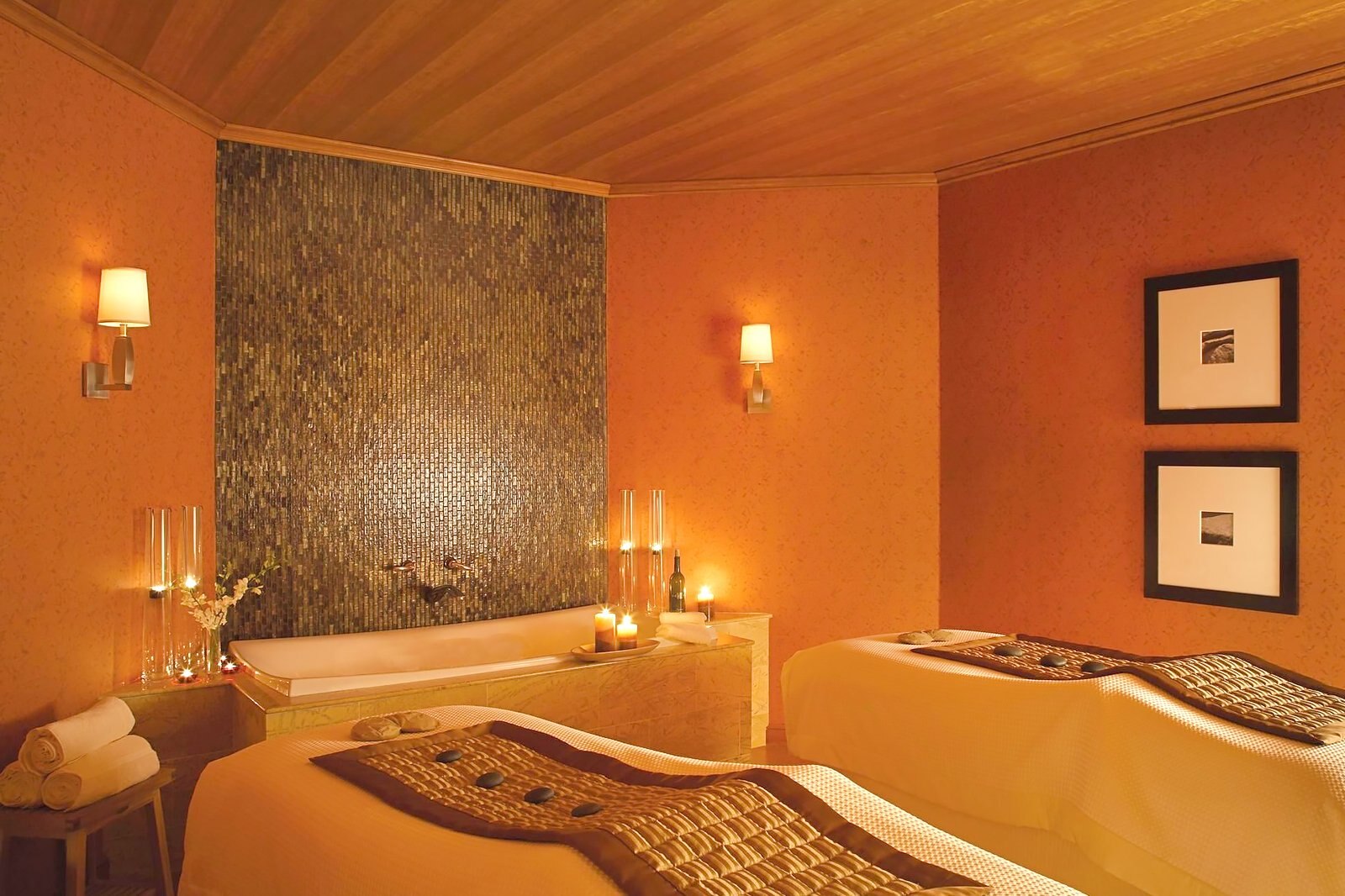 What better way is there to share some good pampering and soothing sensations together than a spa treatment for two? The 4-star Omni Houston is home to Mokara Spa, which offers couples a Spa and Strawberries Romance package that includes a bottle of sparkling wine and chocolate-covered strawberries. For 5-star pampering, there's the Spa at the Four Seasons Hotel Houston in Downtown and the Sanctuary Spa at the St. Regis Houston, which delivers luxurious massages and packages to provide you with an unforgettable shared experience.
7
Visit the Bayou Bend Collection and Gardens
A historical green gem of the River Oaks community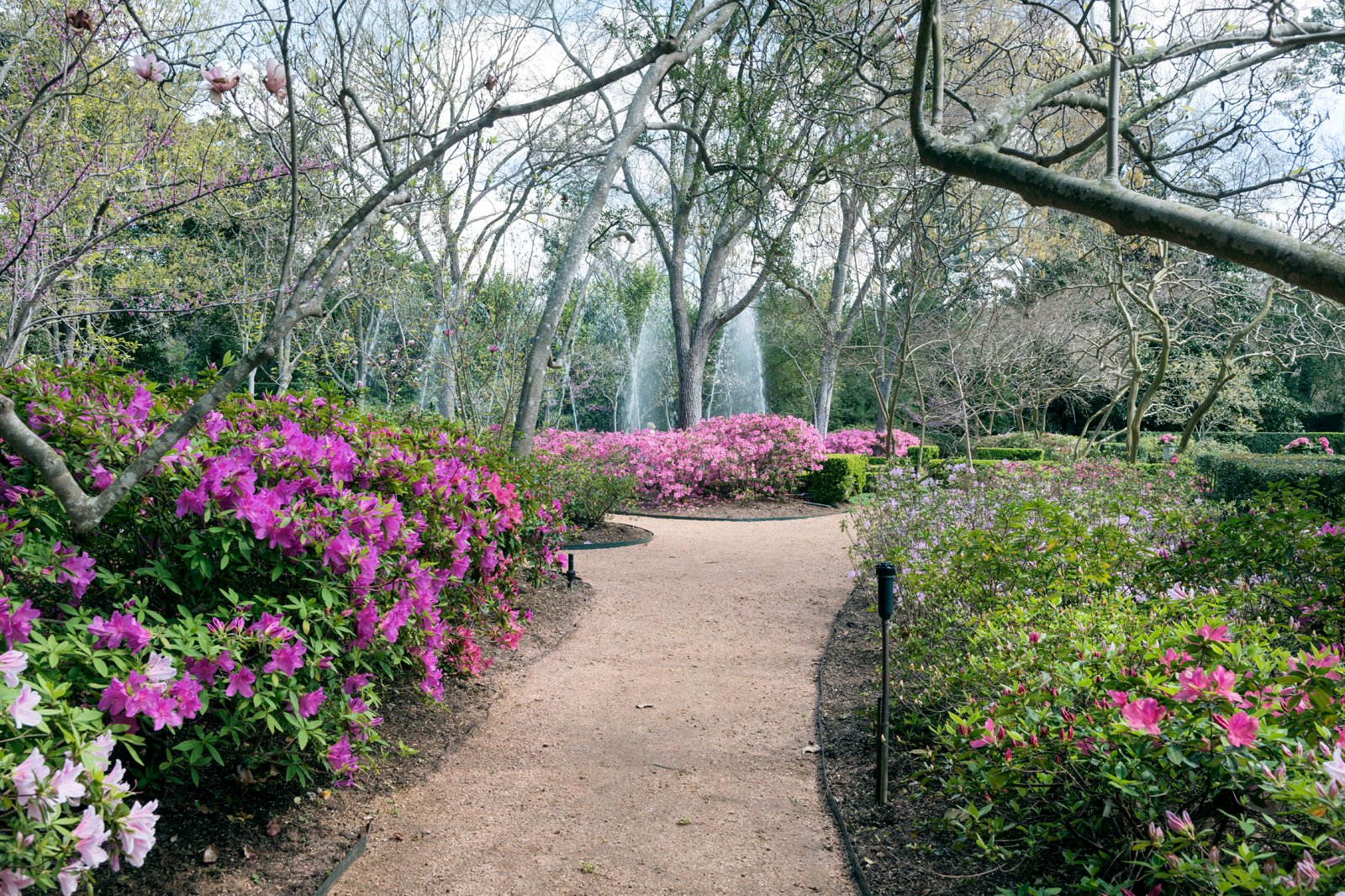 As the home of Houston's Museum of Fine Arts, the Bayou Bend Collection and Gardens feature a house museum that's filled with a collection of decorative art, paintings and furniture. The former mansion of Houston philanthropist Ima Hogg, the Bayou Bend is surrounded by 14 heavily wooded acres that contain beautiful flower and sculpture-adorned gardens. The mansion allows for a good few hours admiring a bit of Houston history, while the lovely garden is great for romantic walks.
Location: 6003 Memorial Dr, Houston, TX 77265, USA
Open: Tuesday – Saturday from 10 am to 5 pm, Sundays from 1 pm to 5 pm (closed on Mondays)
Phone: +1 713-639-7750
8
See a concert by the Houston Symphony
Beautiful orchestras at the Jesse H. Jones Hall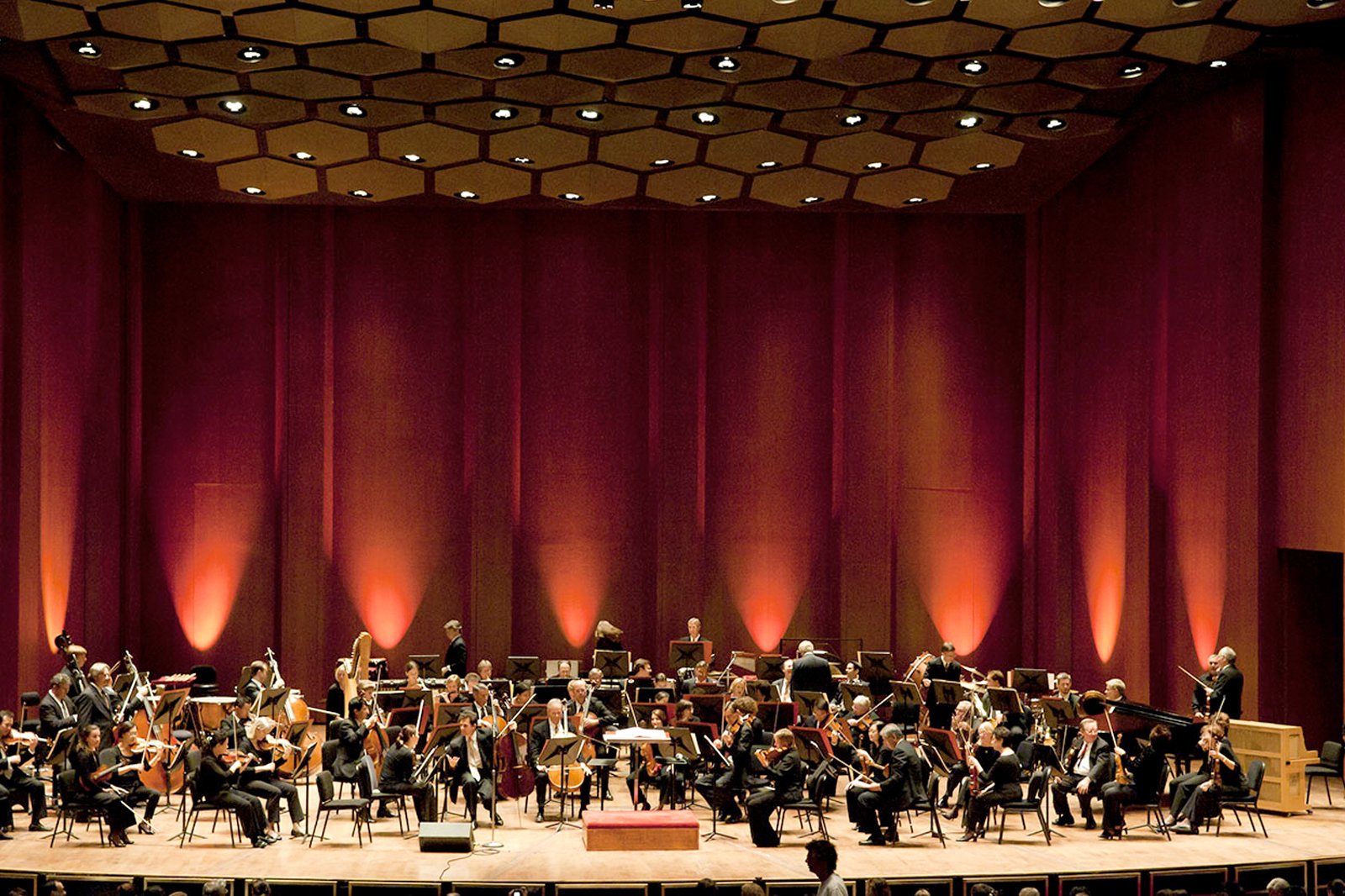 Houston's Jess H. Jones Hall is home to the Grammy Award-winning Houston Symphony. You can check and book ahead for their summer concerts. Unforgettable performances range from those that feature symphonic tributes to famous pop artists and rock bands like the Beatles and George Michael, to iconic movie scores by legends such as John Williams. They even sometimes perform music celebrations of popular Japanese video games, complete with multimedia experiences that combine screen images to match the soaring emotions of the symphony's music.
Location: 615 Louisiana St #102, Houston, TX 77002, USA
Open: Monday – Saturday from 10 am to 6 pm (most shows start from 7 pm)
Phone: +1 713-224-7575
photo by Mike Fisher (CC BY 2.0) modified
9
Dine with rotating views at the Spindletop
360° views over Houston from the top of the Hyatt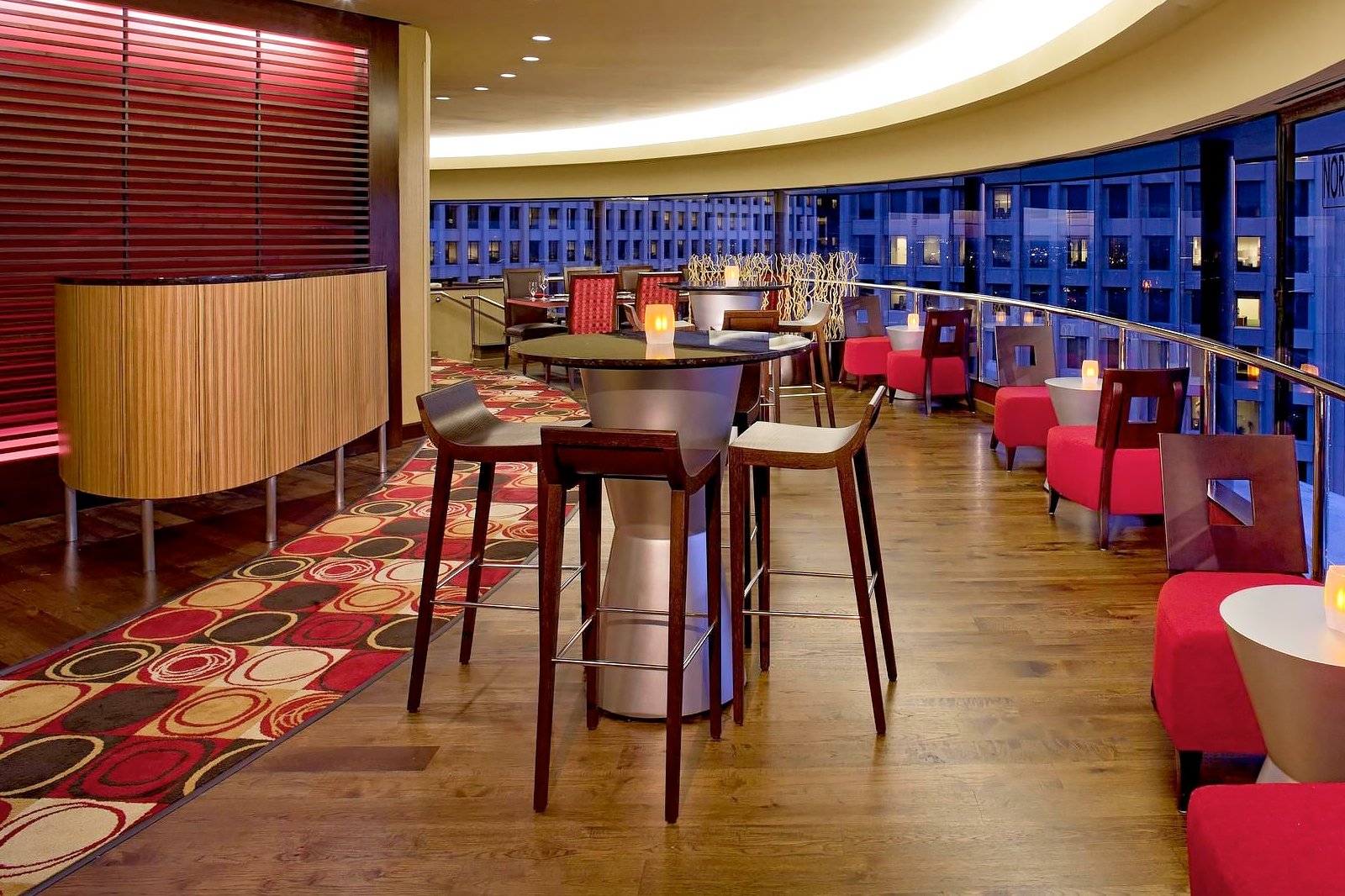 To impress your loved one or merely to celebrate a special occasion together in Houston, this unique dining spot at the top of the Hyatt Regency can be a wonderful choice. The Spindletop serves haute cuisine of American seafood with Southwestern flourishes. It also provides you with views of the breathtaking skyline of Houston from its 34th floor location that steadily rotates as you sip your Chandon Rosé and savor your braised lamb shank. You'll return to your first view in an hour, after the whole restaurant completes a full revolution.
Location: Hyatt Regency Houston, 1200 Louisiana St, Houston, TX 77002, USA
Open: Tuesday – Saturday from 2 pm to 10 pm (closed on Sundays and Mondays)
Phone: +1 713-375-4775
10
Watch a Broadway show at the Hobby Center for Performing Arts
Musicals and dance shows
From concerts that feature romantic symphony masterpieces to Broadway musicals and energetic dance performances, the Hobby Center for Performing Arts has plenty on its schedule. The theatre is on the borders of the Houston Theater District. One of its great musicals is the romantic and adventure-filled Anastasia, which is inspired by the acclaimed Dreamworks animated film. It was created by the Tony Award-winning creators of the Broadway classic Ragtime and features classical performances such as the Rachmaninoff Piano Concerto No. 2 in C minor.
Location: 800 Bagby Street, Ste. 300, Houston, TX 77002, USA
Open: Monday – Friday from 10 am to 6 pm, Saturday and Sunday from 11 am to 4 pm
Phone: +1 713-315-2400
photo by Another Believer (CC BY-SA 3.0) modified
Back to top