Portland Travel Essentials
Useful Information to Help You Start Your Trip to Portland
Our Portland Travel Essentials lays out the essential information you need to help you plan your trip to one of the most popular destinations in Oregon, USA. No matter how frequently you travel, some questions will always need answers: What's the weather like? How can I get from Portland International Airport (PDX) to my hotel? What currency and type of plug do I need?
We have all these answers plus other basic info about the best time to go, getting there, getting around, and a few useful travel tips. You'll also learn about the most popular landmarks in Portland such as Pioneer Courthouse Square, Skidmore/Old Town Historic District, and Portland Art Museum. It's all compiled in this Portland Travel Essentials. After checking out this short and easy-to-read guide, you'll be a little more prepared to start your trip to Portland.
1
When is the best time to travel to Portland?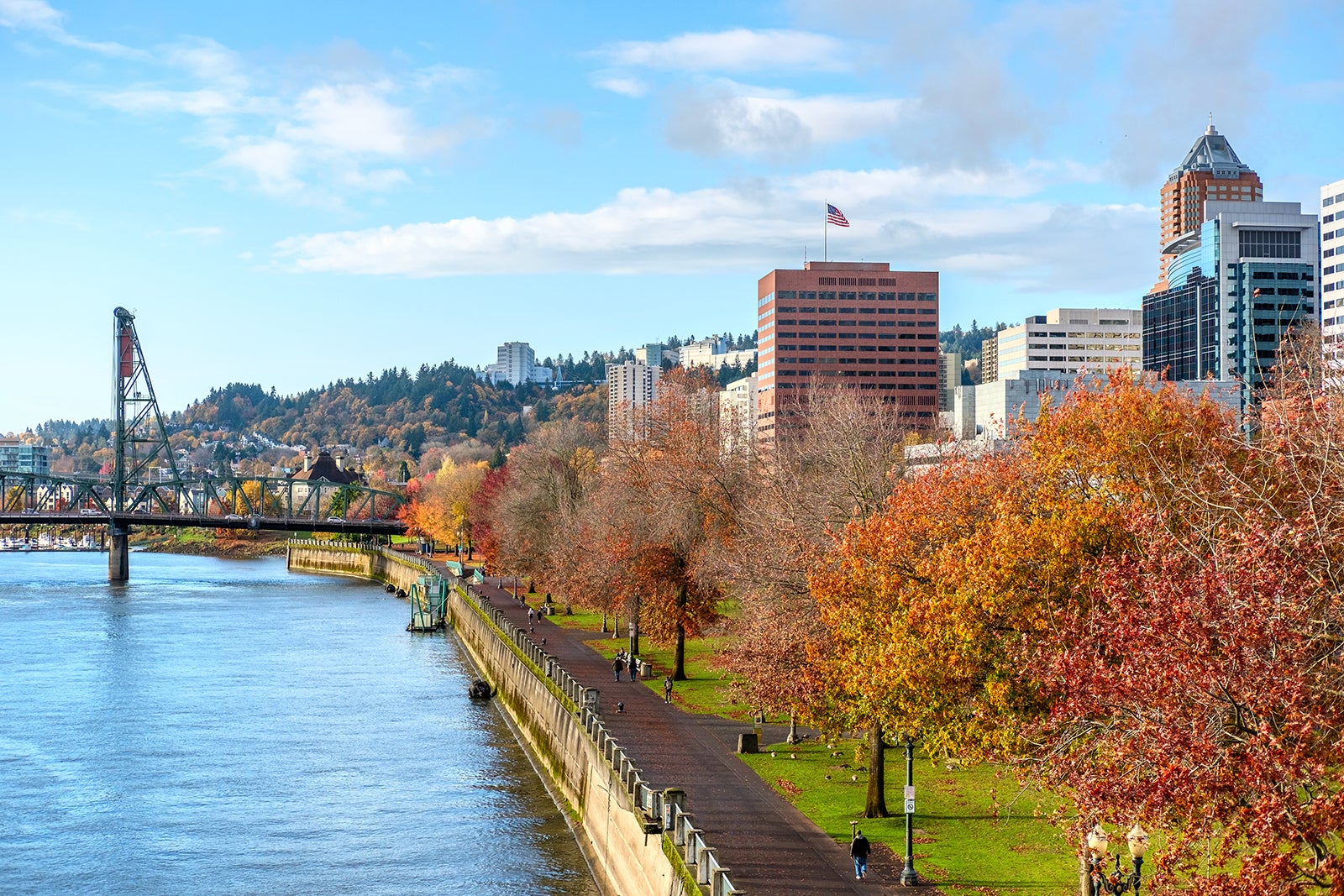 Portland has a Mediterranean climate with chilly, overcast winters and warm, dry summers. Average temperatures range from 40°F in winter to 70°F in summer.
There's a significant difference in the number of rainy days per month throughout the year in Portland. On average, you can expect up to 19 rainy days from November to January and only 4 days in the July–August period. Be prepared for a few snowfalls from December to March.
The warmest time of the year in Portland is from May to September. The peak season runs from late-June to late-August when you can expect thicker crowds and higher accommodations rates. It's best to book a few months ahead if you plan to visit Portland around this time of the year.
The best times to visit Portland are April–June and September–October. Hotels usually offer better rates and the weather, although chillier, remains pleasant.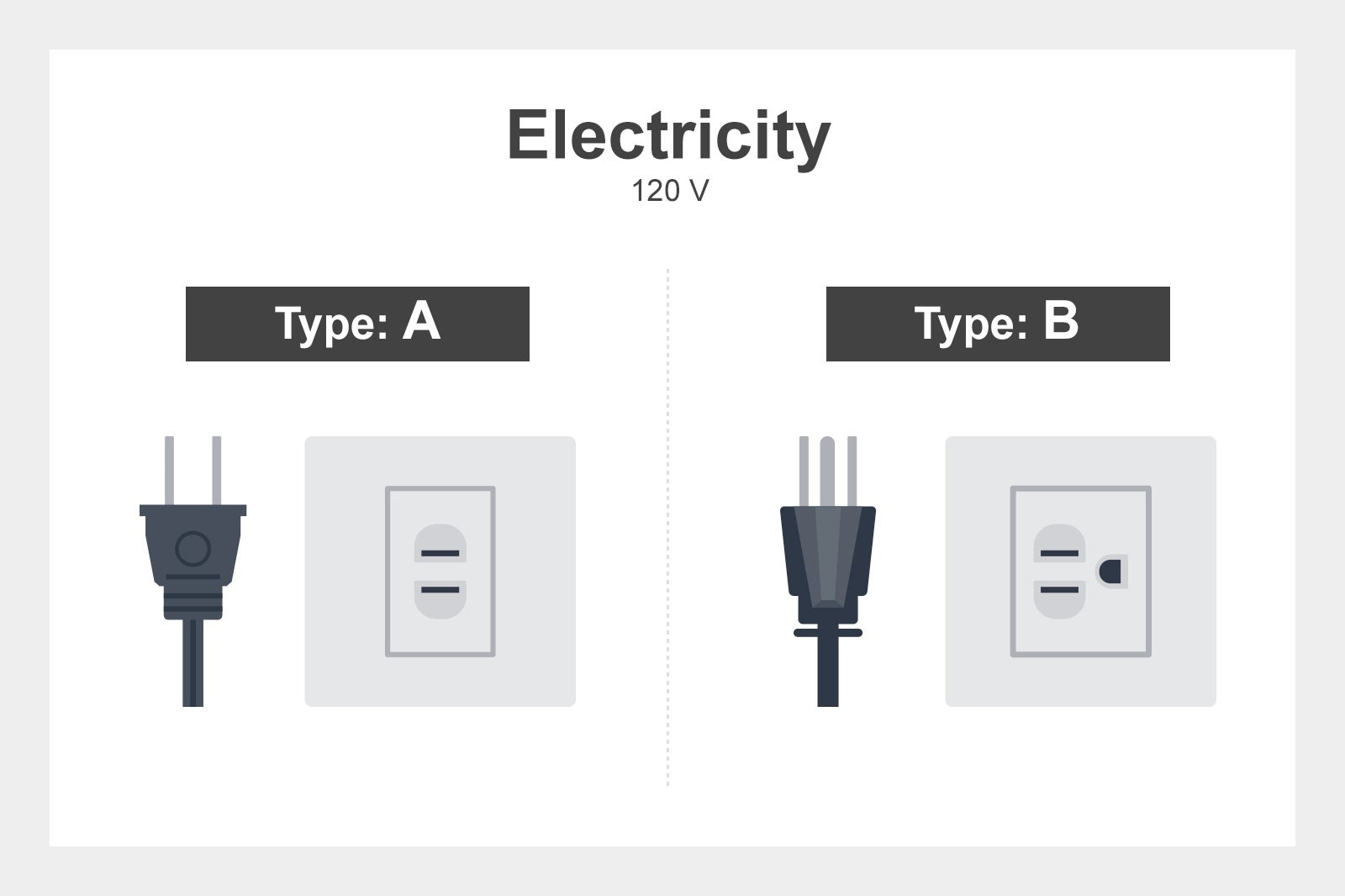 Plug type: A and B
Electricity: 120 V
Currency: United States Dollar (U.S.$)
International dialing code: +1 503 and +1 971
Emergency telephone number: 911
3
How to get to my hotel in Portland?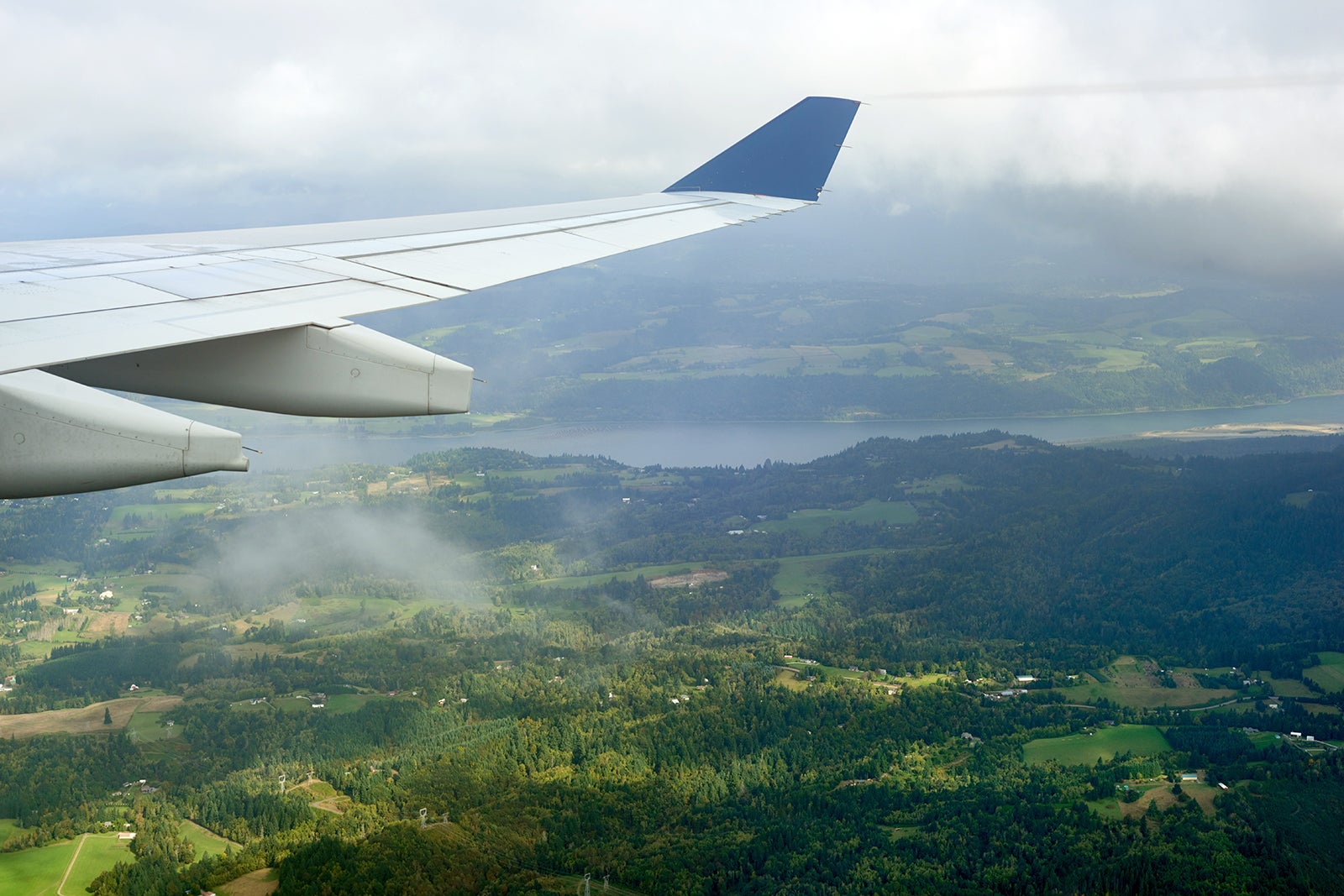 Getting to Portland from abroad? Portland International Airport (PDX) is the main arrival hub to The City of Roses. Portland has a range of minor airports including Rogue Valley International-Medford Airport at Medford, but 90% of the traffic goes to PDX.
You can also get to Portland by train or bus. Portland Union Station is the name of the Amtrak railroad station located in Downtown Portland. The Greyhound bus station is right north of the train station.
Portland International Airport (PDX)
Portland International Airport (PDX) is around 7 miles north of Downtown Portland. The driving time from the airport to the city centre is about 25 minutes.
High-speed, complimentary Wi-Fi is available throughout the airport. There's a good choice of ground transportation options for you to get to your hotel from PDX depending on your budget:
The taxi stand is on the lower roadway, on Island 3 in front of the Parking Garage opposite the Baggage Claim exit.
The Uber, Lyft, and Wingz pick-up area are on Island 2.
Shuttles and buses are on Island 1 outside the Baggage Claim area.
The Trimet Max/Light Rail station is on the main level, at the south end of the ticket lobby.
Major automobile rental agencies are on level 1 of the Parking Garage.
Getting to Portland by train or bus
If you're already in the United States, you can get to Portland by train from over 250 cities, including New York. Portland Union Station is just north of Downtown Portland. From there, you can easily get to your hotel by MAX Light Rail, public bus, taxi cab, or by rideshare.
The Greyhound bus station is within walking distance north of Portland Union Station. Here you'll find the same transportation options as available at the train station for getting to your hotel.
4
How to get around Portland?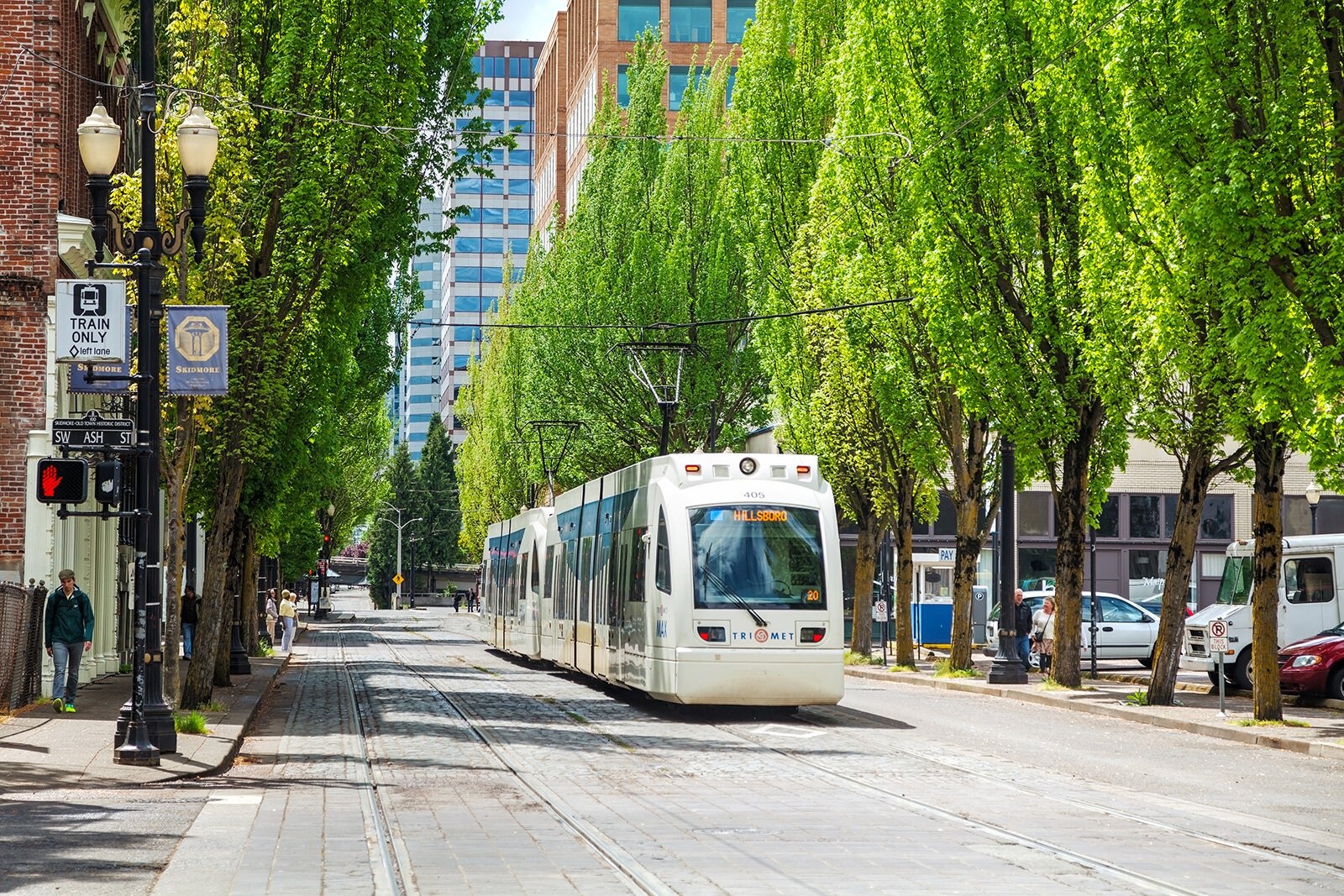 Travel tips
Portland is about 1 square mile wide and can easily be explored on foot. It's home to landmarks and attractions such as the Pioneer Courthouse Square, Portland Art Museum, and Tom McCall Waterfront Park, just to name a few. You'll also find a tremendous choice of dining, shopping, and nightlife entertainment options in Portland.
Cycling is a great, healthy way to explore Portland's city centre. For longer distances, Portland has a good range of transportation services including light rail, bus, and streetcar. Taxi cabs and rideshares are also popular and inexpensive due to the compactness of the city.
Taking a taxi cab in Portland
Portland offers many taxi cab services from different companies. These range from Radio Cab (+1 503-227-1212) and Broadway Cab (+1 503-333-3333) to Portland Taxi cab (+1 503-256-5400) and many more. Taxi cabs can also be flagged down on the street and found lined in front of hotels and major tourist attractions. The usual tipping for taxi cabs is around 15-20% of the fare. Credit cards are accepted by most taxi cab drivers.
Uber, Lyft, and Wingz are the main ridesharing apps used in Portland. Their rates are slightly cheaper than standard taxicabs. They accept payments by credit card.
Traveling by public transportation in Portland
Run by TriMet, the main Portland public transportation service features MAX light rail trains, buses, and WES Commuter Rail trains. These 3 systems have an expansive network that covers the entire city.
Portland Streetcar is another public transit option, with 3 lines available around the city centre. Finally, C-Tran is Clark County Washington's public transportation agency. It serves the entire state and has bus stops all over Portland.
Purchase a Hop Fastpass™, which is the better and easier way to pay for your fares on TriMet, C-Tran, and Portland Streetcar. A 1-way ticket is valid for 2 hours and a half. A 1-day pass costs twice the price of a single ticket, so it's a very economical option if you plan to travel a lot throughout Portland.
Is it worth hiring a automobile in Portland?
Foreigners can use their home country-issued driver's license for up to a year in Oregon. Nevertheless, renting a automobile is not the best option for getting around Portland. The city is often congested, and parking lots are rare and expensive. If you plan to visit attractions far out of town such as Lewis and Clark National Historical Park or Mount Hood National Forest, you can hire a automobile just for the day.
Is Portland a bike-friendly city?
Hiring a bicycle is a cool way of getting around Portland city centre. The city is truly bike-friendly. It was once ranked as a 'platinum' bicycle-friendly community by the League of American Bicyclists. Portland features over 300 miles of cycleways.
You can hire a bike at one of the multiple bike rental companies such as Everybody's Bike Rentals & Tours (+1 503-358-0152), Cycle Portland (+1 844-739-2453), or Kerr Bikes (+1 503-808-9955), just to name a few.
Portland also has a bike-sharing system named Biketown. Over 1,000 bikes and 120 stations can be found throughout the city.
5
What are the main annual events in Portland?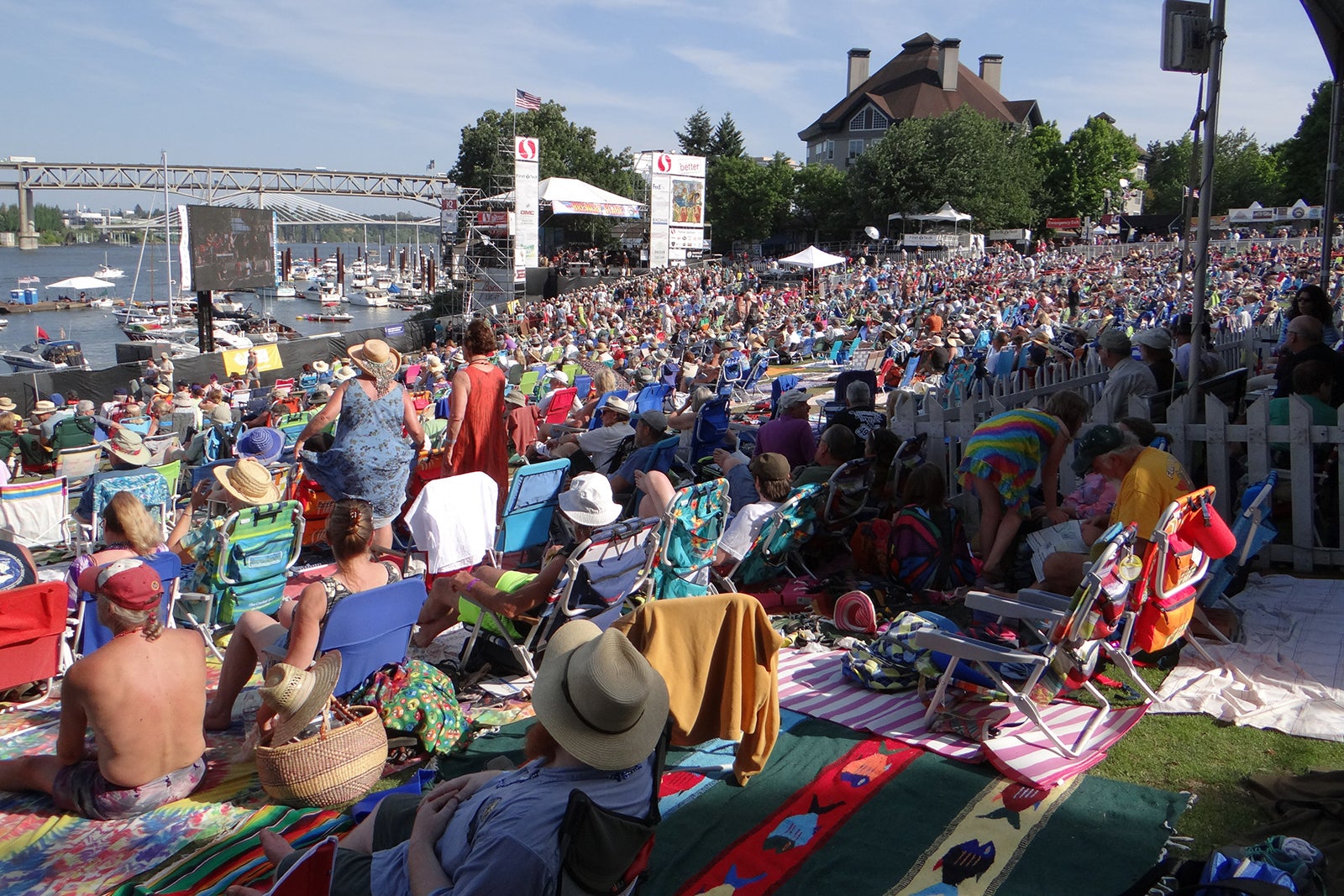 Portland Rose Festival
June
One of the biggest and oldest events in The City of Roses, featuring a floral parade, a starlight parade, an air show, and many more exciting happenings.
Where: Downtown Portland
Portland International Movie Festival
February
Held since 1971, this movie festival hosts screenings of movies from all around the globe, as well as conferences and talks about movie theater and culture.
Where: Portland Art Museum
Waterfront Blues Festival
July
Established in 1987, this 4-day event features renowned greats with Ben Harper, Chris Isaak, and the Steve Miller Band among its past headliners.
Where: Tom McCall Waterfront Park
6
What are the main landmarks in Portland?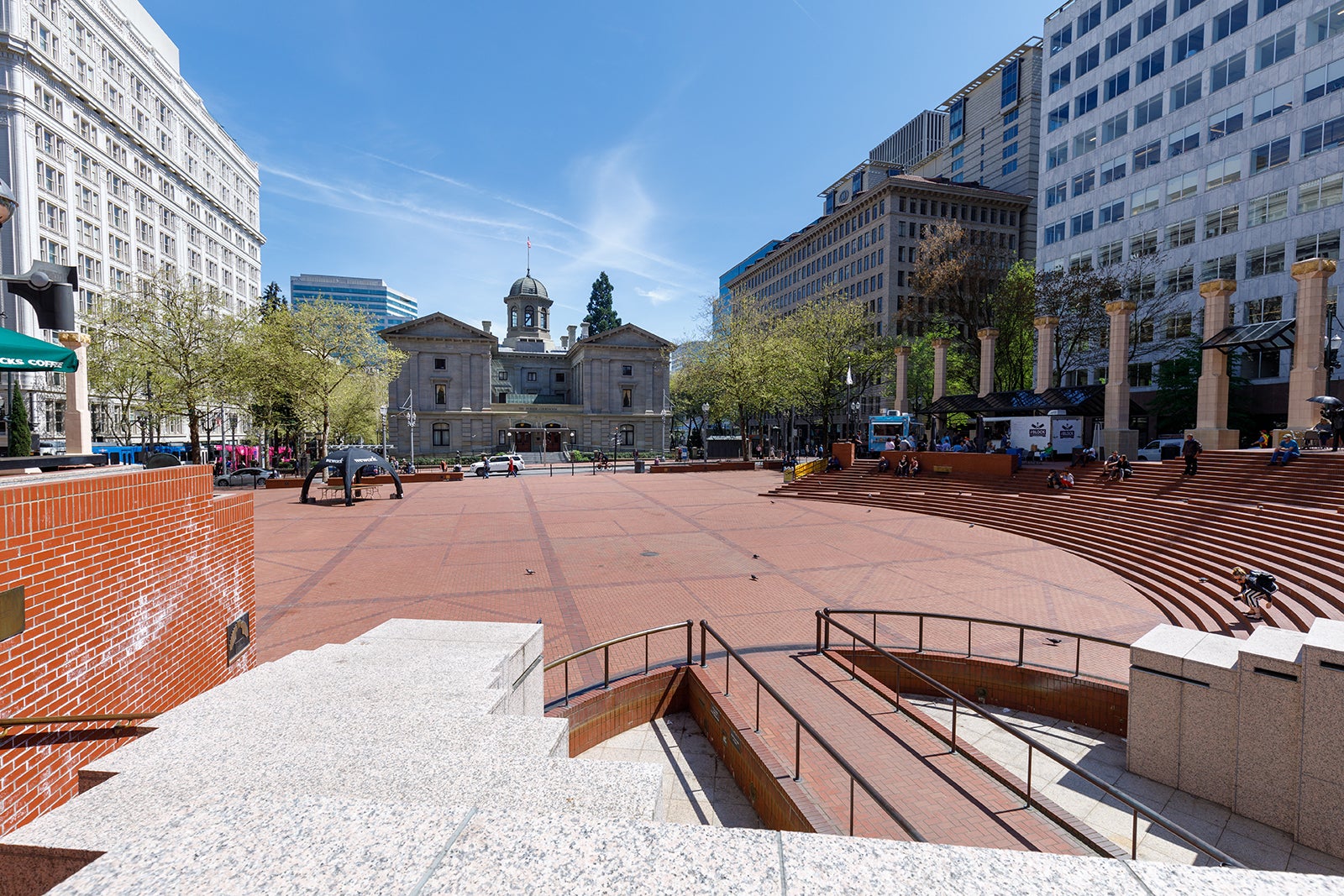 Pioneer Courthouse Square
A gathering place of visitors and locals in the heart of downtown Portland. It's also home to the historic Pioneer Courthouse.
Skidmore/Old Town Historic District
The fountain that gave its name to Portland's Old Town Historic District, which is also home to a Chinatown. It's on the Willamette riverside, between the Pearl District and Downtown Portland.
Portland Art Museum
One of the oldest art museums on the West Coast with permanent Native American, Asian, modern, and contemporary art exhibitions.
Pittock Mansion
A 46-room mansion built in 1914, located 2 miles northwest of Downtown Portland and where you can visit and wander around its 46-acre grounds.
Back to top