Phoenix Travel Essentials
Useful Information to Help You Start Your Trip to Phoenix
Our Phoenix Travel Essentials lays out the essential information you need to help you plan your trip to one of the most popular destinations in Arizona, USA. No matter how frequently you travel, some questions will always need answers: What's the weather like? How can I get from Phoenix Sky Harbor International Airport (PHX) to my hotel? What currency and type of plug do I need?
We have all these answers plus other basic info about the best time to go, getting there, getting around, and a few useful travel tips. You'll also learn about the most popular landmarks in Phoenix such as Scottsdale Civic Center Plaza, Phoenix Zoo, and the Musical Instrument Museum. It's all compiled in this Phoenix Travel Essentials. After reading this short and easy-to-read guide, you will be a little more prepared to start your trip to Phoenix.
1
When is the best time to travel to Phoenix?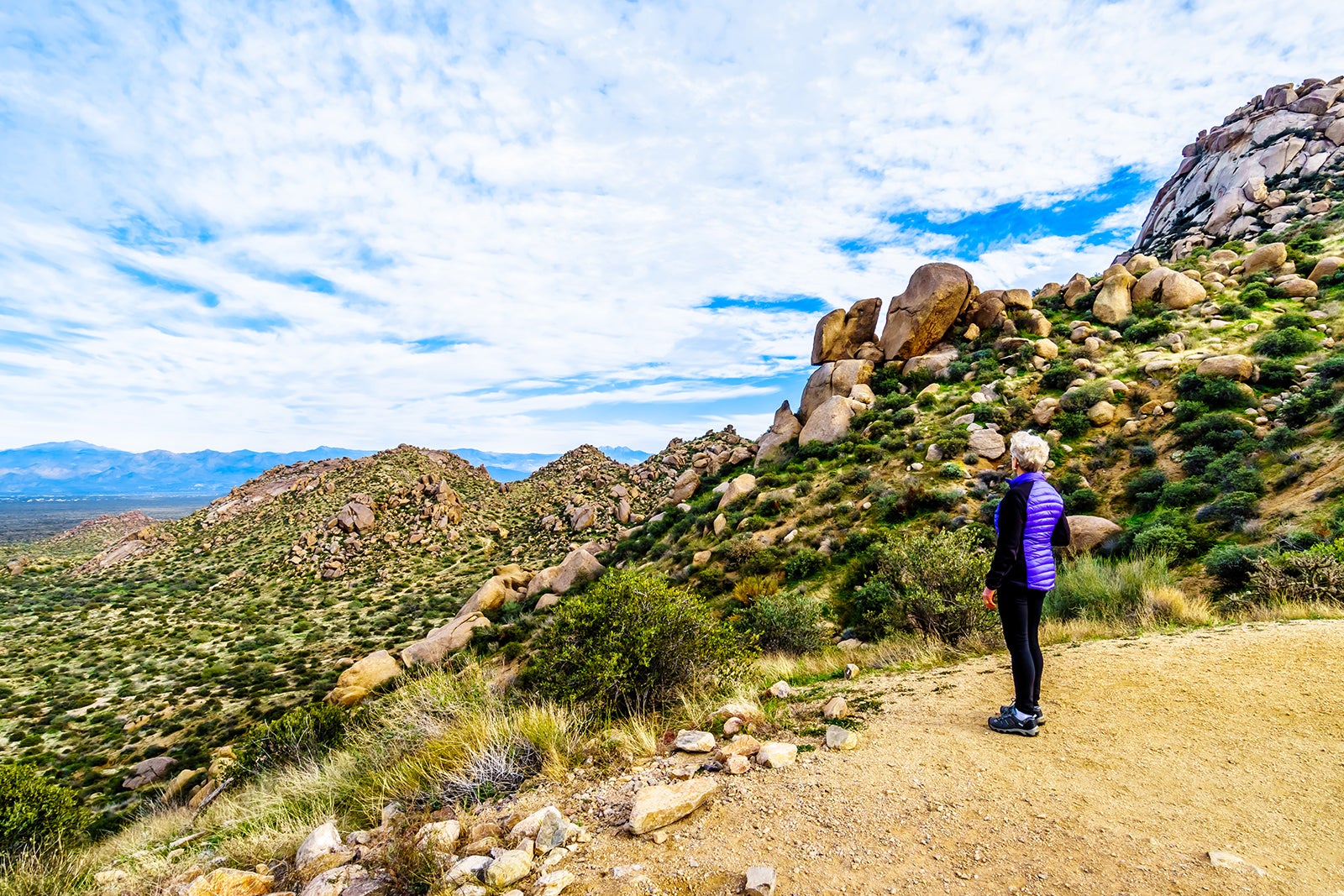 Phoenix has a hot desert climate with average temperatures ranging between 45°F in winter and 106°F in summer.
Phoenix is truly a dry city with around 37 rainy days per year on average. Curiously, August is the wettest month when you can expect about 5 rainy days. Note that thunderstorms offer a great light show in the evening at this time of the year.
The Sonoran Desert gets hot in summer with average temperatures of over 100°F from June to August. High season runs from October to May, with a peak in prices for hotels and golf courses from January to April.
The best times to visit Phoenix are April–May and September–October, right before and after the hottest season. You can still benefit from decent flight and accommodations rates around these times.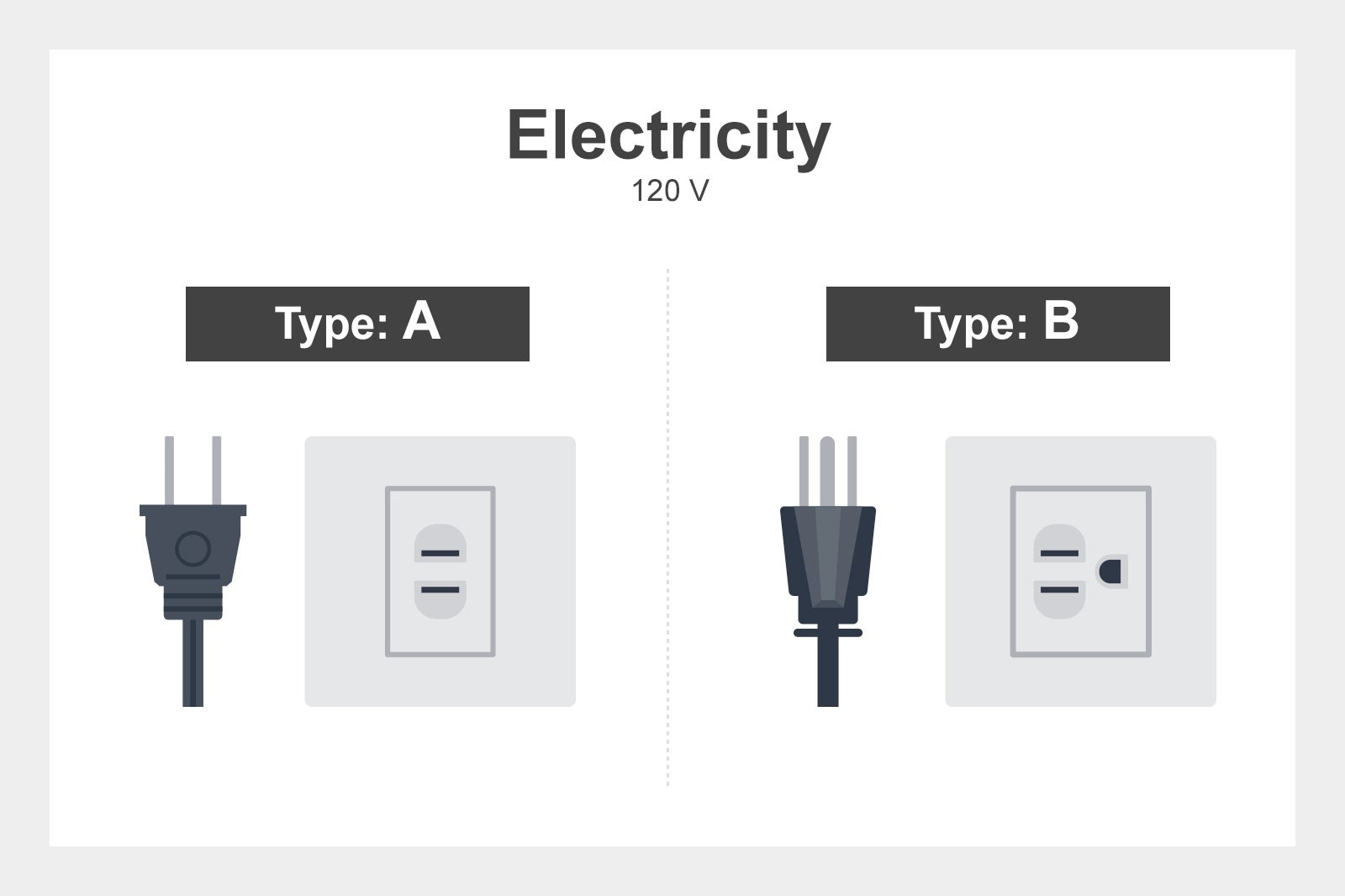 Plug type: A and B
Electricity: 120 V
Currency: United States Dollar (U.S.$)
International dialing code: +1 602
Emergency telephone number: 911
3
How to get to my hotel in Phoenix?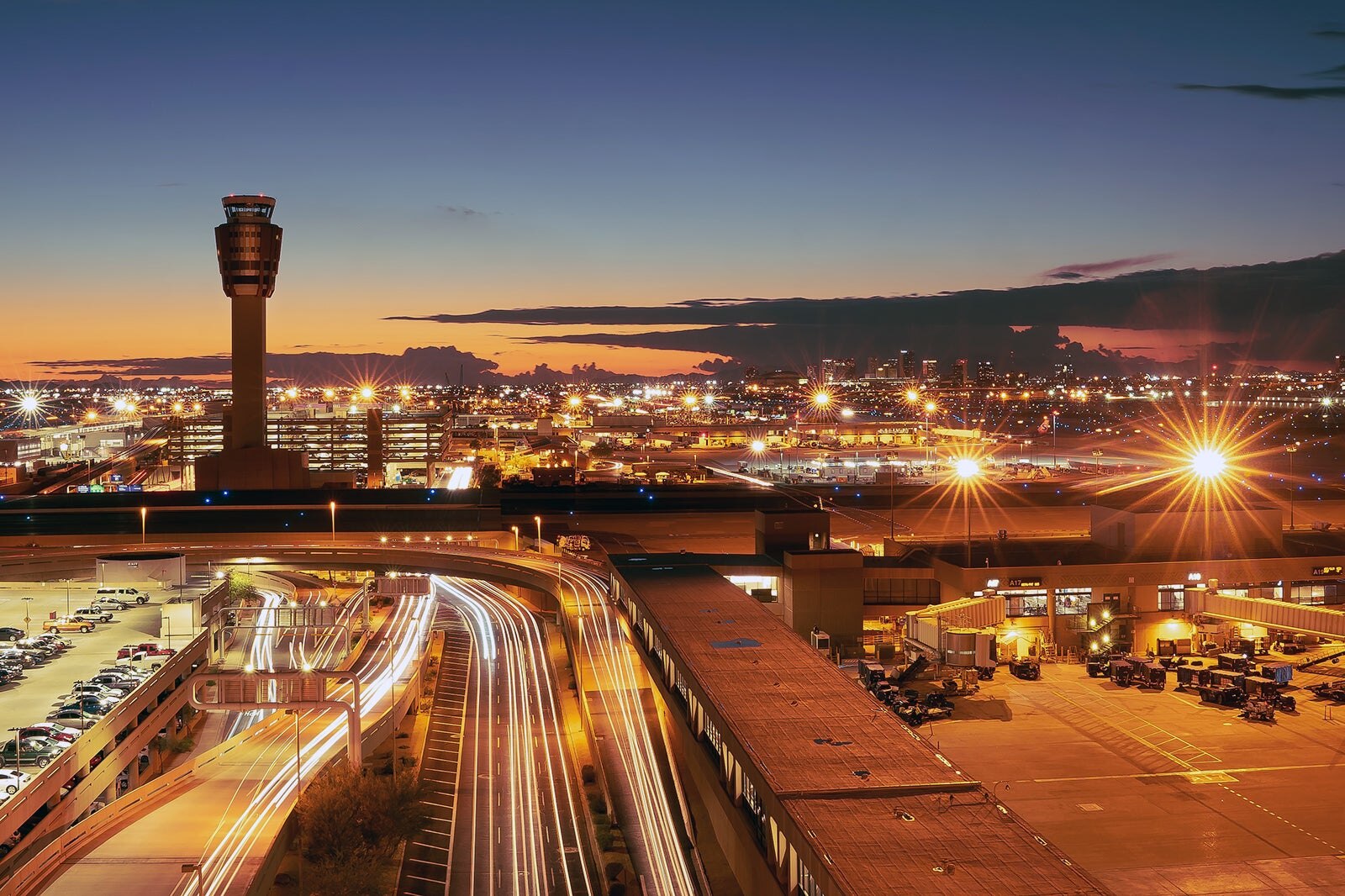 Phoenix Sky Harbor International Airport is the main arrival hub in Phoenix. It's a civil-military public airport located 3 miles east of the city centre.
You can also get to Phoenix by bus. The Greyhound bus station is right next to the airport in Phoenix Sky Harbor Center.
Phoenix Sky Harbor International Airport (PHX)
Phoenix Sky Harbor International Airport (PHX) is one of the largest and busiest commercial airports in the U.S. and is the main airport serving Arizona. The airport has 3 runways and 2 terminals, curiously named Terminal 3 and Terminal 4 – they kept their original names after the closure of Terminals 1 and 2.
A good choice of ground transportation options is available for you to get to your hotel from PHX according to your budget:
AAA/Yellow Cab, Mayflower Cab, and V.I.P. Taxi cab are the 3 companies under contract to pick you up at PHX. Their prices are regulated by the city.
Rideshare services – Uber and Lyft – operate at PHX.
You can find a large choice of automobile and shuttle services, as well as intercity/statewide shuttles, at the airport.
Valley Metro runs buses that take you along West Buckeye Road, and to the free PHX Sky Train® Station from which you can connect to the Valley Metro Rail network.
The Rental Automobile Center is reachable by free shuttle at the curb on baggage claim levels of each terminal. It's best to make a reservation as vehicles are limited for walk-in customers.
Phoenix Bus Station
Also known as Downtown Greyhound Station, Phoenix Bus Station is at 2115 East Buckeye Road, just west of the airport. It's not only served by Greyhound but also by FlixBus, Tufesa, and Express Arrow.
From here, you can gain access to the same transfer options as you'd find at the airport.
4
How to get around Phoenix?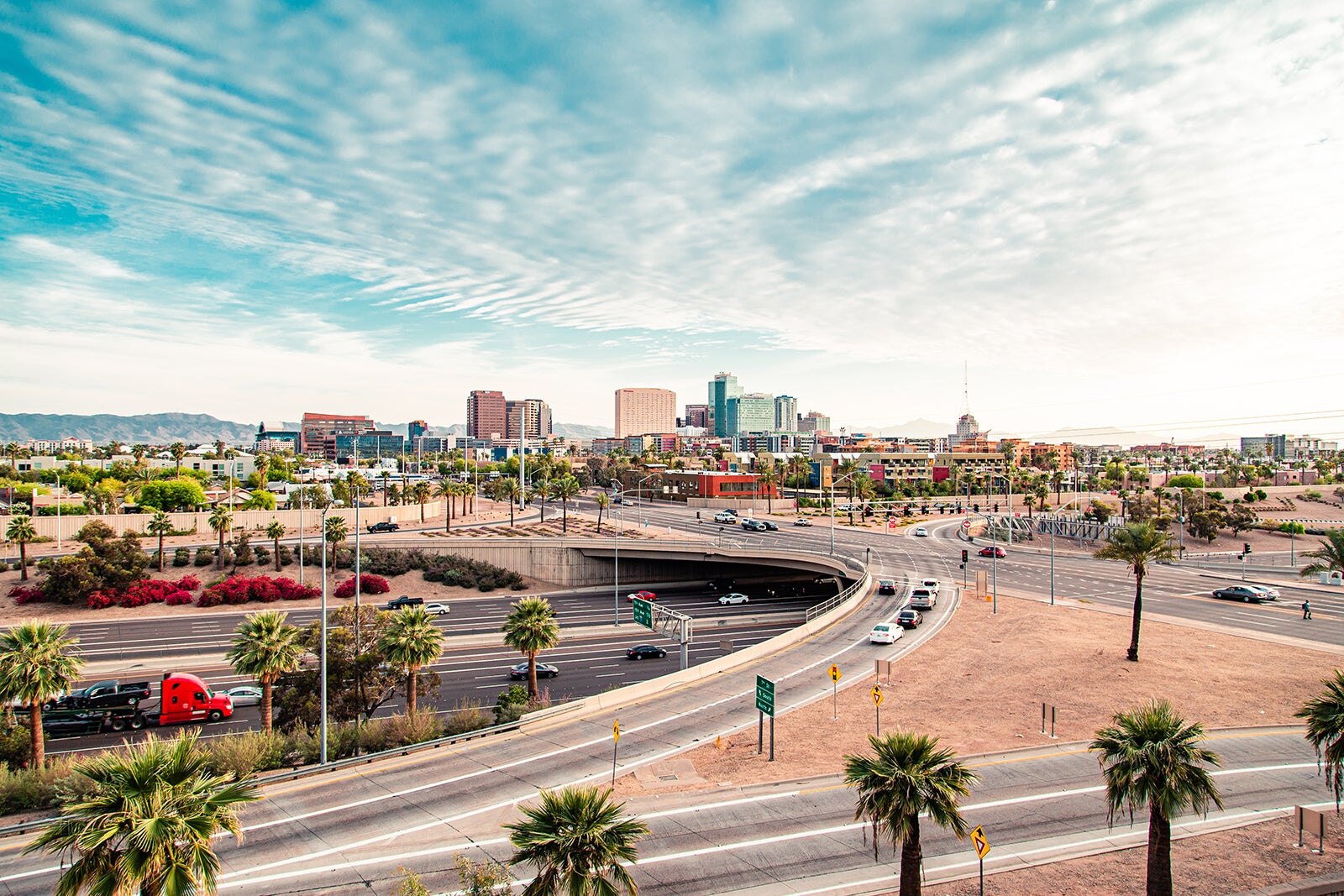 Travel tips
Covering an area of about 2 sq miles, Downtown Phoenix can easily be explored on foot. Home to the Japanese Friendship Garden of Phoenix and the Chase Field Stadium, plus an excellent choice of restaurants, bars, and shops, you'll find many things to see and do in Phoenix's city centre.
Phoenix also features options for all budgets to explore the city and its surroundings.
Taking a taxi cab in Phoenix
From Yellow Cab Arizona (+1 480-888-8888) to Elite Taxi cab Cab (+1 602-307-5555) to Phoenix Cab Company (+1 480-999-5113) and many more, Phoenix has no shortage of taxi cab companies. You can also easily find taxi cab lines in front of hotels and attractions. You can easily hail one down on the street.
Convenient yet rather expensive, getting around the city by taxicab is not your best option if you're on a budget. Average tipping is around 15% of the taxi cab fare. Credit cards are accepted by most taxi cab drivers.
Uber and Lyft are the 2 main ridesharing apps used in Phoenix. Their rates are slightly cheaper than standard taxicabs. Note that taxi cabs and shared rides are good options for enjoying Phoenix's nightlife.
Traveling by bus and rail in Phoenix
Valley Metro runs the Phoenix public transportation network. It features both rail and bus services. It takes you anywhere in and around the city as the Valley Metro covers an area of over 1,100 sq miles.
Rates are affordable – without a doubt, it's the most economical way of getting around Phoenix. There are 1-ride tickets, 1-day passes, and many more ticketing options available at vending machines in rail stations and various points of sale throughout Phoenix. Check out Valley Metro's website for further info.
Riding shuttles in Phoenix
A few districts and towns in Phoenix offer free shuttles for getting around. The Scottsdale Trolley, the Downtown Neighborhood Shuttle and Tempe's Free Local Neighborhood Shuttle (FLASH) take you for a ride through their vicinity, in which you'll find a pleasant choice of dining and shopping options. Some hotels and resorts offer similar complimentary shuttle services.
Renting a automobile in Phoenix
Featuring an easy-to-navigate road network and plenty of parking spaces, Phoenix is a automobile driver's haven. Renting a automobile is therefore the best option to explore the city and its surroundings. It's certainly more expensive than public transportation, yet it gives you the freedom to go anywhere you want, whenever you want.
Foreigners are allowed to use their standard driving license in Arizona. Automobile rental companies can be found at the airport and in the city centre. You can avoid heavy traffic if you drive outside rush hours. Note that local drivers like to drive fast, so try not to be in their way or drive too slowly.
Cycling around Phoenix
The Phoenix area offers almost 600 miles of bike lanes and more than 100 miles of off-street trails. The Grid Bike Share app is the one you should get to ride a bicycle in Phoenix and Tempe city centres. Check out their website for all the info about this healthy way to explore the area.
Besides Grid Bike Share, you can also find many bike rental shops such as The Bicycle Cellar, Trailhead Bike Café, and Cactus Adventures in Phoenix.
5
What are the main annual events in Phoenix?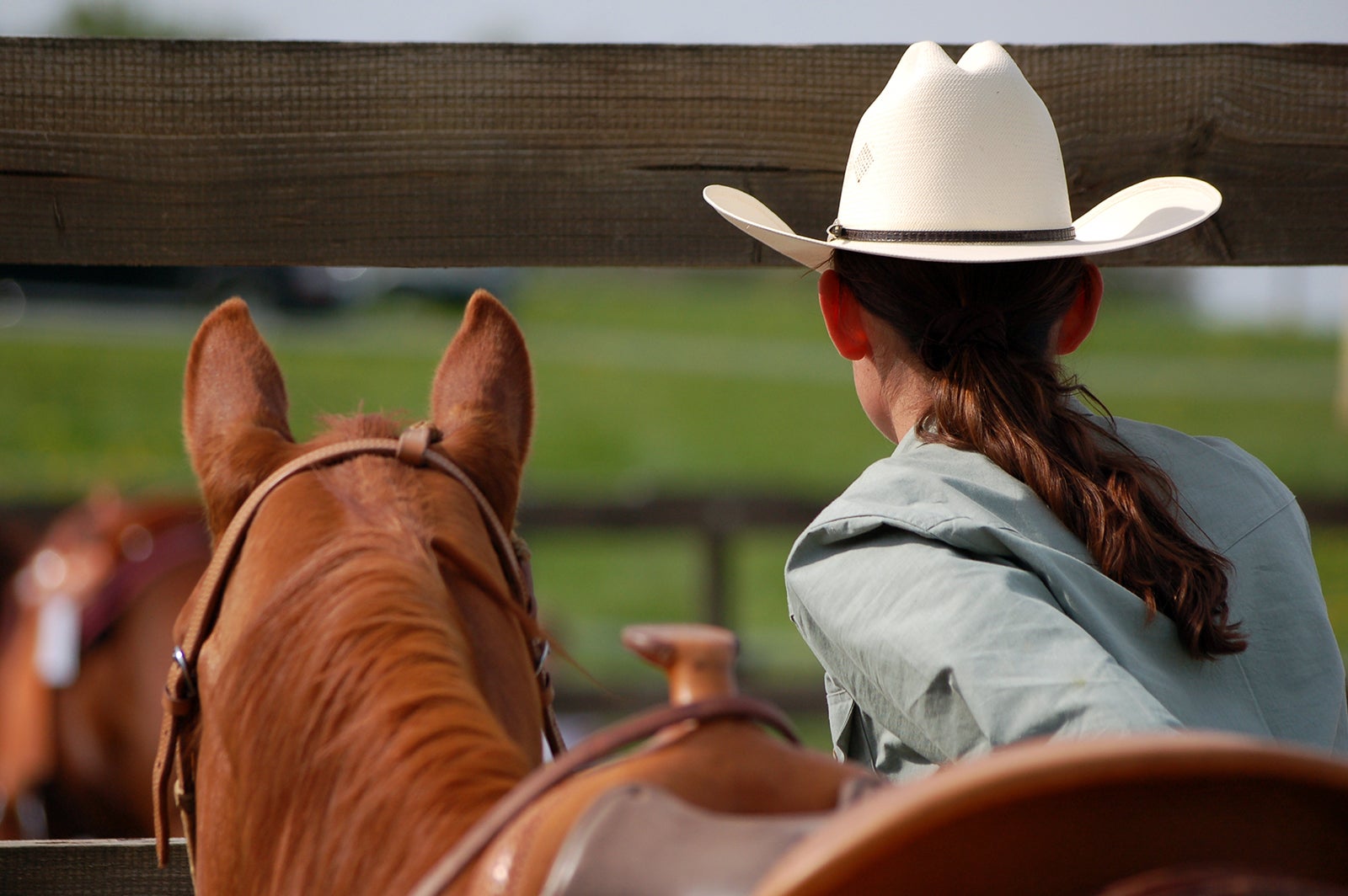 Arizona State Fair
October
A 4-day family-friendly fair that has been gathering Arizonians since 1905, featuring thrill rides alongside plenty of local dining and shopping opportunities.
Where: Arizona State Fairgrounds
4th of July Celebration
July 4th
Celebrate Independence Day like a local in a festive family-friendly atmosphere in Phoenix by heading to Steel Indian School Park to enjoy local delicacies and impressive fireworks.
Where: Steele Indian School Park
Arizona National Livestock Show
December
Arizona is one of the states that forged the cowboy's culture in North America, and here you can learn about it through events involving humans, cattle, and horses.
Where: 1826 W McDowell Road
6
What are the main landmarks in Phoenix?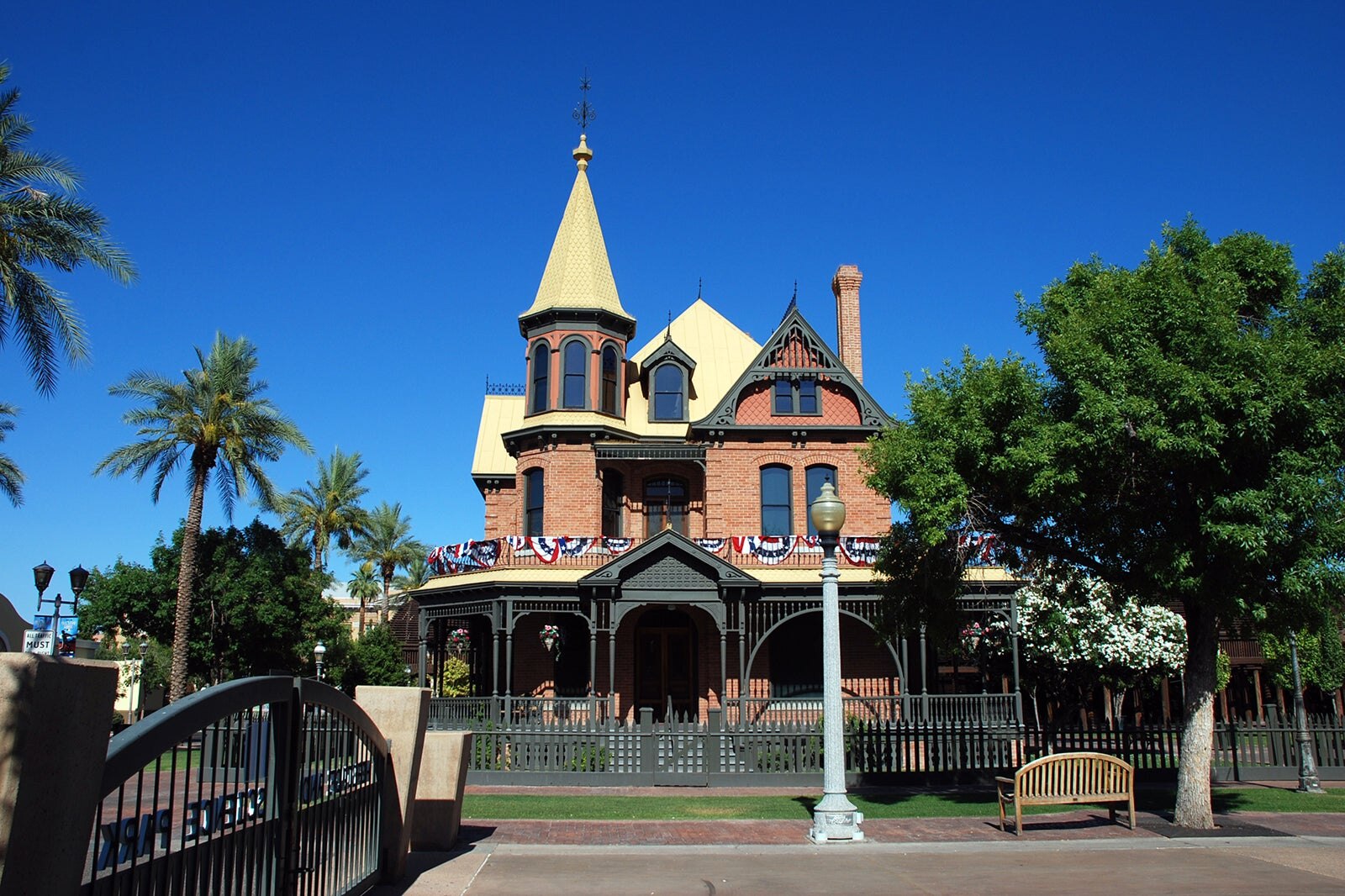 Pueblo Grande Museum
Pueblo Grande Museum and Archeological Park takes you on a journey through the remains of the prehistoric Hohokam people, the ancestors of Native Americans.
Desert Botanical Garden
A showcase of thousands of cacti, flower, and tree species. Various exhibits and activities take place at the gardens, so be sure to check what's on when you're visiting.
Heard Museum
One of the best showcases of Native American culture in the country, home to vast collections and world-class exhibitions offering unrivaled insight into the history of Native Americans.
Historic Heritage Square
Phoenix's original settlement site where you can get a glimpse of Wild West Phoenix with late 19th- and early-20th-century structures to explore, including the Rosson House Museum.
Back to top