Ocean City Travel Essentials
Useful Information to Help You Start Your Trip to Ocean City
Our Ocean City Travel Essentials lays out the essential information you need to help you plan your trip to one of the most popular destinations in Maryland, USA. No matter how frequently you travel, some questions will always need answers: What's the weather like? How can I get from Baltimore International Airport (BWI) to my hotel? What currency and type of plug do I need?
We have all these answers plus other basic info about the best time to go, getting there, getting around, and a few useful travel tips. You'll also learn about the most popular landmarks in Ocean City such as the Boardwalk, Assateague Island, and Ocean City Life Saving Station Museum. It's all compiled in this Ocean City Travel Essentials. After reading this short and easy-to-read guide, you will be a little more prepared to start your trip to Ocean City.
1
When is the best time to travel to Ocean City?
Ocean City has a humid subtropical climate, meaning it can be hot in summer with average temperatures of 75°F and mild to cold in winter with an average of 35°F.
The number of rainy days in Ocean City is equally spread over the year. On average, you can expect up to 10 rainy days per month. It rains slightly less in September–November and slightly more in July–August.
Late May to mid-September is the warmest time of the year in Ocean City. The weather lets you fully enjoy all seaside activities, although it's good to have an umbrella handy in July–August. The peak season runs from late June to late August, so expect more crowds and higher accommodations rates around these times. Book 3 or 4 months ahead if you plan to visit Ocean City around this time of the year.
The best times to visit Ocean City are the May–June and September–October periods. Hotels usually offer better rates and the weather, though a bit chillier, remains pleasant.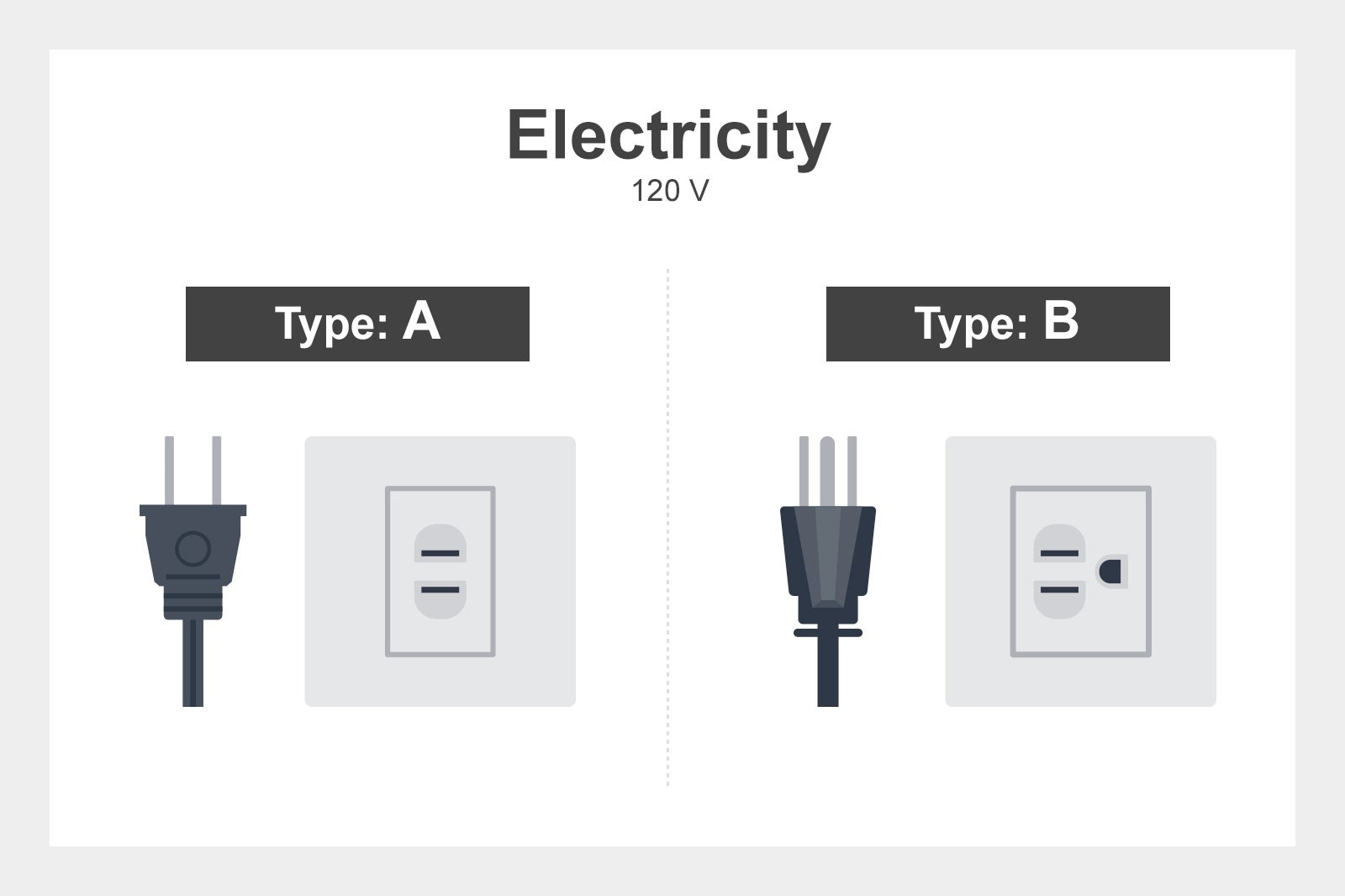 Plug type: A and B
Electricity: 120 V
Currency: United States Dollar (U.S.$)
International dialing code: +1 410, +1 443 and +1 667
Emergency telephone number: 911
3
How to get to my hotel in Ocean City?
If you're getting to Ocean City from abroad, Baltimore International Airport is the closest international airport serving Ocean City. If you're already on North American soil, you can take a domestic flight to Salisbury-Ocean City-Wicomico Regional Airport (SBY), which is served by American Airlines. Ocean City has its own local airport, Ocean City Municipal Airport (OCE), which mainly serves as a pilot center and offers biplane and helicopter rides as well as skydiving tours.
You can also get to Ocean City by train or bus. Amtrak has a railroad station 28 miles away in Salisbury, and Greyhound has a bus station in West Ocean City.
Baltimore International Airport (BWI)
Officially called Baltimore/Washington International Thurgood Marshall Airport, Baltimore International Airport is the primary airport serving Ocean City. It's located 105 miles from the resort town. The driving time from the airport to Ocean City is about 2 hours and 30 minutes.
Complimentary Wi-Fi is available throughout the airport. A good choice of ground transportation options is available for you to get to Ocean City from BWI, according to your budget:
The taxi cab stands are right outside the baggage claim area on the lower level near doors 5 and 13.
BayRunner Shuttle buses can be found on the lower level near doors 8, 9, 18, and 19.
Uber and Lyft can pick you up at the terminal curbs on the upper level or departures.
There's a free shuttle to get to the BWI rental automobile facility on New Ridge Road.
Amtrak runs a bus every 4 hours from BWI to Ocean City. There's a free shuttle to get to the MARC/Amtrak station. From there, the ride takes over 3 hours, but it's the cheapest way to get to Ocean City.
Getting to Ocean City by bus
Greyhound has a bus stop in West Ocean City. It's at 12848 Ocean Gateway, 1 mile from the southern tip of Ocean City. From there, the most convenient way to get to your hotel is by taxi cab or ridesharing.
From mid-April to mid-October, you can also take a public bus at West Ocean City Park and Ride, right next to the Greyhound bus stop. It will take you to the southern end of Ocean City barrier island, from where you can catch the Beach Bus to reach your hotel.
4
How to get around Ocean City?
Travel tips
Covering an area of about 3 sq miles, the center and main beachfront of Ocean City is easily walkable. It's home to landmarks and attractions such as the Boardwalk, Jolly Roger Amusement Park and Splash Mountain Water Park, just to name a few. You'll also find here a tremendous choice of dining, shopping, and nightlife entertainment options.
Cycling is also a great, healthy way to explore Ocean City. For longer distances, the Beach Bus and the Boardwalk Streetcar are 2 convenient and affordable modes of transportation.
Taking a taxi cab in Ocean City
From Century Taxi cab (+1 410-524-8888) to Taxi cab Taxi cab (+1 410-289-8686) to Coastal Cab (+1 443-912-2222) and many more, Ocean City has no shortage of taxi cab services. Taxi cabs can also be flagged down on the street and found lined up in front of hotels and major tourist attractions.
Convenient yet rather expensive, getting around the resort town by taxicab is not your best option if you're on a budget. The usual tipping for cabs is around 15-20% of the fare. Credit cards are accepted by most taxi cab drivers.
Uber and Lyft are the 2 main ridesharing apps used in Ocean City. Their rates are slightly cheaper than standard taxicabs. They accept payment by credit card.
Traveling by bus/trolley in Ocean City
Run by the municipality, the Beach Bus takes you around Ocean City on the cheap. The bus route goes along the Coastal Highway from South Division Street Transit Station to 144th Street Transit Station. It features over 60 stops on each side of the road along the way.
The 1-day pass is affordable. It allows you to ride from 6 am until 6 am the next morning. Passes can be purchased on board buses, but you need to have the exact amount of cash in coins.
Hiring a automobile in Ocean City
Renting a automobile is not the best option for getting around Ocean City. The city is often congested and parking lots are rare and expensive.
Foreigners are allowed to use their country driving license for up to 30 days in Maryland. If you plan to rent a automobile, it's best to pick a hotel offering free parking. Otherwise, you'll have a choice between paying expensive rates or leaving the automobile at West Ocean City Park and Ride.
Riding on the Boardwalk Streetcar
The Boardwalk Streetcar offers you a ride along Ocean City Boardwalk from Inlet Park in the south up to 27th Street in the north. The ride takes around 30 minutes and the streetcar can be flagged down at any location along the way.
It's a very pleasant and convenient way to travel throughout the resort town, especially if you travel with family or are a senior citizen. Note that the Boardwalk Streetcar operation depends on weather conditions.
Cycling in Ocean City
Hiring a bicycle is a cool way of getting around Ocean City and along the beach – there's even a biking trail on the Boardwalk. It's always open off-season and opens for limited hours during summer. Skaters must follow the same rules on the Boardwalk.
Check out companies such as Bike World (+1 410-289-2587), Dandy Don's Bike Rentals (+1 410-289-2289), and Atlantic Bike Co. (+1 410-289-3305), just to name a few.
5
What are the main annual events in Ocean City?
Ocean City Sunfest
Late September
A 4-day celebration of the end of the high season in Ocean City and at the same time a festival of music, arts and crafts, as well as the local food scene.
Where: Inlet Park, at the southern end of the beach
Ocean City Bike Week
Mid-September
One of the largest motorcycle rallies on the East Coast, gathering hundreds of enthusiastic bikers willing to showcase their splendid motorcycles. Features rock concerts, food, and cool merchandise.
Where: Inlet Park, at the southern end of the beach
Ocean City Air Show
June
A memorable, breathtaking festival of the skies showcasing tight formation flying, incredible stunt acts, precise parachute jumps, and more performed by the country's most celebrated civilian and military flight teams.
Where: Beach, Boardwalk, the rooftop of some hotels
6
What are the main landmarks in Ocean City?
Ocean City Boardwalk
Walk, jog or cycle along Ocean City Boardwalk, which extends up the seaside for nearly 3 miles. Soak up the sea views, check out the amusement parks, and stop to watch the street performers.
Henri's Hotel
Built around 1895, Henri's Hotel is a true historical landmark of Ocean City. At the time of segregation, famous jazzmen such as Louis Armstrong, Duke Ellington, and Cab Calloway stayed there.
Ocean City Life Saving Station Museum
A museum where you can learn more about the Town Beach Patrol and its proud history. It hosts rotating exhibits and maintains a permanent collection of memorabilia from the early days.
Ocean City Fishing Pier
A wooden jetty on stilts at the southern end of the barrier island and a vintage landmark. It's the only pier in Ocean City from which you can fish in the Atlantic Ocean.
Back to top