10 Movie Locations in Washington DC
Iconic Washington DC Places Depicted in Films
Washington DC has been depicted in over 300 Hollywood movies of various genres, from romance, comedy and drama, to sci-fi, horror and historical thrillers. Aside from the iconic White House, which is frequently shown among scenes of chaos and destruction on film, there are many landmarks where film enthusiasts get to explore during their stay in the US capital.
Some even offer guided tours if you want to hear interesting behind-the-scenes stories. You can plan out your sightseeing excursion by checking out our guide of iconic Washington DC places depicted in films. Note that this list contains a number of movies spoilers.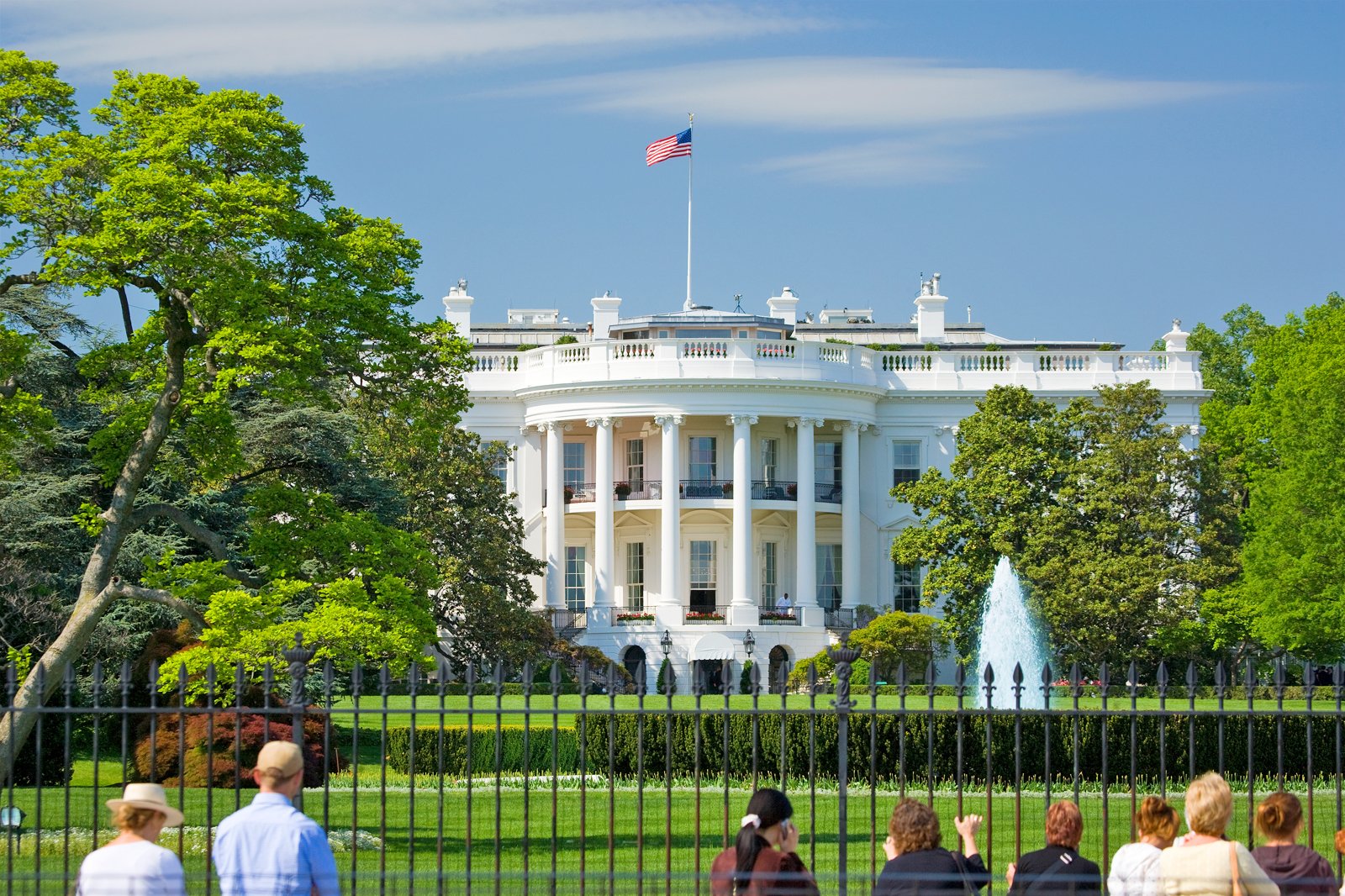 The White House
Independence Day (1996)
The White House is a popular stop for most visitors in Washington DC as it has been the official residence of every president of the USA since 1800. It's usually depicted in action, sci-fi, and political drama films. In Independence Day (1996), alien forces destroyed this iconic building using a laser beam but, in reality, filmmakers detonated a miniature replica using over 30 explosive charges. During your stay in Washington DC, you get to explore the White House by arranging for a guided tour through your home country's embassy.
Location: 1600 Pennsylvania Ave NW, Washington, DC 20500, USA
Open: Daily from 7.30am to 4pm
Phone: +1 202 456 1111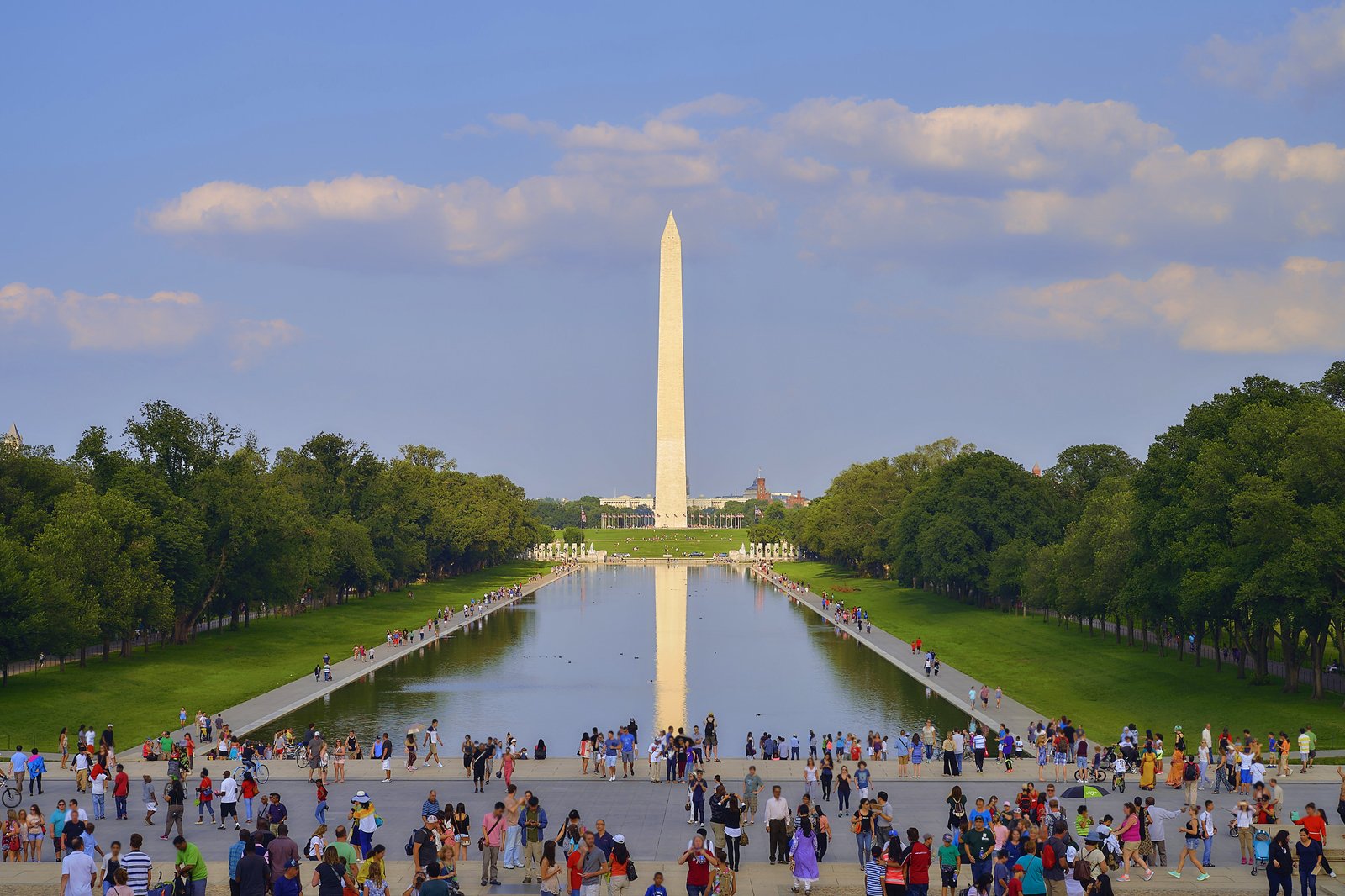 Lincoln Memorial Reflecting Pool
Forrest Gump (1994)
You may recognize Lincoln Memorial's reflecting pool from the heart-warming film Forrest Gump (1994). In the film, the titular character gave a powerful anti-Vietnam War speech at the memorial before noticing his love interest, Jenny, crossing the reflecting pool. The landmark is also featured in Captain America: The Winter Soldier (2014), with Steve Rogers and Sam Wilson jogging (or racing each other) around the Reflecting Pool in front of the Lincoln Memorial.
Location: 2 Lincoln Memorial Cir NW, Washington, DC 20037, USA
Phone: +1 202-426-6841
photo by Pedro Szekely (CC BY-SA 2.0) modified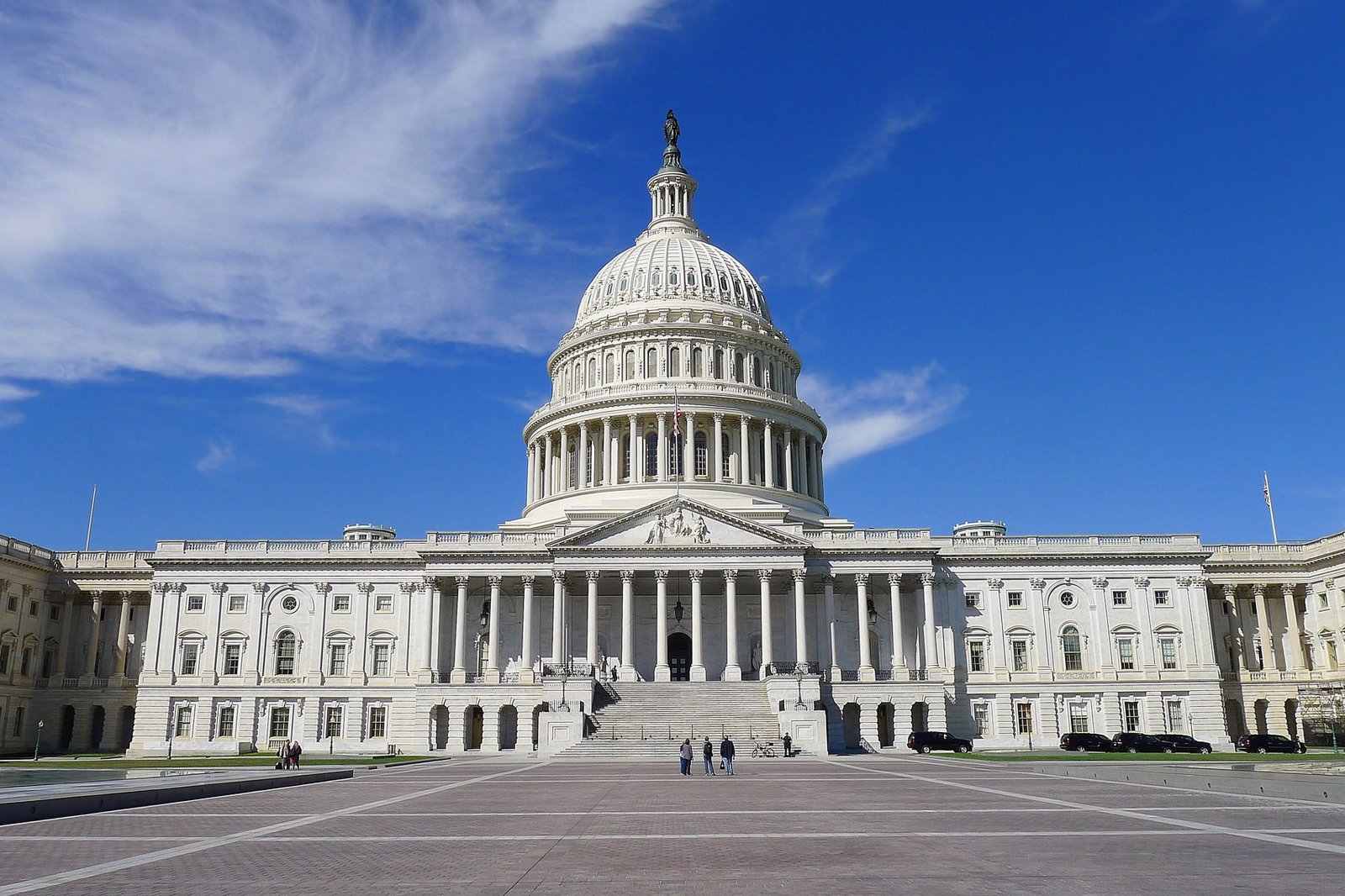 US Capitol
Mr. Smith Goes to Washington (1939)
Mr. Smith Goes to Washington (1939) is an award-winning political drama featuring exterior shots of numerous landmarks, including the US Capitol Building. Its most impressive feature is a 177-foot-tall white dome with revolutionary period scenes, relief sculptures, and busts of former presidents. With over 600 rooms and miles of vaulted corridors built in a 19th-century neoclassical style, a guided tour of the US Capitol can give you the chance to try finding some familiar scenes from the film.
Location: East Capitol St NE & First St SE, Washington, DC 20004, USA
Open: Monday-Saturday from 8.30am to 4.30pm
Phone: +1 202 226 8000
photo by dchelyadnik (CC0 1.0) modified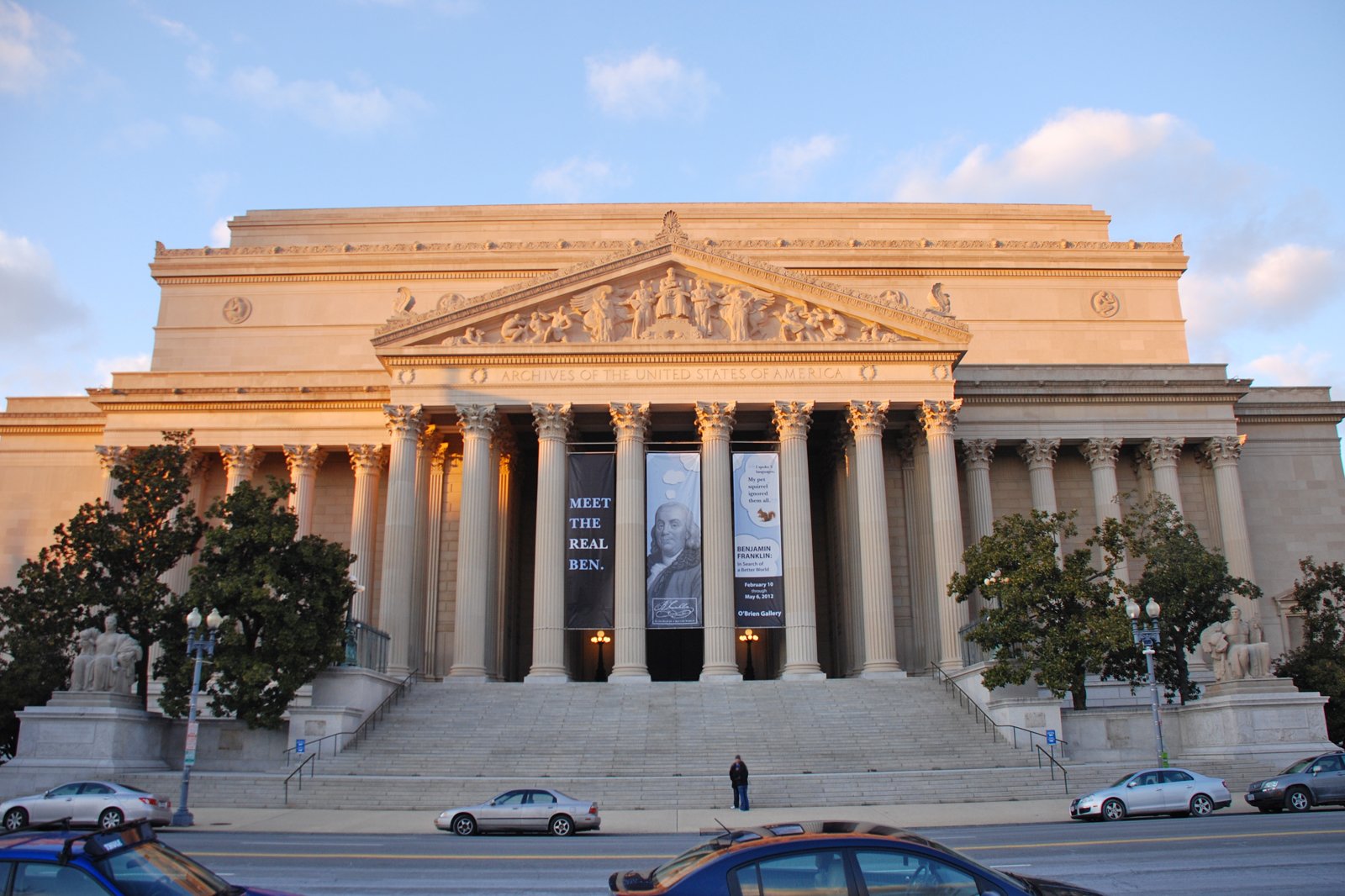 National Archives Building
National Treasure (2004)
Many claim that the number of visits to the National Archives Building dramatically increased following the release of National Treasure back in 2004. The adventure film follows the adventures of cryptologist Ben Gates (played by Nicholas Cage), who stole the Declaration of Independence to find a hidden treasure map. Visit the National Archives Museum to see important documents of US history, such as the Declaration of Independence (please don't try stealing it), the Bill of Rights, and the Constitution of the United States.
Location: 700 Pennsylvania Ave NW, Washington, DC 20408, USA
Open: Monday-Friday from 8.45am to 5.45pm (closed on Saturdays and Sundays)
Phone: +1 866-272-6272
photo by Jarek Tuszyński (CC BY-SA 3.0) modified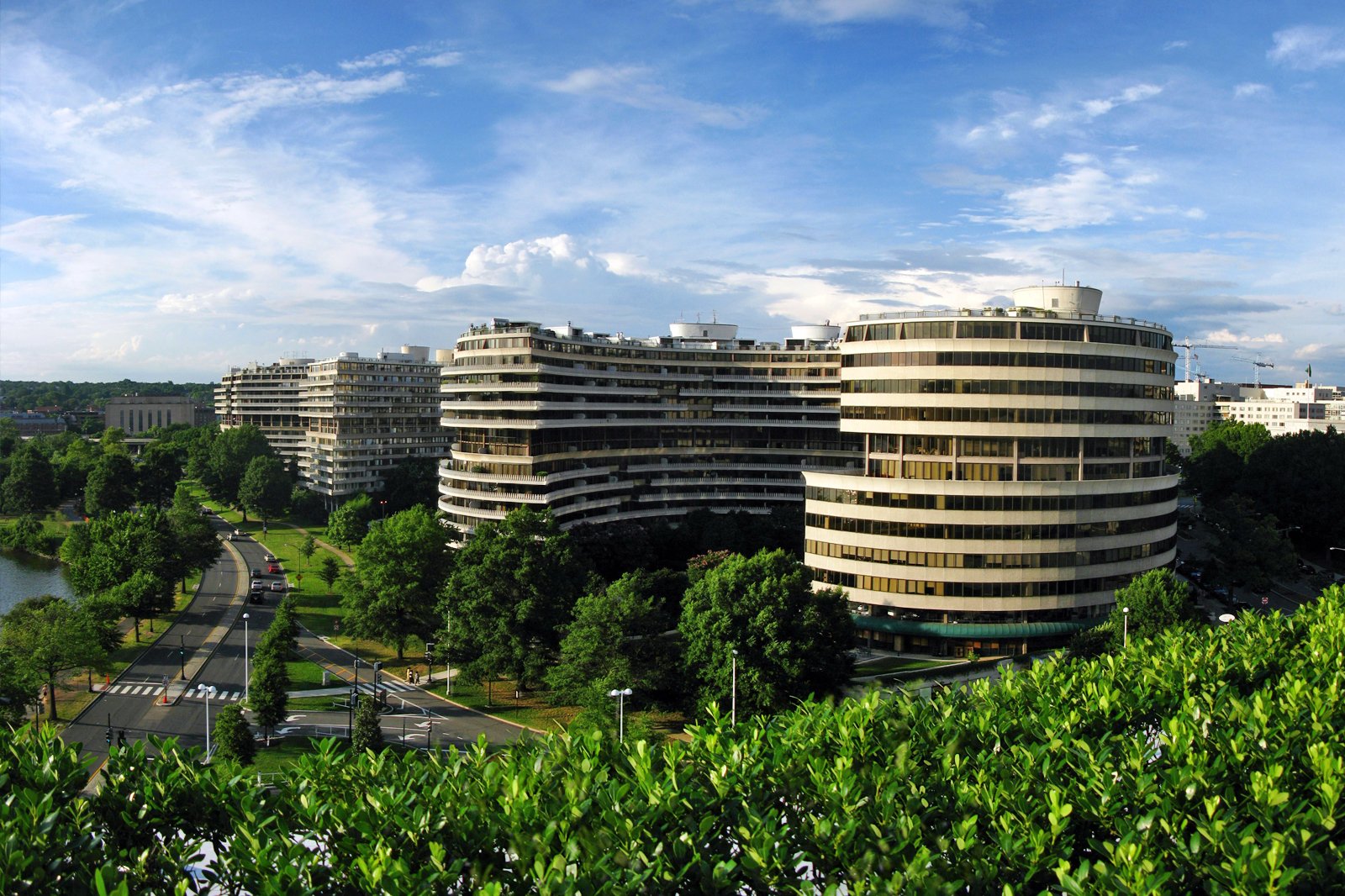 Watergate Hotel
All the President's Men (1976)
The Watergate Hotel is one of many Washington DC landmarks you can spot while watching the 1970s classic All the President's Men. The film is based on the real-life Watergate scandal, a political exposé by Washington Post reporters Bob Woodward and Carl Bernstein. Today, the Watergate complex is where you can visit The Scandal Room (formerly Room 214), which has commemorative pictures, news articles, and quotes from key players, including former US President Richard Nixon.
Location: 2650 Virginia Ave NW, Washington, DC 20037, USA
Phone: +1 866-271-0218
photo by thisisbossi (CC BY-SA 2.0) modified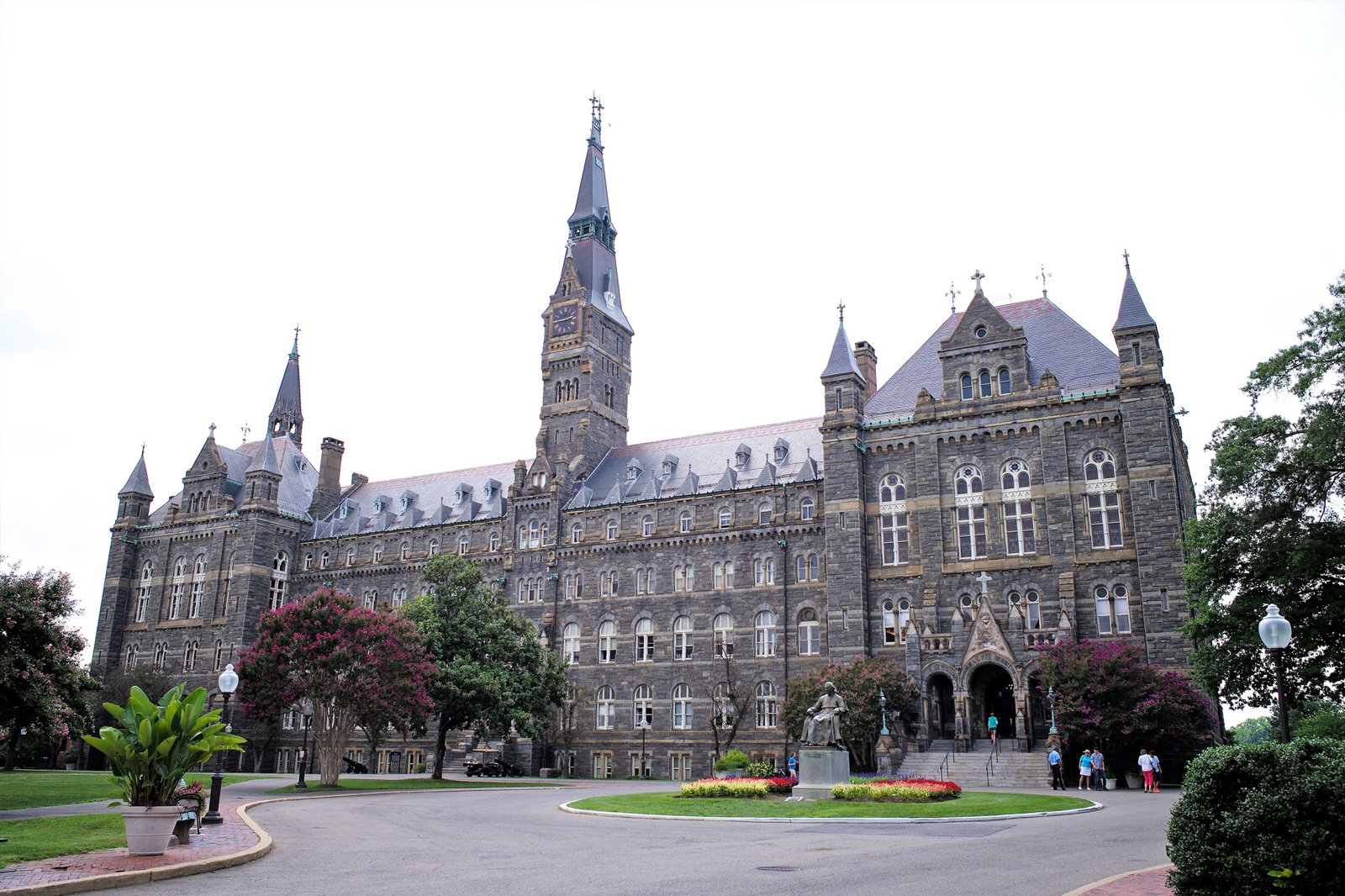 Georgetown University
The Exorcist (1973)
Georgetown University is often featured in Hollywood films and TV shows, particularly its 19th-century Healy Hall. In The Exorcist (1973), you get to see Father Damien Karras walking past the Victorian Gothic building. If you're a fan of the The West Wing TV series, several scenes were filmed in front of Healy Hall. Many claim that the imposing structure is haunted by a young Jesuit, who died while working at the clock tower.
Location: 3700 O St NW, Washington, DC 20057, USA
Phone: +1 202-687-0100
photo by Roman Boed (CC BY 2.0) modified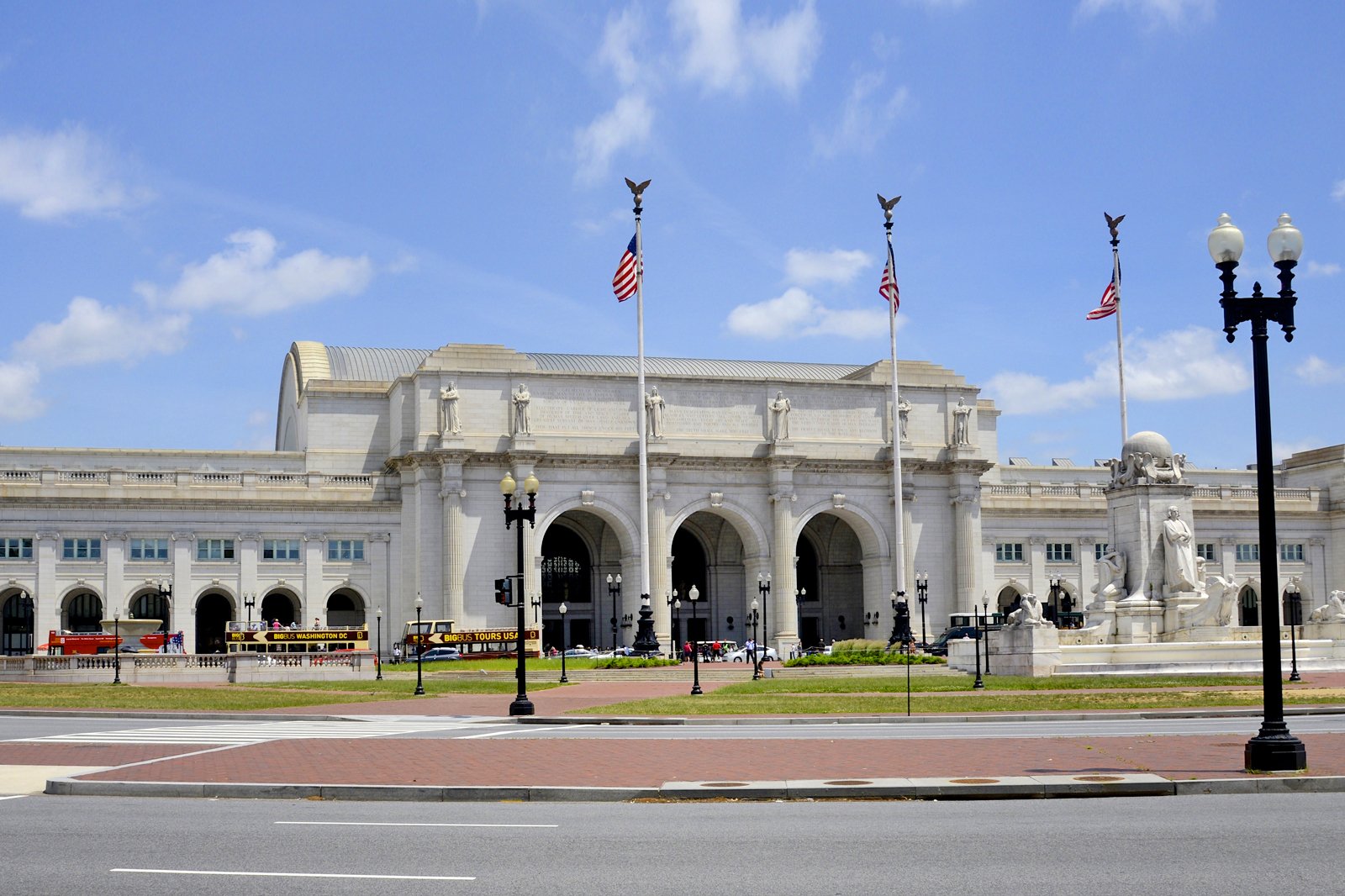 Washington Union Station
Hannibal (2001)
Washington Union Station has been featured in several Hollywood films, including Hannibal (2001), Head of State (2003), and Collateral Damage (2002). While the 2001 thriller was mostly filmed in Italy, this bustling station is where Hannibal Lecter lured FBI agent Clarice Starling for a meeting. Don't be surprised if you're unable to find the beautiful carousel from the movie at Washington Union Station as it was just a temporary prop for the film.
Location: Washington, DC 20002, USA
photo by VeggieGarden (CC BY-SA 4.0) modified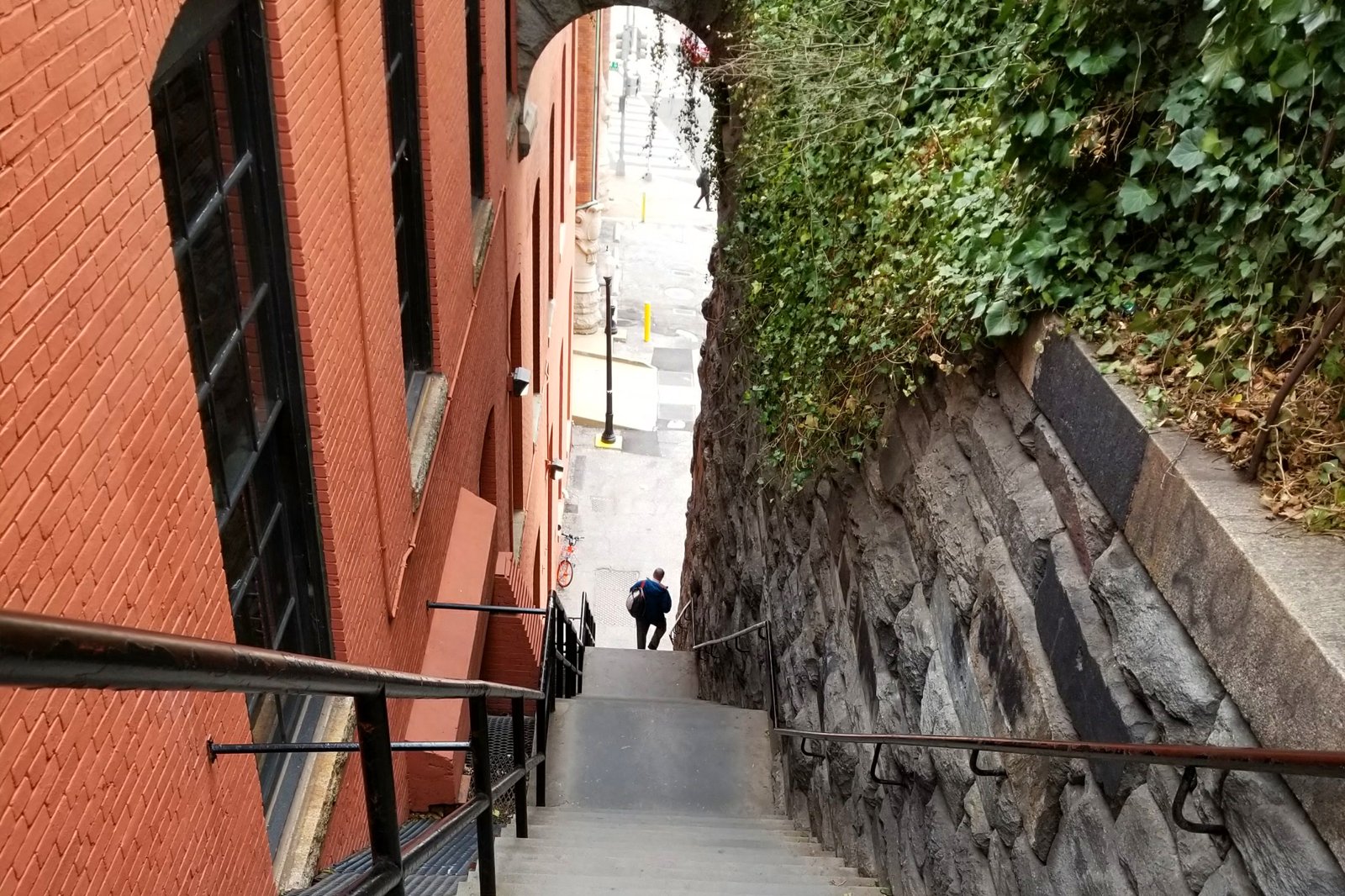 Stairway on Prospect Street
The Exorcist (1973)
The Exorcist (1973) was filmed in several locations in Washington DC's Georgetown neighborhood, but the stairway on Prospect Street is perhaps the film's most iconic location. Fans may recognize it from the pivotal scene when Father Karras sacrificed his own life after being possessed by the demon Pazuzu. Today, the 75-step staircase is a popular spot for film enthusiasts looking to reimagine scenes from the horror classic.
Location: 3600 Prospect Street, Washington, DC, USA
photo by Bryan Alexander (CC BY 2.0) modified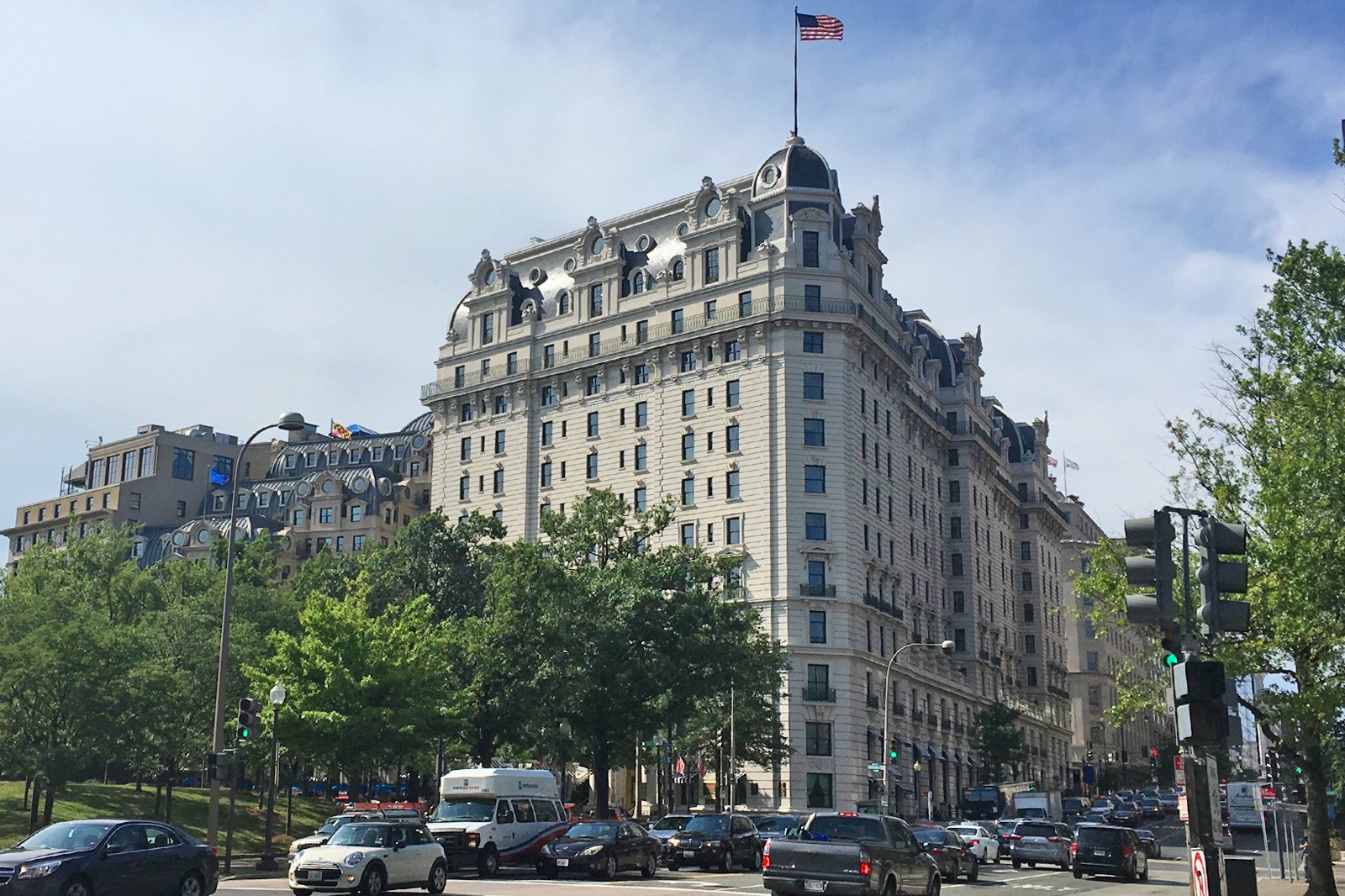 Willard InterContinental
Minority Report (2002)
The luxurious Willard InterContinental Washington has hosted many US presidents, historical figures, and foreign ambassadors since 1968. Featuring an elegant Beaux-Arts design, you may recognize the building from Steven Spielberg's futuristic blockbuster, Minority Report (2002) which starred Tom Cruise and Max von Sydow. Shooting took place at the hotel kitchen, Peacock Alley retail outlets, and the Willard Room.
Location: 1401 Pennsylvania Ave NW, Washington, DC 20004, USA
Phone: +1 202-628-9100
photo by Yngve Roennike (CC BY 2.0) modified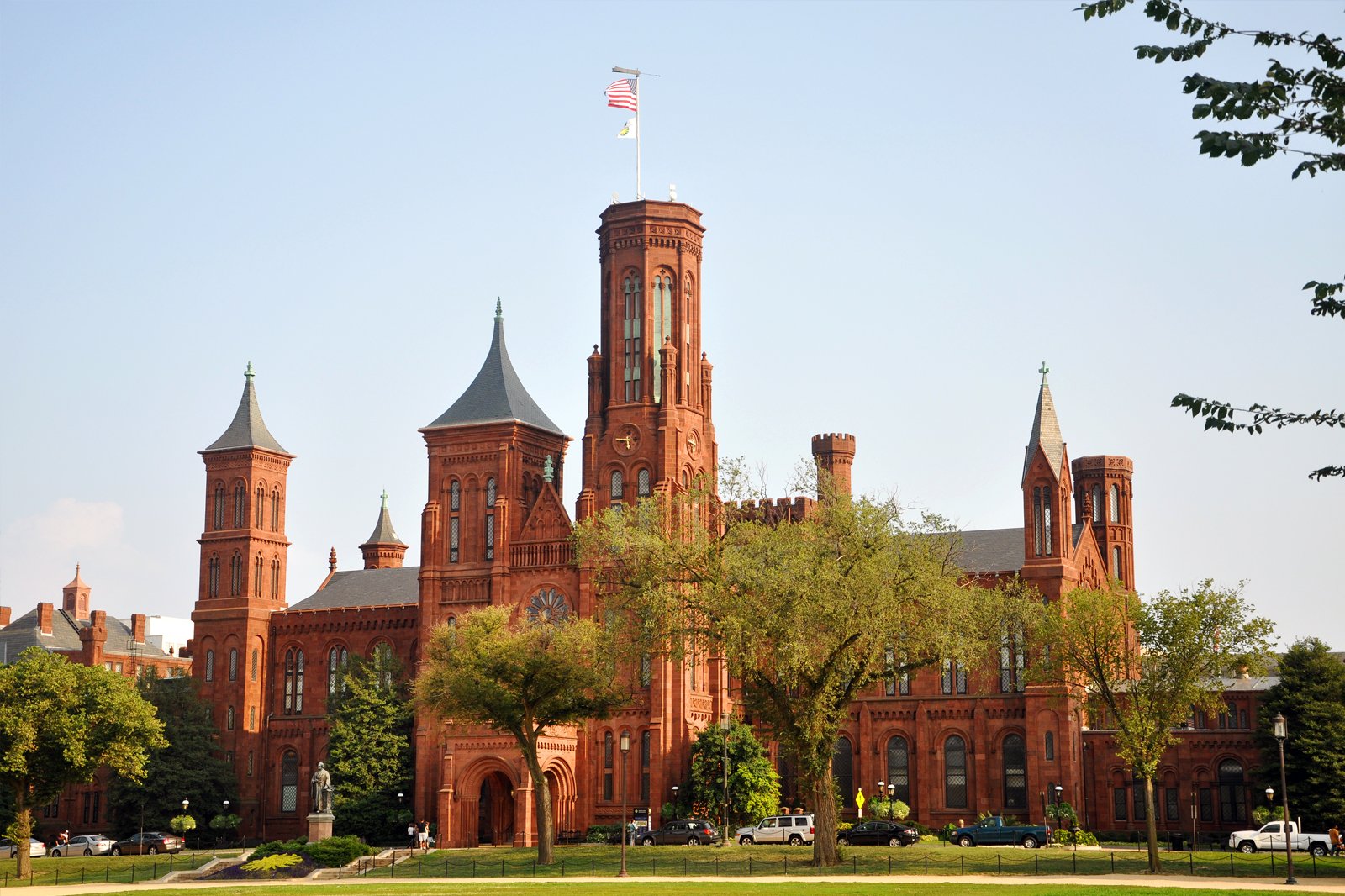 Smithsonian Museums
Night at the Museum II: Battle of the Smithsonian (2009)
The Smithsonian museums, with its extensive collection of artifacts from all over the world, are often featured in a variety of films, including comedy, sci-fi, romance, and historical fiction. Night at the Museum II: Battle of the Smithsonian (2009) was filmed at several of the institution's buildings, including the National Museum of Natural History, Smithsonian Castle, and the National Air and Space Museum. Families get to spend the night at these venues by purchasing tickets to the Smithsonian Sleepovers, which includes interactive tours, hands-on games, and the chance to sleep among the historical artifacts featured in the film.
Location: 10th St. & Constitution Ave. NW, Washington, DC 20560, USA
Open: Daily from 10am to 5.30pm
Phone: +1 202-633-1000