10 Magical Places in Hawaii You Won't Believe are Real
Hawaii's Most Incredible Natural Wonders
Hawaii is a place like no other in the world. This far-flung island group in the Pacific Ocean is a land of fiery volcanoes, carpeted with lush rainforest and fringed by brilliant beaches. Jungle-clad mountains with misty waterfalls inland compete with the surrounding jewel-toned sea waters in capturing one's imagination of Hawaii as place of wild abundance and breath-taking beauty.
Hawaii's full of places that look like a magical storybook setting, while its dynamic geological features are in full view with 5 active volcanoes and streaming lava flows. Here are just a few of the spectacular natural wonders to discover in Hawaii.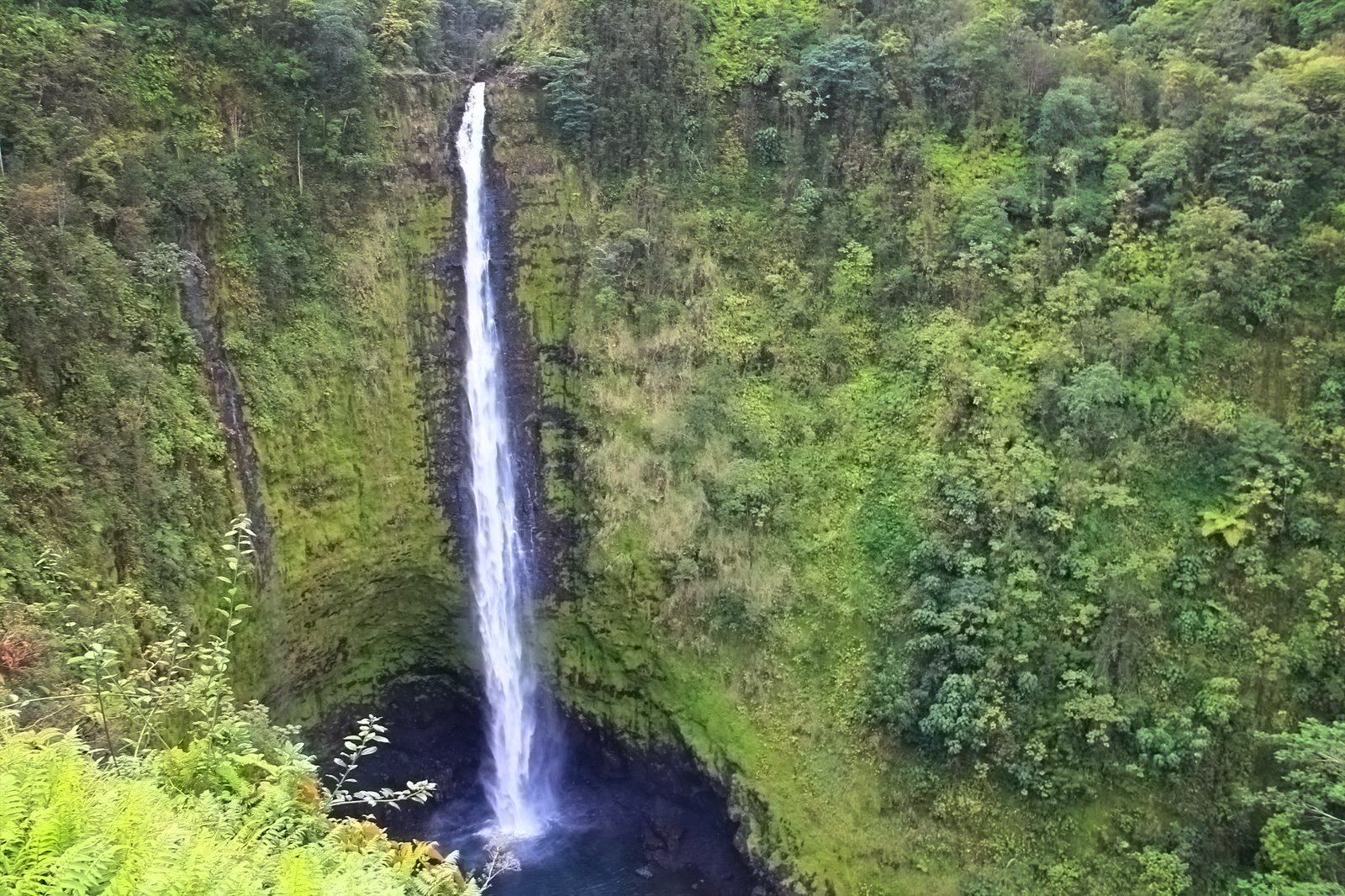 Akaka Falls
135m waterfall on Big Island
Found in Akaka Falls State Park, Akaka Falls is a magnificent sight, cascading 135 meters from a cliff in lush, misty rainforest. Twice the height of Niagara Falls, the free-falling Akaka Falls have a strong flow year-round.
The falls are best seen by taking the 6.5 km loop trail, a paved path with some steps to navigate. Along the way, you'll also catch sight of Kahuna Falls and the Kolekole Stream that feeds the falls before flowing into the ocean. Wet weather is always a possibility here, so be sure to bring along a raincoat. Park entry fees are $5 per vehicle or $1 per person for walk-in visitors.
Location: 875 Akaka Falls Road, Honomu, Hawaii 96728, USA
Phone: +1 808 974 6200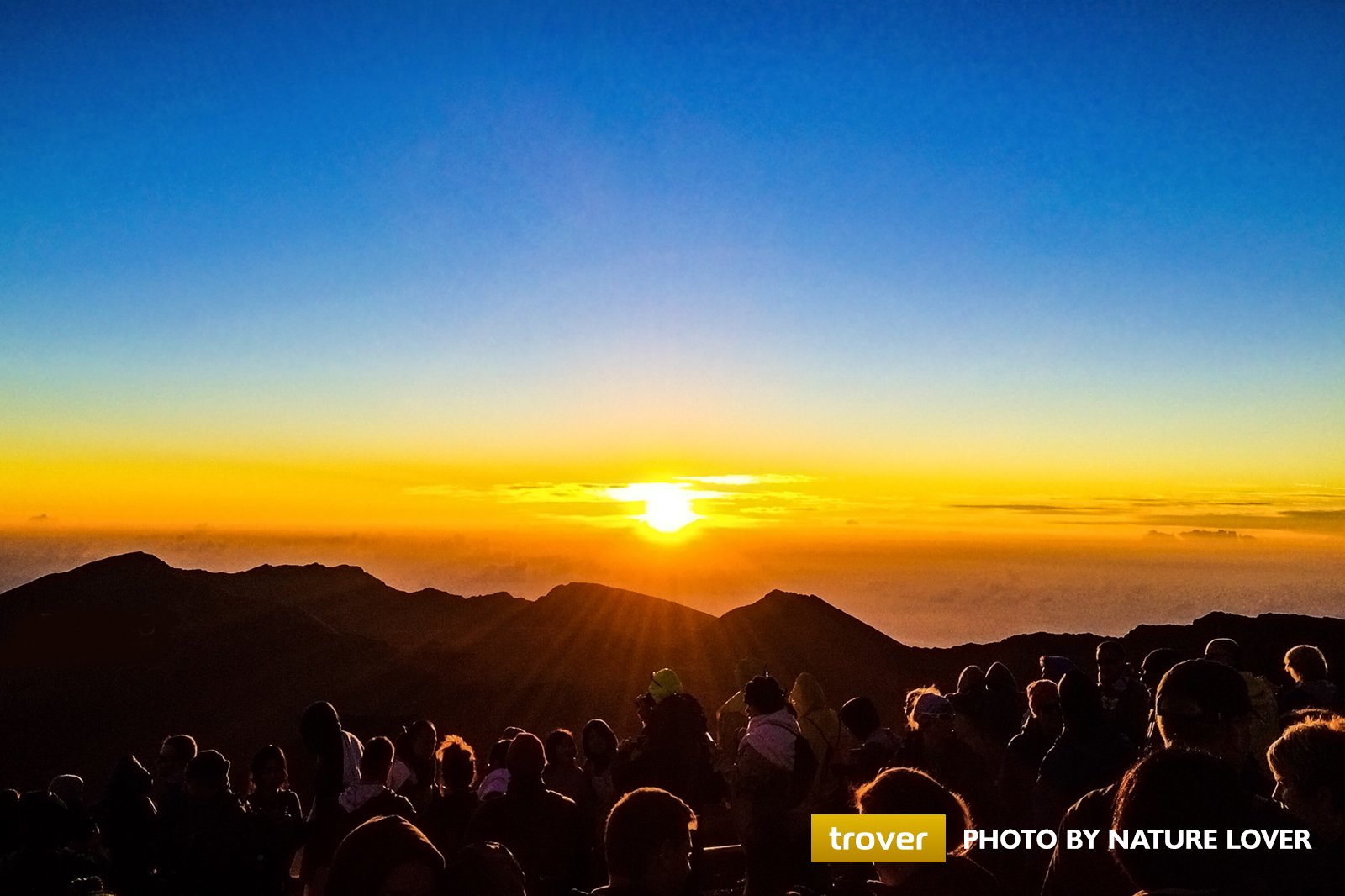 Haleakala Crater
Heavenly sunrises at the volcano summit
Haleakala Crater is a huge volcano on Maui that first broke through the ocean surface more than a million years ago. Now rising 3,000 meters high, Haleakala forms an imposing presence on the island, with a trek to the summit leading through 6 distinct climate zones and scenery full of rare geological features such as multicolored cinder cones.
Known as the "House of the Sun" in Hawaiian legend, Haleakala is best seen at sunrise, with Mark Twain calling it the "sublimest spectacle" he'd ever seen. For anyone planning to watch the sunrise from the summit area, the park now requires you to register in advance and pay a small fee.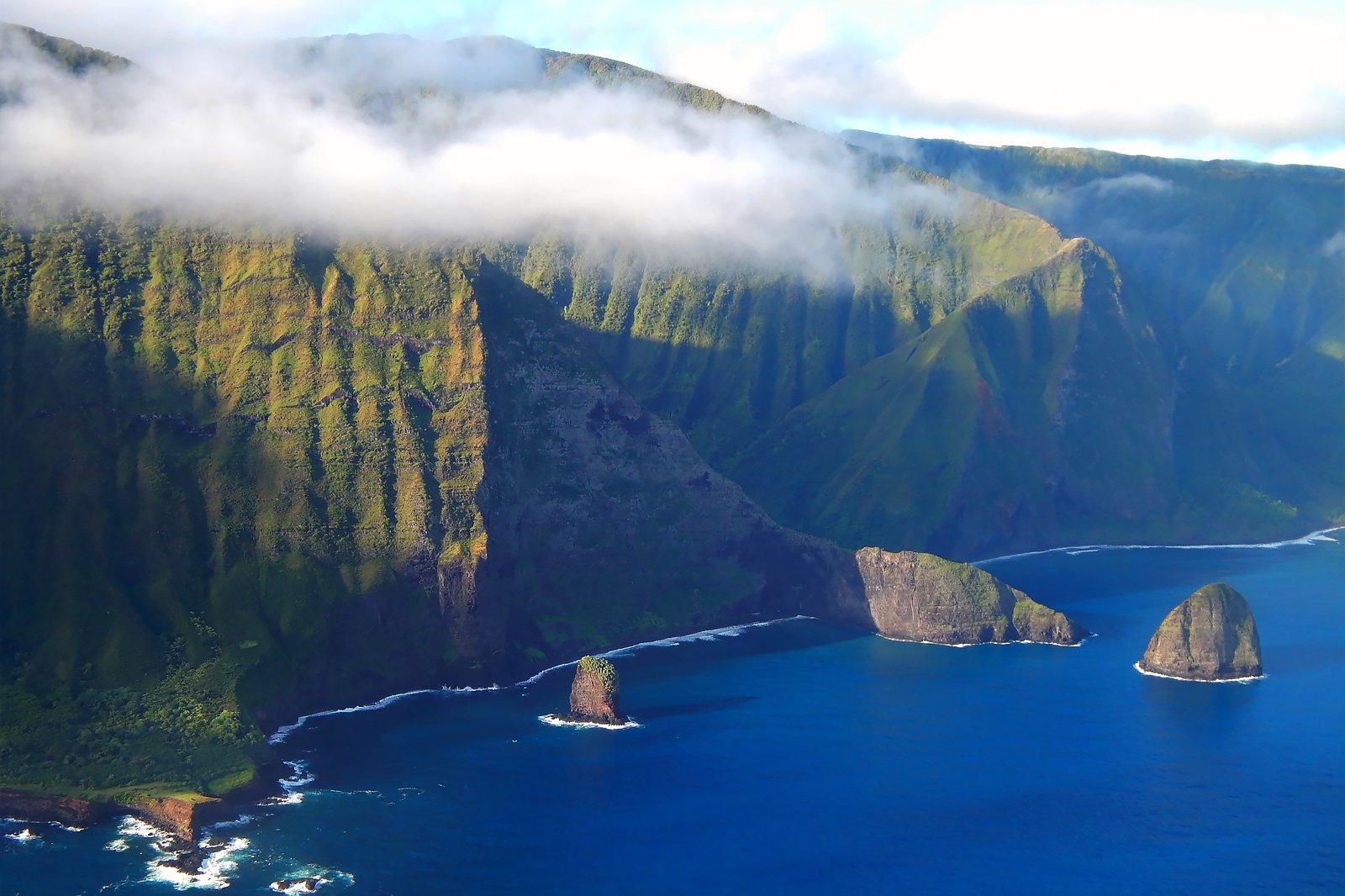 The sea cliffs of Molokai
The world's highest sea cliffs
Found on the rugged north shore of Molokai island, these dramatically steep sea cliffs were formed by a massive landslide more than a million years ago. There are no roads on this remote part of the island, so to explore the cliffs you'll need to hike or do a mule ride along the trail to Kalaupapa – a former leprosy settlement.
It's a challenging hike and a park permit must be secured before entry. Another way to see the cliffs is by booking a charter boat or a helicopter tour. You'll also catch an amazing bird's-eye view of the cliffs by taking a flight between Maui and Molokai.
photo by Forest Starr and Kim Starr (CC BY 2.0) modified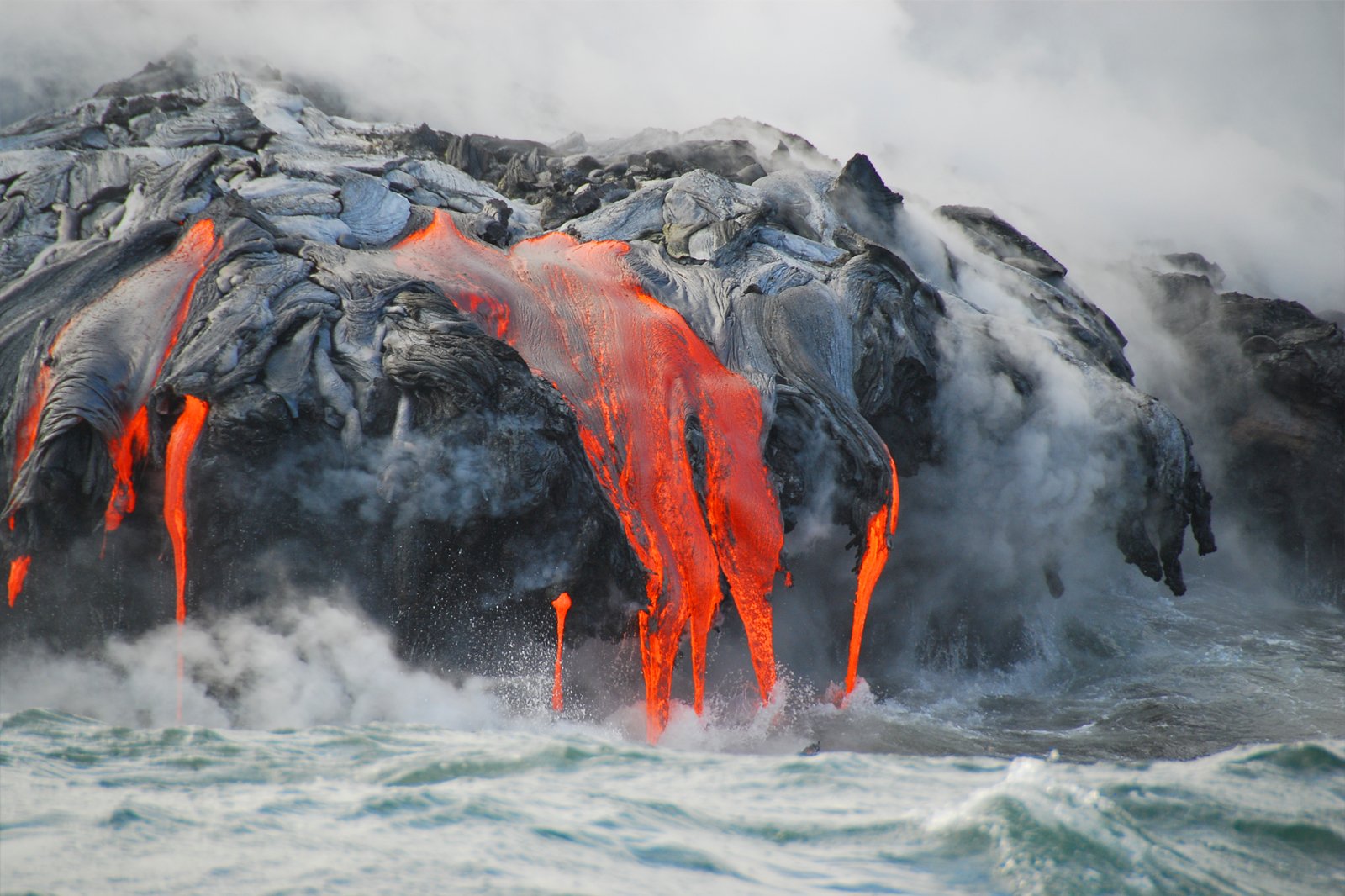 Kilauea Volcano
See red-hot lava streaming into the sea
With lava flows dating back some 250,000 years ago, Kilauea is the youngest of the 5 active volcanoes in Hawaii – but it's also the feistiest. It's been erupting continuously since 1983, with some vigorous volcanic activity that has drained the famous lava lake in Halema'uma'u Crater and caused devastation from big lava flows covering houses, roads and everything in their path. Several operators run lava-viewing boat tours where you can watch the spectacle of lava meeting the ocean in a steamy encounter. Since volcanic eruptions don't run on schedules, obviously, there might be times of no lava flow or when conditions are too dangerous to get within view.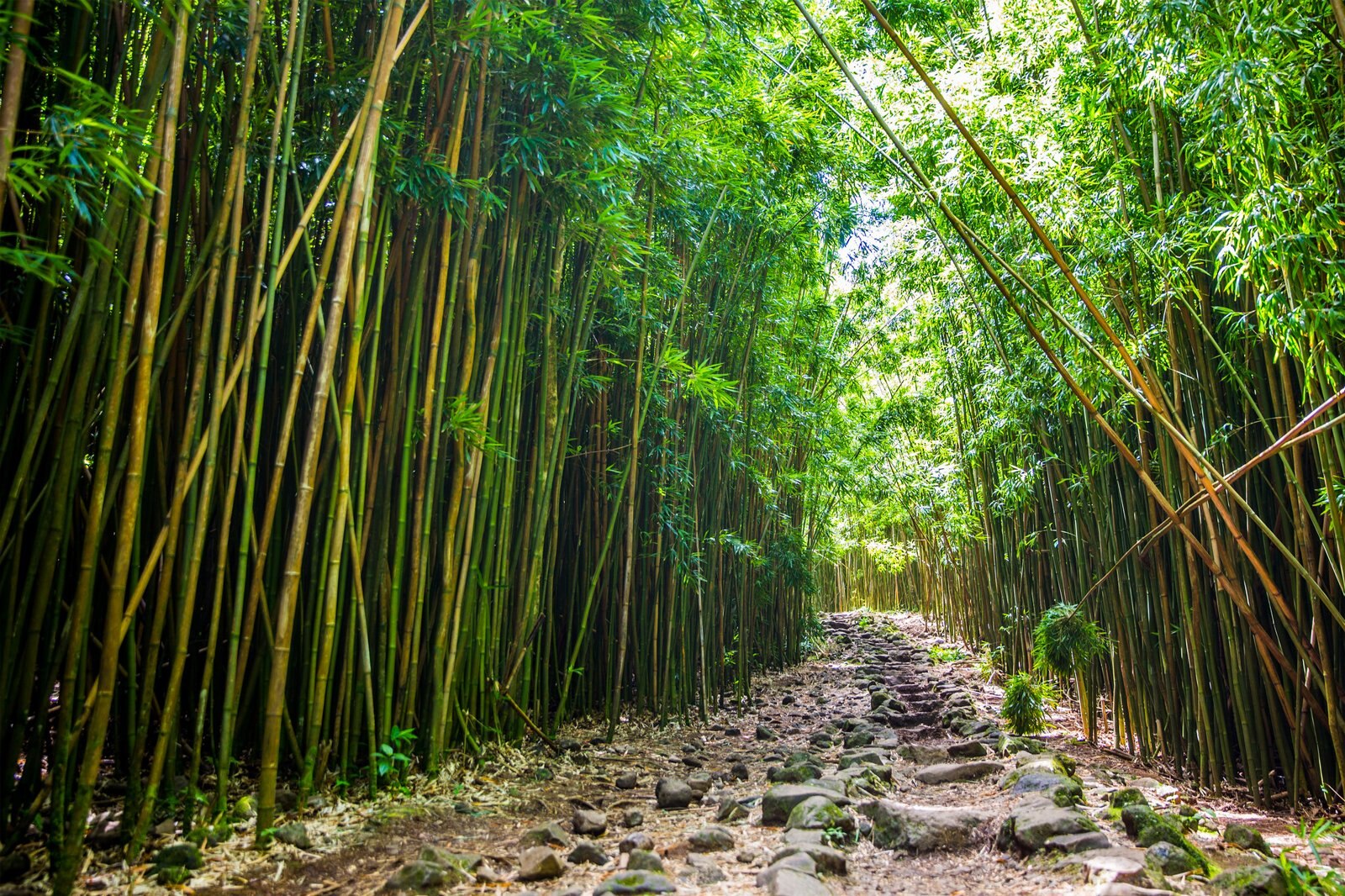 Bamboo Forest
A green oasis with hiking trails on Maui
Those hiking the Pipiwai Trail on Maui need walk only a kilometer or so to discover the mystical beauty of the Bamboo Forest. Towering stalks of bamboo arch over the path, making you feel like you're in a fantasy adventure story on a quest to meet a forest-dwelling wizard or dragon.
The complete trail is about 6.5 km long, leading through scenic rainforest with streams, waterfalls and swimming holes. Do be careful, as the trail is tricky to navigate in places and rain can cause flash floods. You could also visit the forest as part of a guided tour of the Hana coast.
Location: 8310 Hana Highway, Haiku, Hawaii 96708, USA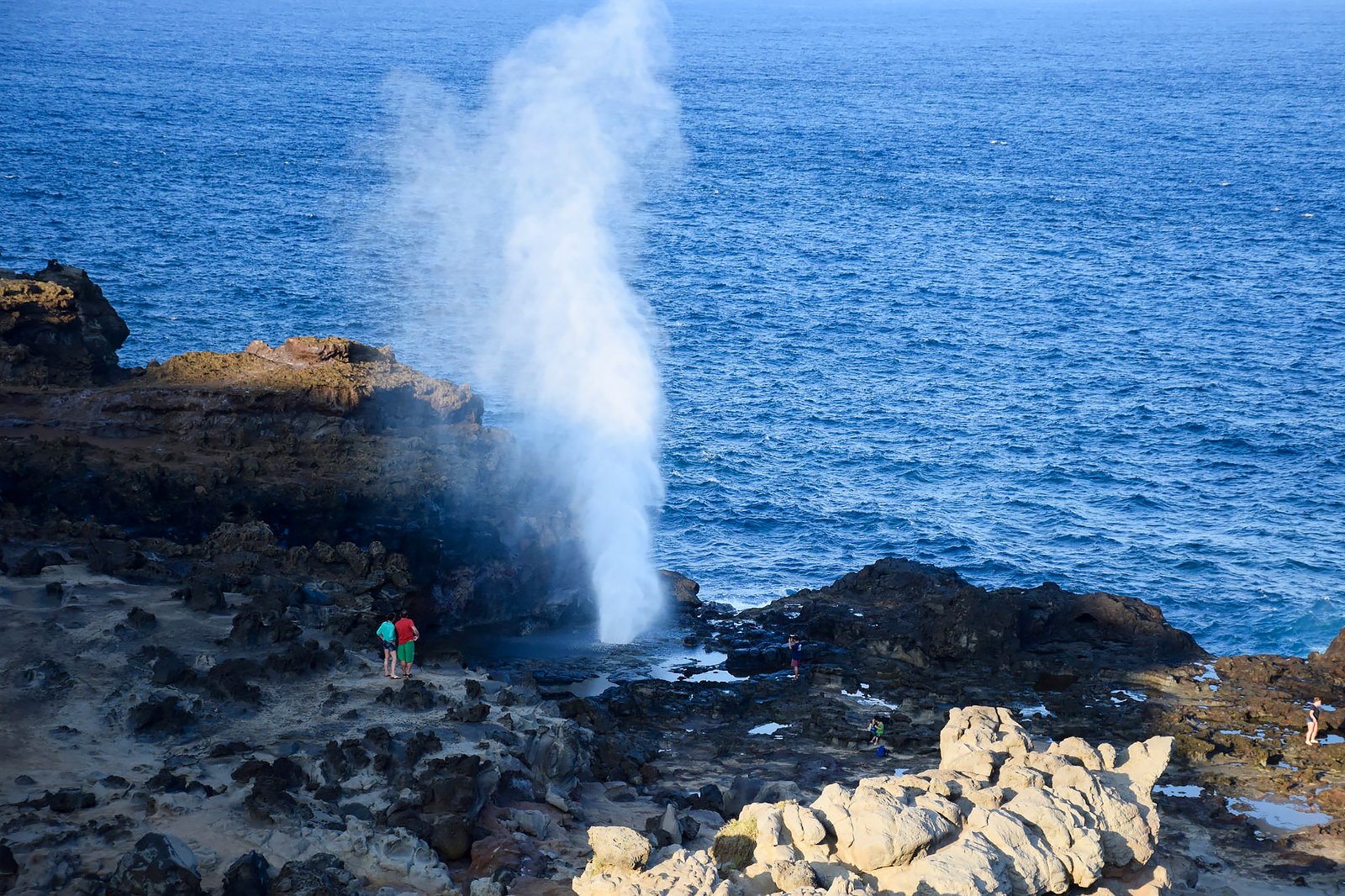 Nakalele Blowhole
Watch sea water shoot 30 meters up when the waves roll in
If you don't manage to see a volcanic eruption on Hawaii, head to the northwest coast of Maui to enjoy a guaranteed view of an eruption – of sea water. At the Nakalele Blowhole, watch as water shoots up into the sky through a hole on the rocky coastline, sometimes as high as 30 meters.
This natural spectacle is a result of sea water streaming into an underwater lava tube, with wave pressure giving it nowhere to go but up in a powerful spray out of the tyre-sized hole. Nearby, you'll find the heart-shaped hole in a rock that's become a favorite sight for romance-seekers and Instagrammers alike.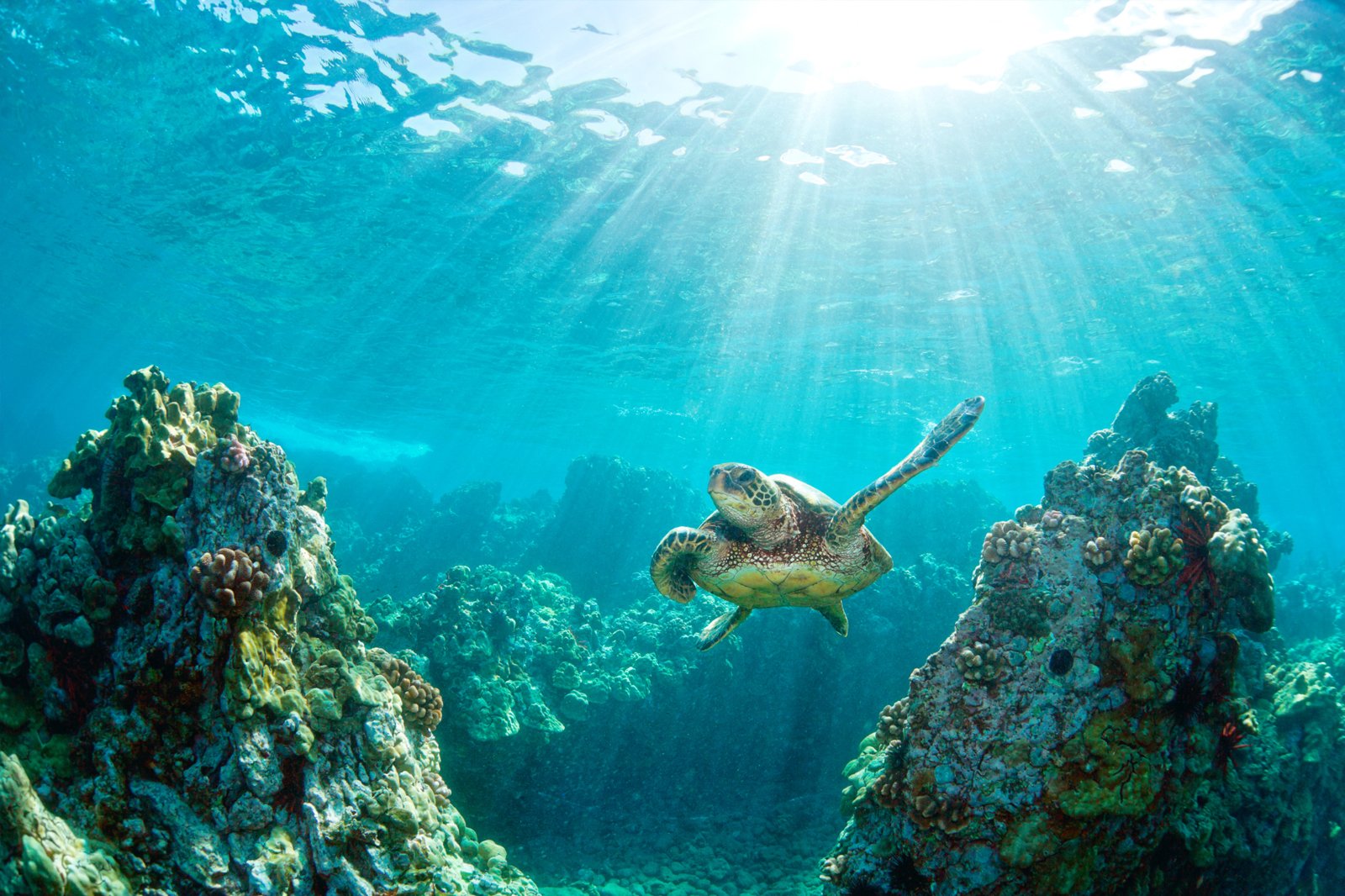 Molokai fringing reef
Underwater wonderland teeming with marine life
Molokai island's towering sea cliffs give it a dramatic landscape, but there's just as much beauty to behold in the depths of the sea waters that surround it. Stretching for 45 km along the entire south side of Molokai is a fringing reef teeming with green sea turtles, Hawaiian monk seals, several shark species and an abundance of colorful fish.
This pristine reef is a must-see for snorkelers and scuba divers, with several operators offering boat trips. You could also explore the reef by snorkeling off one of the beaches lining the south shore, including the golden-sand Kumimi Beach.
Waimea Canyon
Known as the 'Grand Canyon of the Pacific'
Spanning more than 20 km wide and 1 km deep, Waimea Canyon offers a vast and inspiring view across the western side of Kauai island. This red-cliff canyon was formed when the volcano that created Kauai collapsed some 4 million years ago.
Found in Waimea Canyon State Park, the canyon has several trails to explore including the quick and easy Cliff Trail for a view of the canyon to the challenging Kukui Trail, a 4 km path that leads to Wiliwili camp ground at the bottom of the canyon.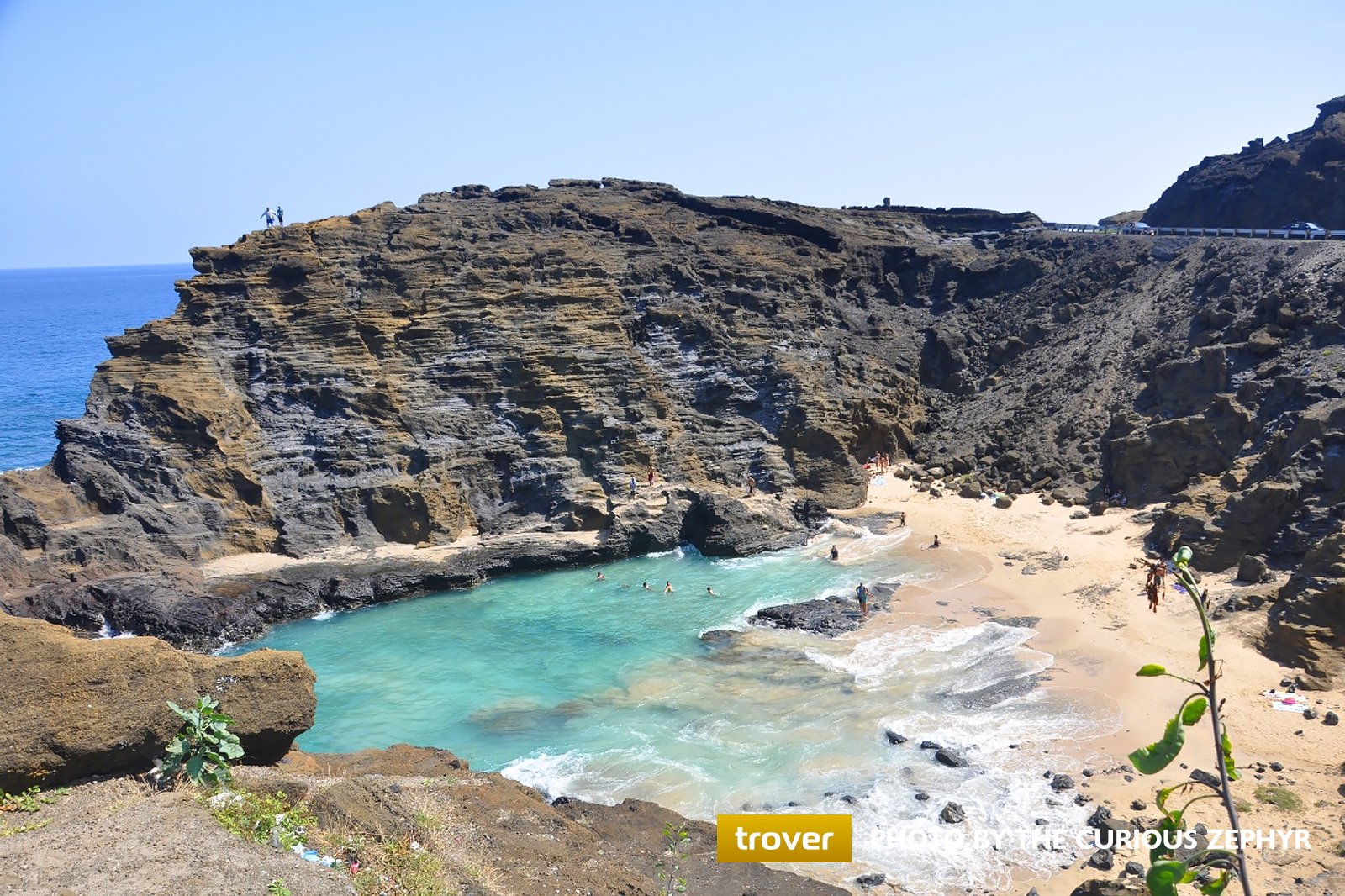 Halona Beach Cove
The love scene in 'From Here to Eternity' was filmed here
Halona Beach Cove is an impossibly gorgeous small beach tucked away in a rocky cove on Oahu island. The beach was the site of the passionate love scene with Burt Lancaster and Deborah Kerr in the classic 1953 movie 'From Here to Eternity'.
Their clandestine love affair was doomed, but the beach is as romantic as ever. When the turquoise waters are calm, it's an ideal place to swim or simply sunbathe on the soft sand. The cove is reached by a steep walk down from the Halona overlook, where you'll see the Halona Blowhole and the islands of Maui, Molokai and Lanai in the distance.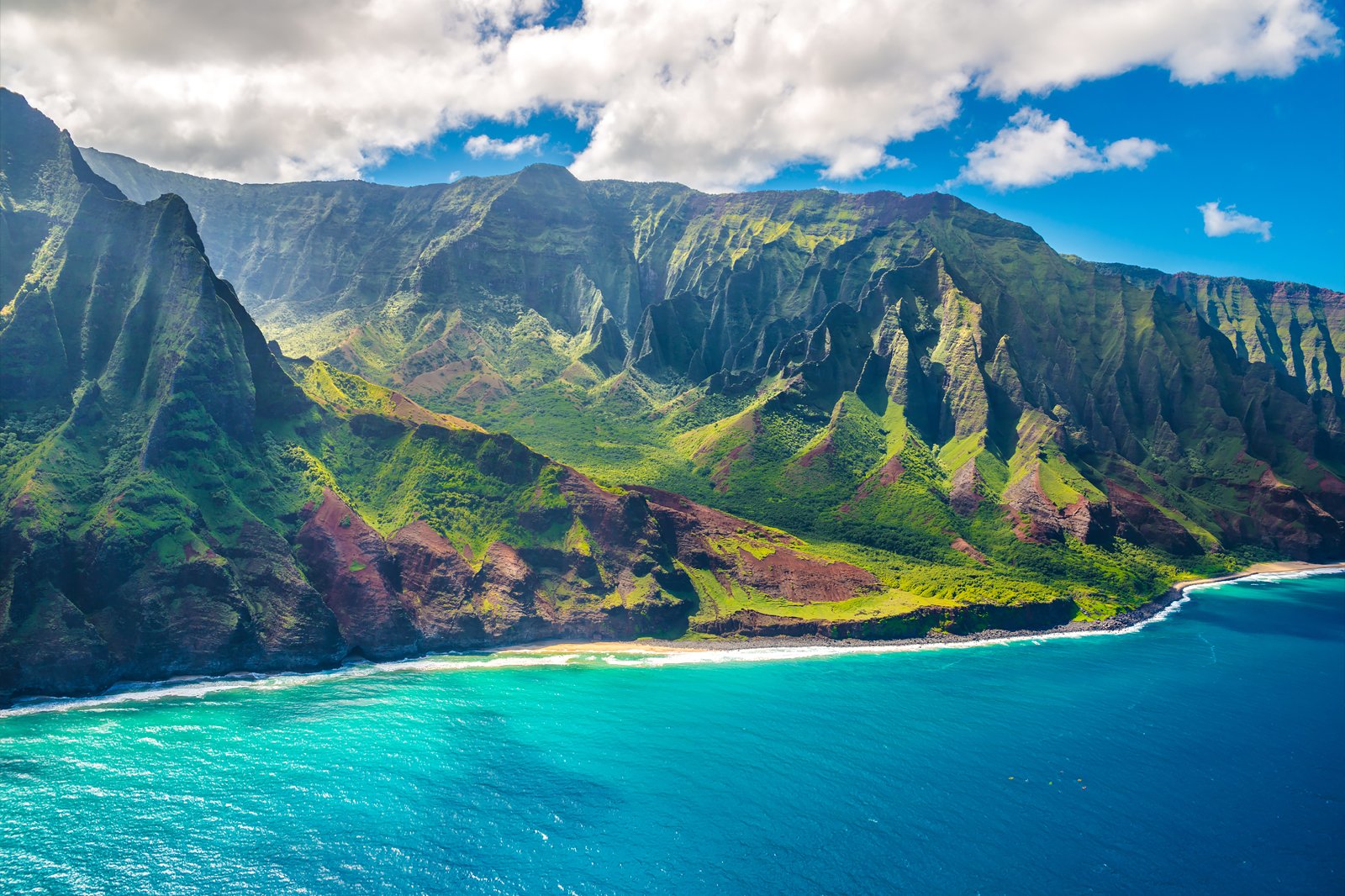 Na Pali Coast
See towering cliffs, waterfalls and sea caves
Na Pali is a dramatically beautiful coastline that extends nearly 30 km on Kauai island's north shore. With its steep sea cliffs, deep valleys, waterfall and streams, Na Pali is both sacred and sublime. The area is a protected state park and there are trails to explore, but the park is sometimes closed so be sure to check for updates before you go.
Another way to see the enchanting coastal views is by boat or air, with several operators offering tours. There are also guided kayaking trips, as well as raft trips that let you explore sea caves and secluded beaches.