Liberty Station in San Diego
A Waterfront District Buzzing with Cultural Attractions
Liberty Station is a waterfront district in San Diego that buzzes with a variety of cultural attractions. Situated inside the scenic Point Loma neighbourhood, the area sits at the former Naval Training Center San Diego and has transformed into a mecca for inspiring artists. With hundreds of art galleries and exhibition spaces, Liberty Station is growing into the town's artistic epicenter. The creation of the ARTS DISTRICT encourages more talented individuals to pursue their passion for the arts. Join the fun by watching dances, taking an art class, or tasting recipes from culinary wizards at this innovative hub.
Even if you don't possess an artist's touch, there are a whirlwind of activities to feed your zest for culture. Liberty Station's 30-plus historic buildings house restaurants, dancers, artisans, musicians, and much more. As you stroll the waterfront, admire the Spanish Colonial Revival architecture that thrived during San Diego's renaissance. Many retail shops now occupy these marvelous structures to preserve the city's architectural gems.
Liberty Station in San Diego - one of the highlights of 10 Best Places to Go Shopping in San Diego (Read all about San Diego here)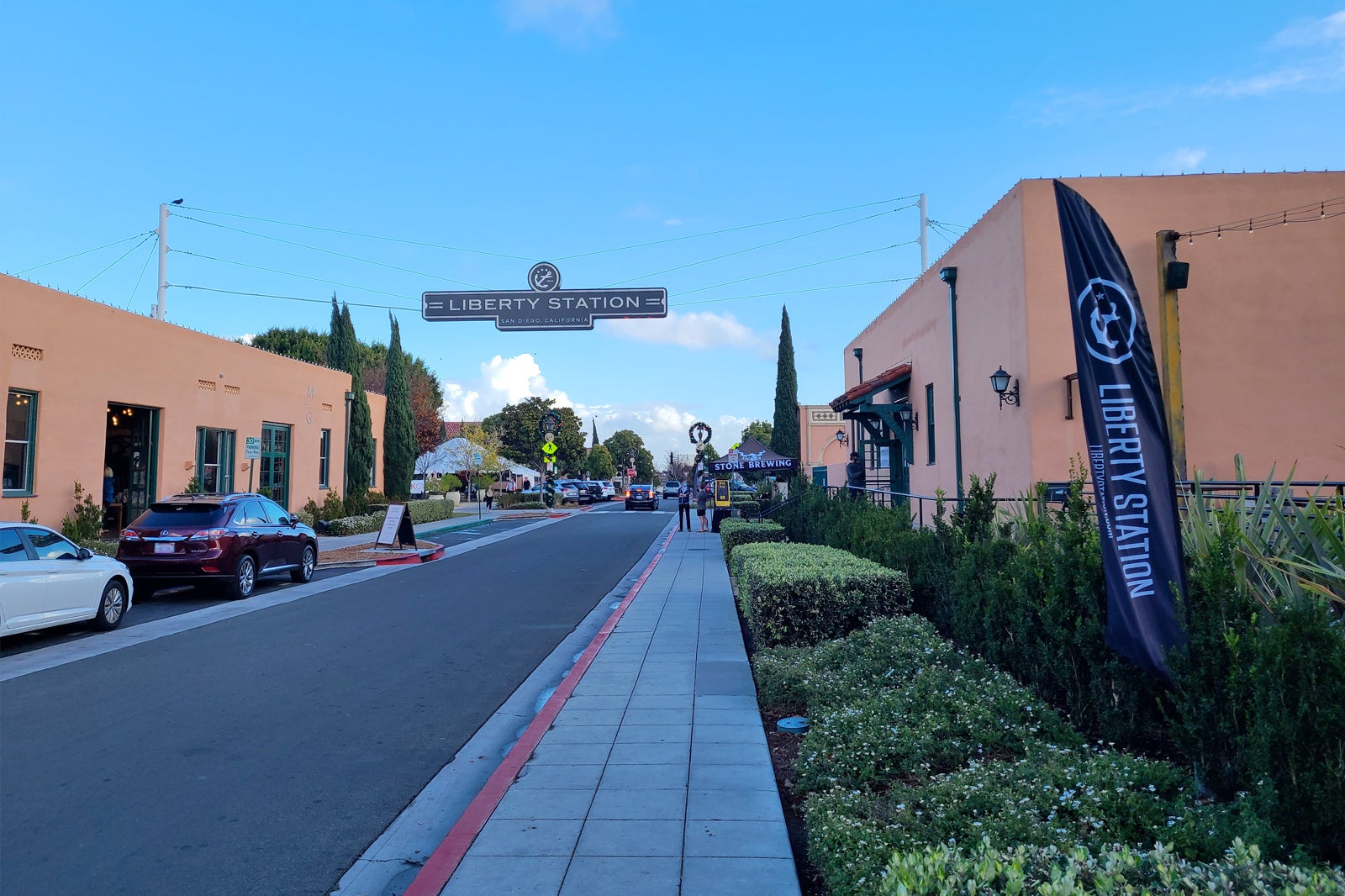 What are the highlights and features of Liberty Station?
Liberty Station's hub of activity is spread across a wonderfully manicured landscape with green spaces to bask beneath the San Diego sun. Work up an appetite and taste worldly cuisines at eateries like Ikiru Sushi and The Latin Chef. Liberty Public Market is inside the old Navy mess hall and hosts dozens of craft vendors.
If you brought the kids, take them to Liberty Station NTC Park to burn off energy on the grassy lawns and playgrounds. The area also contains battleships, cannons, and other vestiges of the old Navy base. Catch the newest flicks at the extravagant LOT Movie theaters and share craft cocktails with your friends. For curious minds eager for knowledge, check out educational museums such as the Women's Museum of California or New Americans Museum. Liberty Station residents love sharing their passions with visitors, and it's a fantastic spot to learn a new artistic skill.
ARTS DISTRICT at Liberty Station
The ARTS DISTRICT at Liberty Station is an enthusiastic enclave of artists bringing their ideas to life. Art installations adorn the sidewalks, and a graceful water fountain signals the entrance to the hub of cultural activity. Inside the exquisite buildings, you'll find artist studios, exhibits, art classes, and galleries that inspire creative souls. In total, the ARTS DISTRICT contains around 120 galleries featuring brilliant works of art.
If you're in San Diego at the beginning of the month, circle your calendar for the First Friday ARTS DISTRICT. On the first Friday of each month, Liberty Station invites locals and visitors to an art spectacle for the ages. The event is free of charge and takes place from 5 pm to 9 pm at the ARTS DISTRICT at Liberty Station. You'll get to watch dance routines, hear live music, meet local artists, and visit sensational art galleries.
Good to know about Liberty Station
Liberty Station sits directly beside San Diego International Airport, and you can reach the district in minutes. If you're coming from downtown San Diego, consider renting a bicycle for transportation to Liberty Station. The San Diego Bay Bike Route travels from the Gaslamp Quarter to Liberty Station and offers stunning waterfront views. It's nearly 100% free of automobile traffic and passes the Marina District, the USS Midway Museum, and Harbor Island.
With a bicycle rental at your disposal, you can explore Liberty Station at a faster pace. Liberty Station NTC Park stretches around 100 acres and will take you longer to visit attractions by foot. Even if you don't have 2 wheels, NTC Park has walking trails and sits near the iconic Loma Club golf course. While you're visiting Liberty Station, check the calendar for seasonal events like the Summer Concert Series and Vacation Ice Rink.
Liberty Station in San Diego
Back to top