Lake Tahoe Travel Essentials
Useful Information to Help You Start Your Trip to Lake Tahoe
Our Lake Tahoe Travel Essentials lays out the essential information you need to help you plan your trip to one of the most popular destinations in the United States' Sierra Nevada Mountains. No matter how frequently you travel, some questions will always need answers: What's the weather like? How can I get from Reno-Tahoe International Airport to my hotel? What currency and type of plug do I need?
We have all these answers plus other basic info about the best time to go, getting there, getting around, and a few useful travel tips. You'll also learn about the most popular landmarks in and around Lake Tahoe such as the Tallac Historic Site, Vikingsholm, and Historic Downtown Truckee. You'll also learn about the most popular towns and resorts around Lake Tahoe such as South Lake Tahoe, Tahoe City and Stateline. It's all compiled in this Lake Tahoe Travel Essentials. After going through this short and easy-to-read guide, you'll be a little more prepared to start your trip to Lake Tahoe.
1
What are the main towns and villages around Lake Tahoe?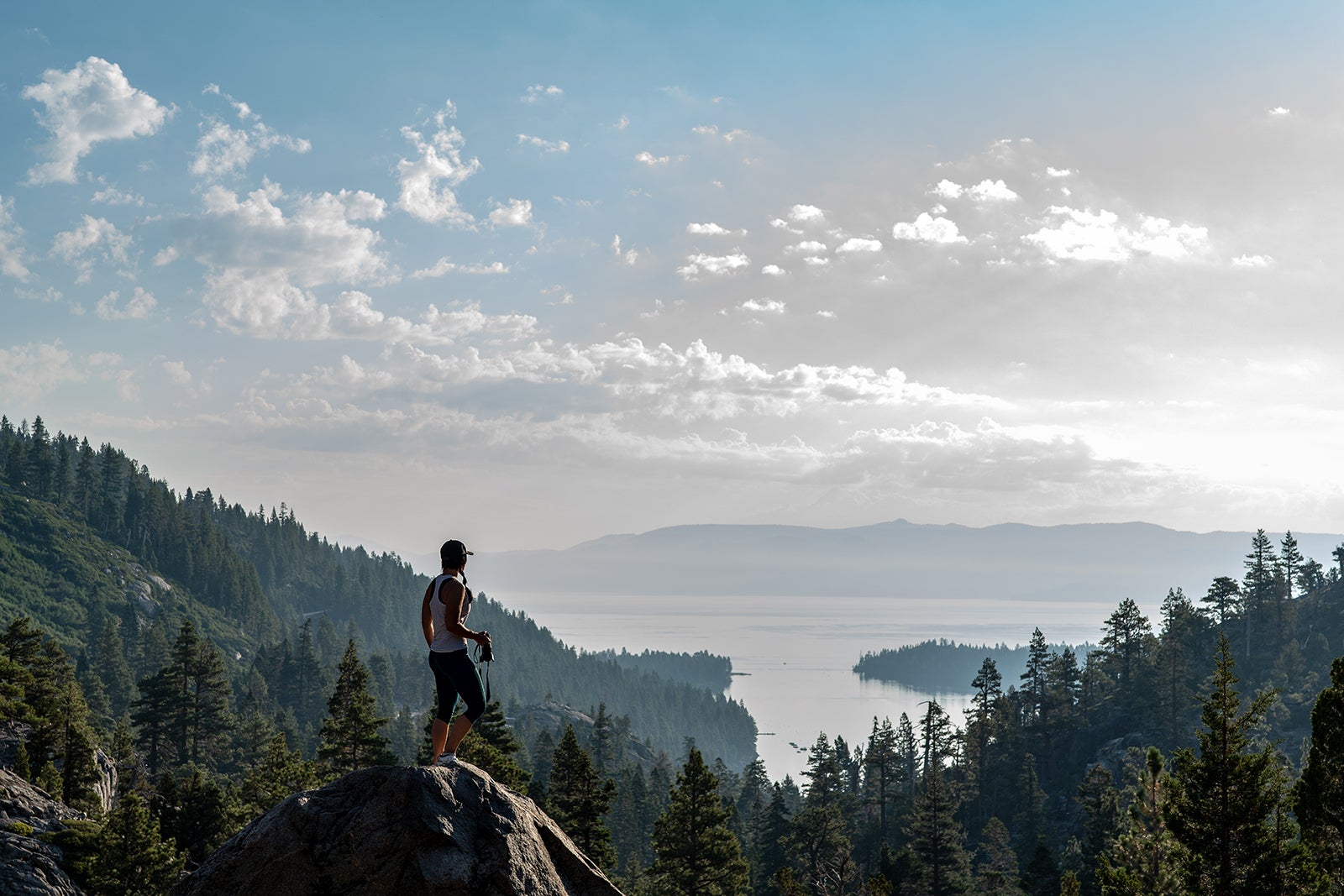 Lake Tahoe is the largest alpine lake in North America, part of the Sierra Nevada mountain range. It's 191 square miles in size and straddles the border between Nevada and California. The lake is a popular year-round destination that's home to ski resorts and charming lakeside towns and villages. The largest and most popular of them are South Lake Tahoe and Tahoe City in California, and Stateline and Incline Village in Nevada.
South Lake Tahoe
One of Lake Tahoe's most popular year-round towns, with plenty of accommodations choices as well as dining and shopping options. Heavenly Mountain Resort and attractions such as Emerald Bay State Park and Vikingsholm are close by.
Tahoe City
A small mountain town on the north side of Lake Tahoe, featuring a good range of shopping, dining, and drinking spots as well as the Tahoe Maritime Museum. It's a great place for hiking and kayaking in summer, with the skiing slopes of Alpine Meadows and Olympic Valley nearby.
Stateline
Stateline sits on the southeast banks of Lake Tahoe, at the border between Nevada and California, and offers the best of both states. The Nevada side is filled with hotel-casinos, theaters, shops, and restaurants. The California side offers skiing fun at Heavenly Mountain Resort.
Incline Village
This village on Crystal Bay in Nevada offers plenty to see and do. Besides skiing, hiking, and water sports nearby, there are also golf courses, tennis courts, cycling trails, disc golf, spas, casinos, a theme park, and even a nude beach.
2
When is the best time to travel to Lake Tahoe?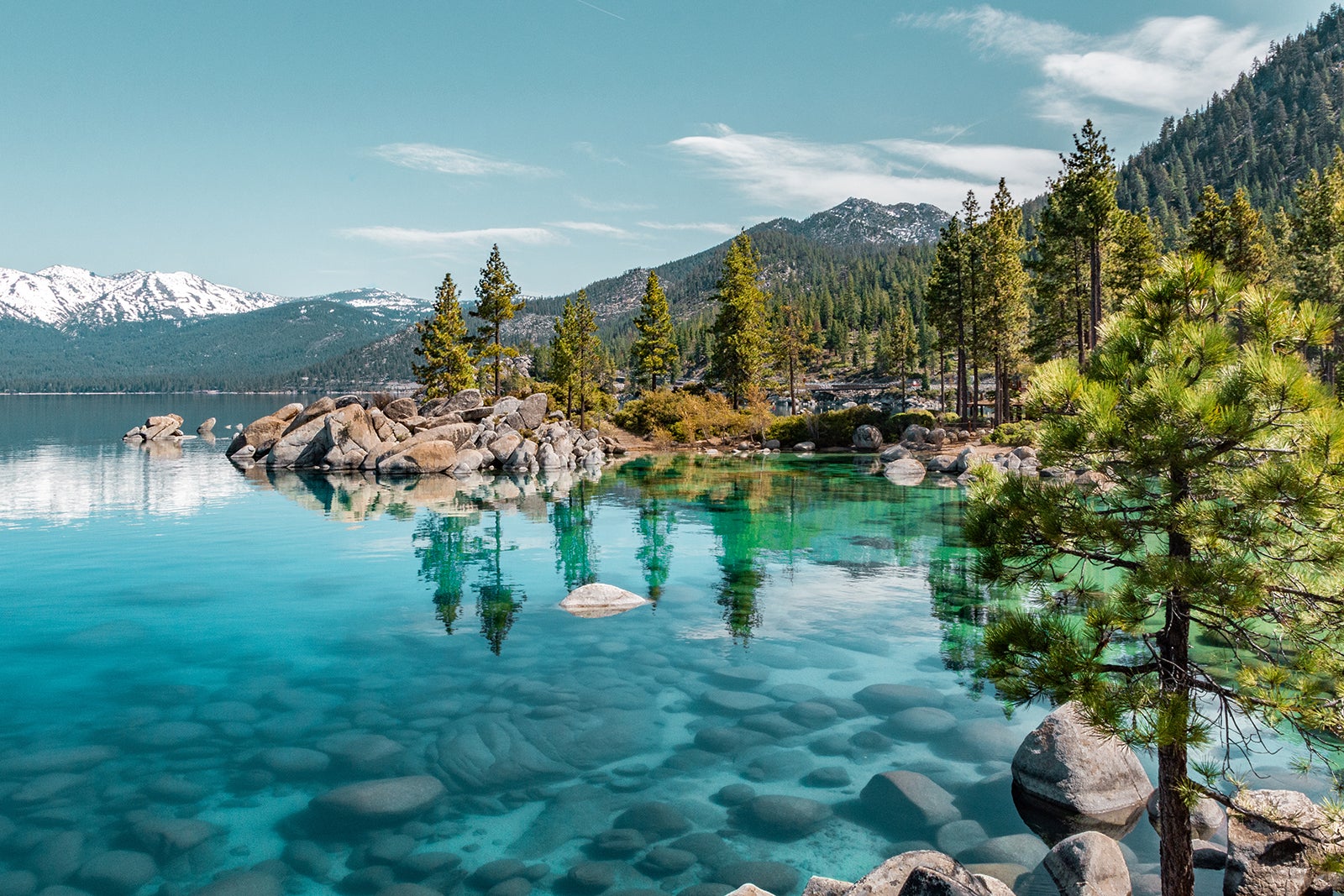 Lake Tahoe's continental climate brings warm and dry summers and chilly winters with snowfall. Average temperatures range between 28°F in winter and 61°F in summer. Be aware that freezing temperatures can occur at any time of the year. On the bright side, Lake Tahoe has an average of 250 sunny days.
Average rainy days per month around Lake Tahoe range between 12 in December and 2 in July. The wettest season is from November to April.
June–September is the warmest time of the year, with temperatures ranging between 70°F and 90°F. The peak season is from June to August in summer. Lake Tahoe's ski resorts get busy in winter, too, especially during school vacations and on weekends.
The best times to visit Lake Tahoe are from March to May and from September to November. Hotels usually offer good off-season promotions, and the weather is just right for enjoying outdoor attractions, including skiing in late spring and late autumn. You'll also avoid the crowds of the summer and winter peak seasons.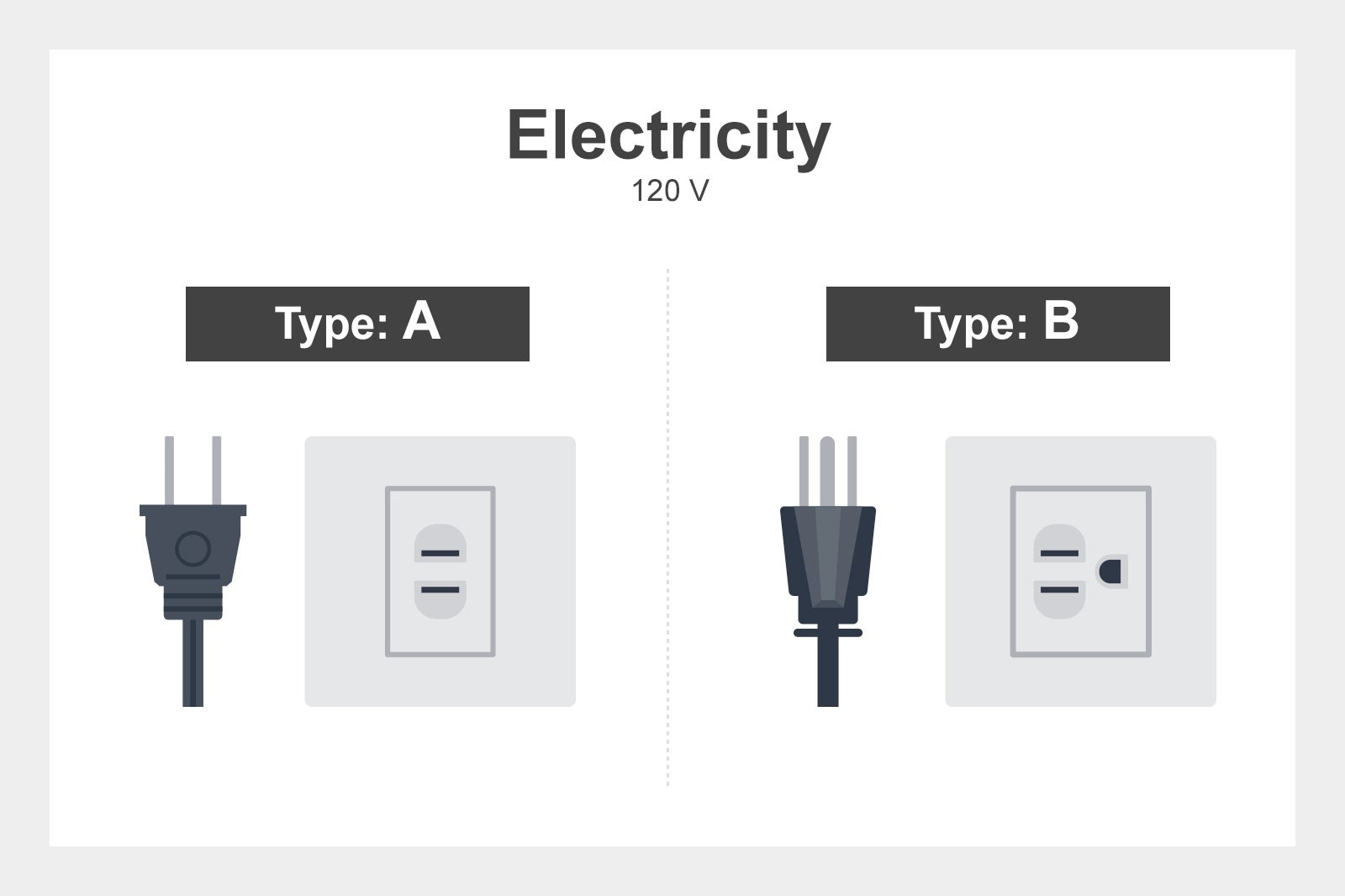 Plug type: A and B
Electricity: 120 V
Currency: United States Dollar (U.S.$)
International dialing code: +1 530
Emergency telephone number: 911
4
How to get to Lake Tahoe?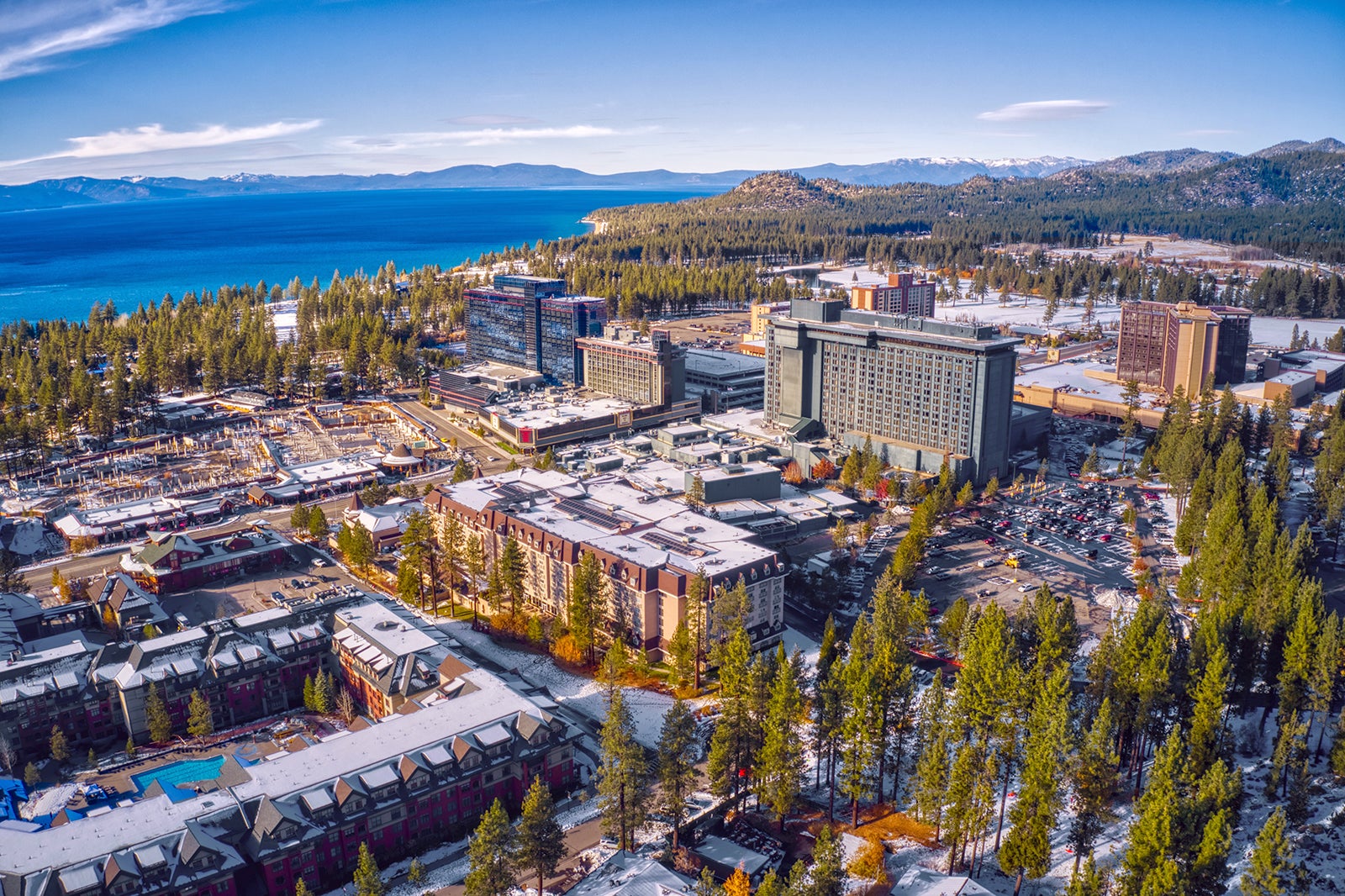 Reno-Tahoe International Airport is the closest commercial airport to Lake Tahoe. It's only a 45-minute drive away from the lake's northern shore. Sacramento and San Francisco airports are 2 other possible options – expect a 2-hour drive to get to Lake Tahoe from Sacramento and a 4-hour drive from San Francisco.
You can also get to Lake Tahoe by train. Amtrak's California Zephyr links Chicago, Illinois, and Emeryville, California. It has a daily stop in the village of Truckee, 10 miles northwest of the lake.
If you travel on a budget or want to get a true insider's view of the USA, you can get to Lake Tahoe by bus. The closest Greyhound bus station is also in Truckee.
Reno-Tahoe International Airport (RNO)
Reno-Tahoe International Airport is about 20 miles northeast of Lake Tahoe. The driving time from the airport to the lake is about 45 minutes.
You can enjoy free Wi-Fi throughout the airport. Ground transportation options available for you to get to your hotel from the airport, depending on your budget, are as follows:
The taxi cab/towncar/rideshare pick-up area is outside of Door D, just north of Baggage Claim.
The North Lake Tahoe Express bus runs daily from 6.30 am to midnight. You can find the pick-up area right next to the taxi cabs.
The South Tahoe Airporter offers transfer services from Reno-Tahoe Airport to the following Lake Tahoe resorts on the south shore: Edgewood Tahoe, MontBleu, Harveys, Harrah's, Hard Rock Hotel & Casino Lake Tahoe, Lake Tahoe Resort Hotel, and Lakeside Inn & Casino. The checkin and ticketing counter is outside of Door B at Baggage Claim.
Major automobile rental counters are also present at Baggage Claim.
Greyhound bus and Amtrak train station
The Greyhound bus station and the Amtrak train station are located in the same place, at 10065 Donner Pass Road in downtown Truckee.
Transfer options to get you to your destination from the station are as follows:
The Tahoe Truckee Neighborhood Regional Transit (TART) provides public bus services, but only around the north shore. It's the cheapest transfer option available.
Taxi cabs and rideshares can be called to pick you up. You can use their services to get to the closest automobile rental agency at 10266 Truckee Airport Road.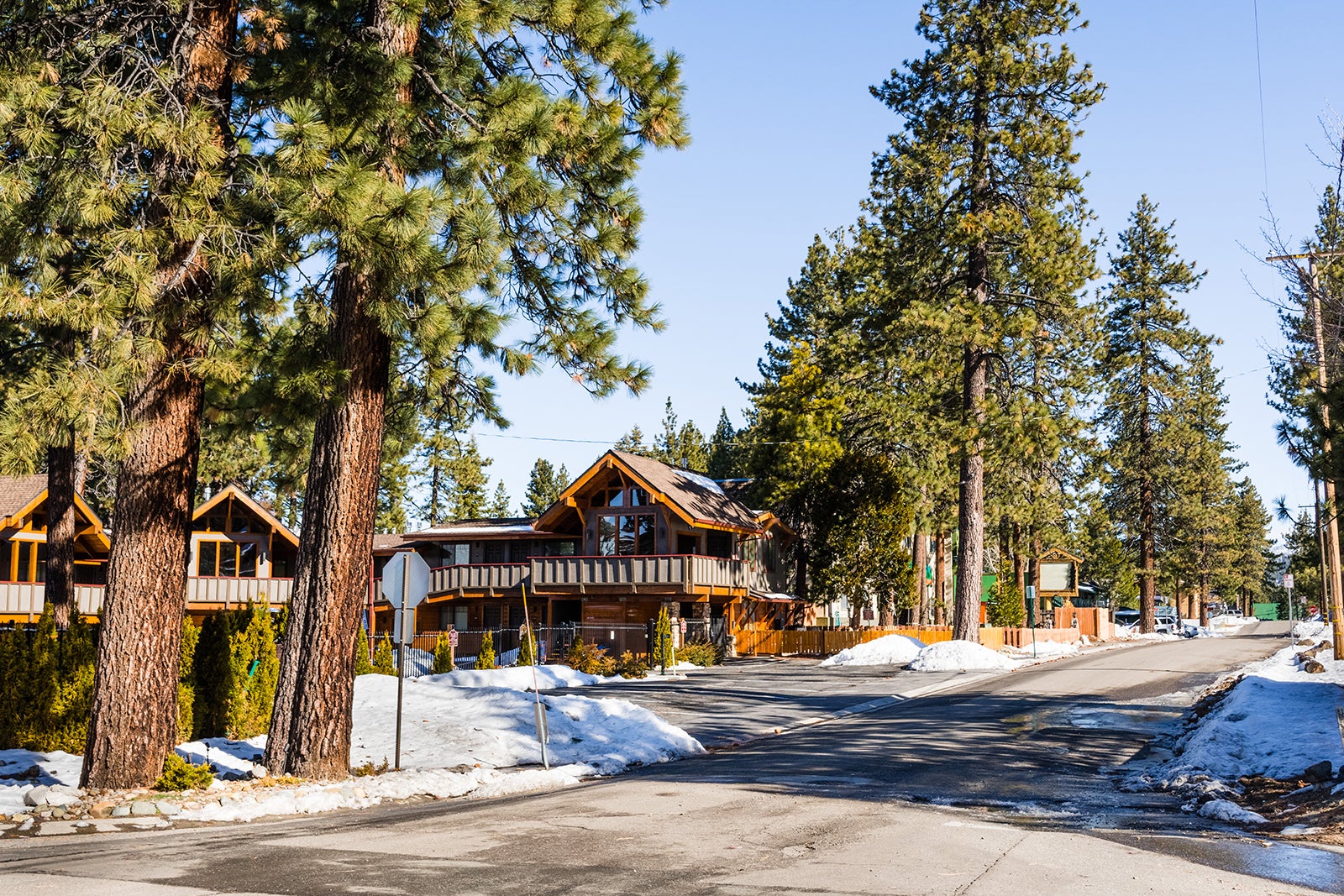 Travel tips
The best way to get around and take in the views along the 71-mile shore of the lake is by renting a automobile. The public transportation services at hand, Tahoe Truckee Neighborhood Regional Transit (TART) in the north and Tahoe Transportation District (TTD) in the south are inexpensive but not the most convenient.
For short distances around your hotel or in the towns and villages, taxi cab, ride-share, walking, and cycling (in summer) are the better options.
What public transportation is available in Lake Tahoe?
Public buses around Lake Tahoe are run by 2 different companies. Tahoe Truckee Neighborhood Regional Transit (TART) operates buses along the north and west banks of the lake, while Tahoe Transportation District (TTD) offers its services on the south and east shores.
TART mostly serves the region around Truckee. Its southern ends are Tahoma and Sand Harbor, respectively on the west and east shores of the lake.
TTD operates around Stateline and has lines reaching Carson City and Incline Village to the north.
Prices are very affordable. Single-ride and multi-day tickets are available with both companies. Their vehicles also offer the possibility to carry a bicycle.
Is it advisable to rent a automobile in Lake Tahoe?
Renting a automobile is a good option if you plan to explore the many landmarks and attractions around Lake Tahoe. It's certainly more expensive than public transportation but it gives you the freedom to go anywhere whenever you want.
Major automobile rental companies can be found at Reno-Tahoe International Airport and in Truckee, South Lake Tahoe, and Stateline. Foreigners are allowed to use their standard driver's license for up to 1 year in both California and Nevada.
Other ways to getting around Lake Tahoe
In summer, several water taxi cab and tour operators can take you to discover the most beautiful coves around Lake Tahoe. South Shore Water Taxi cab is among the prominent providers. It operates a daily route between Camp Richardson Marina and Round Hill Pines Marina, with stops at Lakeside and Lumber Cove marinas.
Read more
6
What are the main annual events in Lake Tahoe?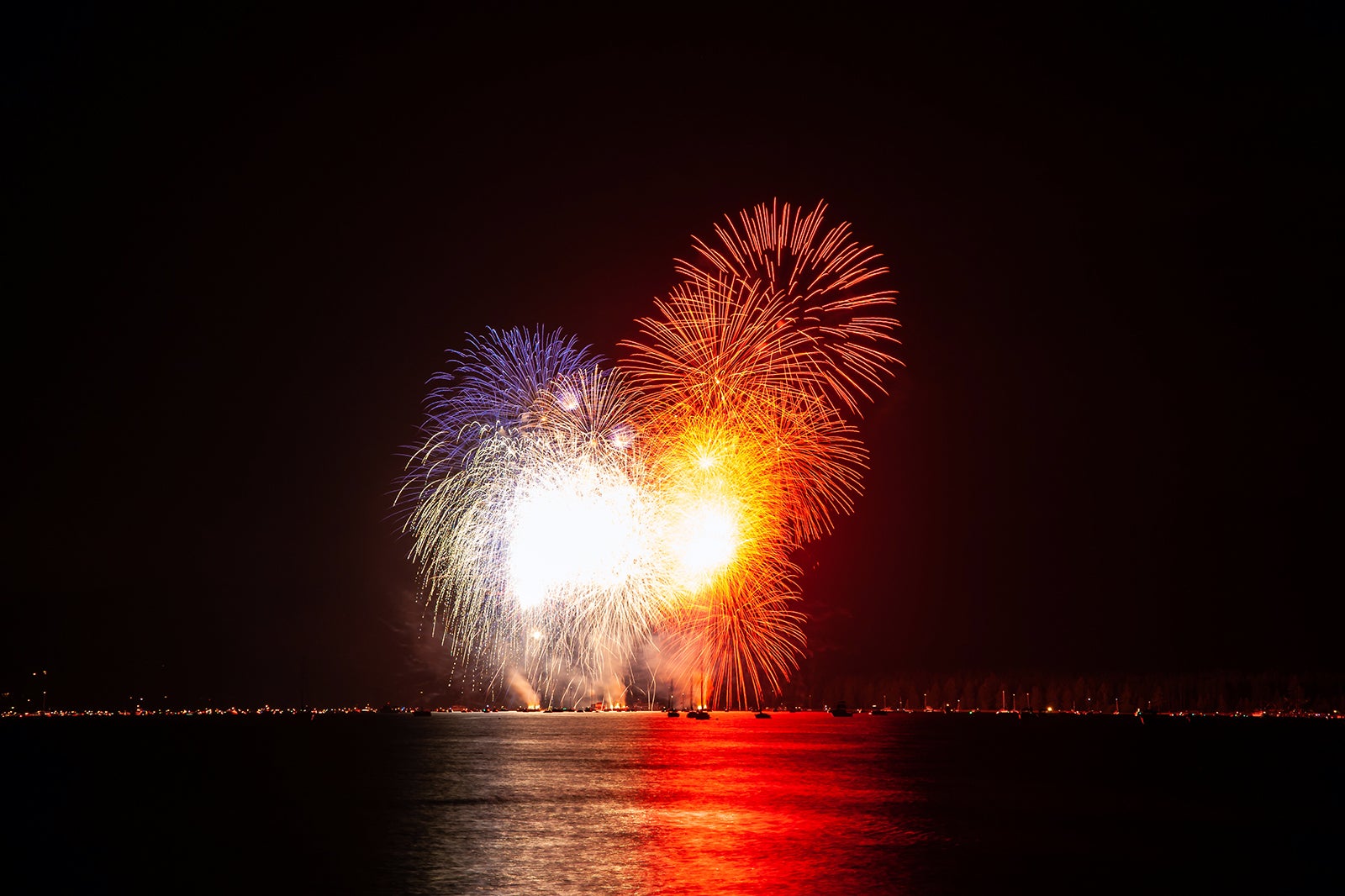 Snowfest
February
This 10-day carnival is filled with exciting, festive events held throughout the North Lake Tahoe area. It features torchlight parades, concerts, costumed parties, fireworks, and laser shows.
Where: North Lake Tahoe
Wanderlust Festival
July
A 3-day spiritual festival featuring yoga and meditation classes in the morning, excellent dining paired with great wines, and dancing under the stars with live music and DJs.
Where: Palisades Tahoe
Autumn Food & Wine Festival
September
Held since 1986, Lake Tahoe Food & Wine Festival is a gourmet rendezvous gathering winemakers, food producers, and chefs from the region. Expect culinary seminars, wine testings, and samplings of first-class dishes.
Where: Truckee
7
What are the main landmarks in Lake Tahoe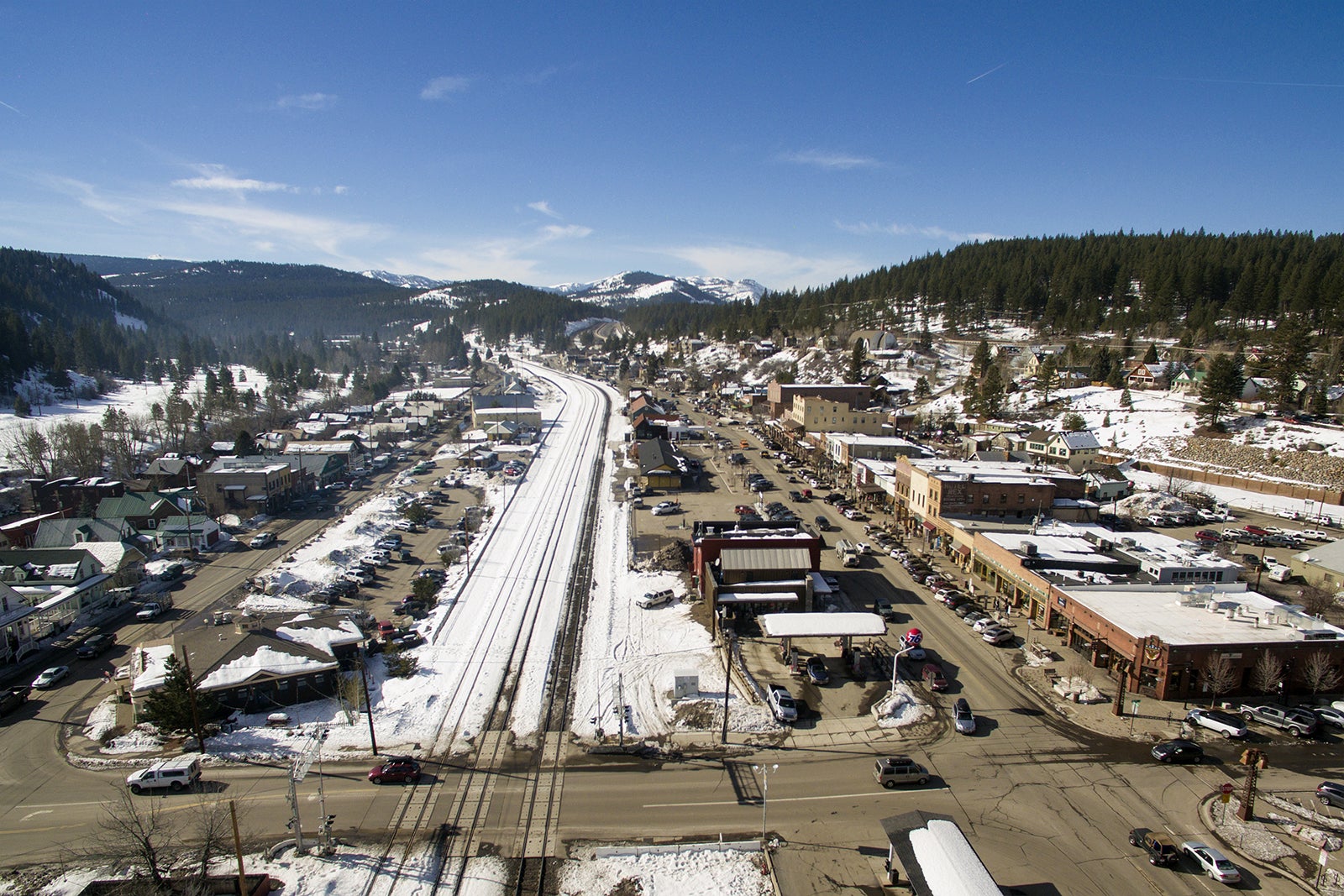 Tallac Historic Site
What remains of the 19th-century "grandest resort in the world", 4 miles west of South Lake Tahoe. It features 2 buildings that were the summer retreats of the 3 wealthiest San Franciscan families of the time.
Vikingsholm
Nicknamed Tahoe's hidden castle, Vikingsholm is a 38-room Scandinavian-styled residence. It was completed in 1929 and is located in the Harvey West Unit of Emerald Bay State Park.
Historic Downtown Truckee
Established in 1868 with the installation of the railroad that links Reno to Sacramento, Truckee has kept all the charms of an Old-West small town. Home to shops, bars, and restaurants made of wood and bricks, it offers a pleasant journey back in time.
Lake Tahoe Historical Society Museum
Lake Tahoe Historical Society helps you discover the history of the region. It features a museum, a bookstore, the Osgood Toll House, and it also organizes walking tours around the neighbourhood.
Back to top