Lahaina in Hawaii
What You Need to Know to Plan a Beach Vacation in Lahaina
Lahaina is a small resort town that's wedged onto the west coast of Maui. It's famous for its sun-soaked climate and artsy vibe, not to mention a long and rich history as both a one-time capital of the Hawaiian kingdom and a gritty whaling port in the 1800s.
Things are different today, though. The whaling ships have been replaced with intriguing galleries and the National Register of Historic Places. There are gold-sand beaches nearby, and even a taste of Aloha nightlife. The best time to travel to Lahaina is either spring or autumn, outside of the winter boom and the main storm season. Read on for more info to help you plan a beach vacation in Lahaina.
1
The beaches of Lahaina
Where to enjoy the sands of Lahaina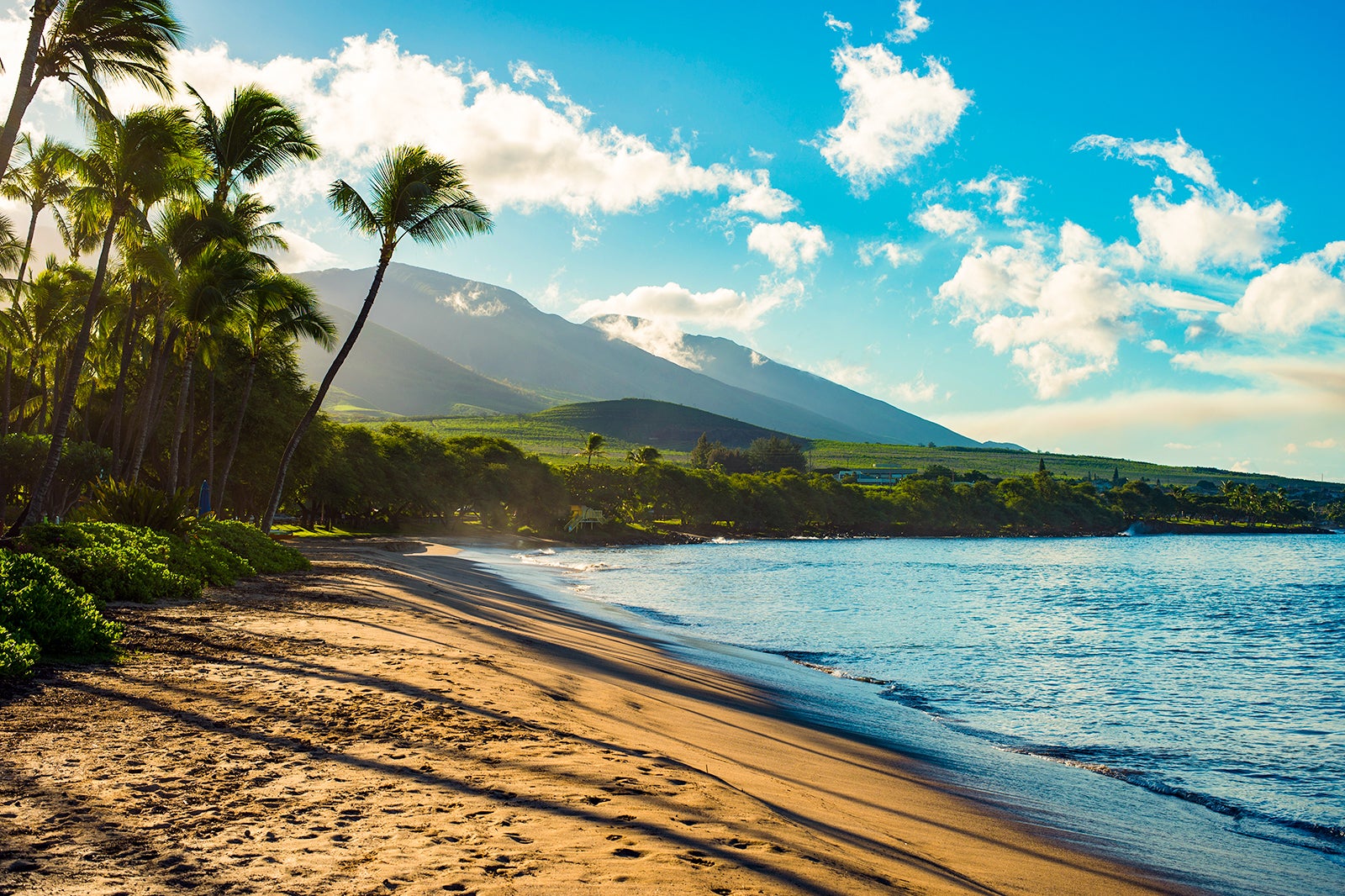 Couples
Budget
Adventure
Photo
Lahaina has among Maui's most jaw-dropping beaches. They curve around the top edge of the island, reaching from the lava reefs of the Launiupoko Beach Park in the south to the hotel-backed sands of much-loved Kaanapali in the north.
Baby Beach is closer to the heart of Lahaina itself. You can stroll there from the theaters and bars to be surrounded by stooping coconut palms and enjoy views of Lanai island across the strait. A better option for escaping the crowds is Hanakao'o Park. It has cinnamon-tinged powder below big casuarina trees and isn't usually too busy.
2
Family things to do in Lahaina
What to do for fun in Lahaina with your kids?
There's plenty of enthralling Aloha State history to get through in Lahaina that should entertain the whole family. That runs the gamut from venerable buildings in the heart of the old town area to fun rides on vintage trains to plantations in the Maui foothills.
First, be sure to drop by the Old Banyan Tree. It stands proud on the appropriately named Banyan Court Park. The tree is said to be the oldest on the whole island, with a whopping 150 years to its back. From there, hop on the Sugar Cane Train to whizz through lush fields as the steam plumes overhead. At night, the kids are sure to love the traditional dance shows that come with the Old Lahaina Luau.
3
Museums in Lahaina
Where to learn about the town's long history?
Lahaina is a great place to get a feel for the past of Maui and how the island has developed since being a center of the Hawaiian Kingdom. Aside from being anchored on Front Street, a whole row of pretty heritage architecture, the town hosts some informative institutions.
Take the Hale Pa'i printing museum. It's the only one of its kind in the whole state and shows the spot where the first Hawaiian language newspaper was made back in the day. Pioneer Mill Co. Ltd, the oldest sugar mill on Maui, is also there in the center of town, offering a sight of its huge smokestack. And there's the U.S. Seamen's Hospital Museum, housed in a building that dates back to 1833.
4
Front Street
Lahaina's most vibrant drag
Front Street is the epicenter of life in Lahaina. It goes for over 2 miles through the very middle of the town, fringing the shoreline on one side and beset by all sorts of heritage buildings on the other – cowboy-style sedans, wood-fronted arcades, and Victorian shops.
This is the place to be for dining, drinking and shopping. Souvenir seekers can duck into independent art galleries like the Lahaina Printsellers or Sargent's, while foodies can seek out the Kobe steakhouses and fish bars. There's also a mix of high-street fashion names, surf shops, tattoo parlors, and ice-cream outlets to get through.
5
Old Lahaina Luau
Cultural enjoyments and Hawaiian hospitality
Couples
Families
Food
Nightlife
The Old Lahaina Luau is a chance to get a taste of authentic Maui culture. It's a whole evening of dance, music, food, and Hawaiian hospitality, which takes place on the shoreline of the town in a pretty garden filled with tropical plants surrounded by traditional thatched-roof buildings.
You'll be garlanded with hibiscus necklaces when you arrive. Then, you'll be seated and served a smorgasbord of tasty islander food – think kalua pig and guava butter – as the ukulele band strikes up. Later on, there's a complete dance troupe who perform a show that draws on episodes from the history of Maui.
Location: 1251 Front St, Lahaina, HI 96761, USA
Phone: +1 808-667-1998
photo by jtriefen (CC BY-SA 2.0) modified
6
Other things to do in Lahaina
What else is there to do around Lahaina?
Lahaina is well-positioned to help you really make the most out of a trip to northern Maui. You can get stuck into all sorts here, whether you're keen to dive under the Pacific or hit a round of 18 at one of the award-winning local clubs – nearby Kaanapali has some of the most iconic courses around.
Budding surfers can rent a board or reserve a lesson and make for the weaves of the Lahaina Breakwall to try and pop up. Alternately, swap that for snorkeling gear and get to the reefs of Baby Beach for an underwater session. There's also an abundance of hiking paths behind the town, in the West Maui Forest Reserve for those feeling really adventurous.
7
Dining and restaurants in Lahaina
Where to eat in Lahaina?
Lahaina is considered a bit of a foodie hot spot because the big hotel resort restaurants are swapped out for more locally owned kitchens. Front Street is a great place to start your search when the belly rumbles, but don't be shy of ducking into the blocks just behind, where other gastronomic secrets await.
Some of the highlights include the Lahaina Fish Co, where the menus tout taste-bud-tingling dishes like Hawaiian tuna in katsu and panko breadcrumbs. Lahaina Broil is better for fine-dining evenings, with its meticulously crafted Pacific surf and turf. Meanwhile, Fleetwood's on Front St. is a legendary tavern for hearty American-Hawaiian fare by the sea and is owned by British musician Mick Fleetwood of the legendary rock band Fleetwood Mac.
8
Lahaina shopping
Where to shop in Lahaina?
Lahaina's rich heritage background makes it a great place to go souvenir hunting. There are more shopping malls here than you can shake your mahi-mahi at, along with all the independent retailers of Front Street to boot.
The Old Lahaina Center waits just a stone's throw from the shoreline. It's packed with banks and dental clinics, but also has a few interesting noodle bars and Maui-made clothing makes. You could also hit the aforementioned Front Street, where surf brands like Rip Curl sit next to local art purveyors. The sprawling Outlets of Maui is to the north and better for big-name labels like Tommy Hilfiger and Adidas.
9
Lahaina nightlife
Where to go at night in Lahaina?
Lahaina doesn't just go to sleep when the sun sinks into the Pacific Ocean. In fact, the nightlife starts way before the light has even faded, with people gathering at the golden hour to sip cocktails at joints like Fleetwood's on Front St.
From there, it's easy to hop up to the Waikiki Brewing Company, a microbrew spot that offers award-winning labels like the refreshing Aloha Spirit Blonde Ale. The Dirty Monkey is another legendary Front Street haunt that has big TVs for sports as well as DJs on the weekends. Away from the buzz of all that, the Sly Mongoose is a moody Tiki tavern with Harley Davidsons and a well-priced beer menu.
10
How to get to Lahaina
Factual travel information on Lahaina
Getting into Kahului Airport is the first step to getting to Lahaina. You can arrive there on internal flights from Honolulu and then rent a automobile. The drive around Highway 30 takes just under an hour in normal traffic. It all gets very pretty once you pass Maalaea, too, with the pearly Pacific on one side and the rugged mountains on the other.
Other travelers might arrive via cruise ship. There's no big port in Lahaina, so vessels anchor out in the bay and tender crowds who want to see the historic sites and pretty Front Street back and forth.
Back to top