The French Quarter is what many call the heart of New Orleans – it's the city's oldest neighbourhood, after all. Founded in 1718 by Jean-Baptiste Le Moyne de Bienville, this area has plenty of historic buildings, beautiful gardens, and grand courtyards.
The district covers 85 square blocks along the Mississippi River, stretching between Malecon Avenue and North Rampart Street. Jackson Square is a popular gathering spot in the French Quarter, with street artists, jazz musicians, and fortune-tellers entertaining crowds throughout the day.
French Quarter in New Orleans - one of the highlights of 10 Best Things to Do in New Orleans and 10 Best Things to Do for Couples in New Orleans (Read all about New Orleans here)
What are the highlights of the French Quarter?
The French Quarter stays lively throughout the day and night thanks to its extensive range of sightseeing, dining, and nightlife opportunities. Among its many historical landmarks are the Cabildo – where the Louisiana Purchase was signed in 1803 – and St. Louis Cathedral, the USA's oldest Roman Catholic church. You can even enjoy a New Orleans specialty at a café that's been operating since 1862.
Most start their day at Jackson Square, a designated National Historic Landmark. The 2.5-acre space is known for its artistic setting, where 200 local artists display their creations outside an 1851 cast-iron fence surrounding the square. This open-air art gallery is a great place to find one-of-a-kind paintings in New Orleans.
Jackson Square is surrounded by some of the city's oldest structures. A must-visit is the St. Louis Cathedral, established in 1772. The structure is very picturesque, with its symmetrical façade, stained-glass windows, and Rococo-style altar.
The French Market covers 5 blocks of shopping and dining opportunities. You can find a variety of food stands and restaurants with outdoor seats, giving you a nice view of street performances in the French Quarter. More than 50 local craftsmen offer handmade crafts, paintings, and jewelry at reasonable prices.
What are the most unusual things to do in the French Quarter?
Featuring wrought-iron balconies and a baroque façade, LaLaurie Mansion is a beautiful example of early 19th-century architecture. Most paranormal enthusiasts recognize it as one of the most haunted buildings in the USA. The mansion's owner, Marie Delphine Macarty or "Madame LaLaurie", tortured and killed many slaves back in the mid-1800s. You can learn about its grisly history by joining a ghost tour.
Located half a mile northwest of Bourbon Street, the St. Louis Cemeteries house the tombs of many New Orleans icons. These maze-like graveyards date back to the late-18th century, with most of the intricate tombs set above ground.
Other spooky spots to visit in the French Quarter include the New Orleans Historic Voodoo Museum and Museum of Death New Orleans, as well as dozens of shops specializing in psychic readings, voodoo, talismans, and gothic memorabilia.
What to eat and drink in the French Quarter?
One of the most popular places to eat in the French Quarter is Cafe du Monde. Located near Jackson Square, this monumental outdoor café specializes in café au lait and beignets (square-shaped fried fritters with a generous sprinkling of powdered sugar).
Gumbo is a must-try when in New Orleans, so head over to Stanley (it's next to St. Louis Cathedral) for a bowl of Gulf shrimp, oysters, andouille sausages, and chicken.
When it comes to nightlife, there's no better place in the French Quarter than Bourbon Street. You're bound to hear music blaring from jazz clubs, bars, and burlesque theaters that line this street. Cocktail lounges are plentiful, with Arnaud's French 75 Bar and Old Absinthe House among the local favorites.
Fritzel's European Jazz Club has been hosting nightly traditional jazz performances since 1831, while the Preservation Hall hosts nightly shows between 8 pm and 10 pm. For something a little more extravagant, head over to The Oz – this longstanding nightclub is open 24/7, offering go-go dances, burlesque and drag shows for the LGBTQIA+ community.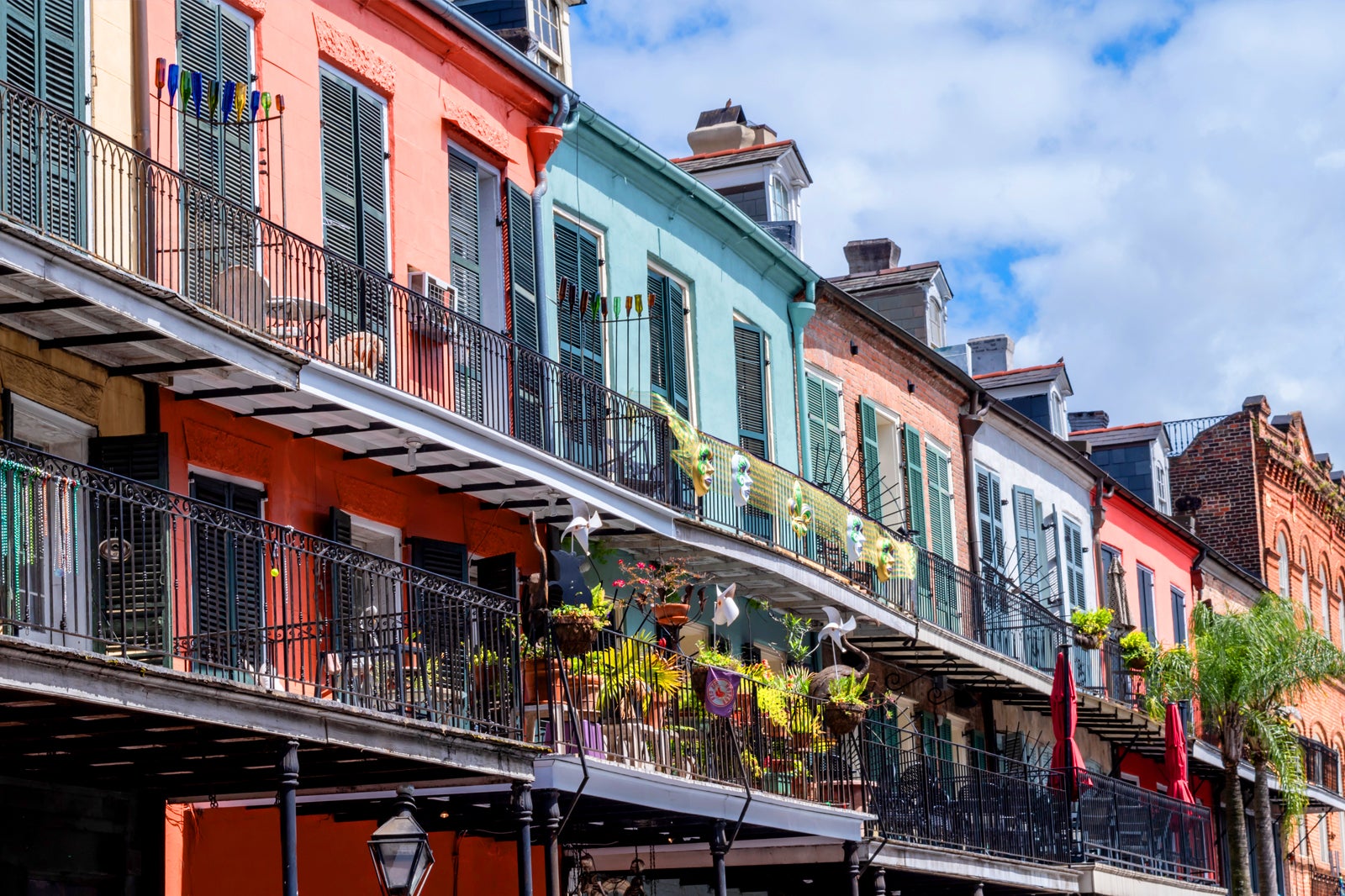 Good to know about French Quarter
The French Quarter is set along the Mississippi River in New Orleans. You can easily spend the entire day in this vibrant neighbourhood, so it's a good idea to dress comfortably. Many of its historic sights are indoors, but it's a good idea to bring a hat and wear sunscreen if you're planning to visit certain attractions. For example, the St. Louis Cemeteries are completely open-air.
French Quarter in New Orleans
Back to top