10 Free Things to Do in Seattle
Seattle for Budget Travelers
Seattle is not a cheap place to visit, but it doesn't have to be credit-card-melting expensive, either. The vibrant cultural hub of the Pacific Northwest, with its stunning natural surroundings, can be enjoyed even by those traveling on a tight budget. Not only are there free attractions and remarkable sights to see in public precincts, but you can also take advantage of free and discounted days at places you would usually have to pay for. Check out some of the great free things to do in Seattle in our list below.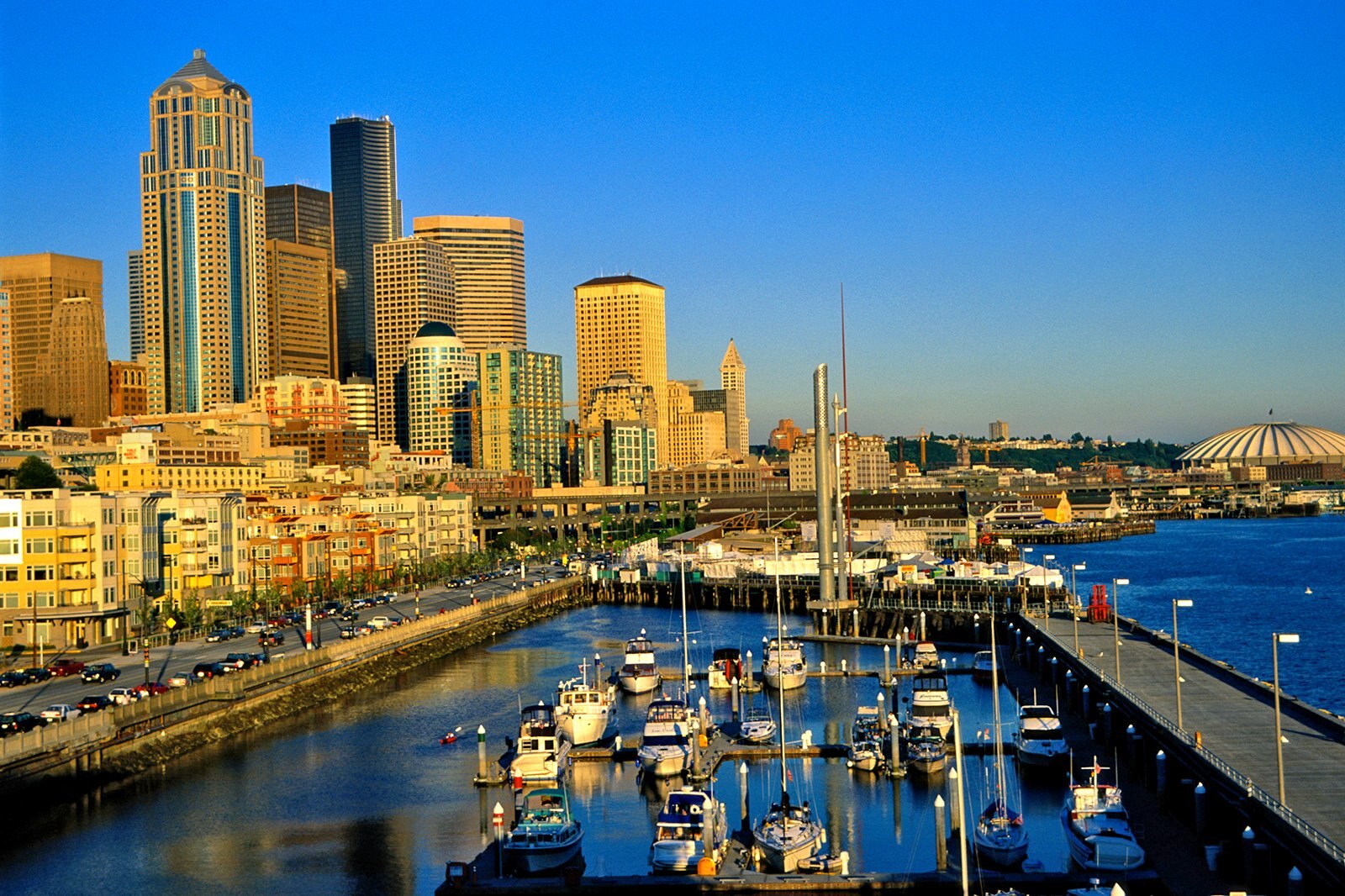 Seattle Waterfront
Walk along the pier with the Puget Sound in view
The waterfront is a tourist hotspot, so many of the stores there are fairly expensive. However, the views across Elliott Bay to the Olympic Mountains are free and make visiting a must. There are plenty of souvenir shops here, which make it easy to find gifts for those back home. Ye Olde Curiosity Shop is especially good for a quick look around. The walk from Pike Place Market towards the Olympic Sculpture Park takes you past Seattle's Great Wheel, which has nice views of the city, depending on the weather.
Seattle Public Library
It's just as impressive on the inside
Visiting the library is not normally a vacation activity, but Seattle Public Library is definitely remarkable. It's a dazzling structure from the outside, looking like a cross between a greenhouse and a spacecraft, and the inside is just as spectacular, with self-guided audio tours available through the library's website. The library has a packed schedule of events throughout the year, including story time for kids (in multiple languages) and readings by famous authors.
Location: 1000 4th Ave, Seattle, WA 98104, USA
Open: Monday – Thursday from 10am to 8pm, Friday – Saturday from 10am to 6pm, Sundays from noon to 6pm
Phone: +1 206-386-4636
photo by Filter Coffee (CC BY 2.0) modified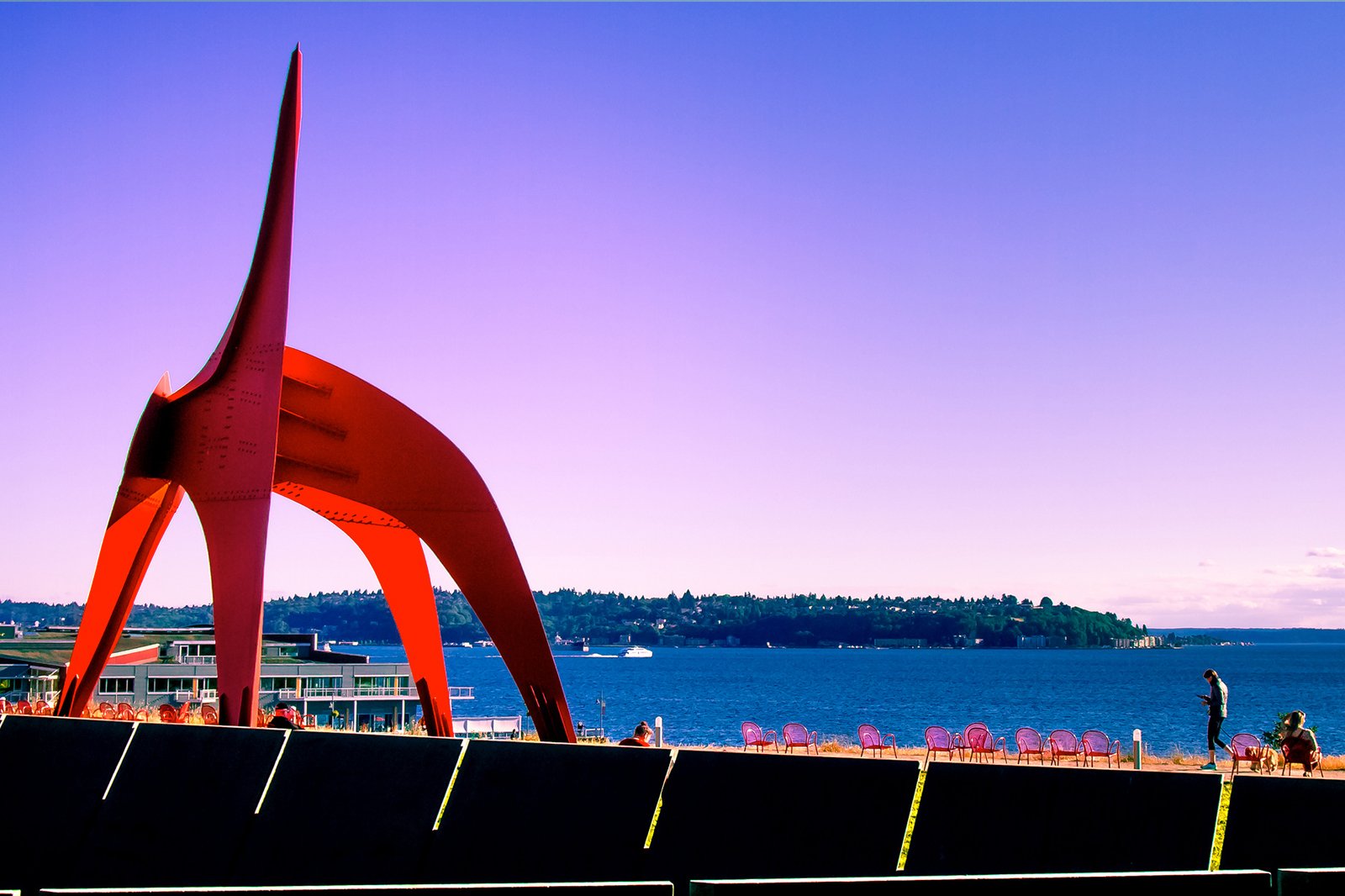 Olympic Sculpture Park
Enjoy some contemporary art outdoors
Truly a must-do in the Emerald City, the Seattle Art Museum's Olympic Sculpture Park holds impressive artworks by contemporary A-list artists such as Alexander Calder and Louise Bourgeois. The sculptures stand adjacent to Puget Sound, with the Space Needle and the Olympic Mountains as a backdrop. A special nod goes to Jaume Plensa's mesmerizing Echo, which is a 46-foot-high head that gazes towards the Olympic Mountains. No matter the weather, the park should be visited, especially since it's free.
Location: 2901 Western Avenue, Seattle, WA 98121, USA
Phone: +1 206-654-3100
photo by Ian D. Keating (CC BY 2.0) modified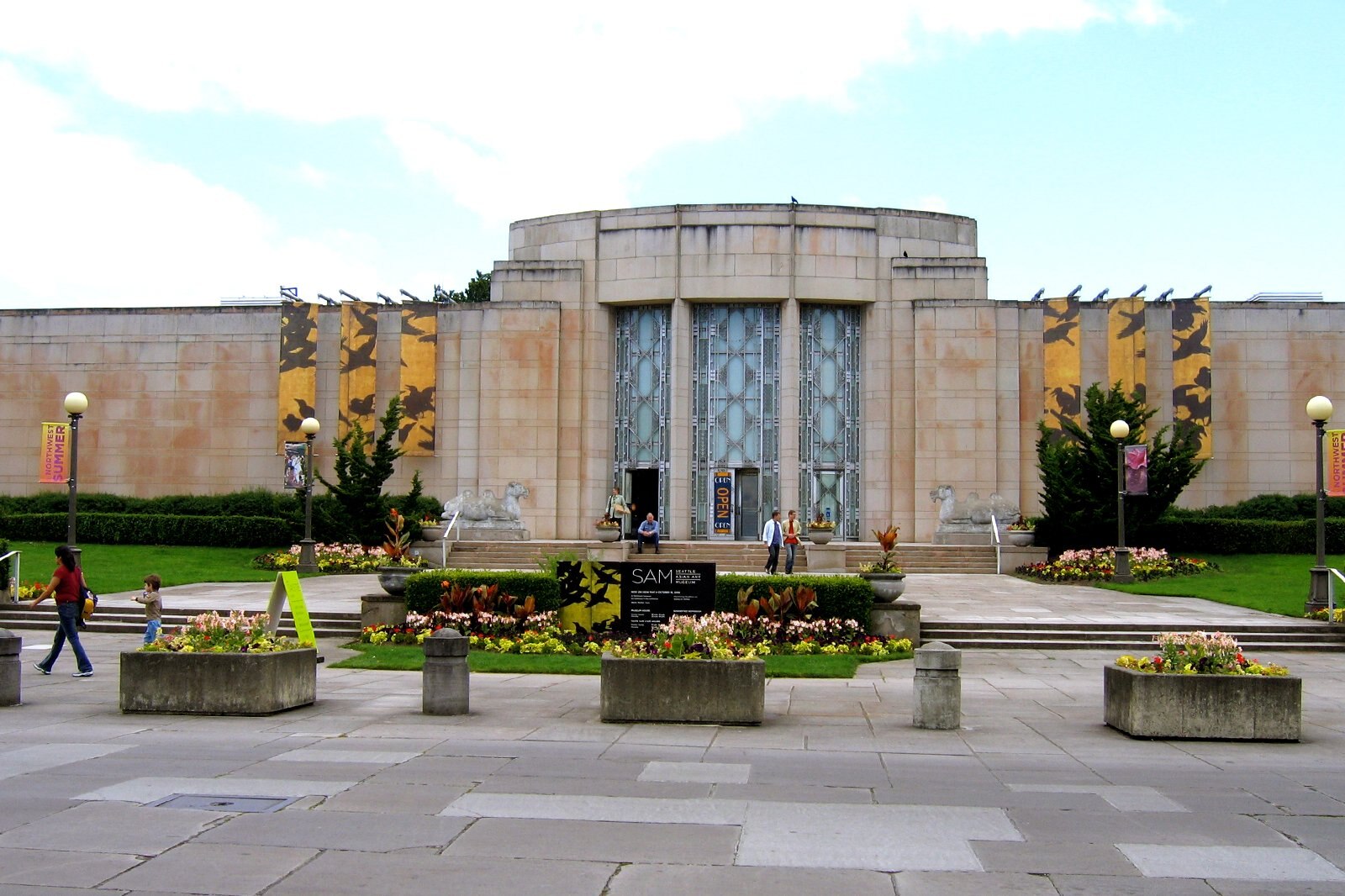 Free museum days
Usually the first Thursday of the month
Seattle has a great selection of museums and art galleries and, while there is an admission cost for most of them, many have free access at certain times on certain days. The Seattle Art Museum is especially impressive, with exhibits of artistic creations from around the world which you can see for free on the first Thursday of the month. The Museum of Flight isn't far away and is also free on the same day, but only between 5pm and 9pm. The Museum of Popular Culture (MoPop) is worth checking out just for the architecture, but is amazing inside, too. You can check it out for free between 5pm and 8pm on the first Thursday of the month.
photo by Tim Mansfield (CC BY 2.0) modified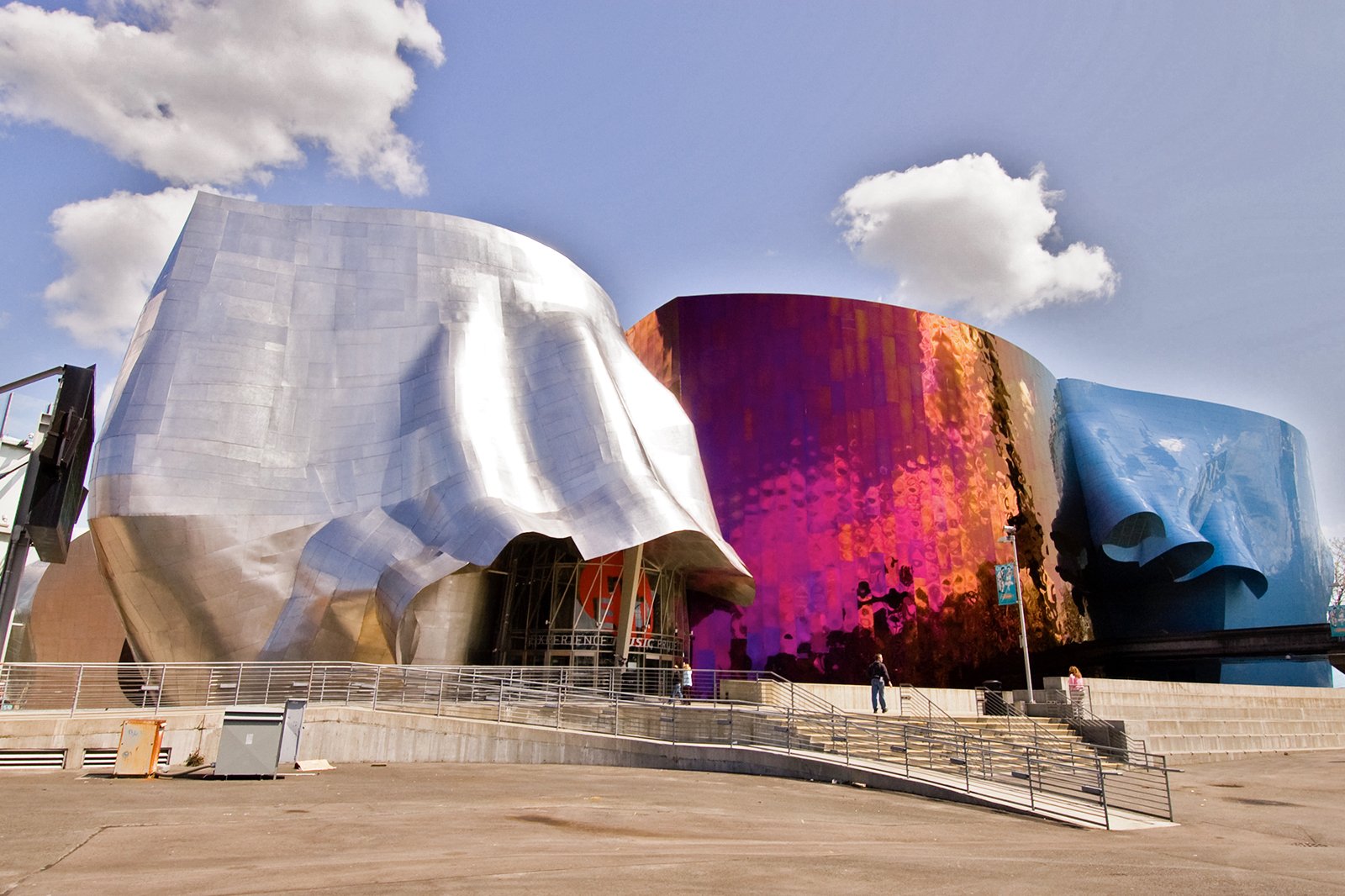 Seattle Center
Check out the cultural heart of the city
Unsurprisingly situated in the heart of the city, Seattle Center is a major cultural hub. It's here that you'll find most of Seattle's star attractions, including the Space Needle, Museum of Popular Culture and Chihuly Garden and Glass, as well as wide choice of theatres. This was the site of the 1962 World's Fair and, while several of the attractions do have an entrance fee, you can explore the beautiful grounds for free. You can also check out the special events here almost every weekend, including the Irish Festival in March and the Polish Festival in July.
Location: 305 Harrison St, Seattle, WA 98109, USA
Phone: +1 206-684-7200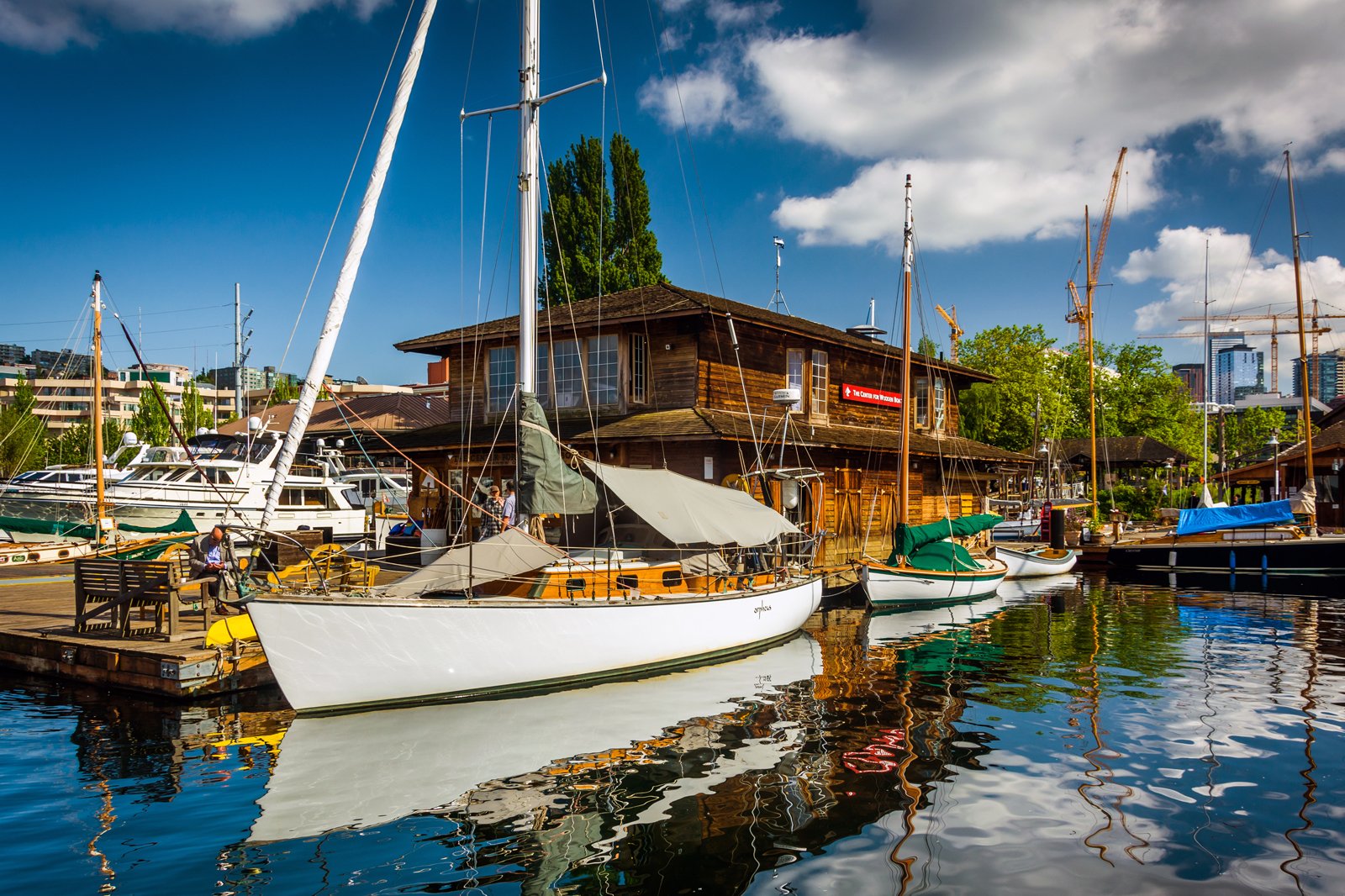 The Center for Wooden Boats
Get hands-on with Seattle's maritime heritage
The Center for Wooden Boats is a haven for those who love maritime history. Free to enter, you can explore Seattle's heritage of shipbuilding, fishing and sea trade through a selection of workshops and preserved vessels. This is much more than a typical, dry museum (pardon the pun) as there is a special emphasis on the hands-on experience. Come on a Sunday and you can even set sail on Lake Union for free, though you'll have to get there early to get your name on the shortlist.
Location: 1010 Valley St, Seattle, WA 98109, USA
Open: Daily from 10am to 8pm
Phone: +1 206-382-2628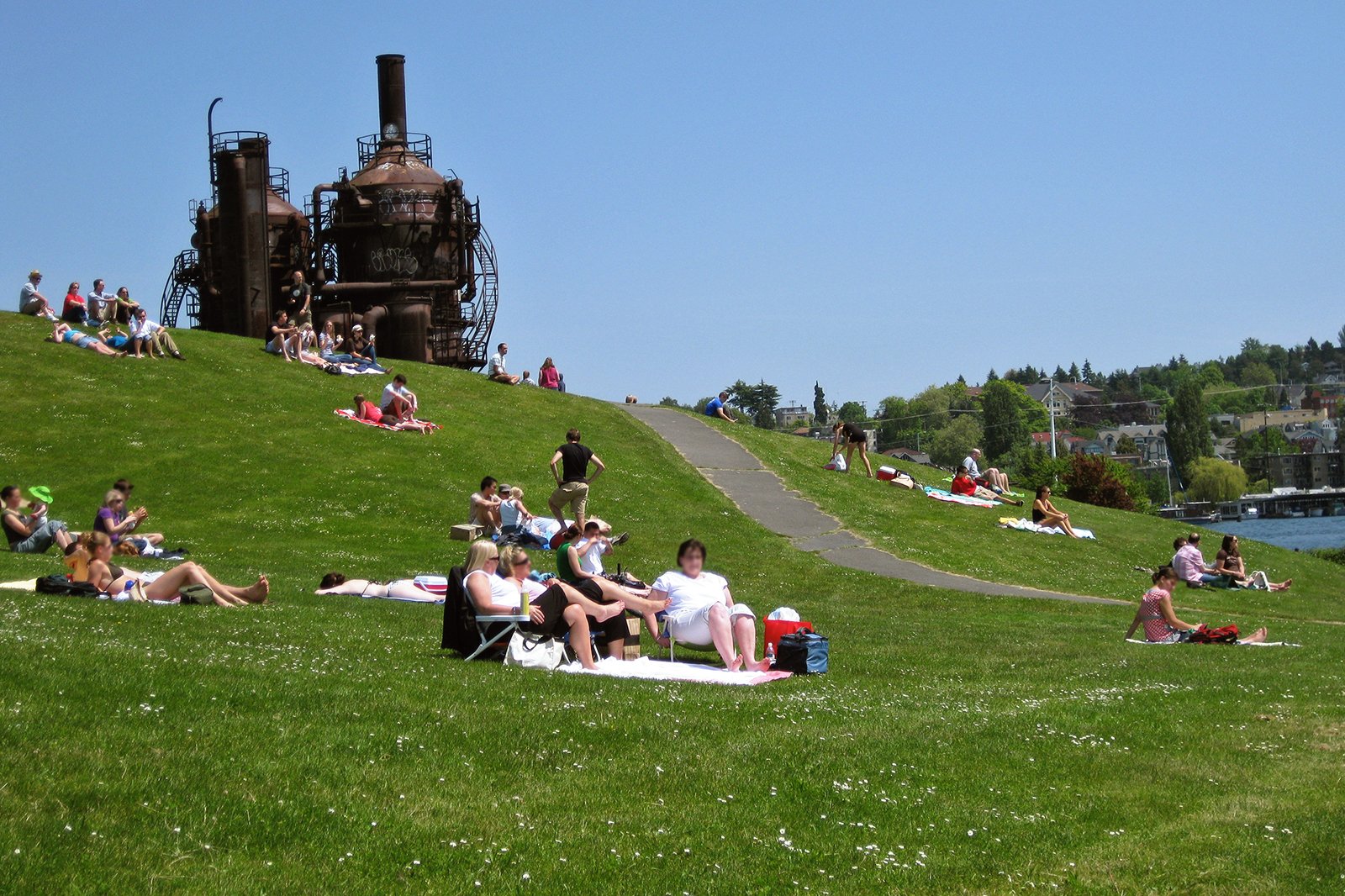 Gas Works Park
Great for kite-flying
Seattle has dozens of parks and green spaces, but Gas Works Park definitely stands out. The distinctive (and namesake) feature is the ruins of a former oil gasification plant, quietly rusting away right in the middle of the park – a very striking scene, particularly with the Seattle skyline in the background, on the other side of Lake Union. The 20-acre park is mostly open to the elements, with virtually no trees, which makes it a perfect place to fly kites.
Location: 2101 N Northlake Way, Seattle, WA 98103, USA
Open: Daily from 6am to 10pm
Phone: +1 206-684-4075
photo by Wildcat Dunny (CC BY 2.0) modified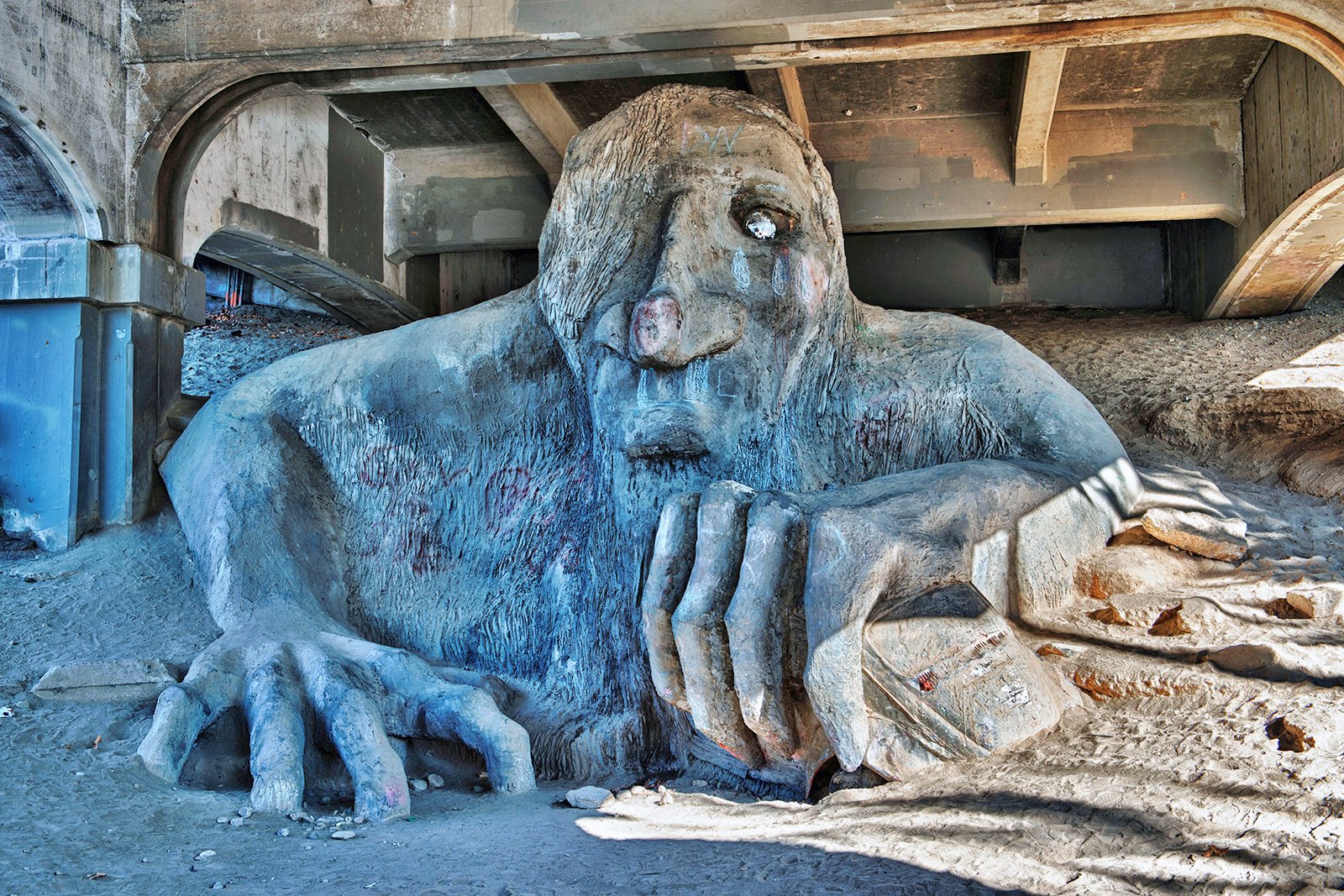 The Fremont Troll
Don't worry, he doesn't bite
The Fremont Troll is an icon of Seattle. The sculpture lies under the George Washington Memorial Bridge and finds its roots in the Norwegian folklore that depicts a troll living under a bridge. The sculpture is a unique spot in the city as it's located in an unusual spot just off the freeway. The Troll lives in the self-proclaimed Center of the Universe: Fremont. This quirky, counter-cultural area houses some of the best coffee shops in Seattle – Fremont Coffee Company and Milstead & Co. are favorites. The Sunday farmers' market stretches to Ballard and is a very pleasant place to spend your afternoon without spending too much money.
Location: Troll Ave North, Seattle, WA 98103, USA
History
Photo
Budget
Unusual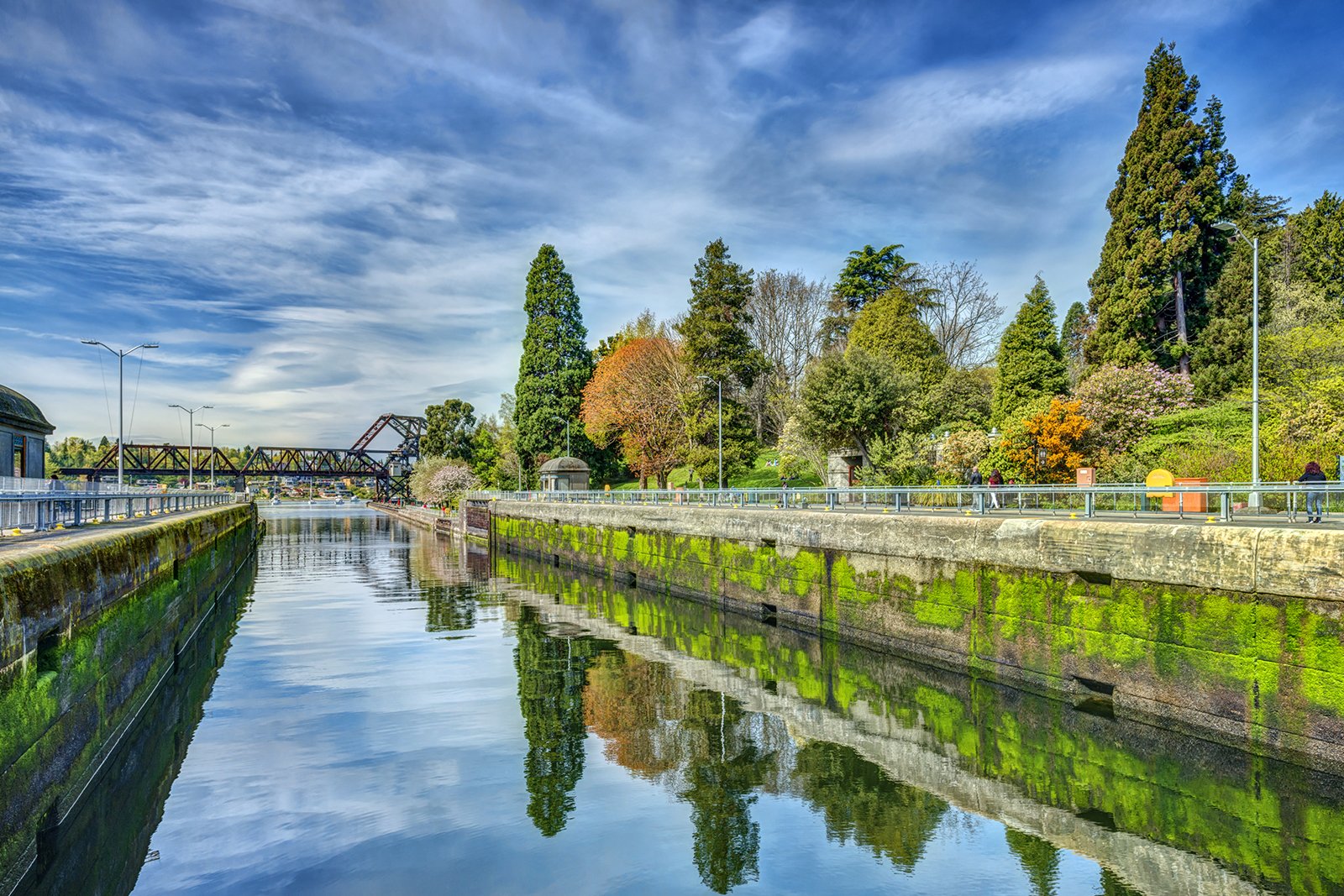 Ballard Locks
See the salmon run
The Hiram M. Chittenden Locks – which everyone calls the Ballard Locks – are fascinating to watch in operation. Originally built in 1911, they allow ships to pass from Puget Sound into Salmon Bay and, from there, into Lake Union. There's even a visitor's center where you can learn more about the lock. However, if you visit between March and April or June and October, you can see the salmon run and watch as they climb the fish ladder to head upstream to their spawning grounds. The nearby Carl English Botanical Gardens are also impressive, and home to 2,000 plant varieties.
Location: 3015 NW 54th St, Seattle, WA 98107, USA
Phone: +1 206-780-2500
History
Photo
Budget
Unusual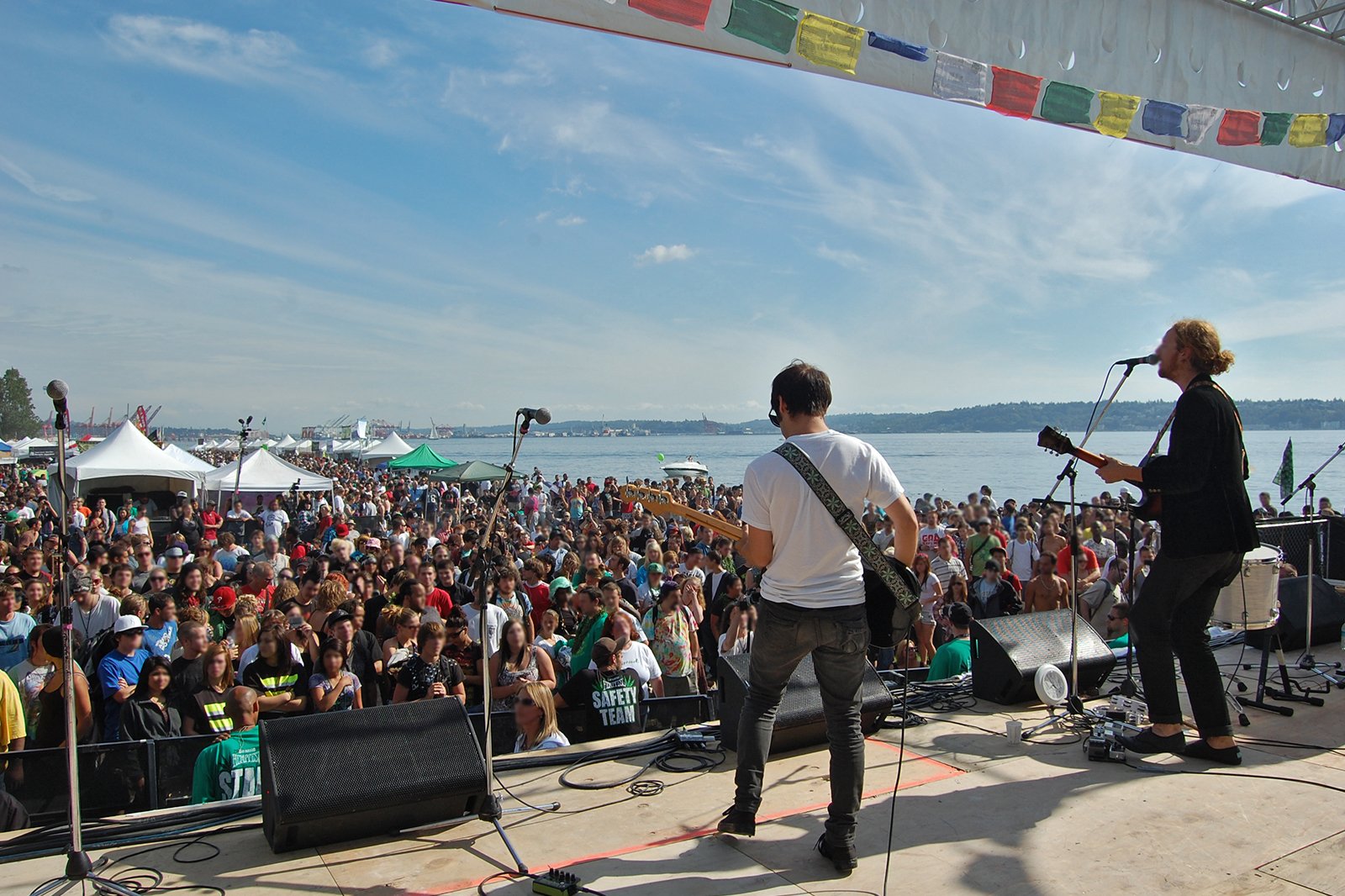 Free concerts
Party in the park at lunchtime
Seattle is famous for its musical culture, which you can enjoy without spending a dime on certain days and at certain times. Head to City Hall for lunchtime concerts every first and third Thursday of the month, with the musical genre ranging from big bands to jazz and beyond. Around July and August, you'll also find performers in many downtown plazas and parks at lunchtime, including Freeway Park and Pioneer Square. Expect everything from classical to rock 'n' roll tunes.
photo by Patricia Feaster (CC BY 2.0) modified