10 Free Things to Do in Las Vegas
Las Vegas for Budget Travelers
Las Vegas is probably not the first place to come to mind when you're looking for a budget-friendly destination in the USA. Famously packed with casinos, golf courses and high-end bars, restaurants and shops, it's naturally known as place where money is spent, not saved. However, you might be surprised by how much you can do without spending a single cent, as well as what you get up for a relatively low fee.
Surprisingly, casinos are actually among the best places to find freebies. They compete with each other to draw people to the gambling floors using free shows and attractions. Once you're there, you can also get free drinks while you gamble. Or, if you're lucky, while you watch someone else gamble!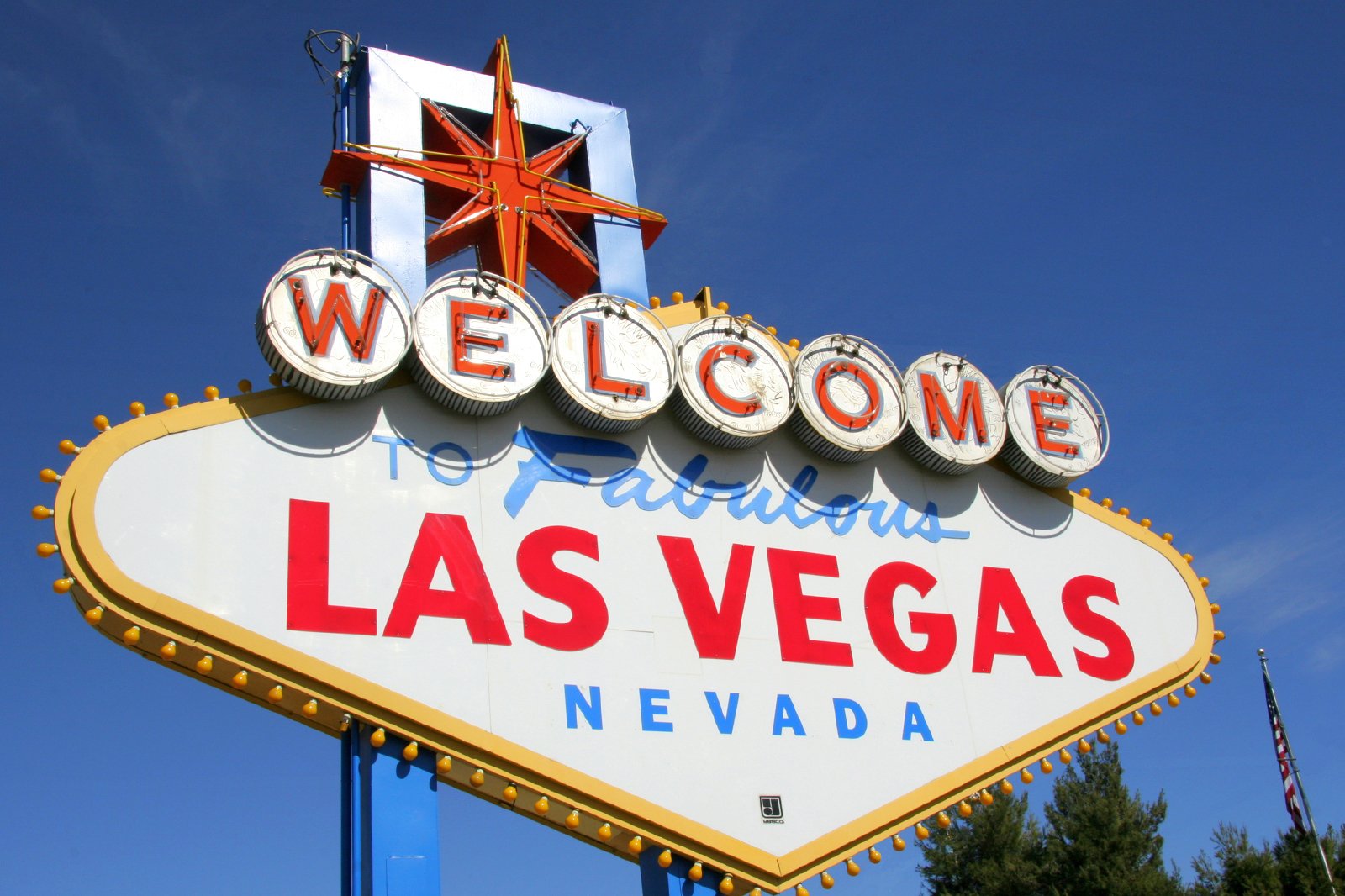 Take a selfie with the 'Welcome to Fabulous Las Vegas' sign
What better way to start your visit?
Perhaps one of the most iconic sights in Las Vegas, the illuminated welcome sign is on South Las Vegas Boulevard, between the Bali Hai Golf Club and McCarran International Airport. The 25-foot-tall sign was built in 1959 and is one of the most recognizable structures in the city. It rapidly became such a hit with people wanting their photo taken with it that a small parking lot had to be built in the median of the highway to prevent people stopping on the busy road. It's especially attractive at night, but is obviously accessible (for free) at any time.
Location: 5200 S Las Vegas Blvd, Las Vegas, NV 89119, USA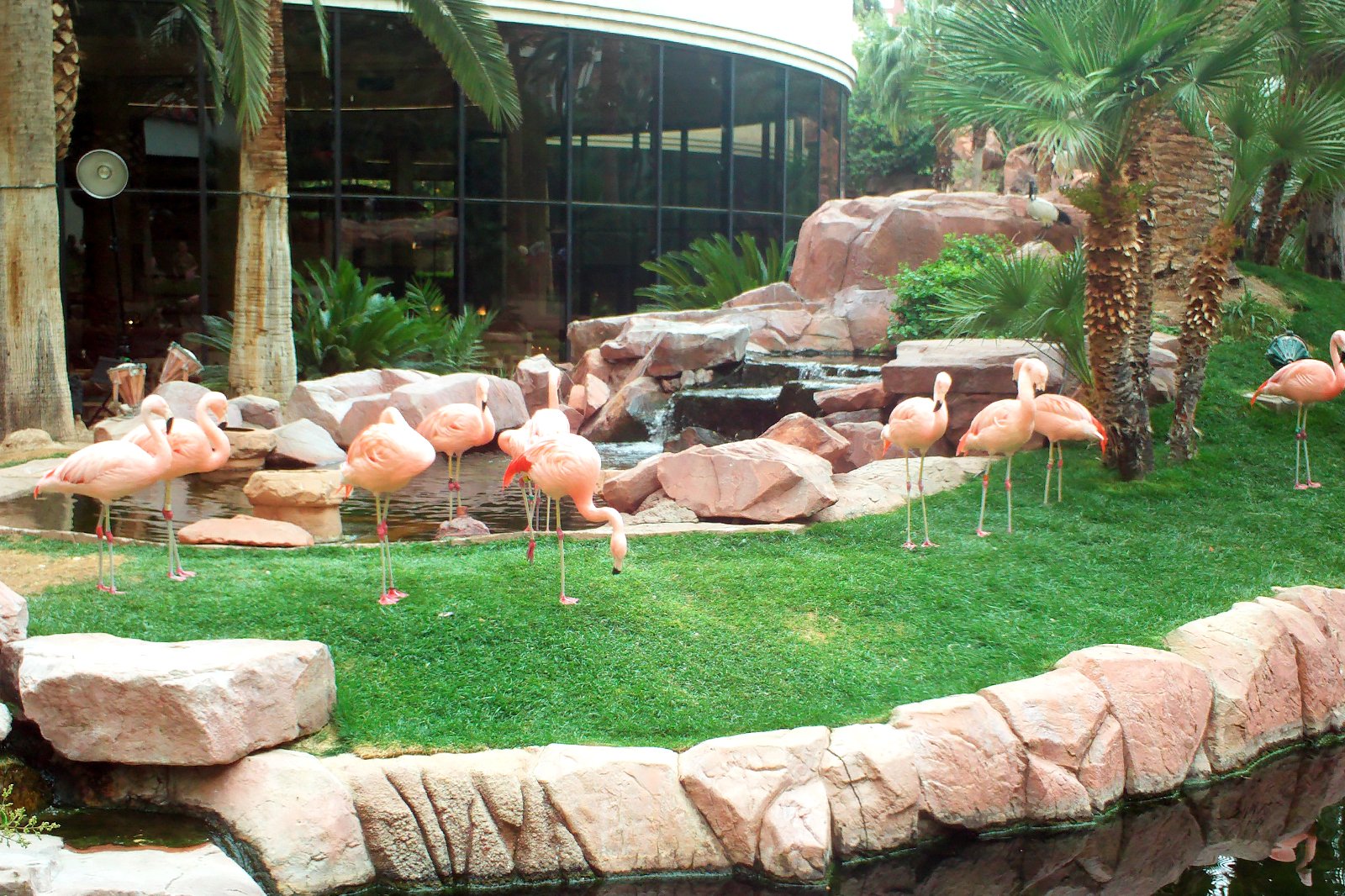 See the flamingos in the Flamingo Hotel
A mini zoo in a casino hotel
The Luxor has its pyramid and Paris Las Vegas has its mini-Eiffel Tower, so it doesn't take a genius to guess what the Flamingo Hotel has. The resident Chilean flamingos join other feathered friends like sacred ibis and brown pelicans, as well as koi fish and turtles, in the Wildlife Habitat. It's a verdant, serene spot in the casino hotel's grounds, with the waterfall splashing just steps away from the blackjack tables. The animals are well careful for and their artificial habitat is very well maintained by staff who are willing to answer questions and share interesting facts.
Location: Flamingo Las Vegas, 3555 S Las Vegas Blvd, Las Vegas, NV 89109, USA
Open: Daily from 8am to midnight
Phone: +1 702-733-3349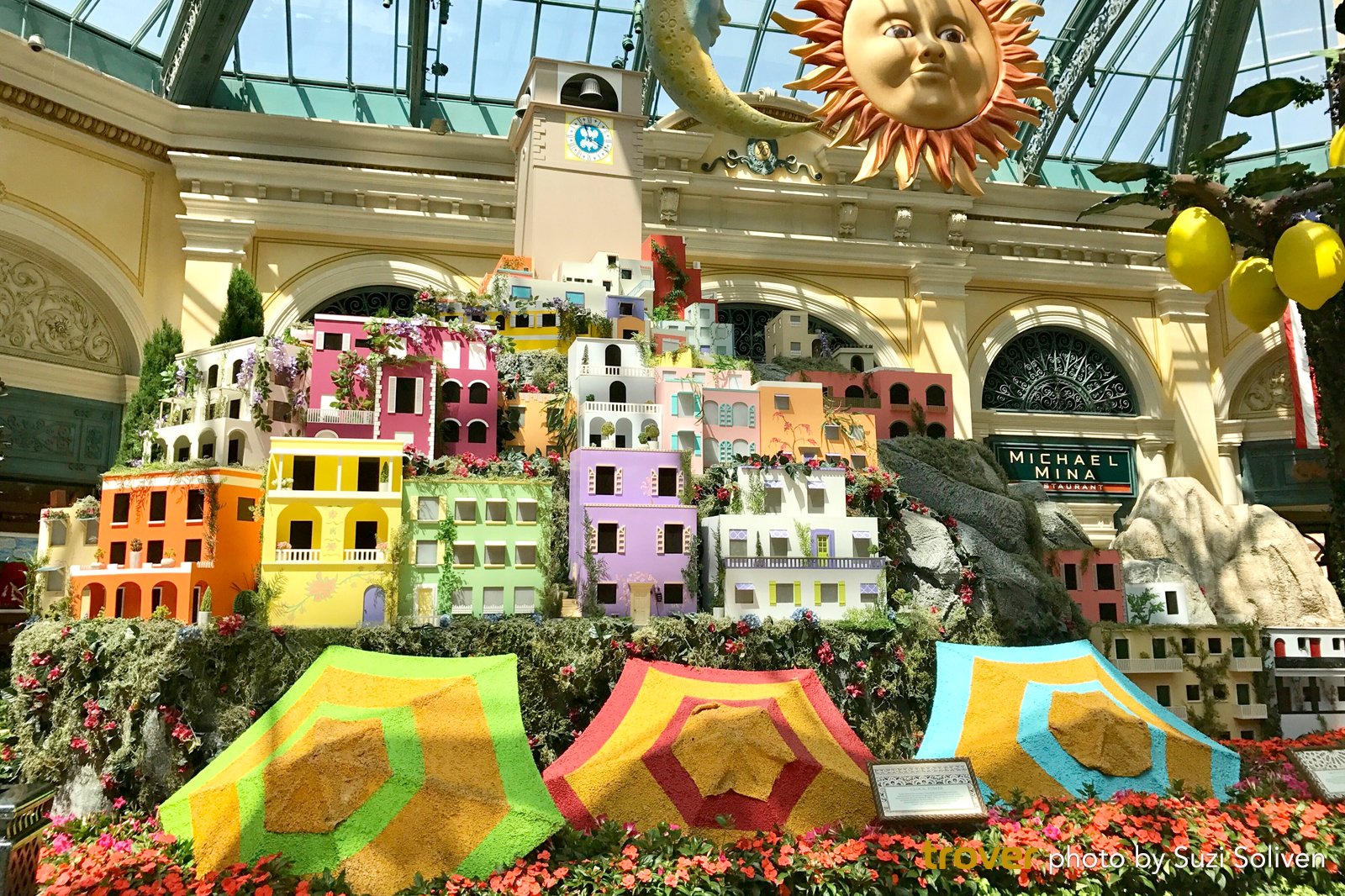 Smell the flowers in the Bellagio Botanical Gardens
There are about 10,000 of them
Most hotels in Las Vegas have gardens, but the Bellagio does nothing small. The 14,000 sq ft conservatory and botanical gardens transform 5 times every year, with special displays of plants for Chinese New Year, spring, summer, autumn and winter. Expect beautiful orchids, hydrangeas, chrysanthemums and poinsettia, among many others. Right next to the hotel's lobby, the conservatory is extremely environmentally friendly, with wilted flowers reused as compost.
Location: Bellagio Hotel & Casino, 3600 S Las Vegas Blvd, Las Vegas, NV 89109, USA
Open: 24 hours
Phone: +1 702-693-7111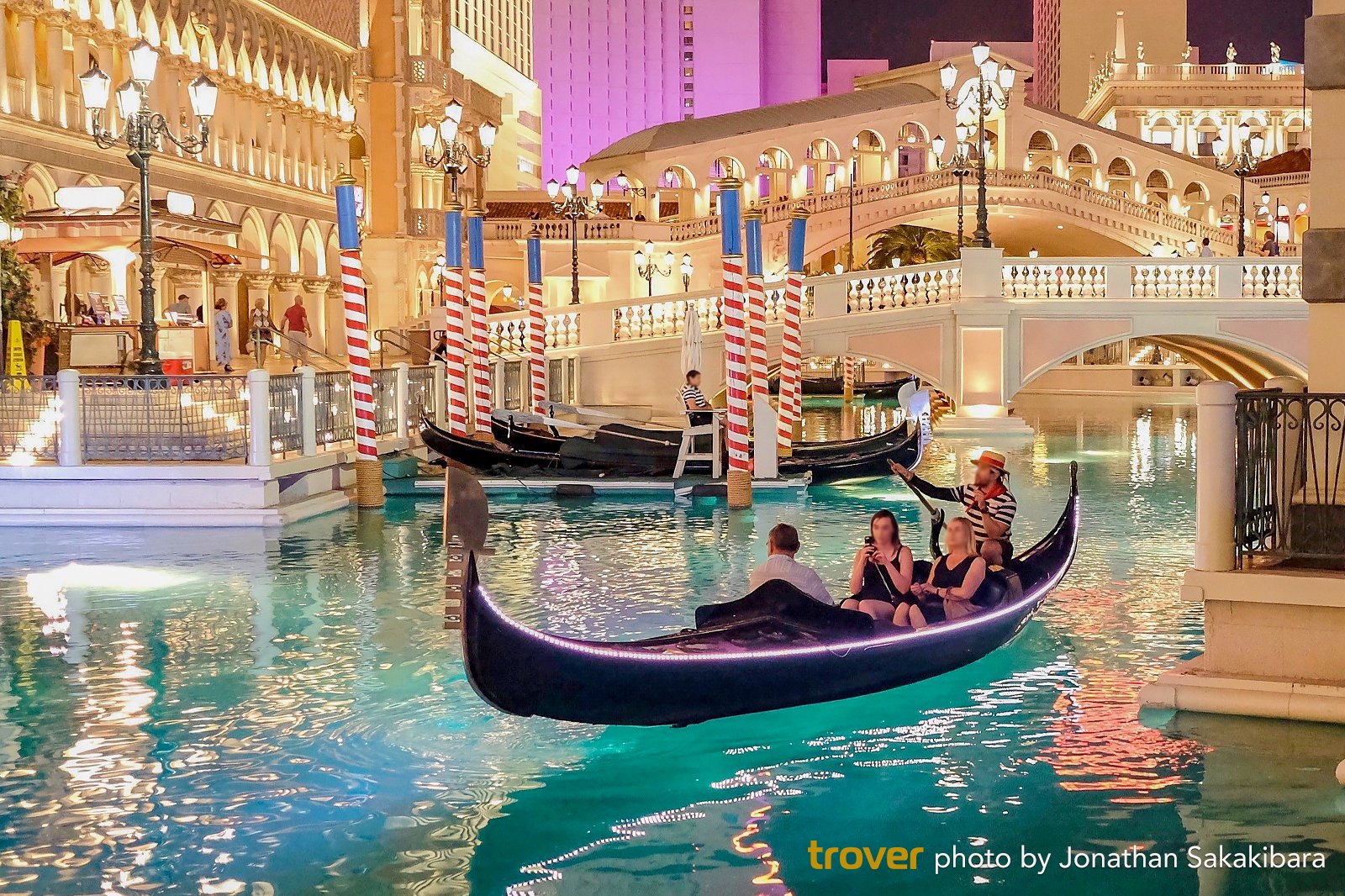 Soak up the "Streetmosphere" in Venice
Without ever leaving Vegas
The Grand Canal Shoppes of the Venetian is an impressive recreation the famously romantic canal city in Italy. Just like the real thing, you can enjoy an expensive gondola ride, but also free street performances in the form of the Streetmosphere. These aren't your average buskers, but an international cast of classically trained singers, actors and musicians. Between their impressive shows of classic Italian street theatre, you can take a wander around the 85,000 sq ft shopping emporium and enjoy the delightful design and exotic shopfronts. Don't expect to snag many bargains, though – it's mostly luxury lifestyle brands.
Location: The Venetian, 3355 S Las Vegas Blvd, Las Vegas, NV 89109, USA
Open: Daily from 10am to 10pm
Phone: +1 702-414-4500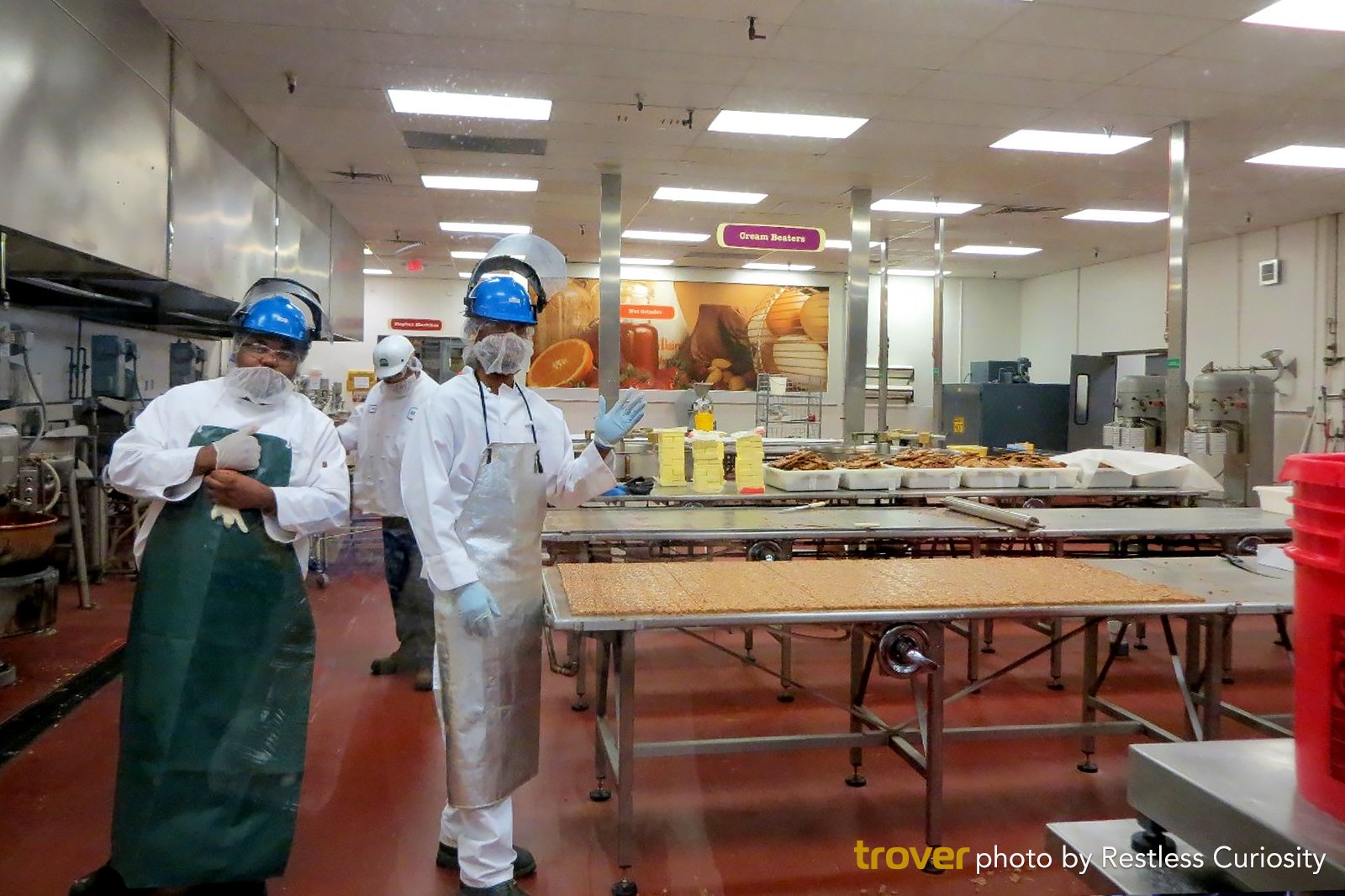 Take a chocolate and cactus tour
A weird but wonderful combo
The East Las Vegas suburb of Henderson is home to gourmet chocolatiers Ethel M and their main factory. The good news for budget travelers is you can take a self-guided tour for free. It's not what you'd call a natural combination, but there is a 3-acre cactus garden outside, which you can explore. The chocolate tour allows you to look into the company's kitchens while they hand-craft everything from pecan brittle to signature fillings. In the cactus garden, you can see 350 species of cacti and succulents, which recycle all of the factory's waste water.
Location: 2 Cactus Garden Dr, Henderson, NV 89014, USA
Open: Daily from 8am to 8pm
Phone: +1 800-438-4356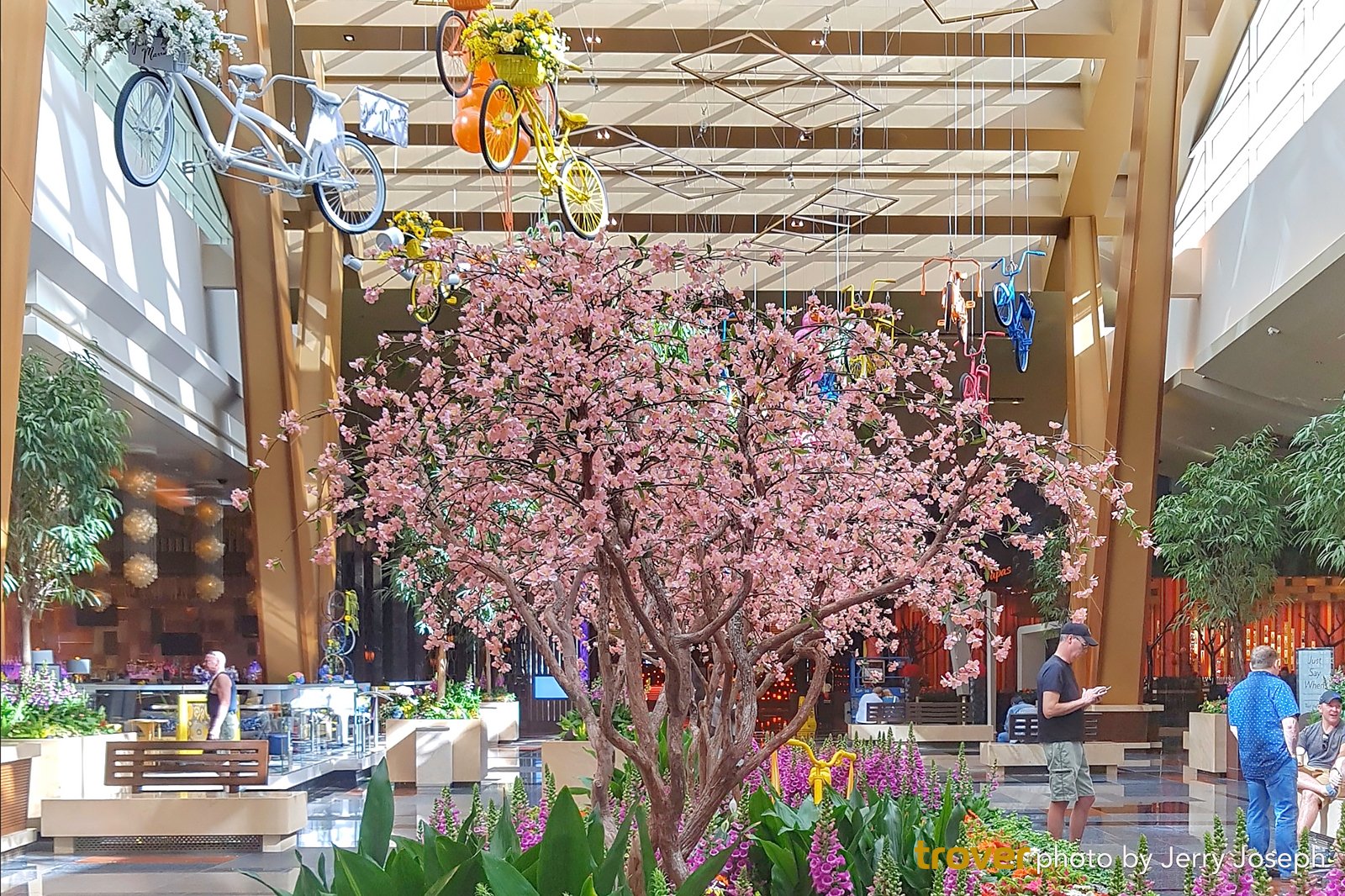 Enjoy the fine art at the ARIA
Explore the resort to find its artistic treasures
The ARIA Fine Art Collection is one of the largest corporate modern art collections in the world, and one of the first in Las Vegas to be displayed in a public space. It features dramatic sculptures, paintings and installations by artists from around the world, with ambitious themes like the fundamentals of the human experience, the importance of a single human life and the dialog between humankind and the world we live in. The artworks are spread throughout the resort, but maps are available to guide you to each.
Location: Aria Resort & Casino, 3730 Las Vegas Blvd S, ARIA Resort & Casino, Las Vegas, NV 89109, USA
Open: Daily from noon to midnight
Phone: +1 702-590-7111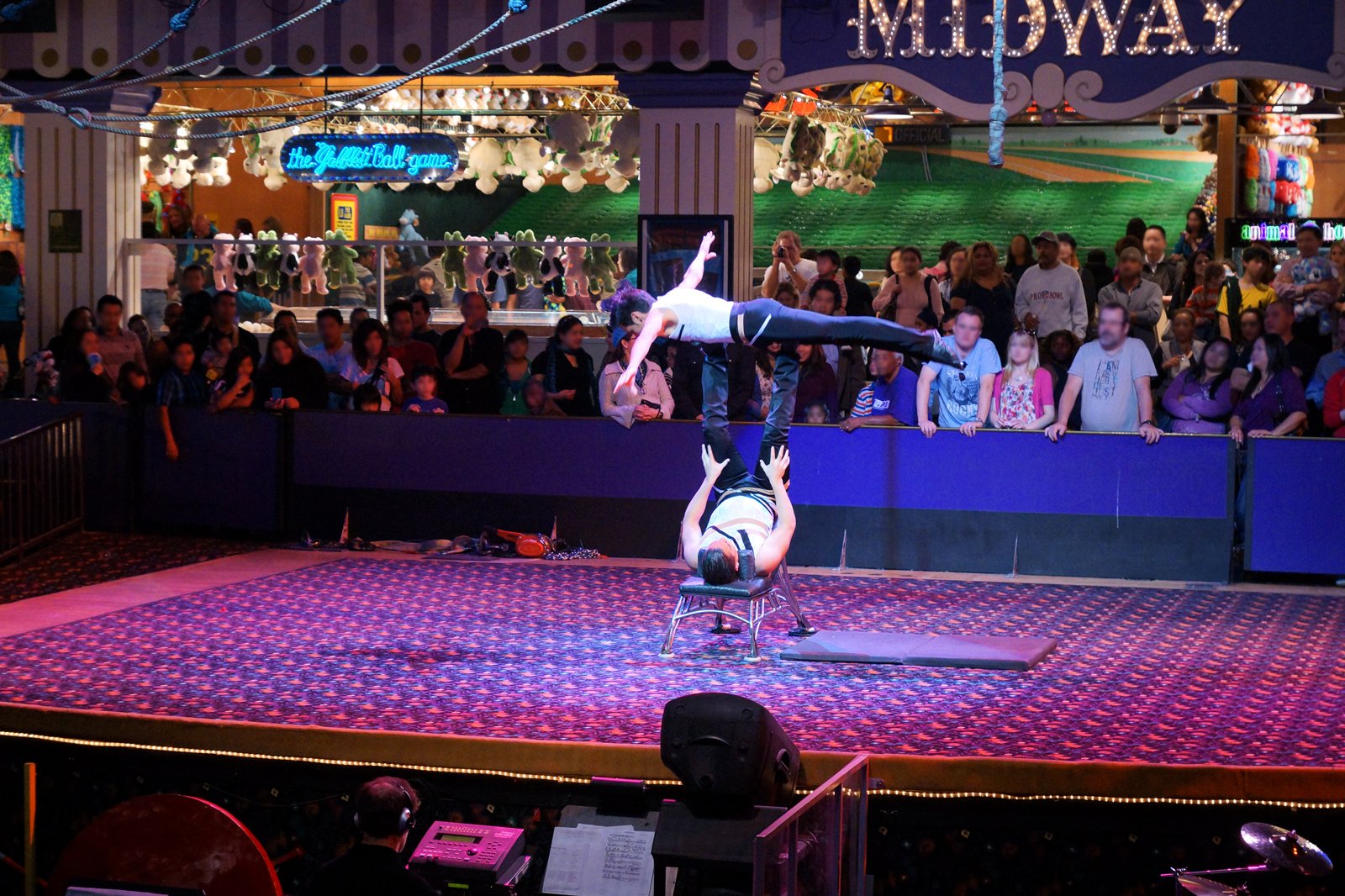 Go to the circus at Circus Circus
Free shows in the Carnival Midway Arcade
It may not be quite on the same level as Vegas's famous Cirque du Soleil shows, but the awe-inspiring acts at Circus Circus are free. Inside the big top-style hall, you can see daily shows throughout the afternoon and evening, including clowns, acrobats, jugglers, trapeze artists and more – basically any act which comes to mind when you think of the word "circus". The international cast are extremely skilled and fun to watch.
Location: Circus Circus Hotel & Resort, 2880 S Las Vegas Blvd, Las Vegas, NV 89109, USA
Open: Daily from 11.30am until late
Phone: +1 800-634-3450
photo by Allie_Caulfield (CC BY 2.0) modified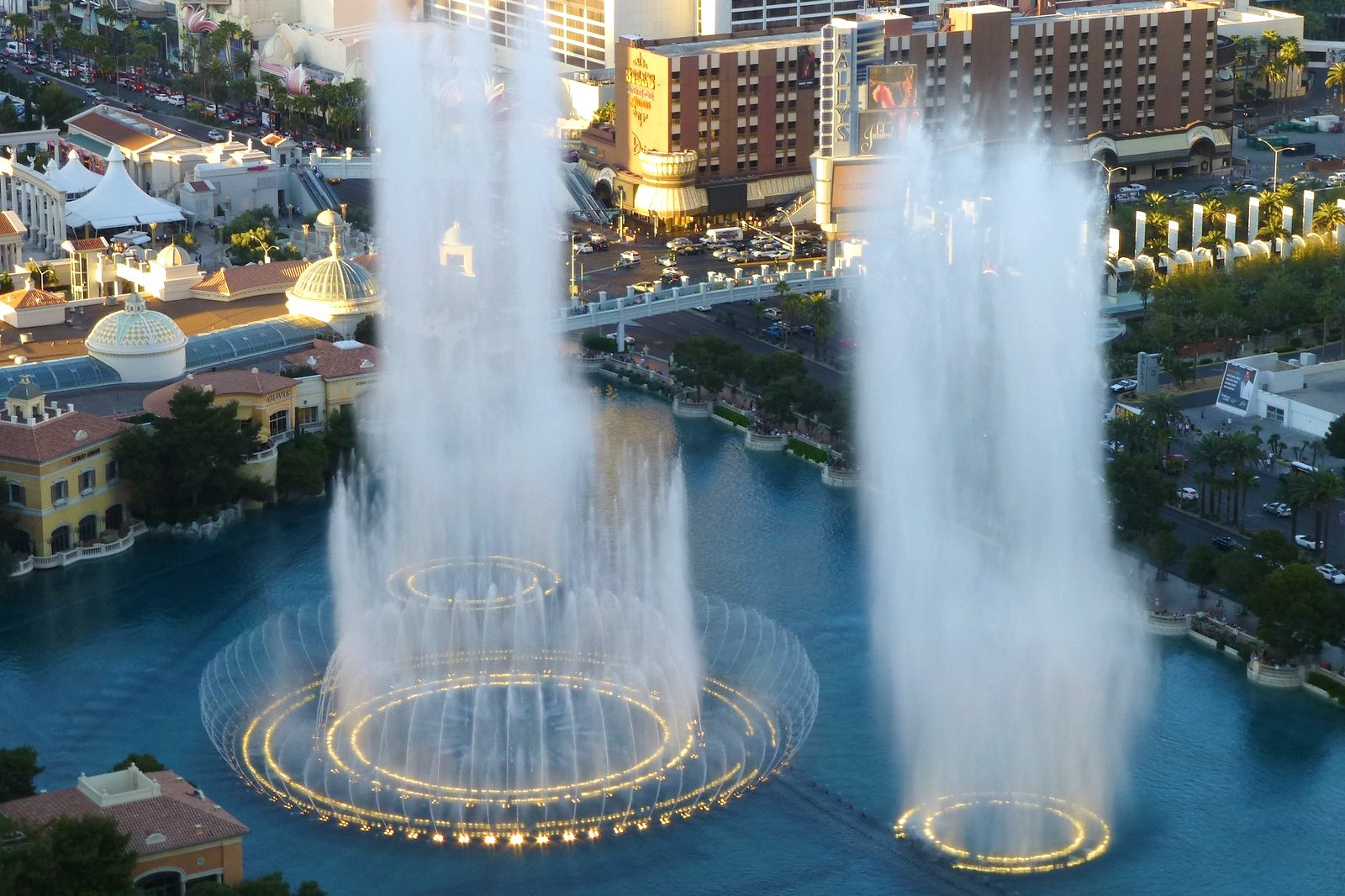 Watch the Fountains of Bellagio
An iconic free show on The Strip
Watching the balletic display of the Fountains of Bellagio is one of the most iconic free things to do in Las Vegas. Over 1,200 nozzles in the 8-acre manmade freshwater lake spray jets up to 460 ft into the air in time to a selection of soundtracks ranging from Elvis Presley's "Viva Las Vegas" to "My Heart Will Go On" by Céline Dion. Barring any unusual weather conditions, there are shows every 30 minutes during the day and every 15 minutes after dark.
Location: 3600 S Las Vegas Blvd, Las Vegas, NV 89109, USA
Open: Monday to Friday from 3pm to midnight, Saturdays from noon to midnight, Sundays from 11am to midnight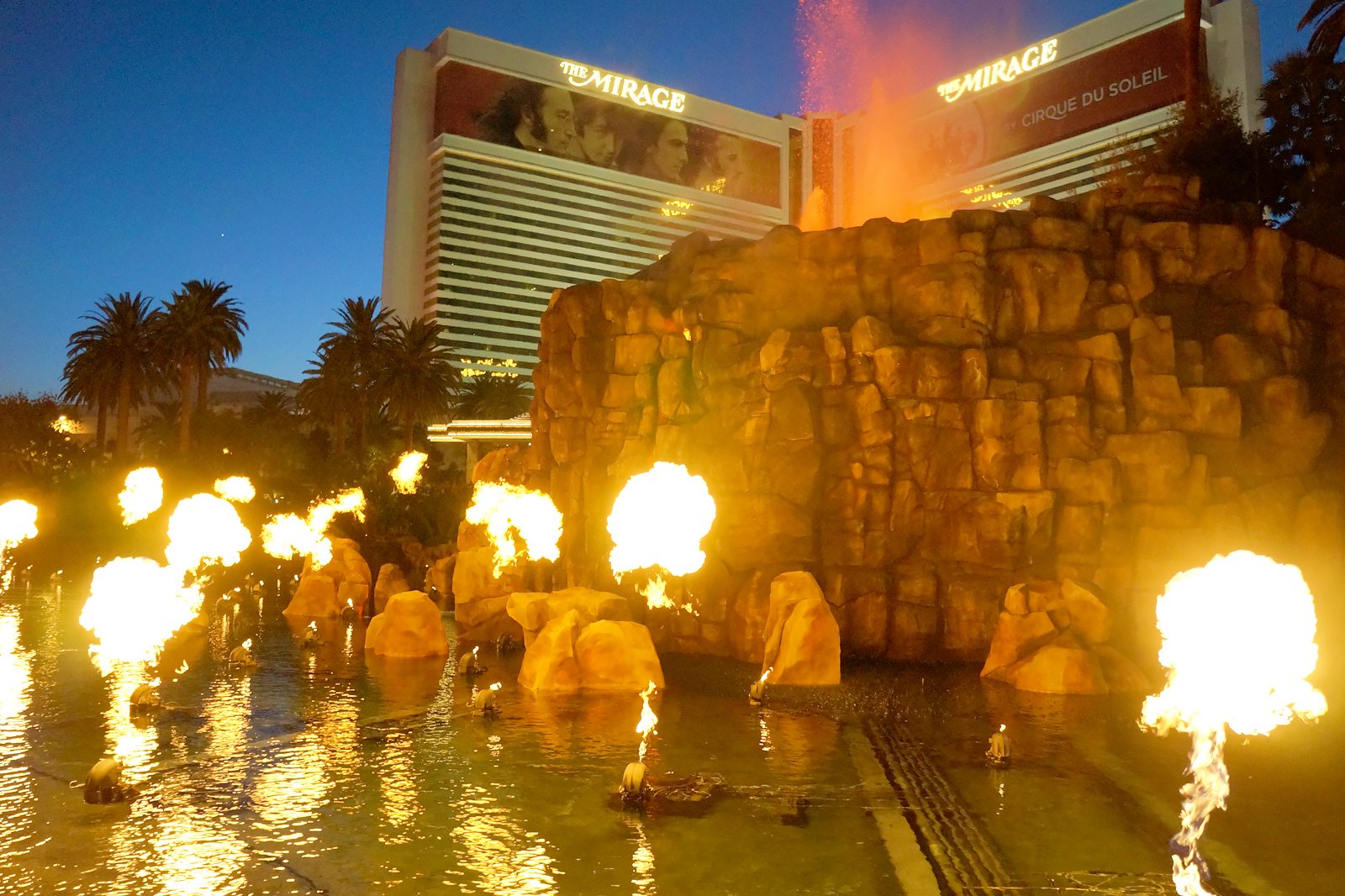 See the Mirage Volcano erupt
Start your night with a bang
While the aquatic show at the Bellagio is the more famous, the Mirage Volcano is no less impressive. The flames quite literally dance to the music for several 4-minute shows every night. Fireballs reach 12 feet into the air while artificial lava spews from the mini mountain. There are also laser light shows and water jets, adding to the spectacular show.
Location: The Mirage, 3400 S Las Vegas Blvd, Las Vegas, NV 89109, USA
Open: Daily at 8pm, 9pm and 10pm
Phone: +1 702-791-7111
photo by Frank Seiplax (CC BY-SA 3.0) modified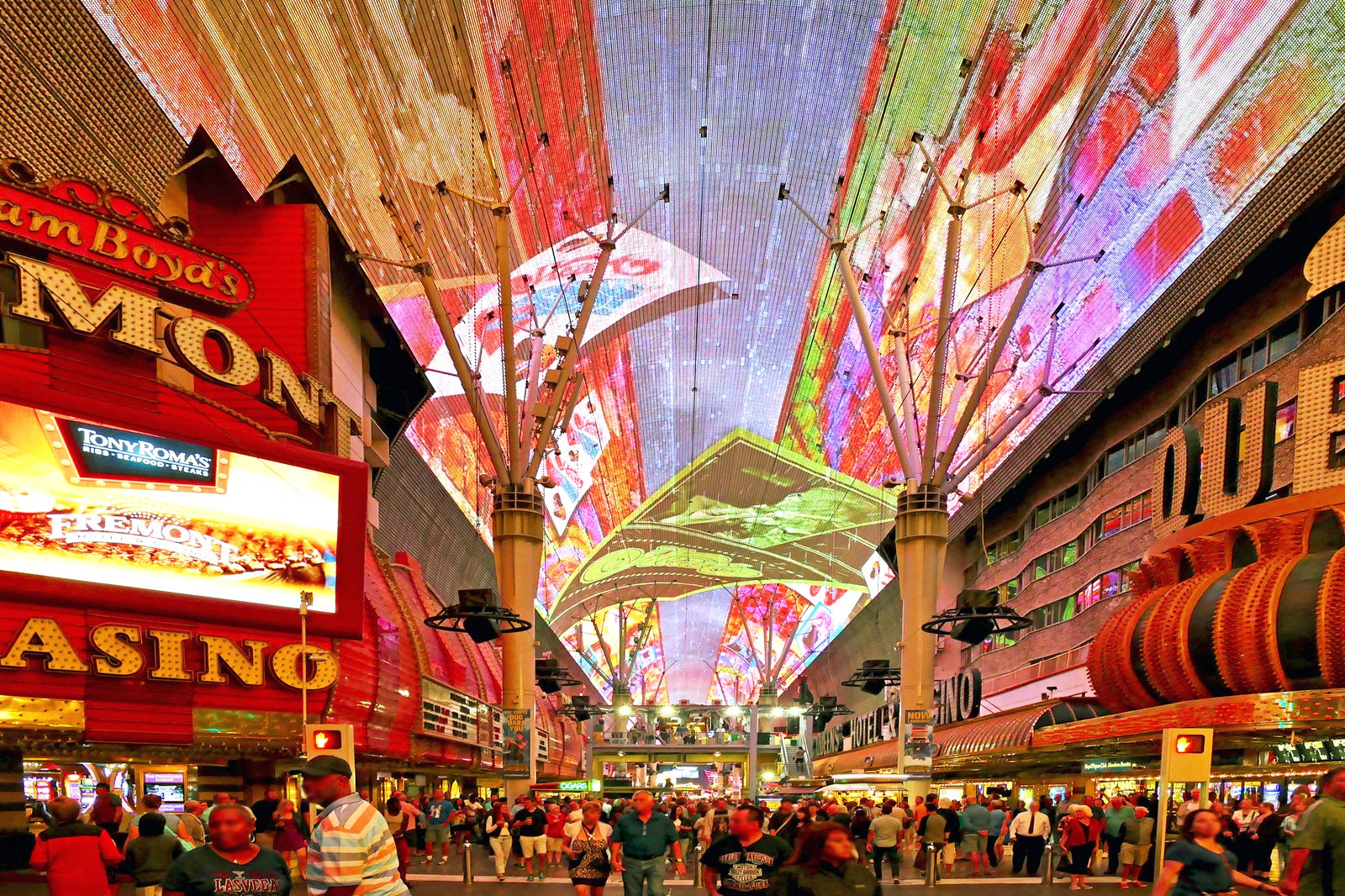 Experience Fremont Street
A cheaper, more colorful version of The Strip
Fremont Street was basically The Strip before there was a Strip. Part of it was known as Glitter Gulch because of the huge number of neon signs for casinos there. The Fremont Street Experience is a covered pedestrian mall which spans the westernmost 5 blocks, including the Gulch. The impressive illuminated roof covers casinos, restaurants, bars – all cheaper than those on The Strip – and a lively atmosphere. Uniquely, you can soar over the street like a superhero on the SlotZilla Zipper Line, though that part of the experience isn't free.
Location: Fremont St, Las Vegas, NV 89101, USA
Open: 24 hours
Phone: +1 702-678-5600
History
Photo
Nightlife
Budget
Luxury