10 Free Things to Do in Austin
Austin for Budget Travelers
Austin is the free spirited, quirky, counter-cultural core of Texas. Austin is, arguably, best experienced on foot, so get your walking shoes on. Coincidentally enough, a lot of outdoor activities are free and easily accessible. By night, streets light up in neon colors, as honky tonk and cocktail bars come to life with live music and dancing feet and there is no cover charge.
Though the city is increasingly becoming more cosmopolitan, Austinites have stayed true to their unofficial motto – "keep Austin weird". The list of free things to do in the city highlights the natural beauty and cultural charm that makes Austin a must-visit destination in the US.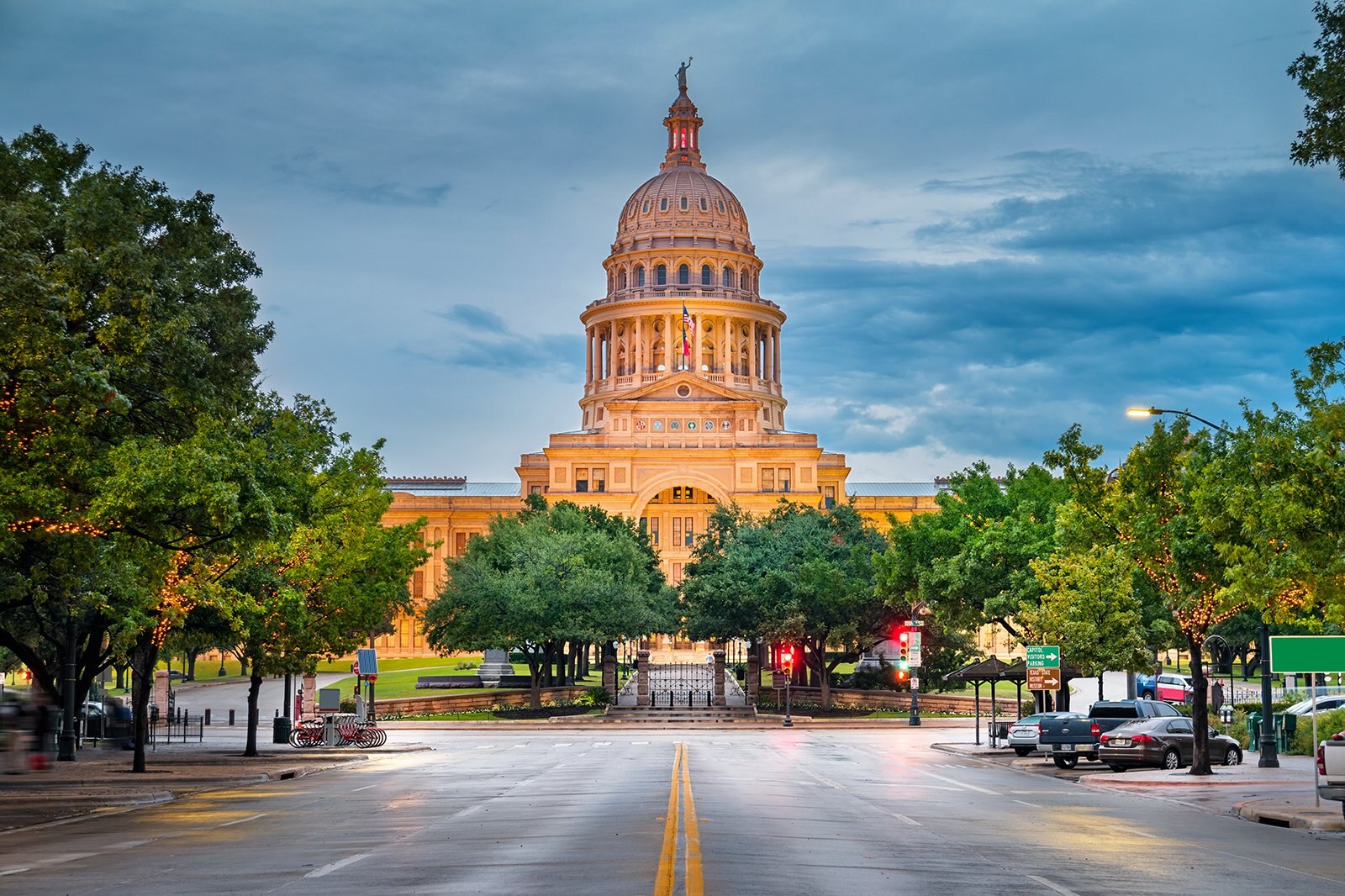 Tour Texas State Capitol
Learn about Texan history for free
Texas State Capitol is a grandiose government building that opened its doors back in 1888. Found in downtown Texas, this monument really epitomizes the saying "everything's bigger in Texas". Its towering dome is taller than the US Capitol building in Washington DC, and rises from the center of a 4-storey rectangular block built in an Italian Renaissance Revival style. The exquisite pink-granite building imposes from near and far. At night, look down Congress Avenue to see the building framed by twinkling lights. The 30-minute tours of the building occur every day, starting every 30 to 45 minutes from opening time. Check the website for special tours.
Location: 1100 Congress Ave, Austin, TX 78701, USA
Open: Monday – Friday from 7am to 10pm, Saturday – Sunday from 9am to 8pm
Phone: +1 512-463-4630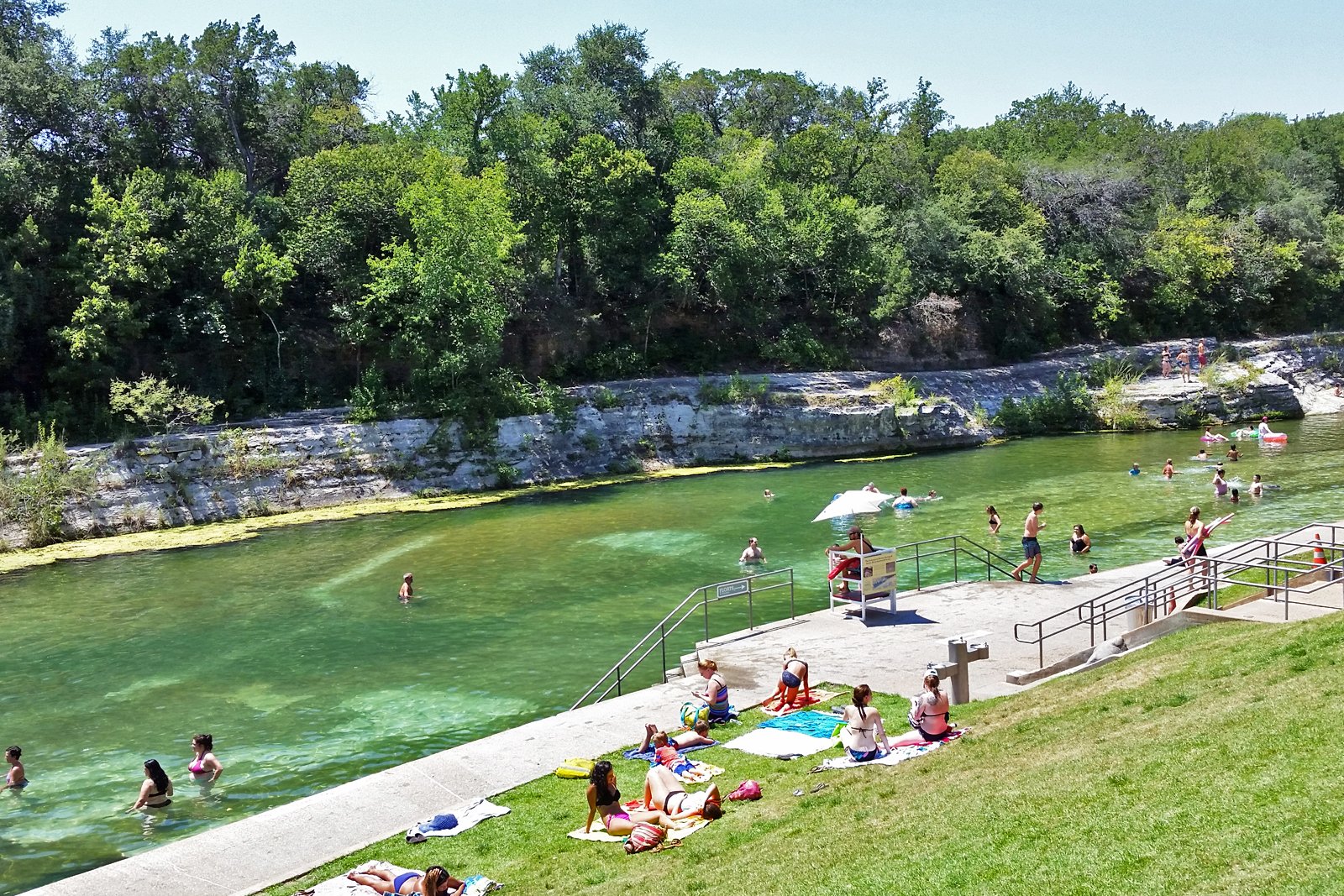 Go swimming at Zilker Park
Enjoy the crystal-clear waters of Barton Springs
Zilker Park, Austin's Central Park equivalent, is found at the junction of Barton Creek and the Colorado River. This urban oasis features Barton Springs, the Zilker Eagle, a huge playscape and 400 acres of sport grounds and woodlands. Whatever the season, a day out at Zilker Park is worth the time as there is no shortage of things to do and sights to marvel at. Perhaps, the most worthwhile is an afternoon swimming at Barton Springs. The pools stay at a steady 35°C. It is free to use from 5am to 8am and 9pm to 10pm every day. If you don't fancy a dip, wander around and take in the peaceful atmosphere of the park.
Location: 2100 Barton Springs Road, Austin, TX 78704, USA
Open: Daily from 5am to 10pm
Phone: +1 512-974-6700
photo by Wordandgesture (CC BY-SA 3.0) modified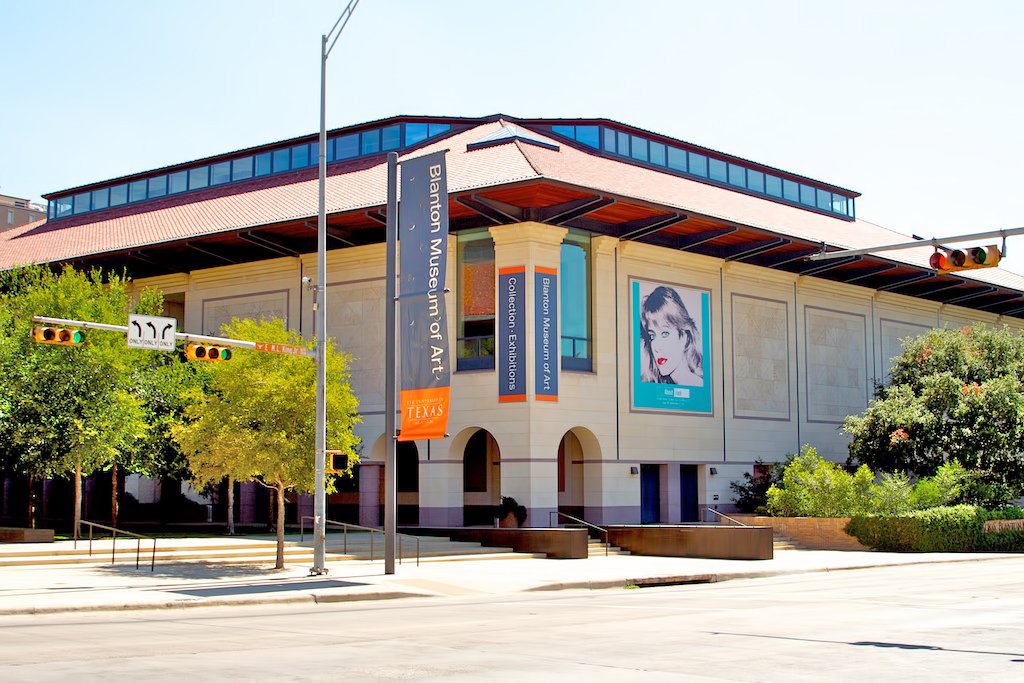 Thursdays at Blanton Museum of Art
Get your fine art fix
Blanton Museum of Art holds artworks ranging from Ancient Greek pottery to abstract expressionism and is one of the largest university art museums in the US. The museum impresses in content and quality, with a spectacular collection of 20th century American masters and the US's largest collection of Latin American art. Its entrance hall is adorned with eccentric blue-acrylic bricks, indicative of the museum's strong affiliation with contemporary art. Look out for the copy of the controversial Andy Warhol polaroid of Farrah Fawcett, which is plastered on the outside of the museum. You can get into the museum for free on Thursdays.
Location: 2100 Barton Springs Road, Austin, TX 78704, USA
Open: Daily from 5am to 10pm
Phone: +1 512-974-6700
photo by Ethan Lundgaard (CC BY 2.0) modified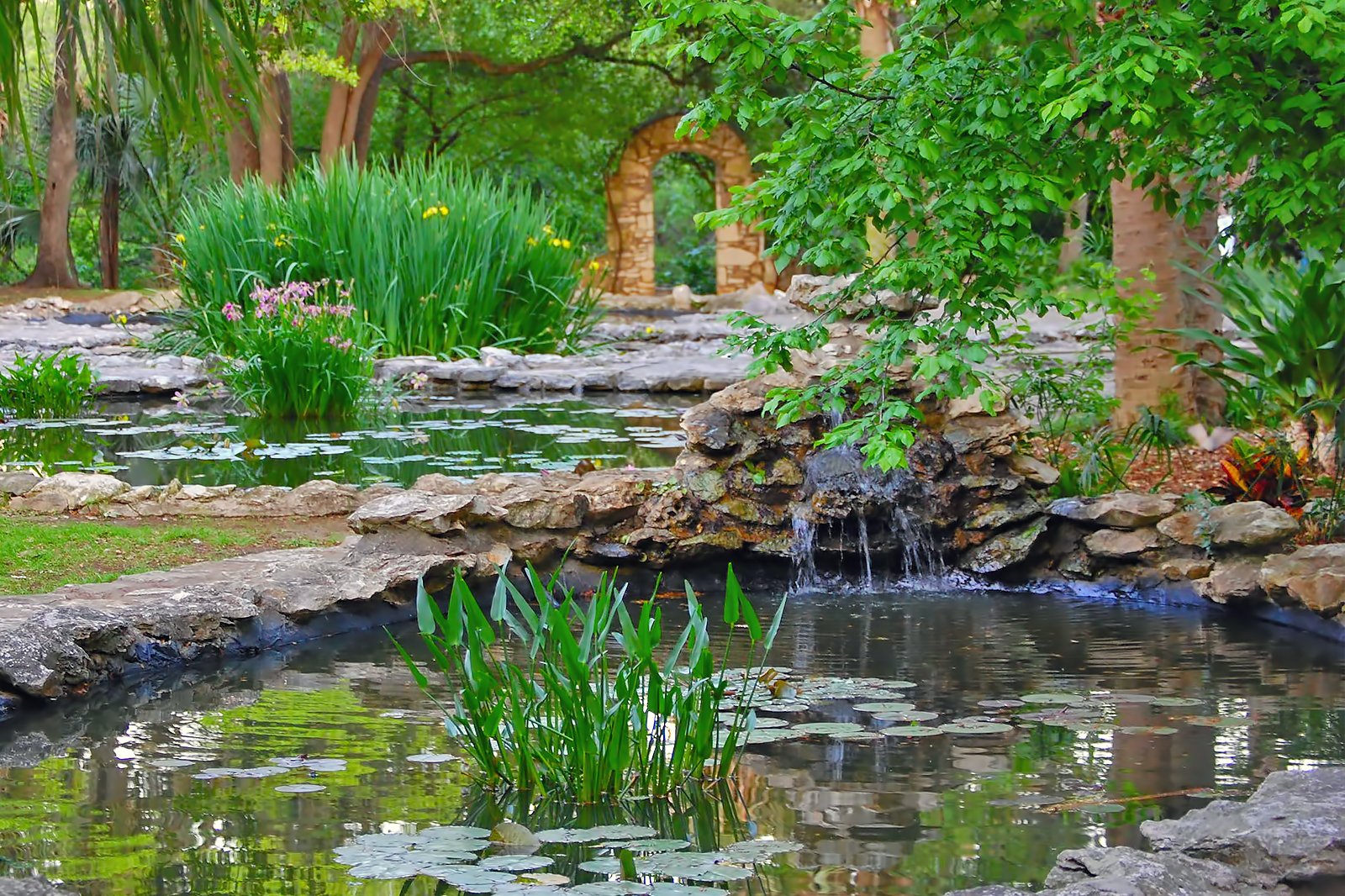 Picnic with peacocks at Mayfield Park
Perched on a bluff overlooking Lake Austin
Mayfield Park contains a historic cottage, gardens, a nature reserve… and peacocks. The park is a strong contender for the most unique park in Austin, with peacocks scattered around the trees, on the roof of the little cottage that sits among quaint ponds, on the lawns, in the bushes – everywhere. But don't be alarmed, as the peacocks are quite calm (as long as you don't get in their way). Pack a picnic and enjoy the cool of morning on the grass. Make sure you snap a picture in this idyllic setting.
Location: 3505 West 35th Street, Austin, TX 78703, USA
Open: Daily from 5am to 10pm
Phone: +1 512-974-6700
photo by LoneStarMike (CC BY 3.0) modified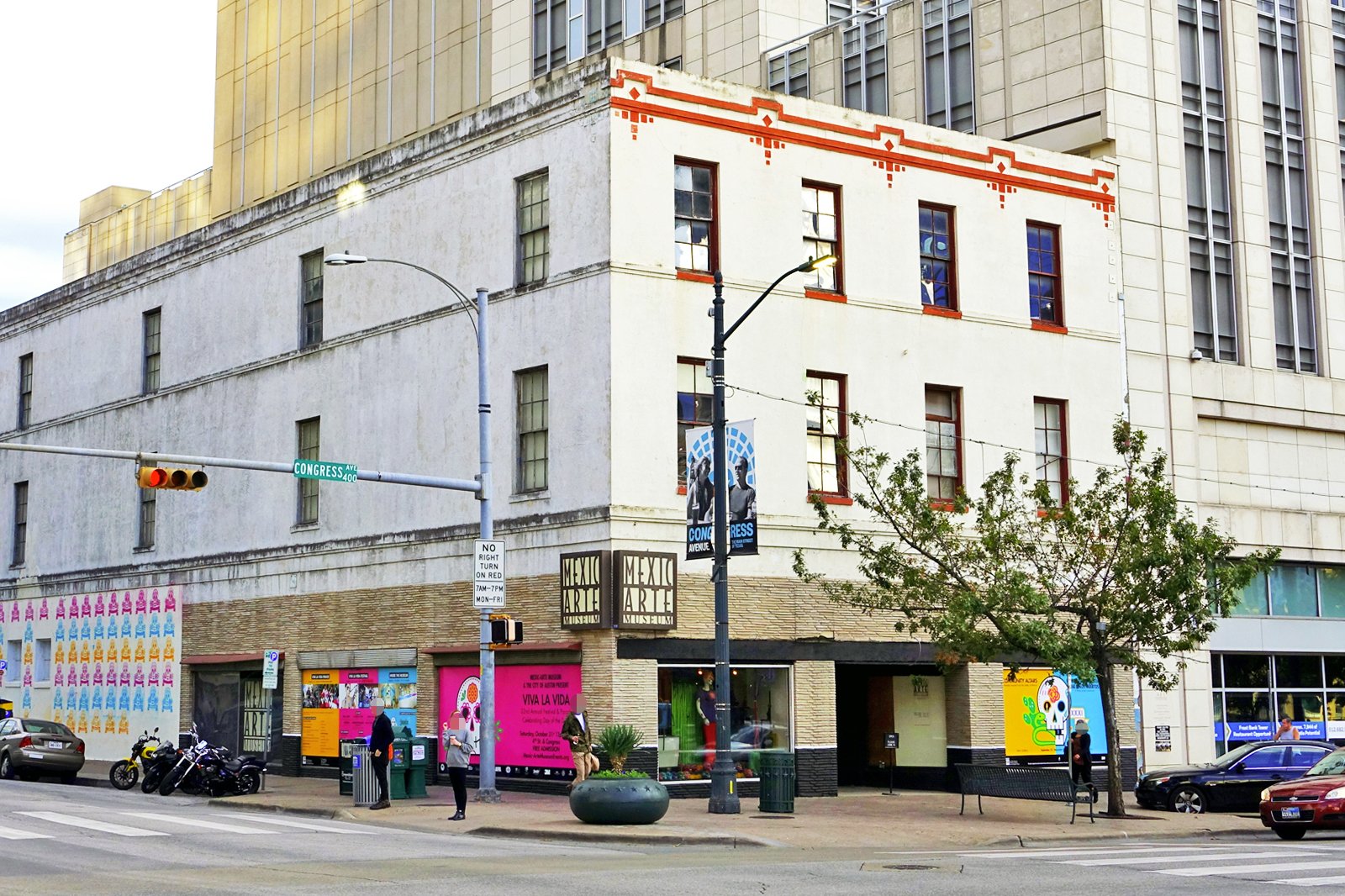 Mexic-Arte Museum
Get up-close and personal with some amazing Mexican art
The Mexic-Arte museum specializes in 20th century Mexican art, photography and masks. This small gallery impresses with moving and meaningful installations and exhibitions and by pairing striking art with history. Its intimate space features thoughtfully curated and unique exhibitions covering topics such as the US/Mexico border and the harsh realities communities face there. Given the museums small space, a visit can be a quick stop on your day out exploring the city. Free admission is available every Sunday.
Location: 419 Congress Avenue, Austin, TX 78701, USA
Open: Monday – Thursday from 10am to 6pm, Friday – Saturday from 10am to 5pm, Sundays from 12pm to 5pm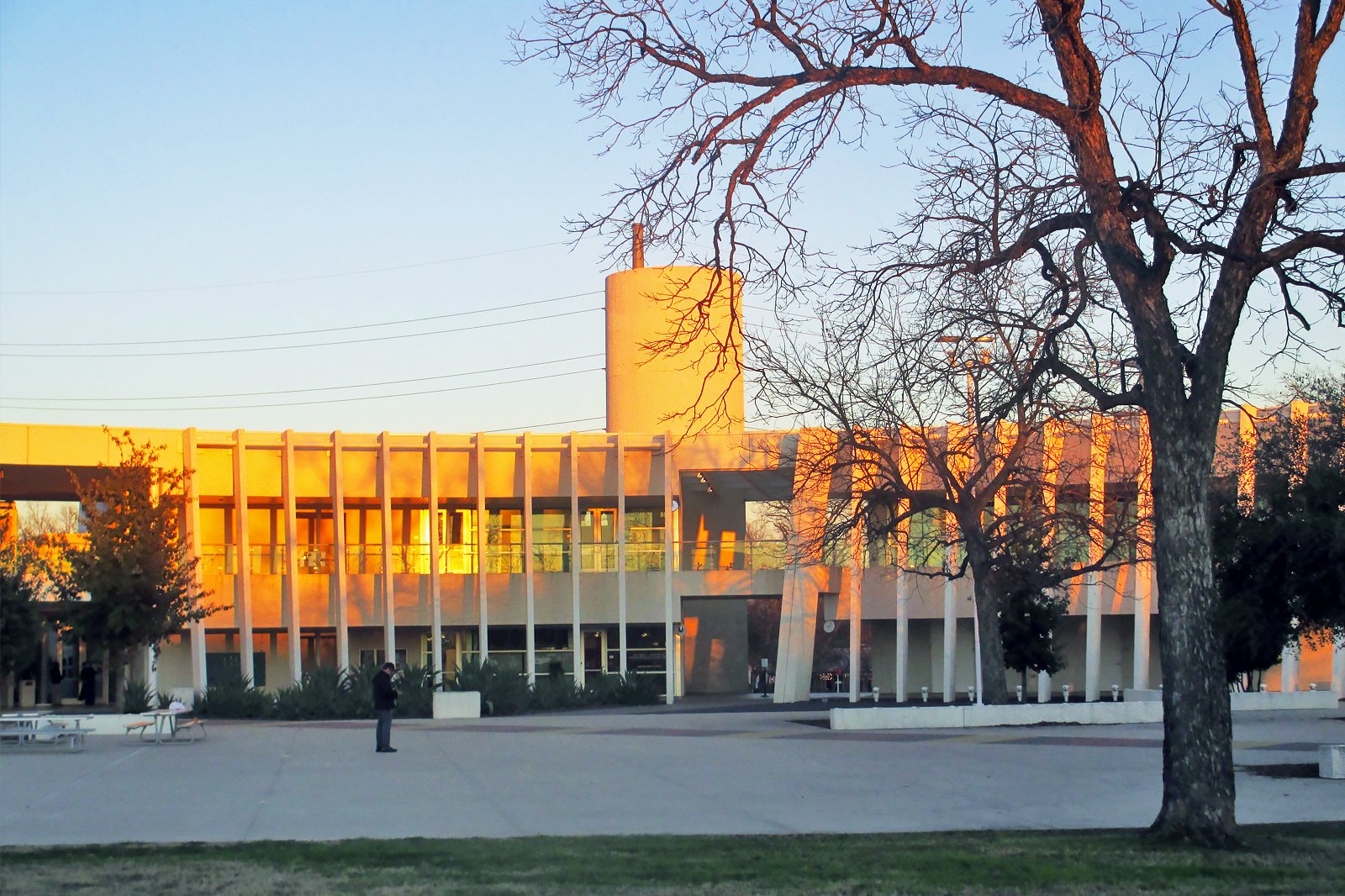 The Emma S. Barrientos Mexican American Cultural Center
Learn more about Texas' neighbours
The Emma S. Barrientos Mexican American Cultural Center (nicknamed the MACC) is an organization that aims to educate the community on the importance of traditional and contemporary Mexican and Latino art in the US. Its exhibitions center on the preservation, promotion, presentation and rejuvenation of Mexican American cultural arts and heritage. If you're lucky, you could catch a Tejano band perform their traditional Tex-Mex music. Visits are free every day of the week, except Sunday when the center is closed.
Location: 600 River Street, Austin, TX 78701, USA
Open: Monday to Thursday from 10am to 6pm, Friday from 10am to 5.30pm, Saturday from 10am to 4pm
Phone: +1 512-974-3772
photo by Billy Hathorn (CC BY-SA 3.0) modified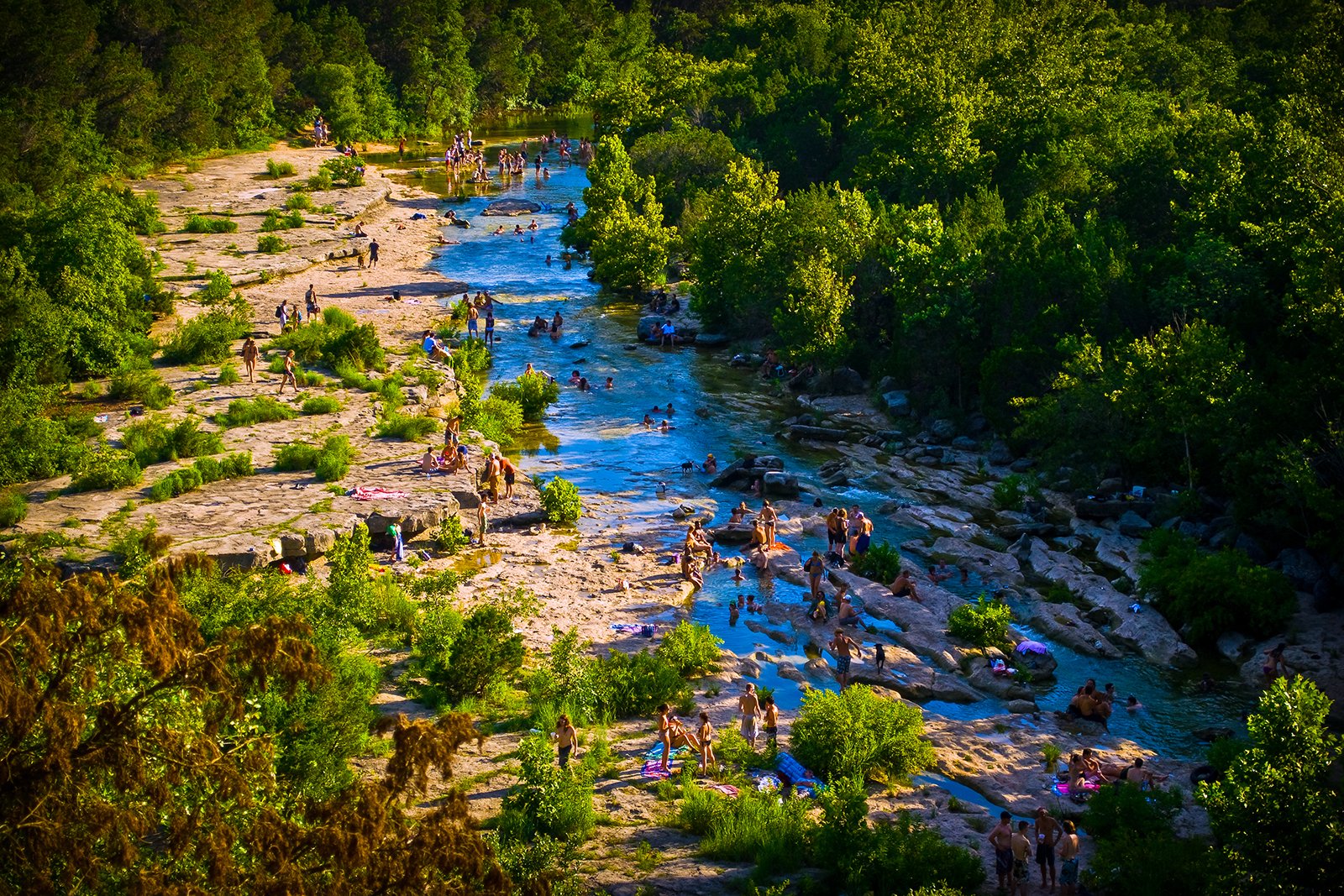 Trek out to Twin Falls
An alternate to the popular Barton Springs
Twin Falls, found just north of MoPac Expressway on the Barton Creek Greenbelt, is a more peaceful, less crowded option compared to the famous Barton Springs. The hike to the waterfall is easy, but remember to wear proper shoes as the ground is uneven. The cascading falls are an ideal way to cool yourself off after the hike. Float around in the crisp turquoise waters and lie in the shade of the billowing trees. For an even more serene day, pack a picnic and munch away in the sunshine. Watch out for the weather conditions, as water levels will vary according to rainfall.
Location: 3918 South Mo-Pac Expressway, Austin, TX 78746, USA
Phone: +1 512-974-6700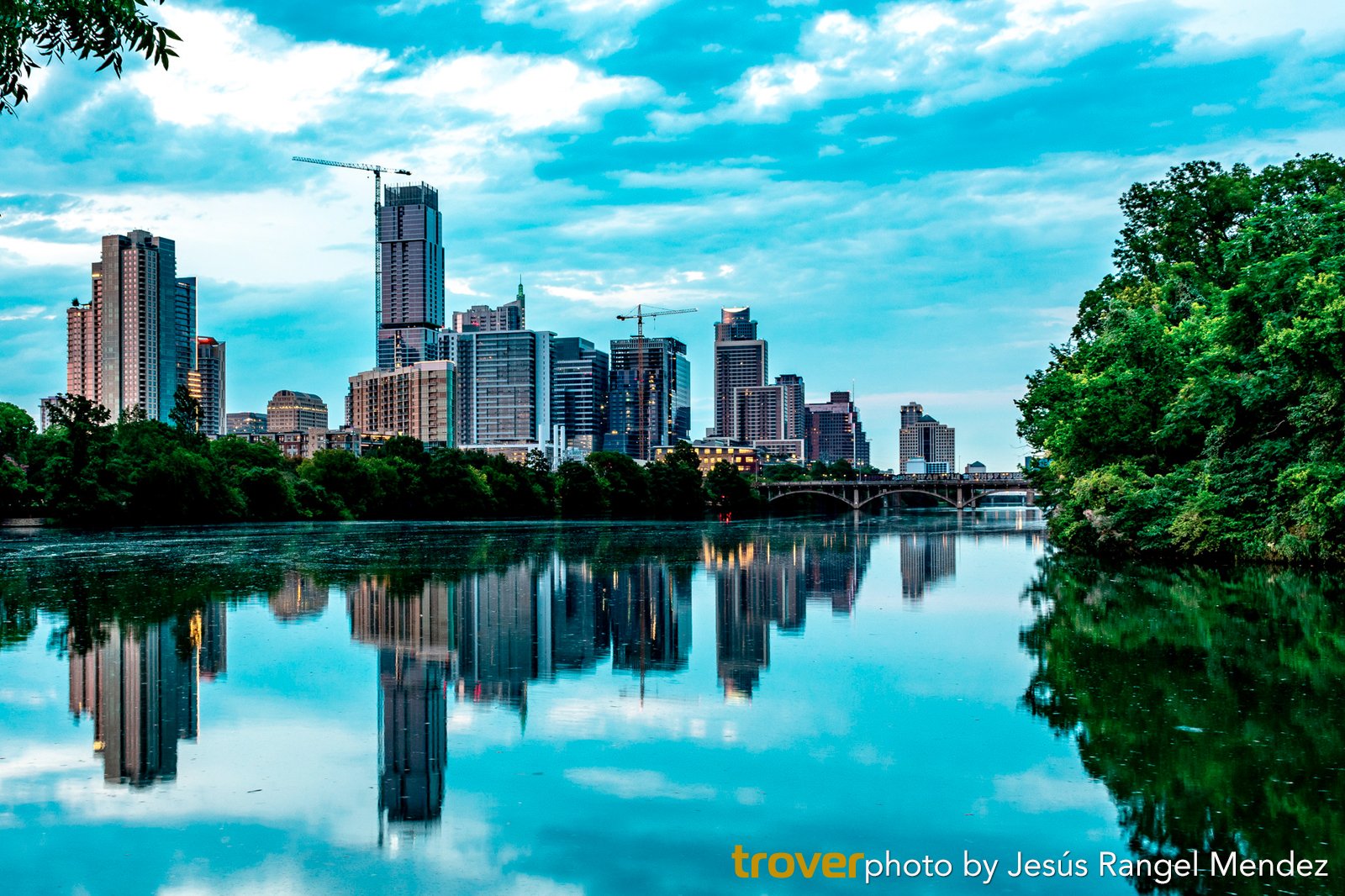 Admire the sunset from Lou Neff Point
A viewpoint of dazzling vistas of the city and the Colorado River
Lou Neff Point sits at the mouth of Barton Creek and the Colorado River. It's decorated with a modern-looking gazebo, which overlooks the glimmering waters of the river. A walk down Barton Creek towards the viewpoint is particularly pleasant as the route is lined with trees and filled with the noise of twittering birds. As the viewpoint is within Zilker Park, you could easily spend a whole day lounging in the park and then head to Lou Neff to watch the sunset. Come sundown, the combination of the deep hues of red and orange with the ripples of the river make for a fantastic photo.
Location: Ann and Roy Butler Hike and Bike Trail, Austin, TX 78746, USA
Open: Daily 24 hours
Phone: +1 855-448-7245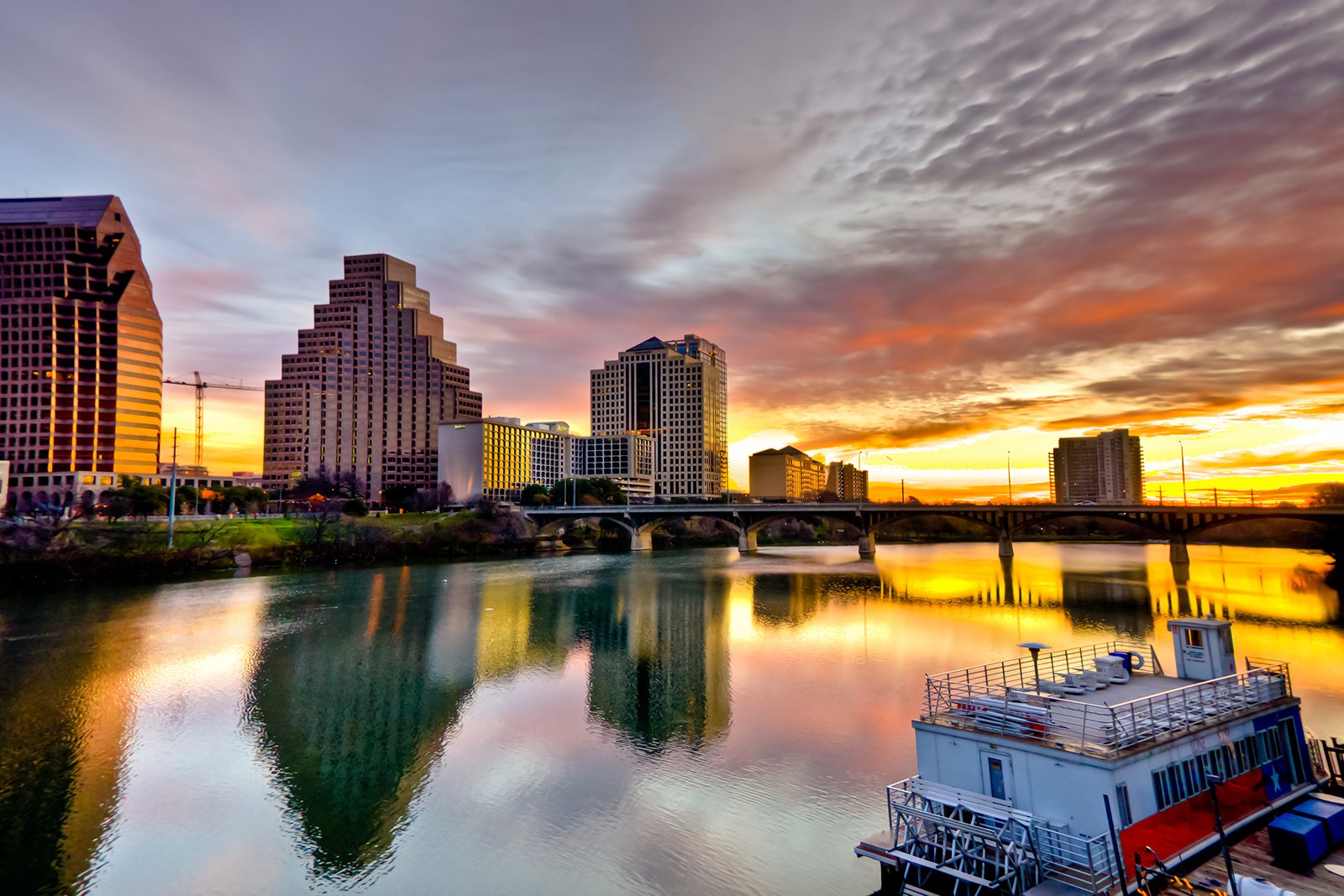 Bat-watching at Congress Avenue Bridge
One of the most famous attractions of Austin
Congress Avenue Bridge floods with crowds of eager people every evening, awaiting the legions of Mexican free-tailed bats to fly out from under the bridge to feed. The bridge is home to the world's largest urban bat colony, which will be apparent as you watch them fly out in enormous swarms of flittering blackness. It's a spellbinding sight to behold as the bats twist and turn in unison. Bat season is said to be from March to November and the bridge can get extremely busy come sundown, so get there early to get a good spot.
Location: Congress Avenue, Austin, TX 78704, USA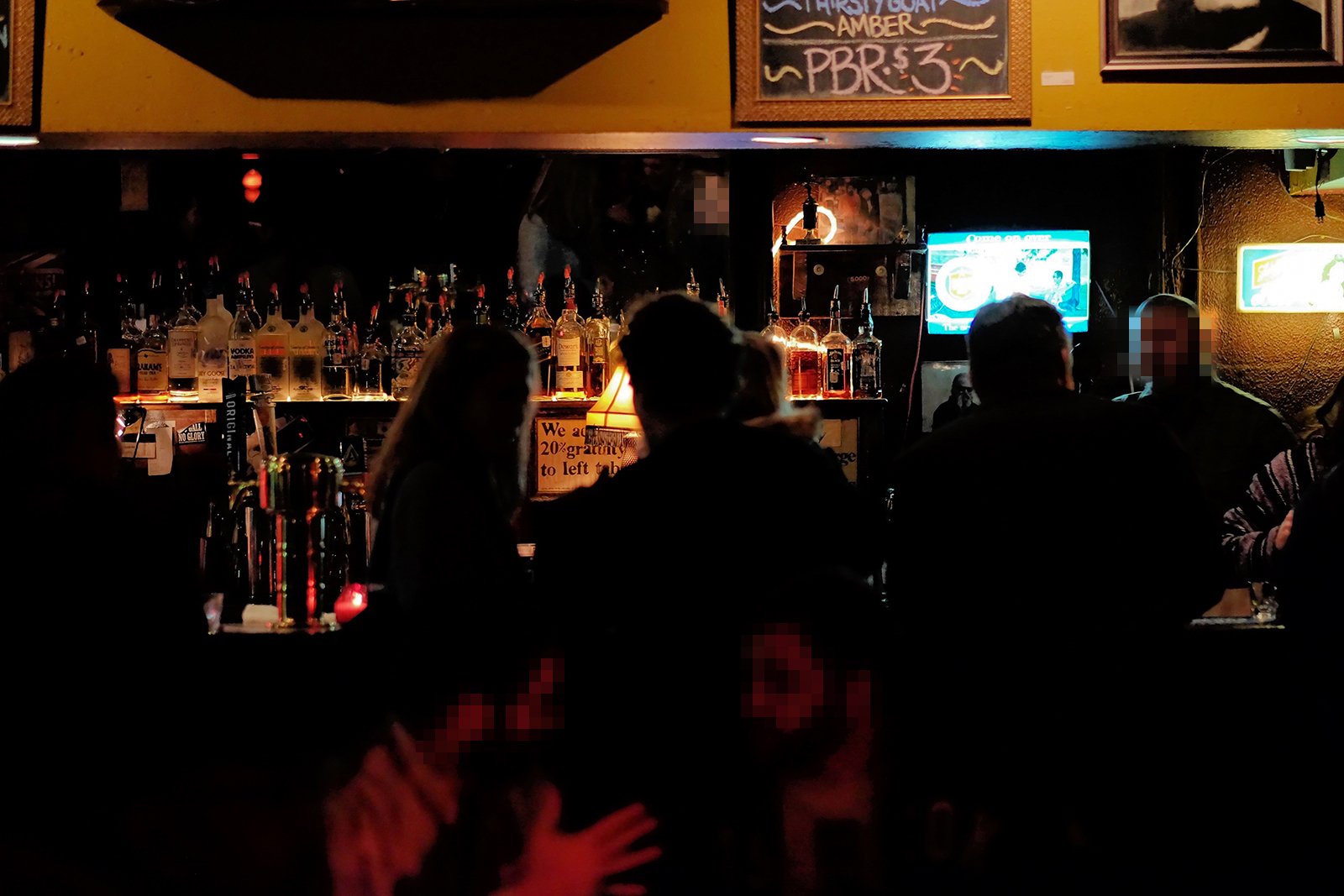 Dancing at The White Horse
Invest time in learning some Texan two-step
The White Horse is a honky tonk bar complete with superb live country music and a taco truck. This hip, sprawling bar draws in crowds of people who are looking for a good time – and they'll get it. Found in East Austin, The White Horse deserves all the praise that it gets, with cheap drinks, delicious food, an atmospheric setting and décor that's sure to please aficionados of old school Americana. The club reverberates with authentic country music played by enthusiastic bands on a modest stage. From 7pm to 8pm on Fridays and Saturdays, the bar hosts free Texas two-step classes, with Cajun dance lessons on Wednesdays and swing dancing on Thursdays.
Location: 500 Comal Street, Austin, TX 78702, USA
Open: Daily from 3pm to 2am
Phone: +1 512-553-6756
photo by Lars Plougmann (CC BY-SA 2.0) modified