10 Things to Do in San Antonio with Kids
San Antonio's Best Family-Friendly Places
San Antonio has a fantastic choice of attractions for kids, including a range of amusement parks. Many of the places on our list of San Antonio's best family-friendly places are just as fun for the grown-ups as they are for children. Some even have an educational slant, providing useful skills and knowledge through fun and interactive learning. Most of the best things to do with your family here are in or around Brackenridge Park, to the north of the city center, making that an excellent place to start your trip to this vibrant Texas city.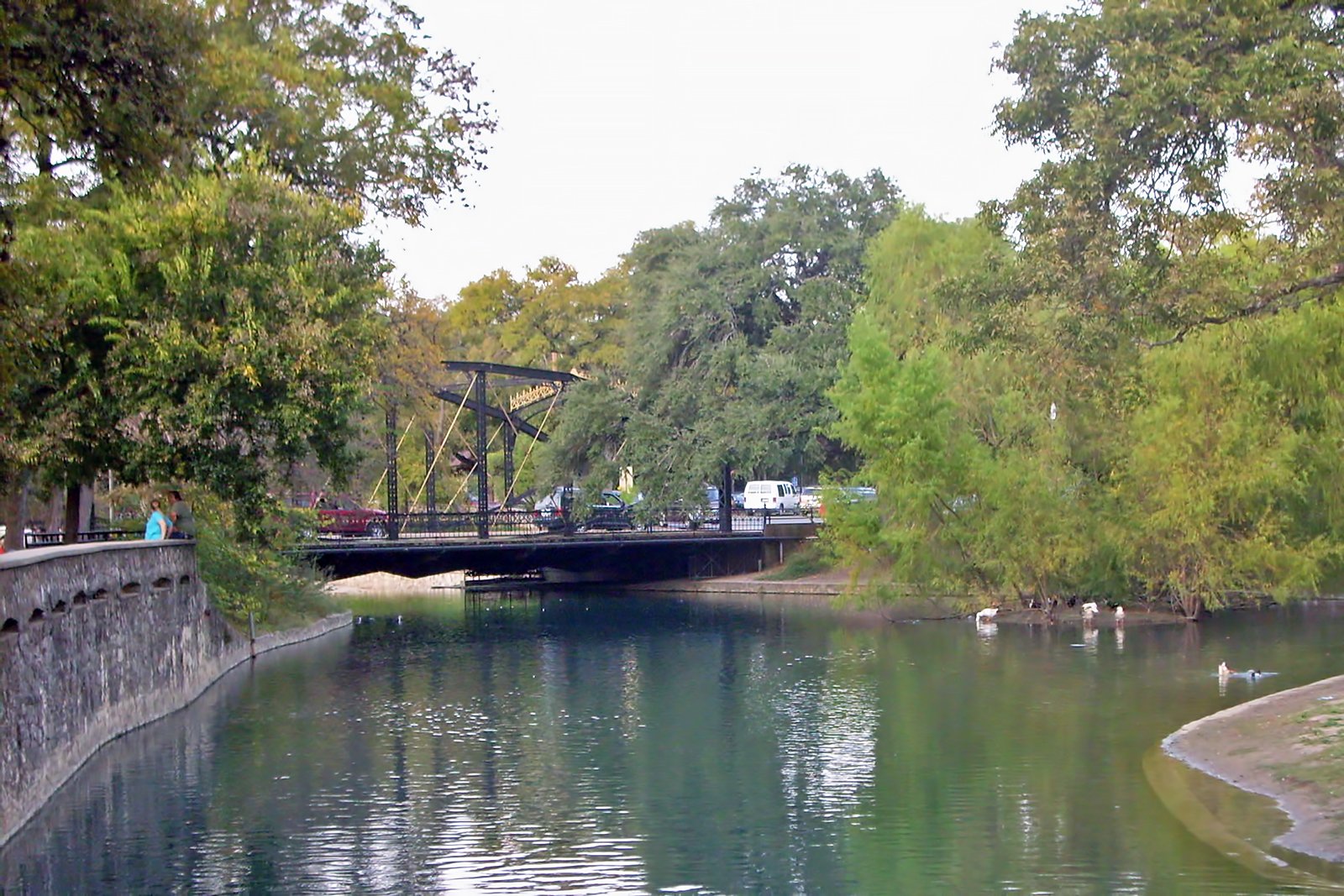 Brackenridge Park
Have a picnic at this local gathering spot
Brackenridge Park, founded in 1899, is one of the oldest public parks in San Antonio. Spanning over 300 acres, it has loads of picnic tables, playgrounds, trails and historical sites. Locals often gather at the park for morning yoga, jogs and a variety of sports activities. If you're a fan of birdwatching, Brackenridge Park is where you can spot woodpeckers, red-shouldered hawks, chickadees, and wrens. You'll also find San Antonio Zoo within the park grounds, where you can see over 750 species of animals.
Location: 3700 N St Mary's St, San Antonio, TX 78212, USA
Phone: +1 210-207-7275
Couples
Families
Photo
Budget
Group
photo by Sean Loyless (CC BY 2.0) modified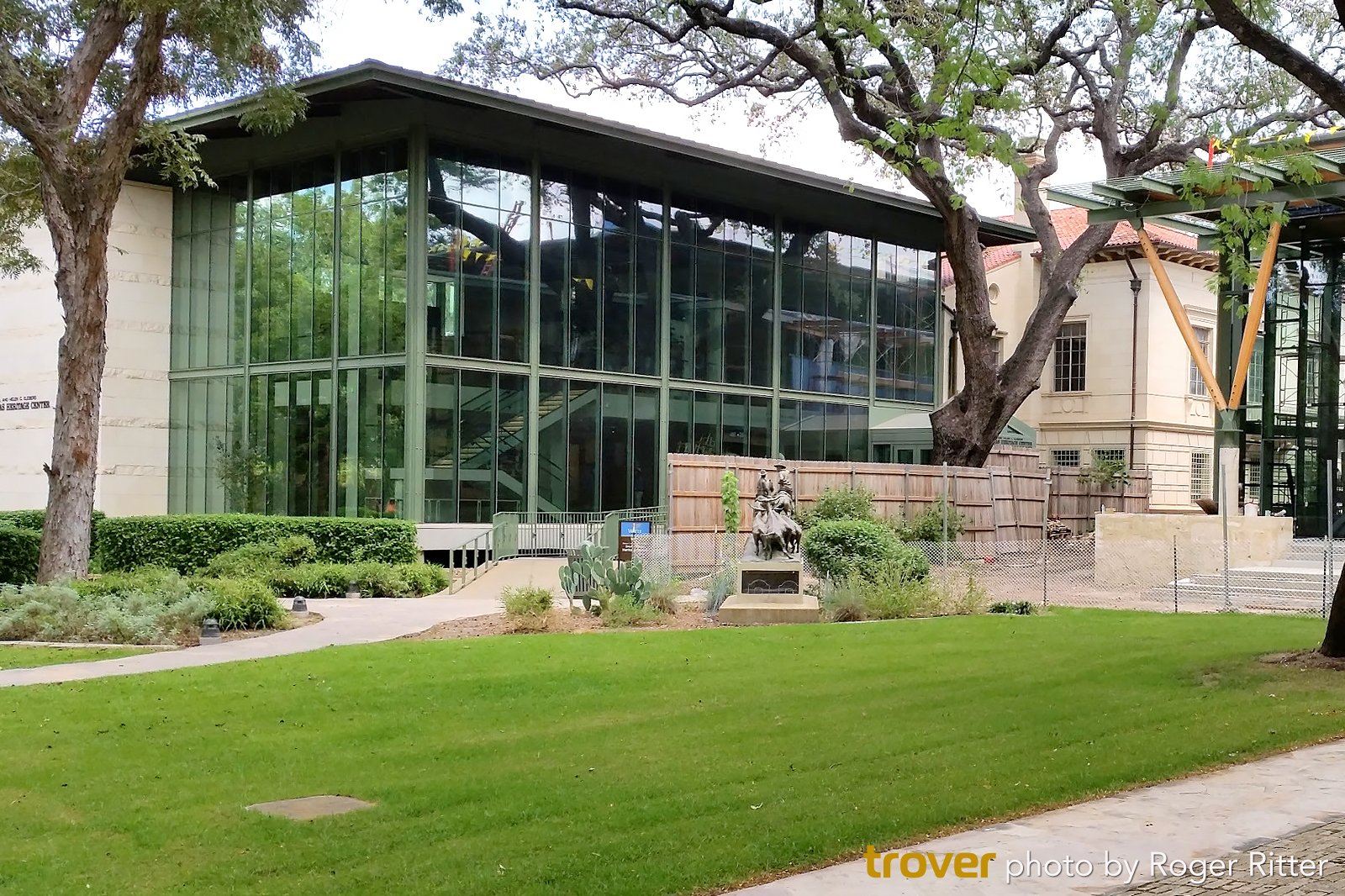 The Witte Museum
Check out the H-E-B Body Adventure
Located right next to Brackenridge Park, The Witte Museum is a firm family favorite in San Antonio thanks to its many hands-on exhibits. There's a particular focus on local wildlife, ranging from bison and piney woods black bears right back to dinosaurs like T-Rex and triceratops. There's also some place devoted to Texas's human history. The H-E-B Body Adventure area, which spans 4 floors, is especially fun and teaches families about health and wellness. Tickets cost about $12 for adults and $9 for kids, and you should plan to spend at least half a day here.
Location: 3801 Broadway St, San Antonio, TX 78209, USA
Open: Monday – Saturday from 10am to 5pm (Tuesdays until 8pm), Sundays from noon to 5pm
Phone: +1 210-357-1900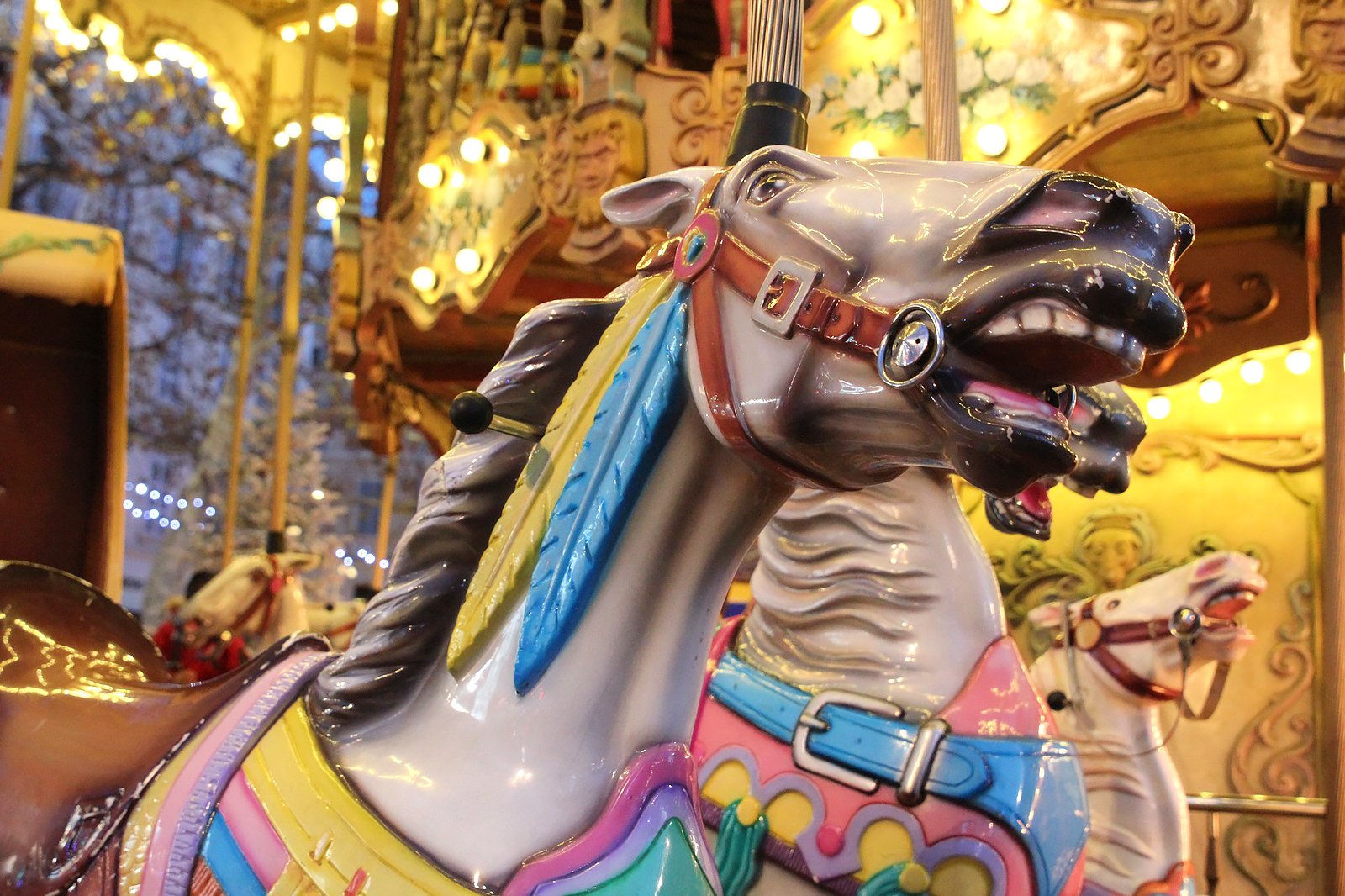 Kiddie Park
One of America's oldest amusement parks
As the name suggests, Kiddie Park is especially suitable for the really young ones – generally between the ages of 1 and 12. First opened in 1925, it claims the title of being the oldest amusement park in the US, and many of the rides and attractions are appropriately old-school. These include a carousel, a small Ferris wheel and a number of classic carnival games. While entrance to the park is free, rides cost 1 ticket per child to ride. A single ticket costs about $2.50, but you can save by buying in bulk. Adults accompanying their kids ride for free.
Location: 3015 Broadway St, San Antonio, TX 78209, USA
Open: Wednesday – Sunday from 10am to 7pm
Phone: +1 210-824-4351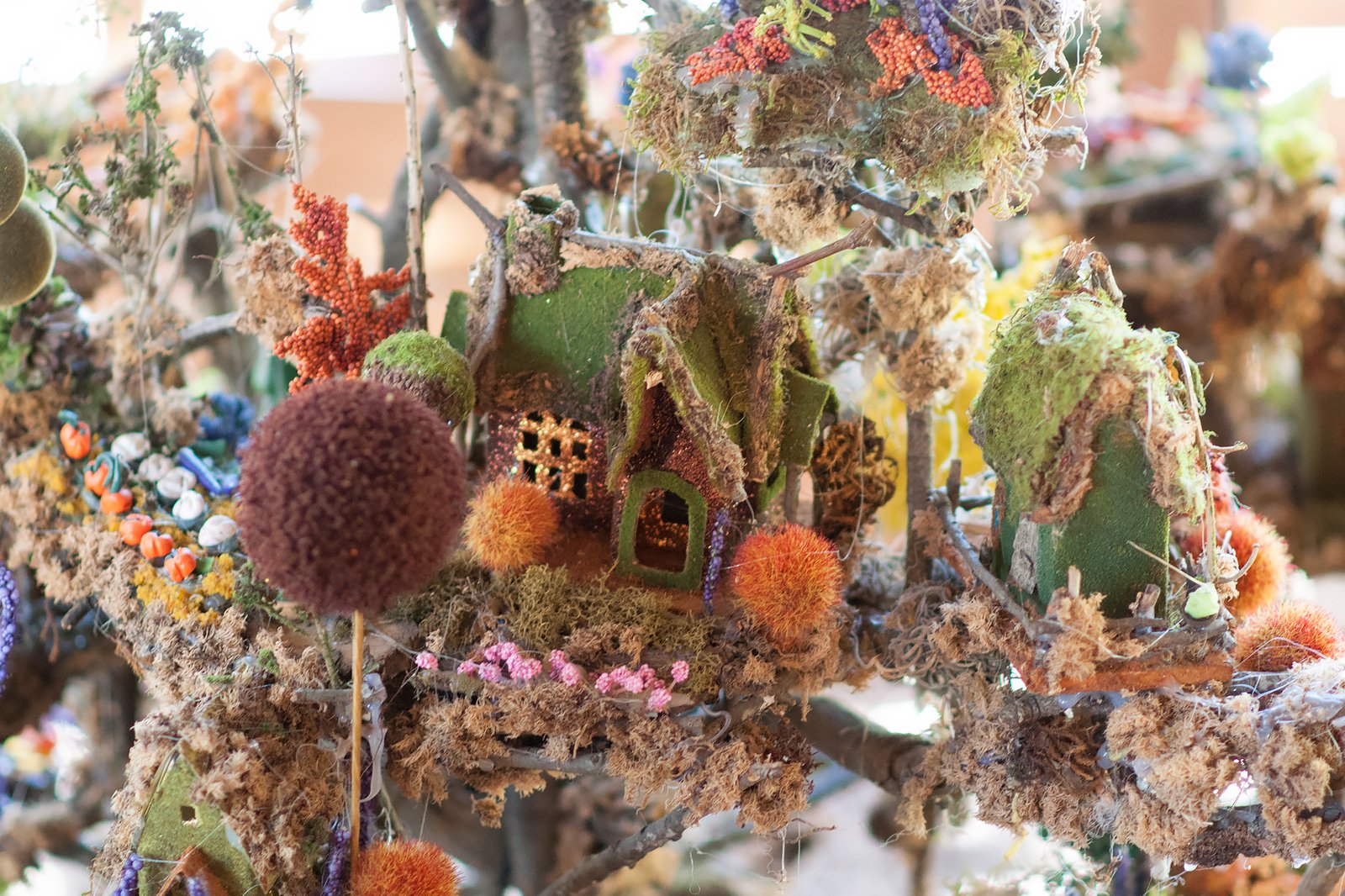 The DoSeum is a museum which focusses heavily on learning by doing. The 2-story center near Kiddie Park features a range of areas, with most designed to promote curiosity and learning in science, technology and math, but approached in creative and artistic ways. There are quite a few outdoor play spaces in the 5.5 acres of grounds, allowing you to also take advantage of San Antonio's fantastic weather. Tickets cost about $14 each.
Location: 2800 Broadway St, San Antonio, TX 78209, USA
Open: Monday – Friday from 10am to 5pm, Saturdays from 9am to 5pm, Sundays from noon to 5pm
Phone: +1 210-212-4453
photo by amboo who? (CC BY-SA 2.0) modified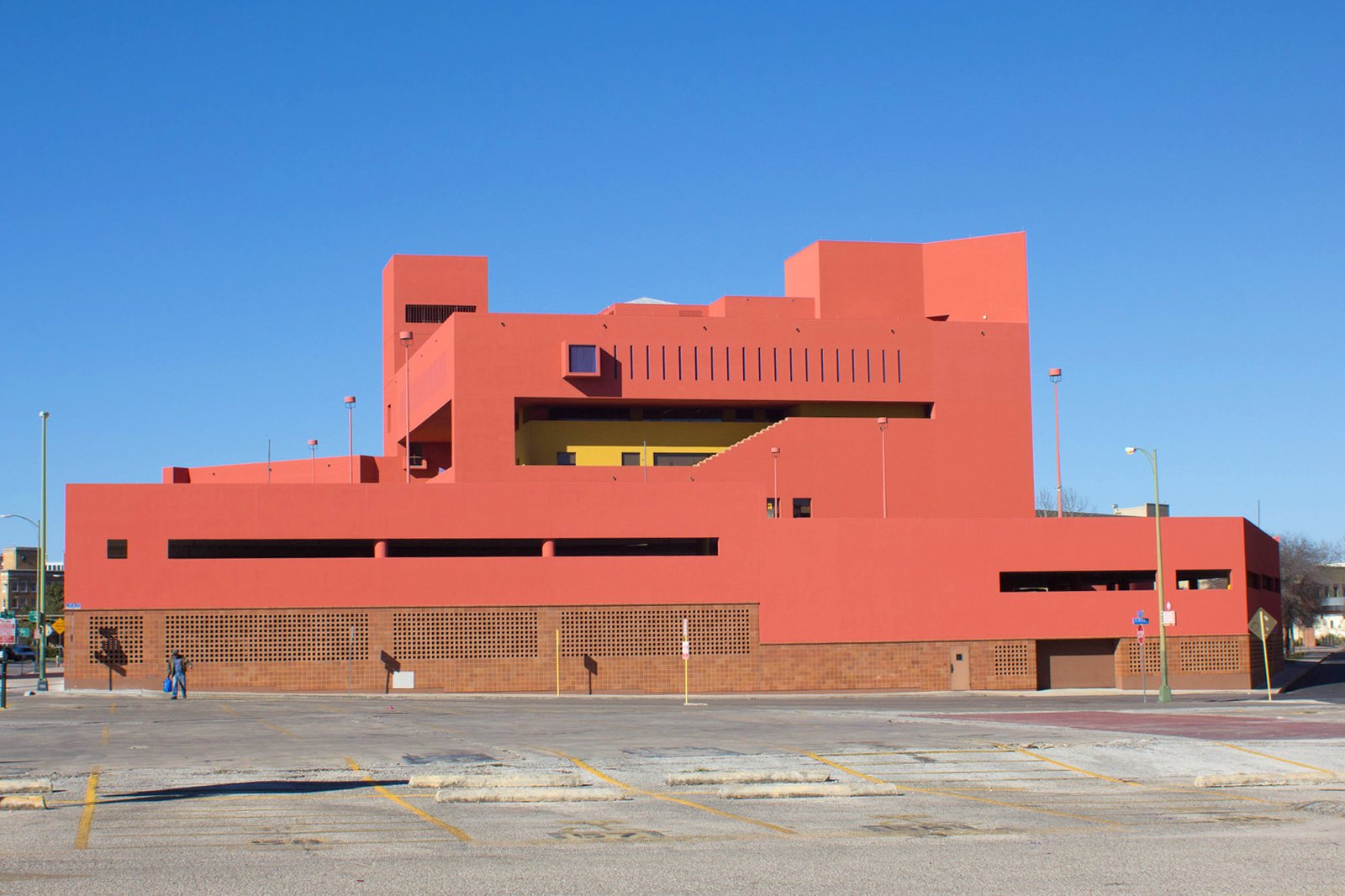 San Antonio Central Library
See murals and art installation on the 1st floor
San Antonio Central Library is where you can find thousands of books, magazines, DVDs, and CDs of various genres. Located along Soledad Street, it occupies an imposing 6-storey building overlooking River Walk and downtown San Antonio. You get to enjoy activities such as storytelling, movie screenings, and author lectures all year round. The first floor features an art gallery displaying temporary exhibits by local artists. Numerous murals and art installations can be found throughout San Antonio Central Library, one of which is a blue neon-lit room installed by Stephen Antonakos.
Location: 600 Soledad St, San Antonio, TX 78205, USA
Open: Monday – Thursday from 9am to 9pm, Friday – Saturday from 9am to 5pm, Sunday from 11am to 5pm
Phone: +1 210-207-2500
photo by David Hilowitz (CC BY 2.0) modified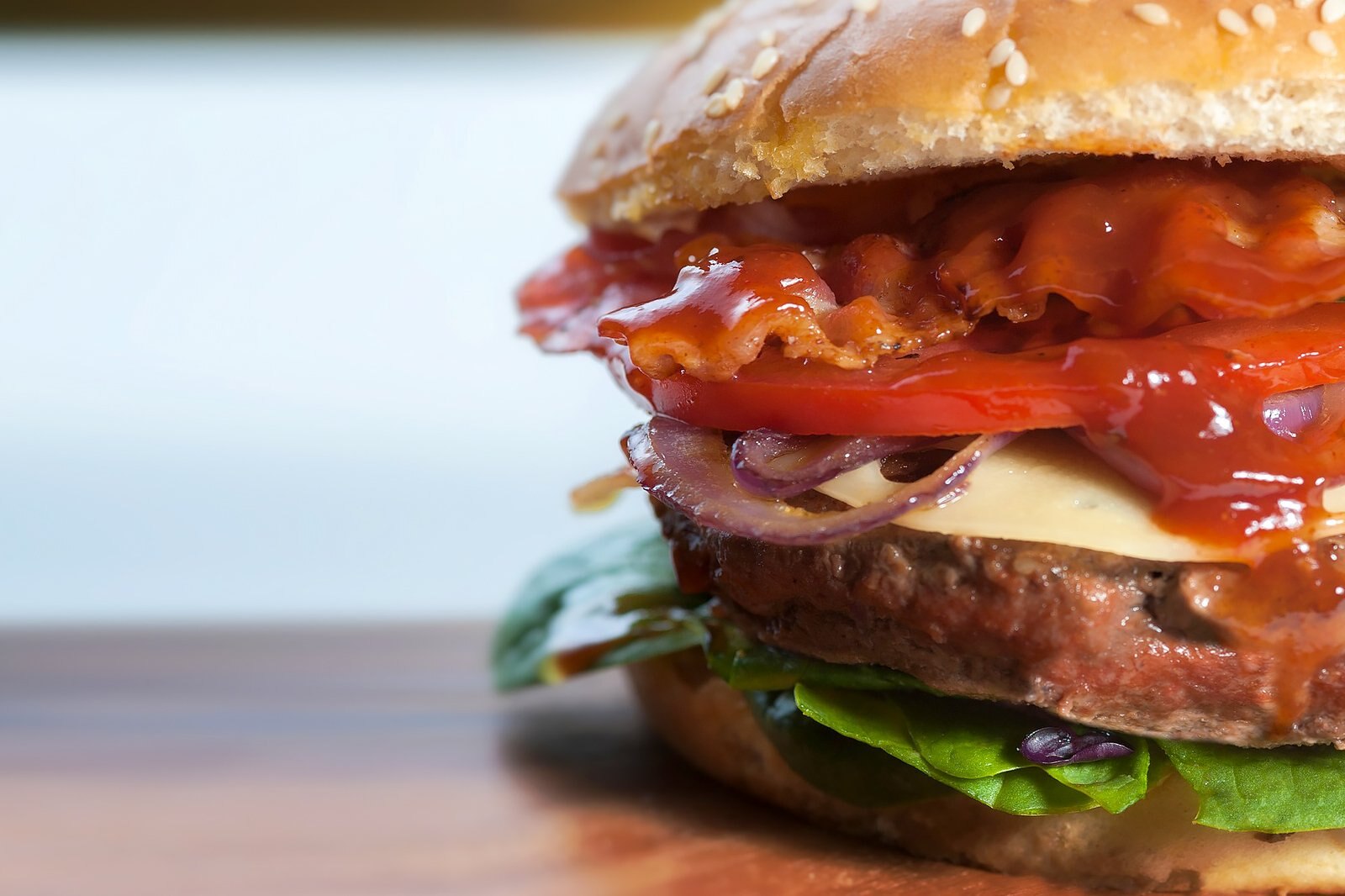 Big'z Burger Joint
Quality food and fun for families
Big'z is not only a great place to get a burger, but is also remarkably family-friendly. There's an extensive kids menu with generous servings, as well as plenty of space to play outside, with trees and toys aplenty in the backyard. Being suitable for kids does not mean that the quality suffers, though. Expect finest Angus beef patties with multiple toppings and, for the grown-ups, beer and wine available. The restaurant is a little out of the way, well to the west of the city center, but worth it for a fun mealtime.
Location: 10106 TX-151, San Antonio, TX 78251, USA
Open: Tuesday – Sunday from 11am to 9pm (closed on Sundays)
Phone: +1 210-543-2029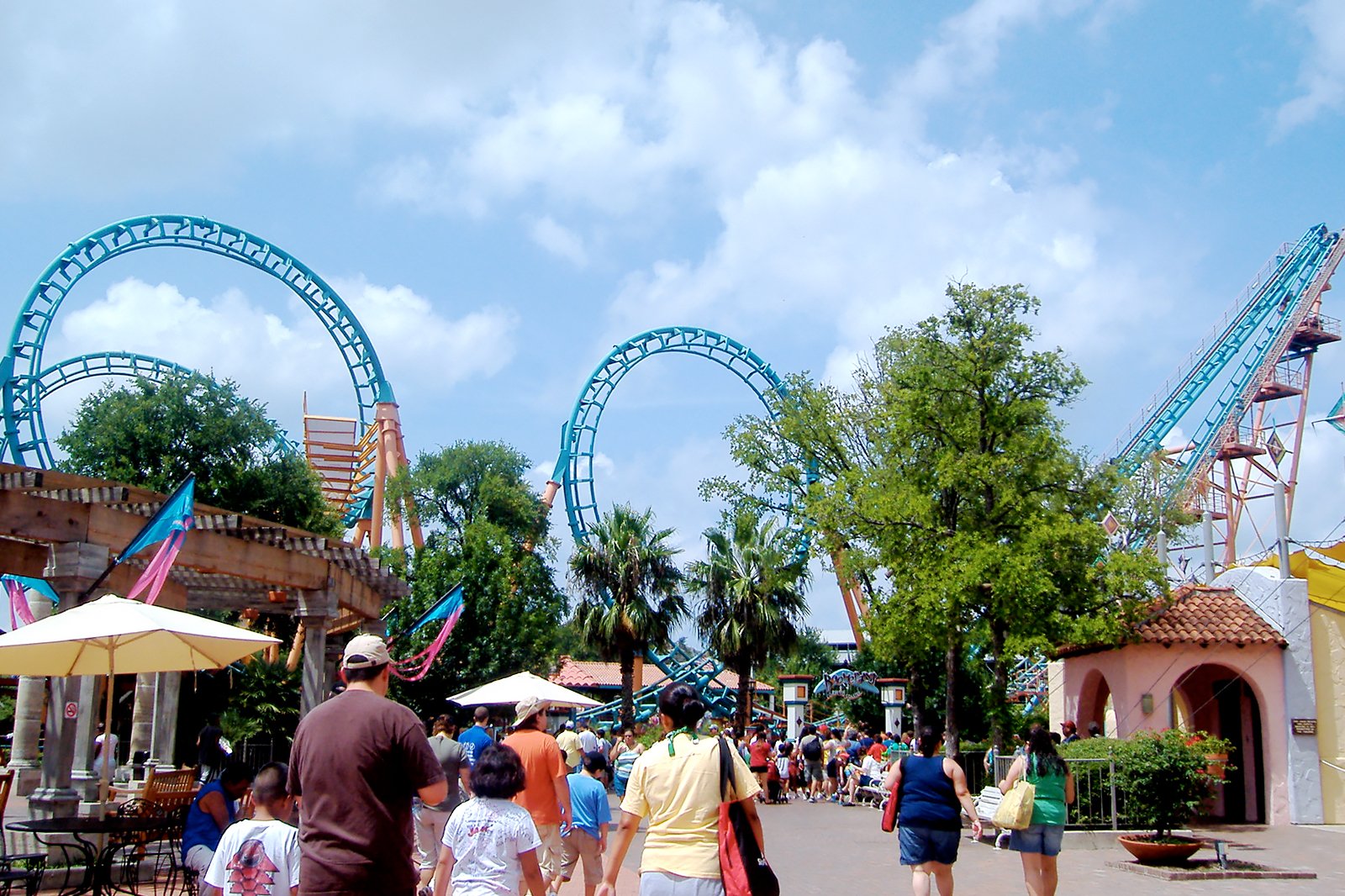 Six Flags Fiesta Texas
Thrilling rides and fun entertainments
The Mexico-themed Six Flags amusement park near San Antonio is perhaps a little small, when compared to other parks of the same brand, but still packs a punch where it counts. There are about 20 rides, spanning an impressive range of styles, from the world's first 4D free-fly coaster to a 200-foot power freefall drop tower. There's also a water park, which is a great place to cool off in the Texas summer. Naturally, most of the rides are aimed at older children, though there is a section for toddlers. Stick around into the evening to watch a great fireworks show every summer night.
Location: 17000 W IH 10, San Antonio, TX 78257, USA
Open: Monday – Thursday from 10.30am to 6pm, Friday – Sunday from 10.30am to 10pm
Phone: +1 210-697-5050
photo by Pizzacrustman (CC BY-SA 3.0) modified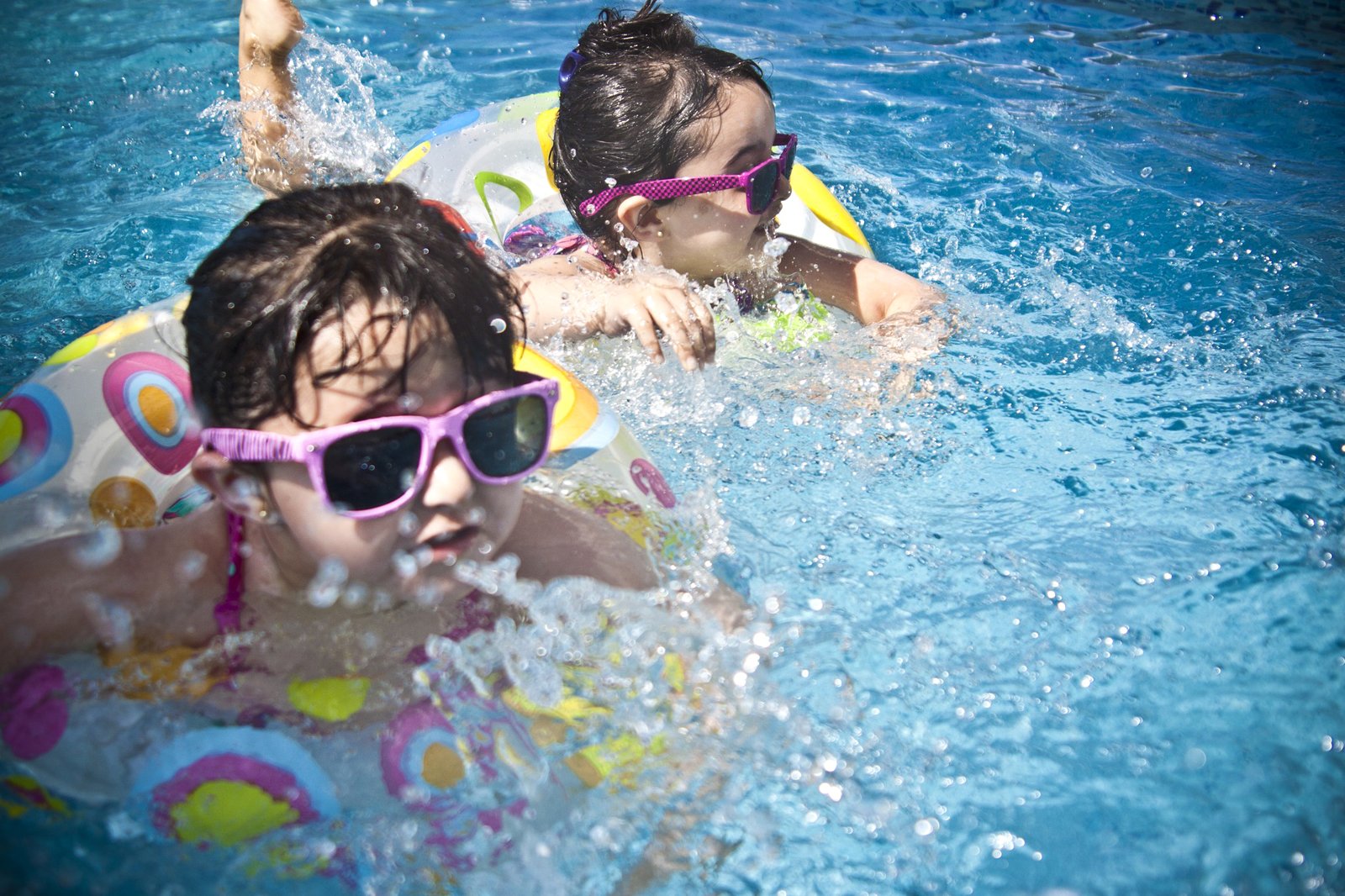 Splashtown San Antonio
Cool off with a choice of water slides
The 20-acre Splashdown water park is conveniently close to the center of San Antonio, and offers over 50 rides and attractions, as well as a fun way to cool off on a hot summer's day. Parents can chill out in the cabanas, safe in the knowledge that their kids are under the supervision of professional lifeguards while they enjoy the wave pool, a choice of winding water slides and a ride on the lazy river, among other fun activities. The park has a number of onsite dining options, too.
Location: 3600 IH 35 N, San Antonio, TX 78219, USA
Open: April – September: Monday – Thursday from 10.30am to 7pm, Friday – Saturday from 10.30am to 9pm, Sundays from 10.30am – 8pm. Closing time varies according to the time of year
Phone: +1 210-227-1400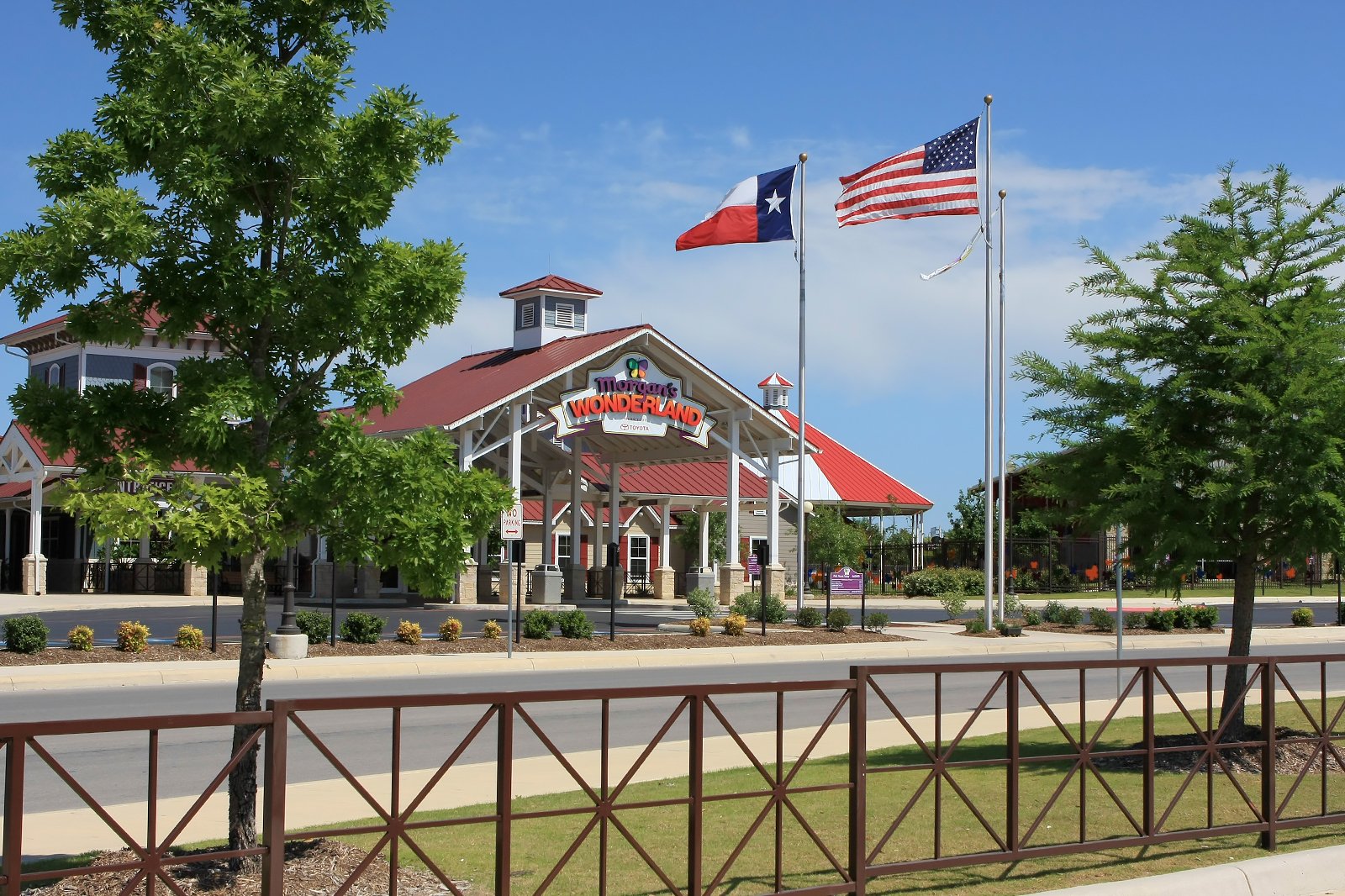 Morgan's Wonderland
A wheelchair accessible theme park
Morgan's Wonderland is quite a unique theme park concept, with a special focus on being completely accessible to all, regardless of disabilities. Its motto boasting that it's a place "where everyone can play" is well-deserved – the 25-acre park contains more than 25 custom-designed rides and attractions. Check out The Wharf, where you can take command of your own remote-controlled pirate ship or fish for catfish and bass. The wheelchair accessible Ferris wheel is also noteworthy.
Location: 5223 David Edwards Dr, San Antonio, TX 78233, USA
Open: Usually daily from 10am to 4pm in the summer, but hours vary week by week
Phone: +1 210-495-5888
photo by MorgansWonderlandTexas (CC BY-SA 4.0) modified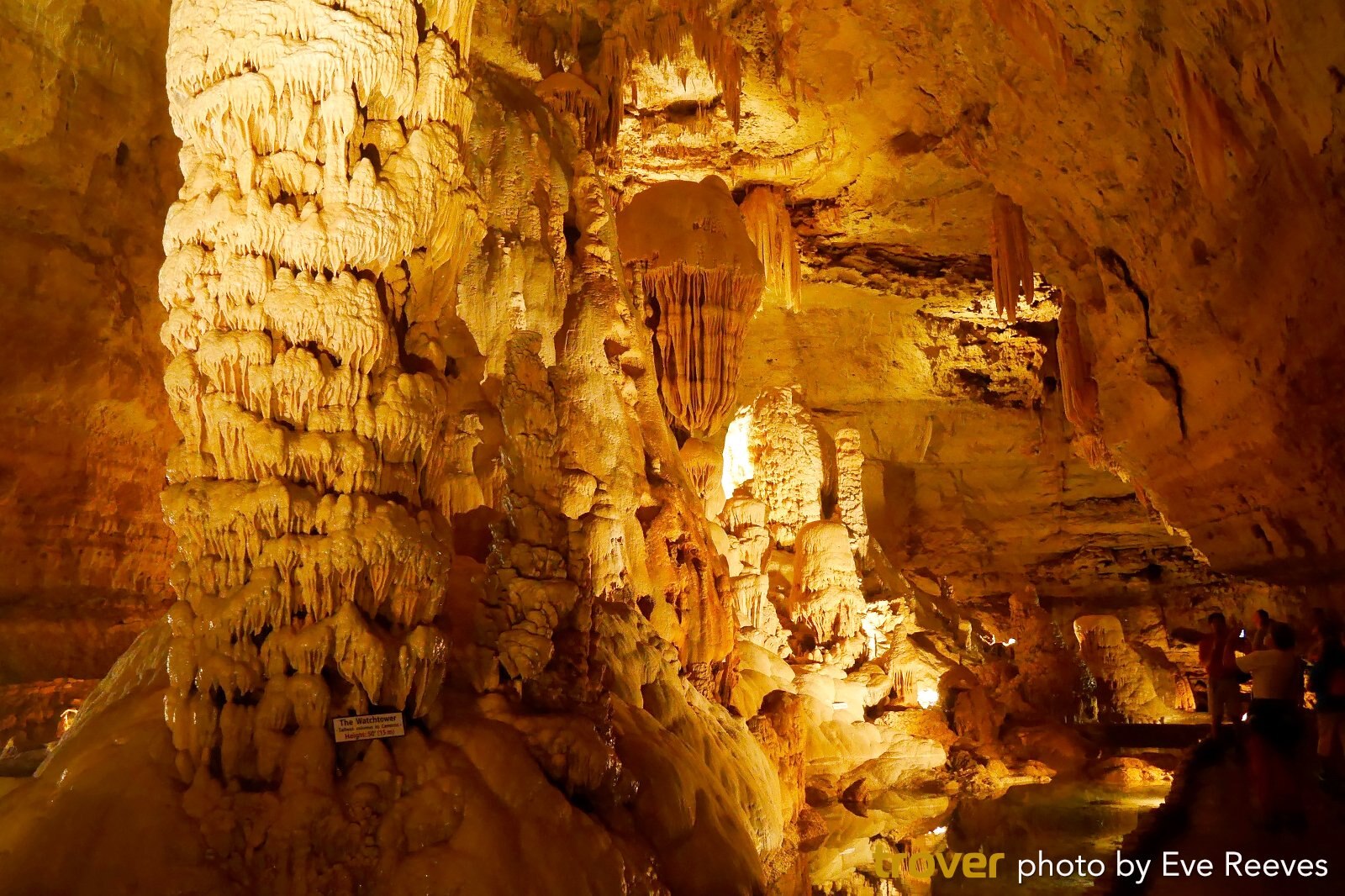 Natural Bridge Caverns
More than just a cave
The Natural Bridge Caverns are fascinating to explore in their own right, with beautiful ancient rock formations to see on the 90-minute guided tour. However, that's just the start of the family fun. There's also a zipper lining and ropes course, an interesting gem mining attraction and a maze to explore. The caves can get a bit hot and humid in the summer, so it's generally best to visit this place in the cooler winter months. Prices vary according to the activities you choose.
Location: 26495 Natural Bridge Caverns Rd, San Antonio, TX 78266, USA
Open: Monday – Friday from 9am to 5pm, weekends from 9am to 6pm
Phone: +1 210-651-6101