10 Things to Do with Your Family in Houston
Houston's Best Family-Friendly Places
As one of the great Texan metropolises, Houston offers a good variety of family-friendly places where you and your kids can get inspired and be entertained. For one, it's famous as the command center of the United States' manned space flights, and its Space Center continues to inspire the next generations of rocket scientists and space explorers.
You can take the kids to see great apes and African wildlife at Houston Zoo, spend an exciting day out splashing and sliding at a waterpark, and even learn to skydive without leaving the ground! Here's a list of great things to do with your family in Houston, showing you some of the best family-friendly places in this fun-filled city.
Space Center Houston
Fly your own supersonic jet
Peek into mission control of the United States' manned space flight program at Space Center Houston. The special visitor hub of NASA's Johnson Space Center has lunar mission exhibits, flight simulators, and programs where you can meet and listen to stories from real astronauts. You can enjoy compelling space documentaries in one of America's largest 4K theatres. Out on Independence Plaza, check out the magnificent Independence space shuttle replica, piggybacking on a historical carrier jet.
Location: 1601 E NASA Pkwy, Houston, TX 77058, USA
Open: Daily from 9am to 6pm
Phone: +1 281-244-2100
photo by Romain2k (CC BY-SA 4.0) modified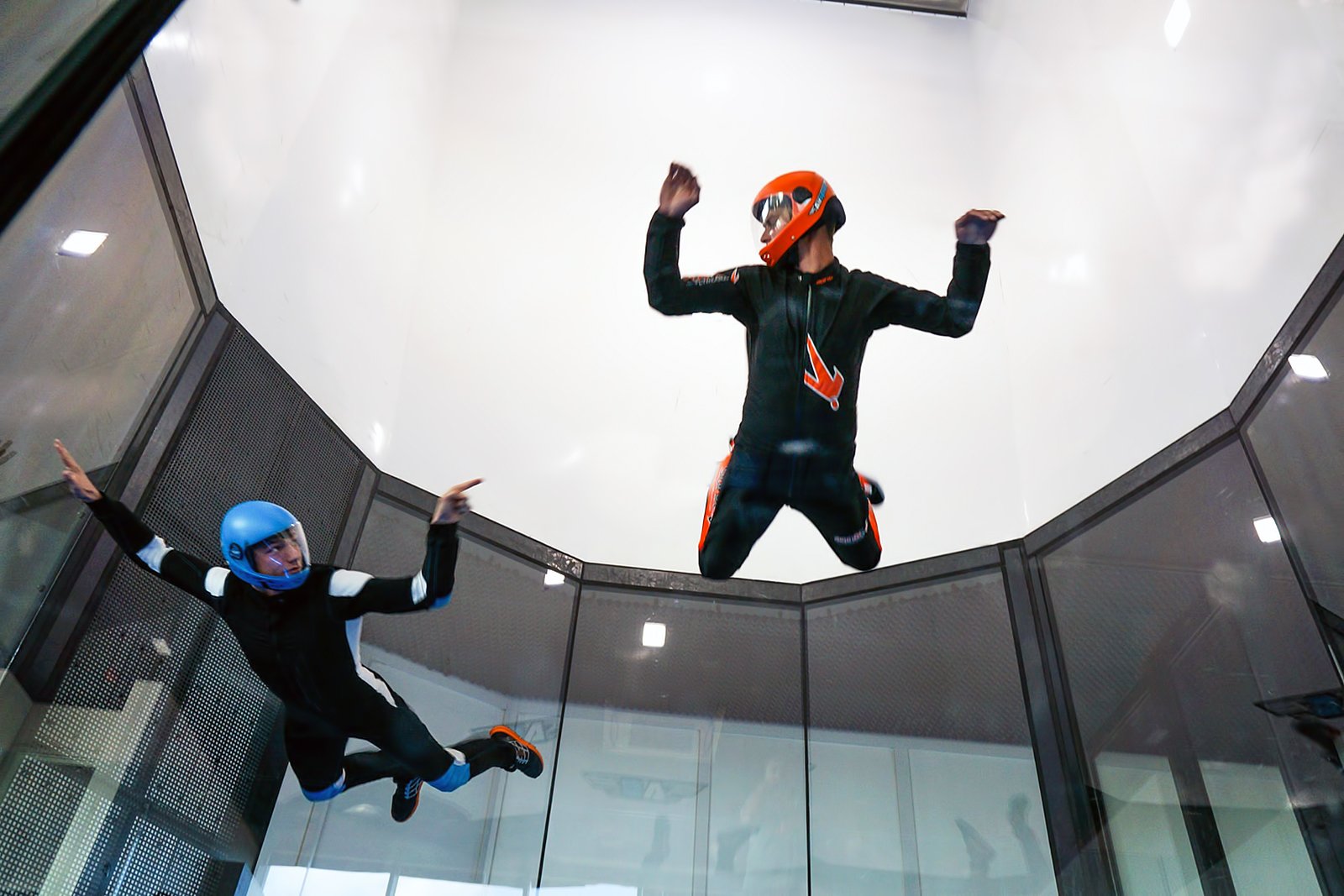 iFly Indoor Skydiving
Where you can live your dream of flying
Kids as young as 4 years of age can enjoy the exhilarating freefalling sensation of skydiving, all in the safe and controlled environment of a specially designed indoor chamber. Slip into a special flight suit, strap on a helmet and protective goggles, and the fun begins. It's like trampolining, but on a constant upright flow of fan-blown air. You'll be getting the hang of floating mid-air and doing all sorts of flips and maneuvers under the guidance of a skilled skydiving instructor.
Location: 9540 Katy Fwy, Houston, TX 77055, USA
Open: Monday – Thursday from 10am to 9pm, Fridays from 10am to 10pm, Saturdays from 9am to 10pm, Sundays from 9am to 9pm
Phone: +1 281-942-4359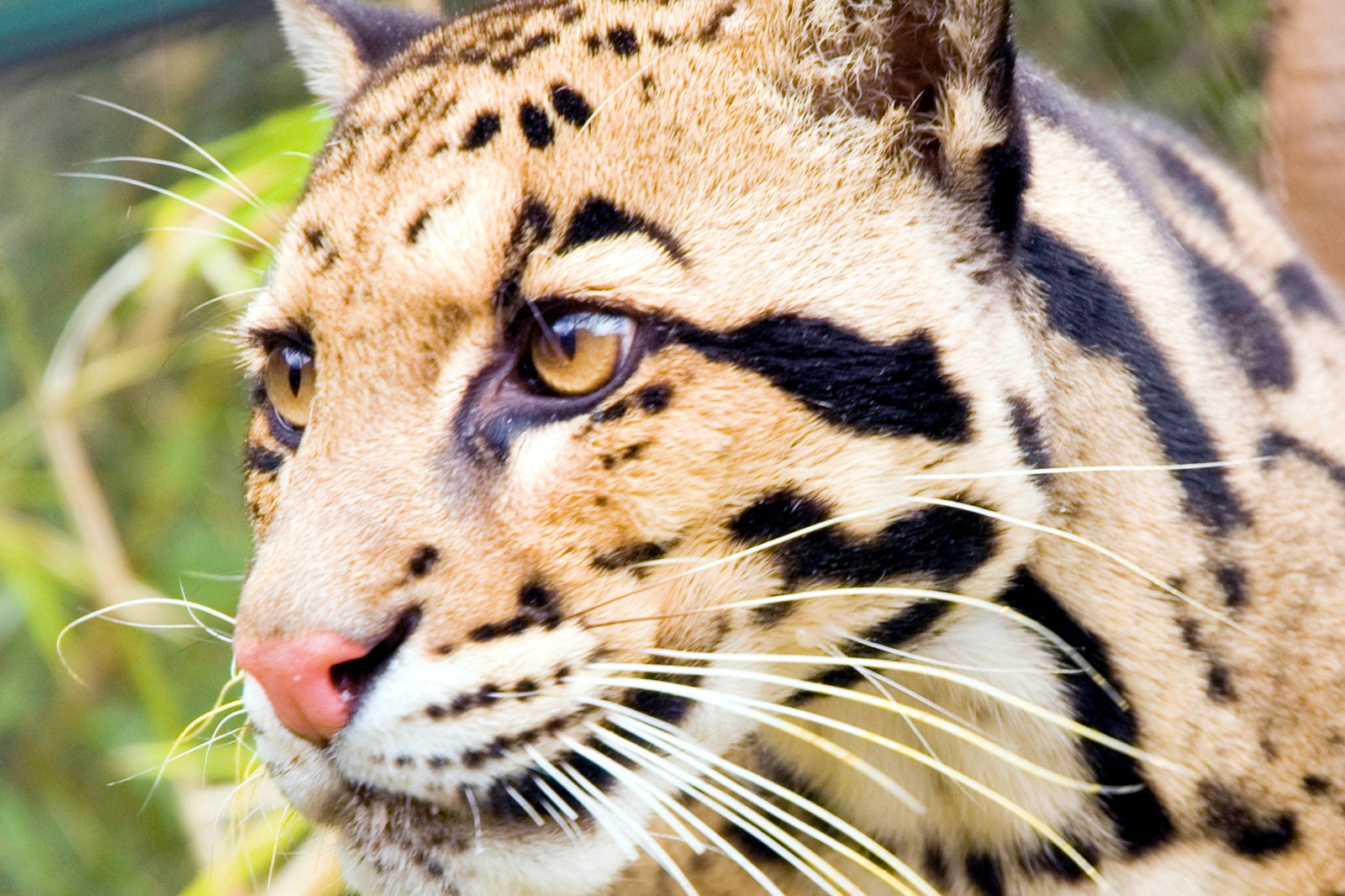 Houston Zoo
One of the most popular zoos in Texas
Most of the enclosures at Houston Zoo are designed to closely resemble the natural habitats of the animals in its varied collection. The McNair Asian Elephant Habitat has a herd of the gentle giants roaming and playing freely and you can get up close to and feed some of the giraffes. Other exciting encounters for kids include learning about the animals from the zookeepers, and even get kissed by a seal. Tickets are around $23 for adults and $20 for kids.
Location: 6200 Hermann Park Dr, Houston, TX 77030, USA
Open: Daily from 9am to 7pm (Thursdays until 5pm, Fridays and Saturdays until 8pm)
Phone: +1 713-533-6500
photo by Susan Shepard (CC BY 2.0) modified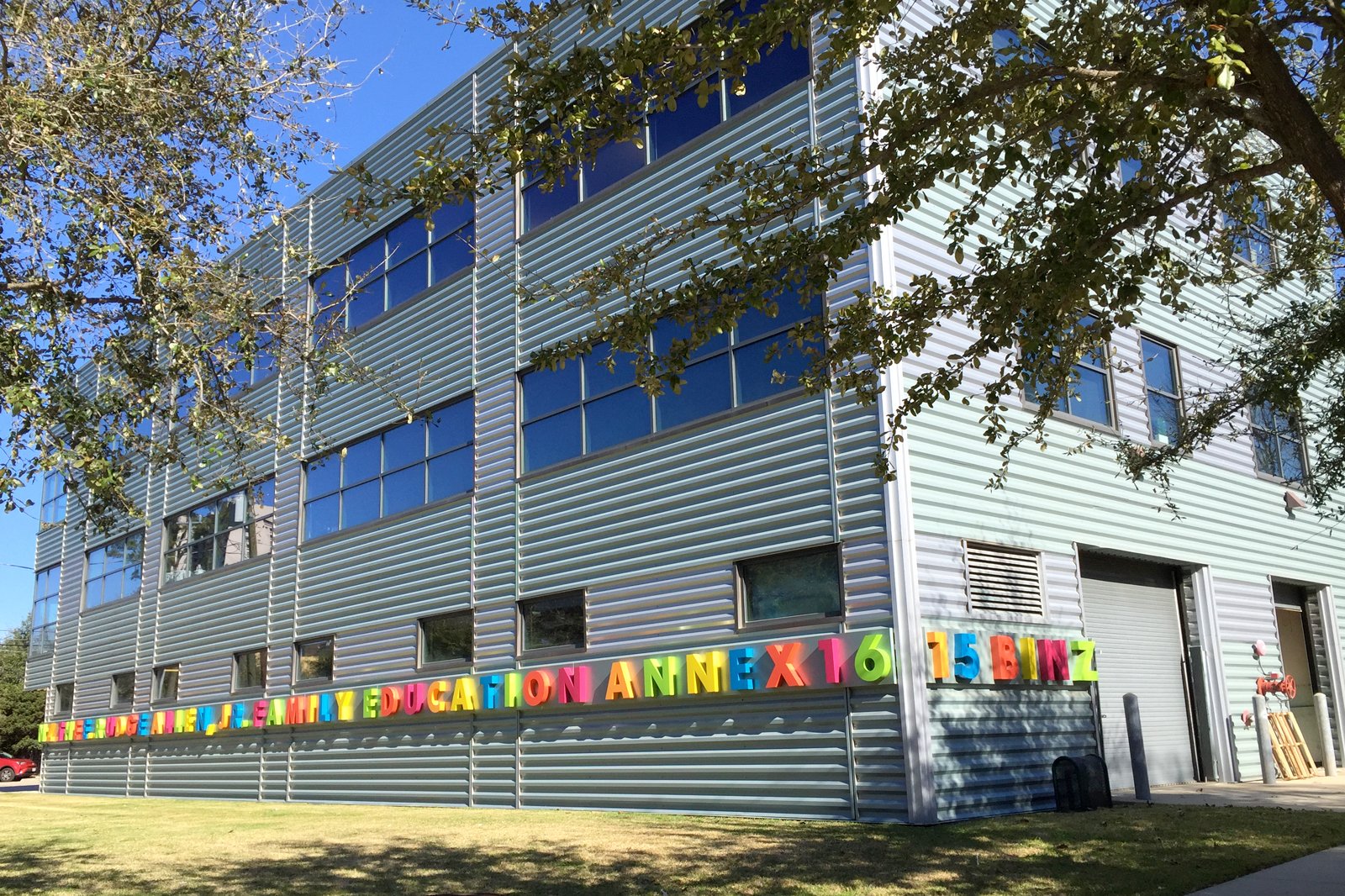 Children's Museum of Houston
A hands-on world just for kids
The Kidtropolis is the main attraction at the Children's Museum of Houston. It has a bank, a market, a government, and jobs that would make a city tick. Kids can choose whatever they want to be. It fosters creativity and a hands-on experience. They can become a mayor that other kids elect, while others can choose to become business owners and customers. Other features in the museum are obstacle courses, 3D printing labs, an Invention Convention exhibit, and an outdoor EcoStation where they can learn about nature and solar energy.
Location: 1500 Binz St, Houston, TX 77004, USA
Open: Monday – Saturday from 10am to 6pm (Thursdays until 8pm), Sundays from 12pm to 6pm
Phone: +1 713-522-1138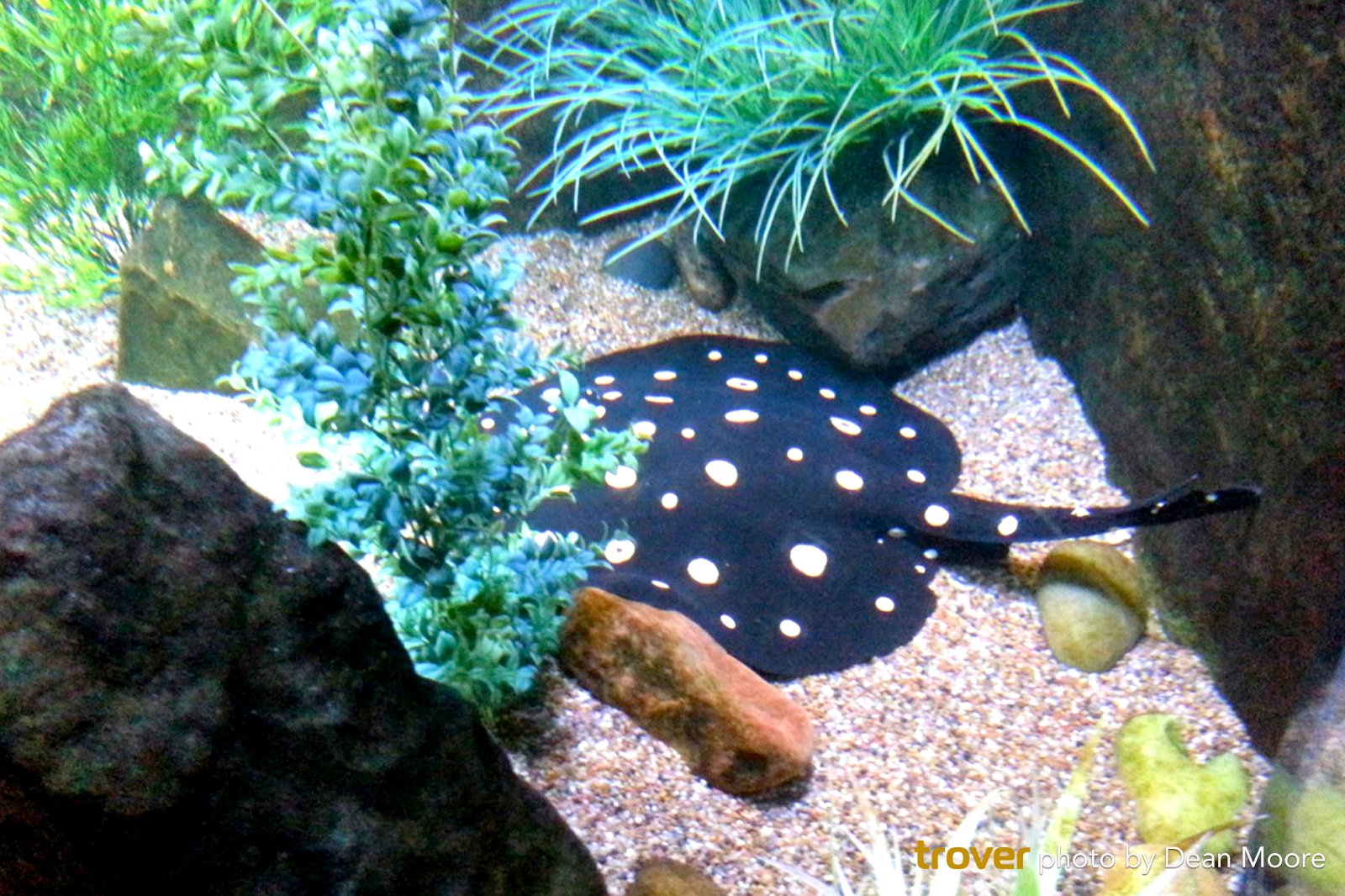 Downtown Aquarium
Feed stingrays and ride a Ferris wheel
Families can have a great time at Houston's Downtown Aquarium. It's a massive, 6-acre leisure and dining complex, and its onsite aquatic attraction is home to over 200 species of marine life. You can enjoy a full-service restaurant with an upscale bar here, as well as shopping and amusement rides such as the eye-catching Ferris wheel. The aquarium itself isn't very large, but there's enough to see to keep the little ones curious. Some kids will love the stingray tank, where you can feed and pet them.
Location: 410 Bagby St, Houston, TX 77002, USA
Open: Sunday – Thursday from 10am to 8.30pm, Friday – Saturday from 10am to 10pm
Phone: +1 713-223-3474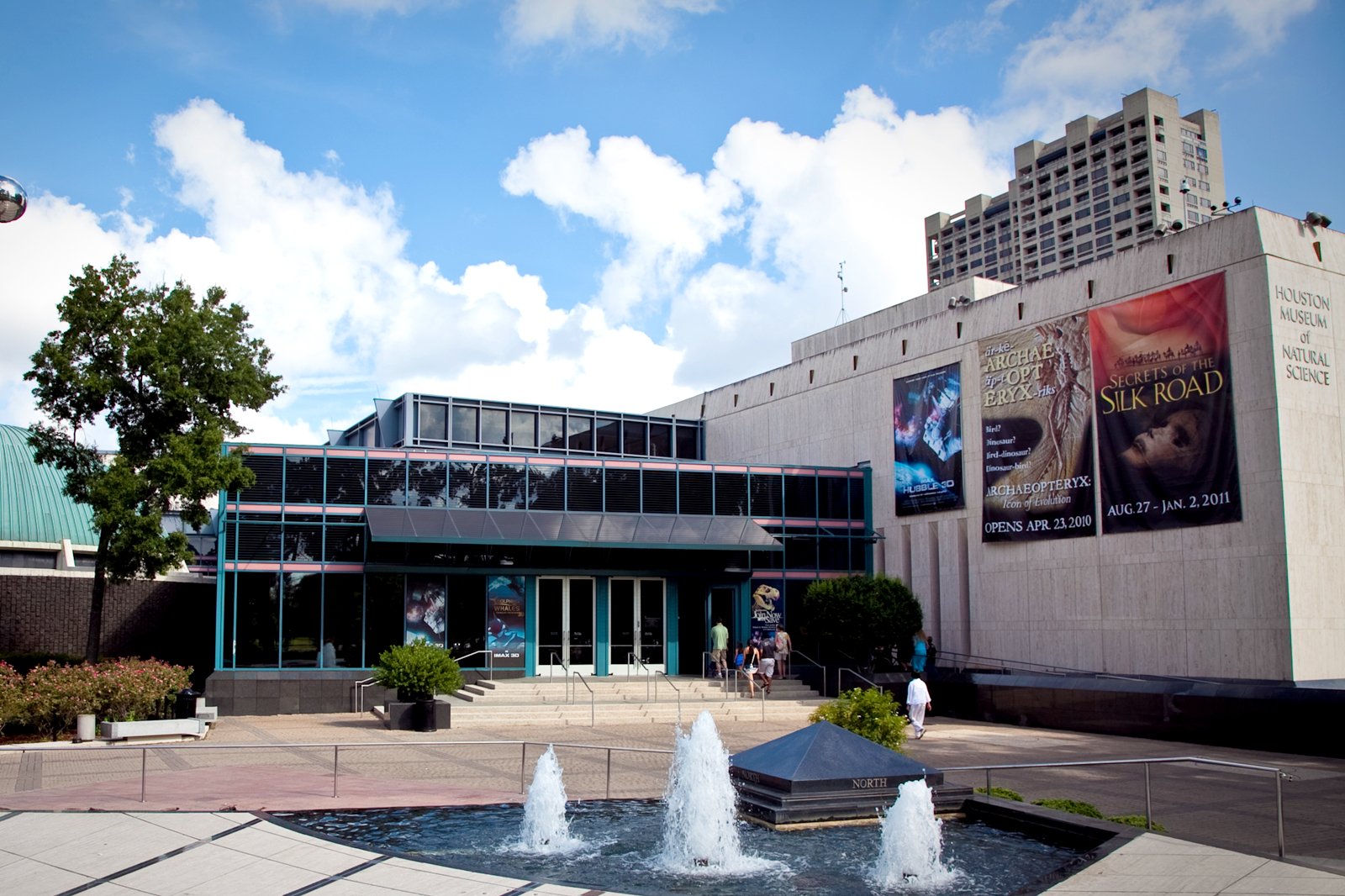 The Houston Museum of Natural Science
Travel back to the Jurassic period through dinosaur exhibits
Inspire your kids' awe with the magnificent collection of dinosaur exhibits at The Houston Museum of Natural Science. The Morian Hall of Palaeontology features towering dinosaur fossils such as those of a T-Rex, a triceratops, and other prehistoric beasts. For stunning IMAX documentaries, check out The Wortham Giant Screen Experience. For a close-up view on nature, the Butterfly Center features colorful living specimens. It showcases chrysalises and the intriguing metamorphoses of some of the world's most beautiful butterfly species.
Location: 5555 Hermann Park Dr, Houston, TX 77030, USA
Open: Daily from 9am to 6pm
Phone: +1 713-639-4629
photo by Ed Schipul (CC BY-SA 2.0) modified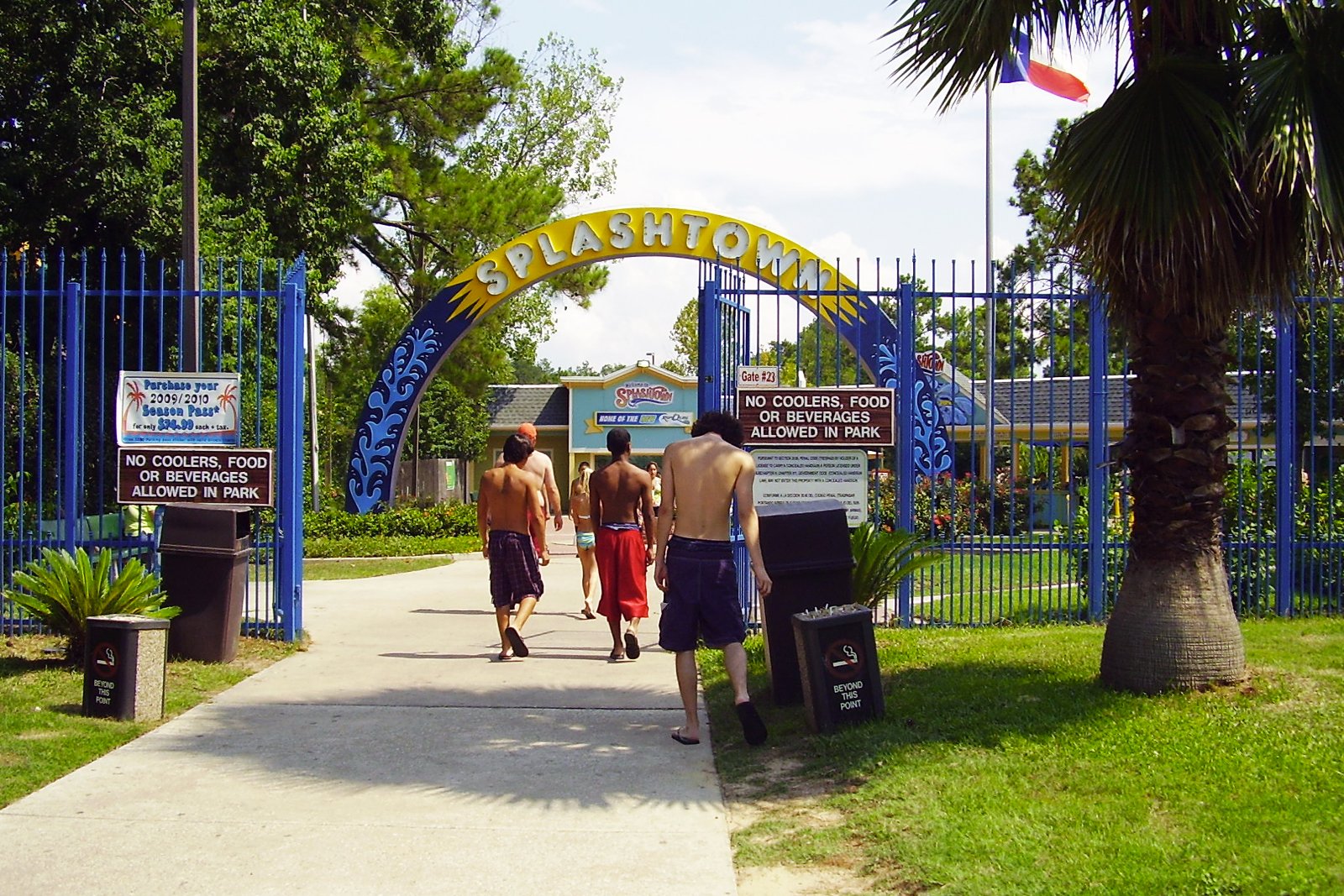 SplashTown
Splashing slides to ride
As Houston's largest waterpark, Wet'n'Wild SplashTown offers a collection of fun slides and pools to suit varying ages and thrill levels. The 429-foot-long Alien Chaser is one of the top options for those wanting the ultimate thrills. Its tower rises around 6 stories high, and you zoom through tunnels and into 3 gigantic bowls. Younger kids can enjoy the Paradise River lazy river pool with mum and dad. The Wild Wave Pool also offers fun for all ages.
Location: 21300 Interstate 45 N, Spring, TX 77373, USA
Open: Monday – Thursday from 10am to 7pm, Friday – Sunday from 10am to 8pm
Phone: +1 281-355-3300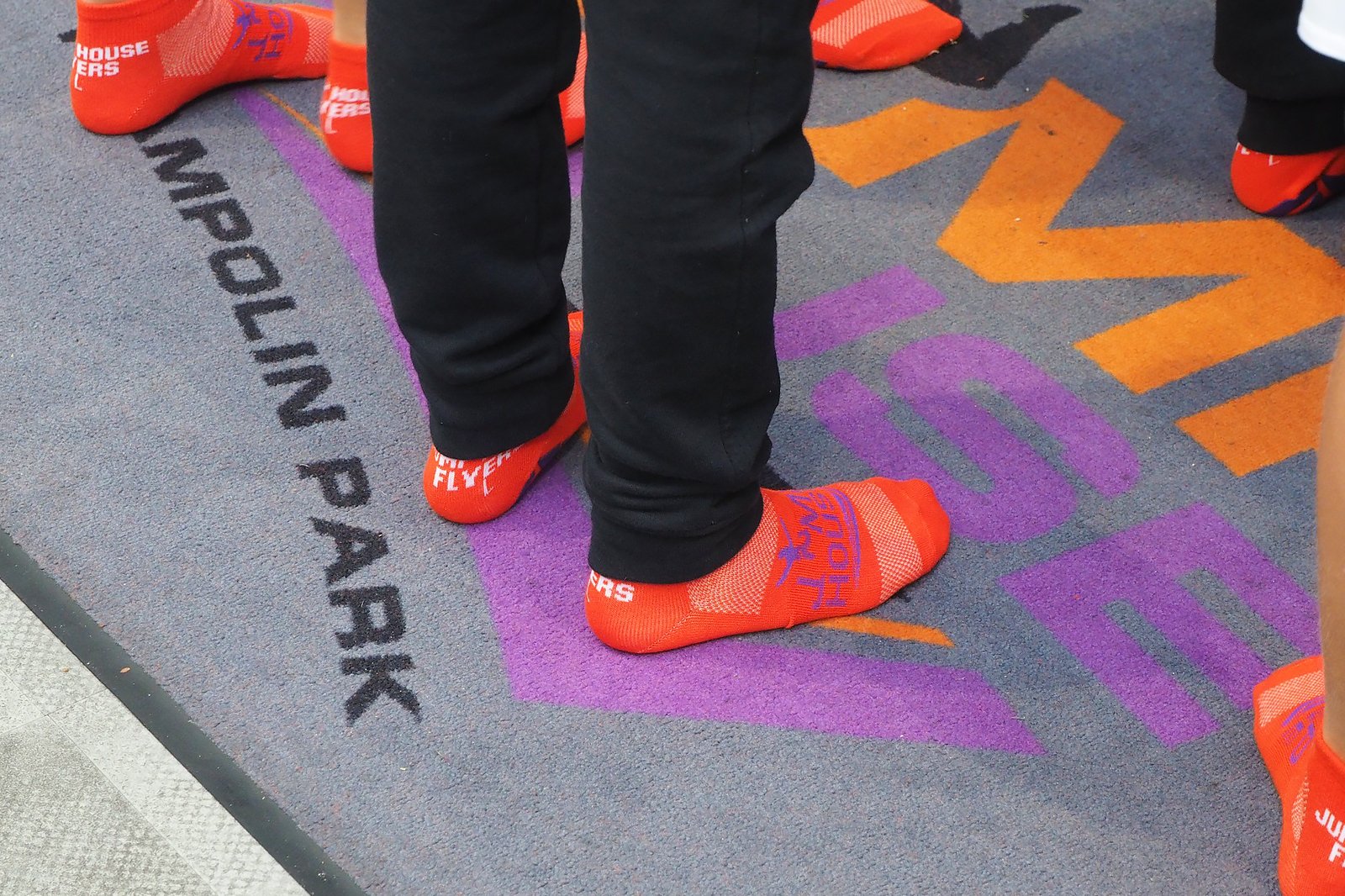 Jumping World Houston
Trampolining fun!
This trampoline park in Houston is where your active kids can bounce to their heart's content. It has an adjoining foam pit where young and old can jump in from ropes like Tarzan, into thousands of squishy foam squares. You can also run, bounce high, and score slam dunks into basketball rings, or team up and play some rounds of dodgeball. Jumping World Houston offers more than just bouncing. There's a dedicated court for toddlers with inflatable castles, and a video game arcade as well.
Location: 14147 Northwest Fwy, Houston, TX 77040, USA
Open: Daily from 10am to 10pm, Fridays and Saturdays until 12am
Phone: +1 713-996-7811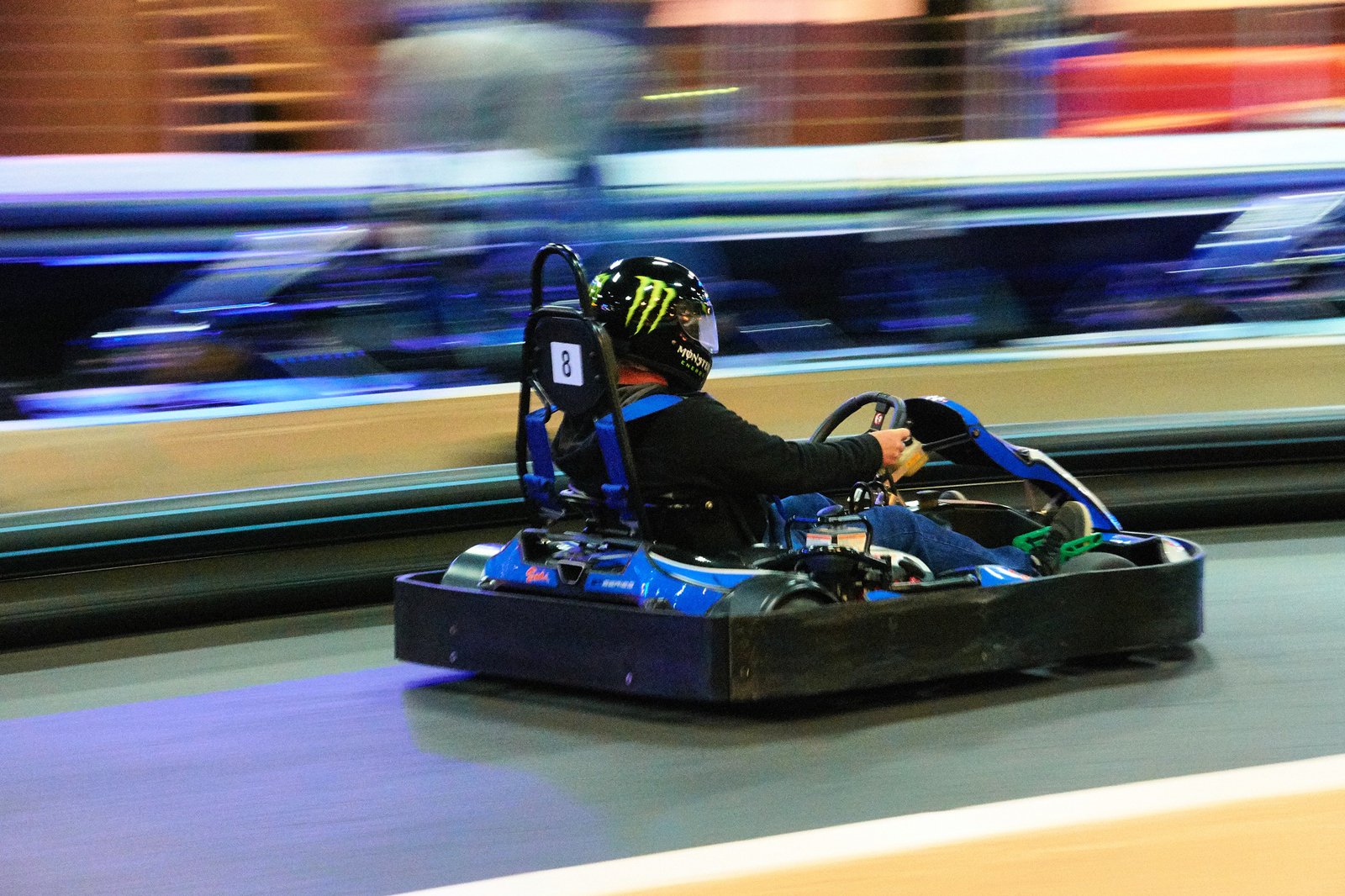 Track 21 indoor karting
Fun races and more
You can settle any sibling rivalries on this mini indoor racecourse. Track 21 has multiple karting tracks where you can don a helmet, squeeze into a colorfully painted and well-maintained go-kart, and put the pedal to the metal to fight for first place. Family packages for four drivers are around $50. Whoever comes out as winner, you can have some extra fun at the facility's 2 other exciting and unique offerings: laser tag games and black light mini golf.
Location: 4815 Hwy 6, Houston, TX 77084, USA
Open: Monday – Thursday from 12pm to 10pm (Fridays until 11pm), Saturdays from 10am to 12am, Sundays from 11am to 8pm
Phone: +1 281-200-2600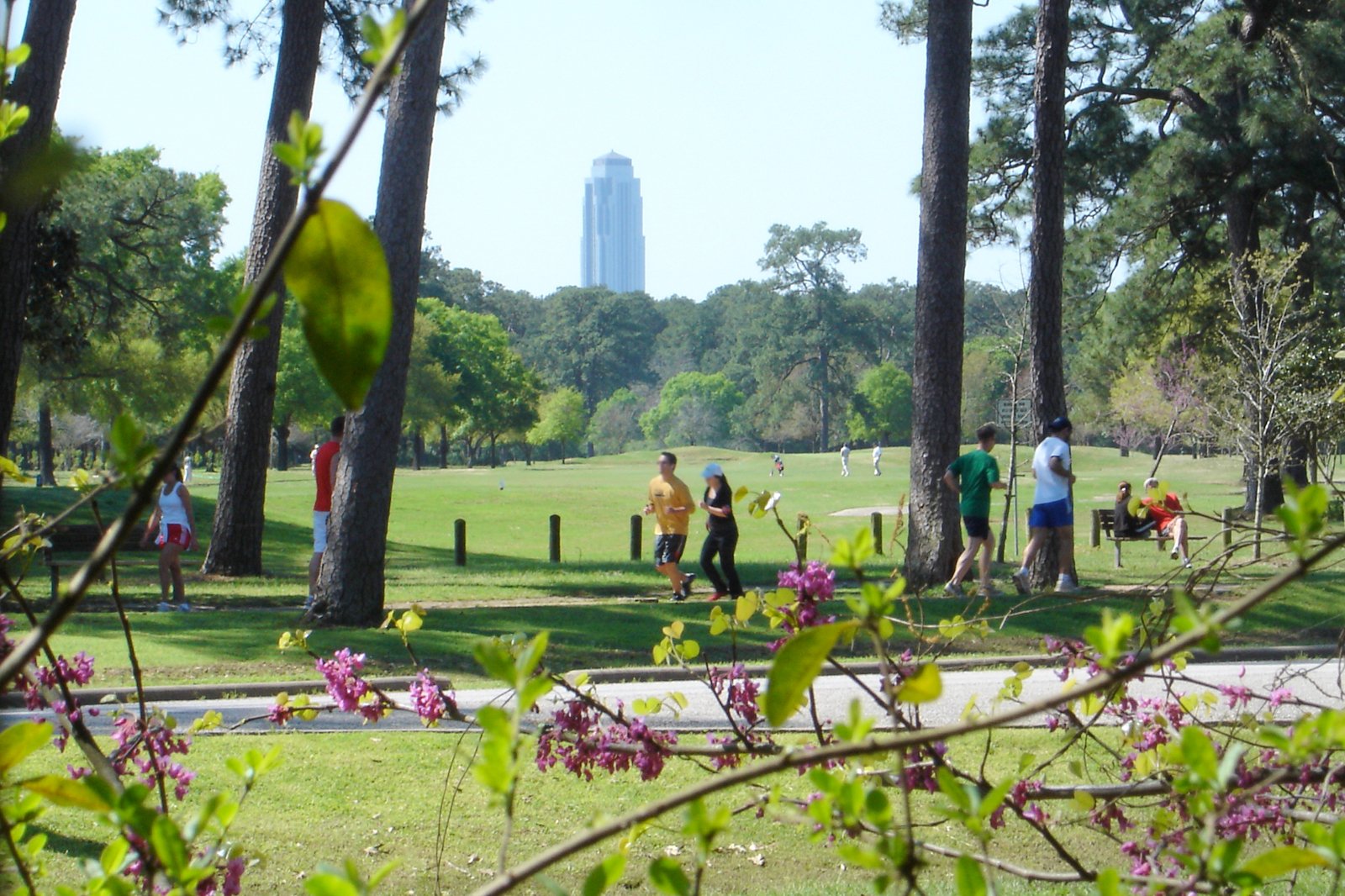 Memorial Park
Green urban space for biking, strolling and playing
The massive grounds of Houston's Memorial Park offer vast green spaces with tree-shaded pathways, hiking and jogging trails, and cool playgrounds where your kids can go climbing, sliding, and balancing along rickety bridges. Come in springtime and you can find patches of the Texan state flower – bluebonnets – in full bloom. Right next door to the park is the Houston Arboretum and Nature Center, where you can enjoy birdwatching and nature walks.
Location: 6501 Memorial Dr, Houston, TX 77007, USA
Open: Daily from 6am to 11pm
Phone: +1 713-863-8403