10 Things to Do with Your Family in Boston
Boston's Best Family-Friendly Places
Boston is made up of compact, historical neighborhoods, some of which sit on charming waterfronts lining the sprawling Charles River. With plenty to do outside, finding things to do with your kids in the spring and summer months is no cause for concern. Having been recently named the greenest American city, Boston has no shortage of parks littered with playgrounds and ice cream trucks, where kids can roam around and enjoy their days.
Despite Boston's notoriously cold winter months, tourists are still attracted to the gorgeous snowfalls that lace the streets of the city. Given these conditions, the best bet for family activities is the choice of kid-friendly museums, which Boston has no shortage of. Whether you're looking for something to do indoors or outdoors, the city will have something to offer during your visit to Boston.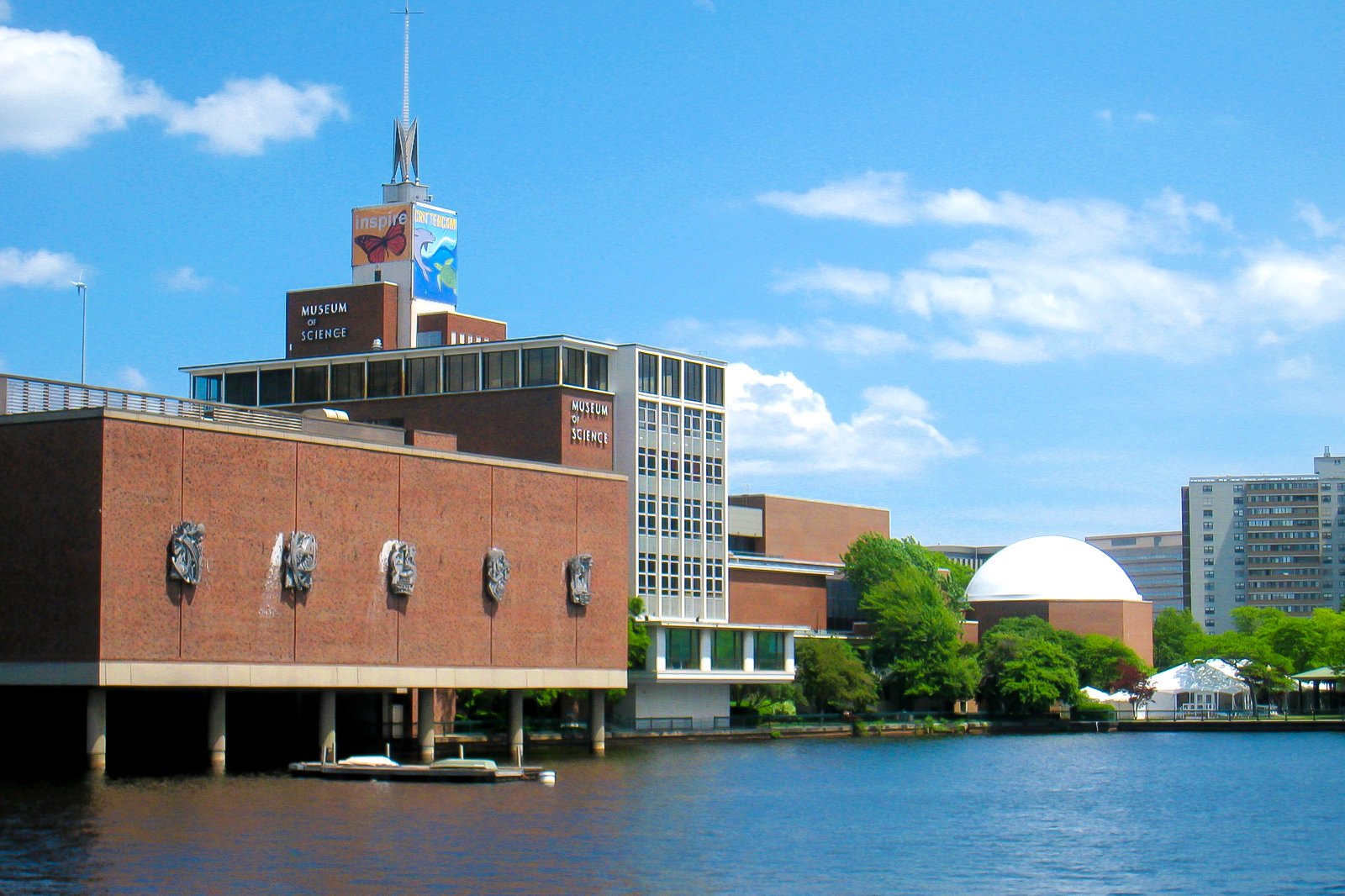 Get interactive at the Museum of Science
Where kids can learn science hands-on
The Museum of Science is an interactive museum dedicated to educating the public on the importance of science and technology in our everyday lives. This 13,000 sq ft museum can easily make you lose track of time with its countless captivating exhibits and facilities. For kids, the Discovery Center and the Live Animal Care Center are must-sees. For activities that the whole family will enjoy, visit the Planetarium, where kids and adults can marvel at the stars and planets in an immersive experience. Other noteworthy activities are the interactive playground in Science in the Park and the Soundstair, which allows visitors to play music with their feet.
Location: 1 Science Park, Boston, MA 02114, USA
Open: Daily 9am to 7pm
Phone: +1 617-723-2500
Families
History
Photo
Budget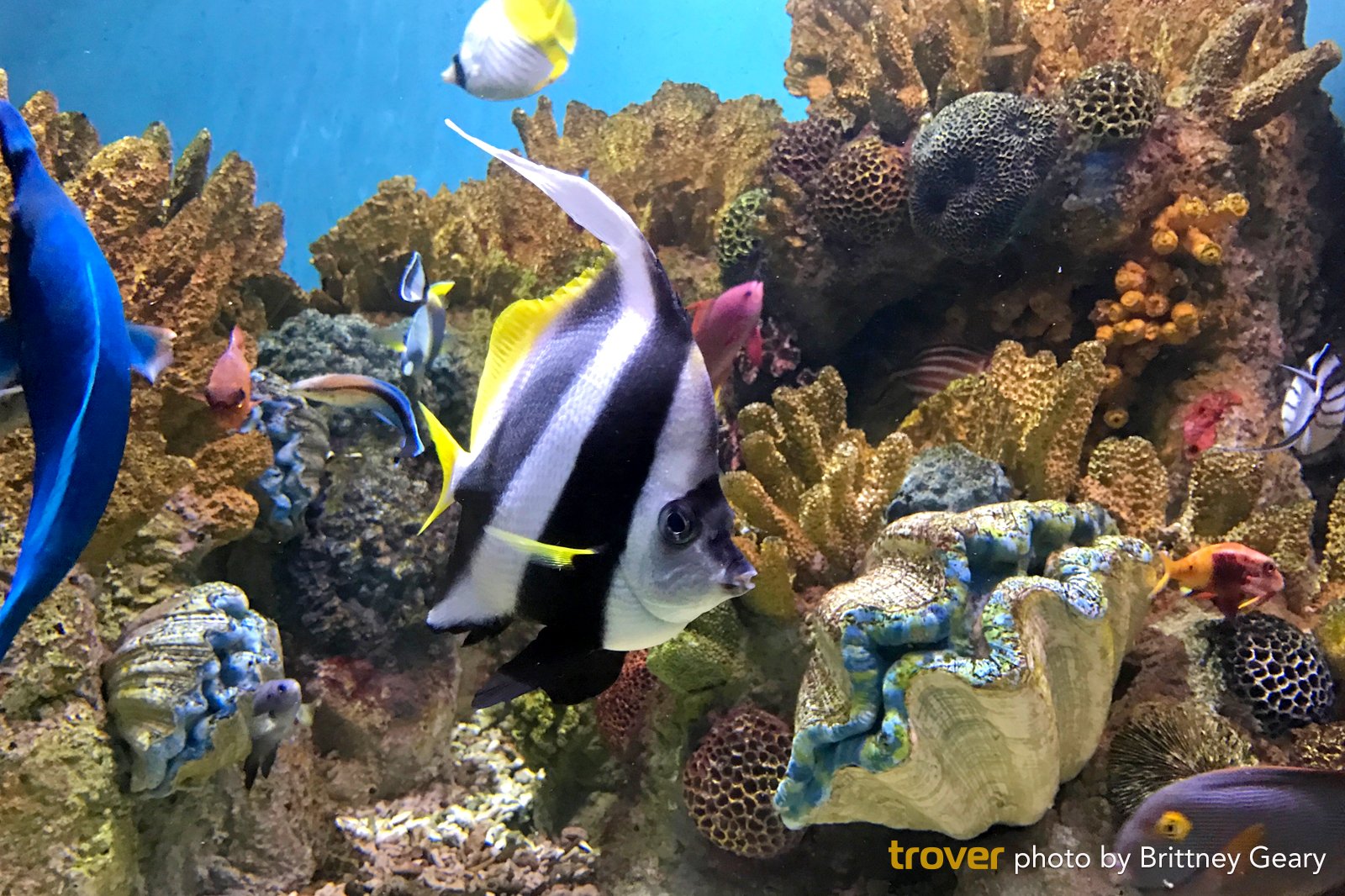 Explore marine life at the New England Aquarium
Come face to face with amazing sea creatures
The New England Aquarium is a fascinating exhibit of the world's amazing sea animals. Its breathtaking centerpiece is the enormous 200,000-gallon salt-water tank, containing a replica of a Caribbean coral reef. It stands 3-stories tall and 40m wide and is alive with moray eels, stingrays, huge sea turtles and sharks. Children will be fascinated by the display of wildlife, often bringing their faces close to the tank to admire their beauty. Other exhibits include the touch tank, where kids can get up close to starfish, sea urchins and hermit crabs. The impressive IMAX theatre showcases thrilling films on the ocean.
Location: 1 Central Wharf, Boston, MA 02110, USA
Open: Monday – Thursday and Sundays from 9am to 6pm, Friday – Saturday from 9am to 7pm
Phone: +1 617-973-5200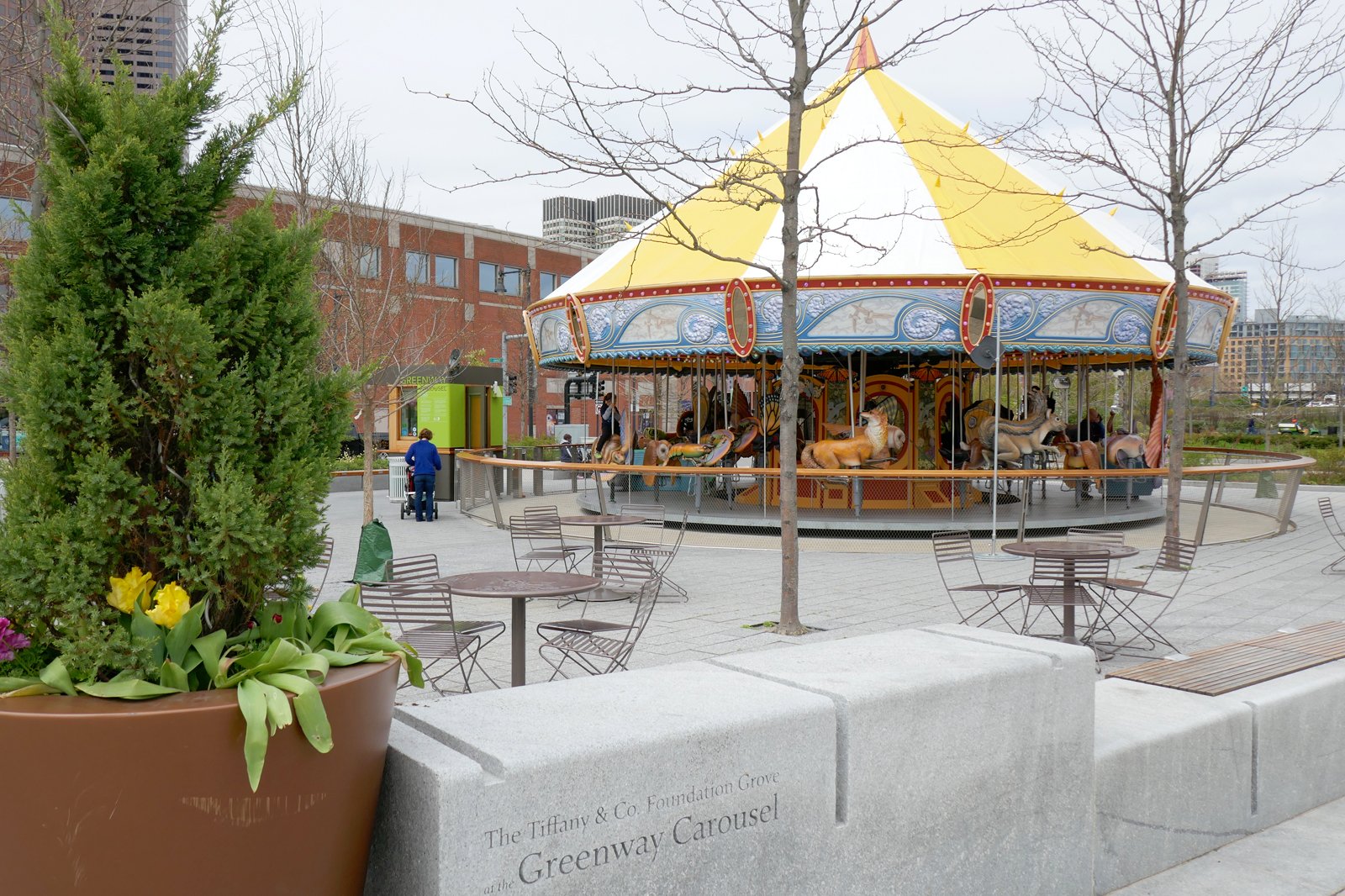 Ride the carousel at the Rose Kennedy Greenway
Relax on the grass on top of a highway
The Rose Kennedy Greenway is considered a hidden treasure within the hustle and bustle of Boston. Sat atop a highway tunnel in Downtown Boston, this roof garden snakes its way through the heart of the city. The park is linear, with a carousel, lawns and rows of trees and flowers for you to nestle yourself among. On Saturdays, it holds a sizeable craft fair. In summer, the Greenway turns into an urban amusement park as local families and tourists spread themselves out across the grounds. Make use of the shooting water fountains for a little relief from the summer heat.
Location: 185 Kneeland St, Boston, MA 02111, USA
Open: Daily 7am to 11pm
Phone: +1 617-292-0020
photo by NewtonCourt (CC BY-SA 4.0) modified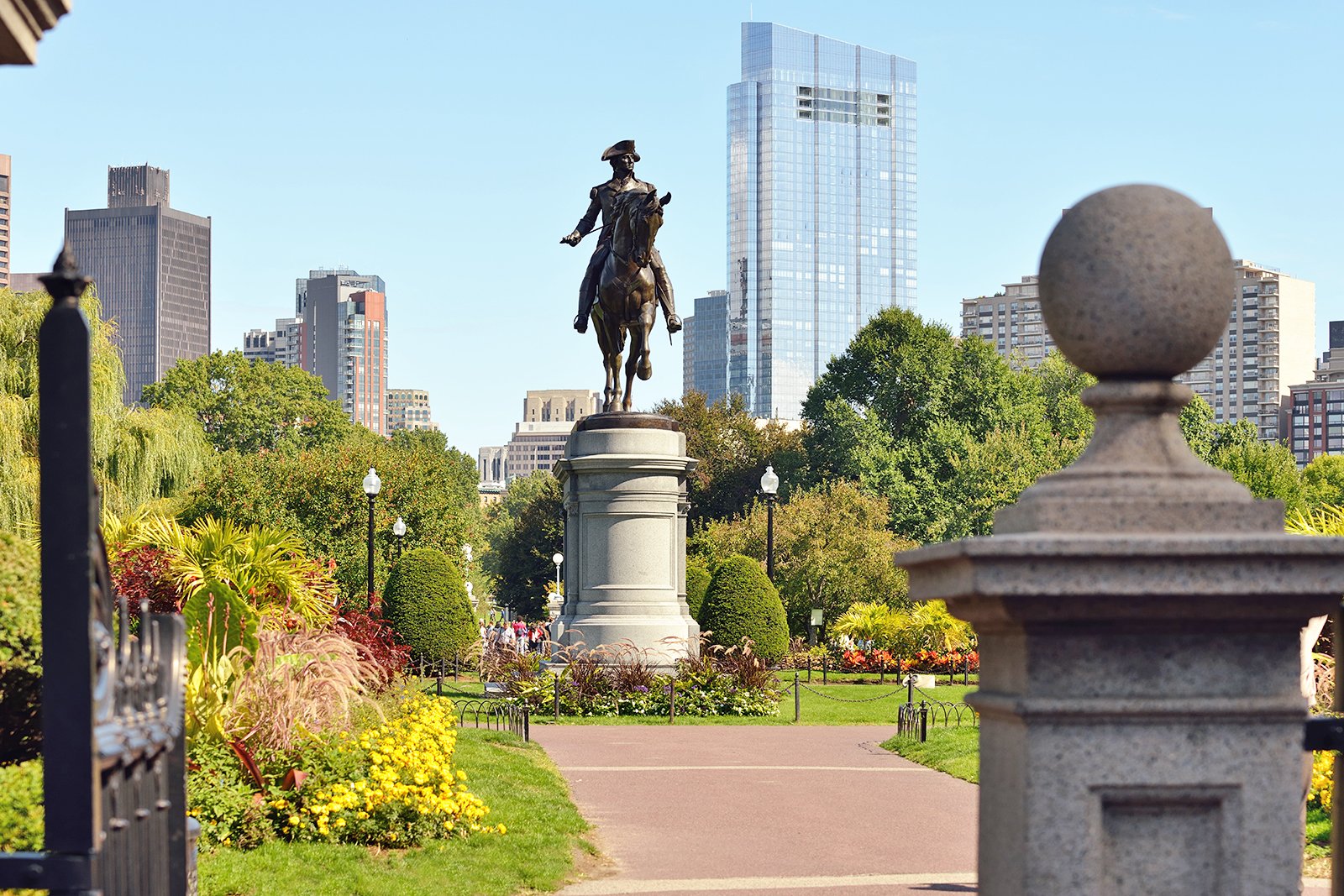 Take a ride on the swan boats at the Boston Public Garden
An iconic attraction since 1877
The Swan Boats at the Boston Public Garden are a famed attraction for all tourists who visit the city. Lasting about 10 to 15 minutes, the boat ride takes you around the garden's pond, swimming alongside swarms of swans and ducks, who appear undisturbed. The boat ride will especially appeal to children who have read Robert McCloskey's Make Way for Ducklings, as each boat circles the island mentioned in the book. Parents can take in the relaxing atmosphere of the gardens as kids admire the animals on the pond. The attraction is particularly gorgeous during the spring and summer months, when the garden is blooming with color and as idyllic as ever.
Location: 4 Charles St S, Boston, MA 02116, USA
Open: Daily 10am to 5pm
Phone: +1 617-522-1966
Couples
Families
Photo
Budget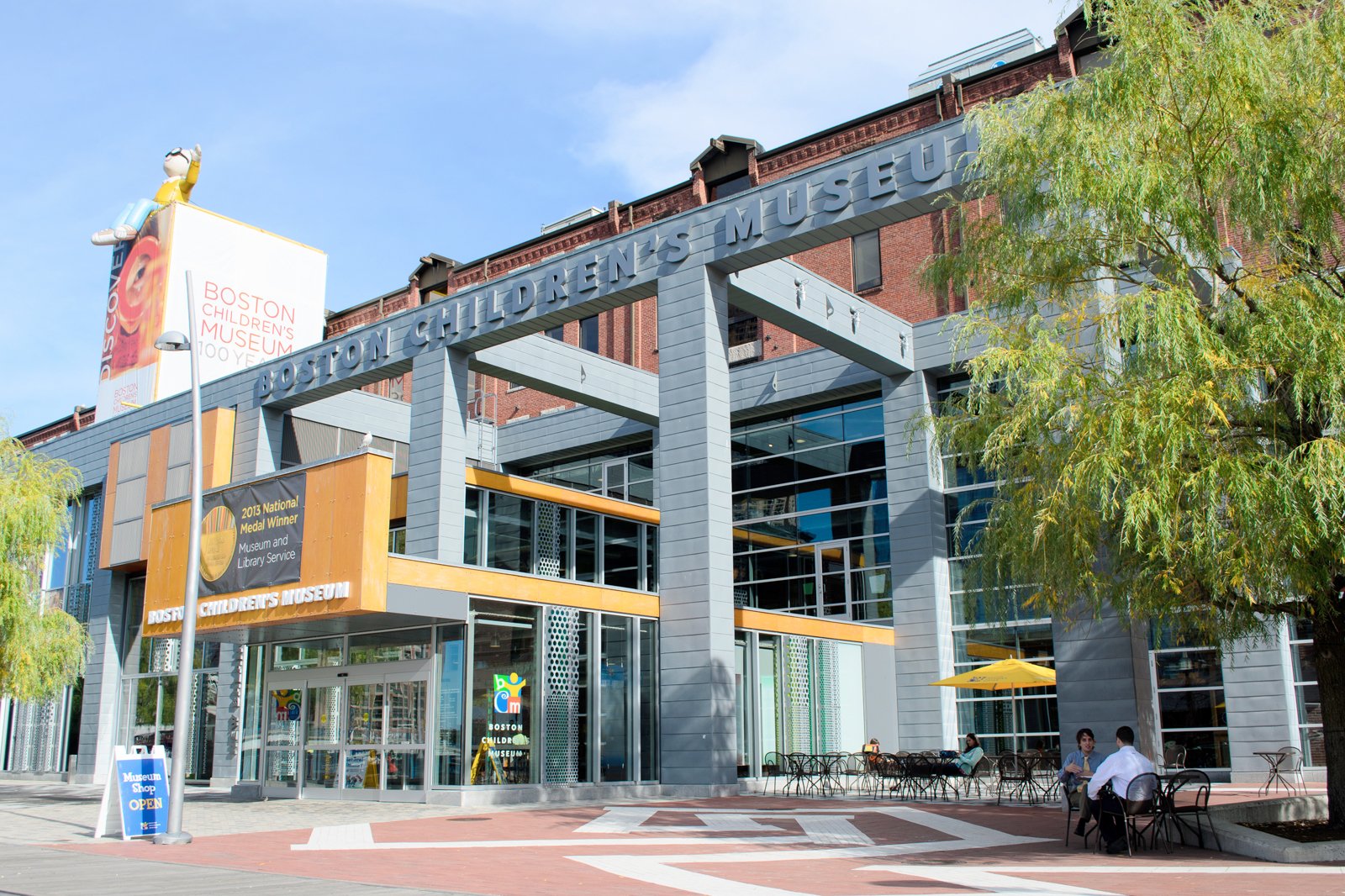 Boston Children's Museum
A kid's museum centered on hands-on learning
The Boston Children's Museum is one of the oldest of its kind in the country. However, its age does not mean its quality has faltered. Impressively maintained, the museum remains a must-visit for both tourists and locals as it boasts an immersive hands-on experience for kids, who can learn about science in different interactive settings. The main highlights include the Science Playground, which features a giant soap bubble-making tool and the New Balance Climb, where kids can learn about the laws of physics through navigating a two-storey-high maze. As you make your way to the museum, get your kids to look out for the giant milk bottle looming in front of the museum – a good way to get them excited.
Location: 308 Congress St, Boston, MA 02210, USA
Open: Daily 10am to 5pm
Phone: +1 617-426-6500
photo by Tim Pierce (CC BY-SA 3.0) modified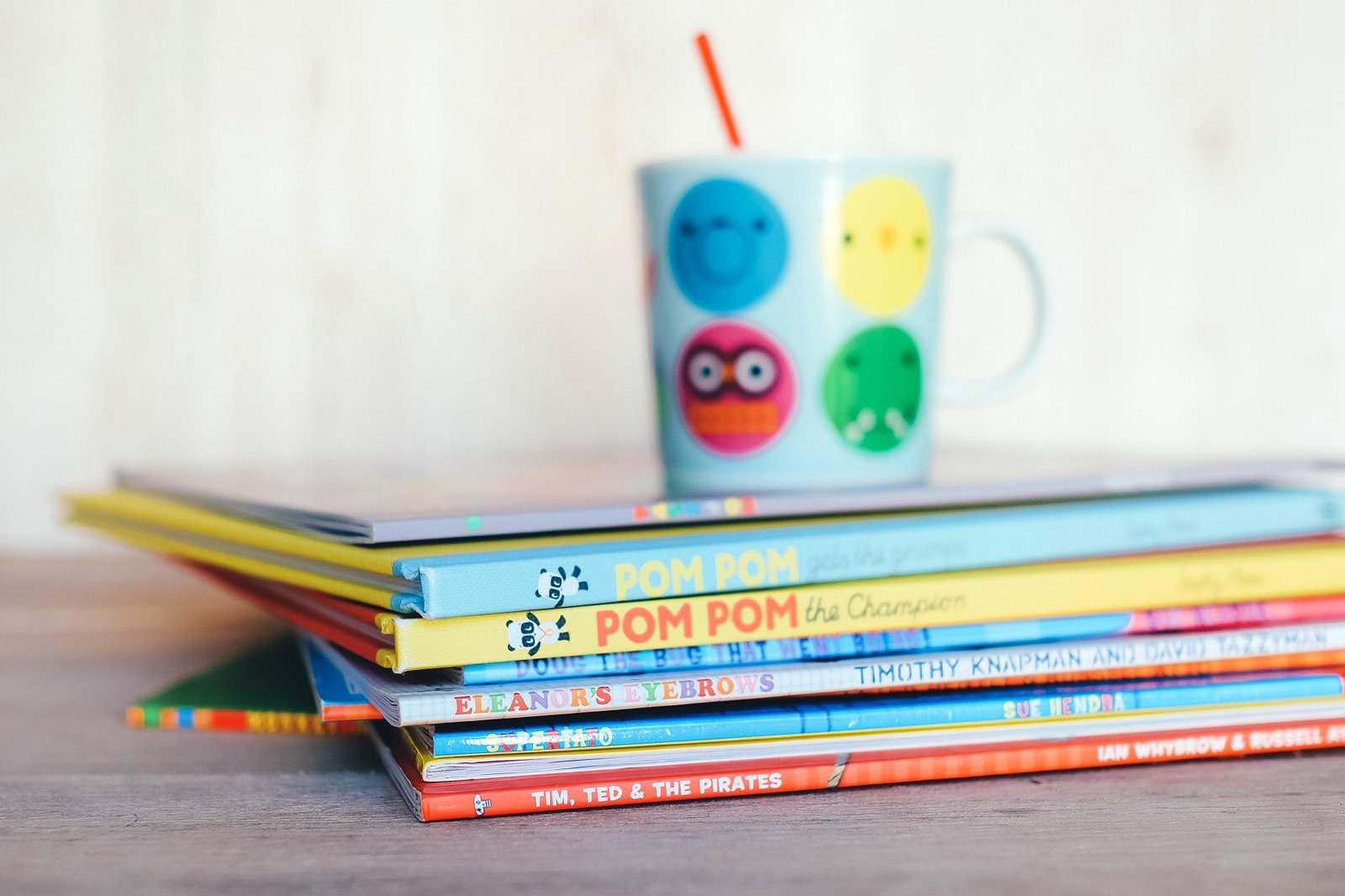 The Children's Library at Copley Square
Let your kid bury their head in a book
The Children's Library, found within Boston Public Library, is a haven for all young bookworms out there. The library holds an extensive collection of fiction and non-fiction books. Located in the Johnson Building, kids can grab a book and sit among the plush chairs and cushions alongside the bay windows. The Library is adorned with whimsical decorations and brightly colored walls, which have been carefully implemented to stimulate your kid's senses and imagination. It makes a nice break for the family before or after touring the famous Public Library, though children must be supervised at all times.
Location: 700 Boylston St, Boston, MA 02116, USA
Open: Monday – Thursday from 9am to 8pm, Friday – Saturday from 9am to 5pm, Sunday from 1pm to 5pm
Phone: +1 617-536-5400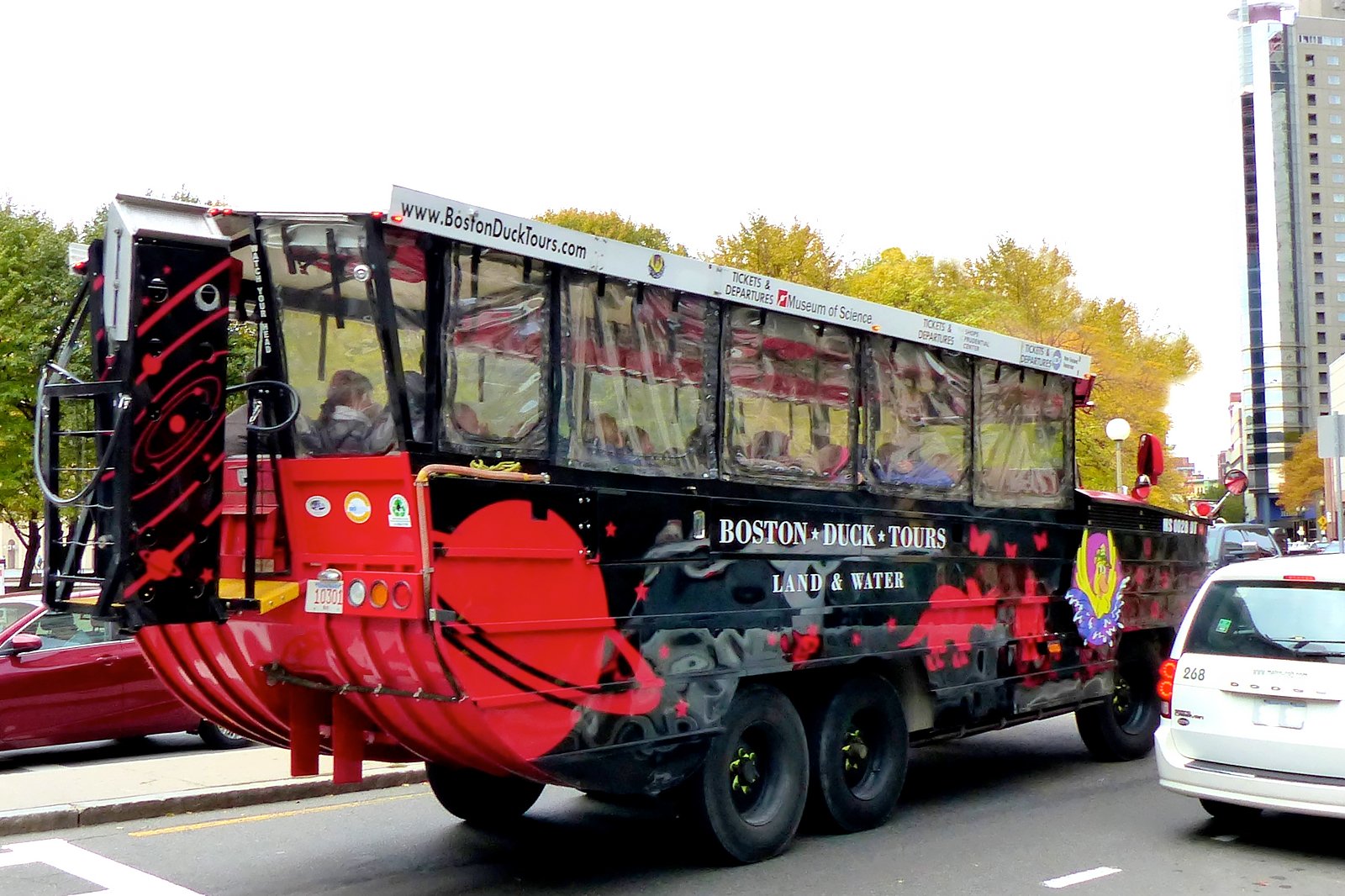 Tour land and water on the Boston Duck Tours
A typical tourist activity that will keep kids entertained
The Boston Duck Tours take you and your family across the city on land and on the Charles River. Though queues for the tours can be long, it is an exciting and quick way to see the main sights of Boston and is especially pleasant on a hot summer day. The 90-minute tour is led by a highly informed guide – often with a quirky, duck-themed name – who details the history, architecture and culture of Boston. Children will be kept entertained by the antics of the enthusiastic guides and parents can relax and enjoy the cool river breeze. Some lucky kids are even let into the captain's cockpit!
Location: 4 Copley Place #4155, Boston, MA 02116, USA
Open: Daily 8.30am to 5pm
Phone: +1 617-267-3825
Families
History
Photo
Budget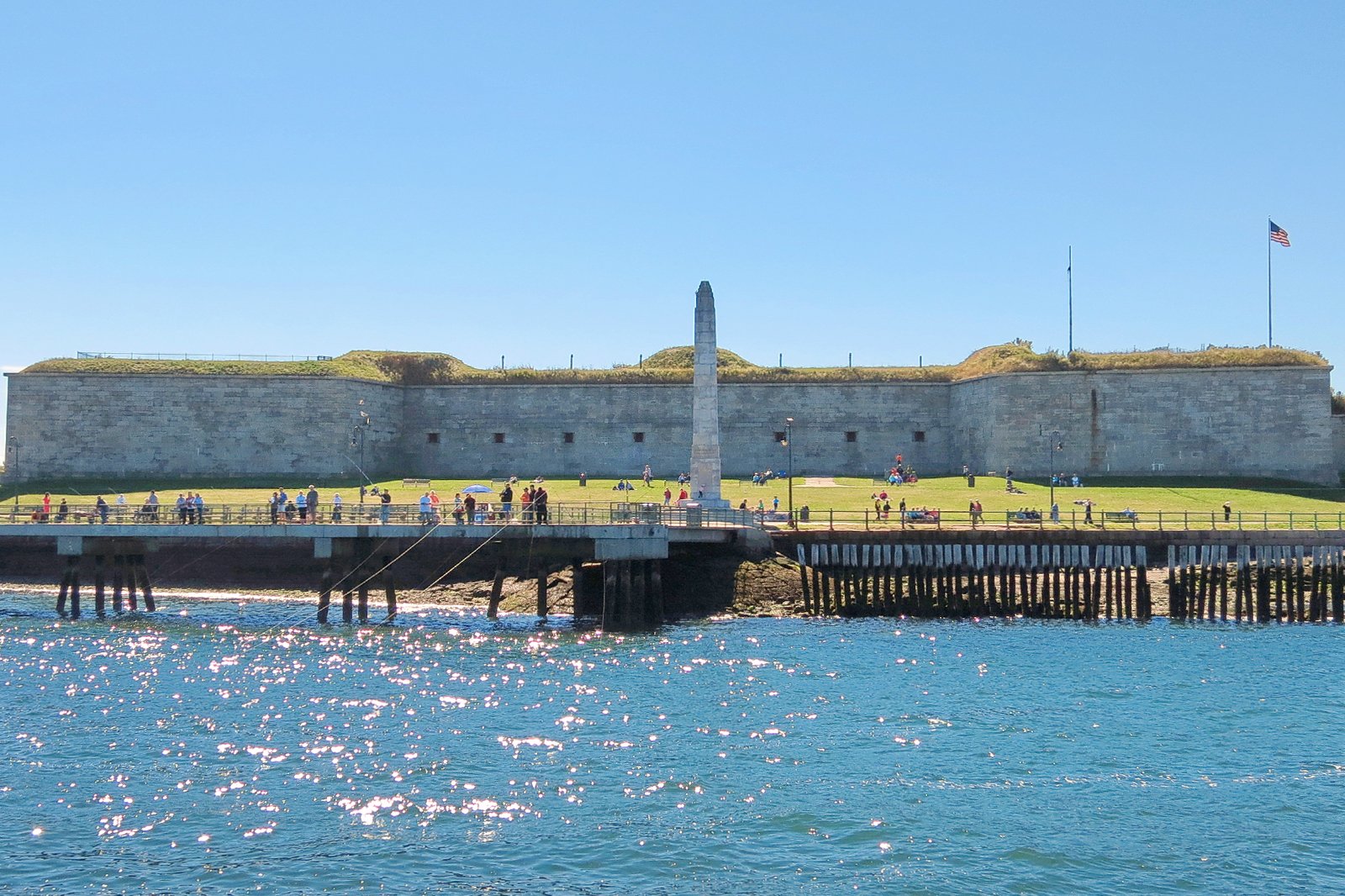 Relax on the beach at Castle Island
Boston's island getaway
Castle Island is loved by locals and tourists, who flock here in the spring and summer months to enjoy the sunshine and lie on the beach. This 22-acre waterfront park is slightly off the beaten path in South Boston, but it's definitely worth the visit, with plenty of open green space, the popular Pleasure Bay Beach and free tours of Fort Independence. Airplane-lovers can spend hours watching plane after plane taking off from Logan Airport. The beach, which lies right on the shore of the harbor, is often frequented by windsurfers during the summer. A must-do is the 2-mile loop from Castle Island to Head Island and around Pleasure Bay, where you'll find stunning city vistas. Pop into Sully's snack shop to try Boston's famous fried clams.
Location: 2010 William J Day Boulevard, Boston, MA 02127, USA
Open: Daily 6.30am to 7pm
Phone: +1 617-727-5290
Couples
Families
History
Photo
Budget
photo by Robert Linsdell (CC BY 2.0) modified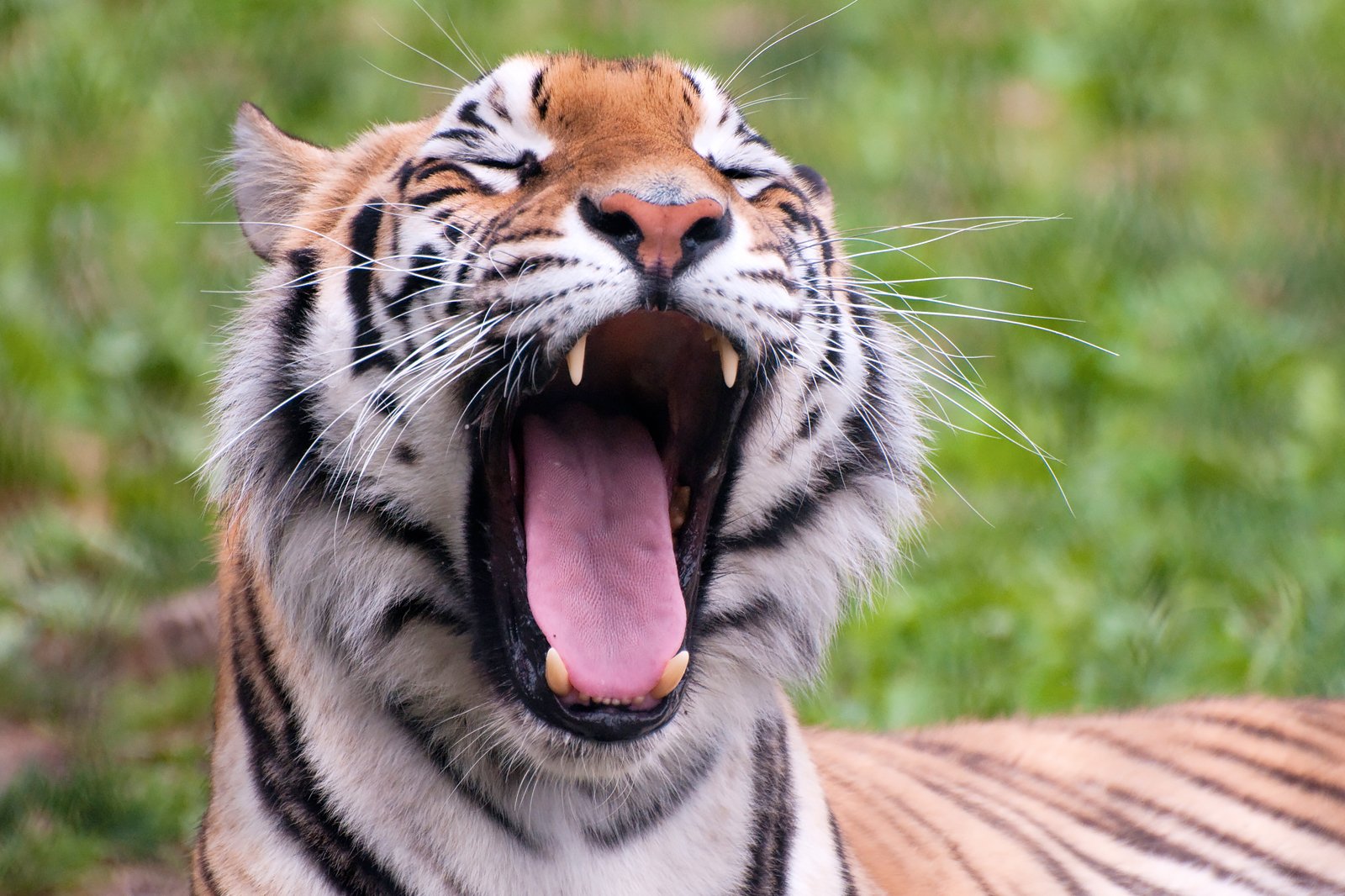 Franklin Park and Zoo
Get up close and personal with some of your favorite animals
Franklin Park and Zoo both offer facilities that will keep the kids busy for days on end. Franklin Park boasts natural beauty and a plethora of playground options. Older kids can scale walls at the El Parquecito de Hermandad, where there is rock climbing as well as zipper lining and water play. Meanwhile, younger kids can spend their time at the Tiffany Moore playground area. The Franklin Zoo is worth visiting at any time of year as staff maintain the facilities superbly throughout all seasons. An interactive exhibit named Nature's Neighborhood immerses you and your family in a world of nature and adventure, letting your imaginations run wild. To top it off, the zoo also features a 10,000 sq ft playground for children to go crazy in.
Location: 1 Franklin Park Road, Boston, MA 02121, USA
Open: Monday – Friday from 10am to 5pm, Saturday – Sunday from 1am to 6pm
Phone: +1 617-541-5466
photo by Eric Kilb (CC BY-SA 2.0) modified
Boston Seasons at City Hall Plaza
An outdoor getaway in the city
Boston Seasons at City Hall Plaza is decked with a series of custom patios and pavilions adorned with quaint fairy lights and rows of green shrubbery. Upon these patios, you can find beer gardens, a mobile library, ice cream stalls, a miniature golf course and even stalls that allow you to play with puppies. The Plaza is a lovely place to visit if parents want to relax while not worrying if their kids are having fun – because they almost certainly are! Food trucks offer delicious food and rotate every day. Boston Seasons is a seasonal marketplace that functions throughout the spring and summer months. Check the website for more details on dates, as well as food information.
Location: One City Hall Plaza, Boston, MA 02114, USA
Open: Monday – Thursday and Sundays from 11am to 9pm, Friday – Saturday from 11am to 10pm
Phone: +1 617-635-4500