10 Family Activities in Myrtle Beach
What To Do in Myrtle Beach with Kids
Myrtle Beach is an awesome vacation retreat for families, with miles of Atlantic shoreline to discover and loads of fun stuff to do. Explore the Grand Strand's wide sandy beaches and wild coastal beauty. Spend hours roaming the beachside arcades and amusement parks. Soar through the sky on a sling-shot ride or take a splashy waterslide trip. Reignite your sense of wonder with immersive science exhibits and up-close encounters with marine life.
Whether you're seeking new adventures or a relaxing vacation escape with your loved ones, you'll find plenty of family-friendly activities at Myrtle Beach.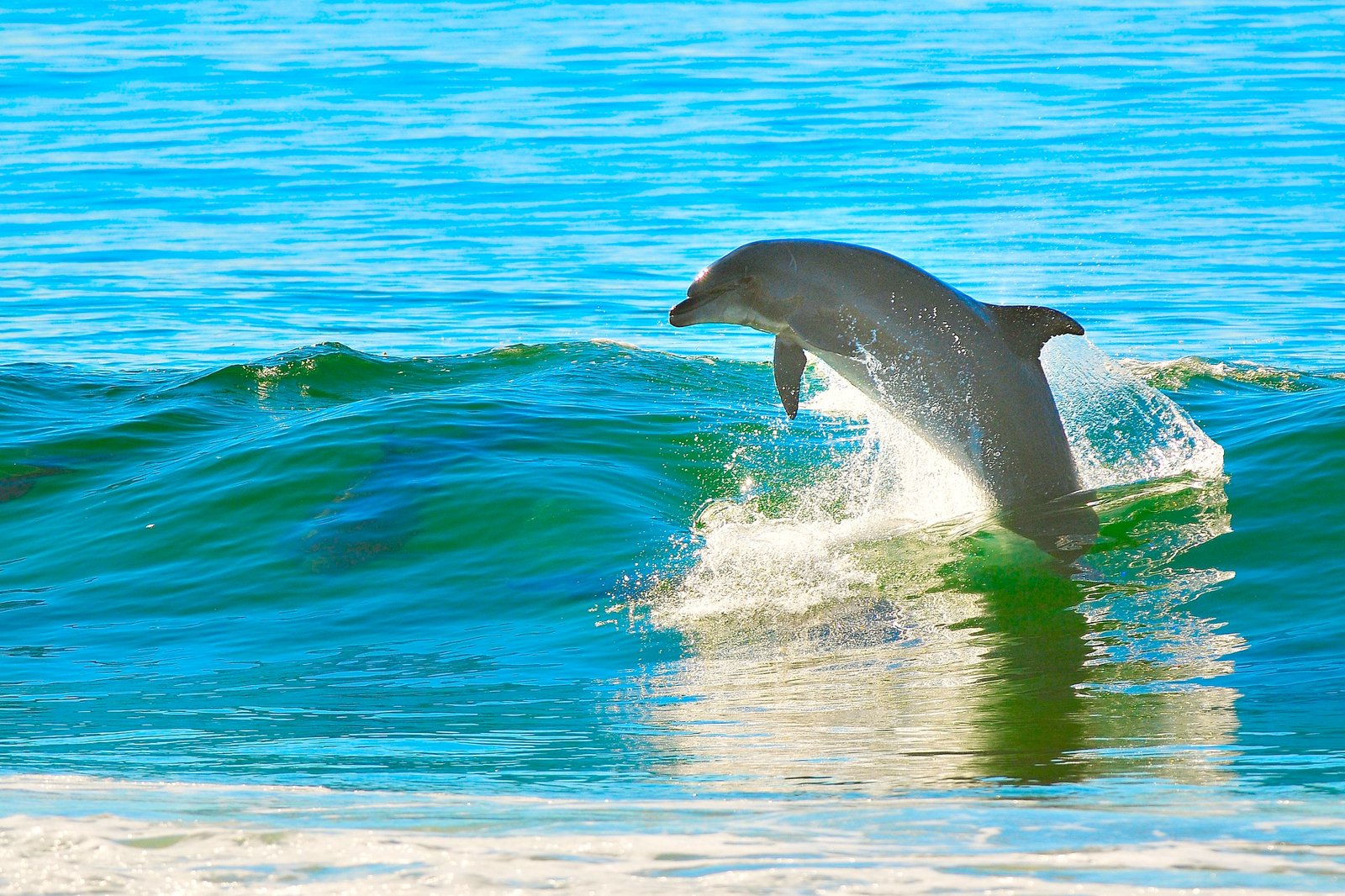 Couples
Families
Adventure
Photo
Luxury
Who doesn't love dolphins? These feisty sea mammals are always fun to watch, especially when they're swimming free in their ocean home. Hop aboard a boat cruise at Murrells Inlet to see not only wild dolphins, but sea turtles and a rich variety of birds and marine life.
You'll learn more about the area's history and environment with expert narration as you glide through the inlet and out to sea. Or you could try dolphin-sighting by kayak on a leisurely paddle through the salt marshes.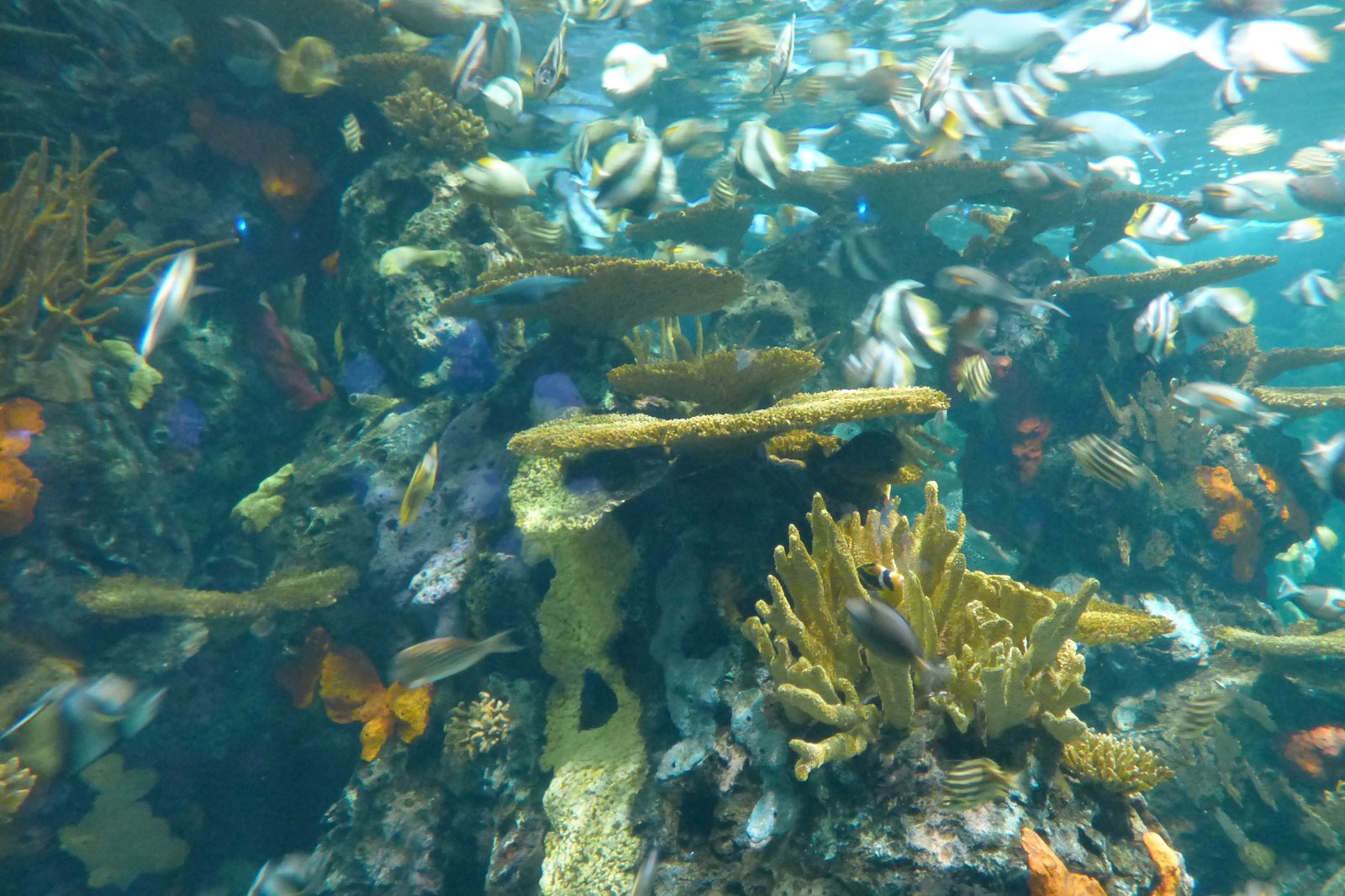 Spend an afternoon wandering through the aquatic tunnels and marine exhibits at Ripley's Aquarium for an up-close look at marine life from around the world. Greet "Nemo" clownfish of the Indo-Pacific, then head over to the Amazon area to check out the fearsome chompers of the piranhas.
For some added adventure, try swimming with the stingrays or riding the glass-bottom boat surrounded by thousands of colorful fish, sharks and turtles. You could even jump in with the sharks, if you're a certified diver (and gutsy!). Some of the more immersive experiences cost extra and require advance booking.
Location: 1110 Celebrity Circle, Myrtle Beach, South Carolina, USA
Open: Monday–Saturday from 9 am to 9 pm. Sunday from 9 am to 7 pm
Phone: +1 843 916 0888
photo by MusikAnimal (CC BY-SA 4.0) modified
3
Go for a heart-racing roller coaster ride
Release your inner thrillseeker on the roller coasters, waterslides and gravity-defying rides at a Myrtle Beach amusement park. Set on the seaside at Ocean Boulevard, Family Kingdom Amusement Park offers 38 rides including the Swamp Fox wooden roller coaster and the Slingshot with its 35-meter freefall drop.
Find some waterslide and lazy river action at Splashes water park nearby or take a spin on the SkyWheel, a beachside landmark that's exciting to ride any time of year. Visit Pavilion Park for some old-timey fun on rides like the restored 1905 carousel with hand-carved wooden animals.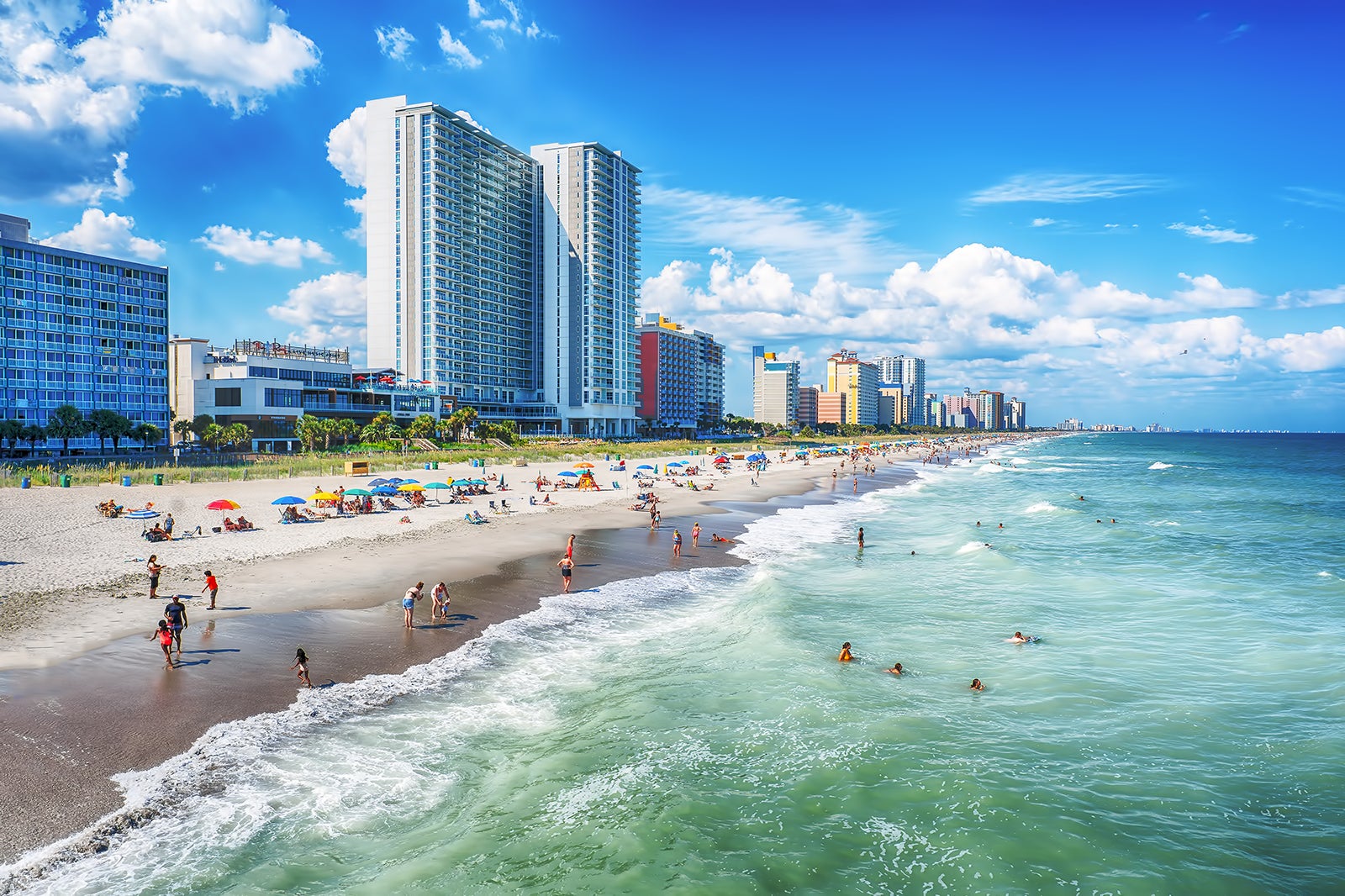 Stretching up the South Carolina coast for 100 kilometers, the Grand Strand is a beach lover's dream. Bring or rent chairs and umbrellas to set the family up for a day of sun-basking and sea swims.
Run barefoot across the powder-soft sands and let the wee ones splash in the shallows or catch waves with their boogie boards. Don't forget to pack buckets and spades for some sandcastle building. Find a section of sand in the heart of Myrtle Beach for easy access to all its entertainment, shopping and dining spots. For a quieter beach outing, head to Myrtle Beach State Park or Litchfield Beach.
5
Spark your imagination at Wonderworks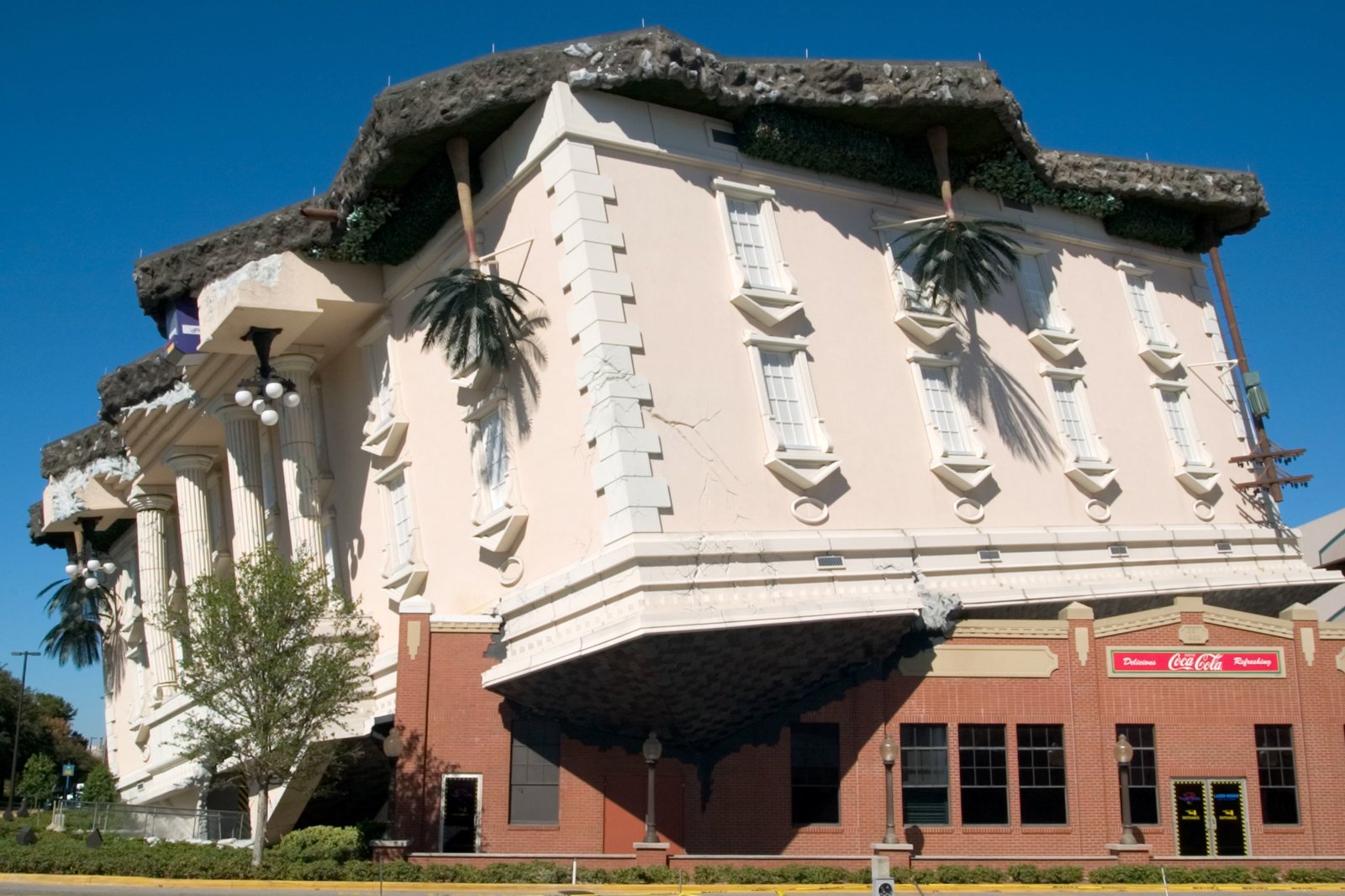 Both the body and mind get a good workout at WonderWorks, with its captivating hands-on science exhibits and active adventures including a glow-in-the-dark ropes course and laser tag. Try being an astronaut for the day in the Space Discovery section or experience the extreme force of a hurricane (without the dangers) in the Natural Disasters zone. Step into the 6D theatre for some awe-inspiring virtual action or fly for an exciting 300 meters over the water on the zipline course. It's a great place for a rainy day or if you're needing a break from the summer heat.
Location: 1313 Celebrity Circle, Myrtle Beach, South Carolina, USA
Open: Sunday–Thursday from 10 am to 8.30 pm, Friday and Saturday from 10 am to 9.30 pm
Phone: +1 843 626 9962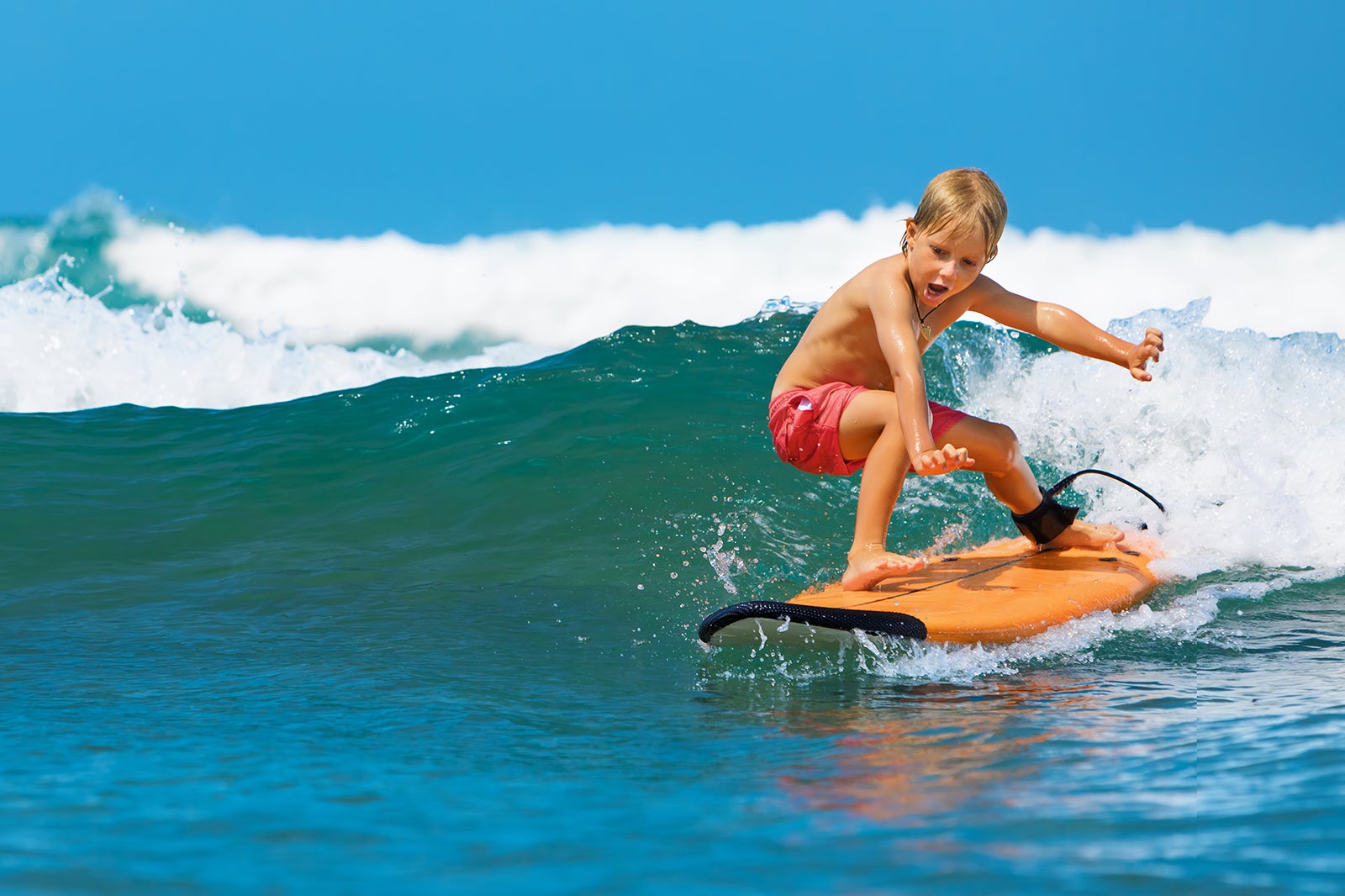 Though Myrtle Beach isn't a top surfing destination like California or Hawaii, it's still a fun place to ride the waves. If you don't have your own gear, find rental boards at several surf shops including Surf City, Surf the Earth in Pawleys Island or Village Surf Shop in Garden City.
Don't worry if you're a newbie surfer as most surf shops also offer classes, or you could check out Kokopelli Surf Camp for lessons and tours. With some restrictions on where and when you can surf during the summer months, be sure to check the local rules before heading out.
7
Watch epic jousting battles at Medieval Times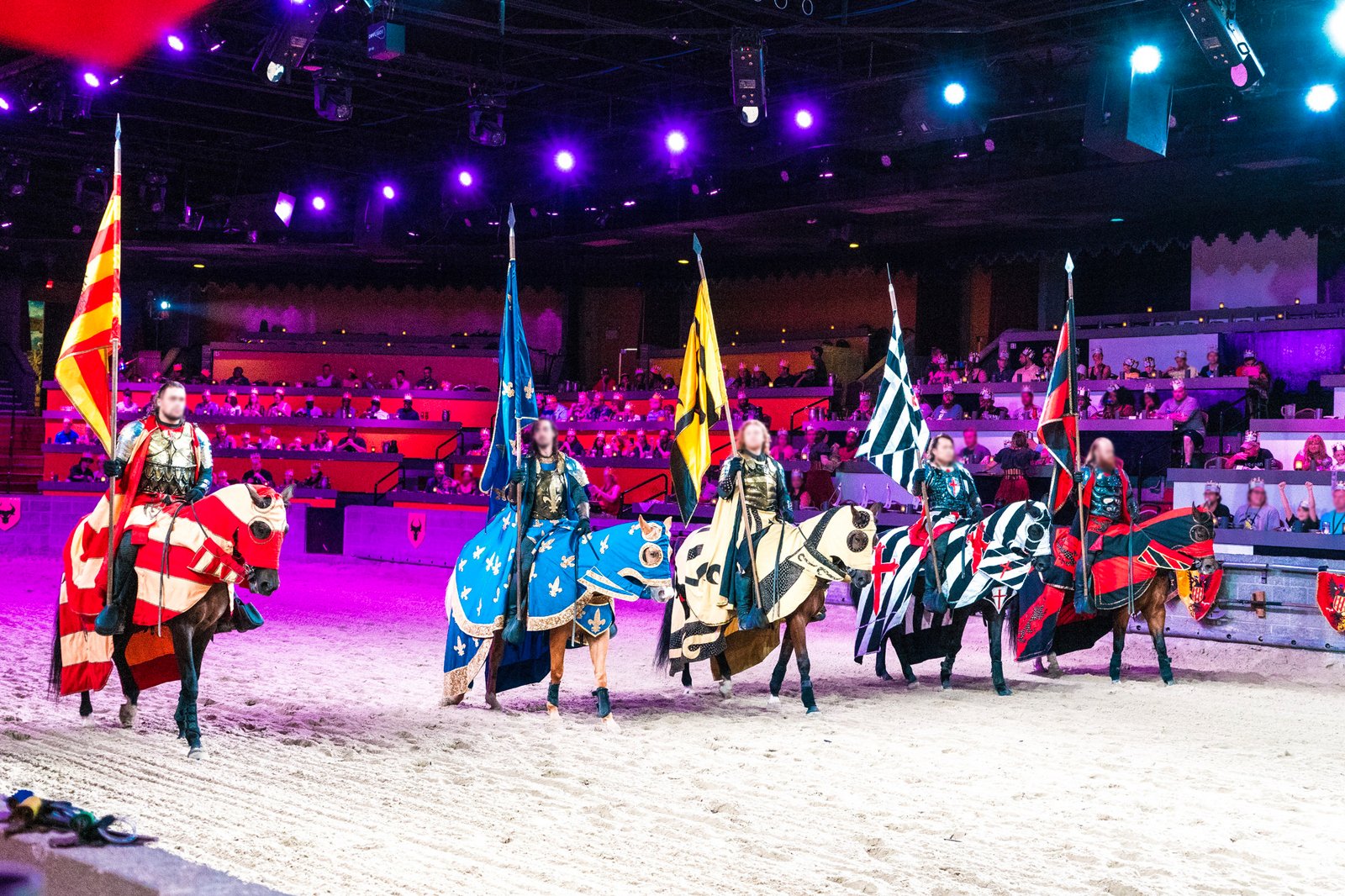 Get transported back to a time of warring ancient kingdoms at this medieval themed dinner theatre. Designed to resemble an 11th century Spanish castle, Medieval Times gives you a live-action view of the pageantry and exhilaration of brave knights in battle. Watch as knights clang and crash their way through epic one-on-one swordfights, and charge at each other on horseback in jousting matches.
Show tickets cost about $56 and include a 4-course meal fit for a gluttonous king, with discounts for kids aged 12 and under. If it's a special occasion, check for group packages with VIP seating and other extras.
Location: 2904 Fantasy Way, Myrtle Beach, South Carolina, USA
Open: Showtimes Monday–Saturday at 6 pm, Sunday at 5 pm
Phone: +1 843 236 4635
photo by Sergey Galyonkin (CC BY-SA 2.0) modified
8
Get your sweet fix at I Love Sugar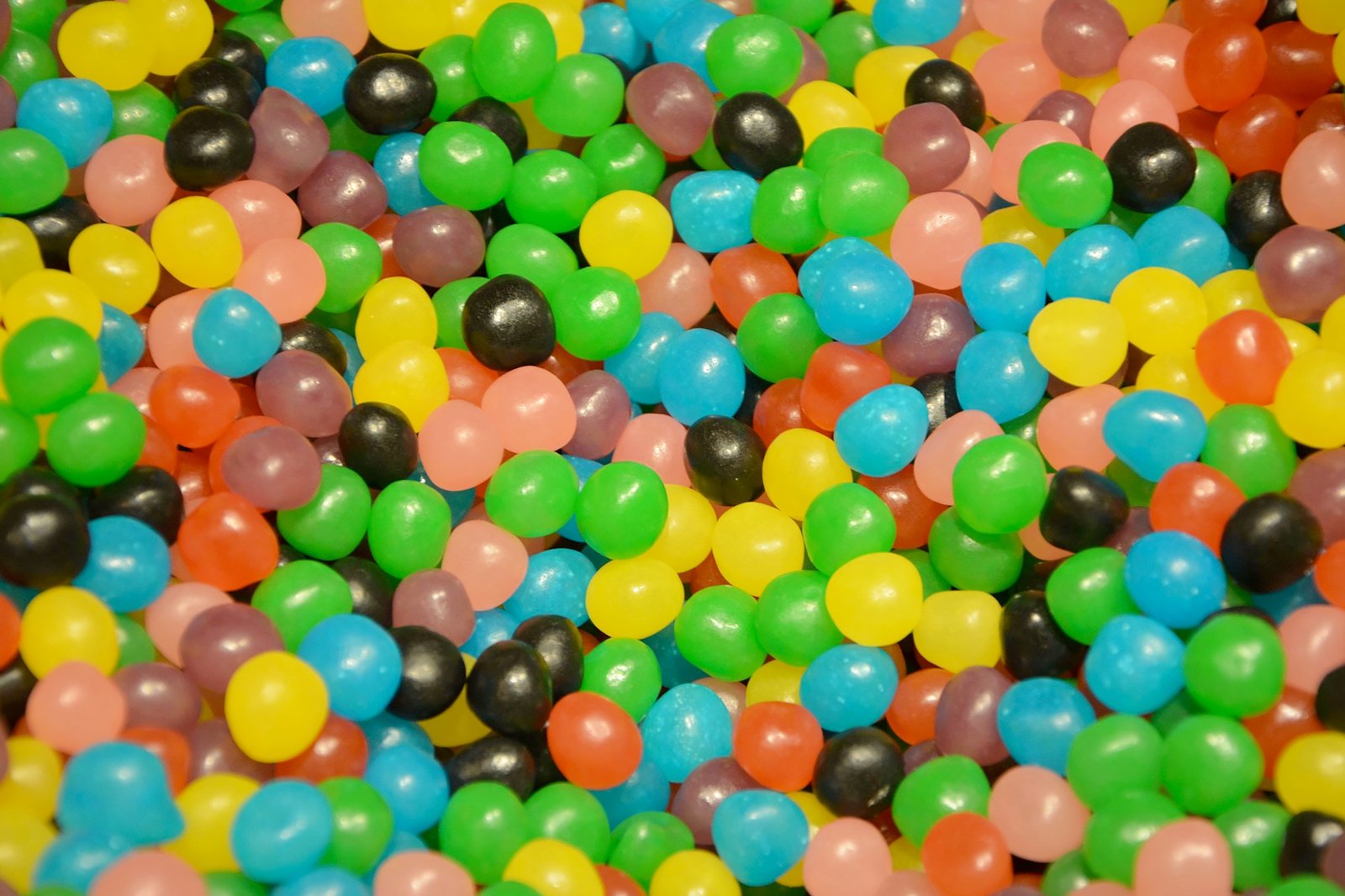 Unlike Charlie in the Willy Wonka books, you don't need to wait for a golden ticket to enter a fantasy world of candy and chocolate at Myrtle Beach. Just step inside the I Love Sugar shop and choose from a mind-boggling selection of sweet indulgences. Satisfy all your sugar cravings with gelato, jelly beans, lollypops, jawbreakers, and even the world's largest gummy bears in a rainbow of fruity flavors. Set in a bright two-floor shop, it's a fun place to linger and look around even if you don't want to sugar up.
Location: 919 North Ocean Blvd, Myrtle Beach, South Carolina, USA
Open: Sunday–Thursday from 10 am to 9 pm, Friday and Saturday from 10 am to 11 pm
Phone: +1 843 712 1740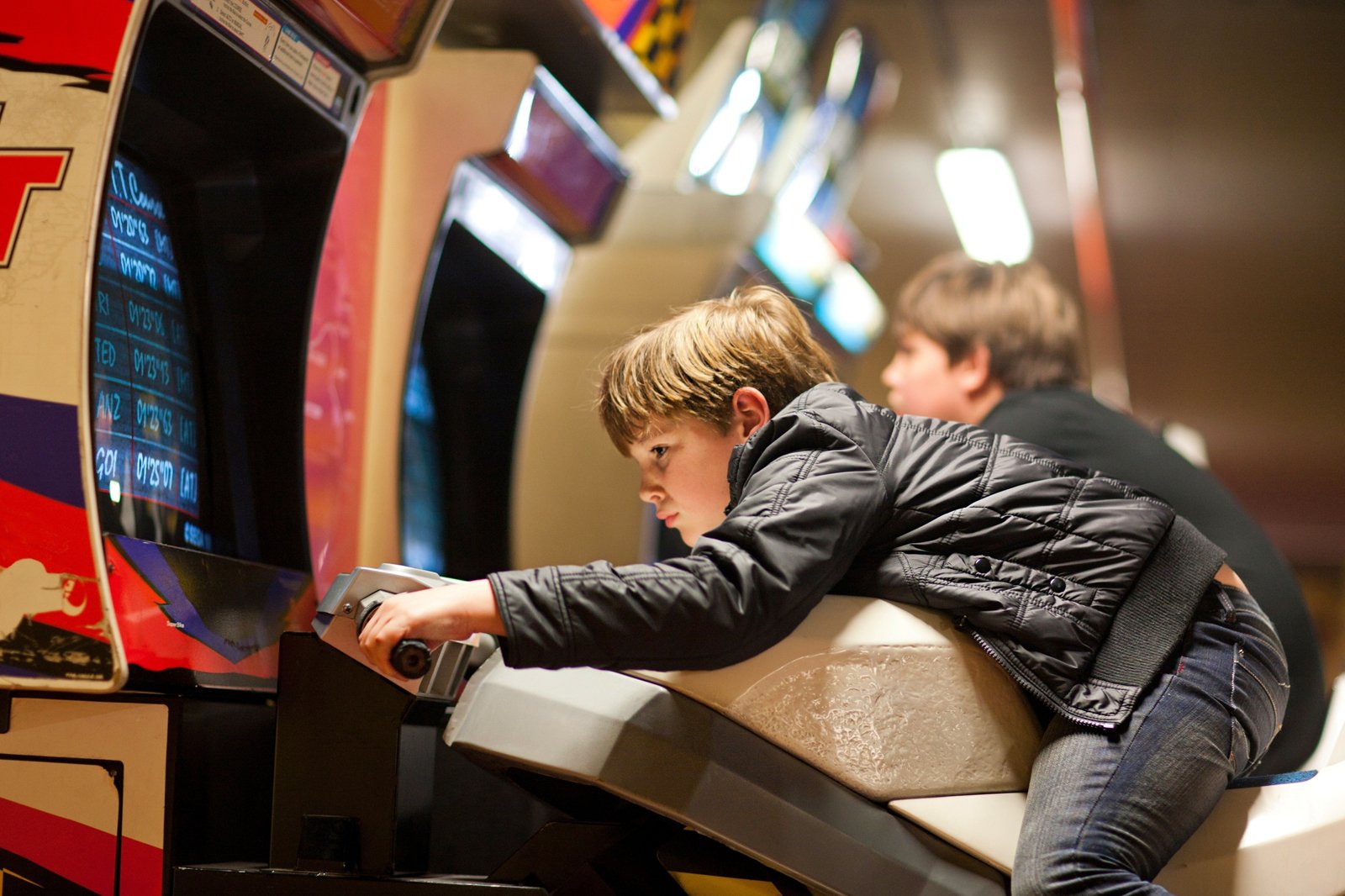 Before the days of PlayStations and Twitch tournaments, kids had to find their way to arcades for some gaming action. The arcades of Myrtle Beach bring this pre-Xbox era back to life with retro games like pinball and Pac-Man to play amidst a clamor of bells and flashing neon lights.
Fun Plaza on Ocean Boulevard is a beloved old-school arcade, while the huge arcade attached to Dave & Buster's restaurant offers more cutting-edge games. Play while browsing for souvenirs at the popular Gay Dolphin shop arcade, and be sure to fuel up on corn dogs and snow cones for the full beachside arcade experience.
10
Try horseback riding on the beach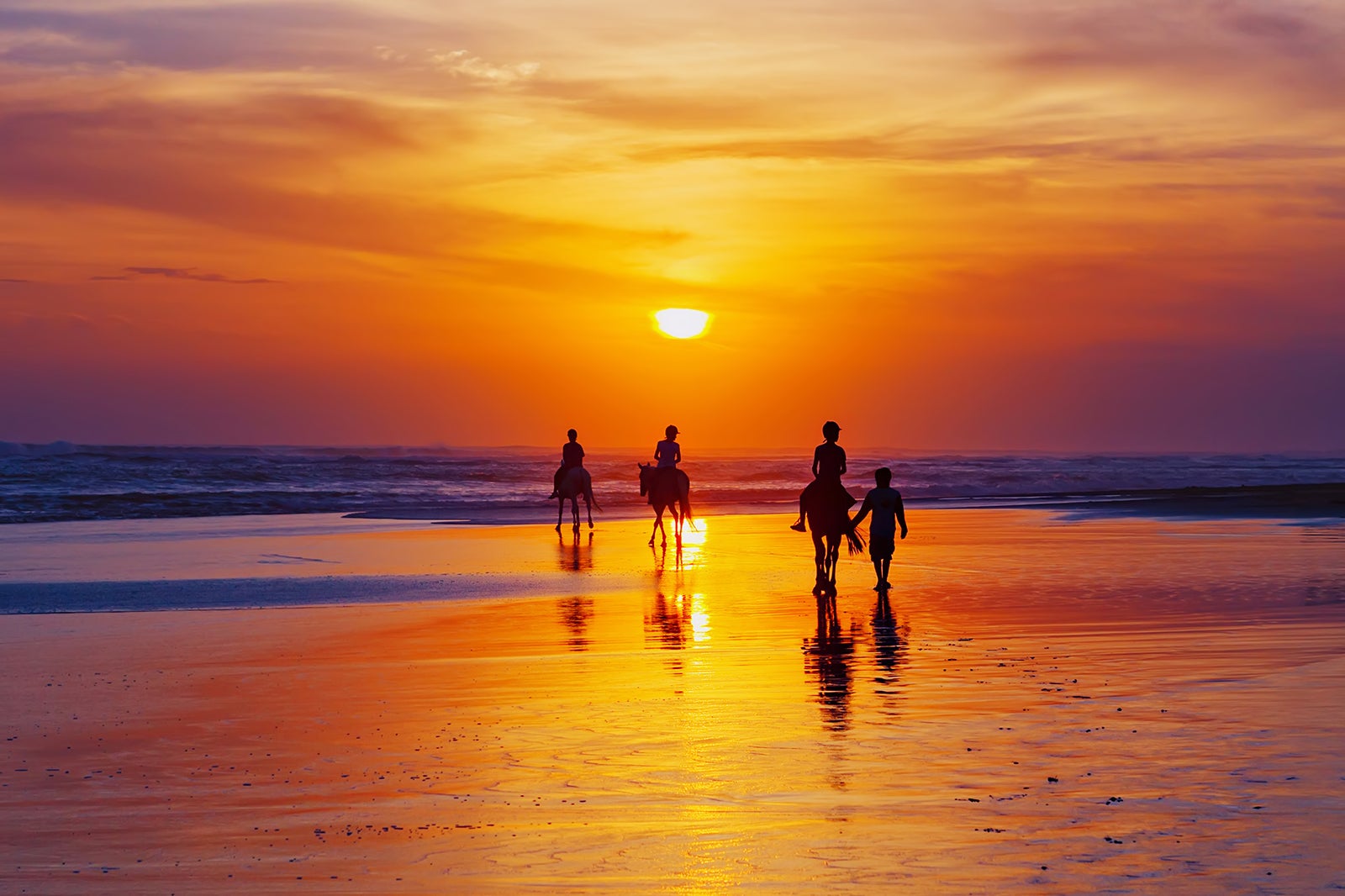 Gallop along the soft sands of Grand Strand on this scenic horseback riding tour at Inlet Point Plantation. This former plantation covers thousands of acres of land with a private beachfront and trails that lead through pristine wilderness. Riders are paired with horses to suit their age, size and skill level, so there's no need to skip the tour even if you've never ridden a horse before. Younger kids will love the pony rides around the pecan grove. Through the muggy summer months, try to book a morning tour when it's cooler.
Location: 5800 Little River Neck Road, North Myrtle Beach, South Carolina, USA
Open: Monday–Saturday (tours by appointment)
Phone: +1 843 249-2989
Back to top