Destin Travel Essentials
Useful Information to Help You Start Your Trip to Destin
Our Destin Travel Essentials lays out the essential information you need to help you plan your trip to one of the most popular destinations in Florida, USA. No matter how frequently you travel, some questions will always need answers: What's the weather like? How can I get from Destin-Fort Walton Beach Airport to my hotel? What currency and type of plug do I need?
We have all these answers plus other basic info about the best time to go, getting there, getting around, and a few useful travel tips. You'll also learn about the most popular landmarks in Destin, such as the Destin Harbor Boardwalk, the Indian Temple Mound Museum, and The Wesley House at Eden Gardens State Park. It's all compiled in this Destin Travel Essentials. After going through this short and easy-to-read guide, you'll be a little more prepared to start your trip to Destin.
1
When is the best time to travel to Destin?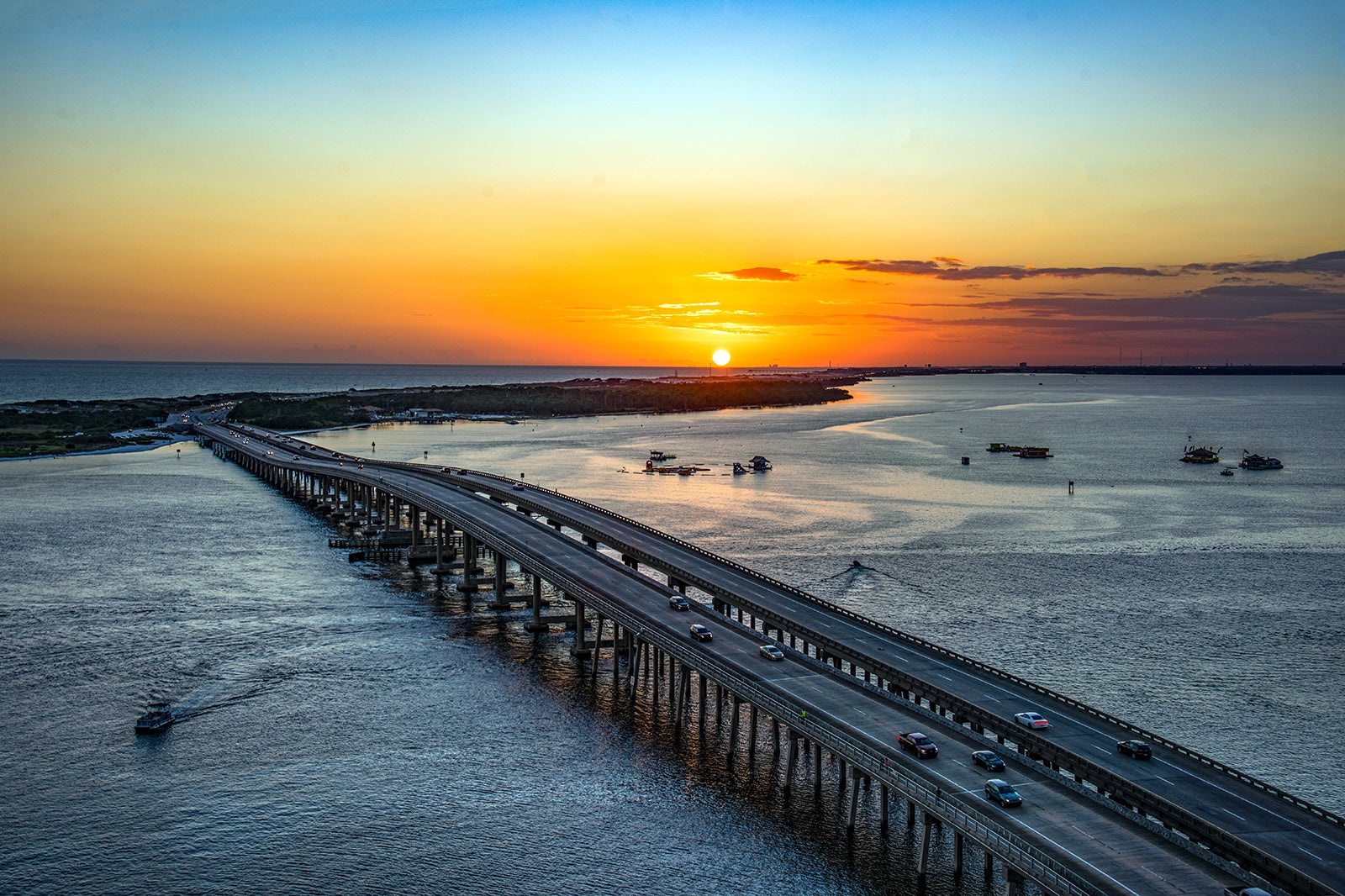 Located in Okaloosa County, northwest Florida, Destin has a humid tropical climate with warm, wet summers and mild winters. Average temperatures range between 53°F in winter and 83°F in summer.
The wettest time of the year is June–September with over 12 rainy days per month. You can expect between 6 and 10 rainy days per month for the rest of the year.
May–October is the warmest period of the year. July is the hottest month with average temperatures of around 90°F.
The peak tourist season is in summer, from June to August. Expect higher hotel rates and crowded attractions at this time of the year.
The best times to visit Destin are in spring, April–May, and autumn, September–October. Its when the weather and temperature are pleasant and the beach resorts are less busy. You can also find better hotel offers around these times.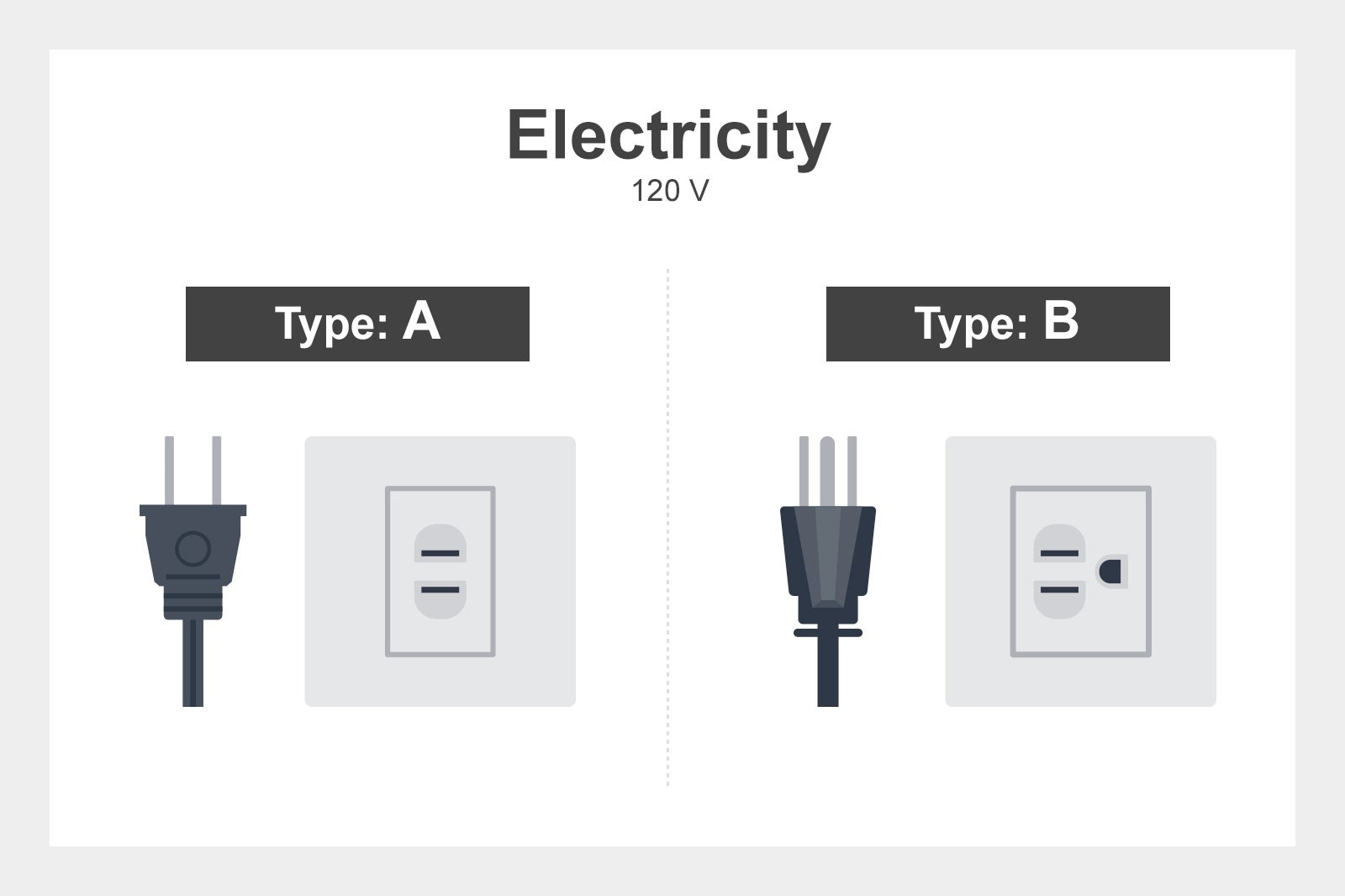 Plug type: A and B
Electricity: 120 V
Currency: United States Dollar (U.S.$)
International dialing code: +1 850
Emergency telephone number: 911
3
How to get to my hotel in Destin?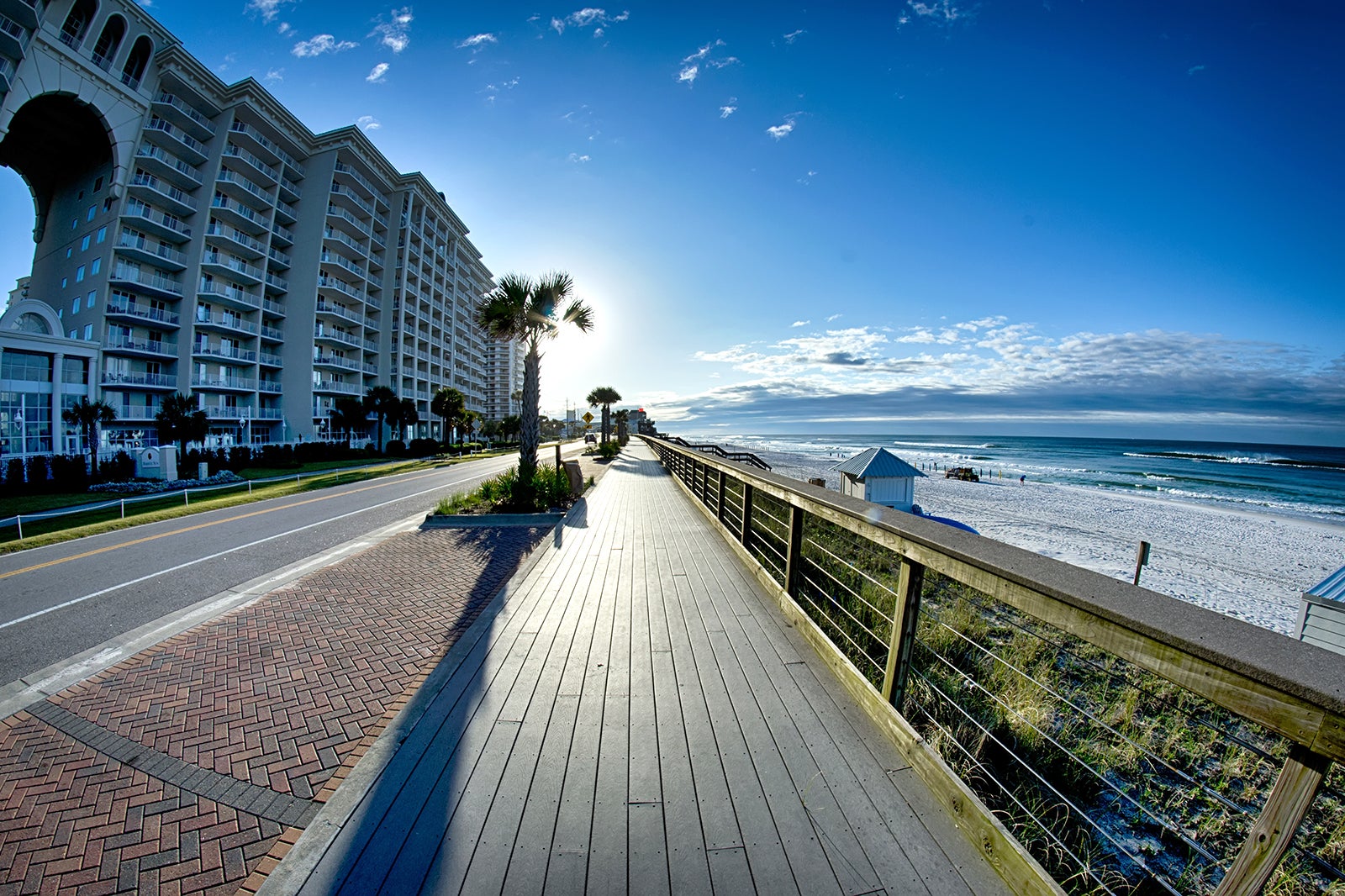 Destin-Fort Walton Beach Airport is the main arrival hub for Destin. It's connected to a handful of major American airports by flights from American Airlines, Delta Air Lines, and United Express, among others. The Pensacola International Airport (PNS) and the Northwest Florida Beaches International Airport (ECP) also serve the area but are located further afield.
If you're on a budget or want to travel through the States at a gentler pace, you can get to Fort Walton Beach, 8 miles west of Destin, by Greyhound bus.
Destin-Fort Walton Beach Airport (VPS)
Destin-Fort Walton Beach Airport (VPS) is 8 miles north-northwest of downtown Destin, as the crow flies. It's a regional airport with 2 runways and 1 terminal. It serves the major beach resorts of Okaloosa County, including Destin, Fort Walton Beach, Ocean City, Valparaiso, and Santa Rosa island.
Complimentary Wi-Fi is available throughout the airport. Ground transportation options to get to your hotel are as follows:
Over 30 taxi cab companies, towncar, shuttle, and motorcoach services are available at the airport. You'll find them after exiting baggage claim.
The Uber and Lyft pick-up neighborhoods are outside baggage claim, at the west end of the terminal.
Automobile rental companies are located in the baggage claim lobby, on the lower level of the terminal.
No public transportation is available at Destin-Fort Walton Beach Airport.
Fort Walton Beach Greyhound Station
The closest Greyhound bus station to Destin is on Miracle Strip Parkway South West in Fort Walton Beach, 8 miles west of Destin city centre.
The Greyhound Station is served by the Emerald Coast (EC) Rider public bus network. You can reach Destin on a Route 20 bus with a change to a Route 30 bus at Wayside Park, Okaloosa Island. Besides this convenient and very affordable option, you can also get to Destin by taxi cab or rideshare.
4
How to get around Destin?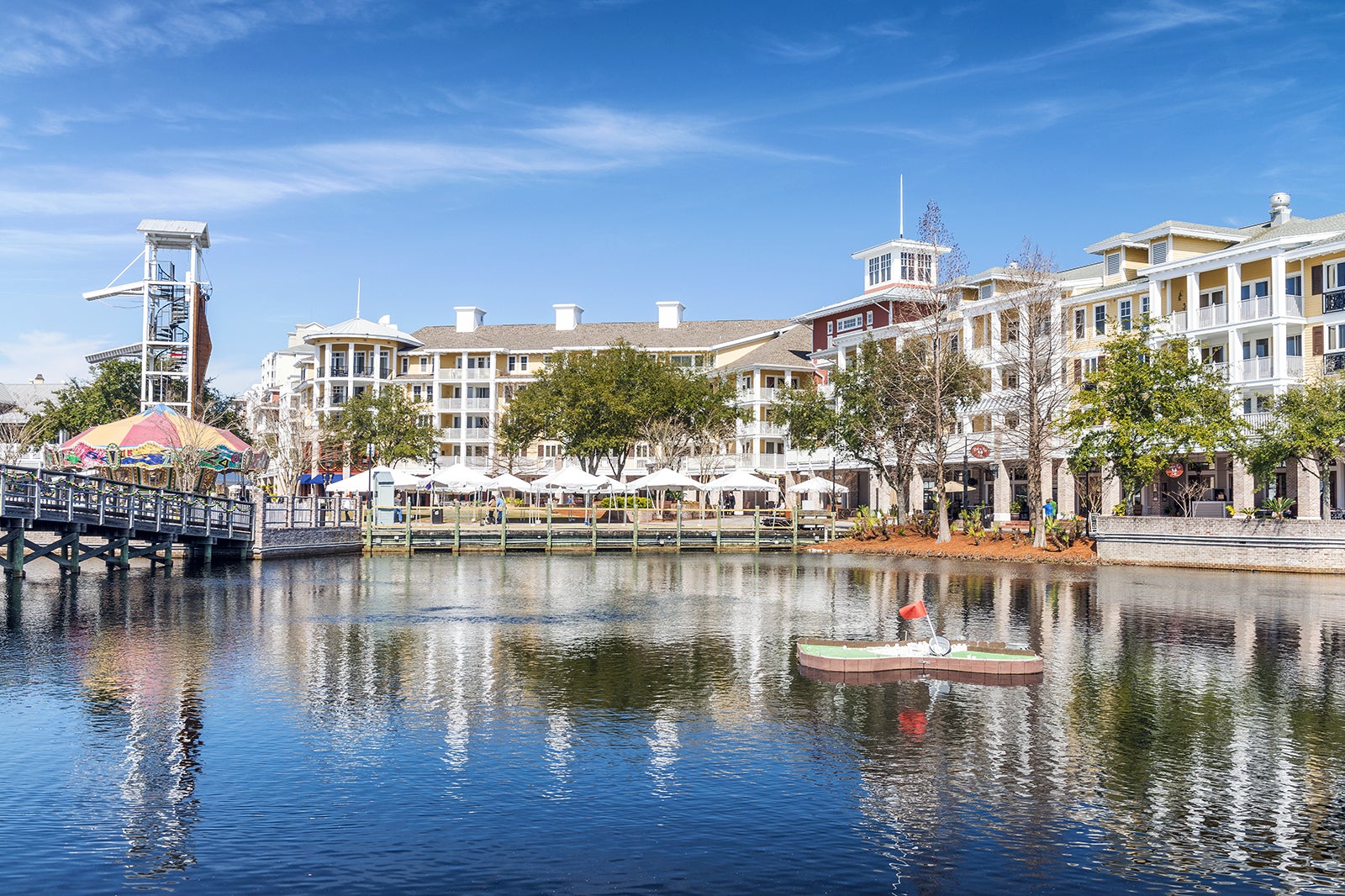 Travel tips
Downtown Destin is easily walkable, not least because it's mostly clustered around the Harbor Boardwalk. Here, you'll find a lively scene with dining, shopping, and nightlife entertainment spots. However, you'll want to get around the rest of the area easily and comfortably for your beach-hopping vacation in Okaloosa County, which has no less than 13 beaches.
Cycling is a great option for short rides, but for longer distances, depending on your budget, preferences, and destination, you can get around Destin by hopping on the free trolley, by public bus, taxi cab, rideshare, or rental automobile.
Taking a taxi cab in Destin
From Destin Sunrise Taxi cab (+1 850-586-5694) to City Cab Destin (+1 850-376-9125), 654Taxi (+1 850-654-8294), and many more, you won't find it hard to get a taxi cab in Destin. You can find taxi cab lines in front of hotels and attractions.
Convenient yet rather expensive, getting around the city by taxicab is not your best option if you're on a budget, although a taxi cab ride may be your only option to get back to your hotel if you're a night owl. Note that tipping for taxi cabs in the States is usually 15–20% of the fare. Most taxi cab drivers accept payment by credit cards, though sometimes reluctantly.
Uber and Lyft are the 2 main ride-sharing apps used in Destin. Their rates are slightly cheaper than standard taxicabs.
Traveling by public transportation in Destin
Emerald Coast (EC) Rider is a public transportation company operating in Destin and Okaloosa County. It runs 10 bus routes within the county. Routes 30, 32, and 33 are especially popular with visitors as they go along U.S. Route 98 – the Emerald Coast Parkway. Most attractions and beaches are along these bus routes.
From single-ride tickets to all-day passes, monthly passes and more, there's a good range of ticketing options available. Tickets and passes can be purchased at the EC Rider office (600 Transit Way in Fort Walton Beach) or onboard the buses from the driver. Note that all buses have a bike rack. Check out their website for further info.
A free trolley service known as the Island Shuttle is also available during the summer months. It's run by the Okaloosa County Tourist Development Council. It's connected to the EC Rider Route 30 and goes along the length of Santa Rosa Boulevard on Okaloosa Island.
Renting a automobile in Destin
Renting and driving a automobile is a favorable way of exploring Destin and Okaloosa County. It's certainly more expensive than public transportation, yet it gives you the freedom to go anywhere whenever you want.
Foreigners can use their standard driver's license for up to 1 month in Florida. Expect traffic to be congested during the peak season, especially on the weekends. Off U.S. Route 98, an internet-enabled mobile phone with online map apps is your best friend for finding your way.
Cycling around Destin
Cycling is a pleasant and healthy way of exploring Destin. Popular scenic rides include U.S. Route 98, which has a dedicated bike and pedestrian path on the north side of the roadway that stretches for 5 miles east of Henderson Beach State Park. To the west, you can also reach Fort Walton Beach from Destin on the same highway. If you're a serious rider, the nearby Walton County is home to over 200 miles of cycling trails.
You can hire a bike at rental companies like Rent Gear Here (+1 850-502-5984), Sweet Escape Rentals (+1 850-585-4160), and Telluride Sports (+1 850-217-6092), just to name a few.
5
What are the main annual events in Destin?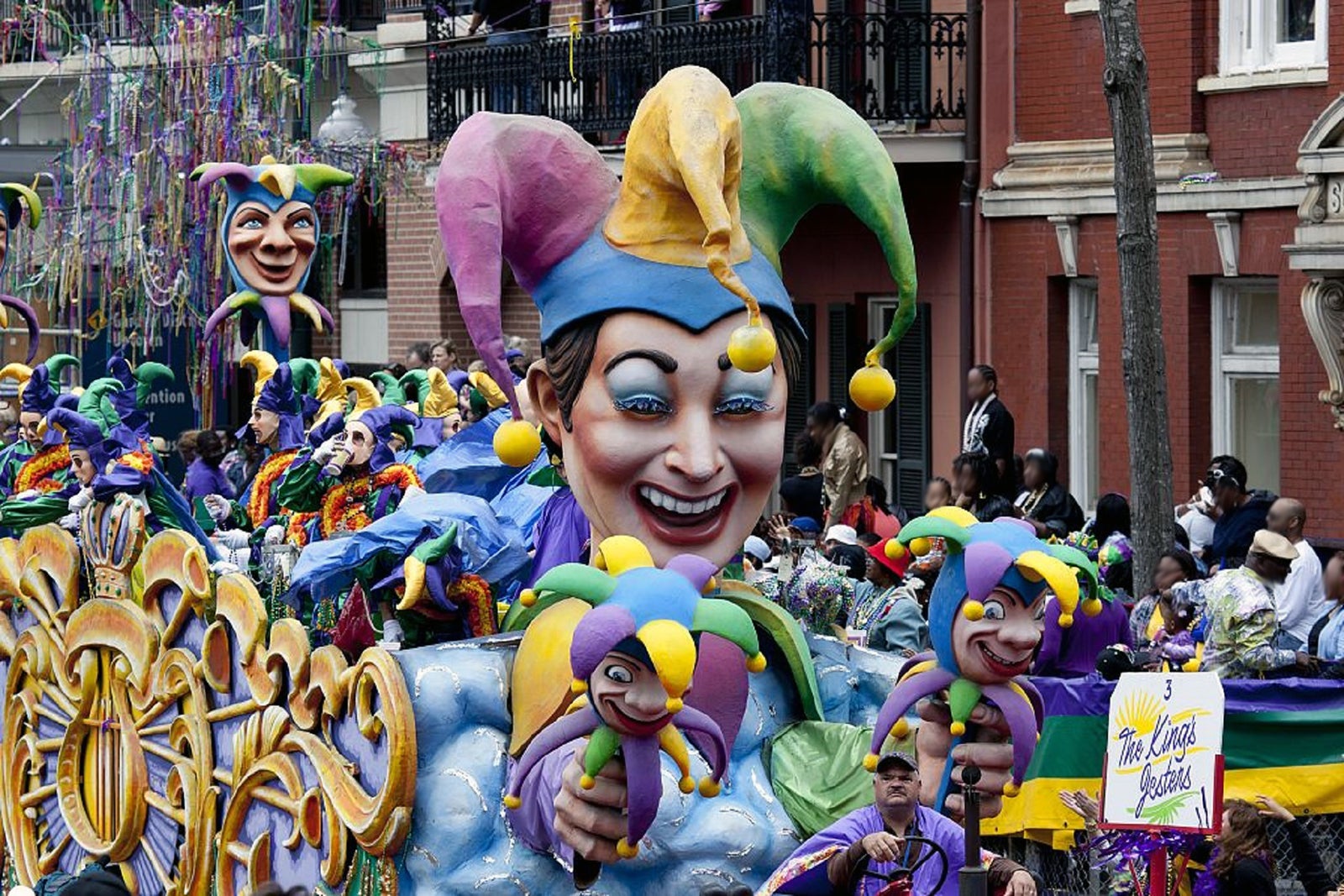 Fat Tuesday Parades
Every Tuesday in May–August
Destin's own version of Fat Tuesday, usually held in February or March. The parades are held from 7 pm to 11 pm every Tuesday, with live music, spectacular floats, and costumes.
Where: HarborWalk Village
Destin Seafood Festival
October
A celebration of the richness of the Gulf of Mexico, from seafood prepared by local vendors and restaurants to art and craft stalls and live music performances.
Where: Destin Harbor Boardwalk
Destin Harbor Boat Parade
December
A lighted boat parade celebrating Christmas. Held in the late afternoon, the parade ends with a fireworks show. Bars and restaurants lining the Destin Harbor Boardwalk offer pleasant places to end the day and watch the parade.
Where: Destin Harbor
6
What are the main landmarks in Destin?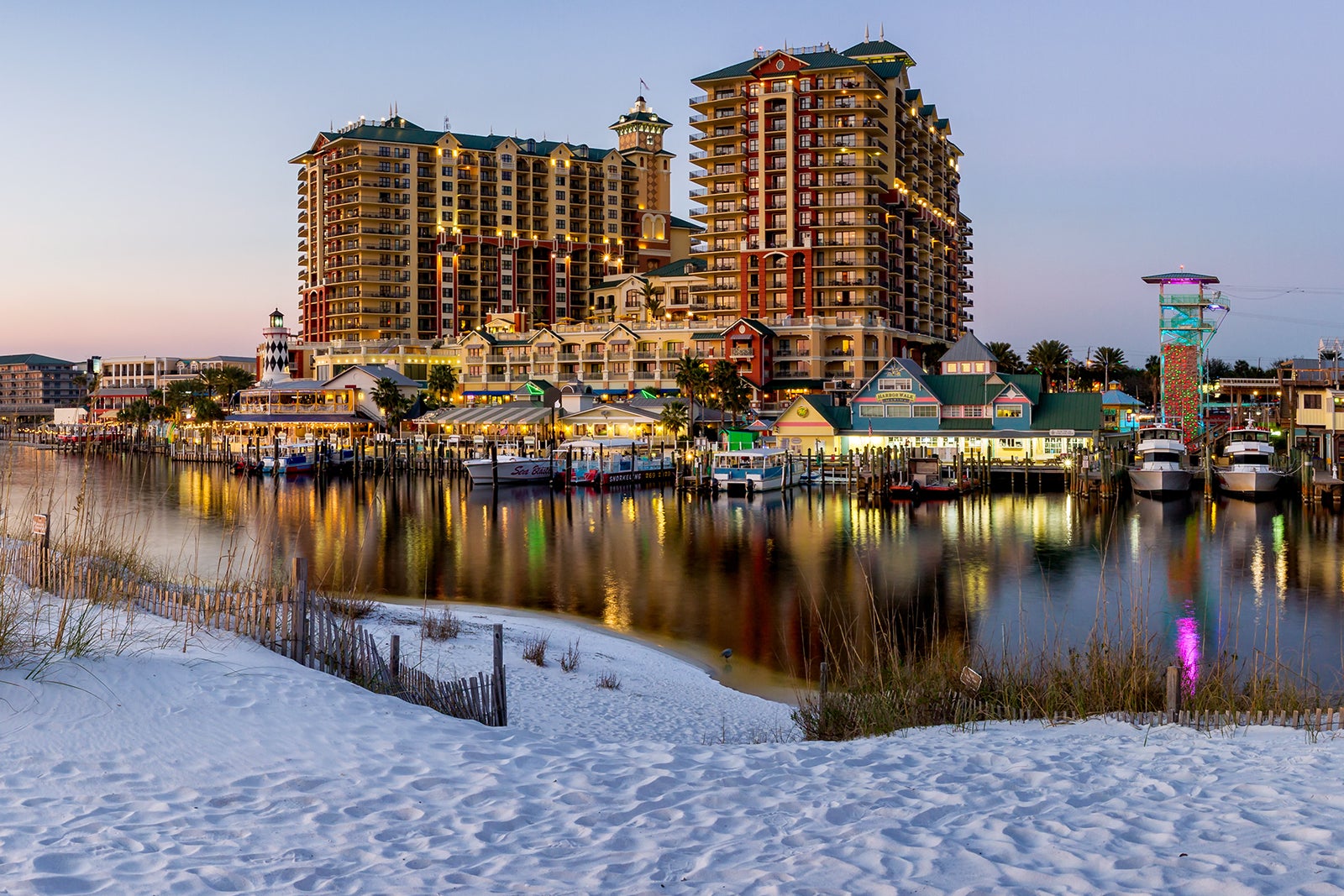 Destin Harbor Boardwalk
Running for almost a quarter of a mile along the harbourfront, the Boardwalk is lined with bars, restaurants, shops, and attractions. It's an all-day place to take in the Gulf of Mexico.
Indian Temple Mound Museum
Built next to a large mound that supported a temple used as the residence of the leader of the area's native inhabitants, this museum exhibits artifacts of the American Indian way of life.
The Wesley House at Eden Gardens State Park
The highlight of the Eden Gardens State Park, which is a well-preserved 2-storey mansion dating back to the late 18th century. It's especially famous for its French furnishing from the same period.
Civil War Exhibits
Part of The City of Fort Walton Beach Heritage Park and Cultural Center, these exhibits take you back into time through historical objects and information about this grim episode in North American history.
Back to top