Daytona Beach Travel Essentials
Useful Information to Help You Start Your Trip to Daytona Beach
Our Daytona Beach Travel Essentials lays out the essential information you need to help you plan your trip to one of the most popular destinations in Florida. No matter how frequently you travel, some questions will always need answers: What's the weather like? How can I get from Daytona Beach International Airport to my hotel? What currency and type of plug do I need?
We have all these answers plus other basic info about the best time to go, getting there, getting around, and a few useful travel tips. You'll also learn about the most popular landmarks in Daytona Beach such as the Daytona Beach Boardwalk and Pier, Daytona International Speedway, and the Ponce de Leon Inlet Lighthouse. It's all compiled in this Daytona Beach Travel Essentials. After going through this short and easy-to-read guide, you'll be a little more prepared to start your trip to Daytona Beach.
1
When is the best time to travel to Daytona Beach?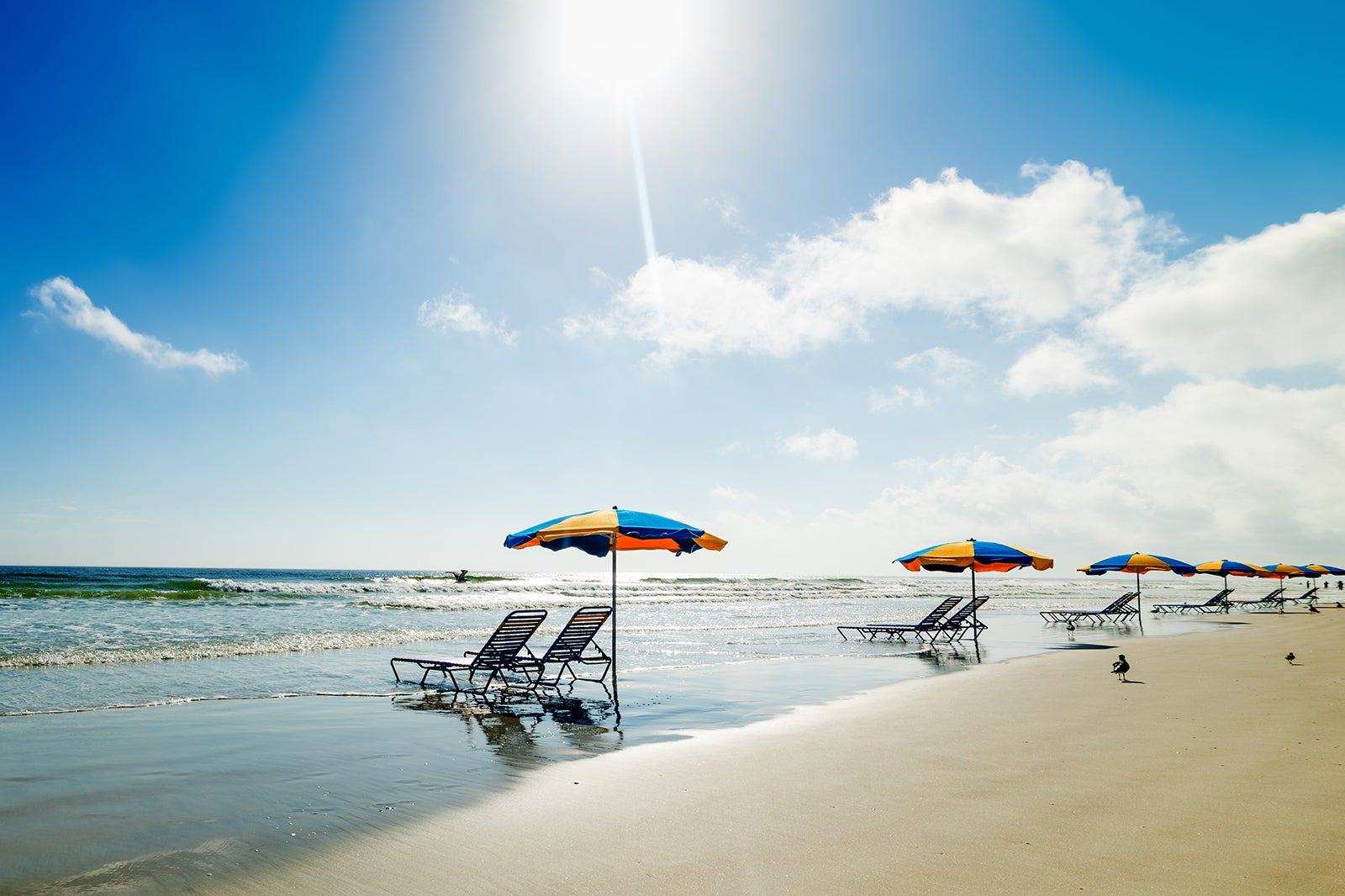 Daytona Beach's humid subtropical climate brings long and hot summers and cool and windy but short winters. Temperatures throughout the year vary from 50°F to 89°F.
It's wet year-round in Daytona Beach. The wettest month is September with about 13 days of rain. The driest month is April with only 5 rainy days.
The warmest time of the year in Daytona Beach is between late May through September, with July being the hottest month. The usual peak season for events and visitors is December–February, though it can also get quite crowded over Spring Break (March–April).
March to May is the best time of year to visit Daytona Beach. Though you might want to be there for the NASCAR Speedweeks before that, this period offers pleasant weather and lower, post-race season rates.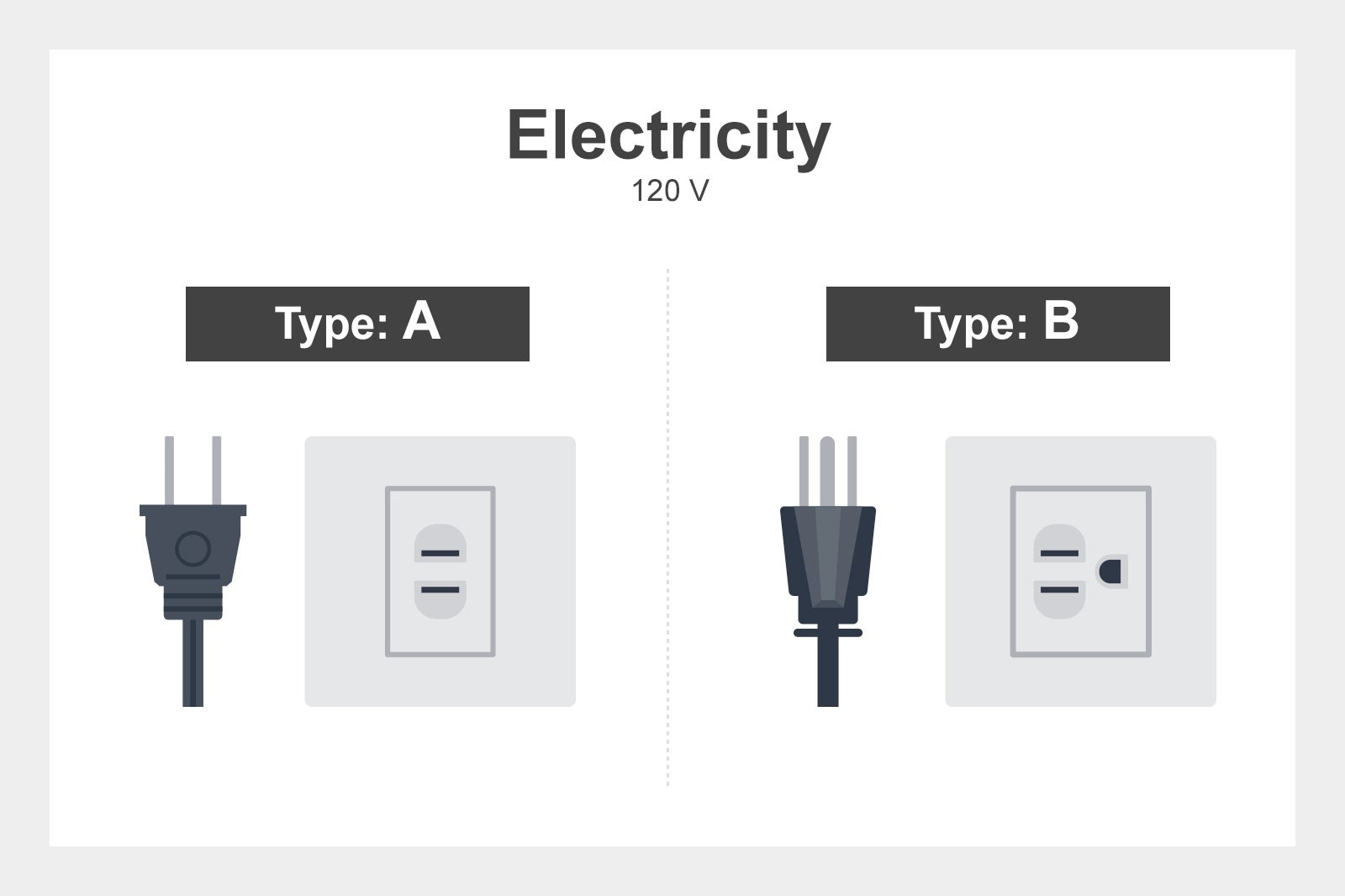 Plug type: A and B
Electricity: 120 V
Currency: United States Dollar (U.S.$)
International dialing code: +1 386
Emergency telephone number: 911
3
How to get to my hotel in Daytona Beach?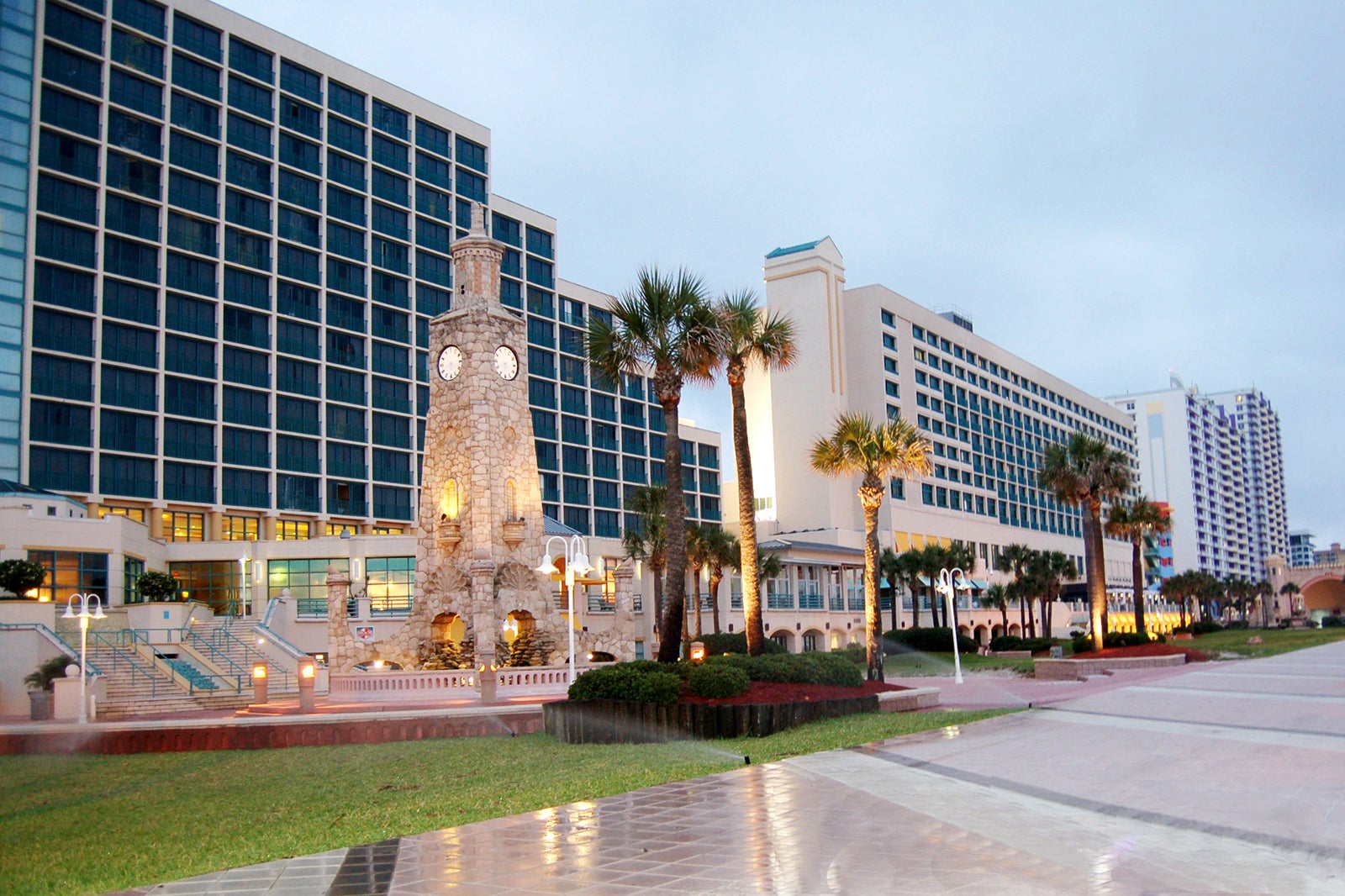 Daytona Beach International Airport is your main international gateway to the city. Though it's Daytona Beach's closest airport, you can also fly to Orlando-Sanford International Airport (SFB) first, then drive northeast to the city within 1 hour.
If you're already in the USA, you can easily reach Daytona Beach by automobile– the city is where the 2 major interstates, I-95 and I-4, intersect. Amtrak's Auto Train service and Greyhound buses are other means of getting to Daytona Beach.
Daytona Beach International Airport
Daytona Beach International Airport is served by Delta and American Airlines mostly for domestic flights from major cities within the USA. It is also served by Canadian low-cost carrier Sunwing. Depending on which country you're flying from, overseas flights often require a layover at other airports such as Dallas-Fort Worth (DFW) or Hartsfield–Jackson Atlanta International Airport (ATL).
From Daytona Beach International Airport (DAB), it's a 15-minute drive northeast to downtown. Here are ground transportation options to get you to your hotel:
Taxi cabs are available at the east end of the terminal, just outside Baggage Claim. Towncar services are also available. Among the taxi cab services available are 4 Leaf Clover (+1 386-252-9999), American Taxi cab (+1 386-253-0303), DCSI (+1 386-299-9999), Tri-Star (+1 386-860-8888), and Yellow Cab Co. (+1 386-255-5555.
You can use rideshare services such as Lyft and Uber.
Shuttle services include Groome Transportation (+1 386-257-5411), DoShuttle (+1 386-947-9947), and Pierre Shuttle Service (+1 386-255-5595)
Votran or the Volusia Transit System (+1 386-761-7700) can pick you up at Dayton Beach International Airport.
Orlando-Sanford International Airport
From Orlando-Sanford International Airport (SFB), the quickest and most convenient way to get to Daytona Beach is by taxi cab – though it's not the most economical. The ride would take just under an hour. You can also take the direct bus from SFB to Daytona Beach, which arrives at the Bethune Cookman-White Hall bus stop near downtown.
Amtrak and Greyhound Bus
Amtrak's Auto Train can get you to Daytona Beach. The daily service carries automobiles and regular passengers, so if you're with your automobile, you can easily drive into Daytona Beach after arriving at the service's southern terminus in Sanford, about 45 minutes away.
Greyhound buses travel between Daytona Beach and cities like Miami and West Palm Beach, as well as points along the I-95 and I-4 freeways. The bus station is at Ridgewood Ave in downtown, 10 minutes' drive east of Daytona International Speedway.
Megabus and Votran have bus stops at the southeast corner of the Tanger Outlets Mall parking lot, 12 minutes' drive west of downtown. Megabus buses connect Daytona Beach with Atlanta to the north via Jacksonville and Orlando to the south-west.
Halifax Harbor Marina
Private boats can cruise into Daytona Beach's Halifax Harbor Marina via the Intracoastal Waterway (ICW). The marina provides boaters year-round docking, together with seasonal and overnight accommodations options.
4
How to get around Daytona Beach?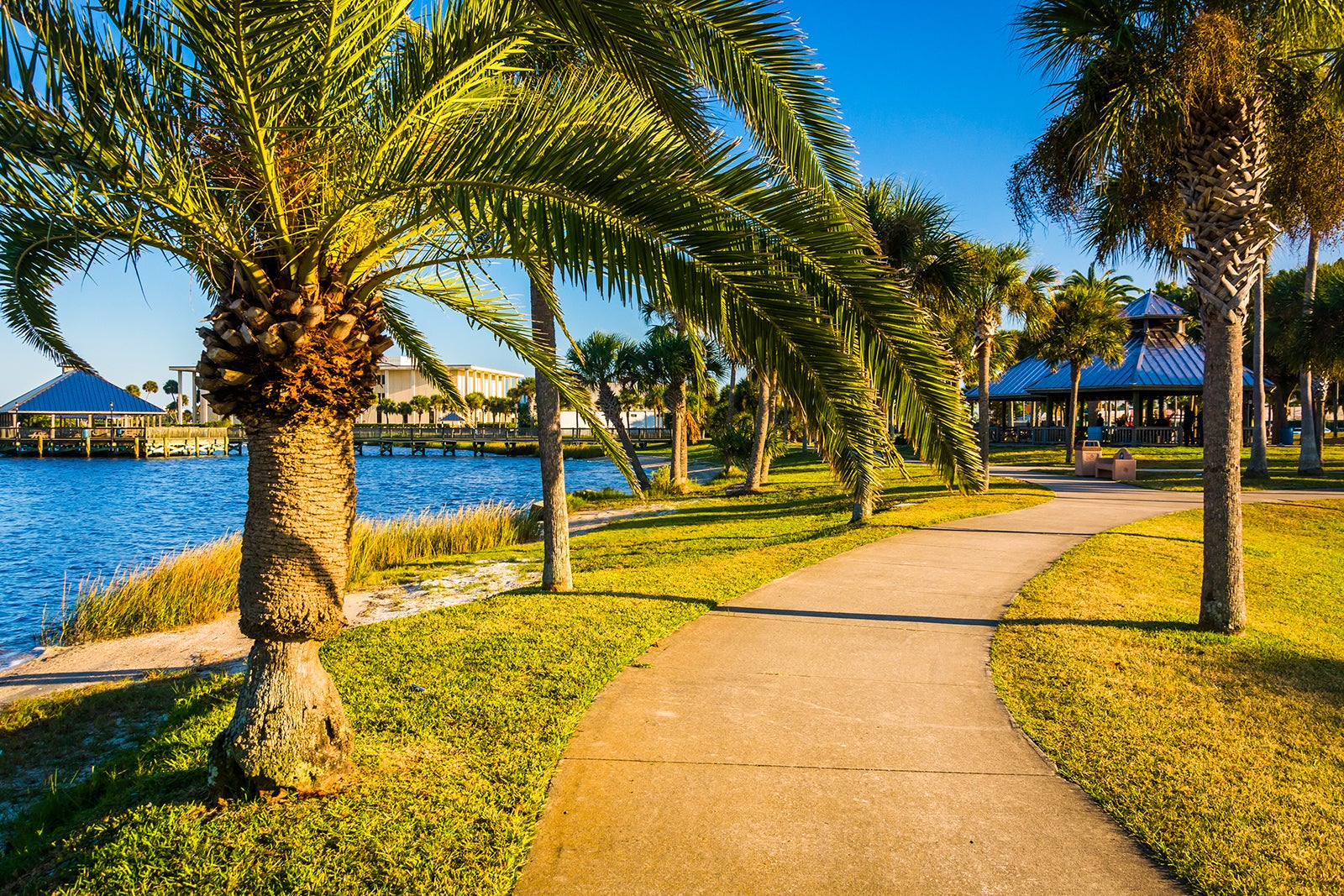 Travel tips
Daytona Beach, big on motor racing, apparently is a city that's best enjoyed on 4 wheels or 2 wheels. This is even more apparent with its wide roads and the 23-mile Atlantic Avenue that runs parallel along the beach. The wide beach itself is drivable November–April and May–October.
Besides driving your own automobile or bike, a cheap way of getting around the city is by using the Votran bus service. And of course, you can use taxi cab services offered by various companies. Some neighborhoods of Daytona Beach are very walkable. Cyclists will find pleasure riding along the compacted beaches and many trails.
Taking a taxi cab
You can't effectively hail a taxi cab down in Daytona Beach – it's best to call and arrange for one. Among the taxi cab companies in Daytona Beach are Daytona Beach Taxi cab Cab (+1 386-333-2222), Kings Transportation Group Inc (+1 386-255-5555), and Daytona Taxi cab (+1 386-868-0832) to name a few.
Besides getting to downtown from the airport using ride-hailing apps such as Lyft or Uber, they're also great for getting around Daytona Beach.
Traveling by bus
Volusia County's public transportation system, Votran, operates over a dozen bus lines with various bus stops throughout Daytona Beach. They're a cheap way for getting around Daytona Beach with all-day passes week passes also available.
Votran runs along the A1A North route, which is super convenient for getting around spots along the Atlantic Avenue, parallel the beach.
Renting a automobile in Daytona Beach
You can find all major automobile rental companies near and around Daytona Beach International Airport as well as around downtown. Among them are Budget Automobile Rental (+1 386-255-7799), Enterprise (+1 386-252-1224), Avis (+1 386-252-0159), and Thrifty (+1 877-283-0898) among others.
Getting around by automobile is easy in the city, thanks to wide and well-signposted roads. Note that traffic jellies may occur during rush hours and around the time of the Speedweeks, with redirected traffic possible. The 23-mile Atlantic Avenue runs parallel along the beach and the wide beach itself is drivable from sunrise to sunset, November–April and May–October.
Cycling around Daytona Beach
Automobiles and motorbikes are much fitted for Daytona Beach's reputation, but the city is just as friendly for cyclists. The 23-mile coastal stretch of compacted sand is great for cruising and various cycling trails lead you through scenic waterfronts, historic sites, and beautiful state parks.
Among the bike rentals in Daytona Beach are Daytona Adventures (+1 855-553-2453), Beach Carts Daytona (+1 386-566-2325), The Hub Cycling (+1 386-456-3938), and Daytona Electric Bikes (+1 386-214-2452) with its fleet of e-bikes which are super convenient.
5
What are the main annual events in Daytona Beach?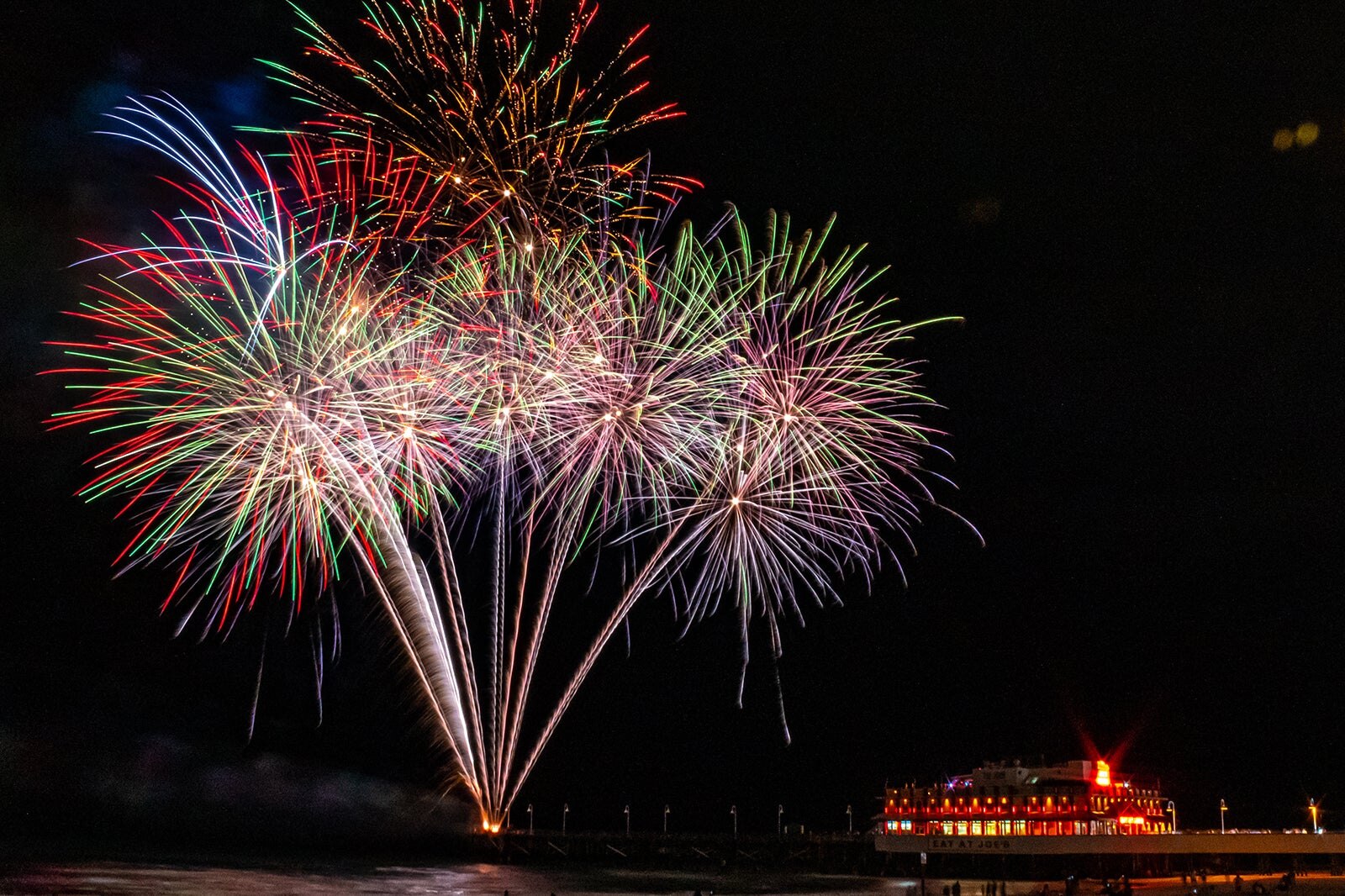 Daytona 500
Mid-February
The 500-mile-long NASCAR race that the city's best known for, held annually since 1959 when the landmark Daytona International Speedway first opened.
Where: Daytona International Speedway
Spring Break
March–April
This great time-off period for students in the States is a big deal in Daytona Beach when colorful beach parties are held and various resorts throw wild pool parties.
Where: various venues in Daytona Beach
Daytona Turkey Run
March and November
A gathering for automobile lovers with thousands of rare and collector automobiles descending upon the Daytona International Speedway's infield for exhibitions and trade.
Where: Daytona International Speedway
6
What are the main landmarks in Daytona Beach?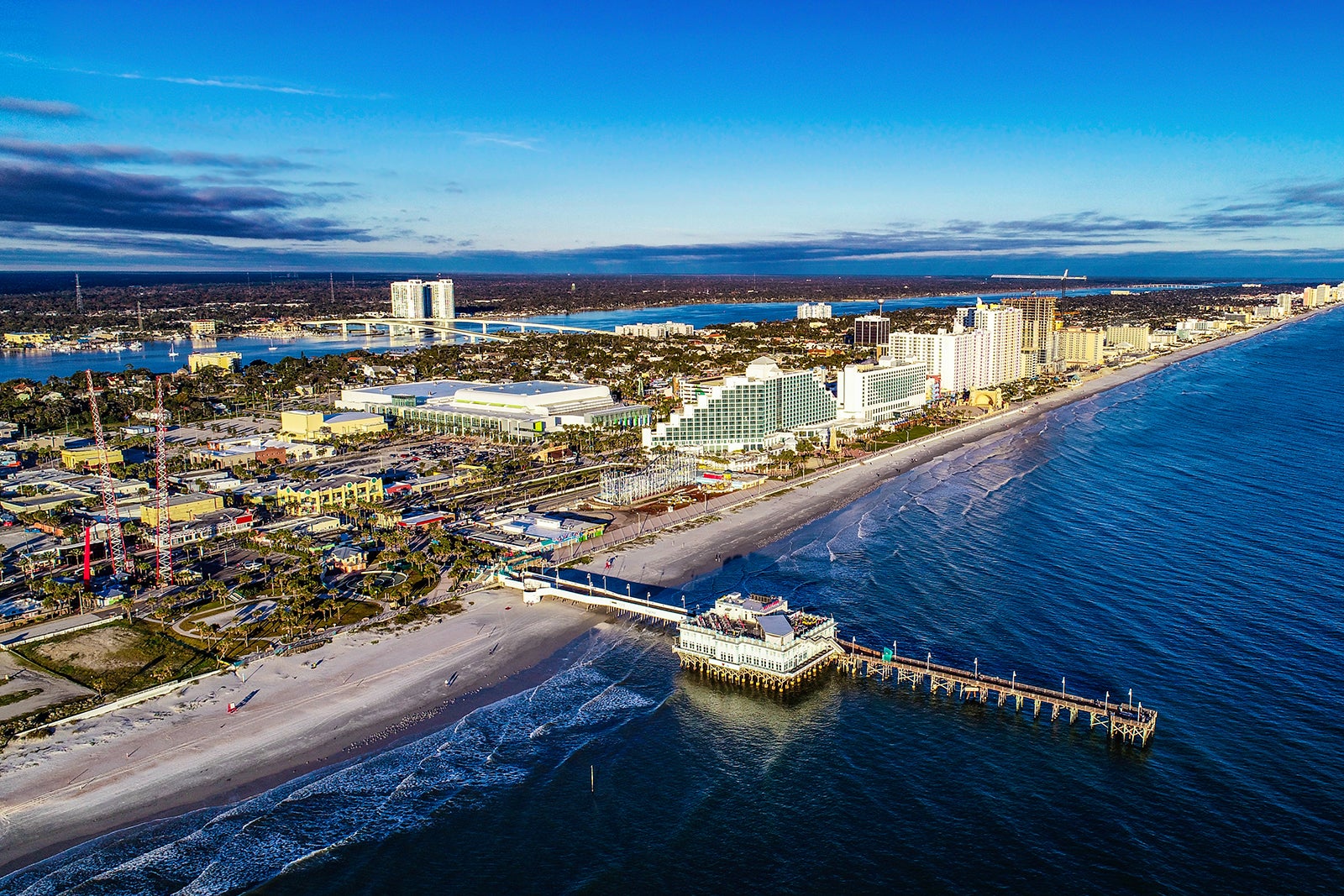 Daytona Beach Boardwalk and Pier
The place in Daytona Beach that offers amusements, thrills and non-stop entertainment with a colorful and bustling boardwalk, arcades, shops, and 2 Ferris wheels.
Daytona International Speedway
A mecca for motor racing and home to the annual Daytona 500 races. There's also plenty of other events taking place at the grounds each week.
Ponce de Leon Inlet Lighthouse
The tallest lighthouse in Florida offers fantastic views of Daytona Beach and the surrounding area at 175 feet high.
Jackie Robinson Ballpark
A historic minor league baseball park that dates back to 1914, where African American player Jackie Robinson first played professionally.
Back to top