10 Things to Do in San Jose on a Small Budget
Vacations in San Jose Don't Have to Be Expensive
There are great things to do for budget travelers in San Jose, even if the capital of Silicon Valley is one of the most expensive metro neighborhoods to live in the USA. It consistently ranks among the priciest cities in the country. You may be clutching onto your billfold when planning your vacation to San Jose, but you're treated to plenty of fun things to do on a small budget.
Some aspects of life here may drain your funds, but others are cheap or even free. From having a picnic in a beautiful setting to spending time at insightful museums, there's something for every traveler visiting San Jose on a small budget.
1
Apple Park Visitor Center
A glimpse into the world of Apple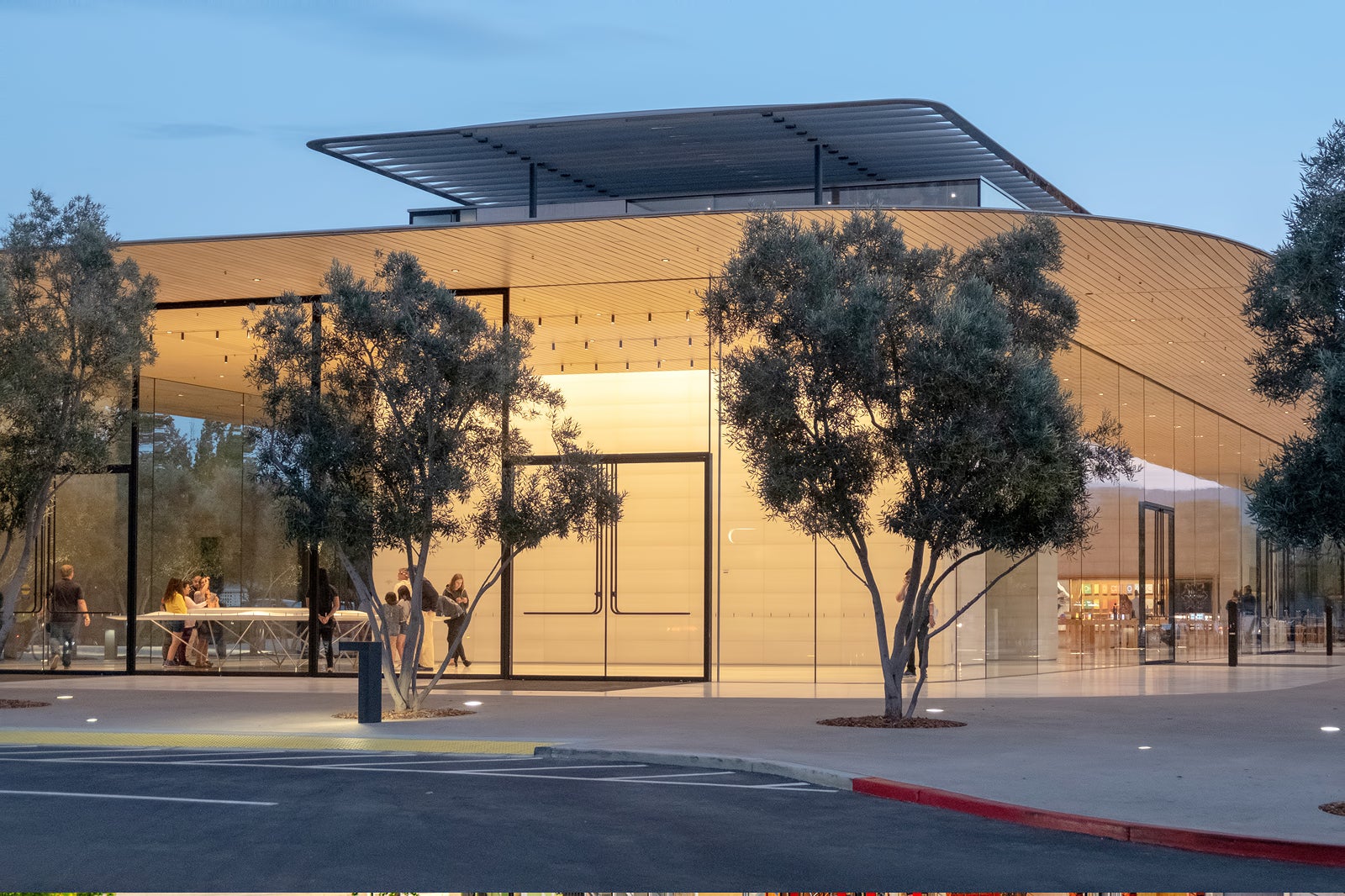 The Apple Park Visitor Center is located at the tech company's corporate headquarters in Cupertino and lets guests explore their latest innovations. Apple developed this state-of-the-art facility to educate consumers on the proper use of all its gadgets. The Apple campus features futuristic architecture, and the visitors center sits beside its ring-shaped office.
Customers receive top-notch service, and the staff is some of the most knowledgeable you'll meet at any Apple store. The store has many top-of-the-line Apple products, and classes teach important tools and features. After shopping for any items you need, relax inside the spacious Apple Café, or sit at its roof terrace while sipping your coffee.
Location: 10600 N Tantau Ave, Cupertino, CA 95014, USA
Open: Monday–Saturday from 10 am to 6 pm, Sunday from 11 am to 6 pm
Phone: +1 408-961-1560
photo by Gregory Varnum (CC BY-SA 4.0) modified
2
Alum Rock Park
A blissful escape to one of California's oldest public parks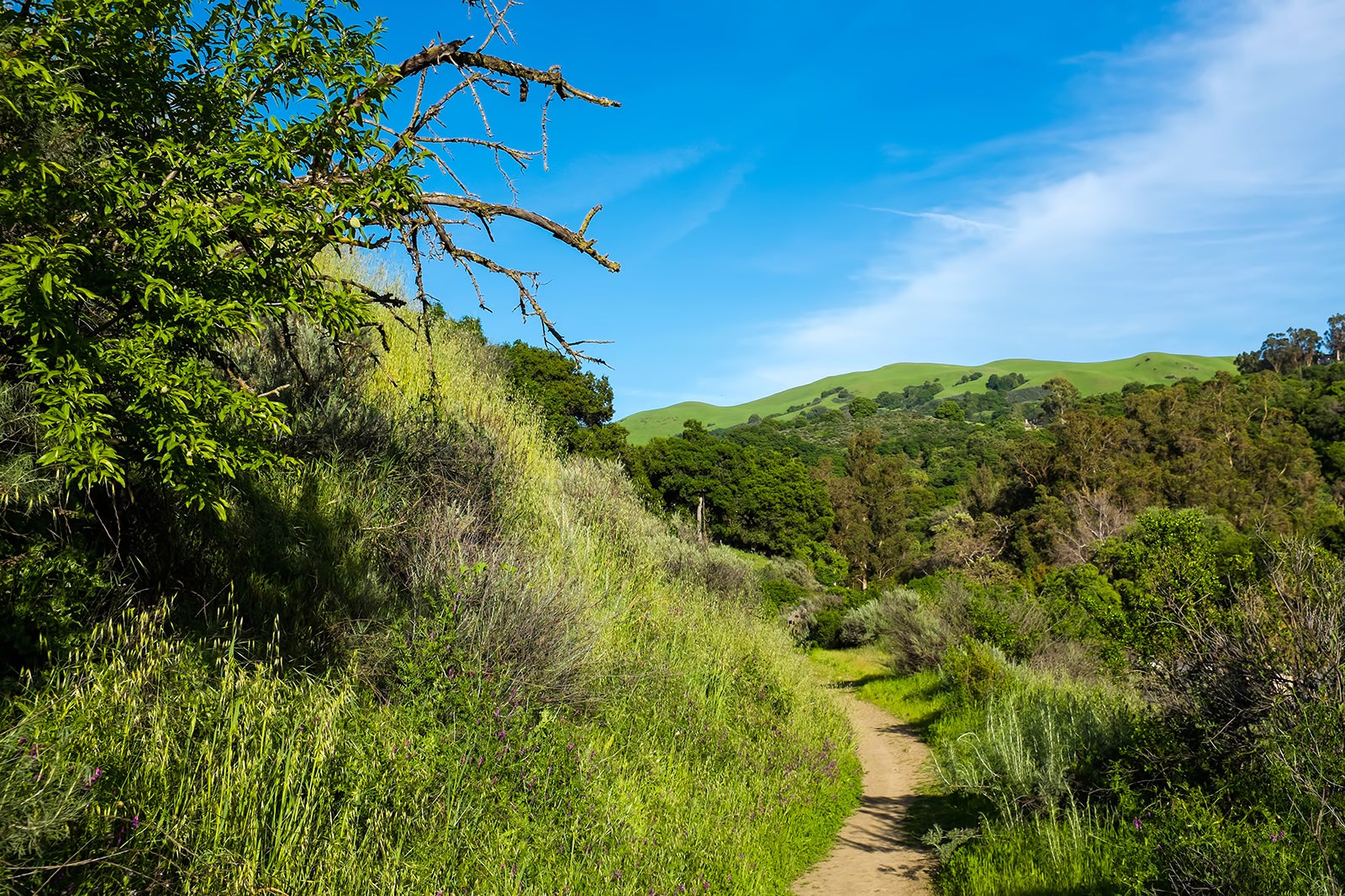 Budget
History
Photo
Adventure
Alum Rock Park within the Diablo Range, less than 10 miles from downtown San Jose, has all the amenities for an outdoor adventure. Established in 1872, the municipal park features hiking trails, picnic neighborhoods, playgrounds, horseback riding, and other fun-filled activities. The park consists of more than 700 acres of rugged hills, steep canyons, wild flora, and native animals.
From the late 19th century to early 20th century, dozens of mineral springs made Alum Rock Park one of the premier spas in the United States. Unfortunately, most of the springs are depleted today due to their overwhelming popularity a century ago. Hikers, cyclists, horseback riders, and birdwatchers continue to use the park for budget-friendly trips into nature.
Location: 15350 Penitencia Creek Rd, San Jose, CA 95127, USA
Open: Daily from 8 am to 8.15 pm
Phone: +1 408-259-5477
photo by Melissa McMasters (CC BY 2.0) modified
3
Kelley Park
Have a family picnic or watch newlyweds tie the knot
Families
Budget
Couples
Photo
Kelley Park is a delightful place for a scenic picnic and other large gatherings in the beautiful outdoors. It's only 2.5 miles from downtown San Jose. A spacious amphitheater behind the Leininger Community Center hosts numerous large-scale events. The park's tranquil environment and nearby attractions keep nature lovers entertained without breaking the bank.
Stroll through the Japanese Friendship Garden to chill beside peaceful ponds or visit the Happy Hollow Park & Zoo to pet animals or watch a puppet show. Coyote Creek meanders through the 172-acre park, with Redwood Grove, Archer Grove, and Family Circle serving as pristine grounds to enjoy a picnic.
Location: 1300 Senter Rd, San Jose, CA 95112, USA
Open: Daily from 8 am to sunset
Phone: +1 408-794-7275
4
Rosicrucian Park
Study ancient Egyptian artifacts and stare into the heavens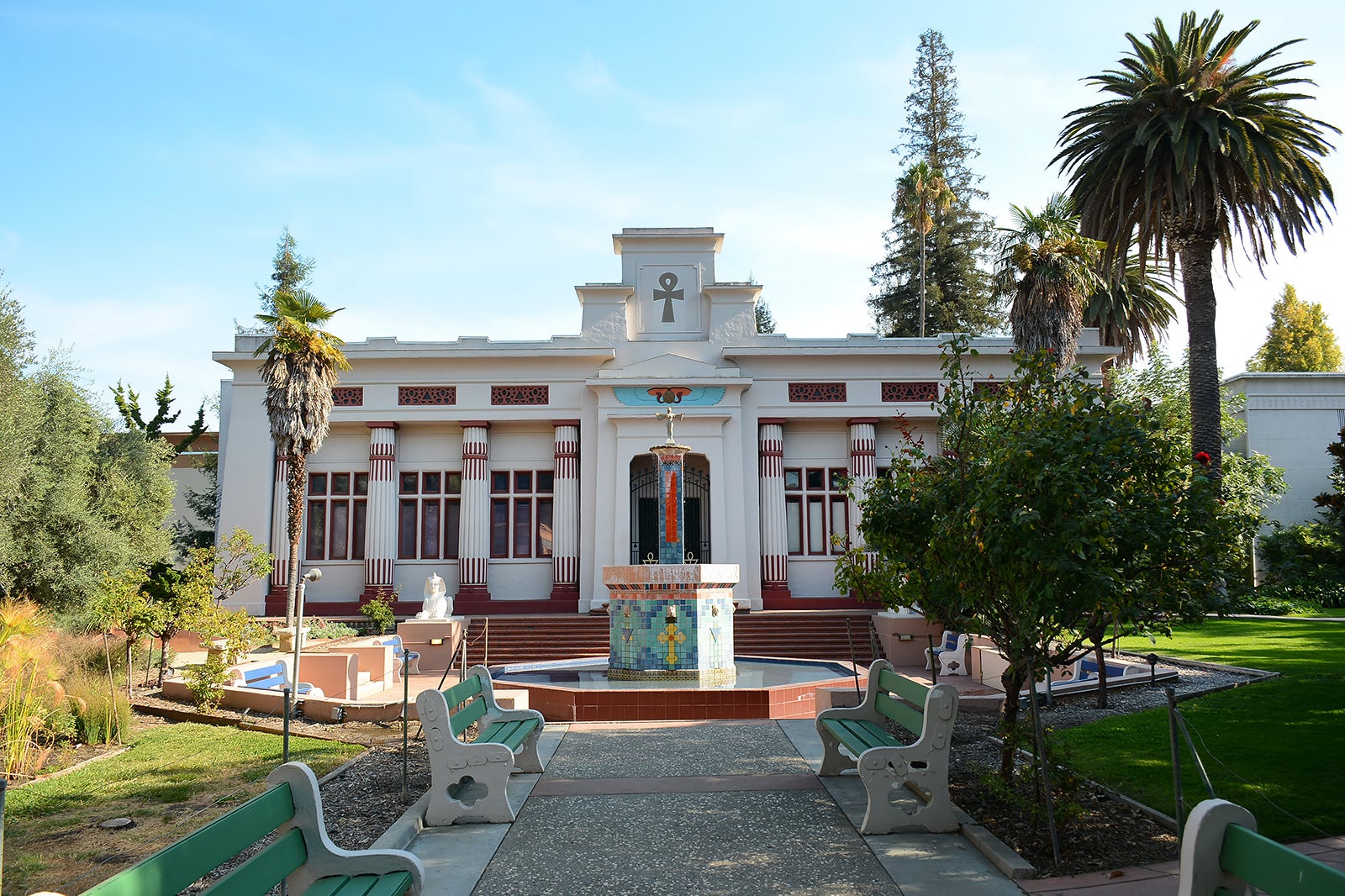 Rosicrucian Park is famous for its Egyptian Museum that has one of the largest collections of Egyptian relics in the United States. The museum features artifacts from Egypt's prehistoric era and the Assyrian and Babylonian empires. There is also an Alchemy Exhibit that teaches visitors about the alchemical process. The future Alchemy Museum will become the world's largest museum dedicated to the ancient practice and include interactive lab stations.
Elsewhere, the Grand Temple is inspired by Egyptian architecture and filled with extravagant artwork. The planetarium was among the first constructed in the country, and its framework pays tribute to Arab astronomers. When you're ready to venture outdoors, walk through the Peace Garden to transportation yourself to an ancient Egyptian garden.
Location: 1342 Naglee Ave, San Jose, CA 95126, USA
Open: Wednesday–Friday from 9 am to 5 pm, Saturday–Sunday from 10 am to 6 pm (closed on Mondays and Tuesdays)
Phone: +1 408-947-3635
5
Municipal Rose Garden
Smell the fragrance from nearly 200 rose varieties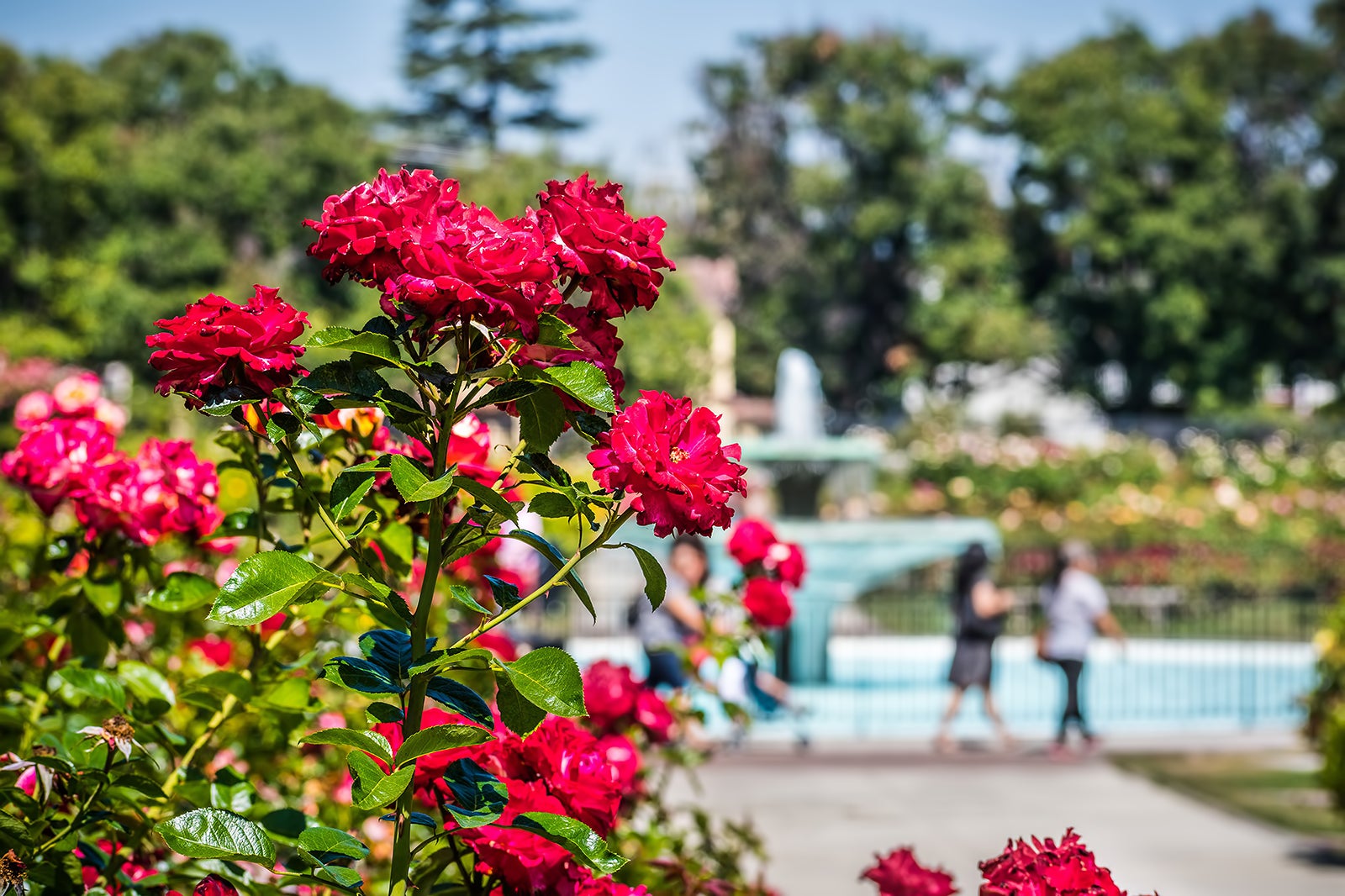 Families
Budget
Couples
Photo
The San Jose Municipal Rose Garden is tabbed as one of America's best rose gardens. An enchanting place for a stroll, the garden grounds feature nearly 200 types of roses and it's free to enter. April to November is a fantastic time to visit, but May is the peak month to smell the intoxicating aroma of the flowers.
The 5.5-acre garden is only a 10-minute drive from downtown. A beautiful location for a picnic, redwood trees provide relief from the sun, gorgeous fountains heighten the ambience while you lounge on the grassy lawn. When you enter the facility, the staff will give you a map outlining the thousands of rose shrubs inside the former prune orchard.
Location: 1649 Naglee Ave, San Jose, CA 95126, USA
Open: Daily from 8 am to sunset
Phone: +1 408-794-7275
6
San Jose Institute of Contemporary Art
Free entry to rotating modern art exhibits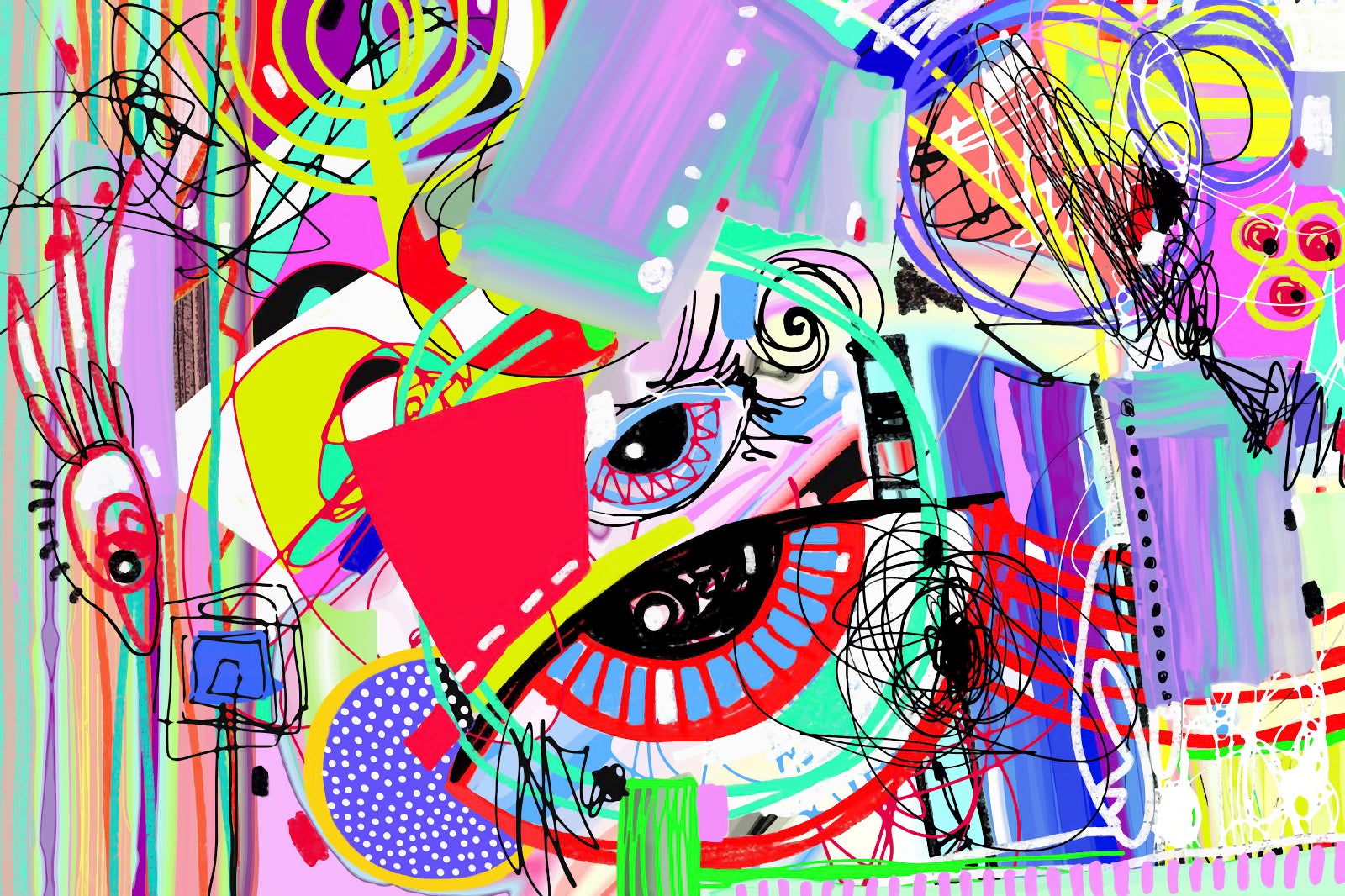 The San Jose Institute of Contemporary Art's free admission helps you become inspired without spending a fortune. The facility opened in 1980 as a haven for local artists to gain access to resources needed to create elaborate masterpieces. There are close to a dozen exhibits each year, showcasing works of art that include sculptures, drawings, and paintings.
The staff also hosts lectures and public discussions that engage the local art community and aspiring art students. Special events organized by the institute spotlight contemporary artists who entertain crowds with interactive performances. After taking part in the facility's exhibits and programs, stop by the Lounge to scroll through journals, videos, interviews, and other media to complete your experience.
Location: 560 S 1st St, San Jose, CA 95113, USA
Open: Tuesday–Friday from 10 am to 5 pm, Saturday–Sunday from noon to 5 pm (closed on Mondays)
Phone: +1 408-283-8155
7
Almaden Quicksilver County Park
Discover a former mining community with panoramic views of San Jose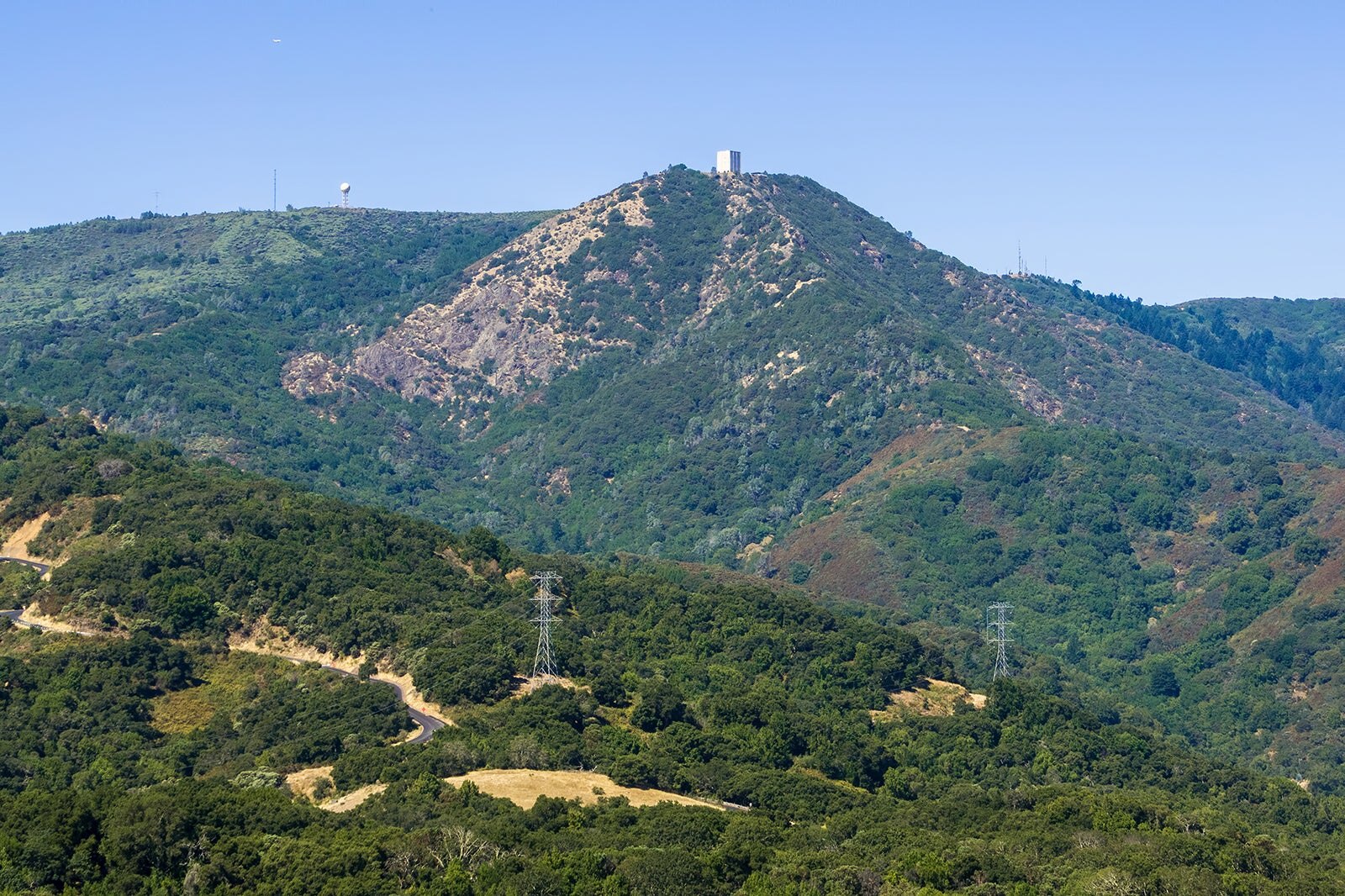 Families
Budget
History
Adventure
Almaden Quicksilver County Park is a legendary piece of Californian history. The fertile and hilly landscape is roughly a 20-minute drive south of downtown San Jose. It's a playground for hikers, cyclists, dog walkers, and horseback riders looking for picturesque views of the Almaden Valley. With more than 80 combined miles of trails, you're able to make each visit unique without straining your billfold.
There are picnic neighborhoods scattered around the 4,163-acre park, but make sure to bring your own water. If your trip to San Jose is in spring, watch out for beautiful wildflowers dotting the countryside. The park also contains outdated mining equipment that fueled the local mining community during the California Gold Rush.
Location: 21785 Almaden Rd, San Jose, CA 95120
Open: Daily from 8 am to sunset
Phone: +1 408-268-3883
8
Japantown
Explore one of America's last authentic Japanese neighbourhoods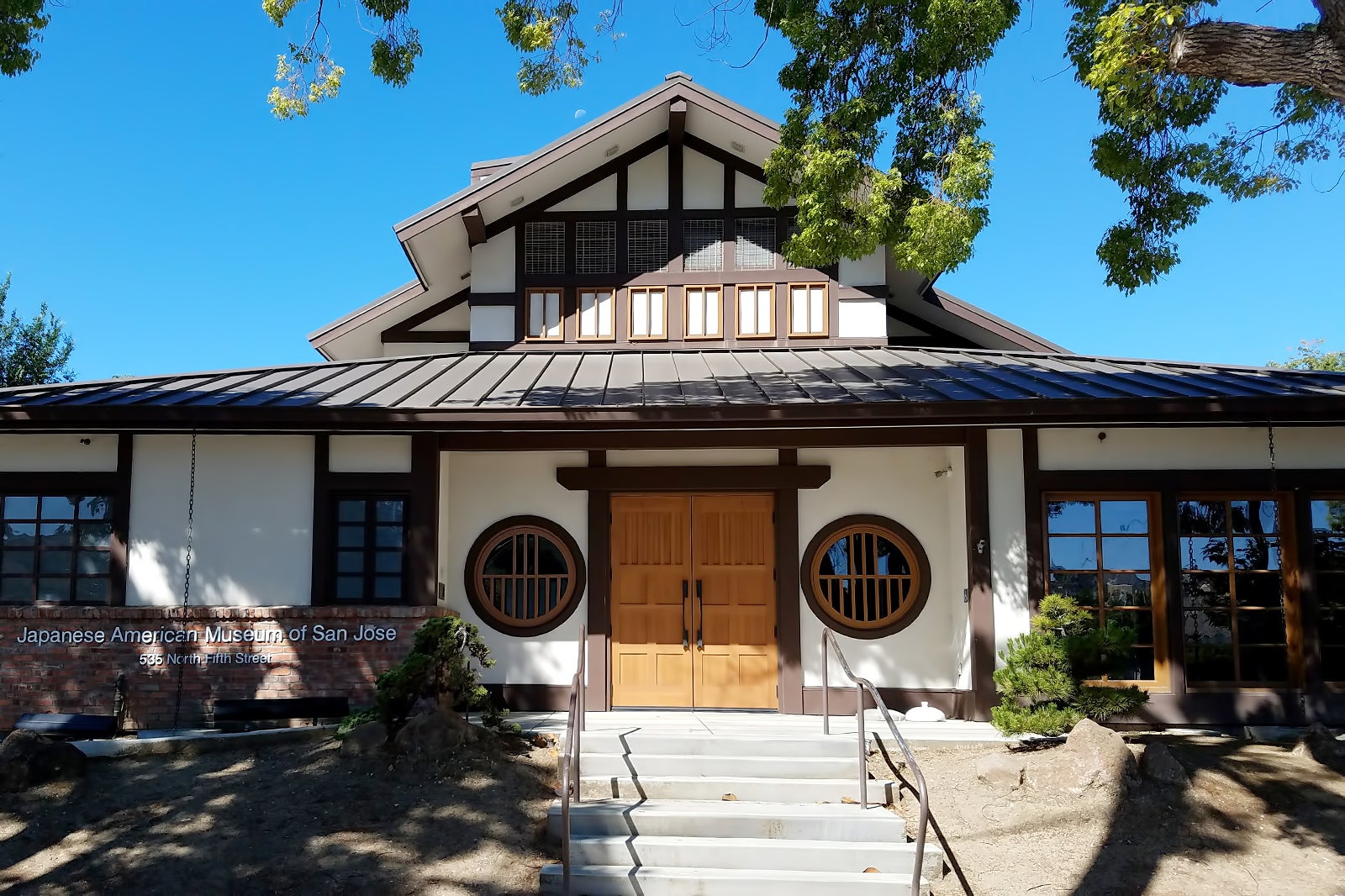 The historic Japantown district sits just north of downtown San Jose and is a rare glimpse into Japanese culture within the United States. Also known as Nihonmachi, the residential area is one of the last 3 traditional Japanese communities remaining in the country.
Japantown attracts many locals and visitors thanks to its great Japanese eateries, unique markets, art galleries, and intriguing museums. The Japanese American Museum of San Jose highlights the contributions and struggles of Japanese immigrants. There is a wide range of festivals throughout the year, as churches of multiple religions operate in the district.
photo by Myasuda (CC BY-SA 4.0) modified
9
San Jose farmers' markets
Weekly markets for organic fruits and vegetables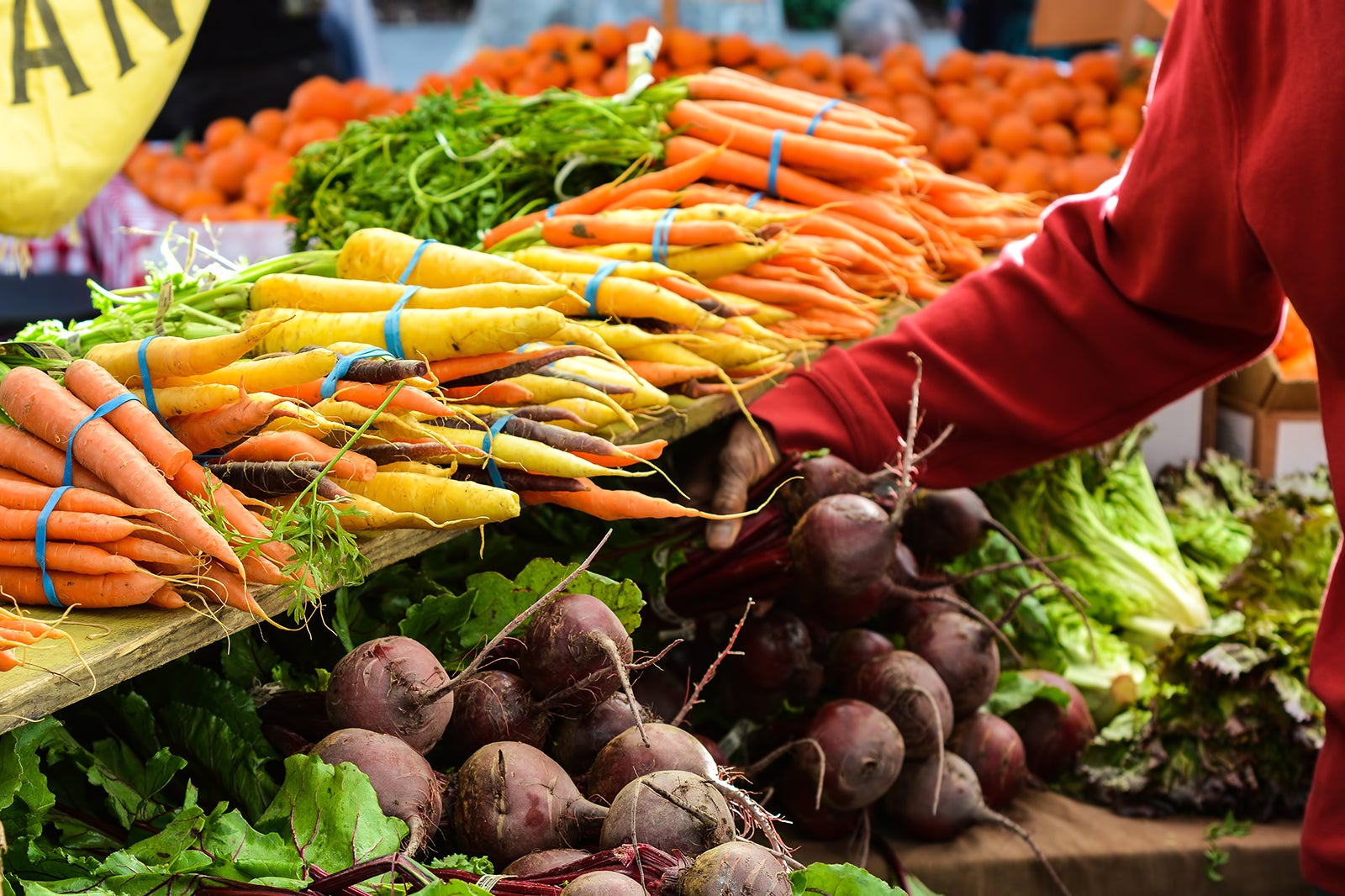 San Jose has many places to shop for fresh produce, and there's no shortage of weekly farmers' markets to visit. Some are open year-round, but others tailor their products to specific seasons. The Downtown San Jose Farmers' Market opens every Friday from June to December, and you'll find items such as peaches, sweet cherries, strawberries, honey, bread, cookies, and hummus.
Santa Clara Farmers' Market takes place on Saturday afternoons, with live music entertaining the crowd. Sundays and Wednesdays are the days to visit the Evergreen Farmers' Market, where you'll find all sorts of organic produce and baked pies. Santa Teresa Farmers' Market is a wonderful place to support local artisans and snack on delicious kettle corn.
10
Los Gatos Creek Trail
Hike or cycle on a paved path along a peaceful stream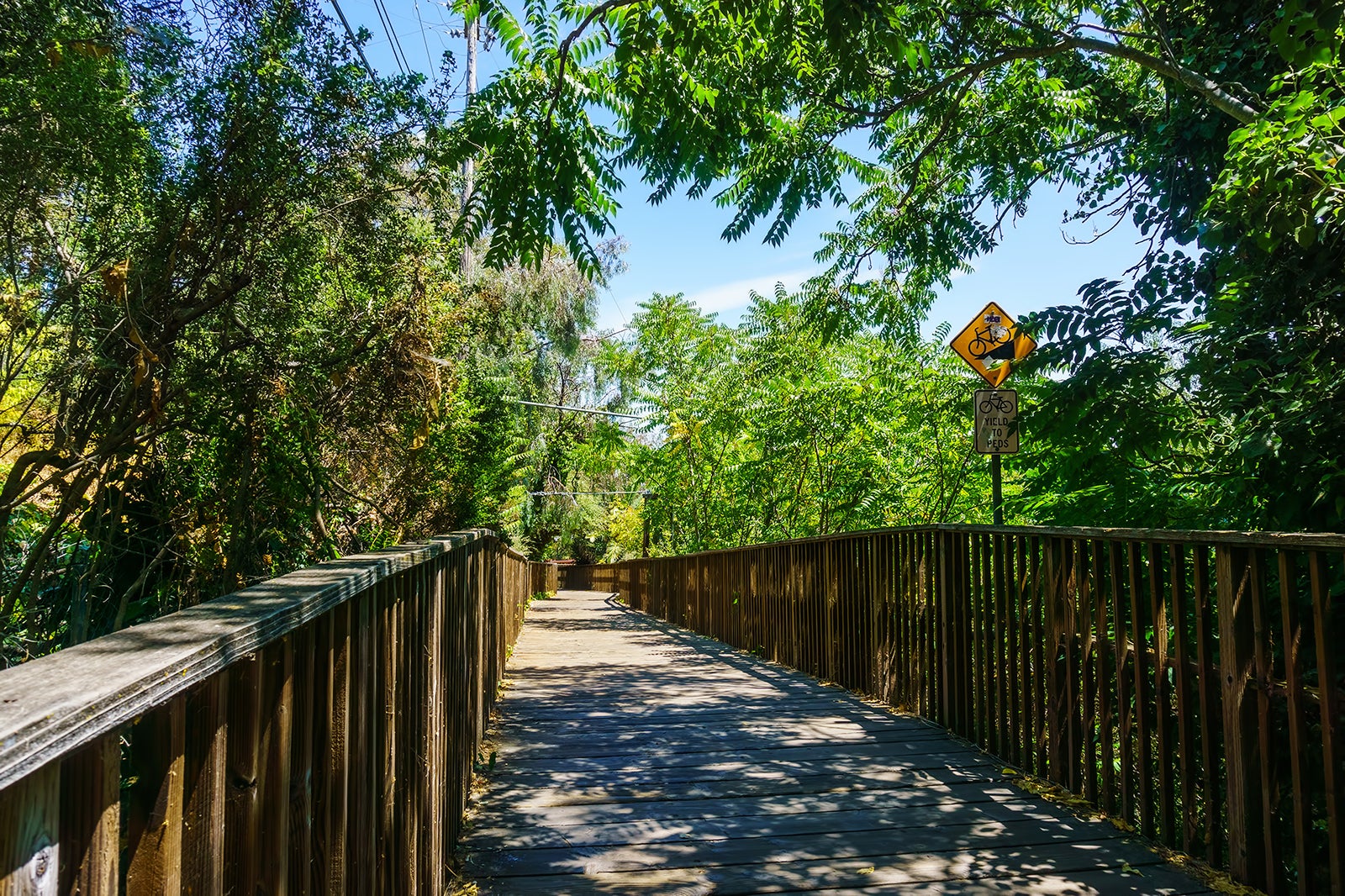 The Los Gatos Creek Trail welcomes walkers, runners, cyclists, dog walkers, and anyone else looking to enjoy San Jose's beautiful scenery. The 9.7-mile-long path stretches from the Lexington Reservoir to downtown San Jose. Its trail system diverges in multiple directions with several access points. East Main Street at College Avenue, Miles Avenue, and Oak Meadow Park and Vasona County Park are some of the best places to start your journey.
The Lexington Reservoir is a popular stop on the trail for nature lovers thanks to its fishing, rowing, and panoramic views around the manmade lake. Hop off the trail in Campbell or Los Gatos to find trendy restaurants, charming cafés, and boutique shops.
Back to top