10 Best Things to Do in North Carolina
What is North Carolina Famous For?
North Carolina is an alluring destination year-round with its diverse landscapes, historic sights and thriving arts and culture. Its mountain ranges offer a majestic setting for skiing, horseback riding and hiking while its Atlantic coastline entices visitors to relax on its spectacular beaches or enjoy an ample range of activities like fishing, surfing and kayaking.
See where the Wright Brothers made their famous first-ever flight or have a wander through the lavish Biltmore Estate. Head to Asheville for an indulgent retreat of food and festivities or explore the museums and heritage buildings of Raleigh. Here are a few more ideas on what to see and do in North Carolina.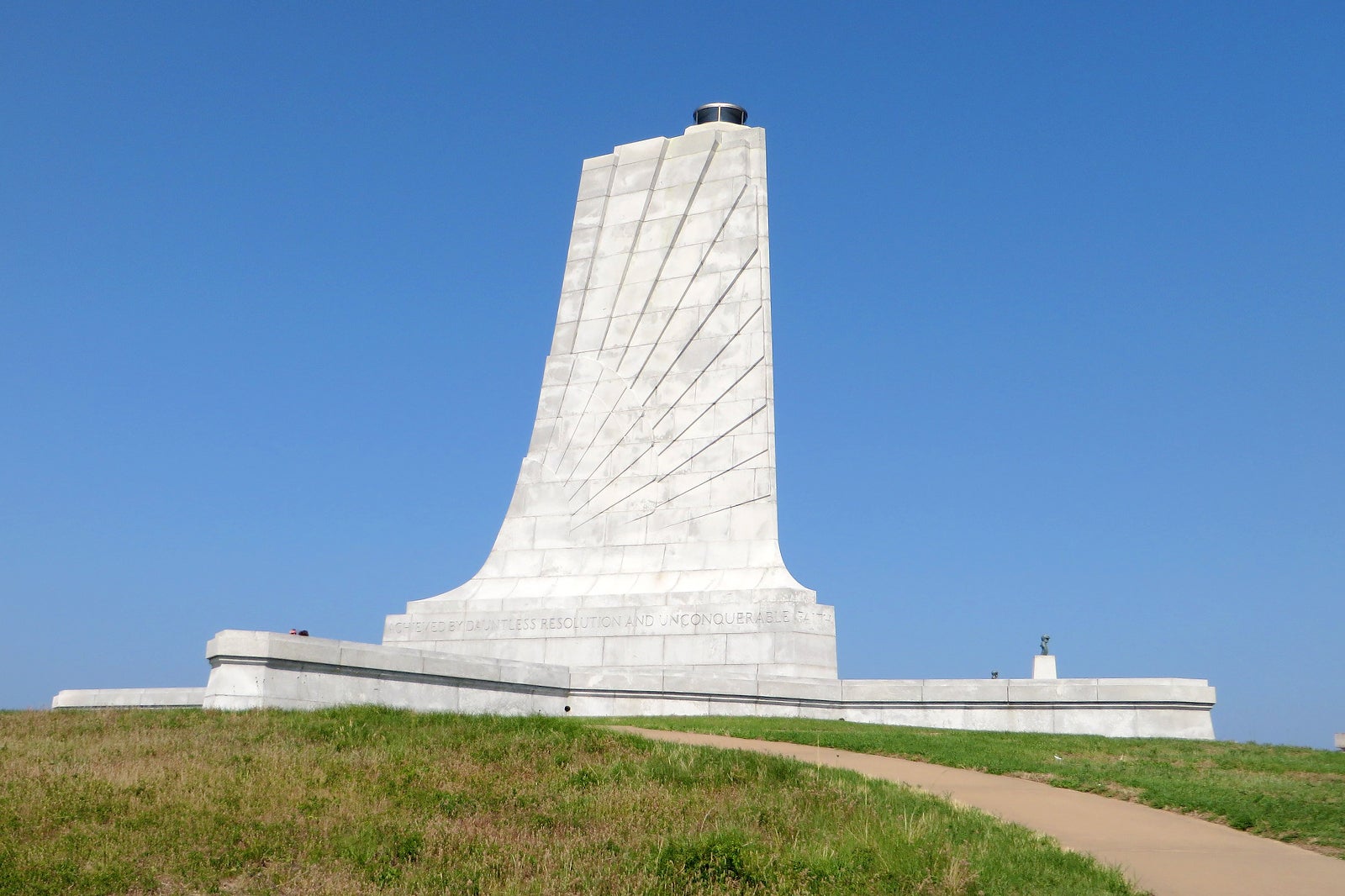 See where the world's first flight launched at Wright Brothers National Memorial
A must-visit for aviation enthusiasts
It was a flight that lasted only 12 seconds, but it changed the course of human history forever. On sand dunes near the coastal village of Kitty Hawk, brothers Orville and Wilbur Wright's aircraft lifted off to launch the world's first successful airplane flight. The site is now a memorial with a towering granite monument honoring their achievement.
Visitors can walk the line where this historic flight took place, and also explore the reconstructed 1903 camp buildings for a look into how the Wright brothers lived while turning their dreams of flying into reality. Entry is about $10 for adults and free for children aged 15 and under.
Location: 1000 North Croatan Highway, Kill Devil Hills, North Carolina 27948, USA
Open: Daily from 9am to 5pm
Phone: +1 252 473 2111
photo by Ken Lund (CC BY-SA 2.0) modified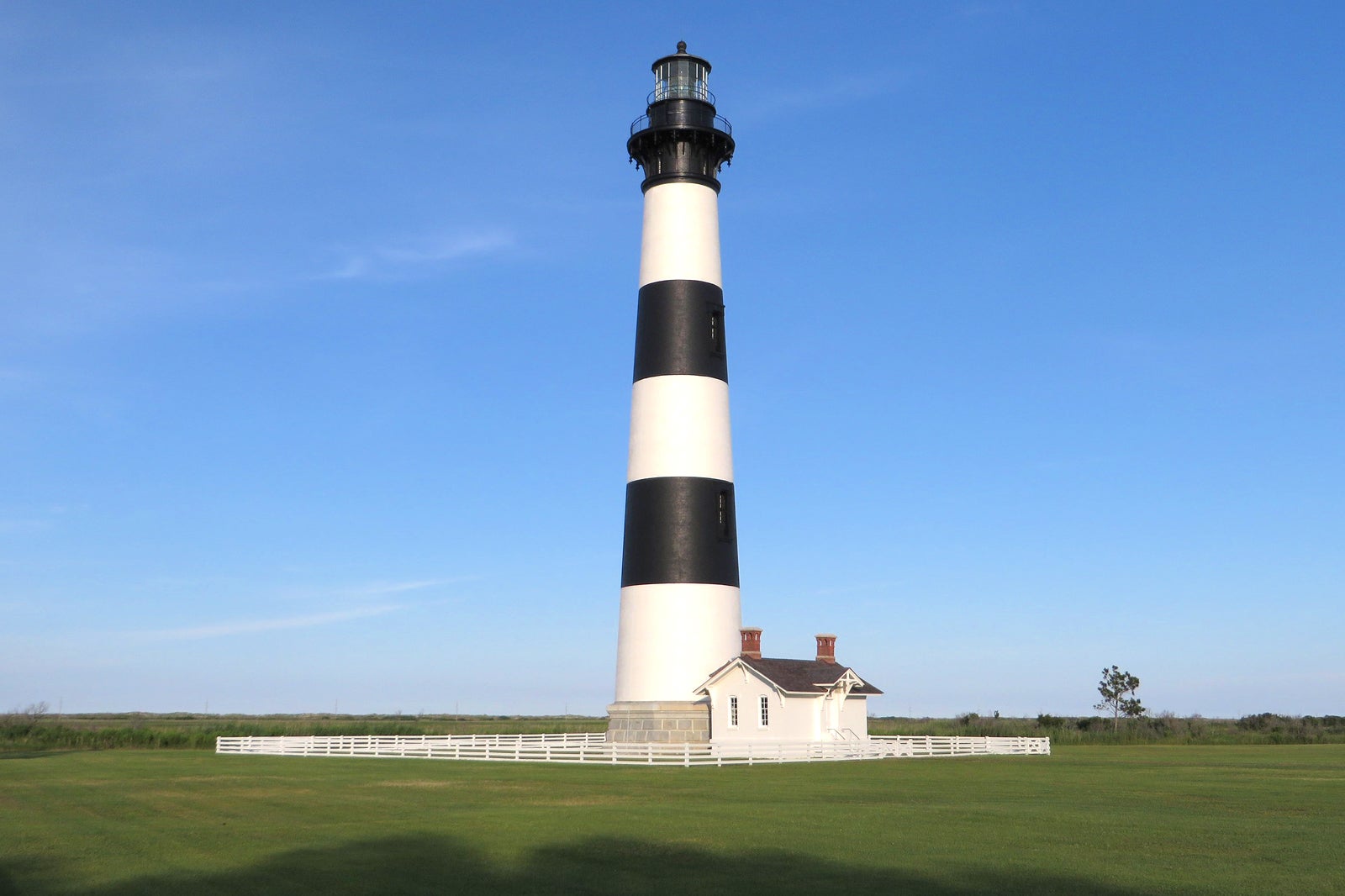 Climb the lighthouse at Cape Hatteras National Seashore
Secluded beaches and forest trails
Stretching more than 100 km up the North Carolina coast, Cape Hatteras National Seashore is a protected area in the Outer Banks with beautiful beaches, forest and marshland to explore. All the beaches are public and spread out enough that they rarely get crowded.
Spend the day relaxing on the soft sands or bring some fishing gear and try your hand at surf fishing. It's also a popular place for surfing, kayaking, kiteboarding and windsurfing, with windsurfing competitions held here regularly. For even better views of the spectacular Atlantic coastline, climb the 214 steps to the top of Bodie Island Lighthouse, one of three lighthouses in Cape Hatteras.
Location: 8210 Bodie Island Lighthouse, Nags Head, NC 27959, USA
Open: Daily from 9am to 5pm
Phone: +1 252 441 5711
photo by Ken Lund (CC BY-SA 2.0) modified
Tour the grand Biltmore Estate & Gardens
Majestic home of the Vanderbilt family
The Biltmore Estate & Gardens, built by George Vanderbilt in the late 1800s, offers a peek into the gilded life of one of America's wealthiest families. Surrounded by 8,000 acres of gardens and forest, Biltmore mansion houses a huge collection of antiques and artwork in its 250 rooms.
Visitors could easily spend a whole day exploring the estate, with an entry fee of about $65 that includes self-guided tours of the house and gardens and a tasting tour at the winery. There's dining and shopping at Antler Hill Village, and for an extra charge, you could try a variety of outdoor activities including trail bike rides, carriage rides, horseback riding and river rafting. Opening hours vary by season.
Location: 1 Lodge Street, Asheville, North Carolina 28803, USA
Phone: +1 800 411 3812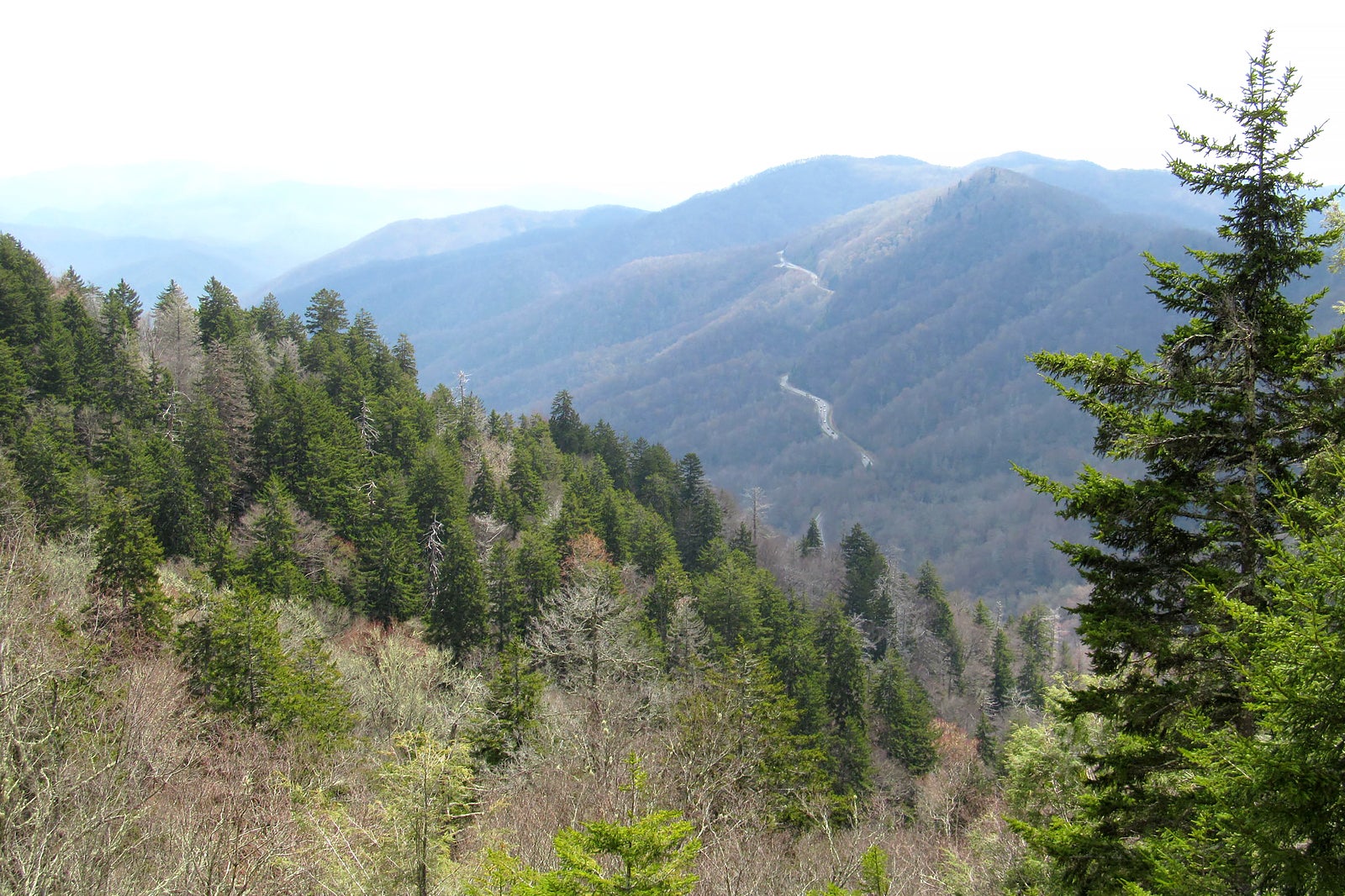 Hike the trails of the Great Smoky Mountains
A UNESCO World Heritage Site
The Great Smoky Mountains are among the most-visited national parks in the US with a breath-taking landscape of rugged mountain ranges, thick forest, waterfalls and abundant wildflowers. Found about 120 km from Asheville, the Great Smokies offer more than 1,300 km of hiking trails including a section of the famous Appalachian Trail and a trail to the viewpoint summit of Clingmans Dome, the highest point in the park.
For a break from hiking, stop by the charming Bryson City to explore its shops and art galleries, go on a thrilling white-water rafting adventure or catch a scenic steam train ride on the Great Smoky Mountains Railroad.
photo by Doug Kerr (CC BY-SA 2.0) modified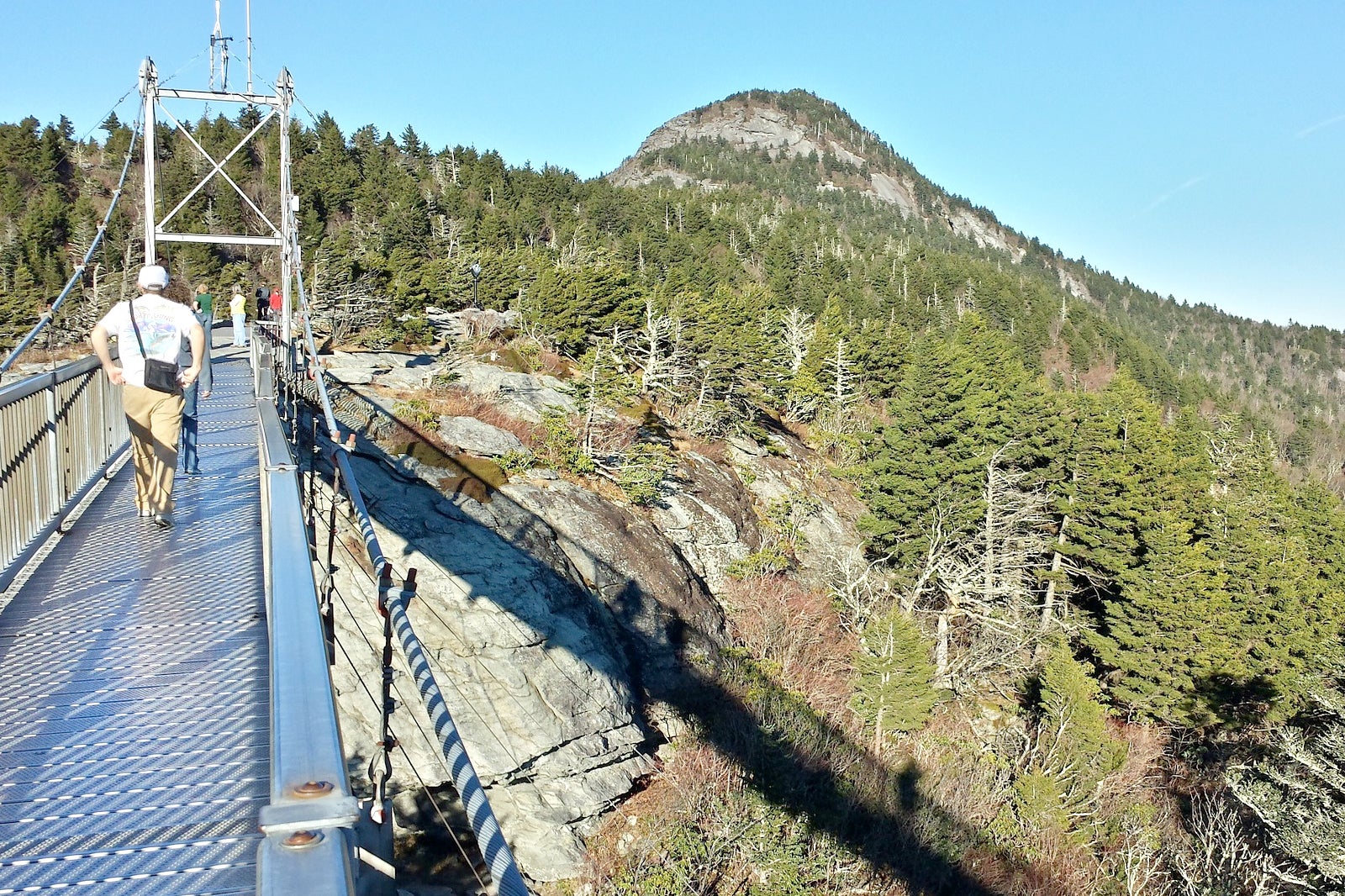 Enjoy panoramic views on Grandfather Mountain
Cross the Mile High Swinging Bridge
The wildflower-strewn Grandfather Mountain in Linville is an incredibly scenic place to explore. Part of the mountain is accessible with an admission fee of about $22 ($9 for kids aged 4-12) including entry to native wildlife exhibits, the Nature Museum and the Mile High Swinging Bridge. Enjoy panoramic views while taking an invigorating walk across the Swinging Bridge, one of the highest suspension footbridges in America.
The state park areas of the mountain are accessible only by foot with rugged alpine trails to explore at no charge. One of the most beautiful trails is Nuwati Trail, a 2-km-long route that runs along an old logging road and leads to Storyteller's Rock with views over a glacier-carved valley.

Location: 2050 Blowing Rock Highway, Linville, North Carolina 28646, USA
Open: Daily 8am to 7pm
Phone: +1 800 468 7325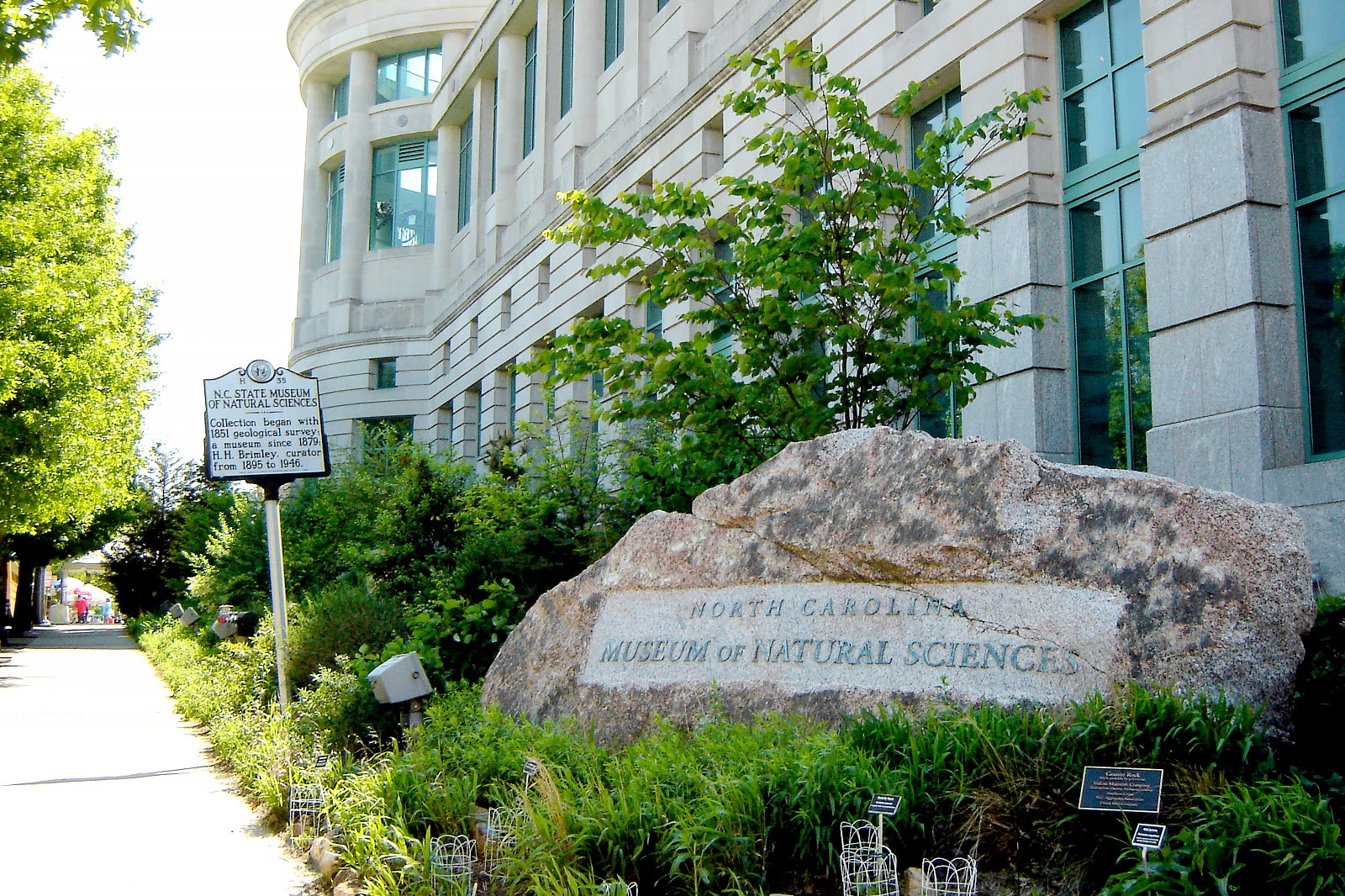 Greet the dinosaurs at the North Carolina Museum of Natural Sciences in Raleigh
Entry is free but donations are welcome
The North Carolina Museum of Natural Sciences offers a fascinating look into the natural world of North Carolina. With exhibit space covering 7 floors, you could easily spend a whole day here. Among the museum's impressive displays is the skeleton of the terrifying prehistoric predator the Acrocanthosaurus and a 1.5-million-year-old Giant Ground Sloth.
Check out the giant Blue Whale skeleton before greeting some of the live creatures including tropical butterflies and turtles in the Living Conservatory and praying mantises in the Arthropod Zoo. Several hands-on activities will keep the kids engaged, in case they aren't already wowed by all the dinosaurs and flying insects.
Location: 11 West Jones Street, Raleigh, North Carolina 27601, USA
Open: Monday–Saturday from 9am to 5pm; Sunday from noon to 5pm
Phone: +1 919 707 9800
photo by Chanilim714 (CC BY-SA 3.0) modified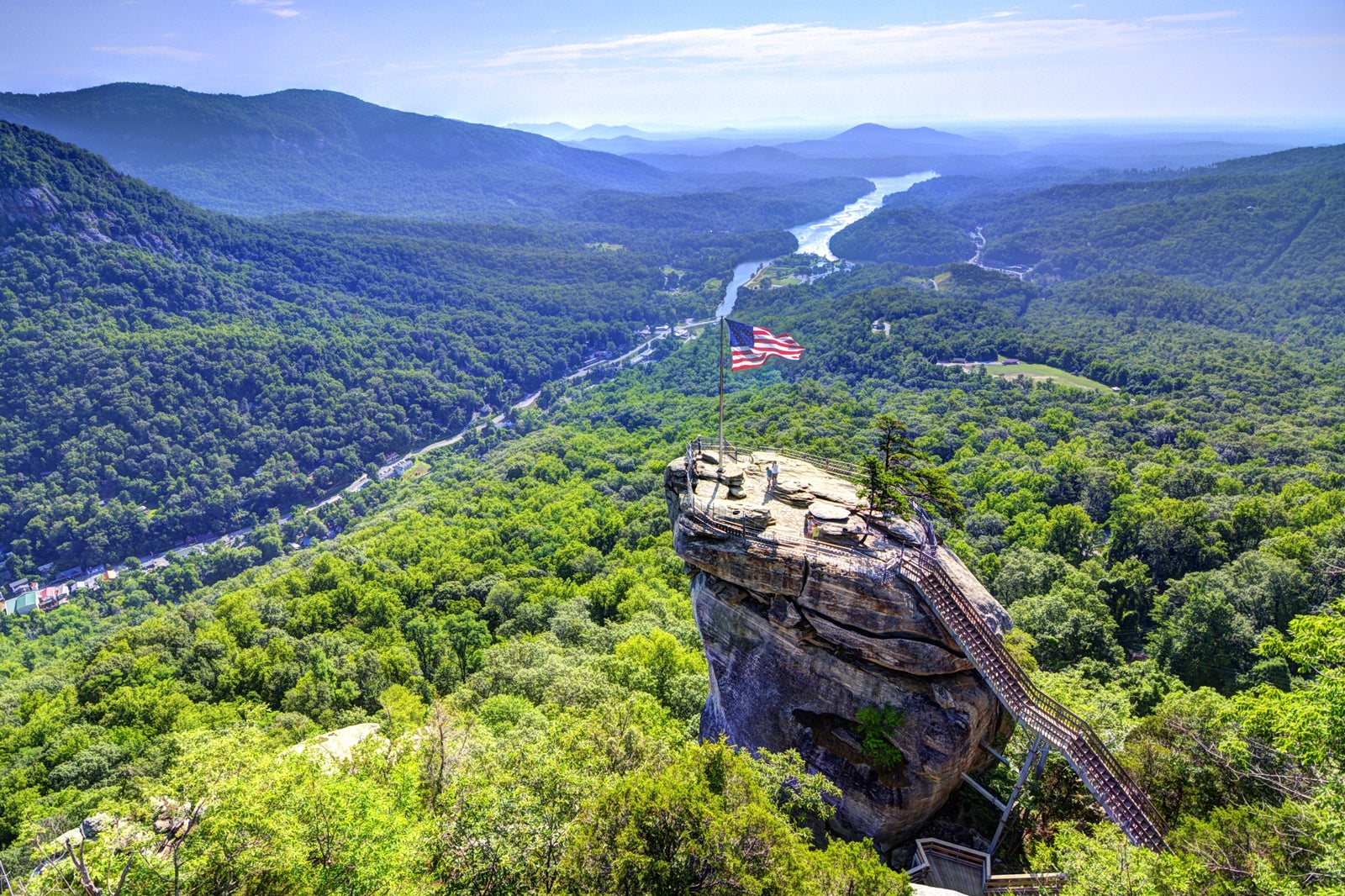 Ride or walk to the top of Chimney Rock
Visit in October for peak autumn foliage colors
Found about an hour's drive southeast of Asheville, Chimney Rock is a towering granite peak set in a state park of the same name. The park has several trails including the Outcroppings Trail that includes a challenging 499-step climb to the top of 'The Rock'. Those looking for a faster way up can take the elevator, which races to the top inside the mountain.
Another trail offers a scenic path through lush woodland to Hickory Nut Falls, while a more strenuous trail leads further up the mountain to the park's highest point: the 755-meter high Exclamation Point. There's also a climbing school for those looking to scale the park's imposing rock faces.
Location: 431 Main Street, Chimney Rock, North Carolina 28720, USA
Phone: +1 828 625 9611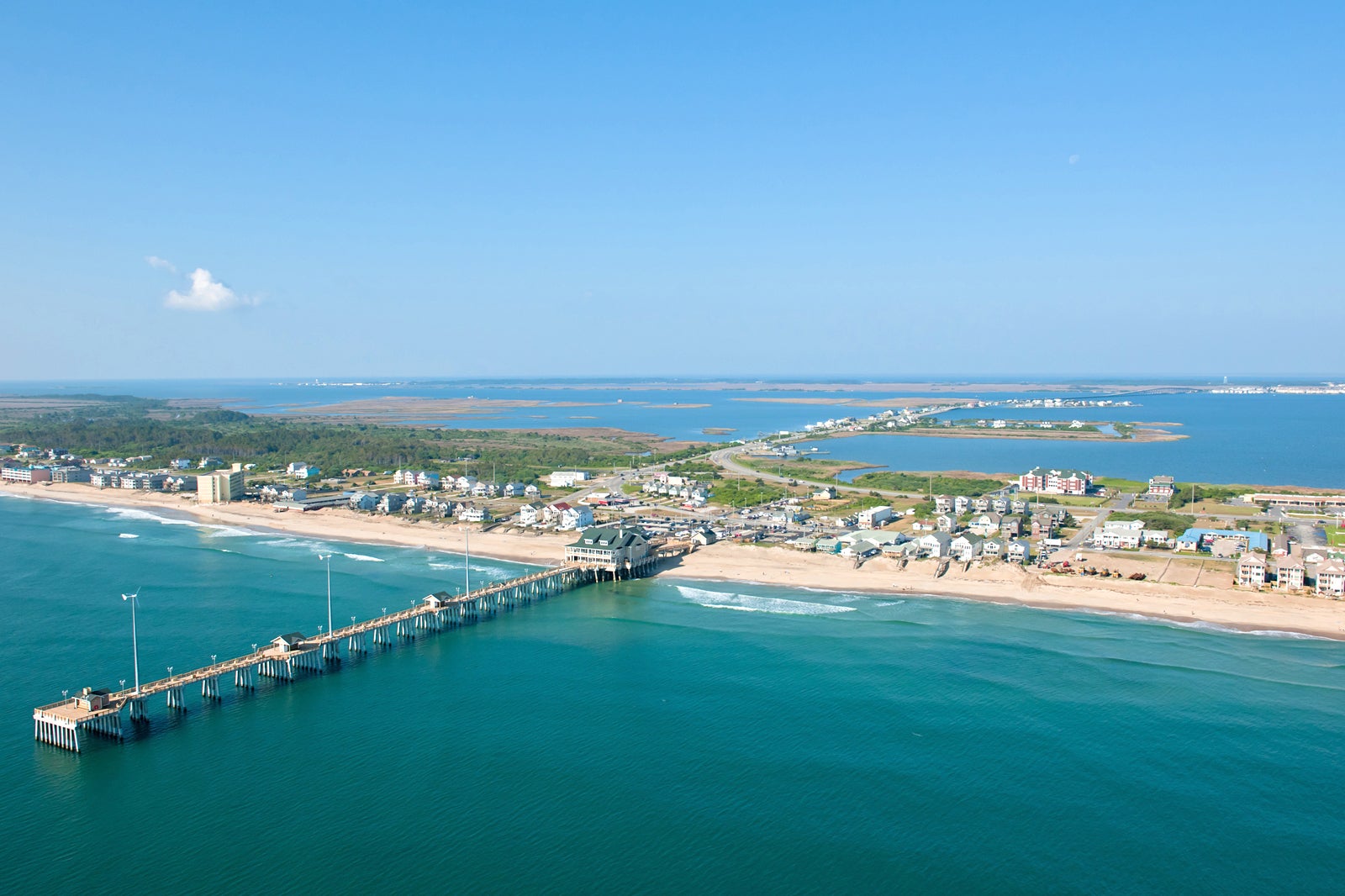 Explore the pristine coast and historic sights of the Outer Banks
A scenic shoreline-hugging road trip
The Outer Banks is a 320 km length of barrier islands with untouched beaches, historic landmarks and charming towns to explore. Take in the spectacular coastal views along the Banks Scenic Byway, with stops at friendly beach towns like Kitty Hawk or Nags Head.
Roanoke Island has a rich history as the site of a lost colony, where early English settlers mysteriously disappeared. It was also a safe haven for freed slaves as part of the National Underground Railroad Network. The Graveyard of the Atlantic Museum offers an eye-opening look into the hundreds of shipwrecks in the area.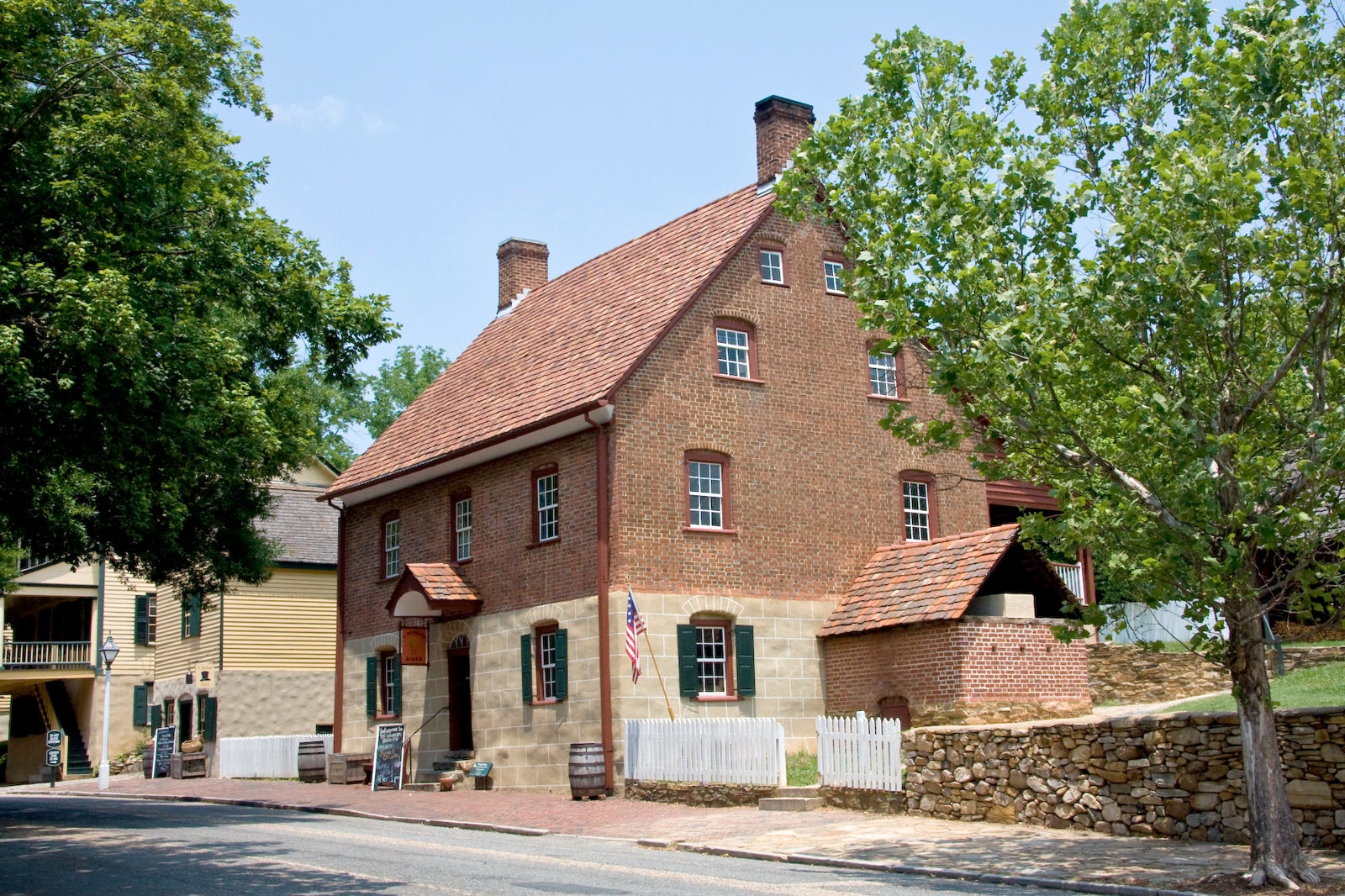 Go back to the 18th century at Old Salem
There are some 90 buildings and 100 acres of gardens to explore
Old Salem is a National Historic Landmark where visitors are immersed into the life of the Moravian people who settled here in the 18th and 19th centuries. The restored town is alive with gardeners, shoemakers and bakers who are busy carrying out their work following the traditional craftsmanship of that time.
Wander down Main Street's cobbled road to take in the lovely old brick buildings in Greek Revival style, or stop by The Tavern for some craft beer and a hearty farm-to-table lunch. More insight into Moravian history can be found at the nearby Historic Bethabara Park, site of their first settlement in North Carolina in 1753.
Location: 900 Old Salem Road, Winston-Salem, North Carolina 27101, USA
Open: Tuesday–Saturday from 9.30am to 4.30pm, Sunday from 1pm to 4.30pm
Phone: +1 336 721 7300
photo by David Bjorgen (CC BY-SA 3.0) modified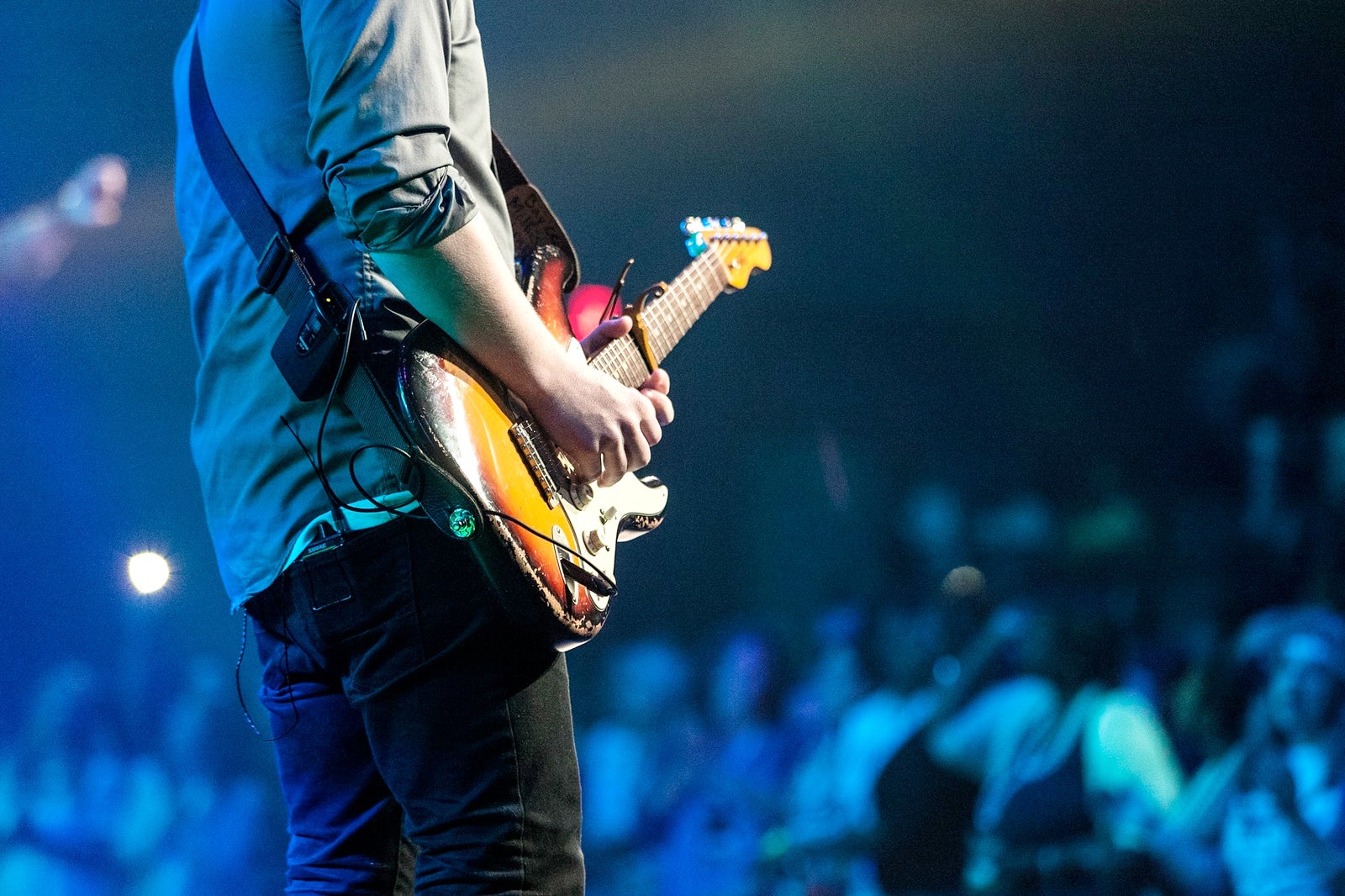 Soak up the music and arts scene in Asheville
Toe-tapping fun and festivities
With the beautiful Blue Ridge Mountains as its backdrop, Asheville has a quirky charm and an emerging culinary and arts scene shaped by its Appalachian heritage. The downtown streets, lined with colorful art deco buildings, are buzzing with inventive restaurants, boutique shops selling local arts and crafts and vibrant bars and music venues.
Unwind after a day of hiking in the fresh mountain air by enjoying a rollicking night of live music at places like the Orange Peel, The Gray Eagle or Off the Wagon Piano Bar. During the summer months, head to Pack Square Park to mingle with the crowds in an evening of stage shows and informal jam sessions at Asheville's famous Shindig on the Green.