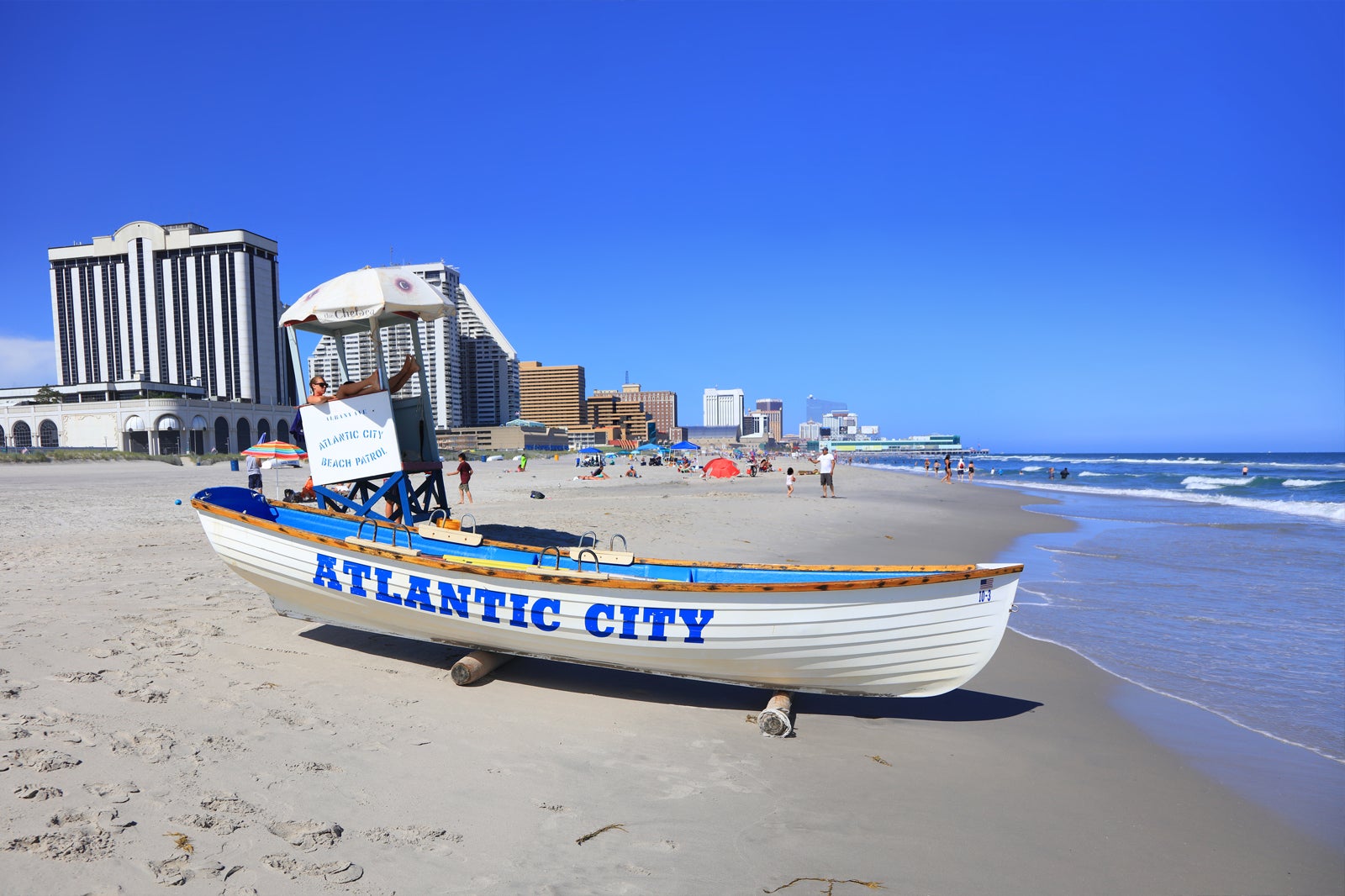 9 Best Things to Do in Atlantic City
What is Atlantic City Most Famous For?
Atlantic City is a top New Jersey seaside destination with miles of sandy beaches and decadent casino hotels. A wholesome vacation hotspot by day and glitzy party playground by night, this city offers plenty of things to do for different generations. Romantic dinners overlooking the Atlantic, dancing into the morning hours or playing the slot machines, an Atlantic City vacation revels in its myriad pleasures.
Start your day with a stroll along Atlantic City Boardwalk and discover some of the city's highlights, including a grand amusement park over the water as well as some historical gems that date back to the late 18th century. Whether you're here for a royal flush, an indulgent spa retreat, or simply to have your fill of fun, the New "Joisey" favorite has you covered.
What are the best things to do in Atlantic City?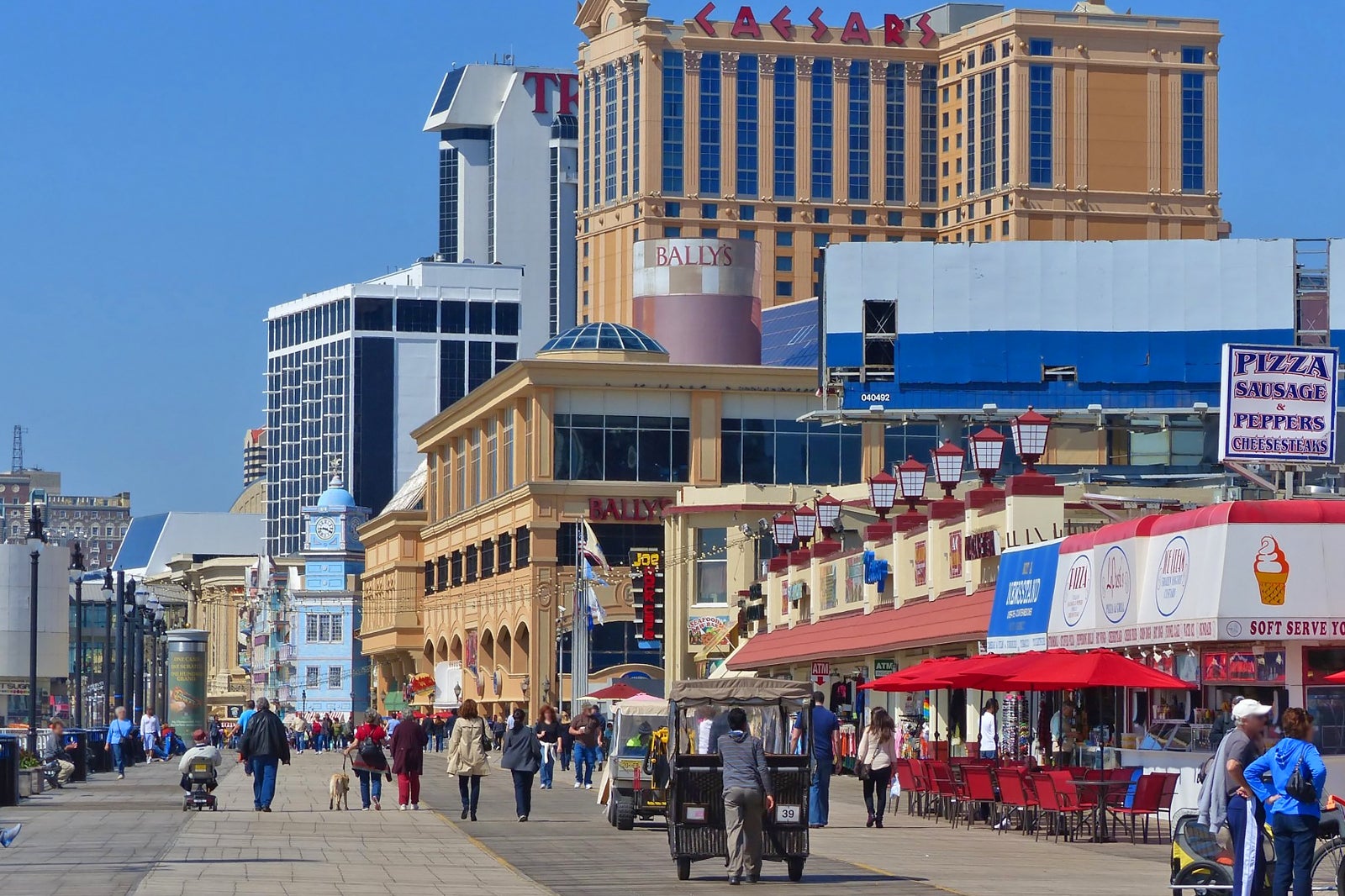 The Atlantic City Boardwalk is America's oldest boardwalk, where you can best get a sense of the city – whether you're after beach-style fun and frolics or a simple seaside stroll. Stretching 4 miles across the seafront, the breezy promenade is lined with glamorous casino hotels, quaint shops, and tempting restaurants. Visiting in the summer (June to August)? Expect the roaring jets in Thunder Over the Boardwalk – part of the Atlantic City Airshow.
You'll also find a cluster of big attractions along the Atlantic City Boardwalk, including Boardwalk Hall – the city's sporting event and musical concert venue, Steel Pier – a fairground full of illuminated rides and family fun, and the Ripley's Believe It or Not! Odditorium. For history, there's the Atlantic City Historical Museum, while arty types will enjoy an afternoon at the Atlantic City Art Center.
Read more
Location: 3109 Boardwalk, Atlantic City, NJ 08401, USA
2
Atlantic City beaches
Strips of sand for different vibes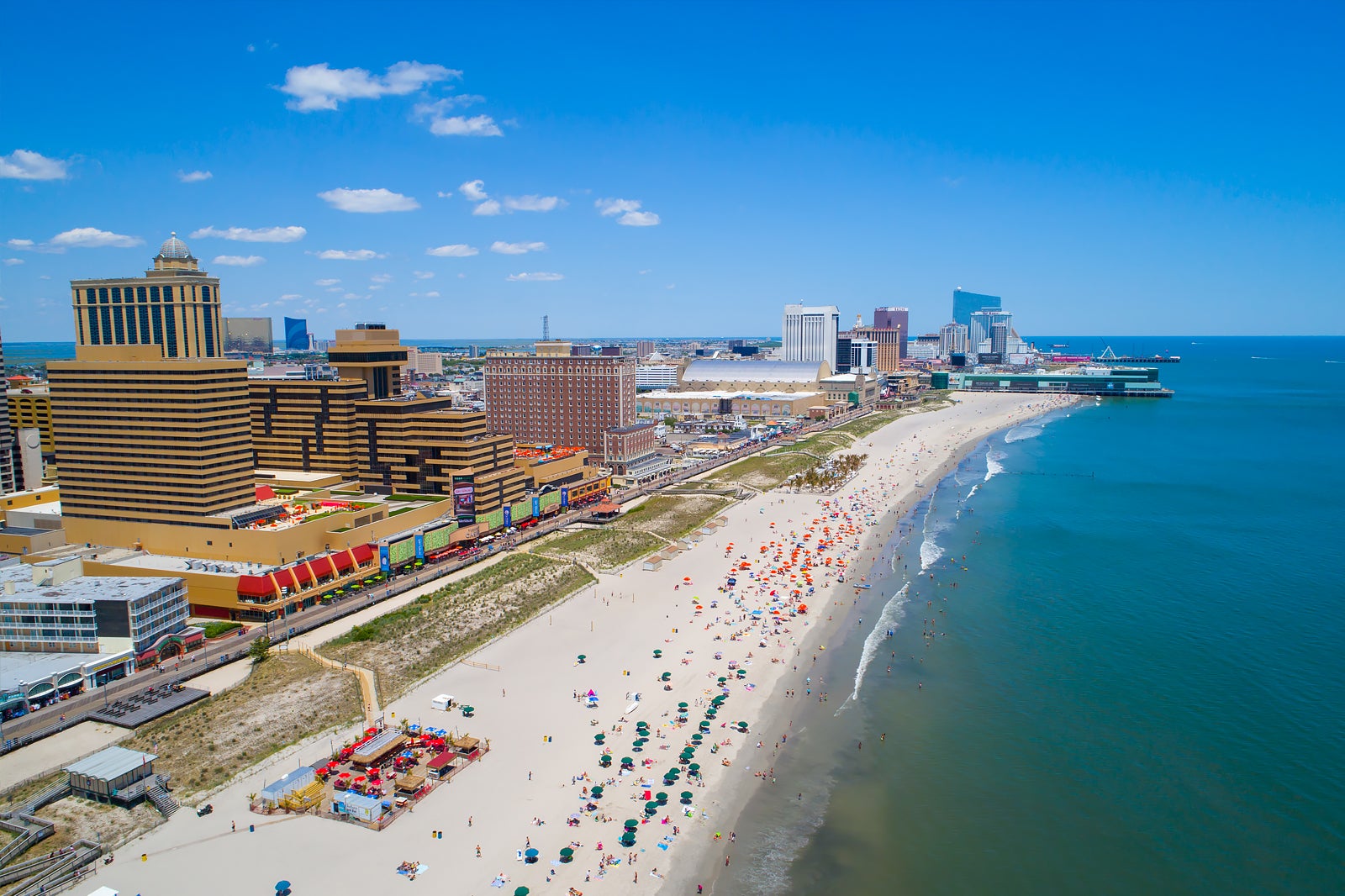 Atlantic City's beaches, along with those of the adjacent cities along the Jersey shore, are among the coastal city's main draws in the summer. The city's own, namesake Atlantic City Beach, is interestingly separate from the main southeast-facing coastal strip parallel Atlantic City Boardwalk. For those along the boardwalk, you simply follow the city's avenues that lead you down to different sections like Downtown Beach, Crystal Beach, and Delaware Avenue Beach.
Check out Chicken Bone Beach in the middle for a bit of history – once a racially segregated section of the coast. Some 12 minutes' drive northeast of the city center, the beautiful and wide Brigantine Beach flanks a wildlife management area and offers a quick escape from the central crowds.
3
Steel Pier
A fun-filled spot jutting out to the sea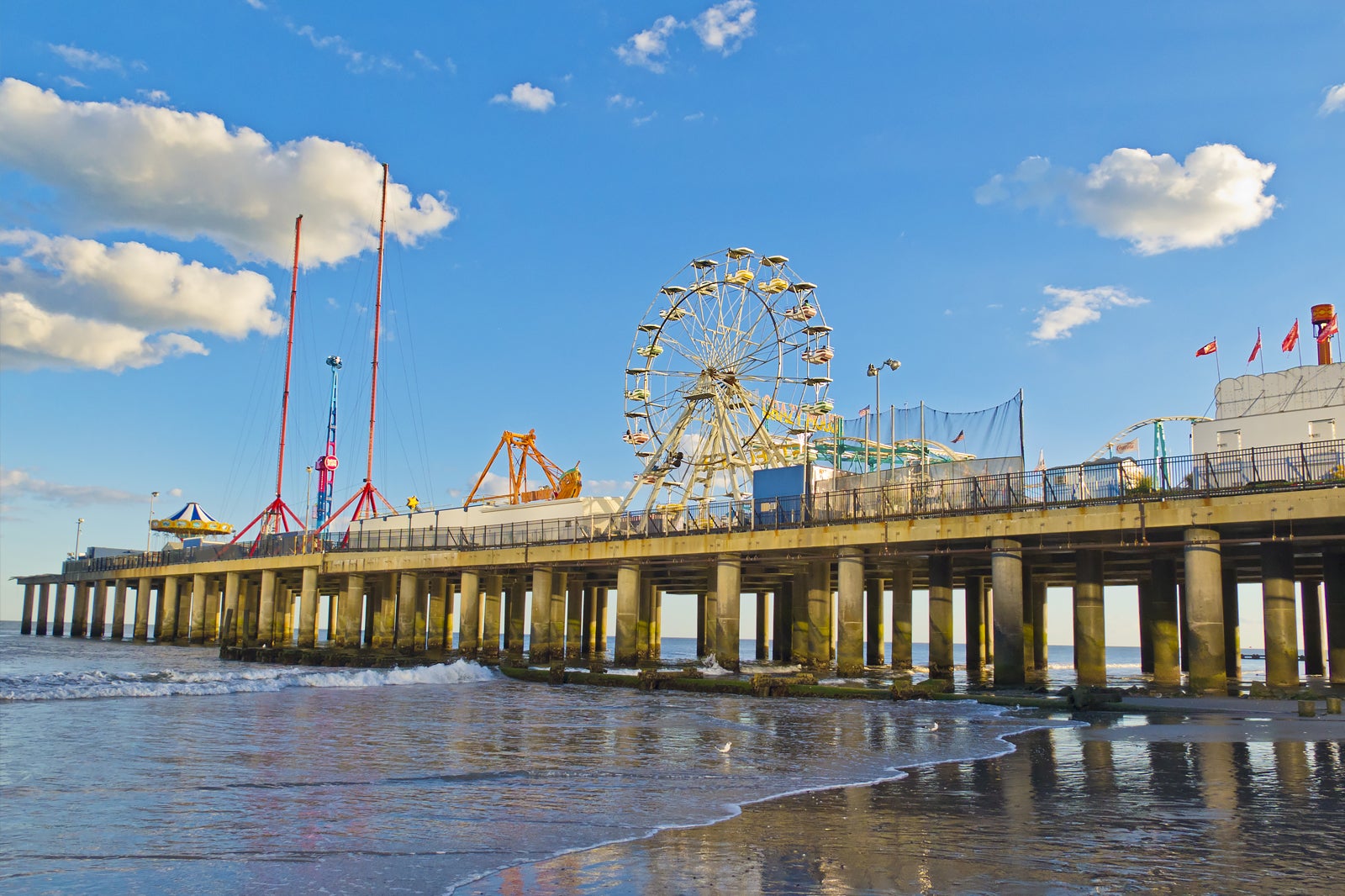 Steel Pier is an icon of Atlantic City's oceanfront, which you'll hardly miss on strolls along the Atlantic City Boardwalk with its massive amusement park and Ferris wheel. Built in 1898, it's the city's oldest theme park. And with its presence over the water with Hard Rock Hotel & Casino Atlantic City in its near background, it's an unmissable skyline.
Besides a 15-minute ride on The Wheel for breathtaking views of the city and coastline, you can have a great time on rollercoasters and a dozen other rides offering different thrill levels. You can also try your luck at staple carnival games or watch regular shows like high-wire motorcycle trapezes. Grab cotton candy or water ice or stop by Steel Pier Pub to fill up on hearty American meals served with live music.
Read more
Location: 1000 Boardwalk, Atlantic City, NJ 08401, USA
Phone: +1 609-345-4893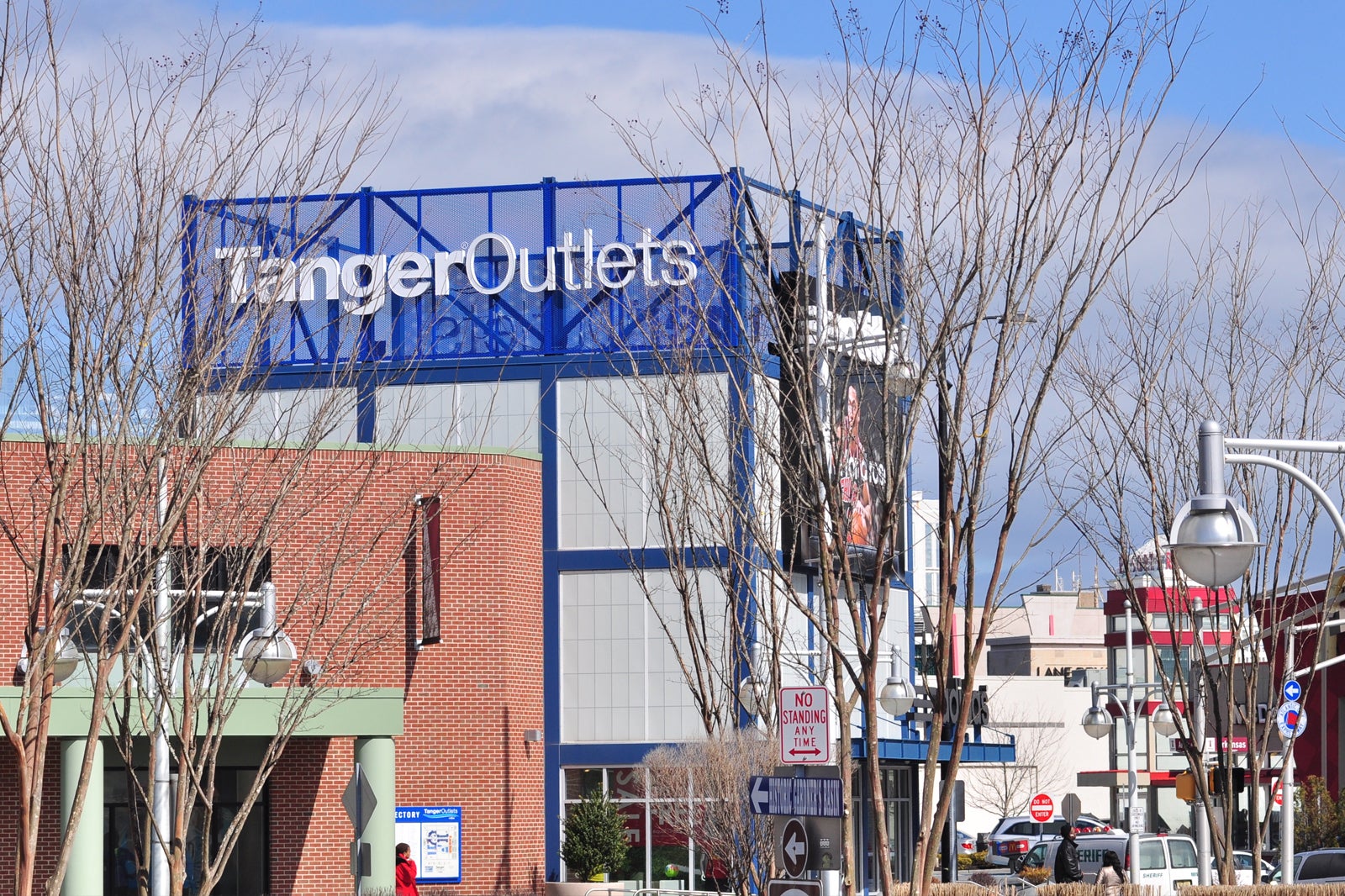 Tanger Outlets Atlantic City is a large open-air outlet shopping mall in Atlantic City, featuring over 100 stores spread over several blocks. You can easily reach it on a short stroll from Atlantic City Boardwalk and nearby casinos.
The shopping experience itself is like roaming through a small city, where you can hop by one outlet to another. Most are internationally recognized fashion brands like GUESS, Calvin Klein, Tommy Hilfiger, Motorcoach bus, and Levi's among many others. Whenever you need to have a break in between your browsing, Starbucks and Subway are just some of the many few food outlets within Tanger Outlets Atlantic City.
Read more
Location: 2014 Baltic Ave, Atlantic City, NJ 08401, USA
Open: Monday–Saturday from 10 am to 8 pm, Sunday from 10 am to 7 pm
Phone: +1 609-344-0095
photo by Андрей Бобровский (CC BY 3.0) modified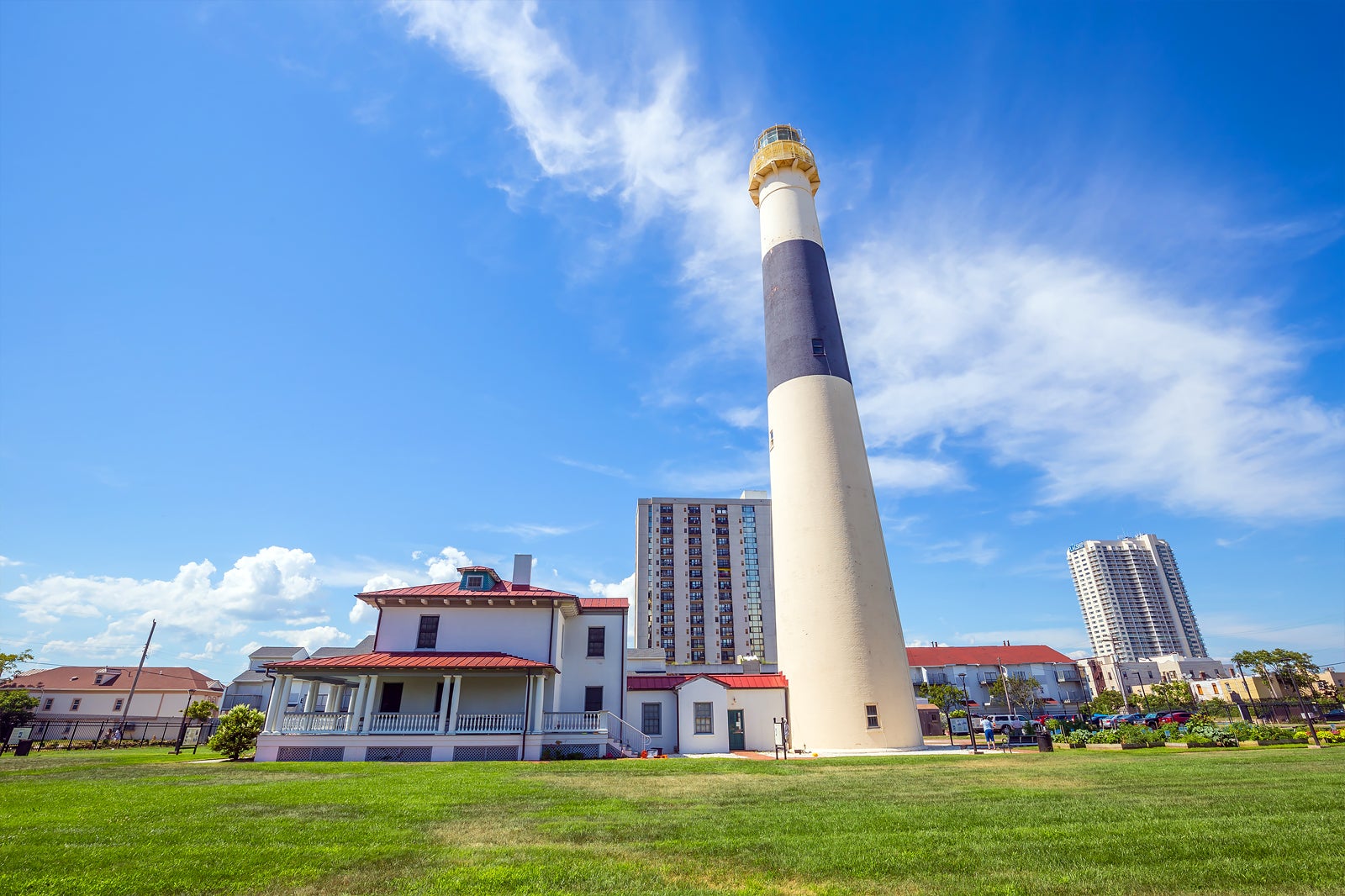 Absecon Lighthouse is the tallest lighthouse in New Jersey, and which you can climb up for views over Atlantic City and the Atlantic Ocean from 171 ft up. The lighthouse dates back to 1857 and is a historical structure on the corner of Pacific and Rhode Island avenues, interestingly not right on the shore and is eclipsed by other modern structures.
You'll need to conquer a total of 228 steps to climb to the top of the lighthouse which is in itself a journey back in time. The rewarding view of the Atlantic City skyline is one to tick off your Instagram photo checklists. Check out the museum and gift shop, as well as the massive original Fresnel lens exhibit on the old lighthouse's vast grounds.
Read more
Location: 31 S Rhode Island Ave, Atlantic City, NJ 08401, USA
Open: July–August: Friday– Wednesday from 10 am to 5 pm, Thursday from 10 am to 8 pm. September–June: Thursday–Monday from 11 am to 4 pm (closed on Tuesdays and Wednesdays)
Phone: +1 609-449-1360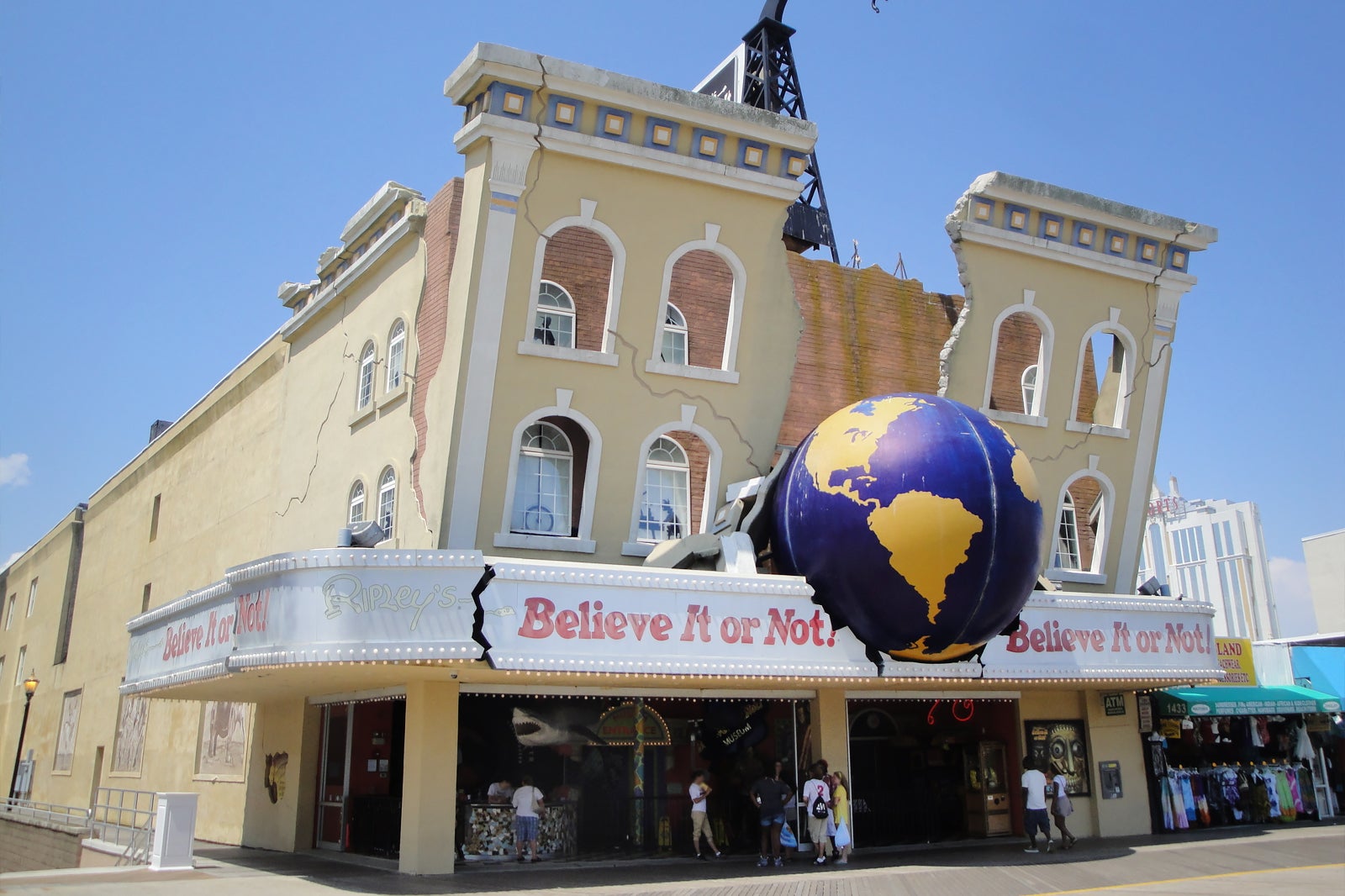 At Atlantic City's Ripley's Believe It or Not! Odditorium, you'll discover intriguing exhibits of odd items that can spark your curiosity and imagination. These range from quirky but awe-inspiring crafts like a spider made from scissors and knives to feats of engineering like the world's smallest production car. Displays are spread out in over a dozen galleries.
For outright odd stuff, check out the roulette table made of jellybeans – it's claimed to be made up of about 14,000 beans, or those that may be eerie or gross to some like the Jivaro shrunken heads from the Peruvian Amazons. Whatever your take on these oddities, a trip to the odditorium is simply an amusing break from the Atlantic City casinos and beach.
Read more
Location: 1441 Boardwalk Corner of Boardwalk and, S New York Ave, Atlantic City, NJ 08401, USA
Open: Monday–Tuesday and Thursday–Friday from 11 am to 6 pm, Wednesday from midday to 5 pm, Saturday from 10 am to 8 pm, Sunday from 10 am to 6 pm
Phone: +1 609-347-2001
photo by W. Reichmann (CC BY-SA 3.0) modified
7
Try saltwater taffy
Sweet treats along the Boardwalk
Saltwater taffy is among the few local treats in Atlantic City that you should try, which has its origins in this coastal city. The Atlantic City original saltwater taffy dates back to 1883. Despite the name, these soft, bite-sized delights don't have any seawater in them, though they do contain a bit of salt.
You'll come across plenty of stores selling the taffy along the Atlantic City Boardwalk but do check out Fralinger's Original Saltwater Taffy where it all started and explore their wide varieties – great for enjoying while on the beach or boardwalk, or as cool and tasty gifts for folks back home.
8
Atlantic City casinos
Plenty of spots for a date with lady luck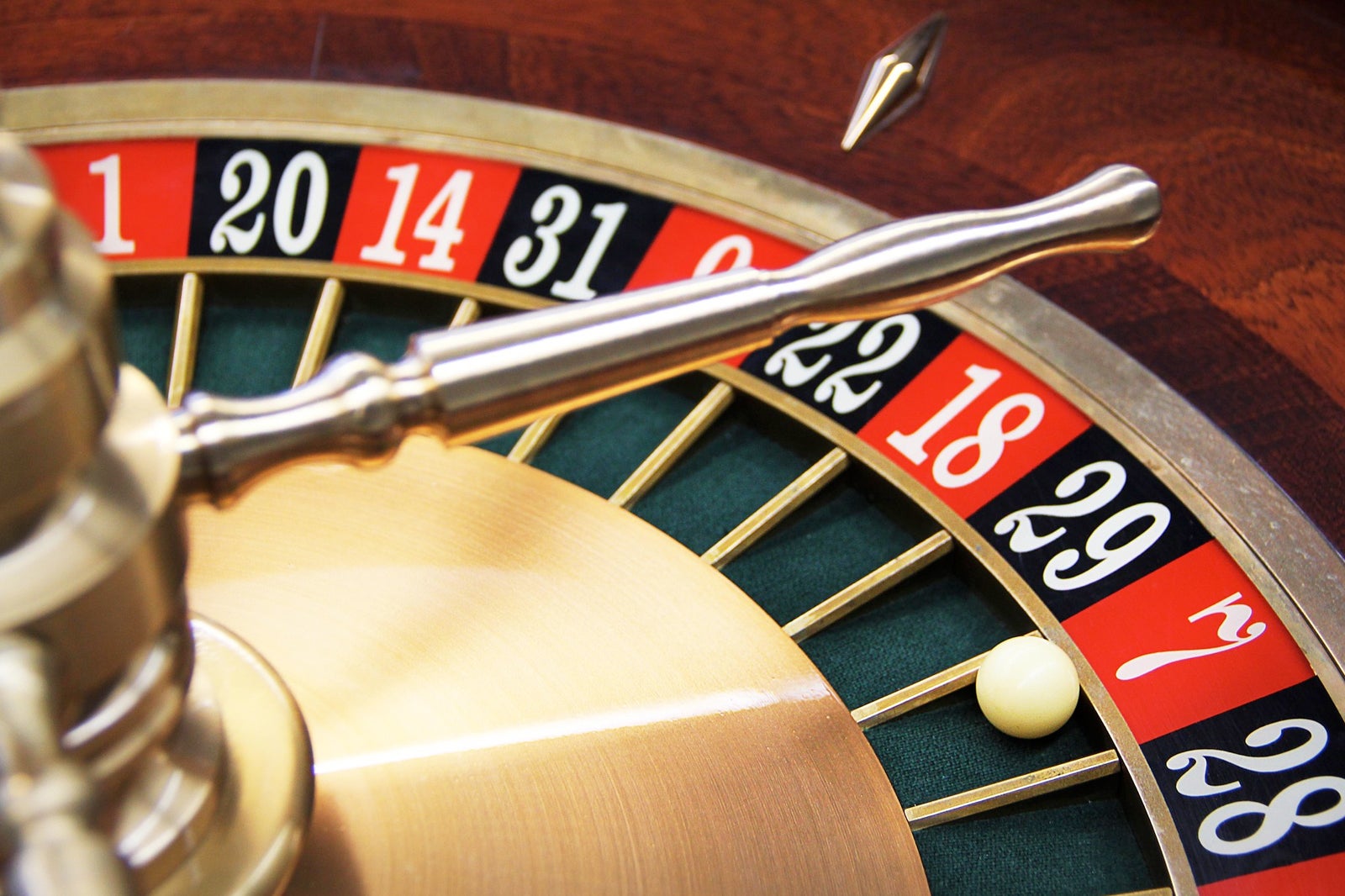 You can't visit Atlantic City without trying your luck in one of the many casinos. One of the best is The Borgata, the ritzy heart of the hotel of the same name. Here you'll find 161,000 sq ft of grown-up games, with thousands of slot machines and hundreds of roulette and blackjack tables.
Adorned with grand pillars, glossy marble floors and decorative carpets, jackpots come in suitably luxe surroundings. Even if you'd rather hold onto your chips, the atmosphere and a martini will have you feeling like 007 or a Bond girl in no time. Other great spots among the many include Hard Rock Hotel Casino Atlantic City, Tropicana Atlantic City, and Caesars Atlantic City Hotel & Casino.
9
The Music Box at Borgata Hotel & Casino
Catch a colorful live gig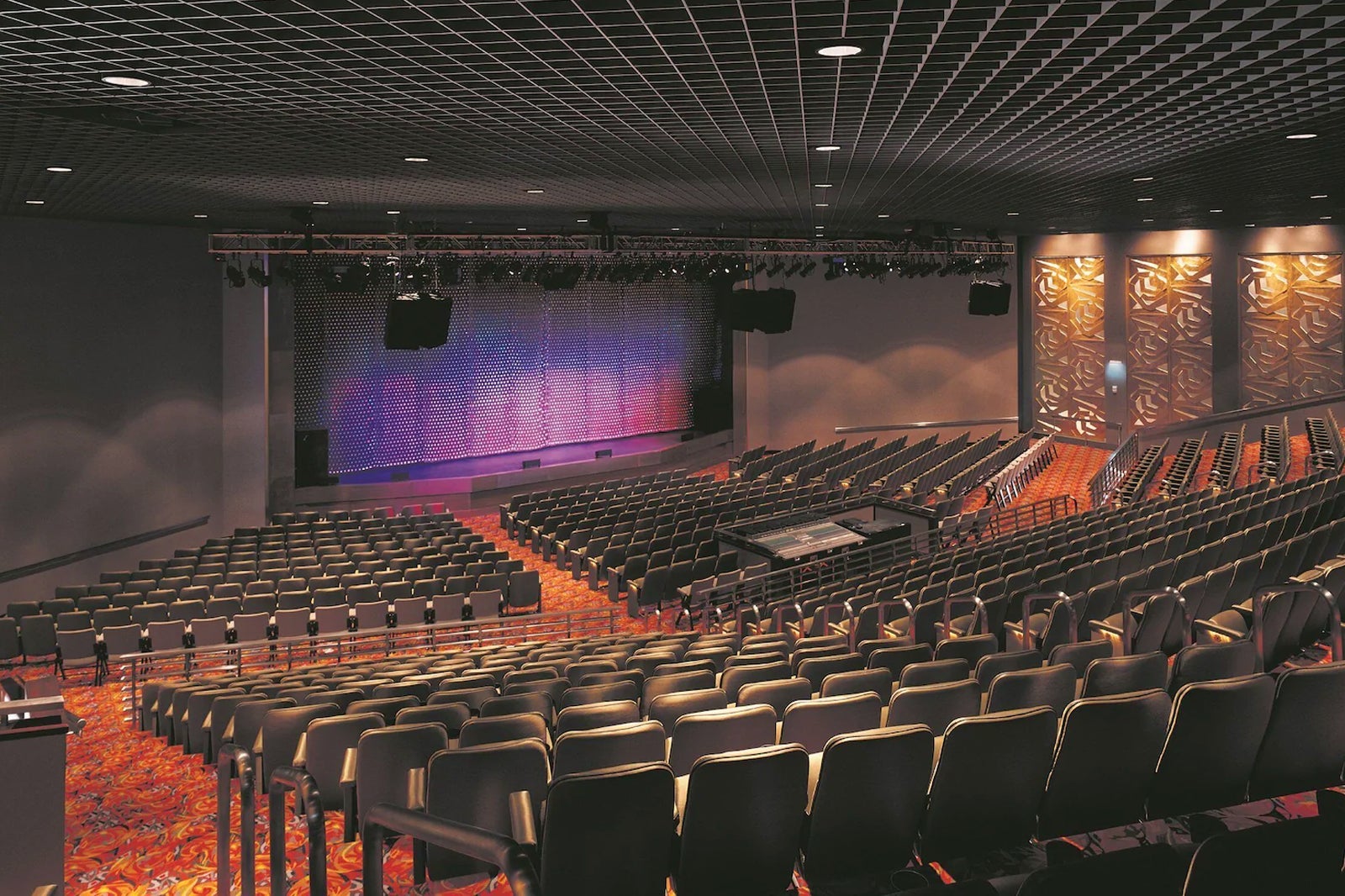 The Music Box at Borgata Hotel & Casino is a go-to venue in Atlantic City for a variety of great live shows, ranging from jazz concerts to hilarious stand-up comedy. The large auditorium with great acoustics has 3 seating sections, with the stage complemented by advanced lighting systems.
Besides regular music concerts, for the laughs, you can try Sunday nights for their comedy club, and you can even grab cocktails inside, served at the bar. Or, check out the burlesque show schedules for something dazzling as they combine funny, sexy and acrobatic rolled into a single spectacular gig.
Location: 1 Borgata Way, Atlantic City, NJ 08401, USA
Open: Hours vary by showtimes
Phone: +1 609-317-1996
Back to top