10 Best Shopping Malls in Los Angeles
Where to Shop 'til You Drop in LA
The best shopping malls in LA are places you can head to in case you get dazed and confused with the virtually endless supply of shops in this sprawling city. Shopping malls are popular in the City of Angels thanks to the sheer convenience and their shiny, clean layouts – often exposed to the glorious Californian sun.
A trip to the mall is essential to soak up LA culture. A place not only to shop but to eat delicious food, sip on smoothies, go to the movie theater and even take a yoga class. Just be careful not to get lost in their gargantuan size. Whether you're simply looking for a little window shopping or you're down to splash the cash, an afternoon in one of these malls will satisfy all your shopping desires.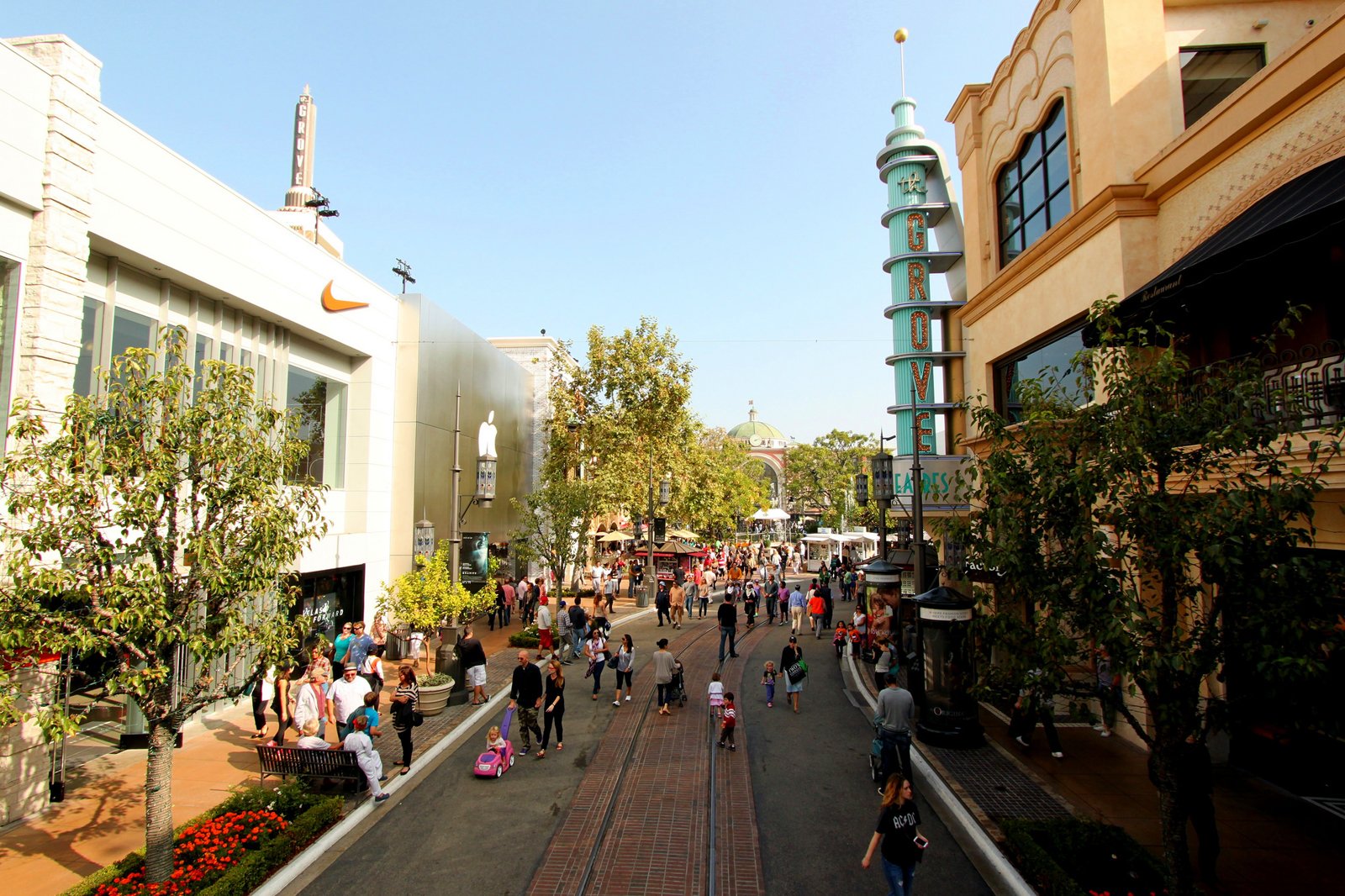 The Grove
Combine a spot of shopping with a trip to the theatre
Everyone and anyone mentions The Grove in LA's top shopping malls. Highly considered to be the creme de la creme of shopping malls, The Grove may only have 50 retailers, but its collection proves strong with a Barney's New York Co-Op and an Apple Store among others. Not to mention, the Original Farmers Market sits adjacent, so you can do a bit of shopping cardio and then stuff yourself with fresh, tasty food. In this beautiful outdoor mall, shopping is not the only form of entertainment. Frequent events take place throughout the year and they even have their very own art-deco movie theater.
Location: 189 The Grove Drive, Los Angeles, CA 90036, USA
Open: Monday–Thursday from 10am to 9pm, Friday–Saturday from 10am to 10pm, Sunday from 10am to 8pm
Phone: +1 323 900 8080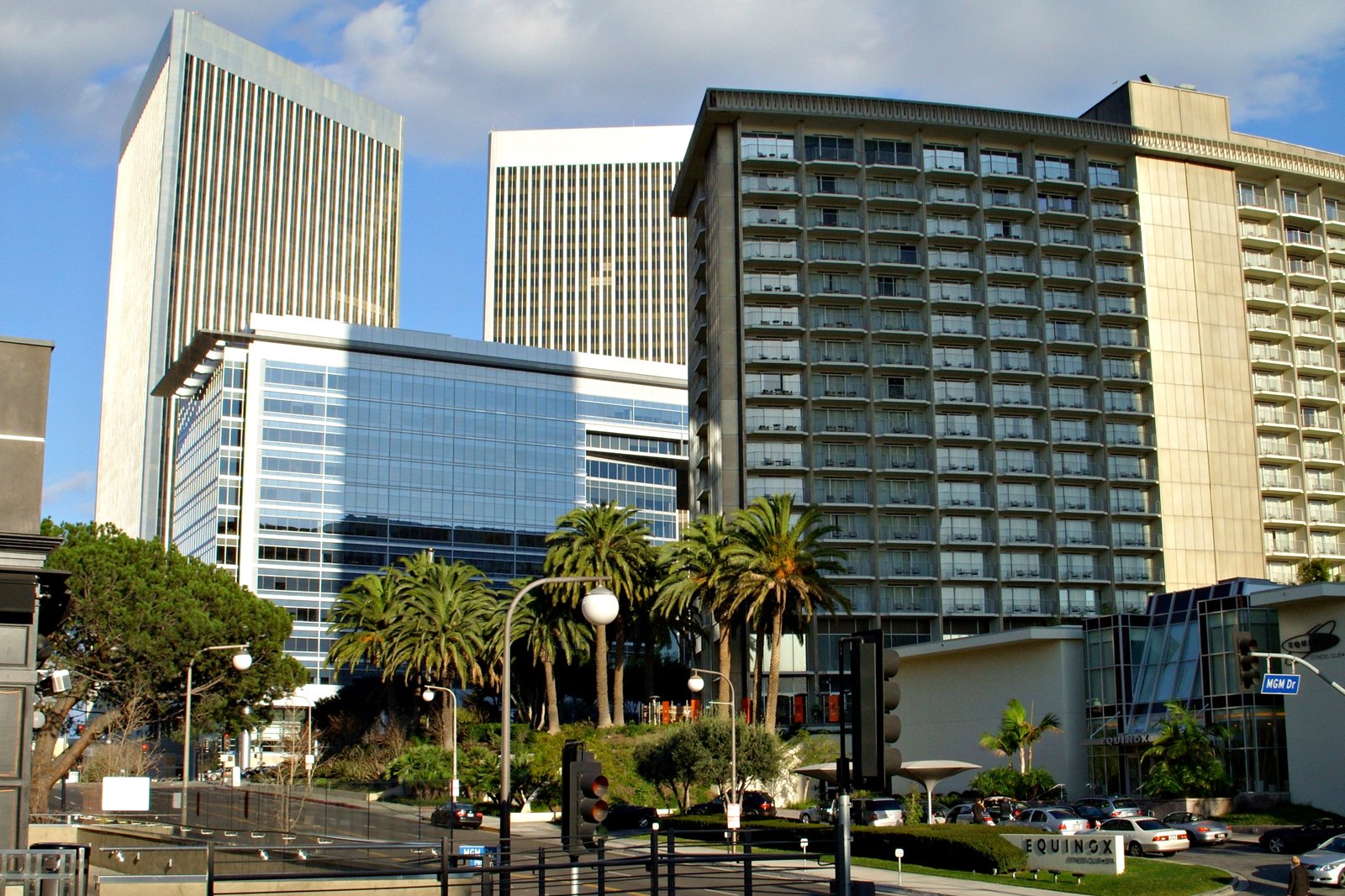 Westfield Century City
Get lost among shops, restaurants and gardens
With its countless makeovers over the years, Westfield Century City has slowly but surely come into its own. Found in the heart of the city, this mall impresses with a huge gourmet food hall, countless upscale and main-street shops and its very own outdoor event area, stylishly coined The Terrace. Expect everything from Kate Spade, Thomas Pink and Swarovski rubbing shoulders with H&M, Free People and Kiehl's.
Build up your shopping strength at one of the many dining options on offer. Head to Shake Shack for a burger and fries to fill your tummies, then to La Colombe's for coffee to get you back on your feet again.
Location: 10250 Santa Monica Boulevard, Los Angeles, CA 90067, USA
Open: Monday–Thursday from 10am to 9pm, Friday–Saturday from 10am to 10pm, Sunday from 11am to 8pm
Phone: +1 310 277 3898
photo by Basil D Soufi (CC BY-SA 3.0) modified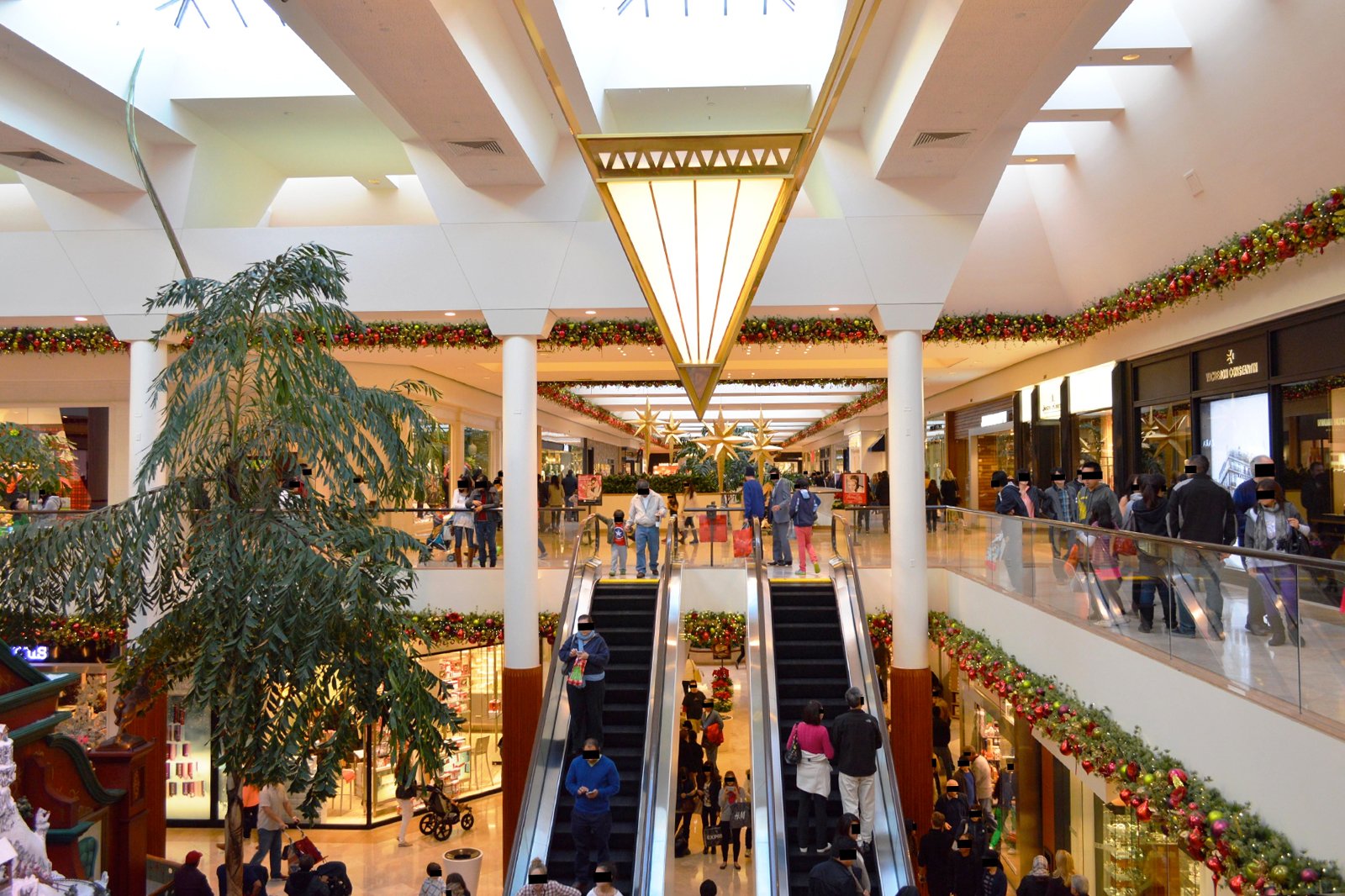 South Coast Plaza
Wander around one of the biggest malls in the US
South Coast Plaza is a beast in size and quantity. Think, endless rows of shops lit up in glossy window displays and parades of eager shoppers clutching green juices. With almost 300 stores here to choose from (albeit mostly chain stores), you'll struggle to explore it all in just one day.
There are 5 department stores, including Sears and Saks Fifth Avenue, covering a wide range of fashion tastes to spoil you for choice. This mall is also renowned for its impeccable specialist stores. Be sure to check out its website first for any special events, sales and contests taking place.
Location: 3333 Bristol Street, Costa Mesa, CA 92626, USA
Open: Monday–Friday from 10am to 9pm, Saturday from 10am to 8pm, Sunday from 11am to 6.30pm
Phone: +1 714 435 2000
photo by Nandaro (CC BY-SA 3.0) modified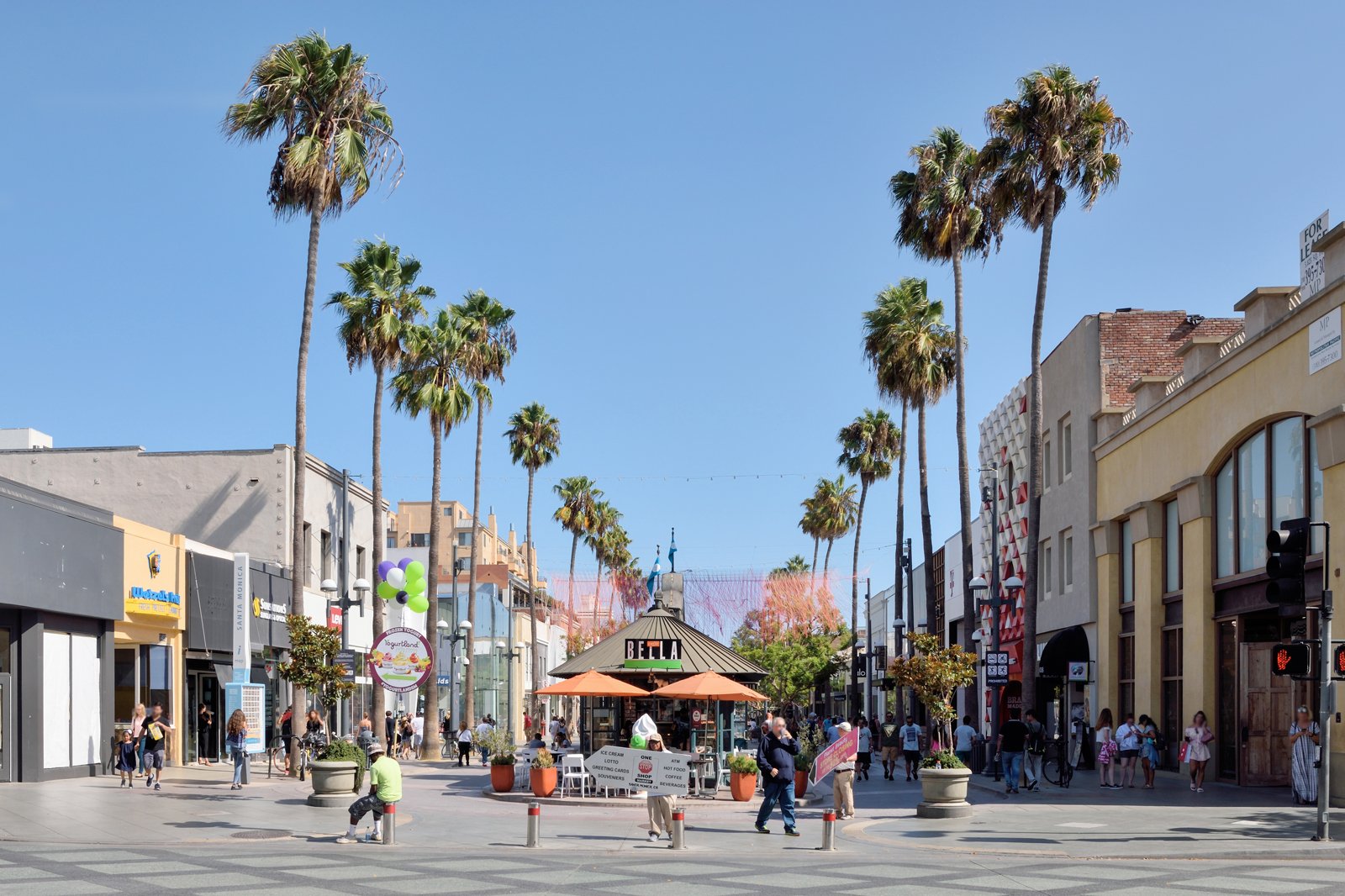 Third Street Promenade
Stroll along this outdoor promenade in the LA sun
Third Street Promenade is found a hop, skip and jump from Santa Monica Pier. With friendly waving palm trees leading you to retail paradise, it's the quintessential laidback LA scene. After a carefree day on the pier, a wander around this sun-kissed promenade will be the cherry on top of your day.
Shops follow the relaxed vibe with Urban Outfitters, GUESS, Armani Exchange and many more. Movie-goers will be pleased with some 20 movie theatre screens at your fingertips. Make sure to look out for enthusiastic buskers parked along the promenade – these talented performers may just be the next big thing.
Location: 1351 3rd Street Promenade, Santa Monica, CA 90401, USA
Open: Open 24 hours
Phone: +1 310 393 8355
photo by Cayambe (CC BY-SA 4.0) modified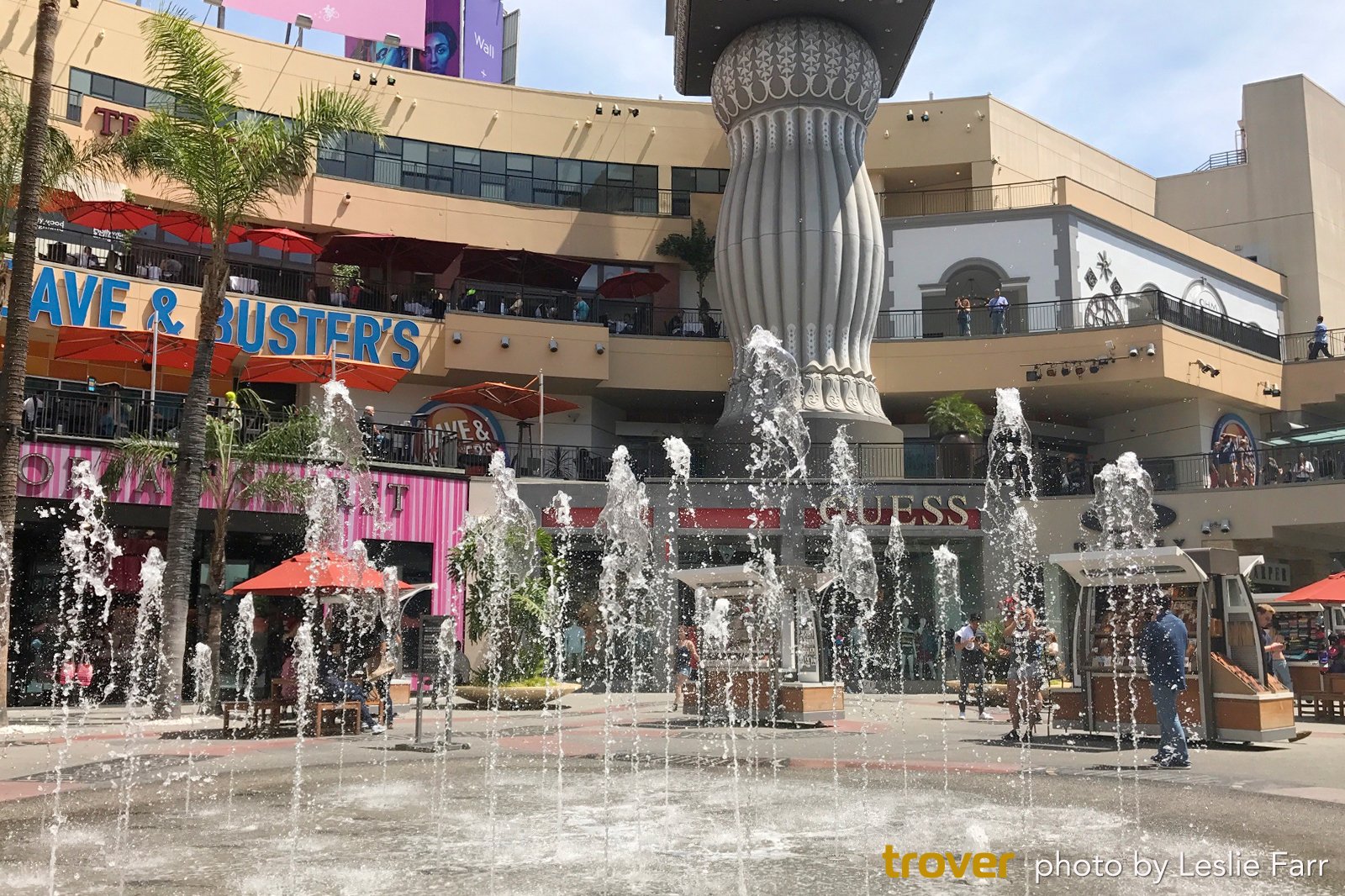 Hollywood & Highland
For the ultimate Hollywood shopping experience
There is never a dull moment on Hollywood Boulevard and the same goes for the shopping at Hollywood & Highland. Boasting iconic tourist attractions such as the TCL Chinese Theatre, the Dolby Theatre and the Walk of Fame, this mall offers just as much gravy in its range of shops.
Familiar favorites include Gap, American Eagle and LA's only Virgin Megastore, as well as smaller chains like Swatch, Bebe and Hot Topic. If you're looking to take something back home, the mall also has excellent souvenir shops. Though Hollywood & Highland may be crowded, its easily understandable thanks to its legendary status.
Location: 6801 Hollywood Boulevard 170, Los Angeles, CA 90028, USA
Open: Monday–Saturday from 10am to 10pm, Sunday from 10am to 8pm
Phone: +1 323 817 0200
The Americana
Spend an afternoon luxury shopping in the park
The Americana provides one of the very best shopping experiences in LA. In this pristine and beautifully designed outdoor mall, shopping is only the tip of iceberg. Sister mall to The Grove, you can expect The Americana to be just as impressive, given its a lot bigger.
Found in Glendale, this picturesque mall features eateries, bars, a movie theatre, a sprawling green lawn and year-round events such as free yoga and even special visits from Santa and the Easter Bunny. There's even a kids club from 11am to 1pm on Tuesdays for those parents looking to escape to the shops. Hop on Americana's cherry wood, electric-powered trolley around the property (or if you're feeling too lazy to walk).
Location: 889 Americana Way, Glendale, CA 91210, USA
Open: Monday–Saturday from 10am to 10pm, Sunday from 11am to 8pm
Phone: +1 818 637 8982
photo by Peter C in Toronto Canada (CC BY 2.0) modified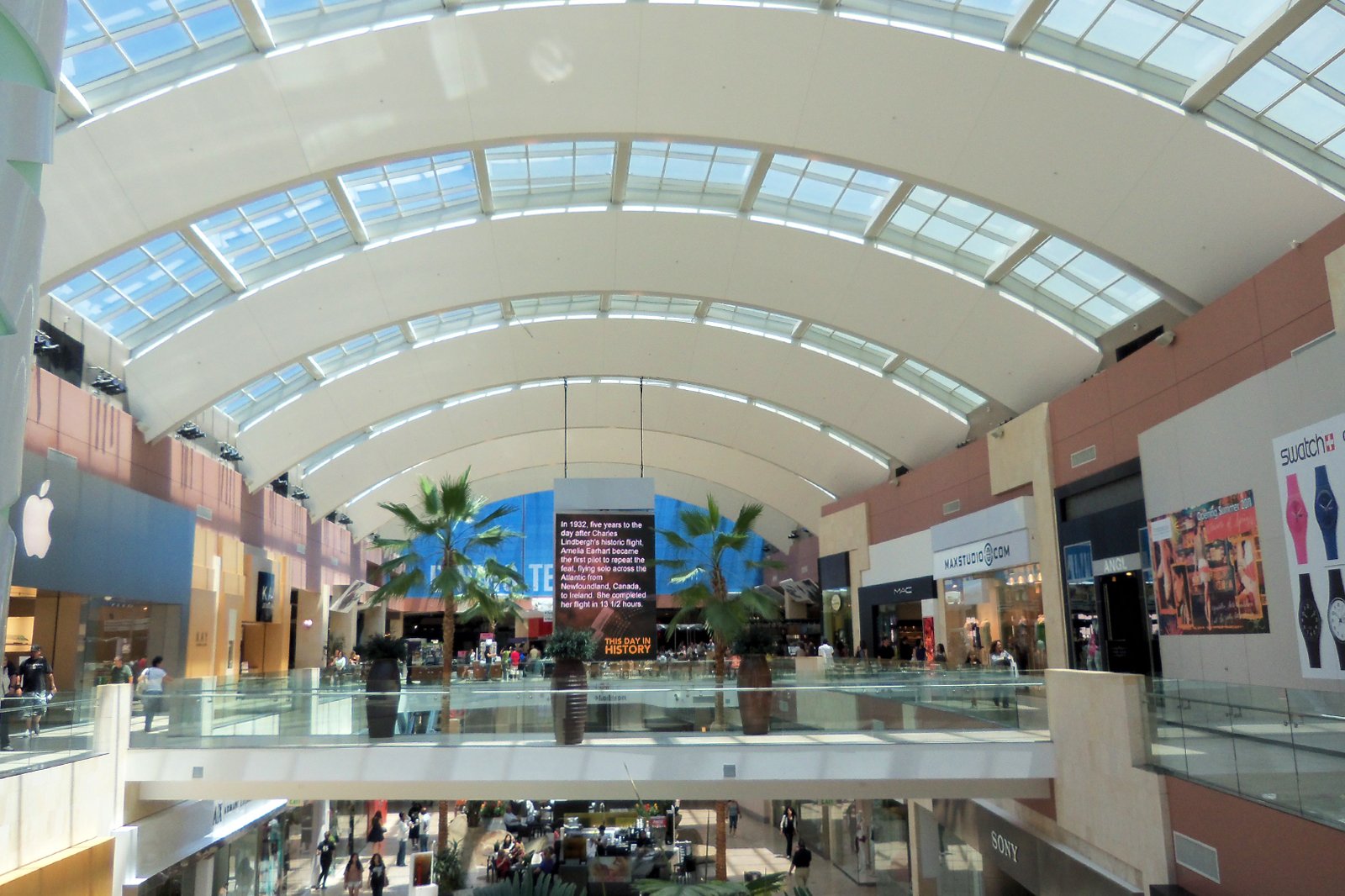 Westfield Topanga & the Village
For a killer luxury line-up
Westfield Topanga & the Village stands out for its immaculate outdoor area known as the Village. Black stone sidewalks are littered with flowery street lamps and shop fronts are veiled with stylish awnings signalling the upscale nature of the shops. Its luxurious cast includes Tiffany & Co., Gucci, Salvatore Ferragamo, Louis Vuitton, Cartier, Burberry, Jimmy Choo… just to name a few.
That's not to say only big bucks must be spent here, Topanga also carries main-street favorites like Urban Outfitters, Anthropologie, Free People and many more. Restaurants offer all fresco patio dining and there's even a full-service gym, spa, yoga studio and, in true LA fashion, a weekly farmer's market.
Location: 6600 Topanga Canyon Boulevard, Canoga Park, CA 91303, USA
Open: Monday–Saturday from 10am to 9pm, Sunday from 11am to 7pm
Phone: +1 818 594 8732
photo by Clotee Pridgen Allochuku (CC BY 2.0) modified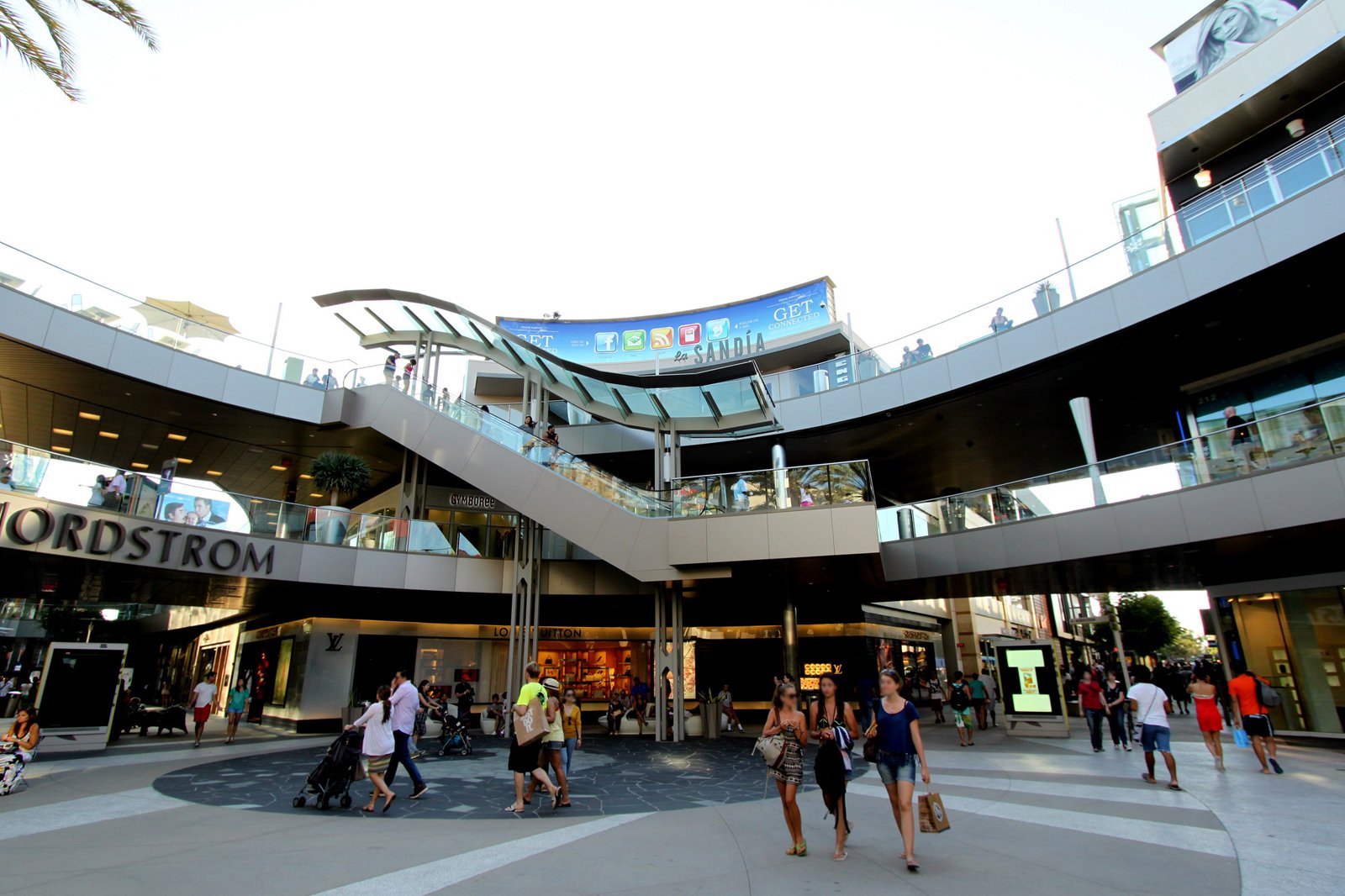 Santa Monica Place
Indulge in some retail therapy before or after the beach
With Santa Monica Place just blocks from the beach, a dip in the ocean and a trip to the shops became just as easy. Worth mentioning is its sleek, modern open-air design which involves a rooftop dining deck with chef-driven restaurants and stunning views of the city, the mountains and the Pacific.
The mall has shops that range from Louis Vuitton Ted Baker to Bloomingdale's and Nordstrom. But the experience is made all the more special with the mall's superb dining options and a state-of-the-art 12-screen movie theater experience… you could spend a few days here.
Location: 395 Santa Monica Place, Santa Monica, CA 90401, USA
Open: Monday–Saturday from 10am to 9pm, Sunday from 11am to 8pm
Phone: +1 310 260 8333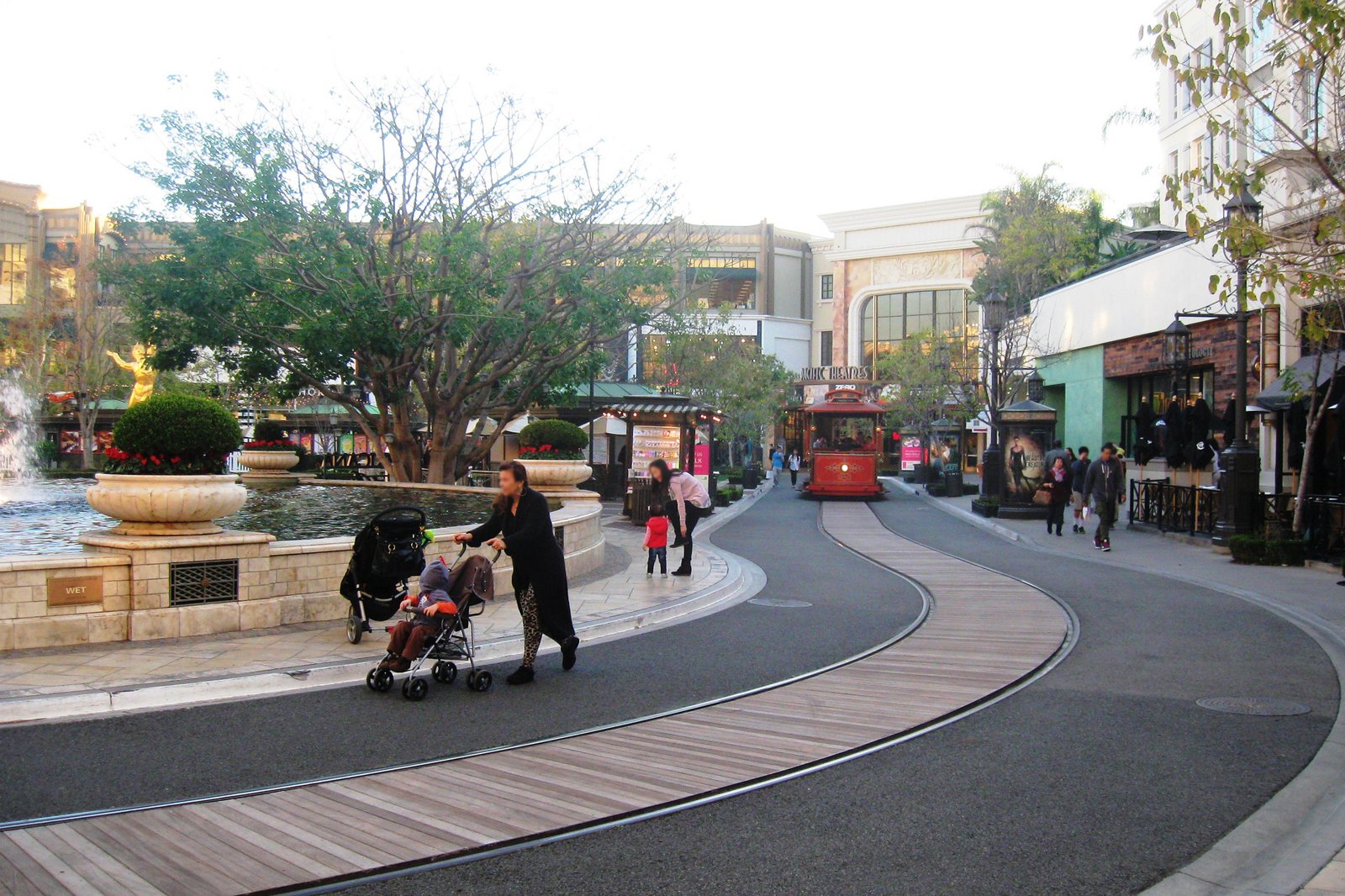 Glendale Galleria
Satisfy your retail cravings at one of 200 shops
If you're looking for a quality shopping spree as well as an all-round leisure experience, head over to Glendale Galleria. This deceptively large mall carries all the usual suspects – Apple, Bloomingdale's, Macy's – but it's really its additional facilities that draw in the crowds. With a fabulous food court, a children's play area and countless spas and salons, you'll be unaware of how much time you've actually spent in the mall. It's also worth noting there's not one, but two parking decks and both are free, so you can spend more money on actual shopping.
Location: 100 West Broadway, Glendale, CA 91210, USA
Open: Monday–Saturday from 10am to 9pm, Sunday from 11am to 7pm
Phone: +1 818 246 6737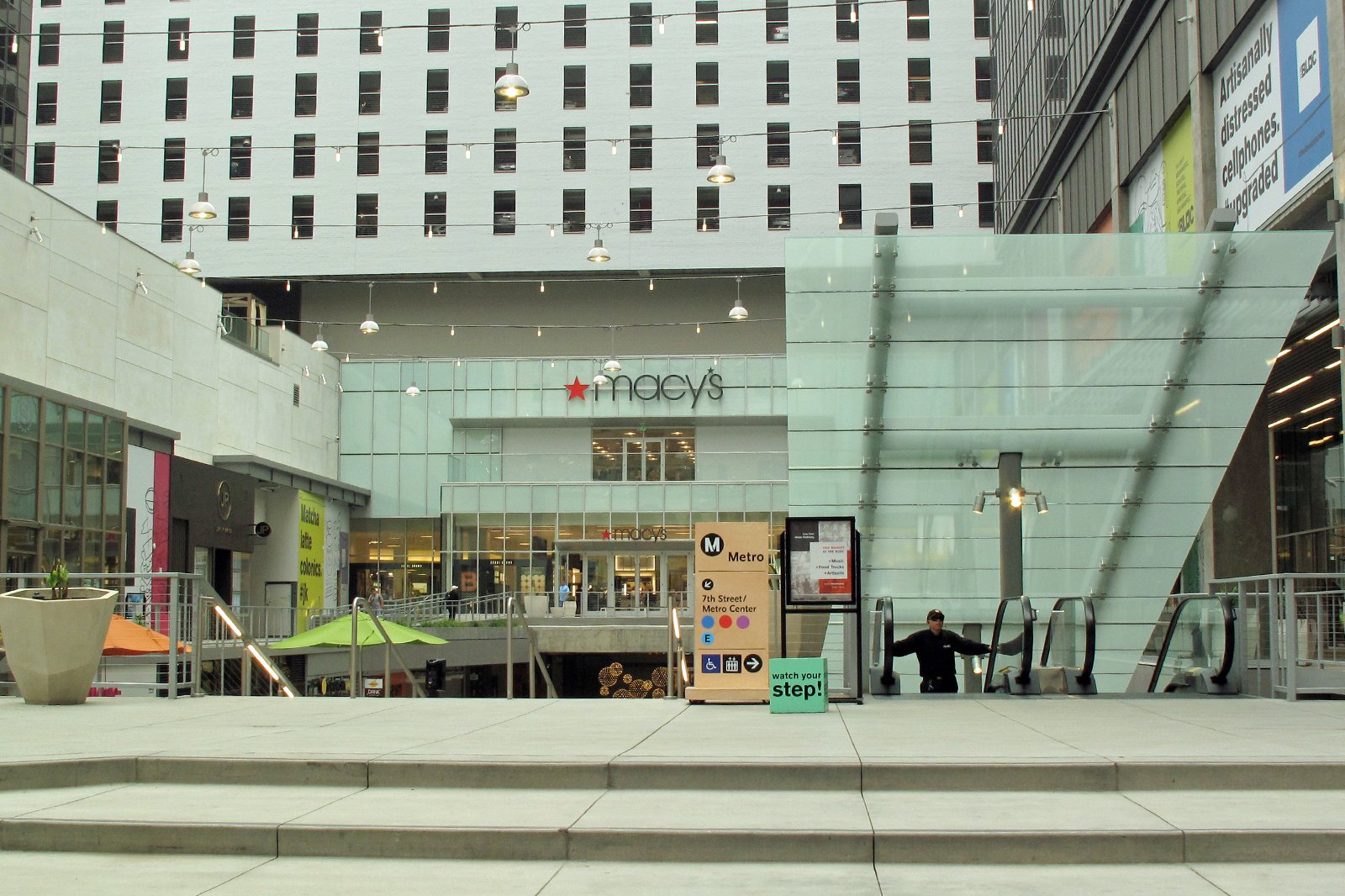 The Bloc
Shop at local boutiques in a hip, open-air mall
Found in the lively 7th street corridor linking the financial, jewelry, fashion and theatre districts, The Bloc is stylish, open-air mall in the hub of Downtown Los Angeles. With a sheeny Macy's, an open-to-the-sky marketplace and rows of thoughtfully curated local boutiques, artisans, premier retailers and eateries, this mall sets itself apart with its hip personality.
Given its design and location, you'll find all sorts of crowds around here, chatting over juices in the marketplace or sinking a glass of wine on its wooden patios. The mall also plays host to some of the coolest live performances and art installations in the city.
Location: 700 South Flower Street Suite 2600, Los Angeles, CA 90017, USA
Open: Daily 5am to 11pm
Phone: +1 213 624 2891
photo by Downtowngal (CC BY-SA 4.0) modified