5 Best Water Parks in Orlando
Orlando's Best Water Parks
Some of the best water parks in Orlando incorporate nature and wildlife into the attractions. For example, the incredible Dolphin Plunge® at Aquatica®, where you get to whizz along a flume that travels through a pool of dolphins! Other parks offer a more hands-on experience, allowing you to learn more about exotic species of marine life while having fun at the same time.
There's also plenty of good old fashioned slides and flumes (such as at the long-running Wet n' Wild). Orlando's line-up of water parks offers a lot of diversity and are great for the whole family.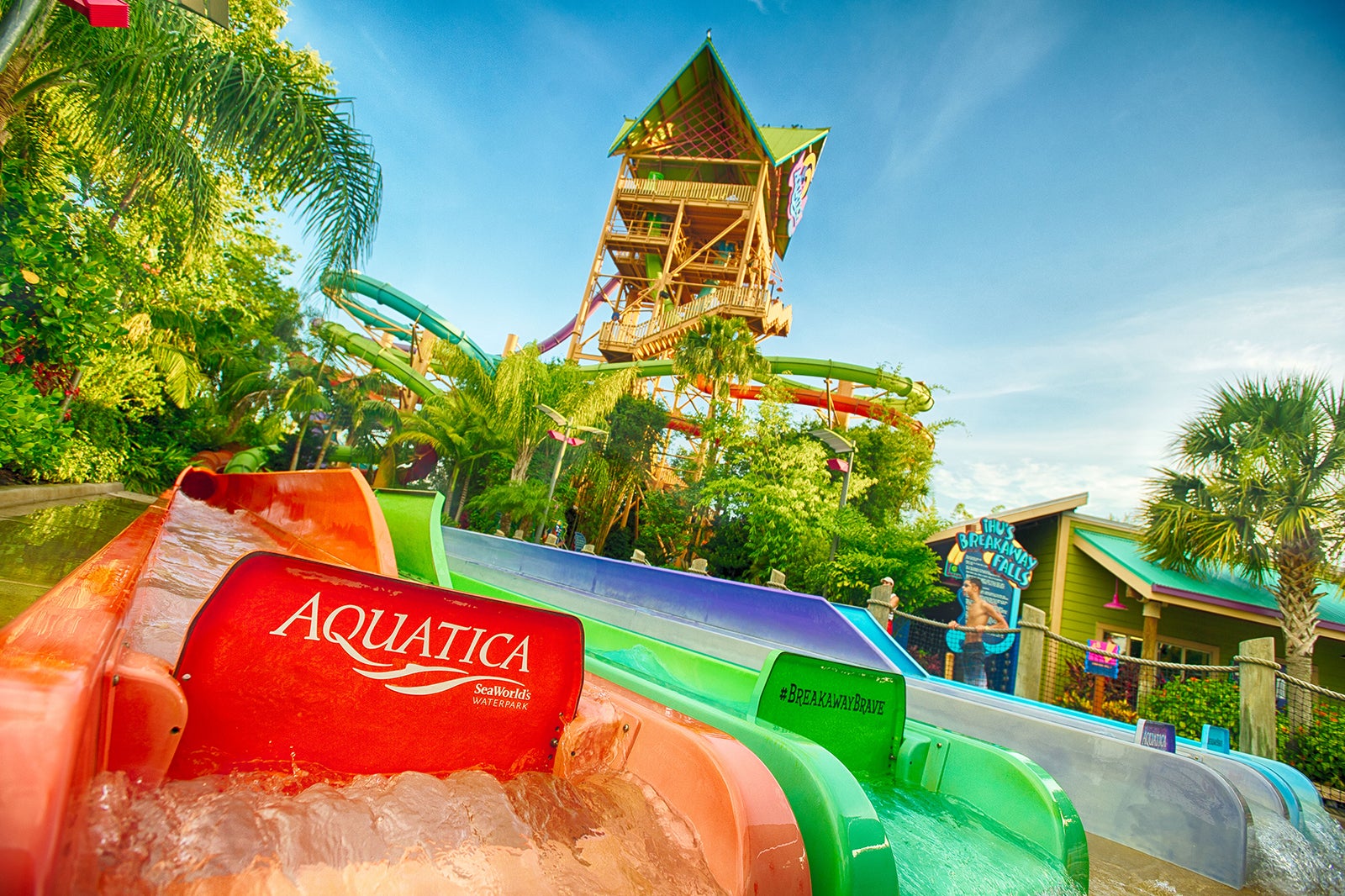 Aquatica® is one of Orlando's most popular waterparks, located at SeaWorld®, south of Downtown Orlando. Among a day's worth of fun slides and water attractions at the 59-acre park, the incredible Dolphin Plunge® gains the most attention here. It's a ride that allows you to slide through a transparent tube with dolphins swimming about in the surrounding pool.
Read more
Location: 5800 Water Play Way, Orlando, FL 32821, USA
Open: Hours vary by season
Phone: +1 407-545-5550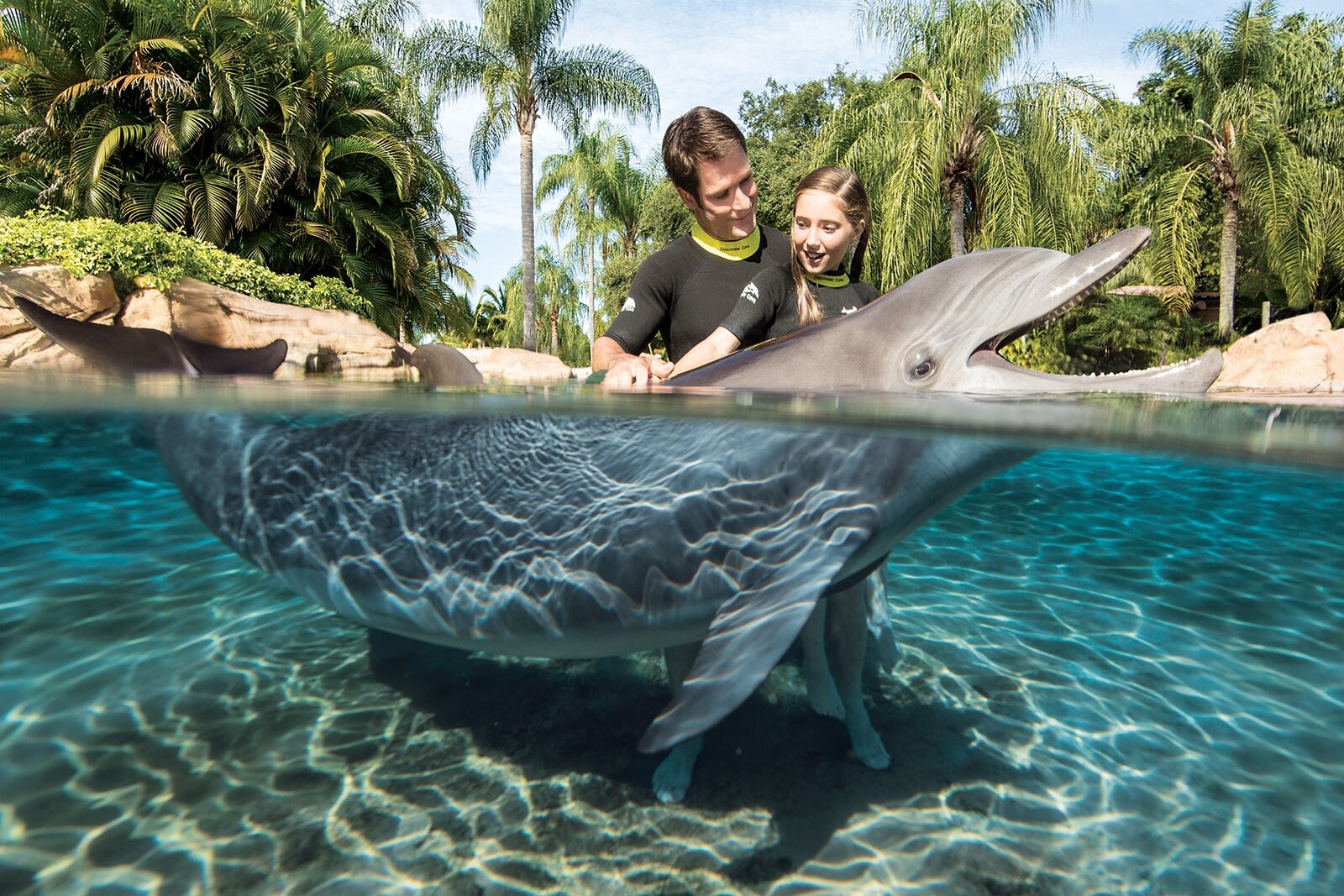 Swimming with dolphins is a common feature on bucket lists, and one which Discovery Cove® Orlando can make a reality. The Dolphin Lagoon®, at the heart of the park, gives guests 30 minutes with one of many of these majestic creatures, during which they can touch, play, swim and even learn to communicate with it and ride its dorsal fin. This is all under the supervision of experienced trainers, ensuring that neither guests nor animals are harmed.
Read more
Location: 6000 Discovery Cove Way, Orlando, FL 32821, USA
Open: Hours vary by season
Phone: +1 407-513-4600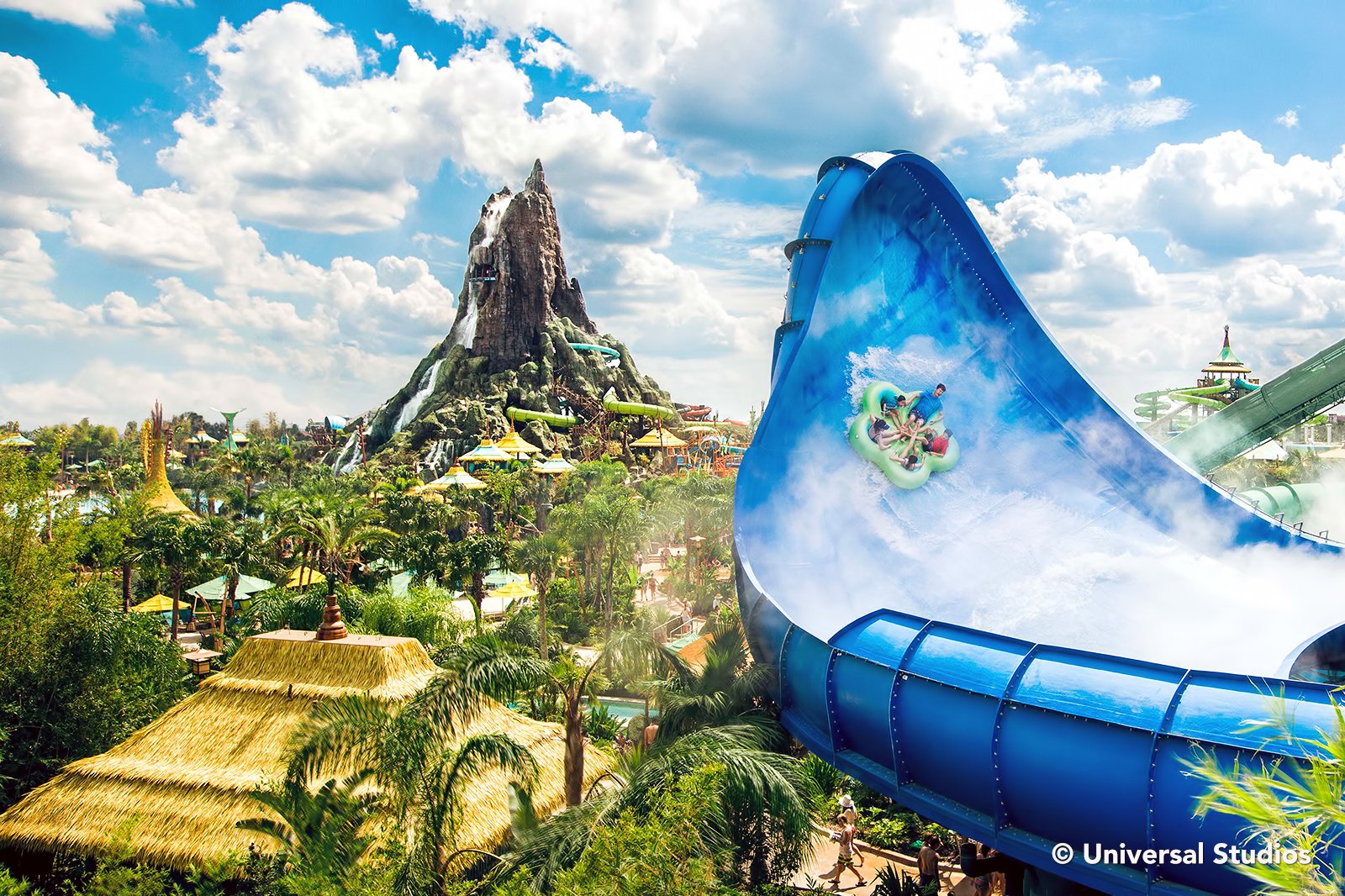 Universal's Volcano Bay™ water park is one of Orlando's most recognizable attraction thanks to the 200-foot conical mountain which roars periodically and emits lava-esque fluid at night. This is Universal Studios' first water park, and they have a nice mix of relaxing rides like a lazy river and wave pool together with more cutting-edge, high-speed rides like aqua coaters, and 70-degree plunge slides. Plenty of lockers are available and you can prepay credit onto a wristband, so you have money for snacks and drinks throughout the day without needing to carry cash.
Location: 6000 Universal Blvd, Orlando, FL 32819, USA
Phone: +1 407-363-8000
The concept at Disney's Blizzard Beach is rather wacky but undeniably fun; it's built around the idea that it was once a ski resort which 'melted into a watery wonderland'. The result is a juxtaposition of snow-capped mountains that you can slide your way down next to white-sand beaches for relaxing by the unusually warm 'artic' waters.
A highlight is Mount Gushmore – home to one of the world's tallest and fastest waterslides. There are plenty of other, less hair-raising slides and attractions to keep the whole family occupied for the day.
Read more
Location: 1534 Blizzard Beach Drive, Orlando, FL 32836, USA
Open: Daily from 10am to 5pm
Phone: +1 407-560-3400
Typhoon Lagoon has a good 10 or so water slides, including the 2-person rollercoaster raft-like Crush 'n' Gusher. There's also the Humunga Kowabunga with 5 steep drops, as well as the Storm and Bay slides, which are both a little slower and geared more towards the younger children. Elsewhere, there is a sizeable rapids course looping around the park.
Disney's Typhoon Lagoon goes a bit further than just slides though. Surfers will love the Typhoon Lagoon Surf Pool, which generates 6-foot swells from powerful underwater turbines. Ticket holders can also jump in and swim with sharks, stingray and tropical fish at Shark Reef – perhaps the park's best-rated attraction.
Read more
Location: 1145 East Buena Vista Drive, Orlando, FL 32830, USA
Open: Daily from 10am to 5pm
Phone: +1 407-560-4120