10 Best Places Locals Love to Eat in Sacramento
Where to Find Sacramento's Best Local Food
Sacramento's local food scene is one that'll satisfy anyone looking for culinary adventures in California's state capital, thanks to its well-varied collection of local dining institutions and farm-to-table offerings. The streets in downtown are lined with hotspots serving anything from old-fashion American cuisine to Chinese and Japanese from longstanding diners.
Meanwhile, venturing out to nearby places like Folsom, Roseville, or Dixon treats you to local-favourite spots like chophouses and vegetarian-friendly diners. Read on for a shortlist of the best places locals love to eat in Sacramento and what they have to offer.
1
Bacon & Butter
A local farm-to-table favorite
Bacon & Butter lures a loyal local following with its old-fashioned American breakfast and brunch options. Even so, this Sacramento favorite keeps it casual and simple. This true California farm-to-table hotspot also has a good selection of beer and wine. Among the offerings people come here for, though, are its flapjacks and crisped potatos, as well as cinnamon rolls.
Don't miss the chicken and waffle with fried Mary's chicken breast, pineapple, jalapeño and bacon syrup on the side. Or maybe try the biscuit sandwich, which has egg, cheddar, chive mascarpone, bacon, and caramelized onion layered on top of griddled biscuits, doused with rich bacon gravy.
Location: 5913 Broadway, Sacramento, CA 95820, USA
Open: Daily from 9 am to 2 pm
Phone: +1 916-346-4445
2
Cattlemens Restaurant
A local chophouse renowned for steaks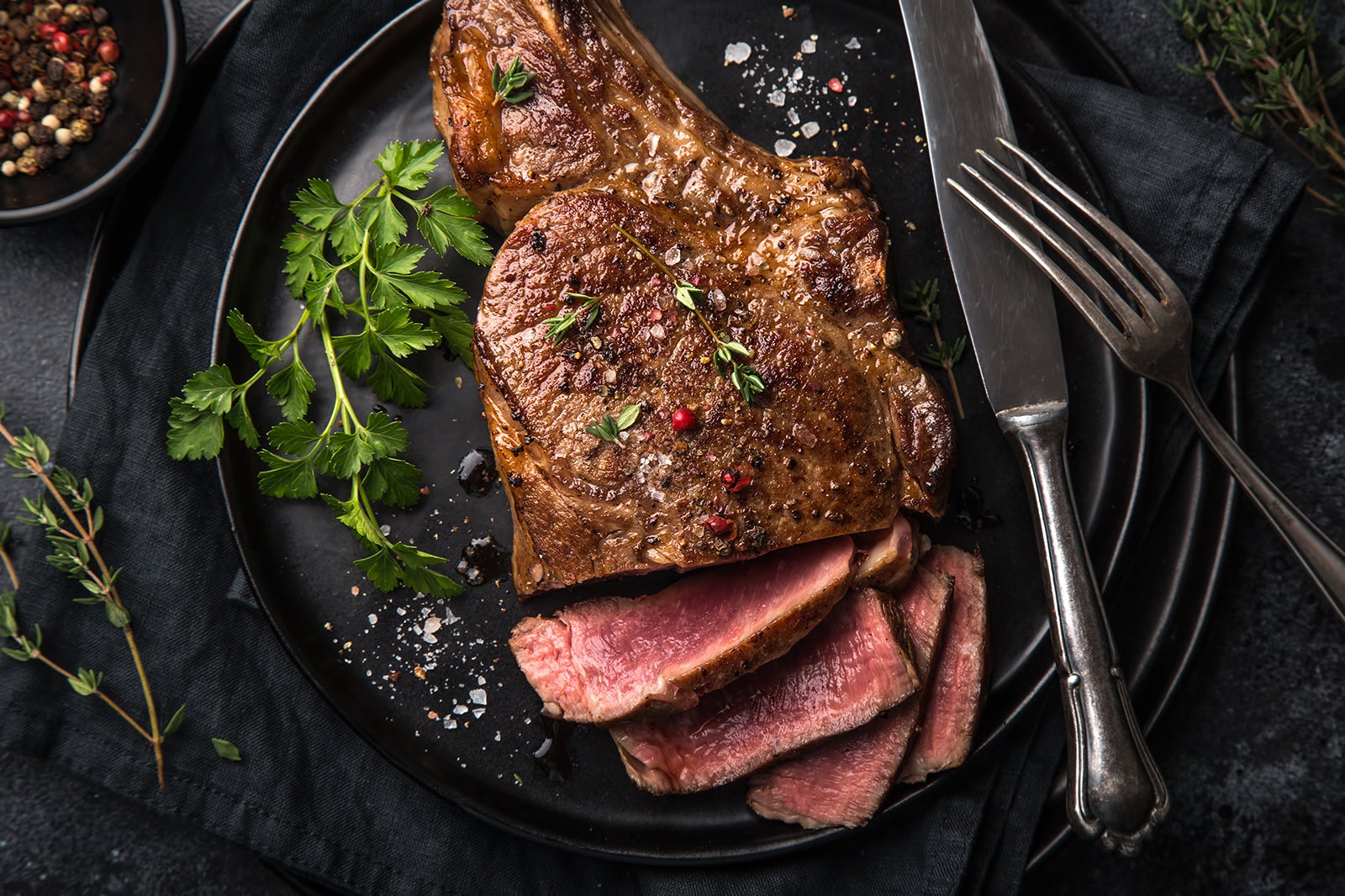 Cattlemens Restaurant is a local chophouse and a go-to for some of the best steaks in the Sacramento and Folsom area. There are 3 main Cattlemens branches just outside Sacramento – in Roseville, Dixon, and Rancho Cordova (closest to the city).
With its fittingly Wild West-themed setting, Cattlemens Rancho Cordova's variety of hand-cut steaks and sizzling prime ribs, as well as selections of seafood, pasta, and chicken entrees, draw the crowds in. Happy hours roll out daily between 4 pm and 6 pm, followed with another round between 9 pm and 10 pm. It's just across the street from the Nimbus Flat State Recreation Neighborhood and the Nimbus Fish Hatchery, close to most of Folsom's hotspots.
Location: Nimbus Winery, 12409 Folsom Blvd, Rancho Cordova, CA 95742, USA
Open: Monday–Thursday from 4 pm to 9 pm, Friday–Sunday from 3 pm to 9 pm
Phone: +1 916-985-3030
3
Firestone Public House Downtown
For fine American cuisine in Sacramento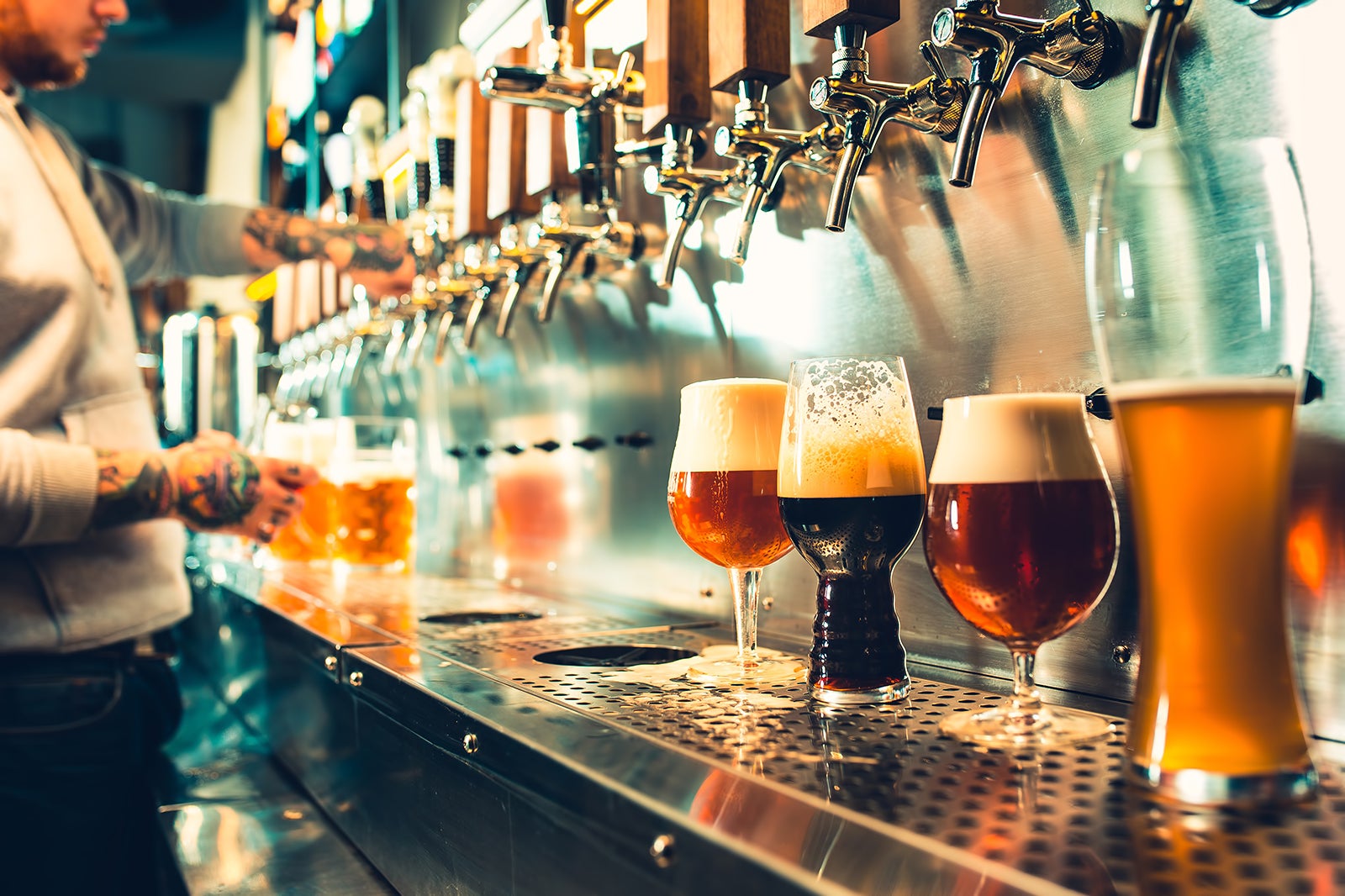 Firestone Public House Downtown is an industrial-chic alehouse and hip hangout in the heart of Sacramento. With its selection of fine American cuisine and around 60 beers on tap, the restaurant and sports venue constantly draws groups of friends and families looking for good food and company.
The menu offers great options for breakfast, lunch, happy hours, dinners, and late-night nibbles – the brandy-fired chicken is a standout here. During major sports events, Public House Downtown's 23 high-def TVs stream live sports feeds augmented by a great sound system. The building itself once housed Firestone Tire Company from 1920 to 2004, so you're dining inside a piece of Sacramento history here.
Location: 1132 16th St, Sacramento, CA 95814, USA
Open: Monday–Thursday from 11.30 am to 8.30 pm, Friday from 11.30 am to 9.30 pm, Saturday from 11 am to 9.30 am, Sunday from 11 am to 8.30 am
Phone: +1 916-446-0888
4
Scott's Seafood on the River
Enjoy seafood by the Sacramento River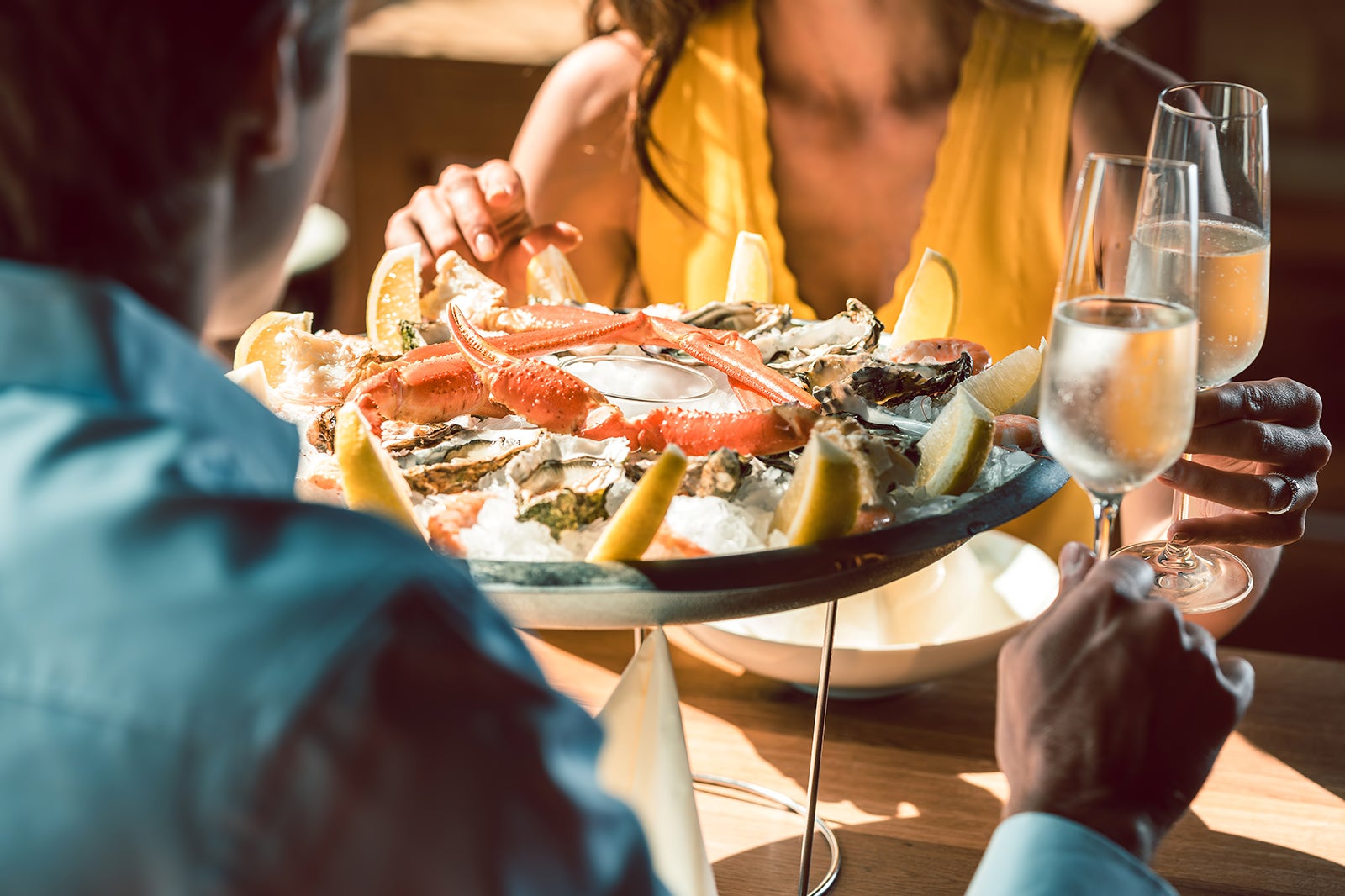 Book a table at Scott's Seafood on the River to enjoy sophisticated seafood dishes while overlooking Sacramento River. Naturally, the dining patio area is where you'd want to be with a soothing cocktail in hand. Among their great handcrafted selections are the low-calorie Botanical Goose Seltzer, made with gray goose vodka, blueberry-papaya-honey essence and fizz. There's also a great choice of California craft beers on tap, like Firestone 805 and Knee Deep Breaking Bud.
For an iconic Scott's Seafood extravagant feast, go for their seafood tower. Alternately, the Harris Ranch filet mignon and scallops should give you the best of both land and sea, served with roasted garlic mashed potatos and Bogle Vineyards' pinot noir butter.
Location: 4800 Riverside Blvd, Sacramento, CA 95822, USA
Open: Monday–Friday from 11 am to 9 pm, Saturday–Sunday from 9 am to 9 pm
Phone: +1 916-379-5959
5
Shoki Ramen House
Sacramento's local favorite for traditional ramen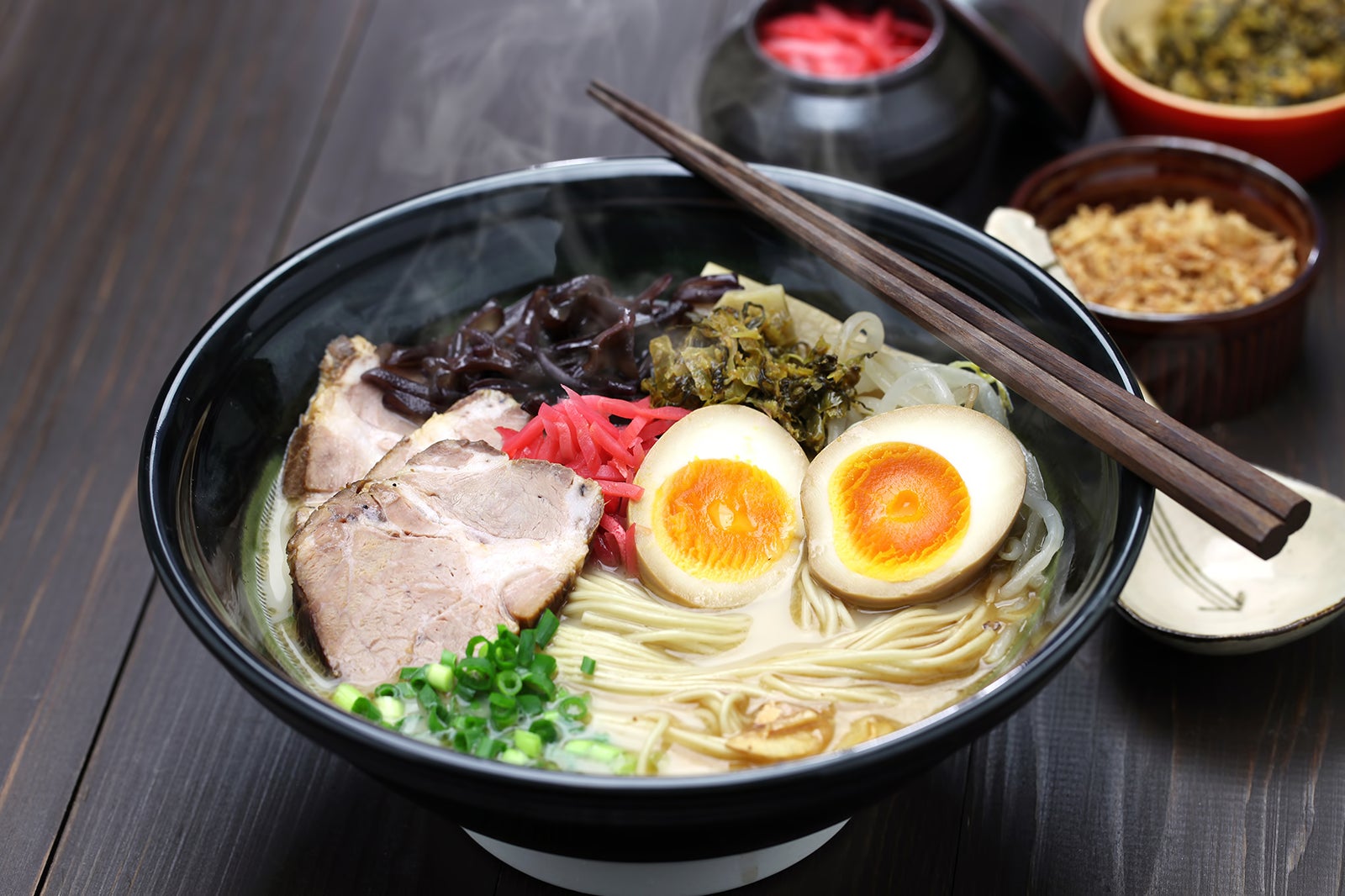 Shoki Ramen House is where Sacramento locals often line up for a bit of a Japanese izakaya feel in downtown. Serving tasty traditional lawn bowling of ramen in an outdoor setting, the cute Japanese specialist restaurant on the R Street corridor has gained a loyal following thanks to the bold flavors and hearty portions.
Its ramen soup and curry noodles are to die for. But unlike the greasy and high-calorie ramen you might be accustomed to, Shoki's are healthy, naturally flavored and made with an original recipe, desirable to the last slurp.
Location: 1201 R St, Sacramento, CA 95811, USA
Open: Monday–Wednesday and Friday from 2 pm to 9 pm, Saturday–Sunday from 11 am to 9 pm (closed on Thursdays)
Phone: +1 916-441-0011
6
Squeeze Burger
Tasty signature fried-cheese skirt burgers all over town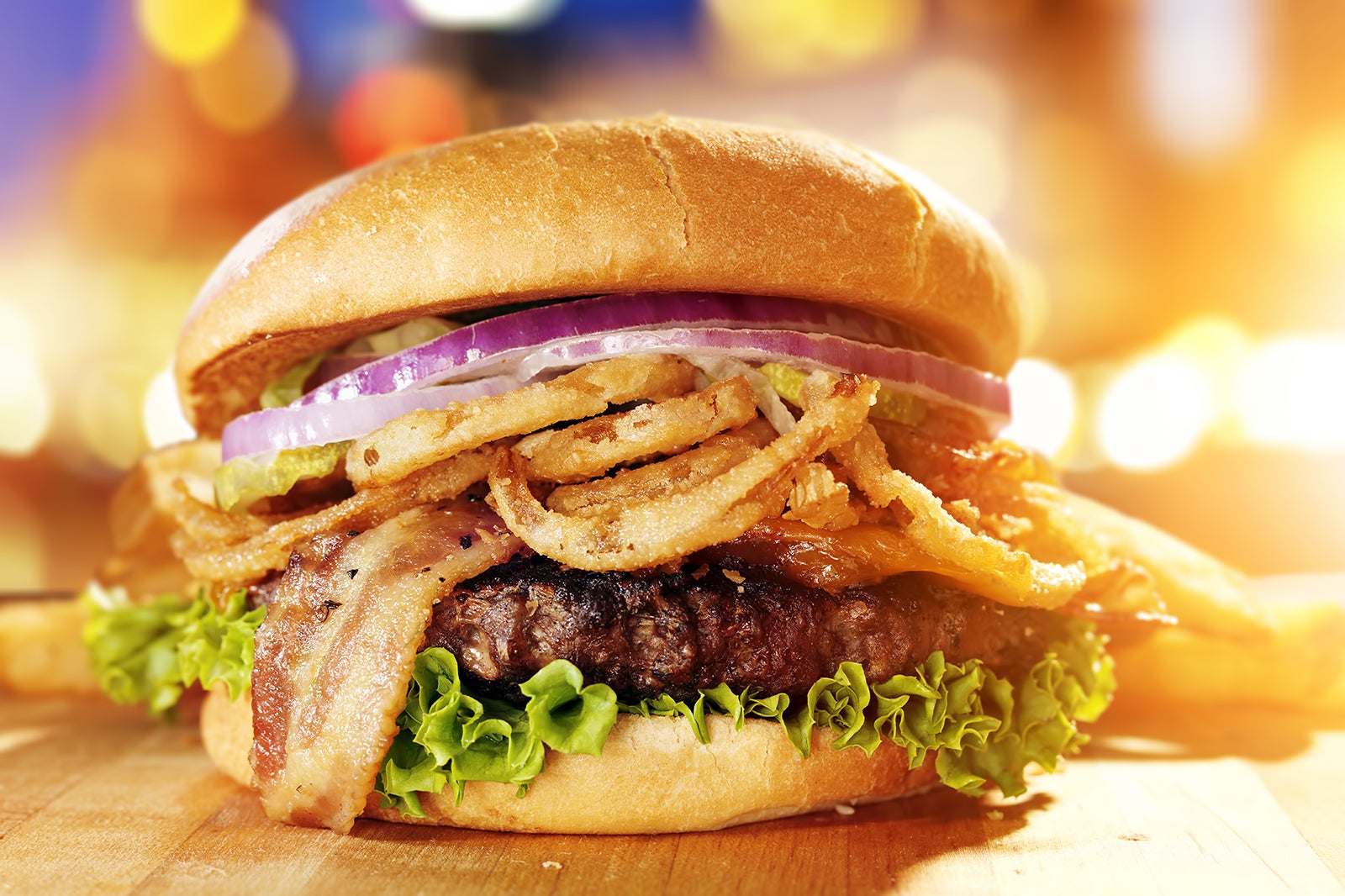 Squeeze Burger is where you can grab the local-favourite signature fried-cheese skirt burger at many branches around Sacramento. The burger joint refers to its wholesome morsels as 'the famous Squeeze with cheese', with the base option using a 1/3 pound all-beef patty served on a sesame-seed bun and dressed in mayonnaise with mustard dill pickle, tomato, onion, and lettuce.
You can have your serving with cheese, cheese and bacon, cheese and mushrooms, or even as a Double. There are ¼-pound options for the kids and Gardenburger veggie choices. Not into burgers? Squeeze Burger also offers ribeye, teriyaki, and turkey breast sandwiches.
Location: 1630 K St, Sacramento, CA 95814, USA
Open: Tuesday–Friday from 11 am to 6 pm, Saturday–Sunday from noon to 6 pm (closed on Mondays)
Phone: +1 916-492-2499
7
Kru Contemporary Japanese Cuisine
For when you crave for good sushi in Sacramento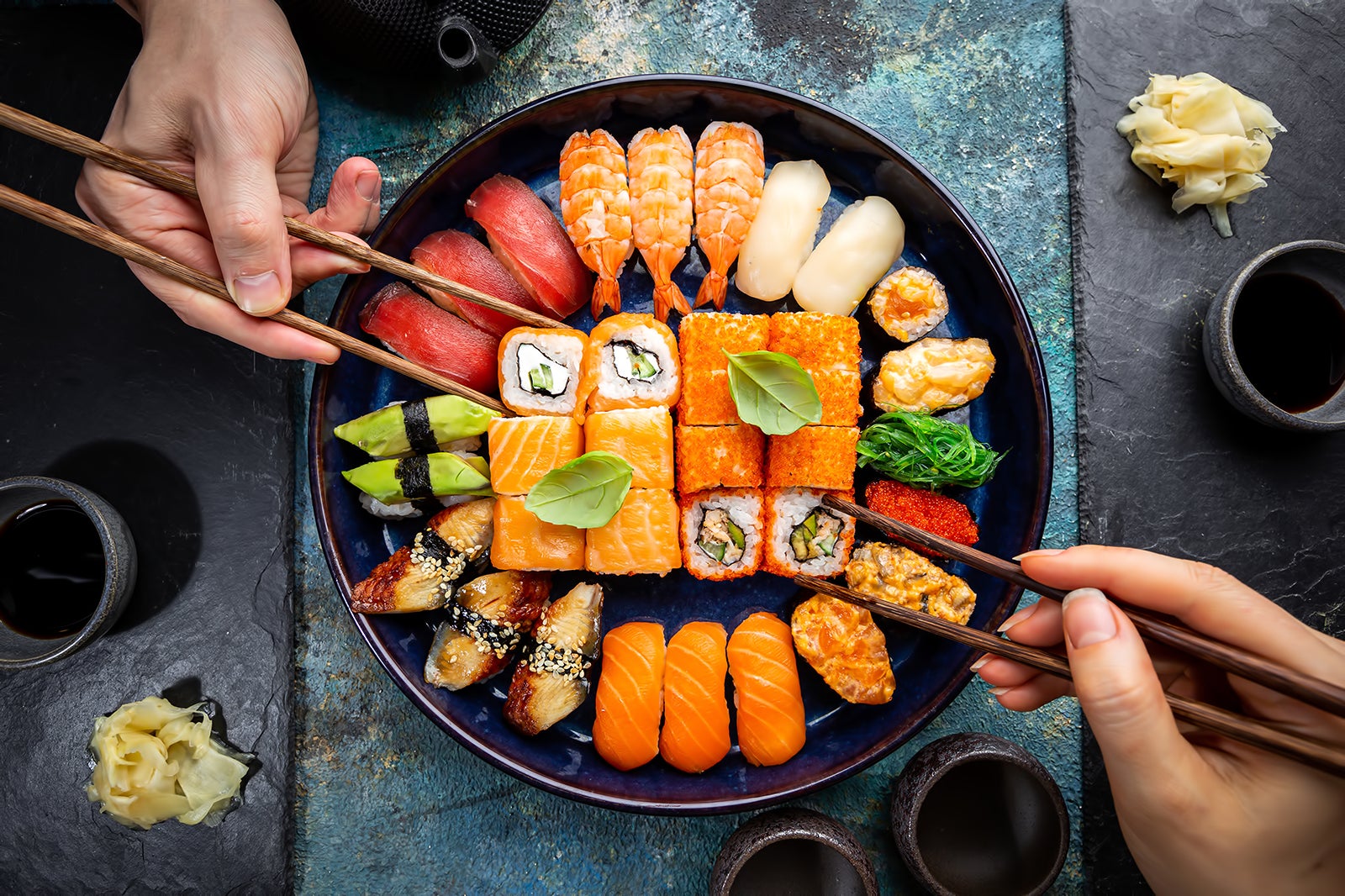 Kru Contemporary Japanese Cuisine is a hip spot in Sacramento for fresh sushi and modern takes on Japanese dishes. Chef-owner Billy Ngo put his passion and expertise into the menu using fresh ingredients. When paired with impeccable service a in red- and bamboo-highlighted dining room, it became a hit among locals.
Ask for their omakase menu when booking ahead, and you're bound to enjoy about 3 hours of fine Japanese dining, with several dishes personally selected by the chef. All fish and meats are hand-cut and cooked to order, and the organically grown rice is sourced from Rue and Forsman Ranch. For something quick, get Kru's Ngo Burger, which uses freshly ground A5-grade wagyu and chuck, American cheese, red leaf lettuce, tomato, and a special sauce.
Location: 3135 Folsom Blvd, Sacramento, CA 95816, USA
Open: Daily from 4 pm to 10 pm
Phone: +1 916-551-1559
8
Sunflower Drive-In
A go-to for the health-conscious diner
Sunflower Drive-In is a laidback vegetarian-friendly spot where you can enjoy local-favourite good-nutrition and whole foods. It has been catering to a health-conscious crowd since 1978 and has become well known for their veggie nut burgers and burritos.
Sunflower's homemade salsa, hot sauce, burger patties, soups, chili, salads and dressings use fresh and locally sourced ingredients, while its doughs are made using only whole grains and flour. Try the Super Nutburger or Super Nachos for a quick but wholesome munch, paired with a refreshing smoothie from their vast selection of fruit combos. The no-frills counter is in Fair Oaks, a 25-minute drive northeast of downtown Sacramento.
Location: 10344 Fair Oaks Blvd, Fair Oaks, CA 95628, USA
Open: Tuesday from 10.30 am to 4 pm, Wednesday–Saturday from 10.30 am to 8 pm, Sunday from 11 am to 4 pm (closed on Mondays)
Phone: +1 916-967-4331
9
Frank Fat's
Downtown Sacramento's longstanding speakeasy Chinese restaurant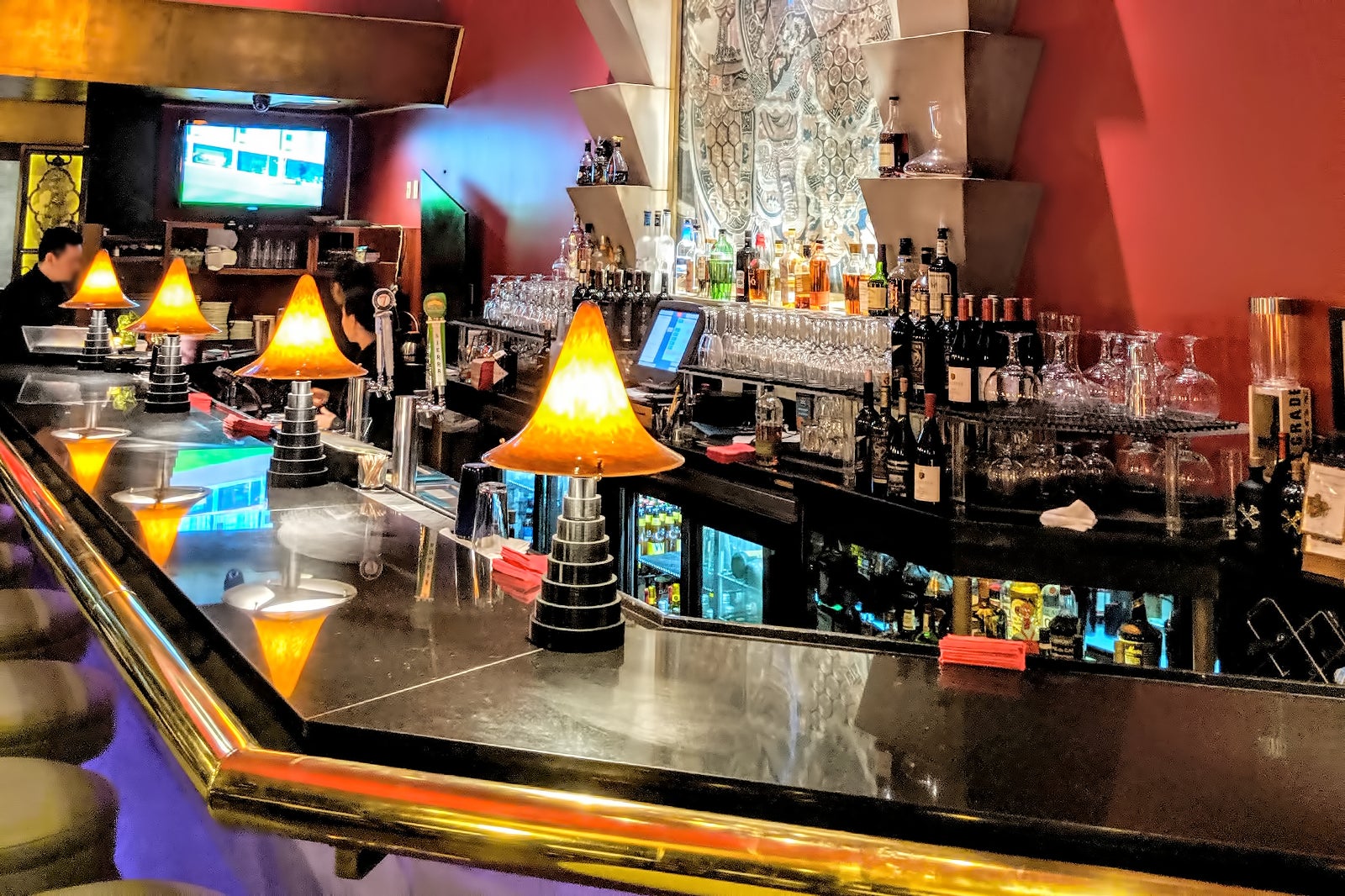 Frank Fat's is an award-winning Sacramento dining institution that serves fine Chinese cuisine inside an elegant 1939 building, with interiors that hark back to the Roaring Twenties. Adding to that Prohibition-era vibe is the fact that it was founded by an illegal Chinese immigrant. You're basically dining in a slice of Sacramento history here – it's one of the oldest dining spots in downtown.
From the extensive menu, with local favorites such as special wok-fried spareribs and Fat's brandy-fried chicken, most really come here for the ever-popular banana cream pie that you can order by the slice for yourself or as a whole for sharing.
Location: 806 L St, Sacramento, CA 95814, USA
Open: Wednesday–Sunday from 4 pm to 7.30 pm (closed on Mondays and Tuesdays)
Phone: +1 916-442-7092
photo by Cullen328 (CC BY-SA 3.0) modified
10
Jimboy's Tacos
Dig into a serving of popular ground-beef tacos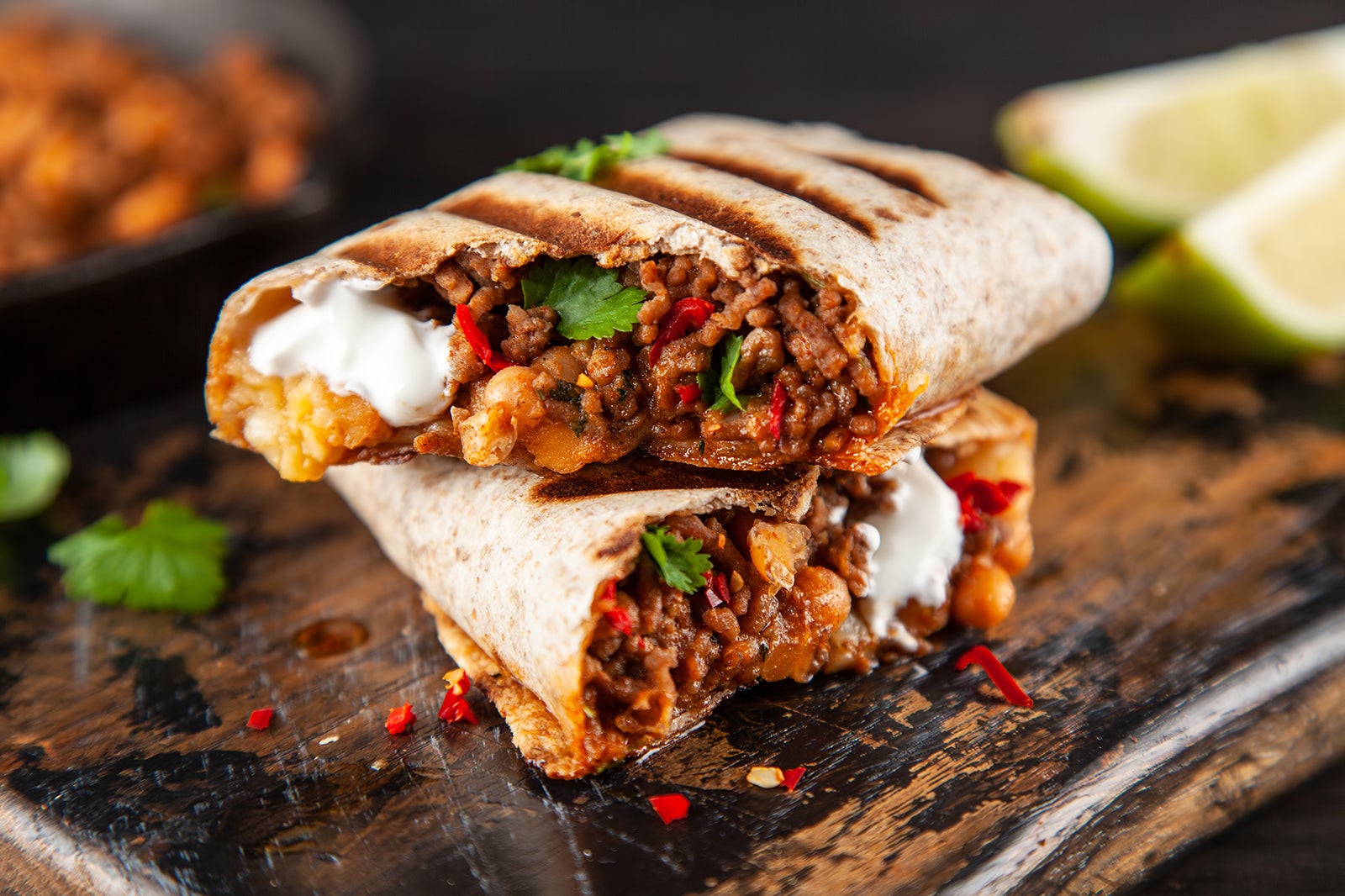 Sacramento-based Jimboy's Tacos has been serving popular Mexican-style fast food, especially corn tortillas with cheese and ground beef, since 1954. There are well over a dozen franchises within the Sacramento area alone, easily spotted with their iconic sundial-like logo and name in big red lettering.
Jimboys's signature tacos are crunchy and delightfully greasy morsels, with broiled corn tortillas filled with your choice of seasoned meats, freshly shredded cheese, crisp lettuce, and dusted with Parmesan. For something more filling, go for its hearty hand-rolled and broiled burritos filled with your choice of steak, broiled chicken, Mexican carnitas or ground beef.
Open: Daily from 10.30 am to 10 pm
Back to top