13 Best Family Things to Do in Atlantic City
Fun Places in Atlantic City to Take Your Kids
While Atlantic City's glitzy casinos and vibrant nightlife are major draws, the beaches and a host of experiences geared towards younger visitors make it a great family vacation destination. You'll find plenty of fantastic indoor and outdoor kids' attractions right on the city's famous boardwalk.
From a pier amusement park and arcade to cruises and a famous museum that's solely dedicated to oddities, your children – and you, of course – are sure to have a fun and memorable time. Read on to discover our selection of the best things to do with kids in Atlantic City.
1
Atlantic City cruises
Go dolphin-spotting in the Atlantic waters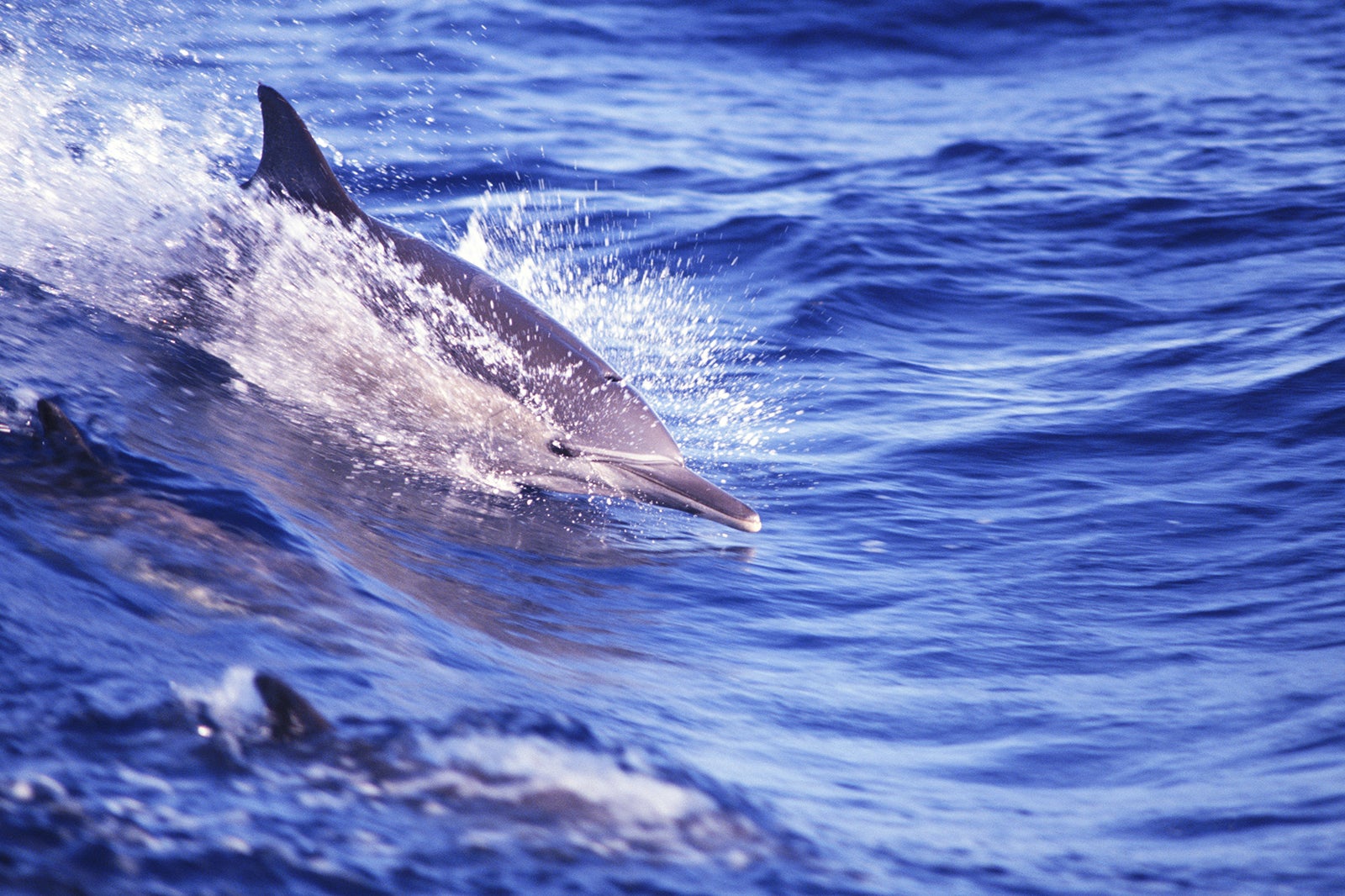 A fun Atlantic City dolphin-watching cruise lets you get out onto the water and inhale the crisp sea air. Observing schools of dolphins leaping, frolicking and spinning in their natural environment will be an unforgettable adventure for the whole family. The views of some of the city's best attractions from the water are equally memorable.
During the 2-hour tour, both kids and adults will enjoy the highly educational commentary given by an onboard marine naturalist about the different dolphin behaviors, as well as information about the area and its marine wildlife. Bring your camera and some extra cash to buy snacks and beverages just in case your little ones get peckish.
2
Atlantic City beaches
Soak up the sun on white-sand beaches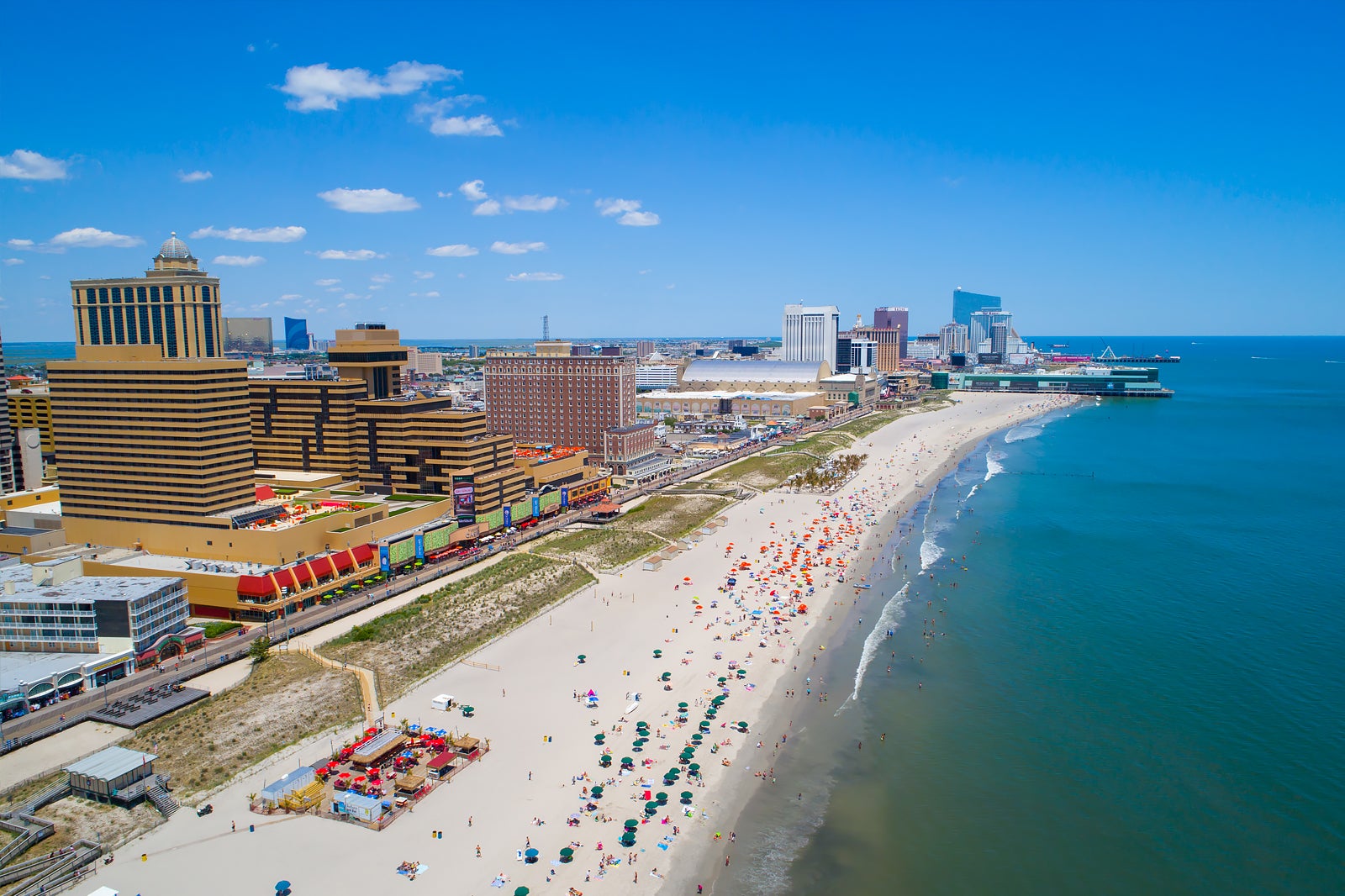 Atlantic City beaches are well-known for being family-friendly. The 5-mile stretch of public white-sand beach – offering free changing houses with restrooms and outdoor public showers – is excellent for a day of fun, sun, and sea. More adventurous, older kids can try kayaking and bodyboarding, or sign up for surf lessons.
Rent a beach umbrella and a couple of recliners and relax near one of the lifeguard towers while your kids swim and build sandcastles. When you need to replenish your energy, you can grab a bite from one of many restaurants located within walking distance of the beach.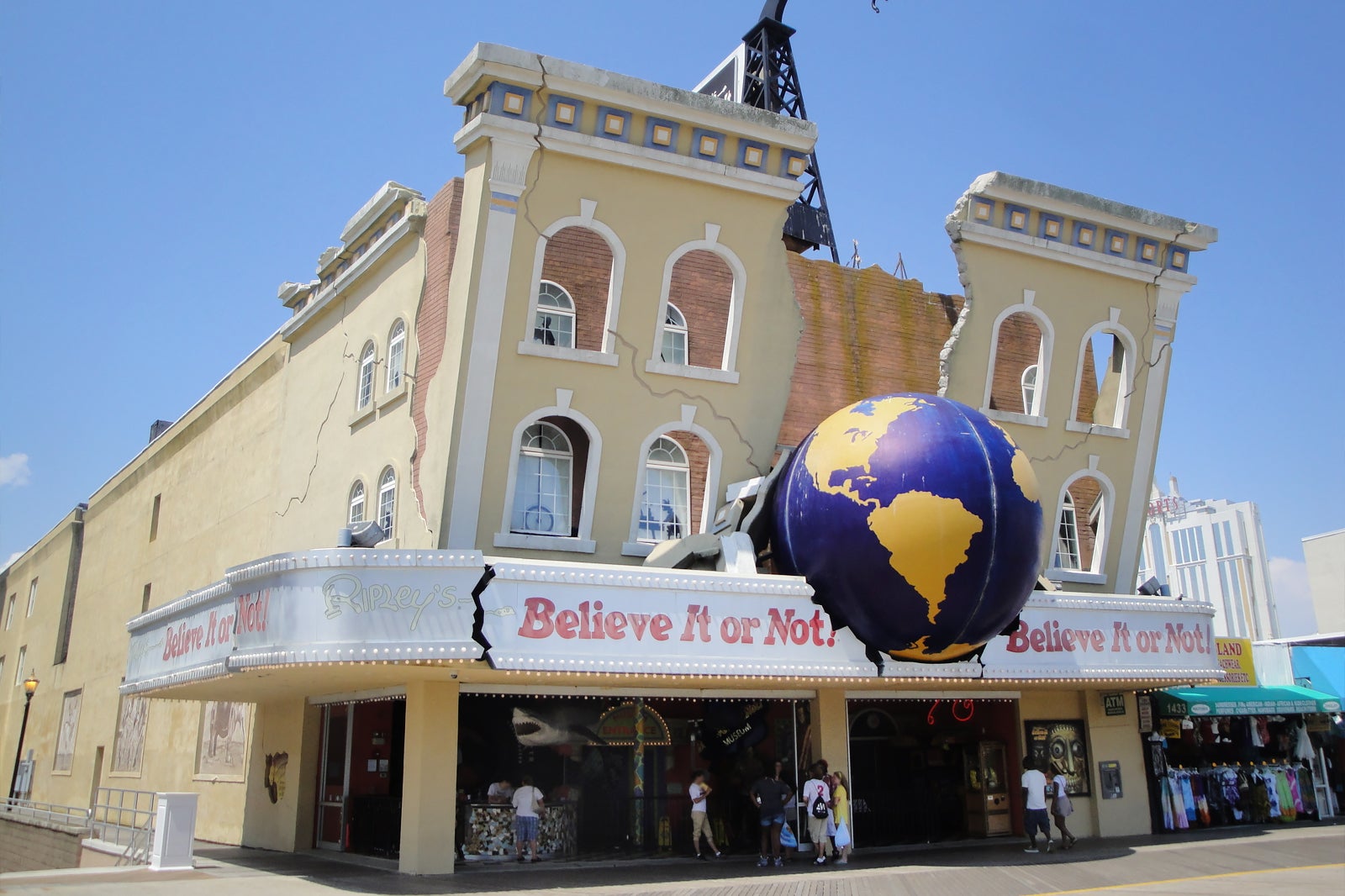 At Atlantic City's Ripley's Believe It or Not! Odditorium, you'll discover intriguing exhibits of odd items that can spark your curiosity and imagination. These range from quirky but awe-inspiring crafts like a spider made from scissors and knives to feats of engineering like the world's smallest production car. Displays are spread out in over a dozen galleries.
For outright odd stuff, check out the roulette table made of jellybeans – it's claimed to be made up of about 14,000 beans, or those that may be eerie or gross to some like the Jivaro shrunken heads from the Peruvian Amazons. Whatever your take on these oddities, a trip to the odditorium is simply an amusing break from the Atlantic City casinos and beach.
Read more
Location: 1441 Boardwalk Corner of Boardwalk and, S New York Ave, Atlantic City, NJ 08401, USA
Open: Monday–Tuesday and Thursday–Friday from 11 am to 6 pm, Wednesday from midday to 5 pm, Saturday from 10 am to 8 pm, Sunday from 10 am to 6 pm
Phone: +1 609-347-2001
photo by W. Reichmann (CC BY-SA 3.0) modified
4
Steel Pier
A fun-filled spot jutting out to the sea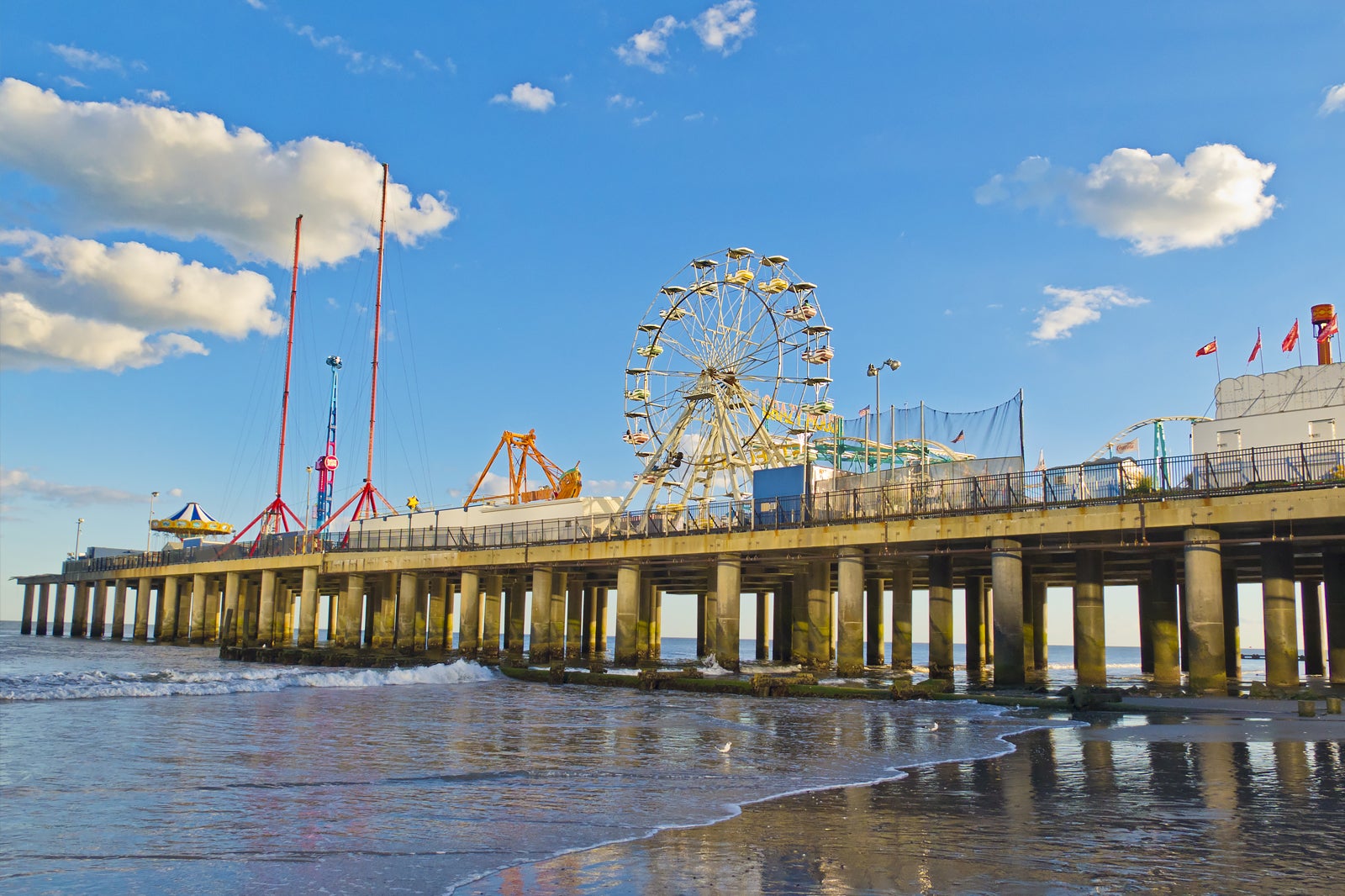 Steel Pier is an icon of Atlantic City's oceanfront, which you'll hardly miss on strolls along the Atlantic City Boardwalk with its massive amusement park and Ferris wheel. Built in 1898, it's the city's oldest theme park. And with its presence over the water with Hard Rock Hotel & Casino Atlantic City in its near background, it's an unmissable skyline.
Besides a 15-minute ride on The Wheel for breathtaking views of the city and coastline, you can have a great time on rollercoasters and a dozen other rides offering different thrill levels. You can also try your luck at staple carnival games or watch regular shows like high-wire motorcycle trapezes. Grab cotton candy or water ice or stop by Steel Pier Pub to fill up on hearty American meals served with live music.
Read more
Location: 1000 Boardwalk, Atlantic City, NJ 08401, USA
Phone: +1 609-345-4893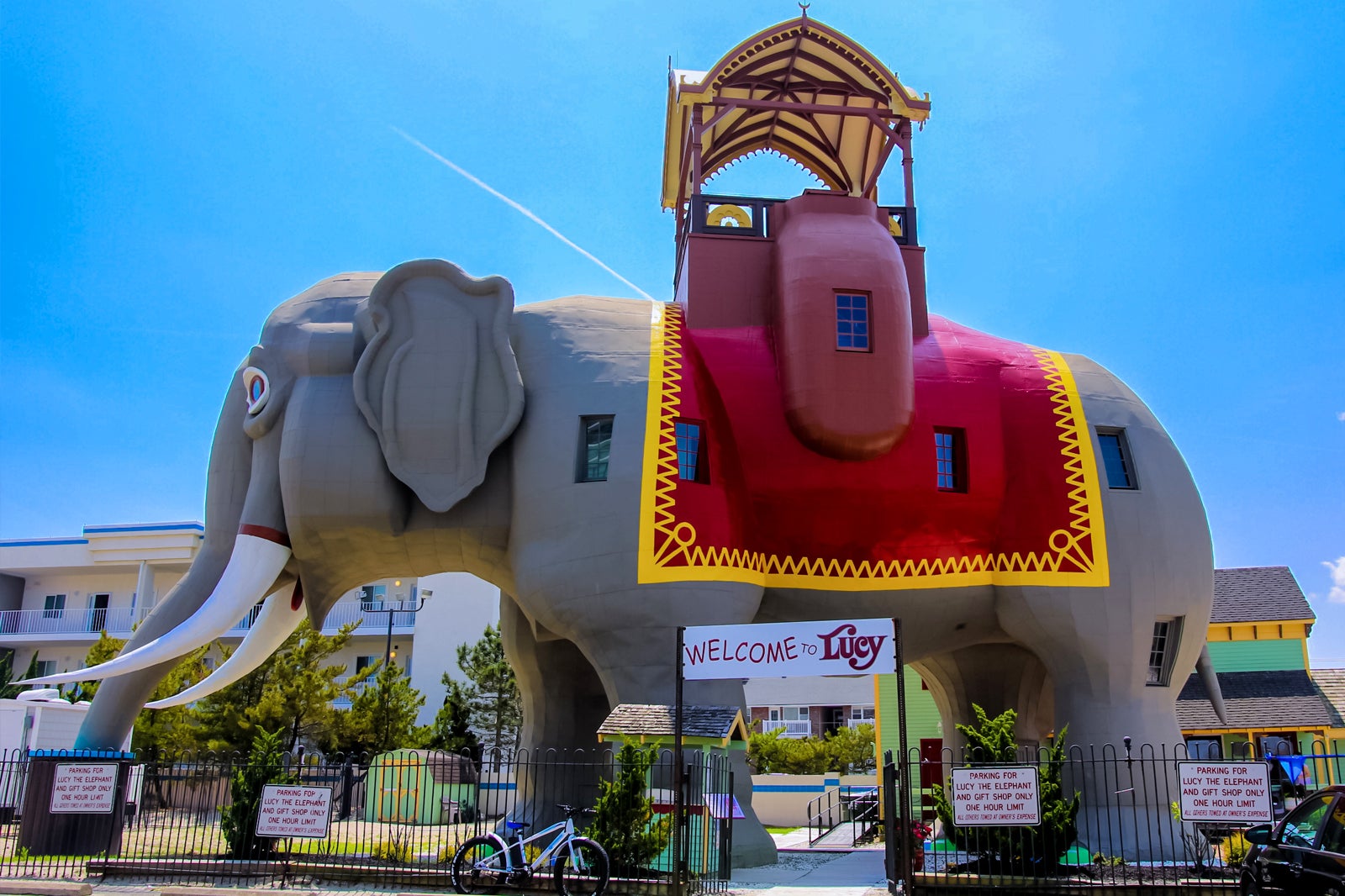 Lucy the Elephant is a National Historic Landmark and the oldest surviving roadside attraction in the USA. The 6-storey wooden-and-tin elephant was built in 1881 as a publicity stunt. You can find it in Margate, just 3 km south of Atlantic City. Kids of all ages will get a kick out of the quirky waterfront landmark, which claims to be "the only elephant in the world you can walk through and come out alive."
For a small fee, your family can enjoy a guided tour of the fake elephant. Discover Lucy's unique form of zoomorphic architecture, see old photographs and a short film, plus climb up a spiral staircase to take in beautiful panoramic views of the surrounding area from the howdah on the elephant's back.
Read more
Location: 9200 Atlantic Ave, Margate City, NJ 08402, USA
Open: Wednesday–Friday from 11 am to 4 pm, Saturday–Sunday from 10 am to 5 pm (closed on Mondays and Tuesdays)
photo by Navya Sriramaneni (CC BY-SA 4.0) modified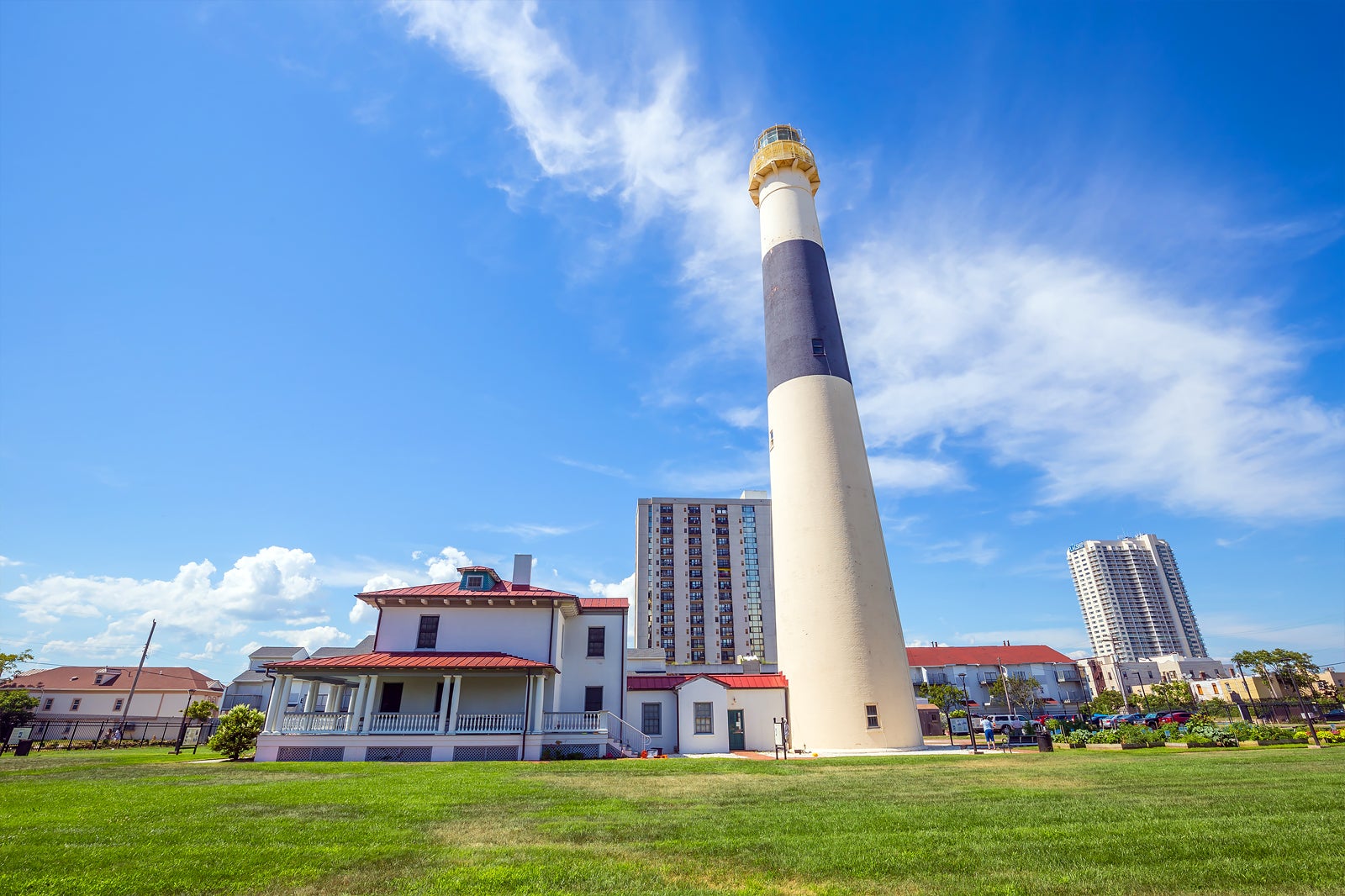 Absecon Lighthouse is the tallest lighthouse in New Jersey, and which you can climb up for views over Atlantic City and the Atlantic Ocean from 171 ft up. The lighthouse dates back to 1857 and is a historical structure on the corner of Pacific and Rhode Island avenues, interestingly not right on the shore and is eclipsed by other modern structures.
You'll need to conquer a total of 228 steps to climb to the top of the lighthouse which is in itself a journey back in time. The rewarding view of the Atlantic City skyline is one to tick off your Instagram photo checklists. Check out the museum and gift shop, as well as the massive original Fresnel lens exhibit on the old lighthouse's vast grounds.
Read more
Location: 31 S Rhode Island Ave, Atlantic City, NJ 08401, USA
Open: July–August: Friday– Wednesday from 10 am to 5 pm, Thursday from 10 am to 8 pm. September–June: Thursday–Monday from 11 am to 4 pm (closed on Tuesdays and Wednesdays)
Phone: +1 609-449-1360
7
IMAX Theatre at the Tropicana
Experience Hollywood blockbusters and 3D films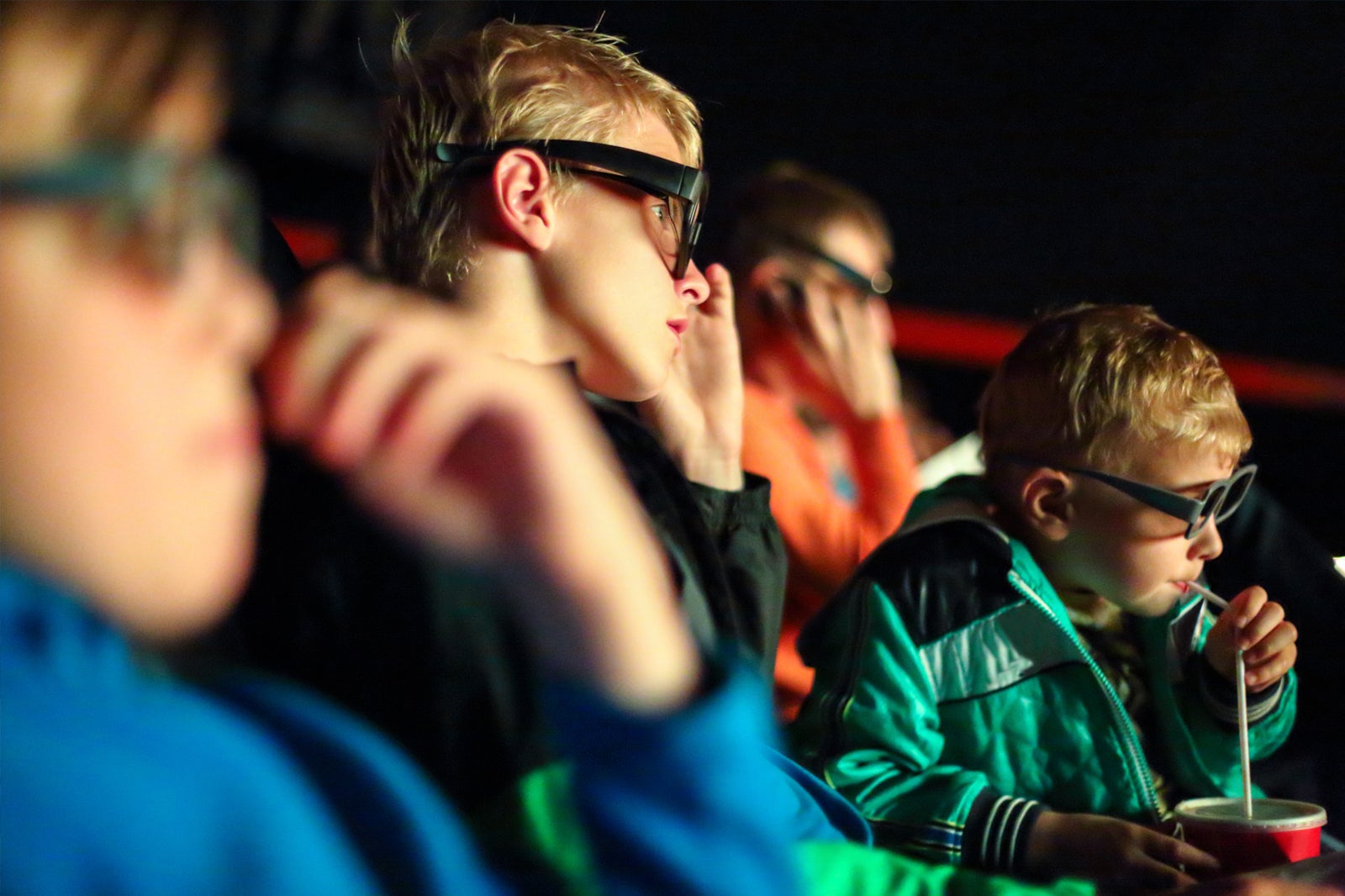 The IMAX Theatre at the Tropicana Hotel should be high on your list of things to do with your family when visiting Atlantic City, even when it isn't rainy. The state-of-the-art theatre boasts a 5.5-storey screen and spectacular surround sound which intensifies the regular Hollywood screenings and 3D kid-appropriate movies.
The theatre is conveniently located just a 3-minute walk from the Boardwalk. And after the captivating experience, you can grab a bite to eat at one of several restaurants situated in The Quarter shopping mall. To avoid disappointment, check the website for current showtimes to see if the film is suitable for younger viewers.
Location: 2831 Boardwalk, Atlantic City, NJ 08401, USA
Open: Daily from midday to 10.30 pm
8
Historic Smithville and Green Village
Explore a charming landmark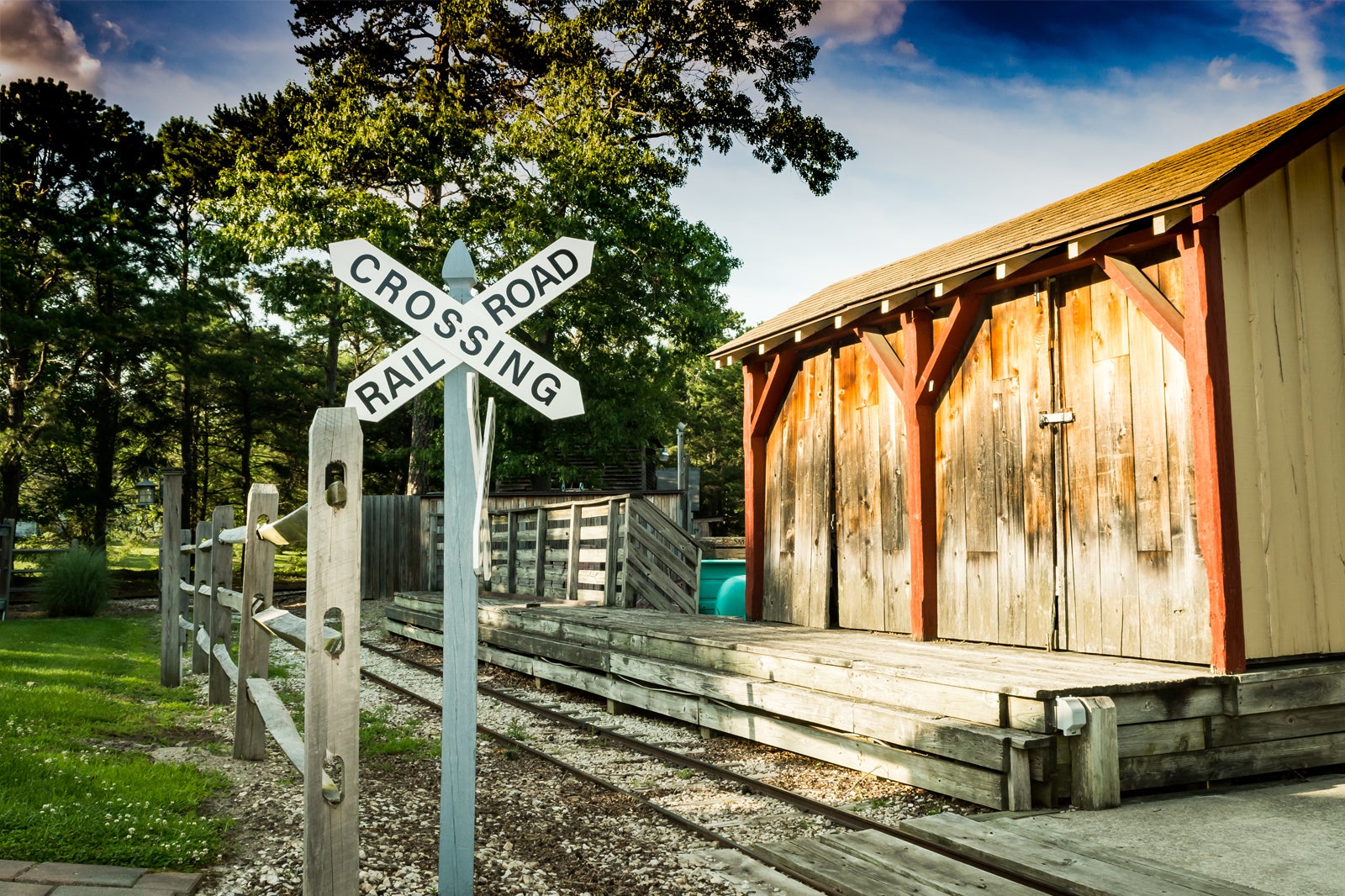 Historic Smithville is a restored town just a 20-minute drive from Atlantic City, with a rich history that dates back to the 18th century. Offering a multitude of kid-oriented activities, from paddling to arcades to carousels, it's a relaxing and fun-filled family day trip.
Stroll along the cobblestone pathways and quaint footbridges to discover different shops and eateries, which are housed in a collection of traditional and wooden clapper board-style buildings. The Smithville train is a unique experience for children of all ages.
Location: Smithville, Galloway, NJ 08205, USA
Open: Hours vary by season
Phone: +1 609-748-8999
9
Central Pier Arcade and Speedway
Spend an afternoon at a 'kiddies casino'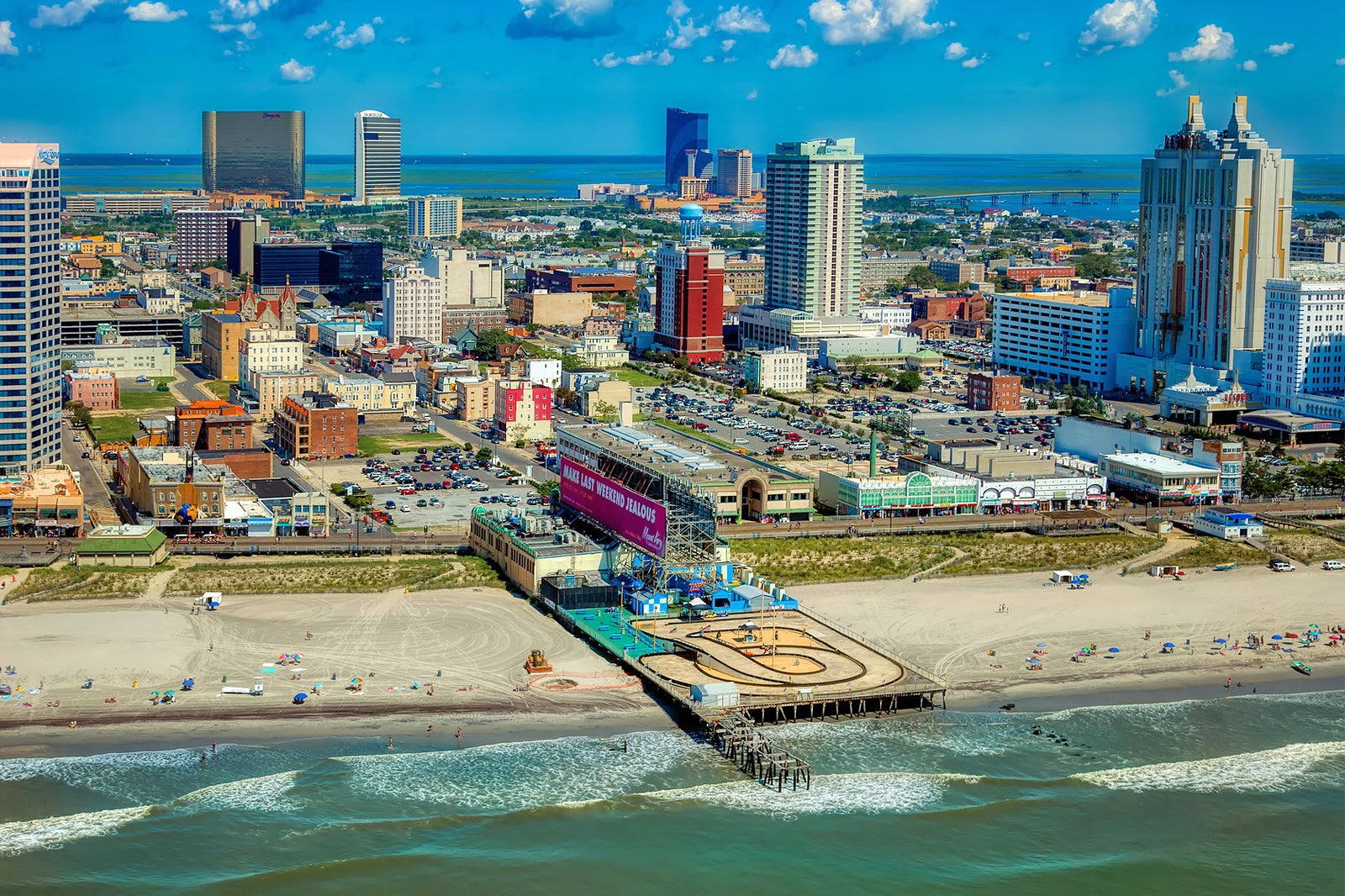 Central Pier Arcade and Speedway in Atlantic City is one of the most popular games centres. Conveniently located right on the Boardwalk, it's a popular family entertainment center and a fun place to spend a couple of hours when you want to take a break from the beach. Thrill-seekers can race one another in NASCAR-style karts at the outdoor go-kart racetrack, or gear up and play a competitive game of paintball.
Alternately, head to New Jersey's largest state-of-the-art redemption center, where you can find slot machines, coin pushers, video games, cranes, and many others. Prizes range from plush toys to iPhones, computers and large-screen TVs.
Location: 1400 Boardwalk, Atlantic City, NJ 08401, USA
Open: Hours vary by season
Phone: +1 609-345-5219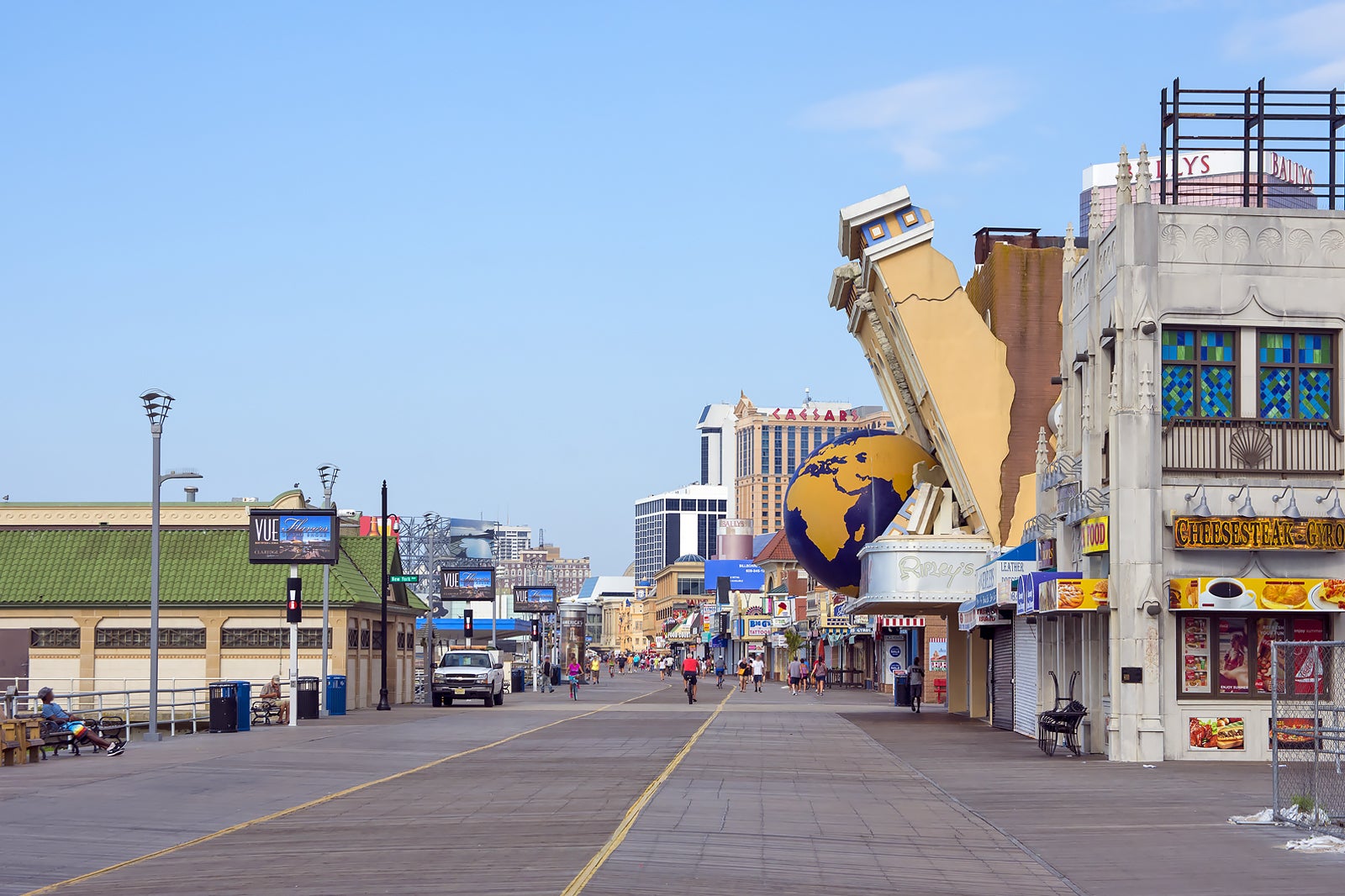 Cycling along Atlantic City's famous boardwalk is a leisurely adventure the whole family can enjoy. You can rent bikes from several shops along the boardwalk. When hiring, take note of the permitted bicycling hours in some sections which change depending on the season.
The 4.4-mile-long promenade is very flat with smooth terrain, making it easy to take in everything that makes the walkway so great: the cool breeze, sea views, and laid-back atmosphere. Plus, the Atlantic City Boardwalk is home to some of the city's top child-friendly attractions, casual restaurants, ice-cream parlors, and street performers.
Read more
Location: Boardwalk, Atlantic City, NJ 08401, USA
photo by Bruce Emmerling (CC BY-SA 4.0) modified
11
Atlantic City Miniature Golf
Play a game of mini-golf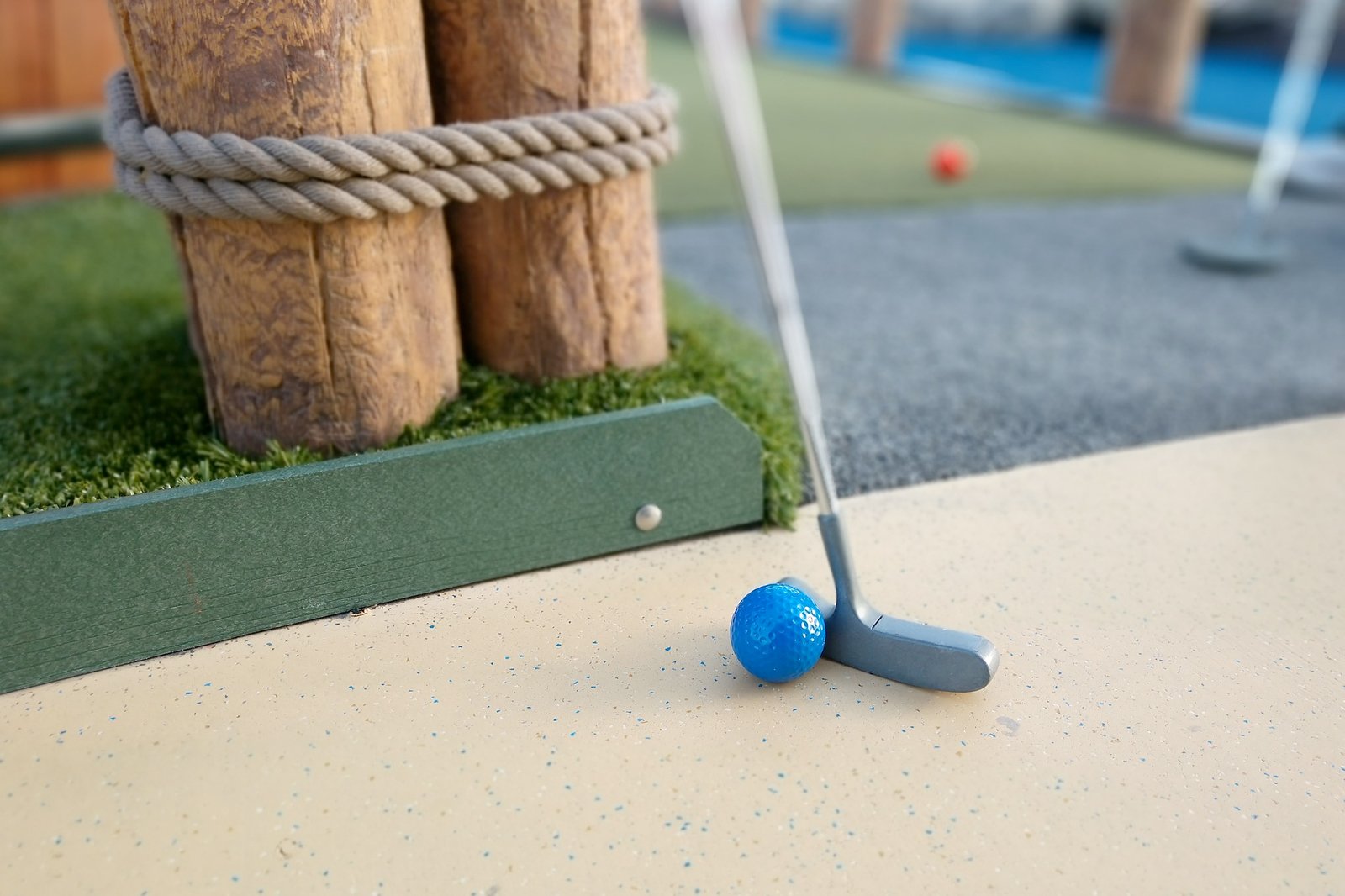 For an enjoyable afternoon, tee up at Atlantic City Miniature Golf, the coastal city's premier mini-golf course. The 18-hole course features verdant landscapes, elevated greens, realistic contours, and real waterfalls that are sure to delight the whole family. Located right on the city's Boardwalk, you're also treated to breathtaking views of Atlantic City if you visit during the day. Families with older children can enjoy an exciting night-time round of golf as the course is well-lit.
Since the mini-golf course is out in the sun, during inclement weather, it's best to call ahead to check if they're open. If you need a refreshing treat afterwards, there's a snack bar selling a large selection of ice creams.
Location: 1 Kennedy Plz, Atlantic City, NJ 08401, USA
Open: Daily from 11 am to 10 pm
Phone: +1 609-347-1661
12
Storybook Land
Relive your favorite childhood stories in a charming setting
Storybook Land is an 8-hectare family amusement park in Egg Harbor Township, a 20-minute drive from Atlantic City. As you walk through the shady grounds, you'll encounter characters and attractions depicting classic nursery rhymes and childhood stories. Look out for Alice from Lewis Carrol's timeless story, Humpty Dumpty, Cinderella's pumpkin motorcoach bus and Sleeping Beauty's castle, among others.
There are also trains and tons of kid-friendly rides, including a dragon-themed rollercoaster, carousels and chair-swing rides. Food is available on site, but you can also pack some snacks and sit at the covered picnic area. Before visiting, check their opening times, which change throughout the year.
Location: 6415 E Black Horse Pike, Egg Harbor Township, NJ 08234, USA
Open: Hours vary by season
13
Sugar Factory Atlantic City
Get a sugar-high at this 140-square-meter candy store
Sugar Factory is a mega confectionery and restaurant in Atlantic City offering specialty desserts and beverages, handmade donuts, lip-smacking milkshakes and more than 500 types of sweets. Boasting a floor-to-ceiling candy wall, the world-famous Couture Pops and the legendary 24-scoop King Kong Sundae, the store will satisfy even the most discerning sweet tooth – both kids and adults alike.
To balance out the sugar rush, you can order burgers, salads, savory crepes and pizzas. Adults can sip on beverages made with premium spirits.
Location: 1000 Boardwalk Ave, Atlantic City, NJ 08401, USA
Open: Monday–Thursday from 11 am to midnight, Friday from 11 am to 2 am, Saturday from 8 am to 2 am, Sunday from 8 am to midnight
Phone: +1 609-428-7751
Back to top