The Amway Center is Orlando's main sports and entertainment venue, located in the heart of the city's Downtown core, near the famous old Church Street Station. Opened in 2010, seating arrangements and the floor plan at this multi-purpose venue can be transformed from a live music hall into a basketball court, ice hockey rink and an indoor soccer pitch.
Currently, the Amway Center is home to Orlando's 3 major sports teams: the Orlando Magic of the NBA, the Orlando Predators of the Arena Soccer League, and the Orlando Solar Bears of the ECHL (ice hockey).
Amway Center Orlando - one of the highlights of 11 Best Things to Do in Downtown Orlando and 9 Best Nightlife Experiences in Downtown Orlando (Read all about Orlando here)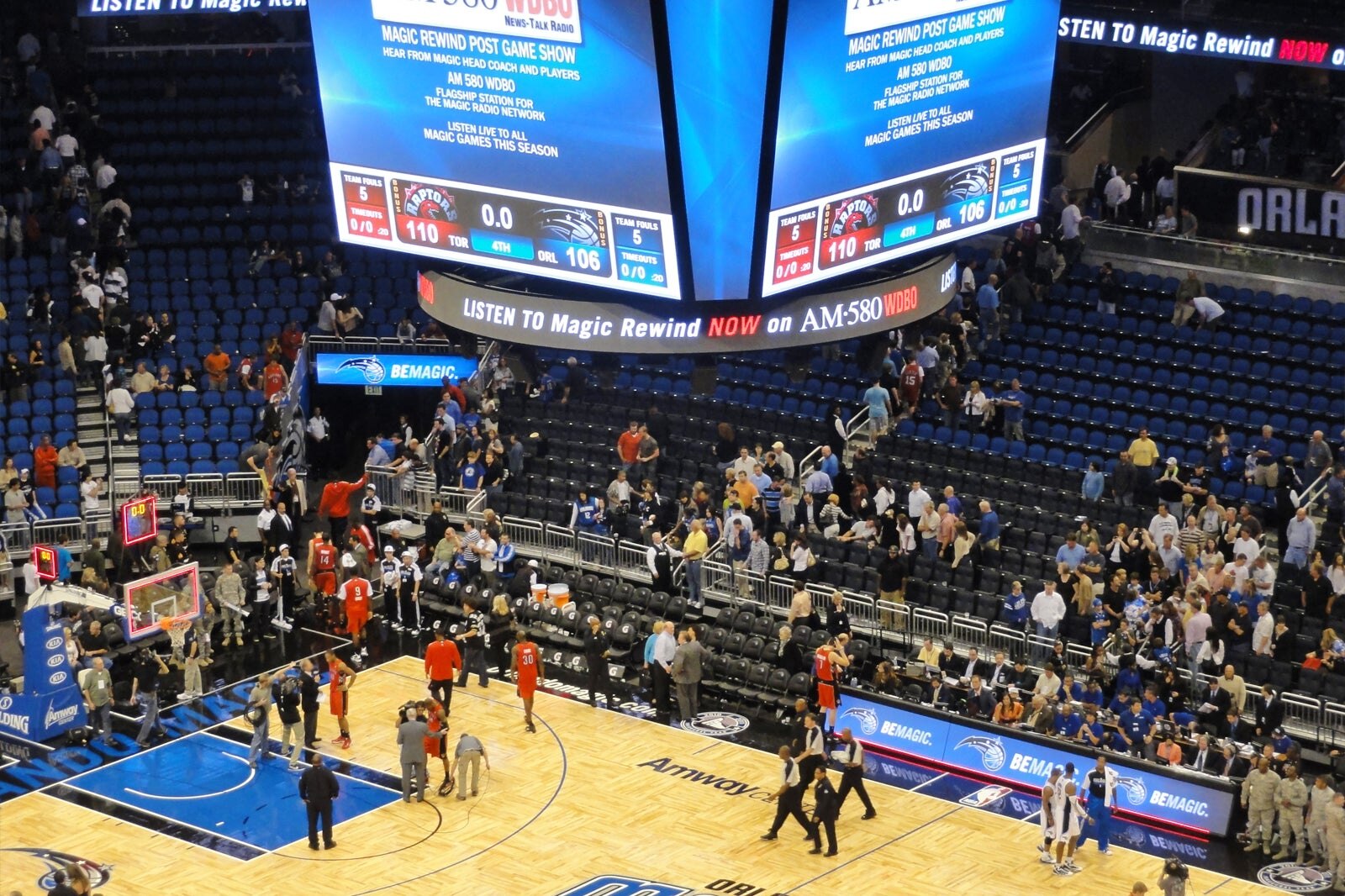 Not surprisingly, it's the Orlando Magic (who play in the NBA) that normally pack-out the Amway Center when they play their home games, as locals and tourists flock to the 20,000-capacity stadium for a chance to watch some of the biggest basketball stars in the world in action. Note that games in the NBA season run from October, winding down with the playoffs and finals in May and June. Expect Downtown bars and restaurants to be packed on match days!
Other events here, such as the ice hockey and indoor American soccer games, follow in line with the changing sports seasons, so it's best to check their schedule online before your next visit. You can book tickets online or get them in advance at the venue's own box office.
The Amway Center is one of the main live music venues in Orlando, and many big-name music stars traveling through the Central Florida region will make a stop-off here to perform. Shows in the past have ranged from rock 'n' roll gigs to EDM DJs and sell-out pop shows, with the likes of Justin Bieber, Madonna and Katy Perry wowing the crowds.
Alongside the main area for live sport and music events, the Amway Center Orlando also promises a good selection of restaurants, bars and cafés – perfect for some pre- or post-match refreshments. The highlight has to be One80 Skytop Lounge, which is a swanky rooftop bar open most days from 10pm until 2.30am. You'll also find some other decent F&B sports including Magic Grill, Budweiser Baseline Bar, Coors Light Cold Zone and Jernigan's Restaurant, which promises some excellent pre-game meals with a view overlooking the court (bookings required through Amway's website).
Find the Amway Center Orlando on the corner of Church Street and S. Division Avenue. The huge glass-fronted venue is hard to miss if you around the popular Church Street area of Downtown Orlando. Do check what events are coming up and book your tickets in advance.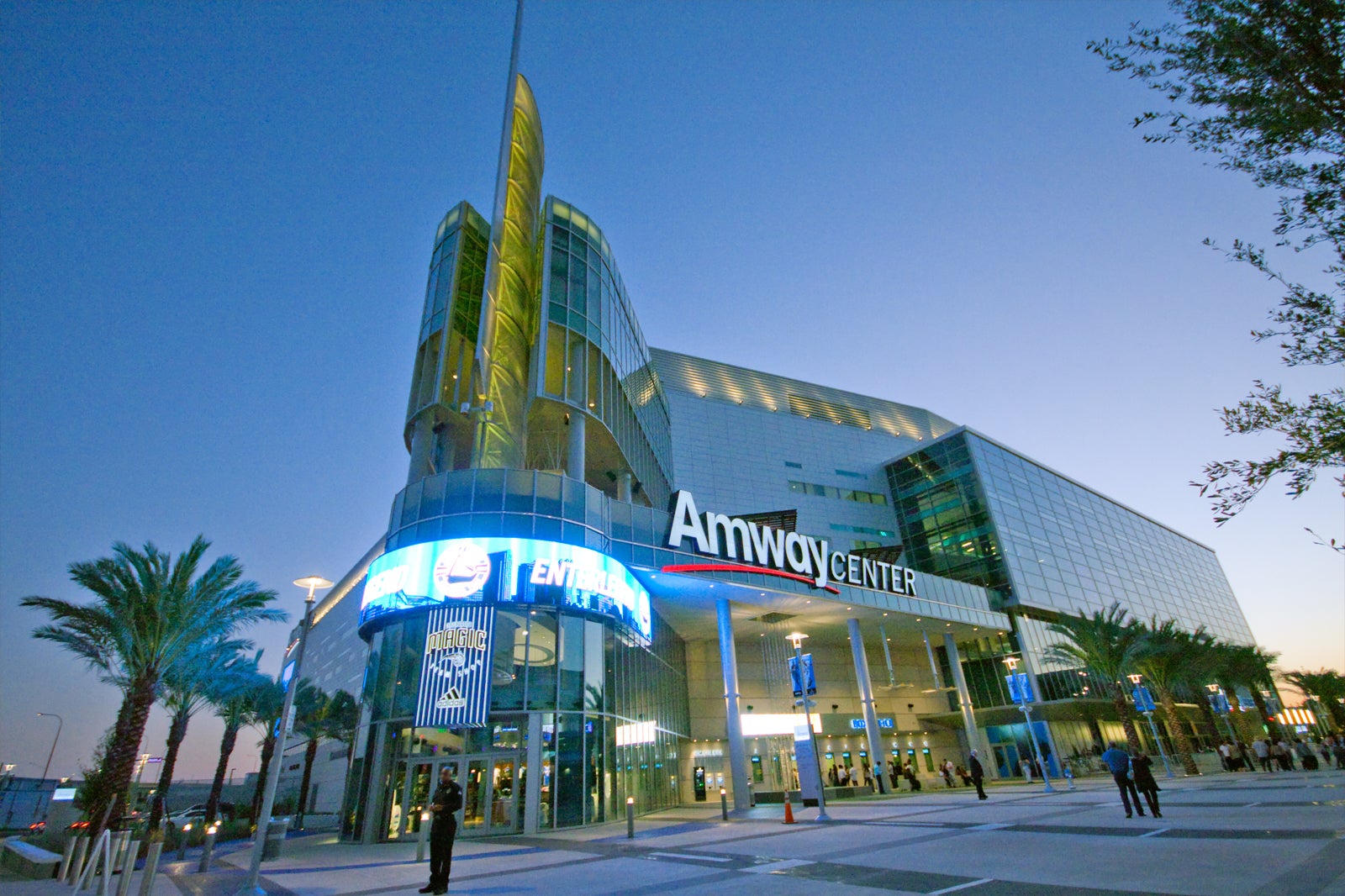 Amway Center Orlando
Location: 400 W Church St #200, Orlando, FL 32801, USA
Phone: +1 407-440-7900
Back to top