Phuket is the perfect spot for your dream wedding. You can get married in traditional western style with a non-denominational or religious ceremony, or have a Thai-style Buddhist wedding ceremony that can be truly memorable.
Many couples opt to have a local ceremony, with all the legal proceedings done before in their home country. Most of the major hotels can assist with planning and several of them offer all-inclusive wedding packages. Some tour and wedding planning companies can also arrange custom or more unusual ceremonies, such as underwater weddings, remote island weddings, and more.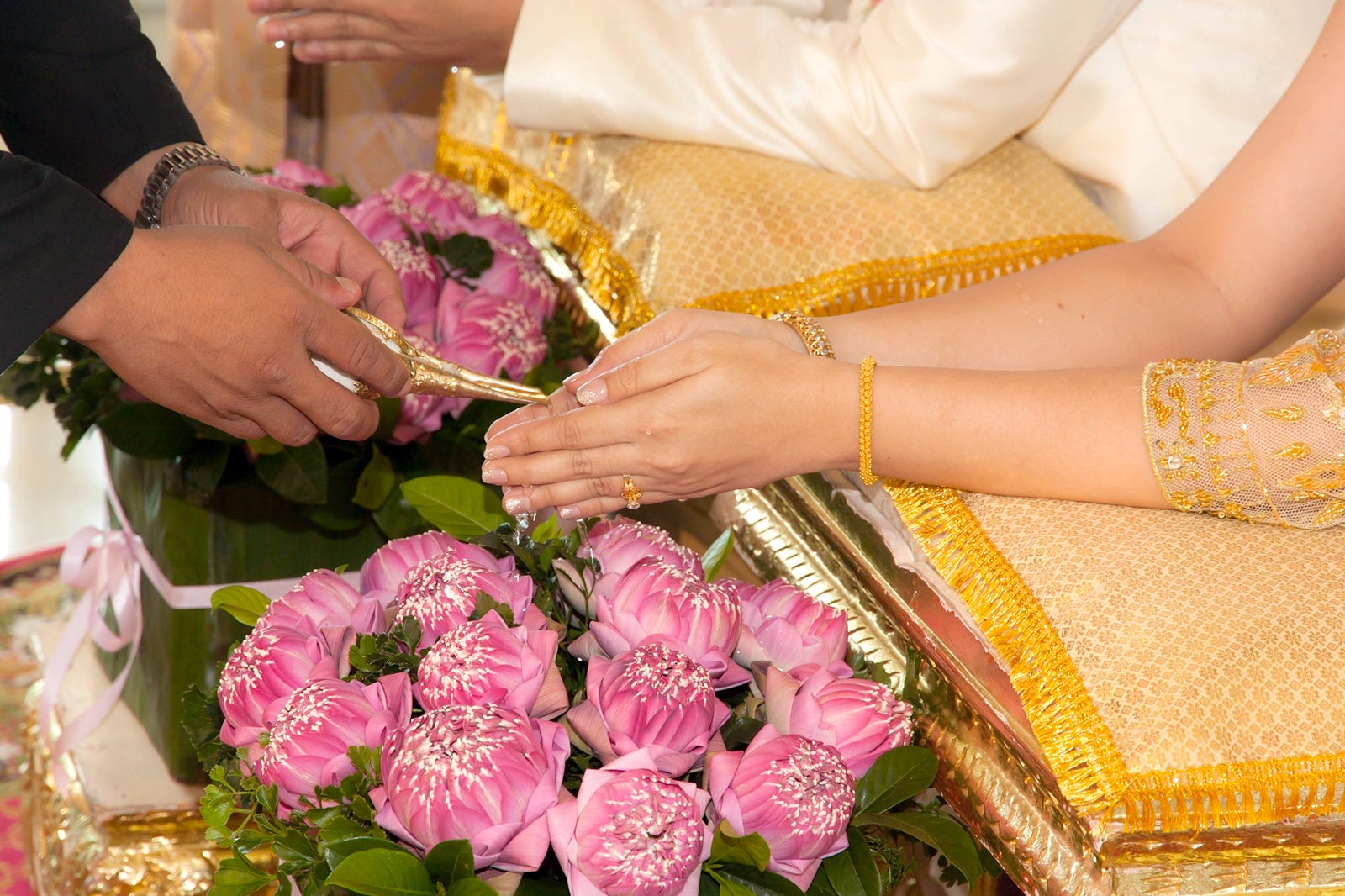 Thai wedding ceremony
So, what is a traditional Thai wedding like? It really is completely different from a western-style wedding. Even so, there are several parts of the ceremony that can fit in well with a western wedding ceremony, in order to help make your special day unique. A Thai wedding ceremony will have a few main components that can be added to your special day. The 2 most common ceremonies of a Thai wedding are the water blessing and the monk blessing.
Water blessing ceremony
Water, blessed by monks at the local temple, is put in a decorative bowl. A shell is used to scoop a small amount of water, which is poured over the couple's palms as they are seated at a decorated table with their hands held over a cushion.
The water is usually poured by the groom's mother and father, followed by the bride's mother and father, followed then by the rest of the guests attending the wedding. While they are pouring the water over the bride's and groom's hands, they congratulate the couple and give them their best wishes for the future.
Commonly at the water blessing ceremony, the couple is joined by a lei of flowers, placed on the couple's heads, which is tied together with string. This signifies the joining of the couple.
A traditional Thai wedding dance is usually performed with dancers wearing traditional Thai dress. This is a wedding blessing dance for the couple; it is performed after the wedding vows are exchanged and the certificate is signed.
Monk blessing
A Thai wedding commonly starts with a morning chant from monks. The monks chant prayers blessing the bride and groom, who make merit by offering food and other domestic necessities to the monks.
This ceremony must be completed in the morning as the monks will eat the food presented to them by the bride and groom after the blessing, which must be before midday. Monks cannot eat after midday.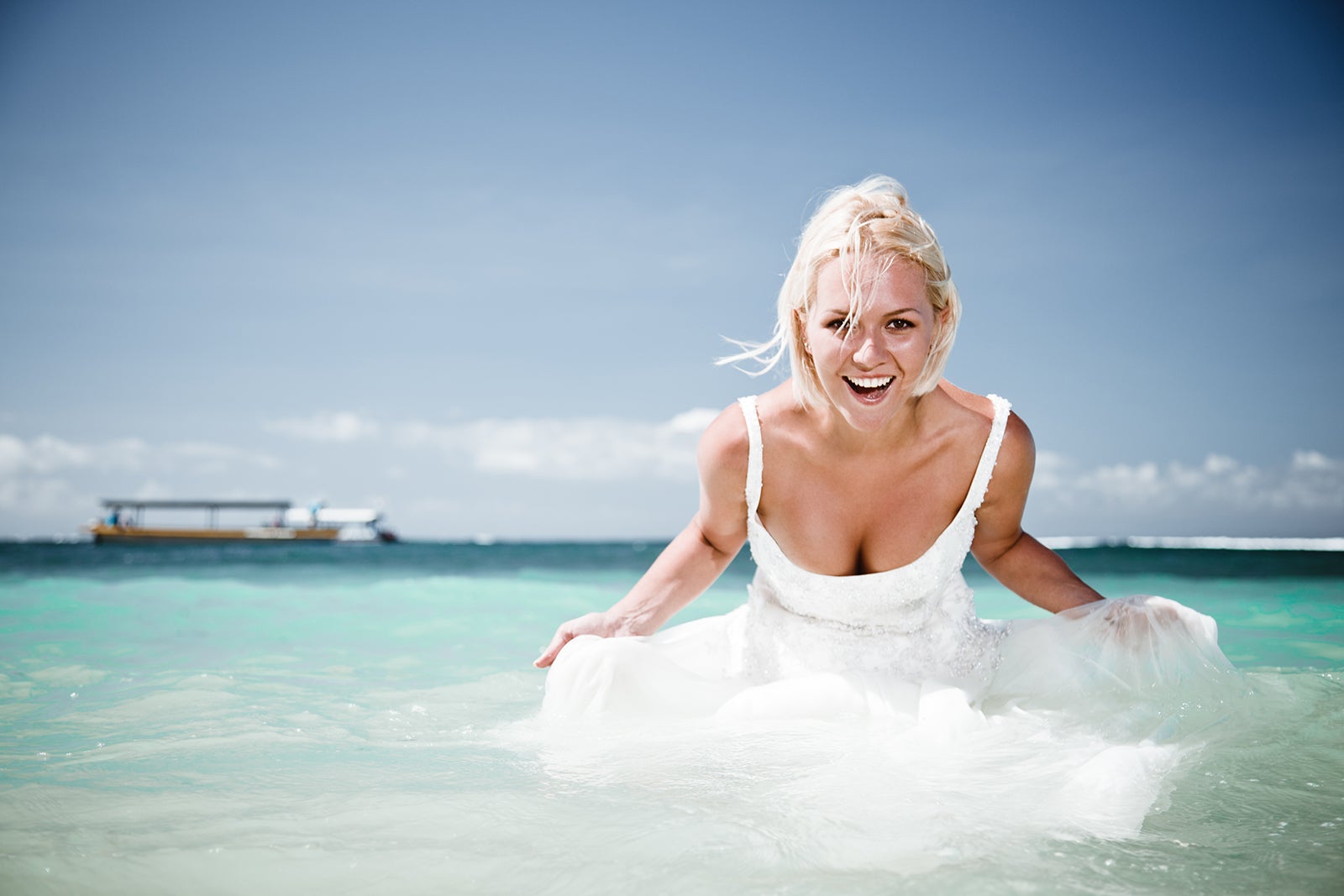 Western-style wedding ceremony
A typical western-style wedding package in Phuket will usually include a blessing ceremony performed by a secular professional celebrant, similar to the US wedding ceremony we see in most Hollywood movies: flowered chairs on the side of a central aisle leading to a small stage/altar, also decorated with flowers, on which stand the bride and groom, accompanied by the celebrant leading the vow exchange and ring exchange ceremony.
It may also include fresh floral arrangements, the wedding cake and champagne (or sparkling wine), and a photographer or videographer to record the ceremony and reception. Some resorts offer live music and wedding spa packages, or such exotic extras as having a baby elephant join the ceremony, laser and fireworks show or a plant-it-yourself 'love tree' in the resort garden, for instance.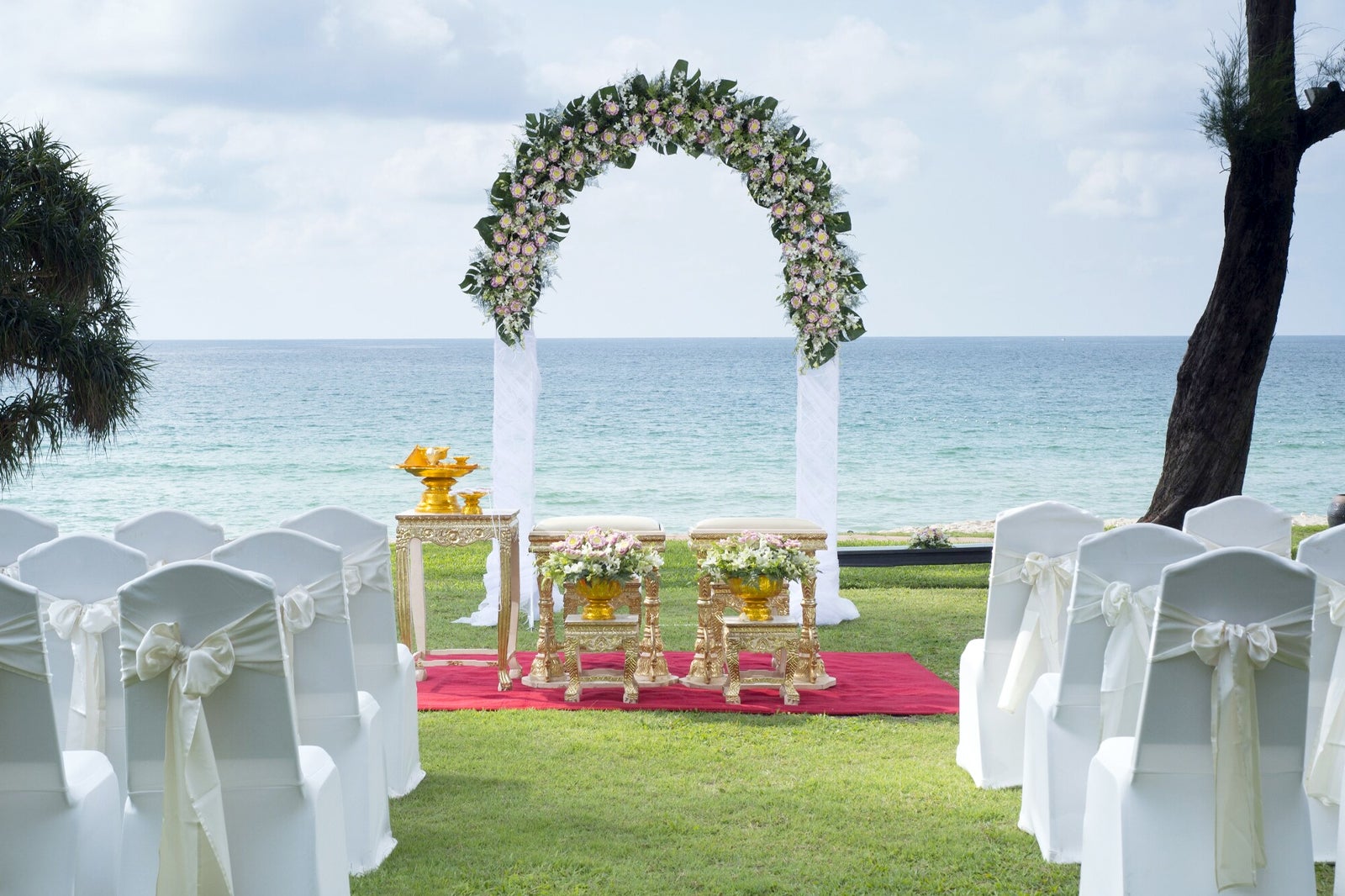 Religious weddings in Phuket
For people who want a truly religious wedding, a few options are also available: there is a wedding chapel located in the Laguna Phuket Complex of Hotels. Built over one of Laguna's many lagoons and facing the beautiful Bangtao beach, it presents an ideal location for your special day. Wedding ceremonies organized in one of the complex's resorts can be celebrated in the chapel.
Catholic and Protestant ceremonies can also be arranged by most Phuket wedding planners.
If you're planning your Phuket wedding to be a legal marriage, then you must have the proper paperwork in hand.
Back to top