Wat Suthat Thepwararam is one of the oldest and most impressive Buddhist temples in Bangkok. It has an elegant prayer hall with sweeping roofs, magnificent murals, and exquisite hand-carved teakwood door panels. It's widely known for the towering red Giant Swing standing at its entrance. Located in Bangkok's Old Town, you can easily combine a visit to Wat Suthat Thepwararam with Temple of the Emerald Buddha, The Grand Palace, and Wat Pho.
Wat Suthat Thepwararam in Bangkok - one of the highlights of 24 Must-See Temples in Bangkok and 21 Best Things To Do in Bangkok Old Town (Read all about Bangkok here)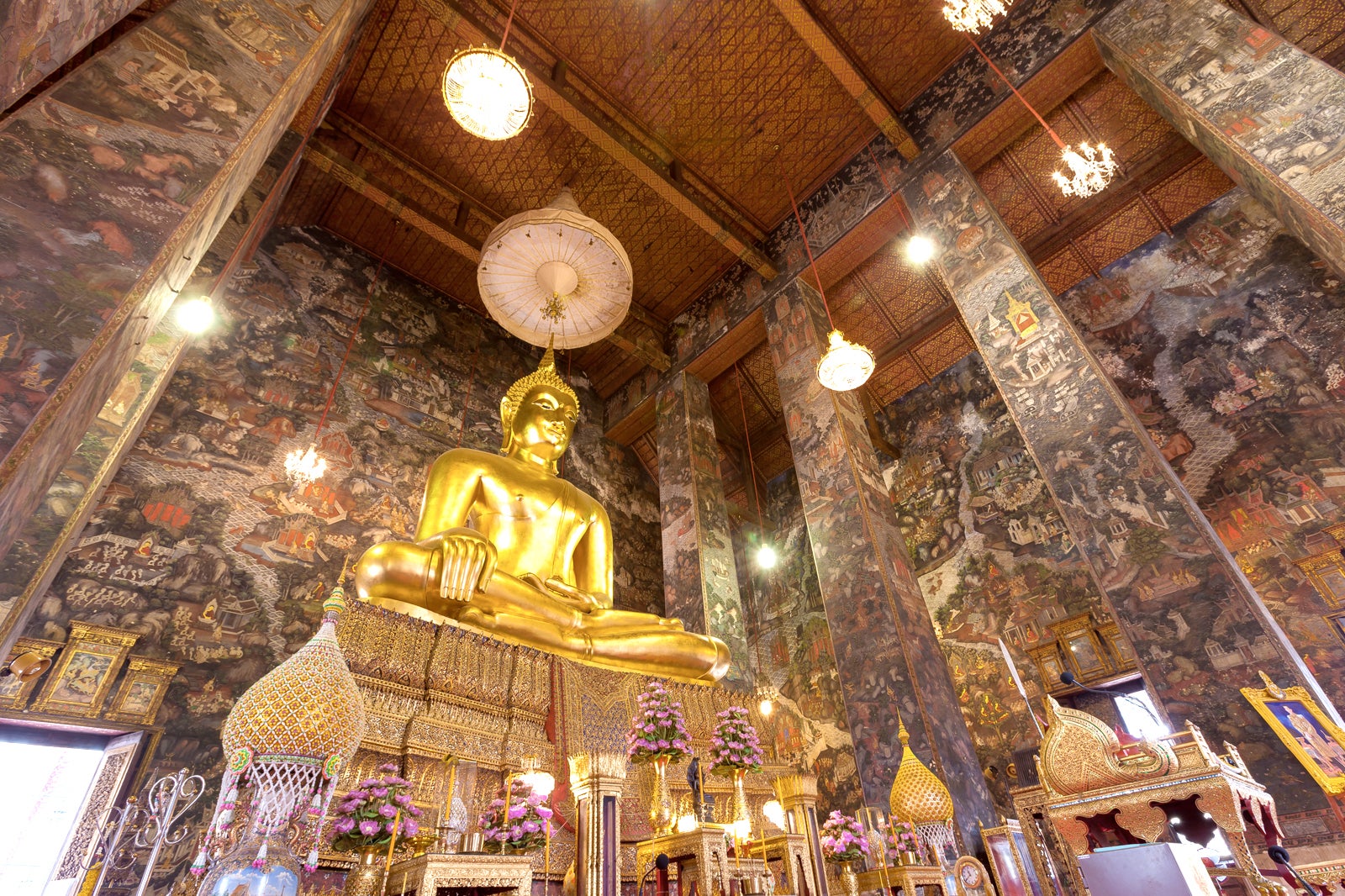 Highlights of Wat Suthat Thepwararam
Wat Suthat Thepwararam was commissioned by King Rama I (1782-1809) to shelter a 13th-century bronze Buddha sculpture from Sukhotai. The temple was completed during King Rama III's reign (1824-1851). The wall frescoes inside the main prayer hall detail the previous 24 incarnations of Buddha. Chinese stone sculptures and 8-tier hexagonal pagodas line the outer walls of the temple. They were believed to have been shipped as ballast with Chinese trade junks.
The famous Giant Swing at Wat Suthat is a must-see, especially after you've explored the Grand Palace and Wat Phra Kaew. The cloistered courtyard surrounding the main prayer hall has around 156 Buddha images, while the outer walls and 4 entry gates are individually hand-carved with intricate details.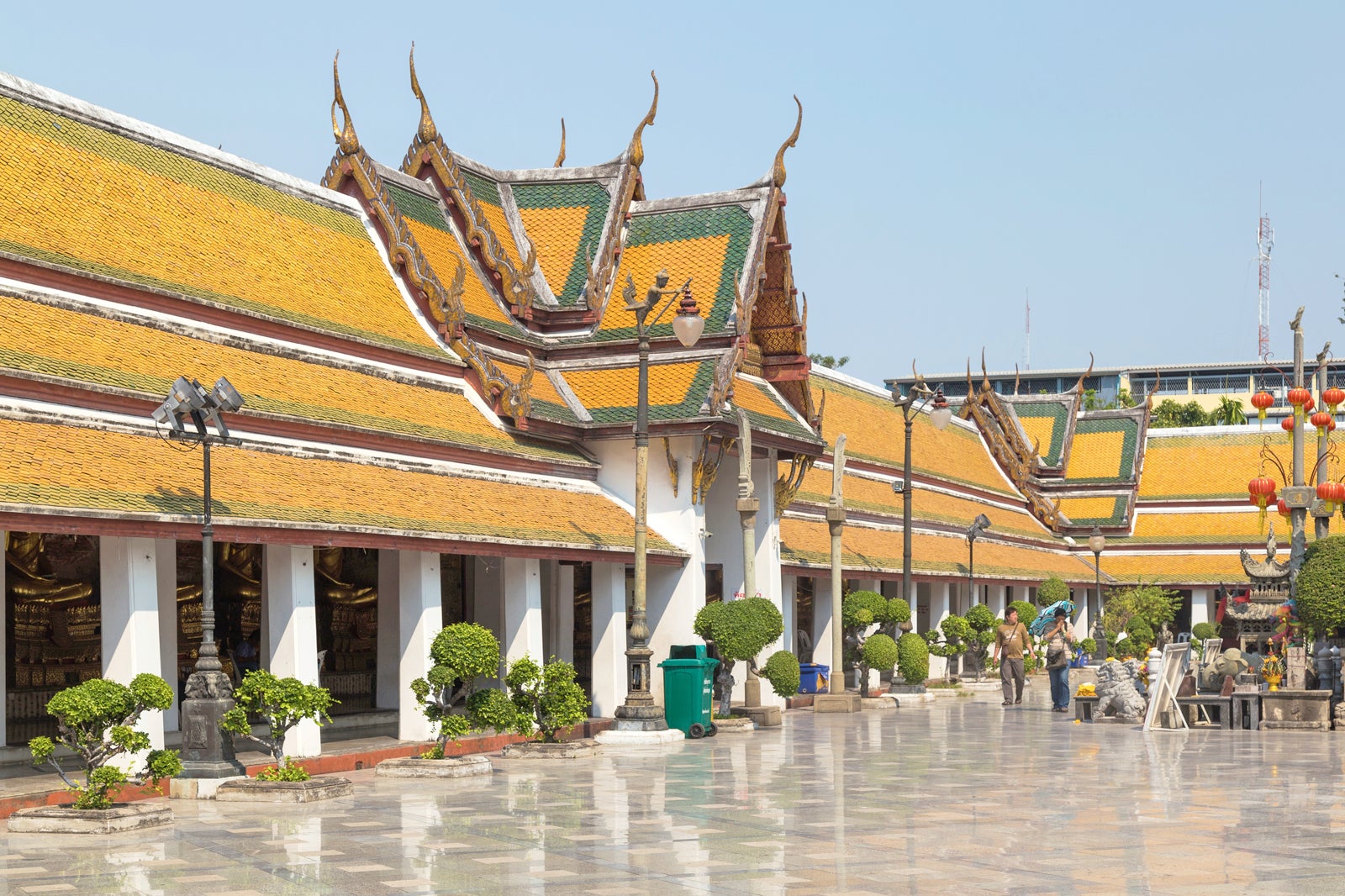 Good to know about Wat Suthat Thepwararam
Standing at 21.15 meters, the Giant Swing stands between Wat Suthat and Bangkok City Hall. Its 2 towering red pillars and elaborately carved crossbar can be from afar. In the past, during the Brahmin thanksgiving ceremony (mid-December), young men would ride the swing high in the air, suspended 24 meters from the ground when in full swing. They would try to grab a bag of silver coins with their teeth.
This rather risky practice was discontinued in 1932, so this massive swing now serves as nice photo ops for Wat Suthat Thepwararam's visitors.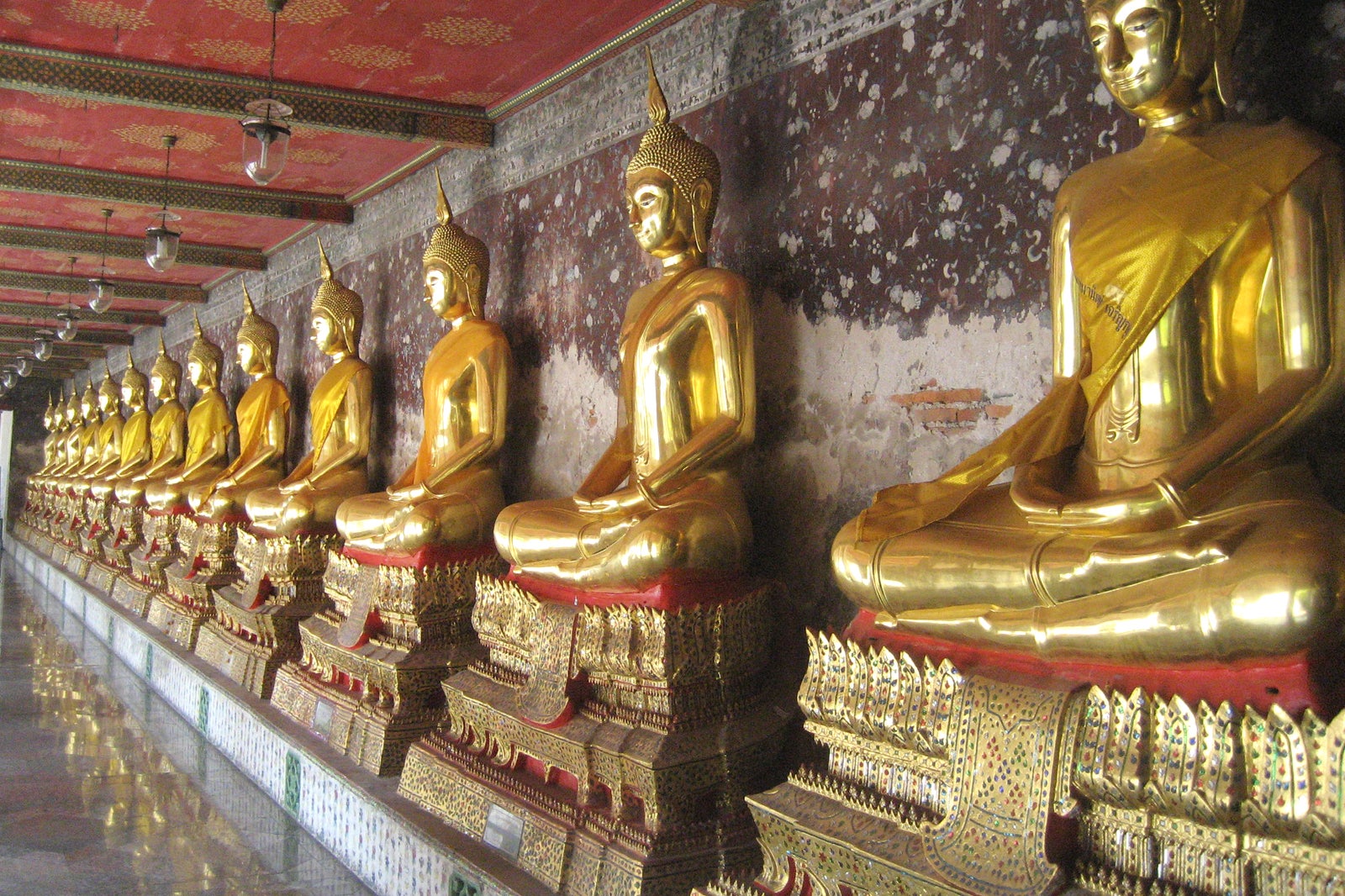 Wat Suthat Thepwararam in Bangkok
Location: 146 Bamrung Mueang Rd, Wat Ratchabophit, Bangkok 10200, Thailand
Open: Daily from 8.30am to 9pm
Back to top