Wat Phra Thong (or Wat Prathong) is a temple in Phuket that's famous for housing a half-buried golden Buddha statue called Luang Poh Phra Thong (Golden Buddha) in its grounds. Its other moniker is Wat Phra Phud, which means 'Temple of the protruding Buddha'.
The temple is believed to be one of the island's oldest temples. It received a visit in 1909 by King Rama VI who at that time was still the crown prince and who gave it its official name.
Wat Phra Thong in Phuket - one of the highlights of 22 Must-See Temples in Phuket (Read all about Phuket Province here)
Wat Phra Thong highlights
Wat Phra Thong is a relatively small temple, but with its several buildings and colorful features, it's a pleasant place to visit. The main attraction is the half-buried golden Buddha image, which is said to be 'untouchable' – every person who has tried to dig it out received a curse in the end.
Legend has it that a farmer boy, who tied his buffalo to an object that looked like a post in an open field, fell very ill and died not long afterwards, along with his buffalo. The poor father dreamed about this incident and went to check the post, which turned out to be the top part of a big buried Buddha image.
Many villagers came to help with digging it up but only managed to expose half of the statue; they simply couldn't dig it up no matter how many times they tried. The idea to build a temple around this half-buried Buddha came when a monk on a pilgrimage spotted the holy image. Wat Phra Thong has become the spiritual center of local communities ever since.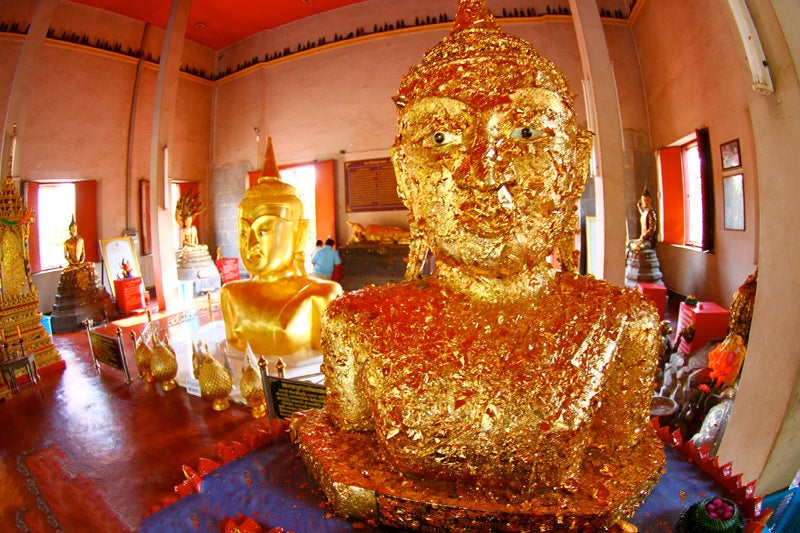 Good to know about Wat Phra Thong
A more rational explanation as to why there is a half-buried Buddha image at Wat Prathong is that a nearby canal changed direction and flooded the area, leaving it under a layer of silt.
The temple also houses an interesting museum, where you can see historical items donated by locals. Must-sees include tin-mining paraphernalia, a Chinese dowry basket, Chinese teen-tuk (foot-binding) shoes, food carriers, cannons and Javanese daggers.
Wat Phra Thong is located near the Thalang District Office, around 13.5 km south of Phuket International Aiport. If you're heading toward the airport, a street that leads to the temple is on the right-hand side (you have to make a U-turn if driving). Look for a small sign before reaching Thalang and follow the street to the wat's parking area.
Wat Phra Thong in Phuket
Location: 172/2​ Nanai Road, Thep Krasatti, Thalang, Phuket 83110, Thailand
Open: Daily from 8am to 5.30pm
Phone: +66 (0)93 621 4687
Back to top