Wat Pho (the Temple of the Reclining Buddha), or Wat Phra Chetuphon, is right behind the Temple of the Emerald Buddha – it's a must-see for any first-time visitor to Bangkok. As one of the largest temple complexes in the city, it's famed for its giant reclining Buddha that is 46 meters long, covered in gold leaf.
It's an easy 10-minute walk between here and the Grand Palace, and we recommend coming to Wat Pho second because even though the golden Buddha here is just as popular, many people don't take the time to wander around the rest of the complex, making for a more relaxing experience. Wat Pho is also a great place to get a traditional Thai massage. It's often considered the leading school of massage in Thailand, so you really are in good hands here.
Wat Pho in Bangkok - one of the highlights of 28 Best Things to Do in Bangkok and 10 Best Group Tours in Bangkok (Read all about Bangkok here)
The Reclining Buddha at Wat Pho
The highlight for most people visiting Wat Pho is the Reclining Buddha. The figures here are impressive: 15 meters tall, 46 meters long, so large that it feels like it's been squeezed into the building. The Buddha's feet are 5 meters long and exquisitely decorated in mother-of-pearl illustrations of auspicious laksanas (characteristics) of the Buddha. The number 108 is significant, referring to the 108 positive actions and symbols that helped lead Buddha to perfection.
You'll need to take your shoes off to enter, and if you'd like a little good luck, we recommend purchasing a bowl of coins at the entrance of the hall which you can drop in the 108 bronze bowls which line the length of the walls. Dropping the small pennies in makes a nice ringing sound and even if your wishes don't come true, the money goes towards helping the monks renovate and preserve Wat Pho. As this is a revered image, all visitors must wear appropriate clothing – no exposed shoulders or skin above the knee.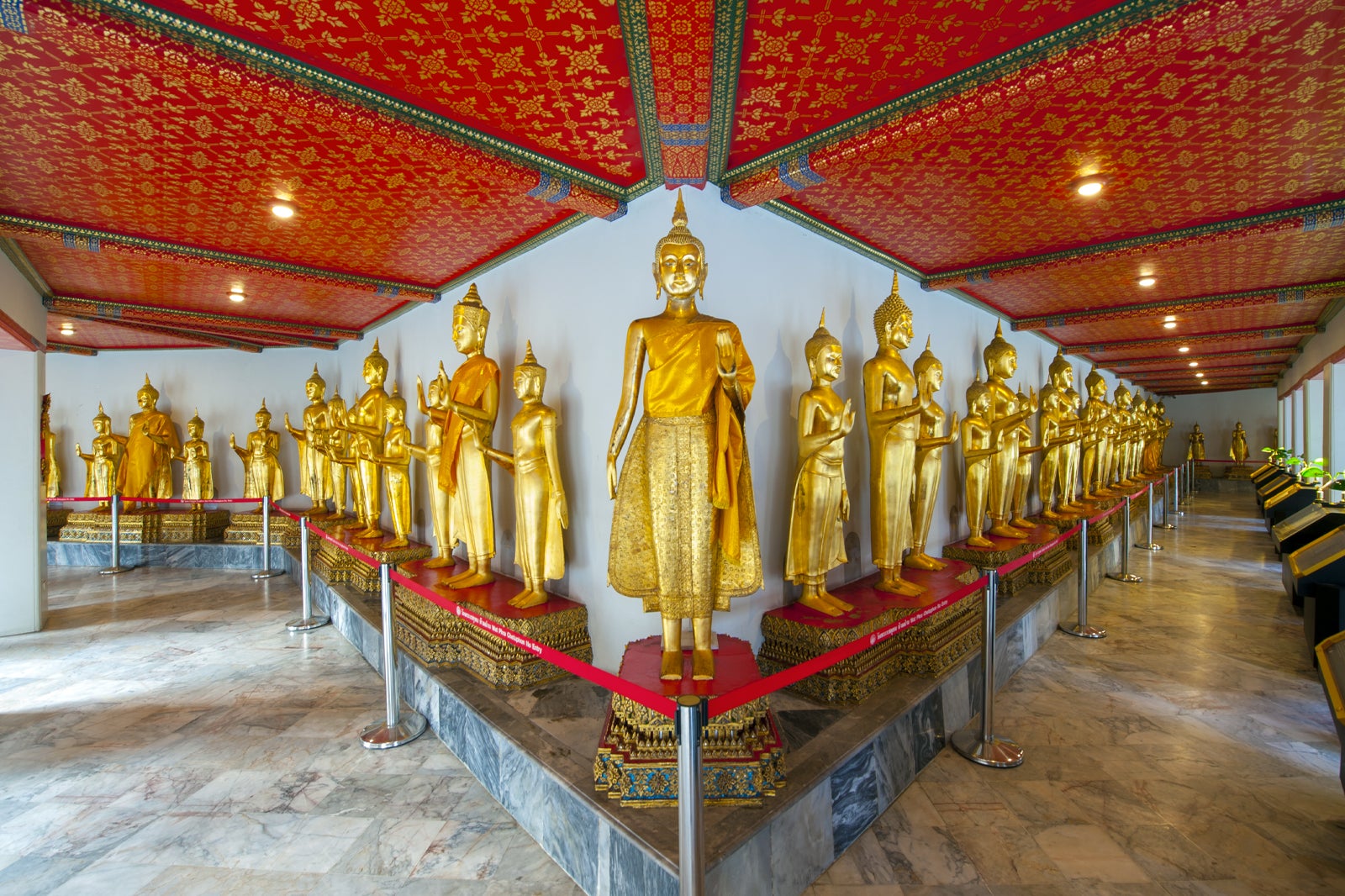 Other highlights of Wat Pho
It's really worth taking a look around the rest of the temple. Wat Pho also has good English speaking guides who will provide interesting information for around 200 or 400 baht, depending on how many people there are in your group and how good your negotiating skills are. If you prefer, you can wander alone.
Recommended sites include 4 chapels that contain 394 gilded Buddha images, long lines of golden statues from different parts of Thailand sitting in the lotus position. Though the intricately detailed murals that cover the walkways around Wat Pho will require a book or guide to decipher, the exquisite murals are so detailed and intricate that even if you don't understand all the imagery you can still appreciate the artwork.
Finally, in the courtyards at Wat Pho Temple are some comical-looking Chinese statues that were once used as ballasts on ships and 91 chedis (stupas) decorated in ceramic pottery flowers and colorful tiles.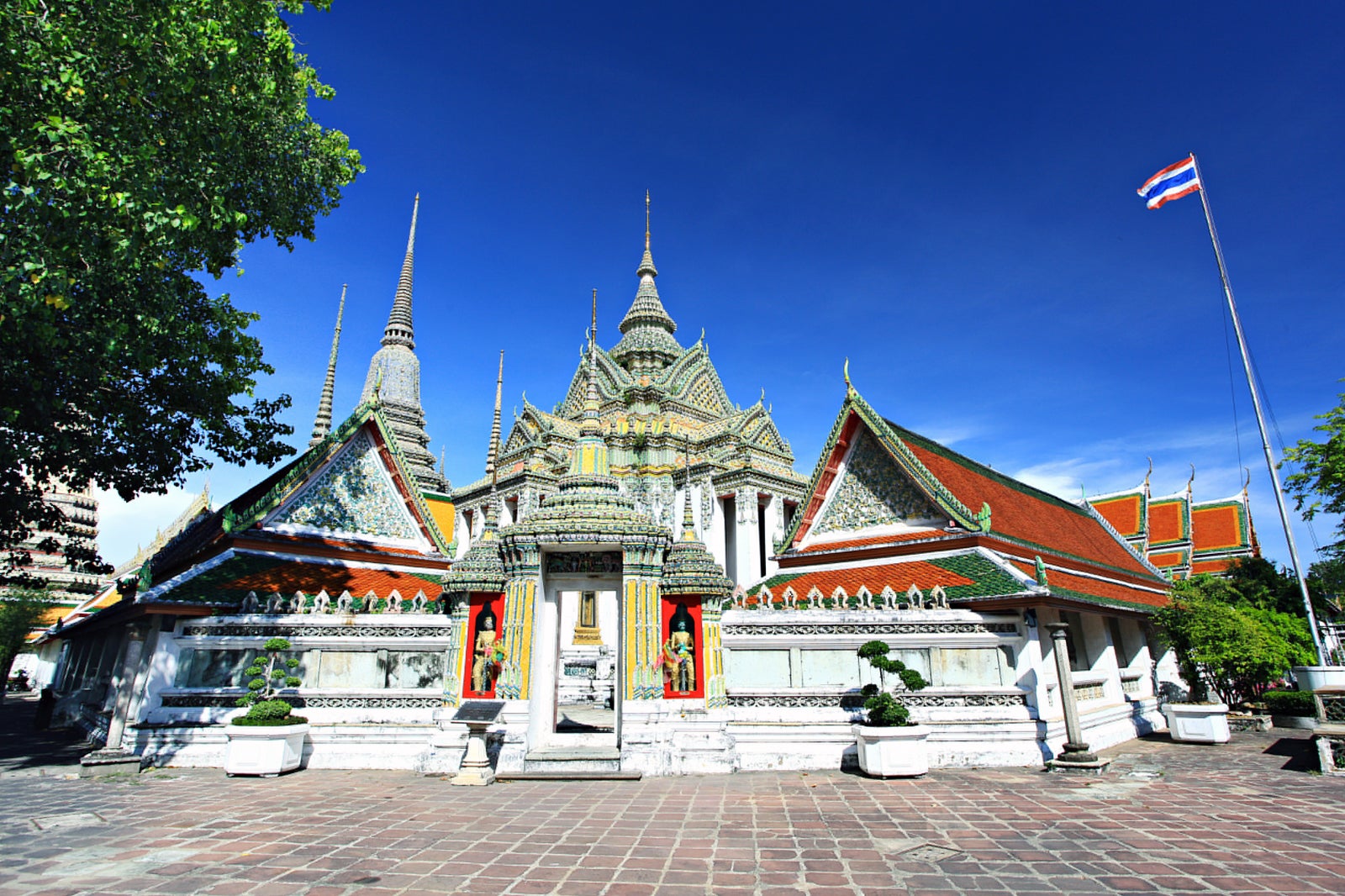 Good to know about Wat Pho
Wat Pho was the first public university in Thailand, specializing in religion, science and literature. It is now more well-known as a center for traditional massage and medicine. After a walk around the temple, there's nothing quite like a relaxing foot or head and shoulder massage. If you've never tried a traditional Thai massage, Wat Pho is a good place to experience it.
It's quite different from most other forms of therapeutic massage and tends to be invigorating rather than relaxing, incorporating yoga style postures to relieve stress and improve blood circulation. This is a very popular activity at Wat Pho temple, so we recommend you pop in before your treatment to book a spot, or you might end up with a long wait.
You can find Wat Pho on Maharat Road, close to the river (within a kilometer south of the Grand Palace) in the Old Town (Rattanakosin).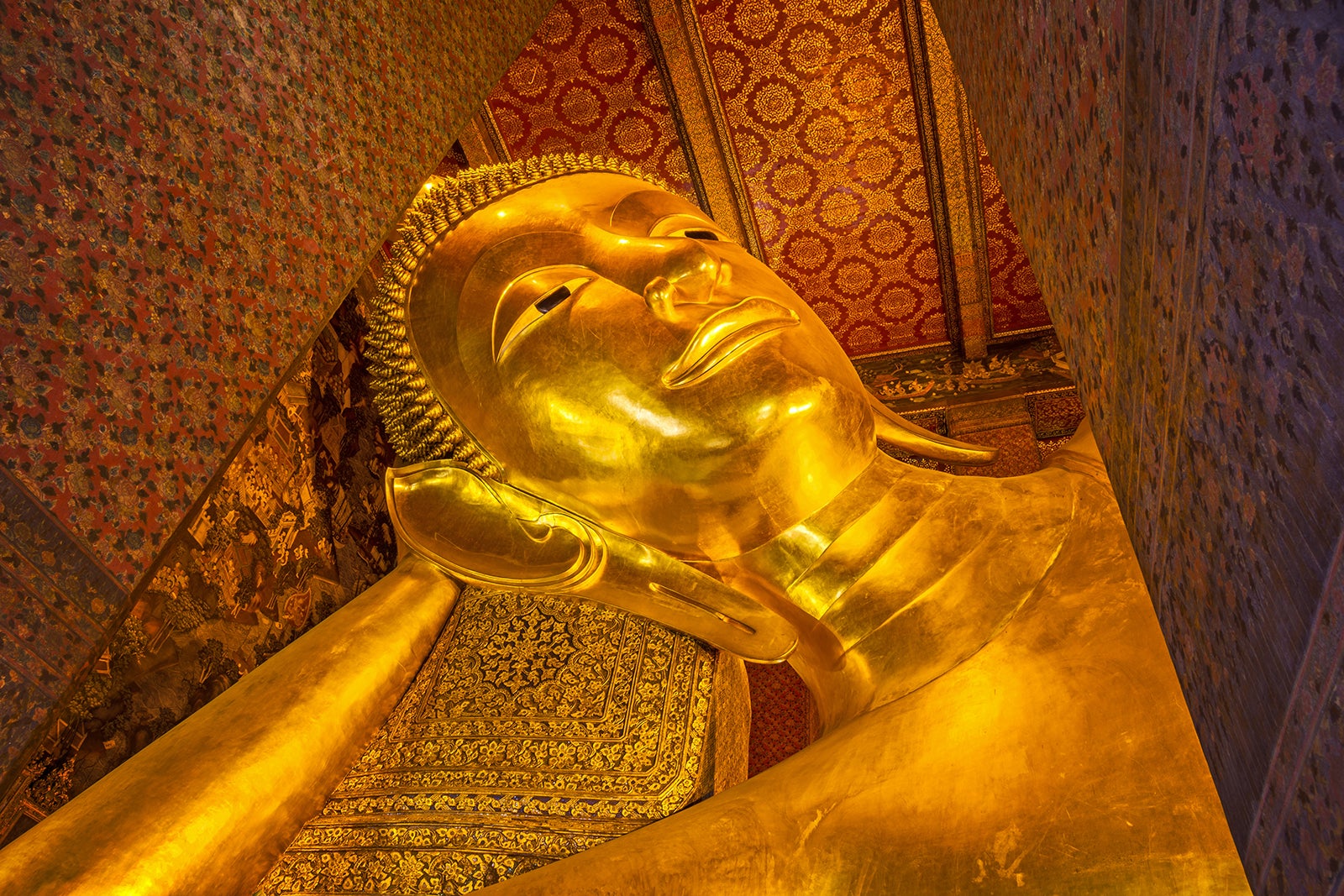 Wat Pho in Bangkok
Location: Maharat Road, Phra Nakhon, Bangkok 10200, Thailand
Open: Daily from 8.30am to 6.30pm (massage available until 6pm)
Phone: +66 (0)2 226 0335
Back to top