Wat Mai Luang Pu Supha (also known as Wat Sila Suparam or Wat Sin Supharam) in Chalong is a beautiful and inviting property built with attention to detail. It's famous mainly because of its founder, Luang Pu Supha, who was probably one of the most respected and longest-living monks in modern Thai history. He passed away in 2013 at the age of 118 years.
He dedicated a large part of his life (almost a century) to Buddhist monkhood, spreading the word of Dharma and building almost 40 temples and monasteries around the country – 3 of which are in Phuket.
Wat Mai Luang Pu Supha in Phuket - one of the highlights of 12 Best Things to Do in Chalong Bay and 22 Must-See Temples in Phuket (Read all about Phuket Province here)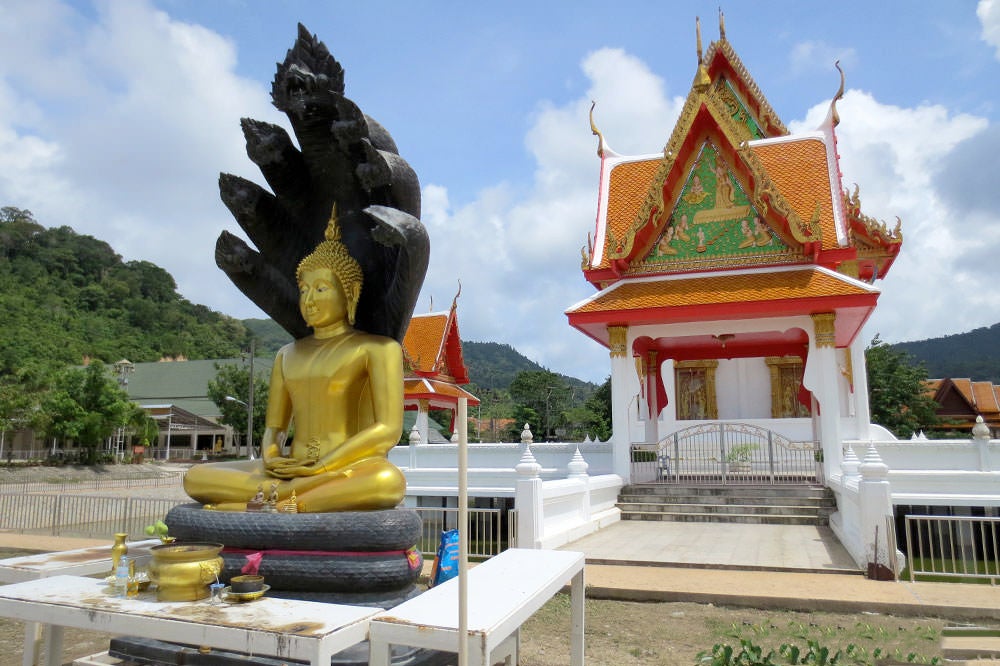 Wat Mai Luang Pu Supha's ordination hall
One of the most important structures in Thai temples is the ubosot or ordination hall and it's usually more elaborately decorated than other buildings. The one at Wat Sila Suparam is in classic Thai style and was built next to a small lake. Its classic 3-levelled triangular roof is covered with beautiful yellow glazed tiles. The windows feature some unique samples of Thai traditional carving and painting.
In front of the ubosot stands a statue. It portrays the Buddha in a sitting position with a 7-headed serpent naga over his head. Legend has it that there was a time when the Buddha was in deep meditation under a tree during a storm. The naga king who lived in a pond nearby was worried about the Buddha, so he used himself as a shelter to protect him from the heavy storm as well as mosquitoes and such until the Buddha completed his 7-day meditation. This Buddha image is also a symbol of people who were born on a Saturday.
Another interesting thing inside Wat Mai Luang Pu Supha is the museum of Luang Pu Supha which exhibits the life and works of the temple's abbot. It also has a statue of him.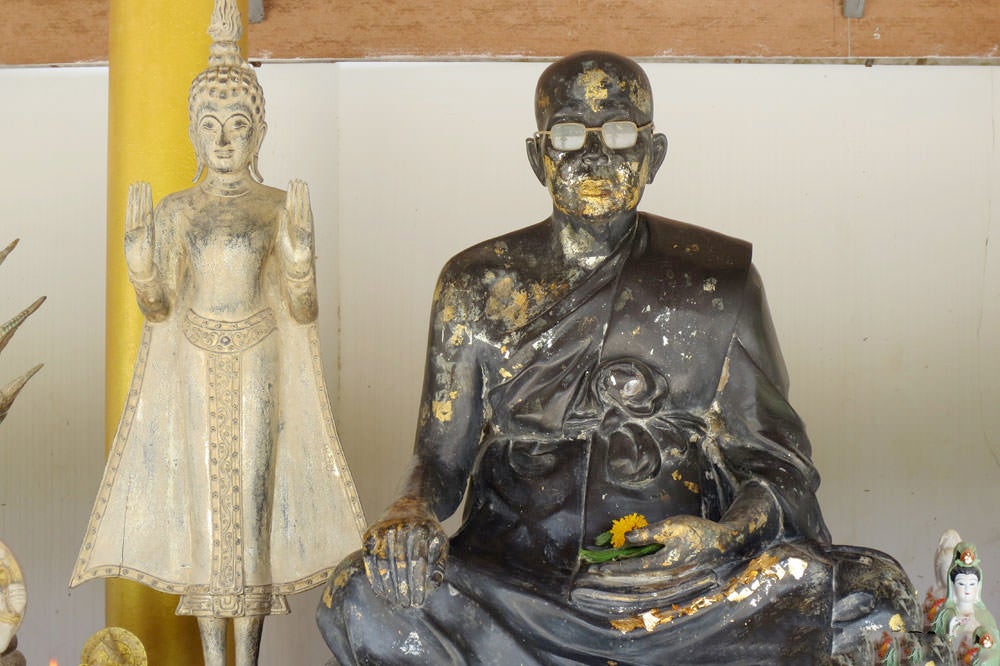 Who was Luang Pu Supha?
Born over a century ago, Luang Pu Supha spent the first 70 or 80 years of his monkhood as a pilgrim and traveled around not only in the country but to other Asian countries and as far as Europe. Everywhere he went in Thailand, he helped the locals with various projects along the way. His extraordinary works include building bridges in rural areas, establishing hospitals for sick monks and many more projects.
There are other reasons why many people, especially Thai visitors, come to this revered site. It's because they want to obtain an amulet or charm made by the abbot. The most sought-after items range from a spider talisman (or yantra/mandala) which are very popular among shop owners and business persons who believe that it will bring them many customers and businesses, to a crocodile charm that people believe gives them the power to guard them against robbery and violence.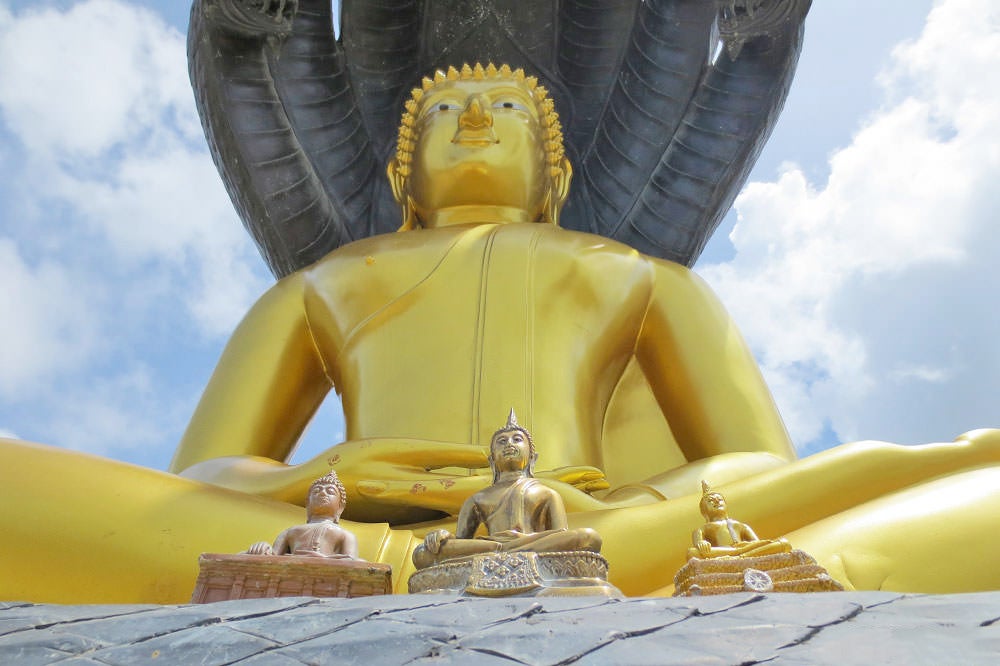 Chalong is home to 3 famous places of worship. They are Wat Chalong, Wat Sila Suparam and the Big Buddha on Nakkerd Hill. Each is located not far from another. You can easily spend half a day visiting them all.
To get to the temple, head toward Chalong from the Central Festival Phuket shopping mall. The temple is near Phunaka Golf Course, Phuket Tree Adventure and about 500 meters before the famous Wat Chalong temple.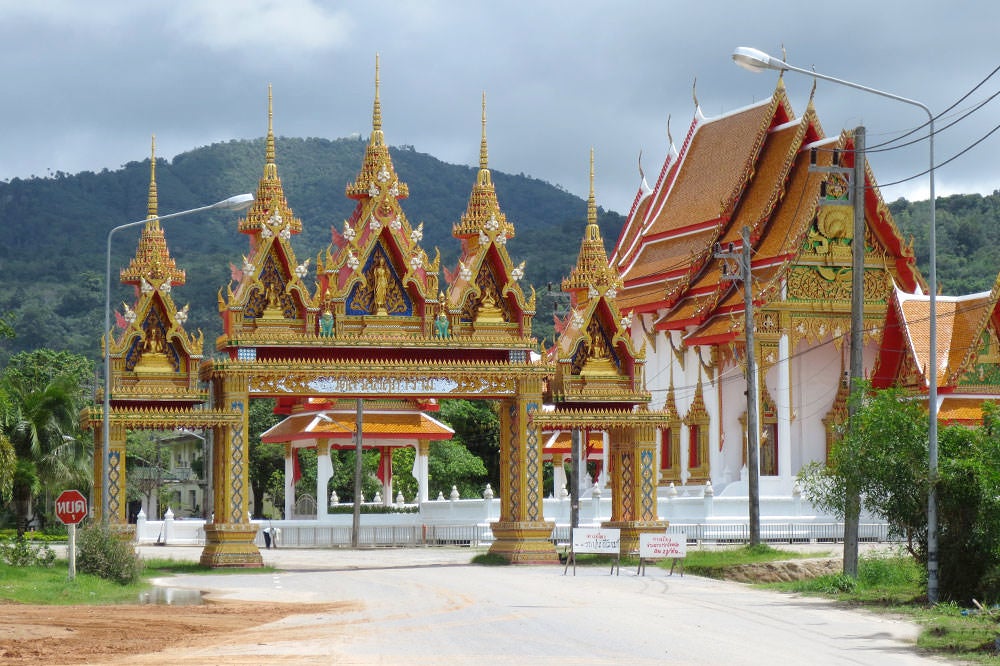 Wat Mai Luang Pu Supha in Phuket
Location: Jaofa 69 Rd, Chalong, Muang, Phuket 83000, Thailand
Back to top